One of the most important steps of your onboarding process is to work towards building the company's impression with the new hires to help smooth their integration into the new workplace. Companies need to welcome their new team members, and they need to do it in ways that are thoughtful, memorable, and impactful.
Initiate the perfect warm welcome for new-hires by sending new hire email. It's an opportunity for the organization to keep up with the good impression made during interviewing and ease the first-day nerves for the new hires.
Welcoming a new employee ideally begins immediately after they accept your offer letter. Crafting personalized and thoughtful new-hire welcome emails is a simple yet effective way to engage new hires and keep them enthusiastic about their new role until the start date. 
What Is a New Hire Email?
A new hire email is one of the most underrated yet impactful elements of the onboarding process. Sending a well-written email or series of emails to welcome new hires and share important information with them shows that you're excited for them to join the team and helps them feel feel more confident and prepared for their first day.
Benefits of Sending a New Hire Email
Here are a few benefits of sending a new hire welcome email:
1. Motivation
An employee's welcome experience reflects their overall experience with a company. A structured, comprehensive, and warm welcome builds a good first impression of your company and motivates new hires for long-term success.

2. Prevents Unexpected Post-Offer Drop-Offs
The time between offer acceptance and start date is fragile – the communication often drops off while everyone anxiously awaits the start date.
Since good talent is in high demand now more than ever, it's possible that candidates are approached with several offers. A lack of communication and engagement with your new-hire may provoke a wandering eye to other companies and offers. New hire emails are one of the best ways to keep your prospects interested and engaged so you don't lose traction.

3. Builds Connections
The main objective of sending new hire emails is to engage your new workers and make them feel part of the team. A good welcome message helps the new hire feel immediately connected to their new colleagues, empowering them to deepen existing bonds and also create more. The more welcomed and comfortable the new member feels in their new role, the more effective and productive they ought to be in the workplace.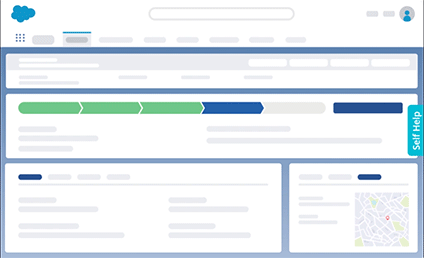 Create personalized and engaging employee onboarding programs and catapult your employees to rapid productivity with Whatfix
4 Tips for Writing a New Hire Welcome Email
After the initial excitement of accepting a new position, new-hires are often a little nervous about their first day. It's important to make them feel as welcome and prepared as possible to be set up for success.
To get started, here are a few tips for crafting your new hire welcome email:
1. Create Useful Templates
With all that goes into the interviewing, hiring, and onboarding processes, finding ways to templatize your tasks saves time for your HR team. 
Create a few templated emails that the HR can send to new hires when needed – templates that cover general role expectations, team structure, fun company facts, and other useful information to keep them enthusiastic and motivated. 
2. Format Appropriately
Lengthy emails with large text blocks are overwhelming and difficult to consume and is certainly not the way to get a reader's attention.
To start on the right foot with your new hire, break down the information into bite-sized sections that makes it easier for them to read. Structuring the email with properly formatted bullet points and organized sections allows you to highlight the most important information that typically draws the most questions during onboarding. 
Include GIFs, photos, videos, as well as infographics to break up the text and provide some engaging visuals to demonstrate the personality of the company. 
3. Add Personalized Touches
Just because you have templates in place doesn't mean you shouldn't take the time to personalize the welcome email for your new-hires.
Use their first name throughout the email and reference any personal details or fun facts shared during their interview. This shows the new-hire that you are tuned in to their unique hiring experience. 
It also never hurts to include personal recalls of your own onboarding experiences. Empathizing through personal accounts is a great way to humanize yourself and for the new-hire to feel connected from the start.
4. Show Off Your Company's Personality
A welcome email is a great opportunity to show off your company's personality. Use this time to get more personal and share more about the company culture.
For example, if your organization has relaxed office policies – like many startups and tech companies today – state that in your email. Let them know of any relaxed dress codes, share non-work related Slack channels, and add them to any social events such as happy hours or work clubs.
If you are a more conventional, formal organization, state that in your email with your office standards, dress code, and so on. Whatever your style, make sure it's communicated so everyone is aligned.
7 Important Details to Include In Your New-Hire Welcome Email
Include details to help make your new hire's first day less stressful. Here are a few key details to include in the new-hire email:
The most important information in a welcome email is the employee's start date and time. Even if you discussed this during the offer call, it's best to have their start date documented via email as well. You'll also want to confirm the time they are expected to be in the office or logged on if working remotely.
Additionally, put together an agenda to provide structure for their first day/week. Knowing who they're supposed to meet with, what training material they need to review, and the overall plan for their first day empowers them to approach each onboarding session with intention.
Many companies include a first day checklist for new hires that details all the critical and useful information for the employee orientation day. It provides direction during downtime on their first day or points them in the direction of the next training opportunity in their onboarding process.
2. Video Greetings & Training Materials
Visuals and videos add character to welcome emails. It shows your new-hires that you're invested in the onboarding process, and you care about making them feel welcomed. Consider including the following in your email:
A greeting video from the CEO or other executives

An

onboarding video

demonstrating company culture or mission statement

A demo video of your product or service

A customer spotlight video featuring one of your best partners
3. Important Documents & Attachments
Your new-hire should be aware of any documents and formalities they must complete or provide on the first day of work. This includes background check, tax forms, personal introductions, and other personal details. 
All necessary company onboarding documents should be mentioned, linked, and/or attached in the welcome email. Before adding attachments, make sure they are updated/personalized, spell-checked, and properly titled.
4. Office Location & Navigation
For offices that are in high-rises or are otherwise difficult to locate, be sure to include a map with instructions on how to get to the office, as well as how to find it once they're inside the building. This could include:
Where to pick up their keycard

Where to find the elevator

What suite number the office is located in

What number to call for assistance/direction
For larger offices that span multiple floors, it's also useful to create an office layout that acts as a blueprint for the office. This helps new hires find orientation meetings scattered across different floors. The office map should also include details on where their new desk is located, as well as where their teammates are positioned in the office. Having straightforward directions on where they'll be based in the flow of the office gives an extra boost of confidence they'll need to navigate their first day.
5. Important Contact Information
Your new employee should be provided with the contact information, including name, email, and phone number of anyone they'll need to be in contact with during their first day and beyond. These particulars should be accessible to all new hires:
Orientation POC

Admin & IT POC

HR POC

Direct manager
You may even want to include a company directory that they can refer after their first day. Knowing the points of contact for each department and how to get in touch with them makes for a seamless onboarding experience.
6. Invite Them to Join Community Channels
Whether your company uses Slack, Teams, or another communication and collaboration tools, inviting new-hires to join chat groups is one of the easiest ways to make them feel like part of the team quickly. 
By joining public chat groups, new-hires get to know more about the company culture and get a chance to connect with their coworkers. This is a great way to humanize your organization, especially if working remotely or across different time zones.
Dress codes – regardless of job or sector – establish a professional, unified atmosphere. Inform new-hires about your company's dress code, even if it's casual. You don't want a new employee feeling out of place or over/under dressed on their first day. 
Even if your company works remotely, it's still important to establish some type of dress code. Research has shown that employees who dress up for work while working remotely feel more productive and focused than if they were to stay in their PJs all day. Dress for success!
✓ Thank you, the template will be sent to your email
Download your customizable copy of new-hire email templates!
New Hire Welcome Email Sample Templates
Depending on your company culture, your welcome email can be as formal or informal as you prefer. You want your new-hire welcome email to reflect who you are and set the tone of your communication style.
Here are three template examples to use for welcoming a new team member to your organization and preparing them for their first day:
1. Professional New Hire Welcome Email Template
2. Traditional New Employee Welcome Email Template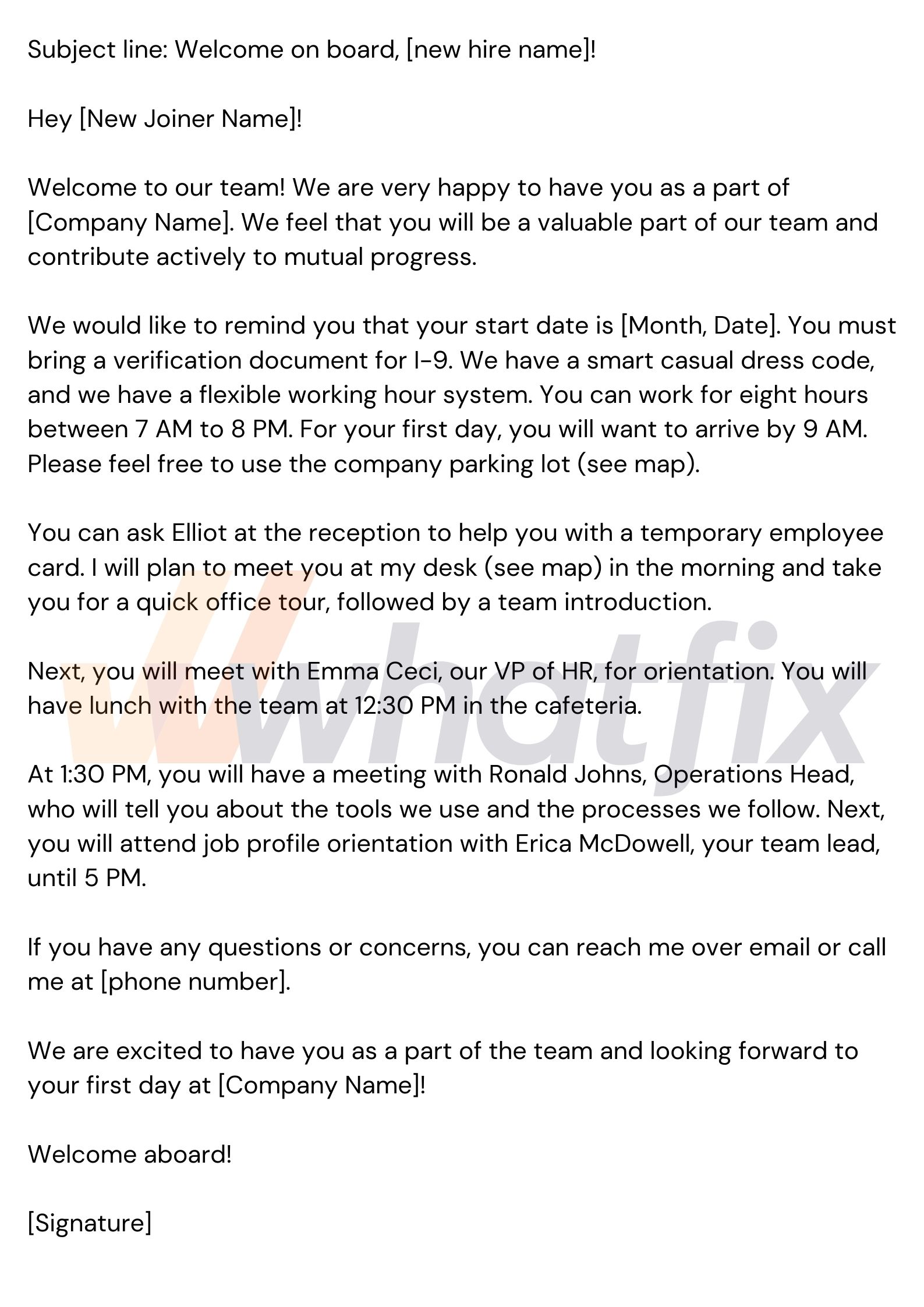 3. Fun New Employee Welcome Email Template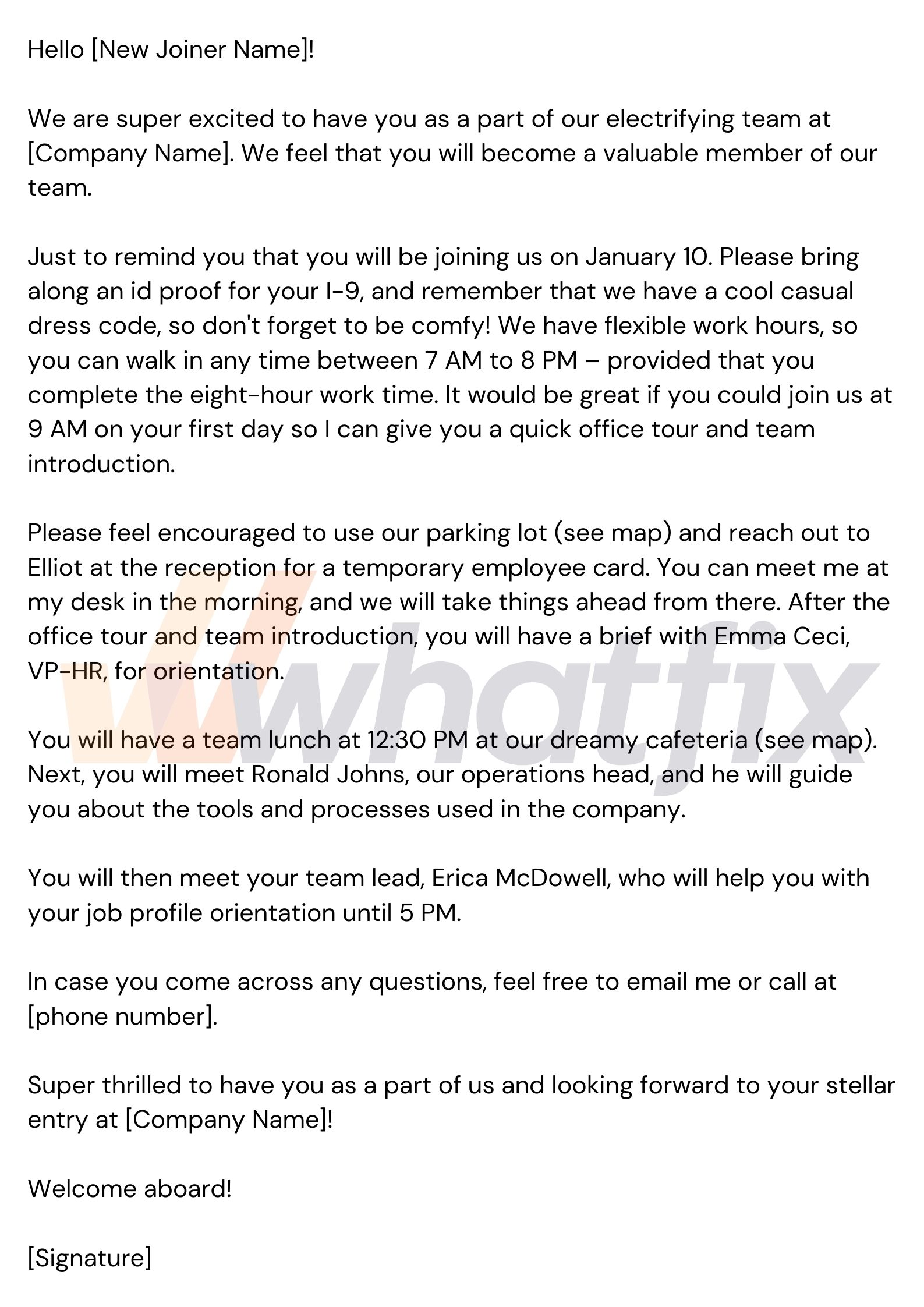 A good new-hire welcome email is engaging, reflects the corporate culture and fosters excitement. At minimum, your welcome email should include all of the information and details they'll need to be successful right from the beginning. By engaging with and empowering your new employee in preparation for their first day, you are also preparing them for success at your company.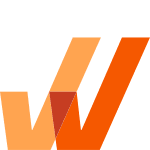 Request a demo to see how Whatfix empowers organizations to create personalized and engaging employee onboarding programs.
Subscribe to get new content delivered directly to your inbox.