An employee's first day at a new job can be equally stressful for both the employee, as well as the HR manager assigned to the employee orientation. This is when new hires receive their first impression of the company, which could either help smooth their integration into the company or be the reason why they eventually leave.
Hence, proactively planning for your new hire's first day is an essential process to foster a long-lasting and productive relationship with them.
12-Step Checklist for Planning a New Employee's First Day
Create a first-day schedule in advance
Send a "what to expect" email in advance
Prepare your new hire's work area
Have the new employee's technology ready to use
Set time to meet on their first day
Send an intro email to the company
Assign the new hire a buddy
Set up meetings with team leaders
Finalize all new hire paperwork
Schedule a new hire luncheon or happy hour
Give them a company swag pack
Check in at the end of day one
How to Plan Your New Employee First-Day Checklist
While you'll eventually get to a comprehensive new employee training process – day one is all about getting to know your new workspace, new coworkers, and all of the other intimated things that come with starting a new job.
Here are 12 actions to take to guarantee your new employee is set up for success with a productive first day in the office.
1. Create a First-Day Schedule in Advance
Many employees step into their first day at work only to find themselves sitting aimlessly at their new desk, waiting for someone to tell them what to do next or where to go.
This is why in order to avoid any confusion and ensure a smooth induction process, it is extremely useful to create a first-day schedule for your new hire. This schedule is a pillar for a successful employee onboarding process and can also be shared with other team members who will be interacting with the employee on that day. This helps everyone be on the same page.
2. Send a "What to Expect on Day 1" Email to Your New Hire
Once you've created a first-day schedule, it's useful to send a new-hire email. This may help ease any tensions that may arise if they were left to wonder what to expect on their first day. 
The email is also your chance to reiterate your excitement to have them join your company, which is a great way to help them feel comfortable and welcomed. At this time, be sure to ask your new hire for a summary of their background and a few fun facts to add to their welcome email later on.
3. Prepare your New Employee's Work Area
Before your employee arrives, it would be useful to set up their work space. You can do this by arranging their desk and ensuring that they have all the documents needed to get started on their first day. Doing so will not only ensure a smooth first day for the new hire, but will also highlight their importance to the company.
4. Have All Technology Ready for When They Arrive
One of the most stressful (and avoidable) issues that one could face on their first day is a struggle with the technology used by the company. This is why an essential part of planning for your employee's first day is ensuring they have all the technology ready for when they get there.
This includes both the laptop and any software they might be using to access the company's systems and processes. Employee onboarding software tools such as Whatfix and Waybook make the entire onboarding, training, and tracking of your new employee's progress a lot easier.
5. Set Time to Meet at the Start of Their First Day
Greeting your new hire at the start of their first day is crucial to give a warm welcome, re-state goals and expectations for the day, and eliminate any feelings of confusion. Be prepared to welcome them at the front door of your office. A big smile and a couple of jokes are always recommended at this stage – and can go a long way to lightening the mood.
6. Send an Introduction Announcement to the Company
The email should include the new hire's name, their role in the company, their picture, and some background information on their past experiences. 
Another pleasant thing to include is an interesting fact about them that could be a great conversation starter. For example, if your new hire plays the drums, including that in the email may spark the interest of other team members and enhance their welcome experience. If you asked for a summary and fun facts back when you sent your new hire a preview email, this will be an easy step.
Below you can see an example of a new-hire welcome email that we use here at Whatfix: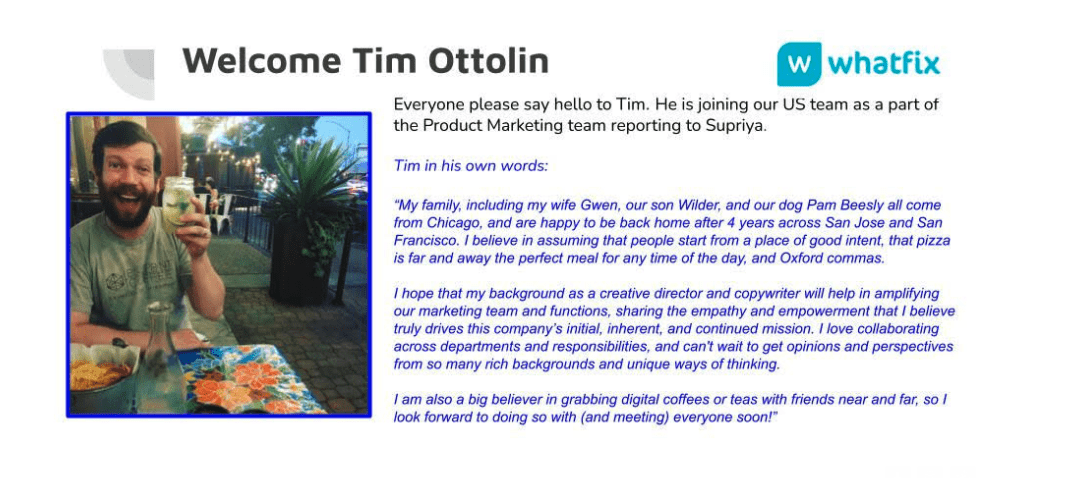 7. Assign Your New Hire a Buddy
Onboarding buddy systems are great. Not only will they help the new hire integrate socially, but they will also reduce some of your workloads. Introducing the newcomer to their buddy as you greet them at the start of their first day can help make the process a lot easier for both of you.
8. Set Up Meetings with Team Leaders
A great way to introduce the new hire to their new workplace is by having them meet with the team leaders of the different departments. It is recommended that you book these meetings in advance to ensure that the team leaders can allocate a sufficient amount of time to introduce the newcomer to their work. Personalize these meetings by selecting relevant team leaders that will work with each new hire.
9. Finalize All New-Hire Paperwork
By the time the employee starts their first day at work, it is best to ensure that they have all the paperwork ready to be read and signed. Signing documents can be done simply in the office or through an online signing system.
As for reading, there may be an overwhelming amount of documents to go through. This is why it is best to place them all in a single, centralized platform. You can then ensure that all the necessary documents (such as Standard Operating Procedures) are easily accessible by the new hire whenever they need to go through them.
10. Plan a First-Day Luncheon or Happy Hour
Don't forget about social events! This is an important step to leave a great impression on the new employee and hopefully give them something to write home about. 
Plan a team or new hire cohort lunch, or set up a work happy hour at the end of their first day (or first week.) This gives new employees the chance to network and meet other employees, helping to integrate them into their new company. It also shows your new hires that your organization is excited for them to be a part of the company.
11. Give New Hires a Company Swag Pack
Branded notebooks, cool water bottles, and t-shirts are items that could be included in your company's swag pack. This is your chance to show the new hire that you care about your team members and leave a lasting imprint – as well as turn them into walking recruiting advertisements for your company.
While it's fun to get creative with your company swag ideas, but sure to stick to practical items employees will find useful and actually us – such as water bottles, hoodies, lip balm, etc. If not, you'll find your swag budget being lost as your new hires throw away your branded pop-sockets, mouse pads, and other non-essential items.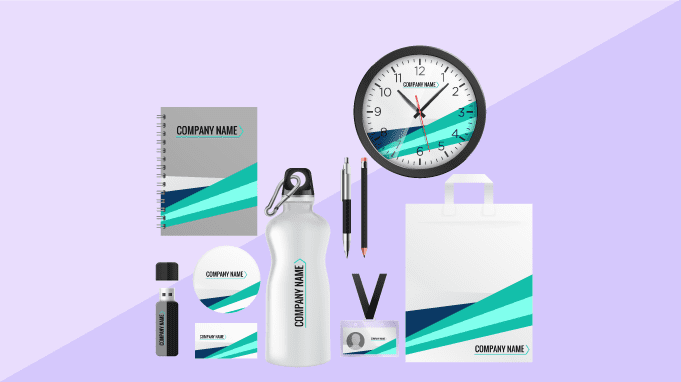 12. Check-in at the End of Day One
Of course, the last thing on your checklist is to schedule a check-in with your new hire at the end of their first day. Ask them how their day went, what they think of the company, and how they think the onboarding process could be improved. This gives you the chance to answer any non-answered questions, as well as get feedback from someone who just experienced your onboarding process.
✓ Thank you, the template will be sent to your email
Get a free new employee first-day checklist to customize for your organization now!
First days set up the foundation for your new employees
An employee's first day is a significant part of the onboarding process. While first days can be long and confusing, this checklist was created to help smooth the entire process for you and your new employee.
To continue training your new employees, be sure to check out Whatfix's Digital Adoption Platform. With Whatfix, you can create interactive onboarding and training workflows directly in the applications your employees use day-to-day – improving training time, digital adoption, and software proficiency. Get a free trial of Whatfix now!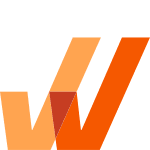 Request a demo to see how Whatfix empowers organizations to improve new-hire onbaording process
Subscribe to get new content delivered directly to your inbox.