You walk into a massive hardware store for the first time and you do not see a person to greet you, you see no pamphlets to help you with directions around the store, and no one is there to answer your questions regarding a product. Because you had a very undeveloped experience on your first visit which left you confused and unsatisfied, the chances you'd go back to that store is very low. 
This is what it's like for new employees hired within an organization when they go through an inefficient employee onboarding process after joining.
If employees don't receive the proper welcome and information they deserve after signing the offer letter, they might do what disgruntled customers do in the store and walk out without a backward glance. With so much effort going into a lengthy hiring process for your new employees in the first place, this is not something you want.
This is why you need to establish an effective employee onboarding process that promotes proper training and adoption of your business processes, ultimately improving your organization's long-term employee retention. Many organizations leverage employee onboarding software to automate this process across different business units.
The employee onboarding process is the systematic and purposeful transformation of new hires into high-performing employees. This onboarding process starts from the moment the new hires sign their offer letter through the first few months of joining an organization.
By carefully drafting the onboarding process, companies give new employees the knowledge, tools, and relationships that they need to be comfortable, confident, and productive in their new work environment.
The onboarding experience echoes throughout an employee's entire tenure at an organization. Where a bad onboarding experience can lead to early departures and high employee turnover, a good experience can kick off long-term happiness and high employee performance.
Employee onboarding is the first interaction an employee has with the organization. If the experience is subpar, it affects their perceptions of their new employer, impacts their overall productivity, and ultimately can cause them to quit early or fail in their new role. 
A strong employee onboarding process is important, as it…
helps your new hires get to know their new organization and settle into their role

provides the right information to understand their job objectives clearly 

forges strong relationships with their new co-workers and team

helps new hires attain the knowledge, training, and support they need to become productive members of the company 

makes your employees referenceable and ultimately gives you return on your investment

boosts employee engagement

, productivity, and improves quality of work

Improves key HR KPIs such as employee retention and new employee ramp-up time
5 Phases of Employee Onboarding
While employee onboarding may seem like a one-time project, it's quite the opposite. HR teams must implement a staged-approach for creating an effective and continuous employee onboarding experience. Here are the four stages of employee onboarding:
This is the stage that begins before you have even hired a new employee. Here, your HR team should invest both time and resources into creating a world-class onboarding process. This includes implementing employee onboarding software, developing and curating training materials such videos and tutorials, and more. Onboarding teams want to ensure that when they start scaling hiring, they have a well-rounded process for getting these new team members up to speed and productive fast.
2. The First-Day Orientation Stage
After your new hire has accepted an offer, began to think about your new hire's first day schedule by creating an employee orientation plan for them. You can start by creating a template for all new hires first day, and then use this as a starting point when onboarding each new hire. Be sure to make the first day warm, accepting, and relaxed, as this is high-anxiety time for new employees.
3. The Core Employee Onboarding Process Stage
The core new employee onboarding process includes more than the first day – and likely will go into a new hire's first two weeks to month. In this phase, you're going to familiar your new hire with the overall fundamentals, values, and processes of your organization. This includes sharing and providing access to company-wide tools such as Slack, G-Suite, Salesforce, and HR tools.
It also includes providing documents on company policies and team org charts. This is a great time to start setting up meetings for new hires to connect and meet with various leaders around the company, as well as watching demo videos to learn more about their new company's product or service.
4. The Employee Job-Specific Training Phase
This phase blends with the core employee onboarding phase and is where a new hire begins to understand their specific team within an organization, and what their role is contributing to it. Individual department managers should be coached on setting up team and role-specific onboarding documents and processes. This is also the stage where new hires will begin to go through various types of employee training programs such as compliance training, technical training, and other core-training concepts related to their role. 
5. The Ongoing Employee Development & Performance Stage
While onboarding may end a few months after a new hire starts, HR teams still need to focus energy on the development of all new hires throughout their time with the organization. Use your initial training to benchmark skills and performance of new employees – and start to set ongoing learning and performance goals to continue the development of your organization's talent. 
When considering how long your onboarding should take, consider the investment you're putting into your new hires. Some organizations look at their onboarding period as an entire year process!
How to Create Effective Employee Onboarding in 2021
Developing an employee onboarding process begins with a commitment to invest in employee success before they start their first day.
The goal of an employee onboarding process is to create a welcoming environment that helps new hires familiarize themselves with the team and company culture, as well as overall organizational goals and processes. Creating an onboarding process requires the HR team and people managers to think through the experience as a new employee would, and consider what these new hires will face at different points in their new role – ultimately making their transition into their new role as easy as possible.
1. Release the offer letter
The employee onboarding process starts right after the recruitment phase. Once the employee is selected, the HR manager sends a welcoming email with other important documents like the offer letter, onboarding forms, policy documents, etc. This gives your new hires a head start, familiarizes them with the organization's culture, and lets them know what to expect from their new role.
2. Reach out to the newly hired before they start
After sending the welcome email, it is good practice for HR teams to schedule a quick call to review all forms, benefits, and company policies – as well as set clear expectations. This keeps new hires engaged and will affirm their choice to accept the offer.
To give new hires an idea of what to expect, send your new hires an email including info on…
Employee orientation checklist (Download below) for first day activities

Schedule for their first couple of days

Information on company dress-code

Paperwork that they need to sign (employment agreement, NDA, employee handbook, tax forms, etc.) 

Information on benefits (holidays, health insurance, life insurance, retirement benefits, training reimbursement, gym memberships, workplace perks, etc.) 
These emails give your new employees a chance to prepare for the new role and that you're excited for them to join.
✓ Thank you, the template will be sent to your email
Employee Orientation Checklist
Get your free checklist for your new hire's orientation and get started developing your new talent.
3. Prepare your new employee's set-up for success on their first day
To implement a successful employee onboarding, you must make the employee feel welcomed and included from the very first day. As an HR manager, create a checklist to complete the day before a new hire is set to start, including…
setting up the new hire's desk before their day one to avoid keeping them waiting for necessities like a computer/laptop, email account, etc. A pre-arranged workspace communicates how essential they are to the company.

setting up their welcome kit that includes your company's T-shirts or any other swag, welcome letter, handbook, notebook, etc.

activating the new hire's email.

making sure they have access to all the tools and resources they need in their new position.

notifying the respective teams and managers about the new employee's start date by sending an announcement email.
4. Make their first day special
You don't get a second chance to make a first impression, so make sure that your new employees have an awesome first day. Invoking a sense of belonging in new hires will make them feel more committed towards you and give them a sense of pride in their work.
This is why you need to plan out what will happen on an employee's first day, and how you can help them settle down effortlessly. 
Here are a few things to plan out:
Prepare a formal orientation. Delivering personalized presentations on the company's history, mission, and values helps employees feel like a part of the family and connect the dots between their day-to-day duties and company goals. 

Schedule a team lunch or virtual lunch with the new hire's immediate team, dedicated to informal small talk and getting to know the new hire.

Assign a mentor for your new hire who is always available to answer their questions or problems. This is also a great way to build up relationships between co-workers.

Don't let the day be dominated by filling out tons of paperwork.

Give them a tour of the office while introducing them to everyone you pass by. This allows them to explore the office and ask any lingering questions.

Schedule one-on-one meetings between the new hire and HR to help elaborate the code of conduct, leave & insurance policies, rewards & recognition programs, and other employee benefits.

Prepare an employee onboarding spreadsheet or document with different company collateral such as value props, case studies, slide decks, sales pitches, and more to familiar new hires with the company's product or service. This also gives employees tasks to complete on day one, helping to avoid awkwardness in regards to new hires feeling like they have nothing to do.
5. Coordinate with other departments
It is essential to coordinate with key stakeholders across the organization to notify them of the new hire's start date. New employees may easily get to know their immediate peers, but a quick introduction to others they might not see or work with regularly provides a sense of organizational belonging. Schedule "meet and greets" with team leaders across the company – especially those teams that will often collaborate with the new hire's team. This allows new team members to hear what different departments do and learn from each department's unique experiences. 
You can also create an organization chart for new hires. These charts contain the titles and contact information for all the employees working across the organization. This helps new hires understand who is responsible for what and how to connect with them.
6. Set new hires up for success with personalized employee training
New employees require essential training to get started in their new role. Preparing and scheduling training programs for new hires is important to bring them up to speed quickly. 
Training should always be tailored to the employee goals and requirements. Personalized employee training software take on a learner-centric approach that ensures each training pathway is relevant to the learner and their goals. This approach helps new employees learn quickly and perform better.
Investing in personalized online learning tools such as digital adoption platforms (also known as DAPs) that integrate with your organization's existing tools helps provide a framework for learning in the flow of work. The Whatfix digital adoption platform runs on top of other software platforms and helps new employees understand how to use your organization's CRM, ERP, HCM, and other tools, while they use it. This is the best way to ensure that new employees develop a high level of application proficiency, from the first day of work. The training is hyper-personalized to the needs of each end-user and allows them to self learn.
A DAP assigns each learner a contextual task list containing interactive walkthroughs based on the learner's role. This walkthrough shows users how to complete a certain process by guiding them through each step, showing them relevant training videos and providing informative articles.
To learn more in-depth on how to conduct overall new employee training, check out our latest blog on new employee training.
✓ Thank you, the checklist will be sent to your email
New Employee Training Checklist
Download our exclusive New Employee Training Checklist to effectively manage your new hire training programs
7. Schedule a 30 or 90-day check-in meeting
Set up a check-in meeting with all new hires after they've settled into their new role and communicate any feedback. It's common for HR departments to schedule these meetings 30 or 90 days after their start date – but the exact check-in date can be flexible. 
While this meeting should be kept informal, it still needs to be filled with active dialogue on the continued progress of the new employee in becoming a productive team member. 
Here is a first-quarter employee onboarding process "to-do task list" for HR managers:
Ask employees about their first 90-day experience

Review their performance with their manager and offer feedback

Ask the employee what have been their biggest challenges

Talk about career planning and progression

Gather feedback on your employee onboarding process and training session

Find out if they have the specific support, resources, and equipment they need to work efficiently

Ask direct managers to establish a regular check-in schedule for all employees

Mentor them and use your leadership skills to discuss their development plan

Pace the workload to reduce the possibilities of stress and burnout.
8. Request feedback on your organization's onboarding process
The last step in your employee onboarding process should be to gather feedback to learn more about how you can improve your employee onboarding best practices. 
Discuss with your new hires about what worked for them and what didn't in the onboarding process. Employee engagement chatbots such as Infeedo can grasp the sentiments of the onboarding process through ongoing employee conversations. This helps HR managers understand their employees and onboarding processes better. In the goal to improve the employee onboarding process, chatbots also indulge the employees in quizzes, surveys, and feedback loops to improve future human-bot interactions. 
Also Read – How Chatbots Can Enhance Employee Onboarding Process
Once you have gathered feedback on your employee onboarding process, make changes in your processes accordingly. Notify your employees about the changes made while thanking them for the feedback. This empowers employees, letting them know that their voice matters within your organization.
9 Best Practices for Employee Onboarding
Here are the best practices for you to improve your employee onboarding process in 2021.
1. Plan the first day accordingly
As you'll be aware, the first day is always the most daunting experience. When an employee starts a new job, you need to make sure that they feel welcomed and useful.  
Firstly, make sure that their work is set up and understand all their roles and responsibilities. They should not be made to feel like a burden and passed from one worker to another. For instance, make sure that all their paperwork is ready in advance – don't make them anymore confused, or keep them waiting.  
The first days can be mundane for employers and supervisors, but they make a lasting impression on the employee.  
2. Plan your overall employee onboarding process
On a similar note, you should plan your onboarding process like you would any other meeting or presentation. Identify what you would like to achieve from the first day and ensure that the day runs smoothly.  
Throughout your planning, consider what impression your onboarding will have on your new hires – including what they will think about the culture and work environment.  

The HR Specialist of WoWGrade and TrustMyPaper, online writing services, says "The best kind of a work environment is the one that lets you learn and acquire new skills all the time. Your employees need the challenge to keep them in the best shape."
Another aspect to consider is; always to make sure that the message you portray in onboarding is consistent.  
3. Consider using gamification
If you want to think outside of the box and showcase how innovative your company is – gamification could be the answer. Ultimately, a bold move like this can engage and motivate new employees in ways you could only imagine.  
For instance, you could incorporate leaderboards, bonus prizes, and challenges to help make the first day enjoyable, motivating, and competitive. There's no doubt this will motivate them for an extended period.  
Remember, if your employees are engaging with customers, their happiness could also benefit the exceptional onboarding process. You can also use other forms of innovation, not only in your onboarding process but in your company.  
4. Support employee strengths
Every individual has different strengths and talents. During the onboarding process, if you don't focus on these strengths and don't reward your employees, you could deter them. When employees have the opportunity to use their strengths, it encourages them to work harder, and provide more to the company.  
If you hire an employee and ignore their talents; throwing them into a role that doesn't recognize their skills, you won't keep them.  
Onboarding has the potential to prevent new employees from looking elsewhere for a job that appreciates them more.  
5. Provide new employees with mentors or buddies
If you have the resources, you should consider providing mentors to new employees. These will stay with them, basically, throughout their entire work life – but they're especially useful in the beginning.  
Mentors help with easing in new employees to their new role, and the company culture. Mentors can simply provide knowledge of the company. If needed, they'll also help them thoroughly will their work and any problems.  
Employees with a mentor undoubtedly become more invested in the organization – giving them a chance to make a stable connection, even in the first week. 
If the thought of a "mentor" doesn't reflect your company, you can provide "buddies." Essentially, they're the same thing but a lot more casual.  
"Buddies will focus more on socializing and helping the new employee feel more at home. Once an employee builds meaningful relationships with their colleagues, they feel like they can integrate themselves easier. Comfort is key." Emilia Dawkins, HR specialist at Studicus.
6. Don't neglect conventional onboarding practices
Sometimes the traditional processes are the best once. Sure, workplaces have changed, but onboarding hasn't significantly changed. We recommend using a blended combination of both formal and innovative practices for onboarding.  
For instance, the use of gamification, alongside an office tour or a "meet the team" presentation. An extra benefit of this is that new employees know what to expect. On your first day, the familiar can be comforting.  
7. Focus on socialization
New employees should not be isolated from the rest of the team. Even if you believe it is in their best interests.  
Onboarding should be fun and interactive and give them a healthy outlook into the team their entering.  
If you've hired multiple people at the same time, bring them all together, and allow them to work in small groups.  
As we mentioned, the social connections that employees make can significantly change their overall experience. Inarguably, great social relationships at work improve retention.
8. Facilitate a introduction meeting between your new hire and their manager
In the first week, employees should have a meeting with their manager. Microsoft actually experimented with this and found that there is a benefit to this (scary) one-to-one. One-to-ones have a terrible reputation. Ultimately, they should have the employee's best interests in mind.  
With the onboarding process, this meeting should focus on creating a sense of belonging to the new employee. It should encourage them to be more confident and express that their ideas are essential.  
New employees that have this manager meeting will likely collaborate more, and participate in other meetings.  
In fact, all our onboarding tips should focus on helping the new employee to feel more confident. 
9. Gather feedback on your onboarding process
You'll never know how well your onboarding process is unless you ask. You must give your new employees multiple ways to provide feedback – so they can improve your service.  
The use of online surveys is an innovative way to do this – make sure that it's anonymous as this gives them more confidence, to be honest. 
We also recommend using open-ended questions and encouraging discussion. This is a thoughtful way to gather meaningful feedback without putting your new employee in an uncomfortable situation.  
✓ Thank you, the template will be sent to your email
Download your copy of
Employee Onboarding Process Template
The 4 Phases of the New Hire Onboarding Feedback Loop
Like all processes, gathering feedback from your new employees on the onboarding process they have recently gone through is a valuable tool in improving your organization's employee onboarding experience. Gathering new hire feedback creates a loop that continuously improves on itself – leading to effective employee onboarding. The four phases of this new employee onboarding feedback loop is: Capturing Feedback, Defining Onboarding Goals, Creating an Onboarding Plan, and Executing the Plan.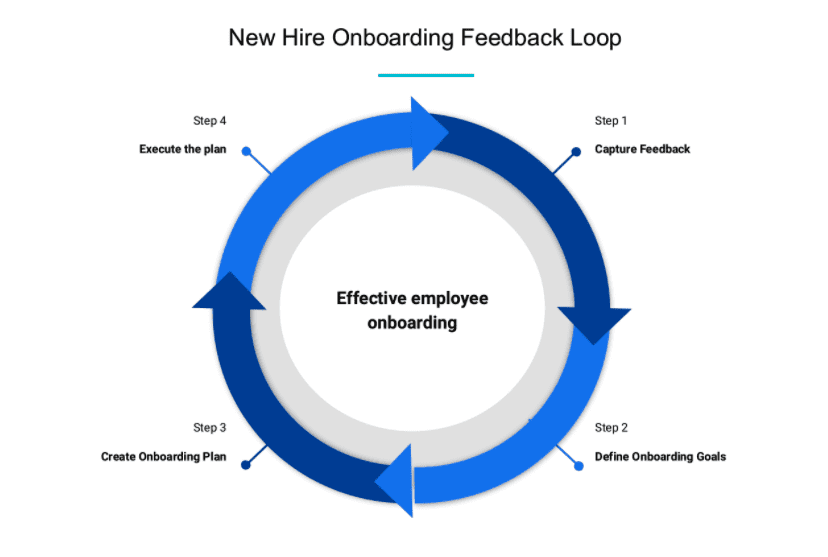 1. Capture New Employee Feedback
In this phase, you're rolling out surveys and polls to understand how new hires would rate your employee onboarding process. This helps HR department understand what real employees are saying about their processes. These surveys can be done by conducting user interviews and running onboarding surveys.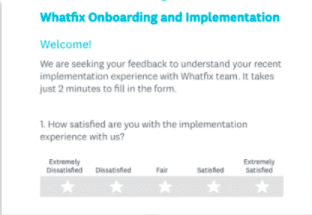 2. Define Your Onboarding Goals
With every iteration of your process or cohort of new employees, define SMART goals for your employee onboarding process – both short and long term goals – and set up strategies to measure its effectiveness over time.
Examples of onboarding goals include:
Decrease time to Salesforce CPQ proficiency from 6 weeks to 3 weeks.
Improve average confidence level of new hires from 6 to 8 at the end of month one.
Decrease number of support queries
Decrease sales cycle time
3. Create Your Onboarding Plan
After defining your onboarding goals, use these to create a new hire onboarding plan. Implement employee self-service tasks such as updating their account profiles, watch demo videos of your product, and other tasks that can be done without the help of other team members.
Then have their manager set time to create department-level tasks to complete. This could be tackling a first project, job shadowing a senior team member, going over their team's org chart, etc.
Be sure to also leverage HCM software, employee training software, and other HRIS tools to automate much of the onboarding process.
Executing the plan is when everything falls into place. This starts when your HR team begins to create training and development content for your onboarding plan. Be sure to monitor your processes with analytic and tracking tools to understand task progression, trouble spots, and time-to-onboarding metrics.
From here, the loop begins again as you ask your newly onboarding employee to complete a survey and give detailed feedback on your onboarding process.
How your new hires feel in the initial days of joining your organization will show in their improved performance and work ethic – and most importantly, their commitment to your organization.
To provide your new hires with a satisfying employee experience, you have to build a comprehensive and effective employee onboarding process. 
For more help, explore the benefits of digital adoption platforms like Whatfix to take care of your software onboarding needs, with its real-time and automated in-app guidance, saving you day to day time and money.
Get a free trial of Whatfix now to create personalized and engaging employee onboarding programs at scale and catapult your employees to rapid productivity.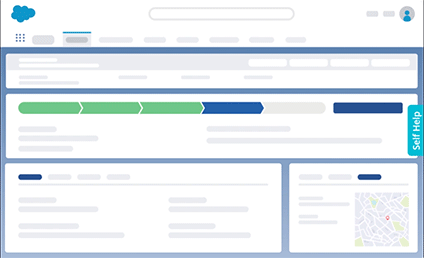 Create personalized onboarding flows for your enterprise apps with Whatfix
Whatfix empowers your new hires with contextual flows and self-help widgets, improving productivity and proficiency while cutting onboarding and support costs.