COVID-19 has reshaped the way enterprises manage their workforce. 
People are consciously practicing social distancing and moving into virtual workspaces, so business can continue functioning without disruption. While all of us hope that the pandemic passes us quickly, it's important to acknowledge that remote working is here to stay. Within the sub-set of non-self-employed, remote work had already grown by 159% between 2005 and 2017. 
So, it's high time we learn how to remotely manage your staff and temporary manpower in the most efficient ways possible. 
Remember, the key is to avoid confusion and loss of efficiency, by communicating the finer nuances of this digital-first way of working, on a regular basis. To that end, consider harnessing powerful DAP tools (such as Whatfix) to convey reasons for the change and train users on how to leverage the enterprise tools remotely and optimally. 
Top Remote Workforce Management Challenges
To understand what steps you need to take to ensure 'work as usual', in light of the sudden change in work patterns, it would be pertinent to first identify issues faced by remote workers that act as a real productivity sap.
Some of the more common challenges are:
Inability to download files, communicate or collaborate – owing to lack of access to the right video conferencing tools, high-speed internet, instant messaging, or role-specific software

The negative blurring of home and work boundaries (

according

to researchers from Cardiff University and UCL Institute of Education). This happens because employees feel like they need to prove themselves more when they are working from home, when they are not under the watchful eyes of their managers. For example, taking calls during dinner or while feeding your young one, perhaps responding to emails quite late at night or in between your personal tasks, or in general working much longer hours daily to present yourself as productive could severely affect work life balance even though you are at the comfort of your home. 

Struggle to navigate new collaboration and productivity-enhancing enterprise tools

Feeling of being disconnected from the rest of the team – leading to loneliness and low morale. This is especially true considering body language cues (and sometimes even tone) are missed out; during phone calls, texts, IMs, and emails; which make for 93% of personal communication effectiveness (as seen in the pie chart below on elements of personal communication).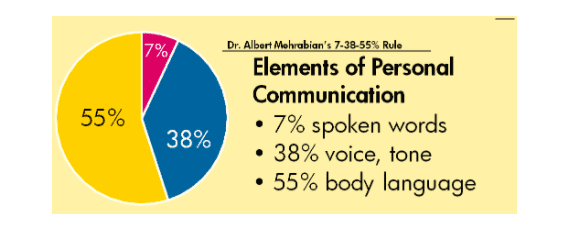 Too many distractions within the home environment: For example; Fido (your employee's dog) might need to be taken for a walk or the worker might run out of eggs and will need to pick some up
Note: Most of these challenges of managing a remote workforce are caused due to 'human issues' ranging from lack of accountability to poor software end-user training and alienation of the remote team members.
How To Overcome The Challenges of Managing a Remote Workforce
With the right attitude and technology, your organization can fully embrace this paradigm shift towards remote work. Telecommuting done right can even improve productivity, according to a Stanford study. 
Here are some of the ways to remotely manage your workforce:
1) Provide secure and reliable access to critical tools:
Productivity tools, line of business applications, communications/collaboration tools, company laptops and mobile devices need to made available to your remote workforce. 
But, since the COVID-19 situation didn't really leave companies time to plan, many employees may not have been assigned corporate laptops or mobiles to facilitate remote work. Such situations warrant that workers conduct business on their personal devices. To ensure that the enterprise applications are not extracting any personally identifiable information ("PII") from your employee's personal device, it's important to provide clear standard operating procedures and conduct rigorous remote testing. 
Being ISO27001, SOC2 and GDPR compliant, you may run top Digital Adoption Platform, Whatfix (on remote users' devices) without any fear of compromising their private data. Such a solution can help users navigate through enterprise applications and provide immediate support within the application, avoiding the chances of Shadow IT and a risk to your organization's data. 
2) Training and support in the flow of work:
To be able to "Work from Home", employees need to have strong knowledge of how to use the software applications essential to their role. It's no longer viable for sales reps to hop-over to the next cubicle and ask a colleague how to create a new lead or sales report on the company CRM. And writing to the tech support team (that is likely to be understaffed in the current health climate) with similar 'how-to' queries, wouldn't be very productive either – owing to long TAT. 
Since you wouldn't want the employees' work to stagnate until the query is answered via traditional training methods, consider opting for tools (such as Whatfix) that promote 'learning in the flow of work'.
Arguably, it is the most productive way of managing a remote workforce training and improving employee onboarding. Apart from DAPs, companies can use mentors, social learning and LEX to train remote users on the technology.
The biggest benefit of harnessing Whatfix is that its microlearning format is perfect to counter the many distractions employees face within their home environment. Additionally, this scalable solution can exponentially reduce the cost of creating unique training content (for the 300+ applications that employees use), for users across geographies.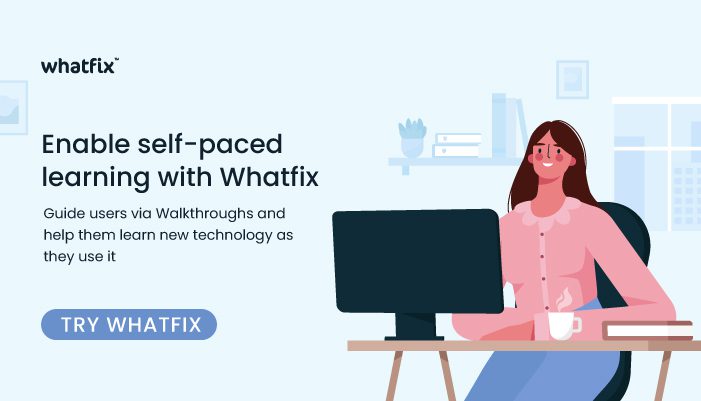 PlanetHS, LLC is an Athletics Management Software company that successfully onboarded new users by using Whatfix's guided flows and microlearning plans. It also auto-generated training content and offered Self-Service Help, thus eliminating 190K support tickets in just 12 months.
3) Keep communication lines open
:
Employees are likely to be struggling to orientate themselves to this 'new normal' of work from home. So, it's important for senior leaders to explain why remote work will benefit them and how the organization will employ various technologies and strategic workarounds to ensure that the change is smooth. This kind of messaging can be pushed out in the form of emails, newsletters, videos, and virtual meetings.
Also, an HBR article talks of research conducted on 1100 employees, where remote workers were the ones that felt most left out. Furthermore, in the current emergency situation, a feeling of despondency may set it amongst employees who are forced into physical isolation.
You may offer them a release from this sort of stress by:
Creating a separate channel in collaborative tools, such as Slack and internal forums, where users can chat with coworkers about topics such as sports, family, or TV shows. Such casual conversations are also sure to build intra and inter-team comradery.
Encouraging one-on-one (manager-reportee) check-ins daily and all team meetings once a week, via video calls. According to

a Forbes article

, 87% of telecommuters feel more connected to their organization thanks to video conferencing tools.
Finally, set and communicate realizable work goals/expectations. This way, aware of their goals, employees don't need to keep burning the midnight oil, just because their home and work space is the same.
4) Invest in a good DAP to remotely manage software training:
From the moment you decide to switch to a remote work situation, collaboration and productivity-enhancing tools are guaranteed to become the lifeblood of your workforce. This is why it's important that you use a DAP to ensure that the users are aware of the latest software updates and existing features. 
For example, if you need workers to use Slack more efficiently, Whatfix's walkthroughs, smart tips, and self-help widgets can help by offering bite-sized training, in the flow of work. It eliminates user confusion related to the instant messaging platform's workflow, by offering targeted and contextual content (in multiple formats) that encourages remote workers to seek solutions while using the tool. 
Also, Whatfix collects and contextualizes all your enterprise knowledge (knowledge bases, web-based content or inside documents) and surfaces them in-app so that remote users may find the right solution to their tech-led problem.
5) Establish a positive environment conducive to remote work:
Not everyone is programmed to be comfortable working remotely. To break this inertia to change, it's important to create a culture of open participation, inclusion, and agility. This will enable remote workers to embrace working in a distributed team. Such a work environment could be fostered through online soft skill development sessions or even group activities (such as online icebreaker games to welcome new joiners). According to a report by Freelancers Union, 78% of freelancers consider soft skills training to be as useful as technical skills for their career. This statistic could also apply to remote employees.



Also, be sure to prioritize the mental and physical health of the distributed team. Especially to off-set the symptoms of cabin-fever, prescribe engagement activities such as home fitness or meditation sessions.
Just started managing a global and remote workforce? Book a personalized demo to understand how Whatfix can help train virtual employees to adapt to working via your collaboration technologies more productively.