COVID-19 has reshaped the way enterprises manage their workforce. 
People are consciously practicing social distancing and moving into virtual workspaces, so the business can continue functioning without disruption. While all of us hope that the Coronavirus pandemic passes us quickly, it's important to acknowledge that remote working is here to stay. Within the sub-set of non-self-employed, remote work had already grown by 159% between 2005 and 2017. 
What is Remote Workforce Management?
Remote workforce management is the practice of effectively leading and managing remote employees and temporary manpower in the most efficient ways possible. The key to managing remote workers is none other than open communication and employee engagement, monitoring your teams' productivity, and avoiding loss of efficiency.
All these factors can be achieved with the right tools and knowledge, and a bit of ingenuity and remote workforce management will be a breeze.
TIP: Consider harnessing powerful DAP tools (such as Whatfix) to convey reasons for the change and train users on how to leverage the enterprise software remotely and optimally. 
Challenges for Managing a Remote Workforce
To understand what steps you need to take to ensure 'work as usual', in light of the sudden change in work patterns, it would be pertinent to first identify issues faced by remote employees that act as a real productivity sap.
Some of the more common workforce management challenges are:
Inability to download files, communicate or collaborate – owing to lack of access to the right video conferencing tools, high-speed internet, instant messaging, or role-specific software

The negative blurring of home and work boundaries (

according

to researchers from Cardiff University and UCL Institute of Education). This happens because employees feel like they need to prove themselves more when they are working from home, when they are not under the watchful eyes of their managers.
For example, taking calls during dinner or while feeding your young one, perhaps responding to emails quite late at night or in between your personal tasks, or in general, working much longer hours daily to present yourself as productive could severely affect work-life balance even though you are at the comfort of your home. 

Struggle to navigate new collaboration and productivity-enhancing enterprise workforce management software.

Feeling of being disconnected from the rest of the team – leading to loneliness and low morale. This is especially true considering body language cues (and sometimes even tone) are missed out; during phone calls, texts, IMs, and emails; which make for 93% of personal communication effectiveness (as seen in the pie chart below on elements of personal communication).
Too many distractions within the home environment: For example; Fido (your employee's dog) might need to be taken for a walk or the worker might run out of eggs and will need to pick some up.
Loss of traditional training methods and in-person development, leading to challenges with remote employee training.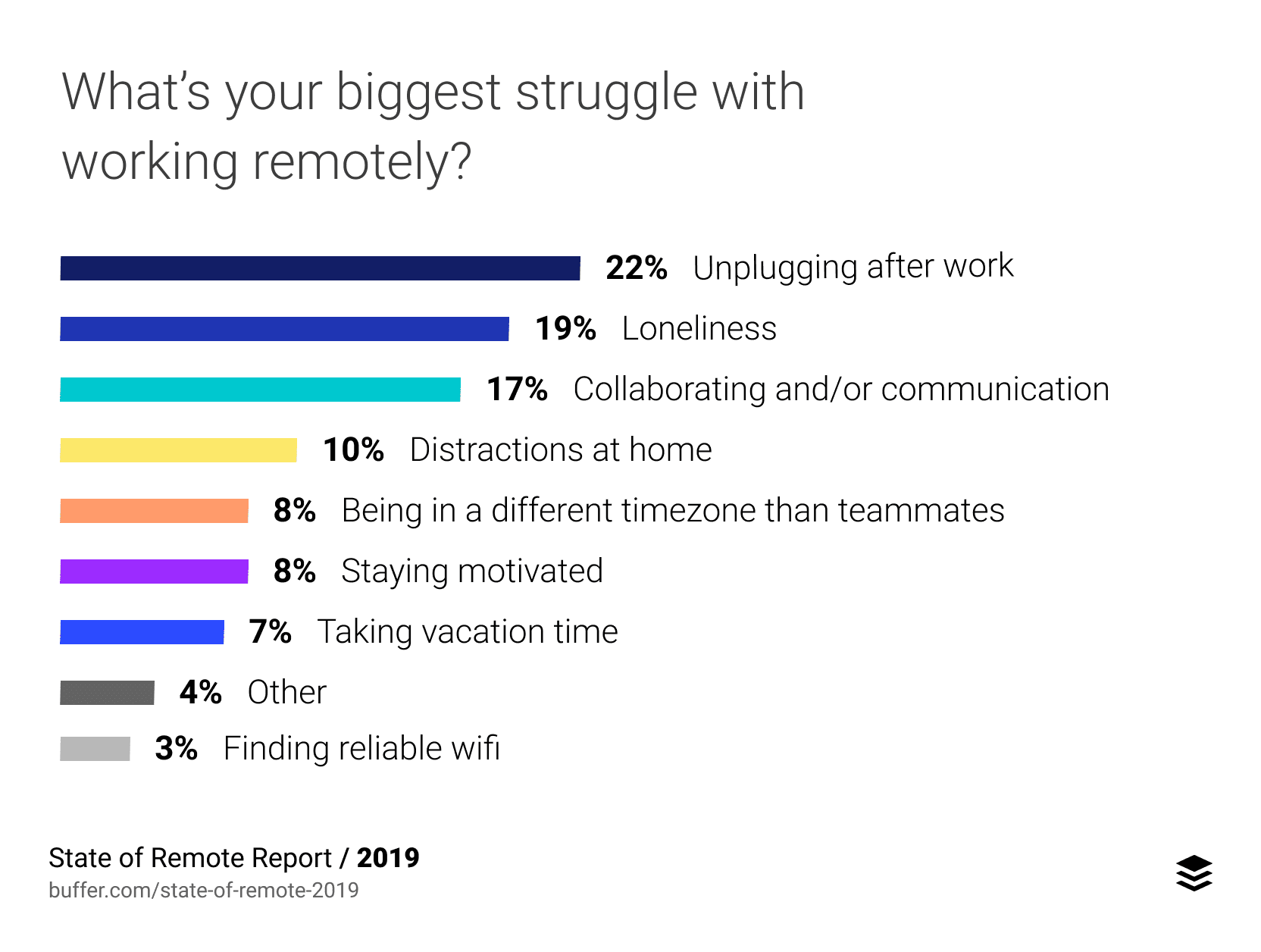 Source: Buffer Survey
Note: Most of these challenges of managing a remote workforce are caused due to 'human issues' ranging from lack of accountability to poor software end-user training and alienation of the remote team members.
How to Overcome the Challenges of Managing a Remote Workforce?
With the right attitude and technology tools, your organization can fully embrace this paradigm shift towards remote work. Telecommuting done right can even improve productivity, according to a Stanford study. 
Here are some of the ways to remotely manage your workforce:
1. Provide Secure and Reliable Access to Critical Tools
Productivity tools, line of business applications, communications/collaboration tools, company laptops, and mobile devices need to made available to your remote workforce. 
But, since the COVID-19 situation didn't really leave companies time to plan, many employees may not have been assigned corporate laptops or mobiles to facilitate remote work.
Such situations warrant that workers conduct business on their personal devices. To ensure that the enterprise applications are not extracting any personally identifiable information ("PII") from your employee's personal device, it's important to provide clear standard operating procedures and conduct rigorous remote testing. 
Being ISO27001, SOC2 and GDPR compliant, you may run the top Digital Adoption Platform, Whatfix (on remote employees' devices) without any fear of compromising their private data.
Such a solution can help users navigate through enterprise applications and provide immediate support within the application, avoiding the chances of Shadow IT and a risk to your organization's data. 
2. Training and Support in the Flow of Work
To be able to "Work from Home", employees need to have strong knowledge of how to use the software applications essential to their role. It's no longer viable for sales reps to hop over to the next cubicle and ask a colleague how to create a new lead or sales report on the company CRM.
And writing to the tech support team (that is likely to be understaffed in the current health climate) with similar 'how-to' queries, wouldn't be very productive either – owing to long TAT. 
Since you wouldn't want the employees' work to stagnate until the query is answered via traditional training methods, consider opting for tools (such as Whatfix) that promote 'learning in the flow of work'.
Arguably, it is the most productive way of managing remote workforce training and improving employee onboarding. Apart from DAPs, companies can use mentors, social learning, and LEX to train remote employees on the technology.
The biggest benefit of harnessing Whatfix is that its microlearning format is perfect to counter the many distractions employees face within their home environment. Additionally, this scalable solution can exponentially reduce the cost of creating unique training content (for the 300+ applications that employees use), for users across geographies. 
PlanetHS, LLC is an Athletics Management Software company that successfully onboarded new users by using Whatfix's guided flows and microlearning plans. It also auto-generated training content and offered Self-Service Help, thus eliminating 190K support tickets in just 12 months.
3. Keep Communication Lines Open
Employees are likely to be struggling to orientate themselves to this 'new normal' of work from home. So, it's important for senior leaders to explain why remote work will benefit them and how the organization will employ various technologies and strategic workarounds to ensure that the change is smooth. This kind of messaging can be pushed out in the form of emails, newsletters, video announcements, and virtual meetings.
Also, an HBR article talks of research conducted on 1100 employees, where remote workers were the ones that felt most left out. Furthermore, in the current emergency situation, a feeling of despondency may set it amongst employees who are forced into physical isolation.
You may offer them a release from this sort of stress by:
Creating a separate channel in collaborative tools, such as Slack and internal forums, where users can chat with coworkers about topics such as sports, family, or TV shows. Such casual conversations are also sure to build intra and inter-team comradery.
Encouraging one-on-one (manager-reportee) check-ins daily and all team meetings once a week, via video calls. According to

a Forbes article

, 87% of telecommuters feel more connected to their organization thanks to video conferencing tools.
Finally, set and communicate realizable work goals/expectations. This way, aware of their goals, employees don't need to keep burning the midnight oil, just because their home and workspace are the same.
4. Invest in a Good DAP to Remotely Manage Software Training
From the moment you decide to switch to a remote work situation, collaboration and productivity-enhancing tools are guaranteed to become the lifeblood of your workforce. This is why it's important that you use a DAP to ensure that the users are aware of the latest software updates and existing features. 
For example, if you need workers to use Slack more efficiently, Whatfix's walkthroughs, smart tips, and self-help widgets can help by offering bite-sized training, in the flow of work. It eliminates user confusion related to the instant messaging platform's workflow, by offering targeted and contextual content (in multiple formats) that encourages remote workers to seek solutions while using the tool. 
Also, Whatfix collects and contextualizes all your enterprise knowledge (knowledge bases, web-based content, or inside documents) and surfaces them in-app so that remote users may find the right solution to their tech-led problem.
5. Establish a Positive Environment Conducive to Remote Work
Not everyone is programmed to be comfortable working remotely. To break this inertia to change, it's important to create a culture of open participation, inclusion, and agility. This will enable remote workers to embrace working in a distributed team.
Such a work environment could be fostered through online soft skill development sessions or even group activities (such as online icebreaker games to welcome new joiners). According to a report by Freelancers Union, 78% of freelancers consider soft skills training to be as useful as technical skills for their career. This statistic could also apply to remote employees.



Also, be sure to prioritize the mental and physical health of the distributed team. Especially to offset the symptoms of cabin fever, prescribe engagement activities such as home fitness or meditation sessions.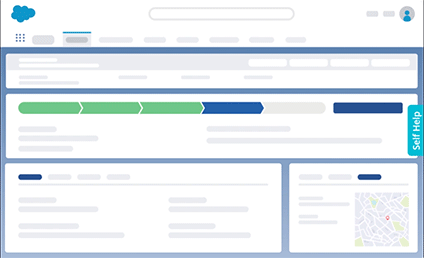 Simplify your remote training and employee producitivity with Whatfix
Unlock maximum productivity from your remote workforce through automated content creation & self-serve support enabled by Whatfix's Digital Adoption Platform in-app technology.
8 Tips for Remote Team Management in 2021
In this section, we'll give you the information you need to master remote team management, including tools to help your team members overcome the challenges of distributed work. Each section will provide details and best practices for adjusting to remote work:
1. Approach Change with Empathy
As you start to focus on remote workforce management, you have to consider what your employees are going through and how you can help them transition. They may need more flexibility than before, particularly when it comes to set work hours. They are dealing with a different work environment than they are used to, with many new challenges. Some remote workers may have kids at home, or they may be caring for sick family members.
It's also more difficult for your remote employees to seek help if they are having trouble learning new technology or if they want to continue their professional development. One of the ways you can help struggling employees is to implement a digital adoption platform. With guided walk-throughs and self-help features, a DAP will help your remote employees learn new technology quickly and adjust to working remotely.
A vital part of managing remote workers is approaching the switch with compassion and empathy. Remember that your team is figuring out how to work remotely just like you are, and they look to you for guidance and support.
2. Develop a Remote Work Policy
Unclear expectations are a frustrating but avoidable side effect of transitioning to a remote environment. Developing a remote work policy is a significant part of understanding and building a solid digital workplace strategy. It will help your remote employees understand what is expected of them as they learn how to work remotely.
Use your remote policy to clarify your company's rules regarding working from home, including:
What positions are eligible
What process is to be used for requesting to work from home
How productivity will be measured (e.g., amount of time spent on a project, or numbers of customer meetings)
What times of day employees are expected to be available
Not only will a solid, documented remote work policy help your current remote employees, but it will also help future employees who want to work remotely. Having expectations and policies laid out clearly prevents confusion and the appearance of favoritism if only some positions are eligible for working from home.
✓ Thank you, the template will be sent to your email
Remote Work Policy Template
Get a free remote work policy template to customize for your organization now!
3. Implement Tools to Aid Remote Team Management
Remote working may be new to you and your team members, but it has been on the rise since 2005. That means a variety of tools have come out to help with managing remote employees by fostering effective communication and collaboration.
Implementing remote work tools can help your team continue to work productively and collaborate on projects even though they aren't in the same physical location through a fully digital workplace model. For example, Microsoft Teams offers a secure workspace for sharing files and creating team-specific chatrooms. Taskade allows for real-time joint collaboration on files and has features for creating meeting agendas and task lists.
Communication tools are a great way to combat the isolation that can accompany remote work. You can use platforms like Zoom and Google Meet for video calls, and Slack for instant messaging and written communication.
You can also make your company's "work from home" initiative a success with remote training via a digital adoption platform. Using a DAP for remote training and guidance makes it easier for remote employees to learn to use these new tools and quickly make the move to productive remote work.
4. Recognize the Top Challenges for Remote Employees
Even with the best tools and policies in place, employees are going to face challenges as they learn how to work remotely. The key to effective and compassionate remote team management is recognizing these challenges and providing solutions and suggestions to make the transition smoother.
We've already mentioned a few common challenges, such as learning new technology, being uncertain of expectations, and adjusting to work in a different environment. It's also not uncommon for employees to feel isolated. Managers should check in with their team regularly to see how they're adjusting.
HR is as vital to the transition as team managers are. HR managers should follow up with IT managers to make sure the IT team is coping with the sudden increase in demand from newly remote workers. HR also needs to make sure employees have the equipment and resources they need to successfully work from home.
5. Make Communication a Priority
For managing remote employees, there's no such thing as overcommunicating. Your team members can't stop by your office to ask for clarification, so be sure to clearly spell out any and all expectations.
This includes how employees are expected to communicate with you and each other (such as Slack vs. email vs. video calls), and even things as seemingly small as whether employees are expected to have video on during calls. If you're not sure if it needs to be spelled out, do it anyway.
Early on in the process, ask questions about what they expect from the transition. This will help you address unclear expectations before they ever become an issue. Make sure everyone is on the same page by touching base with your team all together once a week or bimonthly, and meet with employees during one-on-ones at least monthly.
Communication extends beyond work-related topics. Set aside a specific time in your team and one-on-one meetings to ask about feelings and find out how people are adjusting.
Video calls are a key component of remote team communication. People are more likely to open up if it feels like an in-person, spontaneous conversation than if communication is solely through premeditated written means. Video also allows you to see facial expressions and hear tones of voice, which can be strong clues to how your employee is really doing.
6. Encourage Employee Engagement
Part of managing remote employees is to keep employees engaged and to make sure they still feel and act like a team while learning how to work remotely.
You can build a sense of community by organizing team-building activities. For example, content marketing company Animalz (a completely distributed company) organized a company-wide virtual talent show.
You can also encourage employee engagement by setting up ways for your employees to communicate socially with one another. Slack allows you to set up multiple topic-based channels, which you could organize by interest. You might have a channel for talking about food, and another for discussing movies. Or schedule regular "watercooler chats" using tools like Donut to randomly pair employees every other week.
Team-building activities keep employees engaged with other team members and help them feel connected, as they would if they saw each other in an office every day.
7. Learn from Experienced Remote Managers
Figuring out remote management is an ongoing process. Some of your best resources are managers who are seasoned at managing remote teams. They have already experienced the transition and can offer insights into best practices and pieces of advice that were helpful for them or that they wish they had been given.
For example, Josh Ho, founder and CEO of Referral Rock, says, "Remote work required putting processes in place much earlier" so employees don't waste time hunting for resources or constantly messaging you or other employees about where to find things.
Employees can no longer have the quick "how do you do this" conversation, as they could in an office environment. Set up processes to make resources and information accessible.
8. Show Your Team You're Learning Together
As you help your team learn how to work remotely, you are learning about managing remote teams at the same time. If you find that certain tools or habits help you adjust more easily, share them with your team, and show them that you are there for them as a resource as well as a manager.
Encourage them to communicate with you, whether it's asking for advice, sharing concerns, or simply clarifying expectations. This will help keep them—and you—from feeling isolated, and it will help all of you continue to function as a team.
6 Tools to Manage a Remote Workforce
Using the right tools for your remote workers will help keep the entire team on the same page and ensure workforce productivity even while working remotely.
Here we have put together a list of our top remote workforce management tools:
1. Whatfix Digital Adoption Platform
Digital Adoption Platforms provide employees with in-app guidance, allowing them to learn in the flow of work. Whatfix's interactive on-the-job eLearning solution augments your training by helping employees in learning while doing, within the business application.
While using the application, users will view pop-ups that walk them through how to complete specific tasks within the tool, such as creating a new opportunity in Salesforce or adding an emergency contact in Workday.
Whatfix helps increase employee productivity by saving their time in looking for information and by reducing errors. And also automatically monitors employee's progress and sends reminders to complete pending tasks.
While there is a multitude of video conferencing tools available, Zoom is the tool of choice for many enterprise organizations due to its scalability.
Digital collaboration tools like Zoom allow remote workers to chat or meet face to face via video calls while they work from home. Zoom can also be a lot useful for managers to make regular check-in calls and update their employees with progress reports, review individual goals, or discuss ideas. Whether you need to schedule a meeting or have a private chat with a team member, this tool helps you stay connected and foster team building.
Slack is one of the most common, well-crafted, and flexible messaging communication tools used by the remote workforce. Its private or open chat channels, reminder settings, searchable archives, and numerous Slackbots enhance instant communication within a team.
Slack provides voice and video calls along with screen sharing and it also has a search feature to make it easier for you to search for any information.
Microsoft Teams is a hybrid communication and collaboration tool that helps you manage a remote workforce by sharing files and creating chatrooms for each department. The tool enables communication by chat messages in private or group conversations, voice calls and video meetings, pictures, and documents.
Since Microsoft Teams is designed to integrate with Office 365, it can keep your files, meetings, conversations, and apps linked together in one program.
Remote workers often struggle with loneliness due to working individually and a lack of socialization. Donut addresses this issue by facilitating casual conversations by randomly pairing up employees for virtual hangouts.
This remote work tool is a great way to connect employees across departments who may otherwise not get a chance to get to know each other.
JIRA is one the most powerful project management tools that can help your manage a remote workforce by helping employees work in a well-organized controlled manner and stay efficient.
It provides useful features like boards with different categories like to do or in progress or done, real-time insights reports, roadmaps to assign work and manage the activity of all team members. JIRA helps all your team members to plan, track, and release great projects.
Check out our dedicated article on "Remote Work Tools" to learn more about using the right tools for remote teams and managing remote workers.
Just started the global remote workforce management? Book a personalized demo to understand how Whatfix can help train virtual employees to adapt to working via your collaboration technologies more productively. 
Increase end-user adoption with Whatfix
With Whatfix's Digital Adoption Platform, create in-app learning flows, contextual training and onboarding, and self-help knowledge bases. See it in action below.