The CHRO of Unilever, a Fortune 500 company, makes an interesting observation about how employee learning has changed in today's competitive business environment. She points out that "all learning is underpinned by curiosity and focus".
Employees learn best when they encounter challenges in their business processes that they have to solve. Every time a challenge arises, employees are curious to find out effective solutions. This need to learn combined with a heightened focus makes learning more effective during these bursts of curiosity than at any other time. This is also the point where employees look for highly relevant, concise information that they can quickly consume to find immediate solutions.
That's where microlearning fits in.
Microlearning is defined as breaking down learning content into small, bite-sized information modules. Smaller learning sessions offer just the right amount of information necessary to achieve a specific objective, making microlearning valuable, especially in business contexts.
It's effective because the learner is able to apply the skills they've learned before they began to lose attention, thus improving knowledge retention. This is also referred to as real-time learning.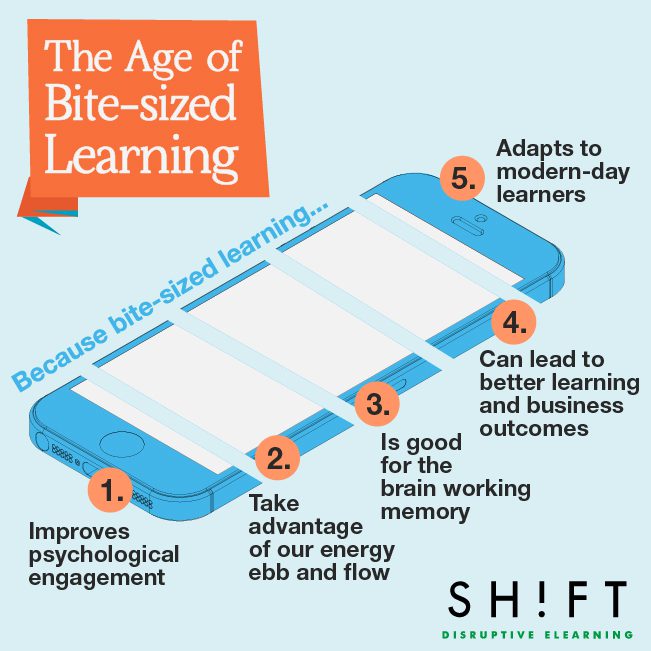 Benefits of Microlearning
Here are a few of the biggest advantages of implementing a microlearning strategy at your organization.
Learners have an opportunity to choose and learn specifically what they need and whenever they want to. Many times microlearning is embedded directly into a learner's flow, meaning learning is integrated into their normal routine – reducing friction and helping to instantaneously apply newly learned knowledge.
Overall, microlearning makes training content personalized and easily digestible, simplifying the learning process and making it flexible for learners.
2. Just-in-time & accessible
This is one of the biggest benefits for the learners. The bite-sized nuggets are available to them precisely when needed. They are also available on-demand i.e. learners can pull them rather than be pushed to go through them.
Another advantage of using microlearning in employee training is that since information is delivered in short bursts, it does not fatigue learners, rather, it reinforces concepts before they lose interest.
The short-length courses can be read and comprehended easily. The design formats of microlearning include rich media formats that lead to better retention of knowledge. This again reduces the friction of learning experiences, allowing learners to not lose productivity while learning new skills.
With a microlearning training approach that uses short modules, there are very specific outcomes. Learners quickly grasp important concepts and move on to the next bit of information.
6 Microlearning Examples to Use as Inspiration in 2022
Apart from Unilever mentioned earlier in this article, there are a number of microlearning examples across other billion-dollar enterprises like Google, IBM, and Cisco, to name a few.
Here are six corporate microlearning examples to use as inspiration for your L&D team:
1. Google's Whisper Courses for Manager Training
Google's Challenge
A training session or a seminar is fruitless if learners do not apply what they are taught in real-life situations. This is precisely the challenge that Google wanted to address. They needed a training method that would help managers retain important information and also prompt them to try what they knew.
Google's Solution
Google's solution is quite simple. They implemented microlearning through what they called the 'whisper course'. It consists of a series of emails each of which contained a suggestion that managers could try out during their team meetings.
Why the Solution Worked
The whisper courses are centered around the idea that often, what you need is a gentle nudge, a reminder to try out what you know. Each of the emails focuses on 'the what, the why, and the how' of the learning objective and is followed by a simple CTA or an experiment.
Below you can see an example of one such email: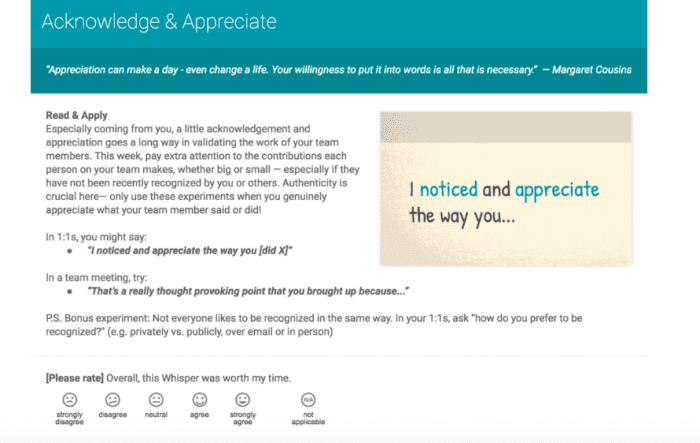 You can see right away that the email is practice-focused. Instead of overwhelming employees with an overload of theoretical information, you simply break it down into small, easily executable tasks. This way information is easy to retain and easier to apply.
2. Cardinal Health Using a Digital Adoption Platform to Improve Its Salesforce Adoption
Among the microlearning examples we have taken here, Cardinal Health's approach is particularly interesting. The employees at the Fortune 14 company were facing a roadblock in adopting Salesforce and they needed an effective solution.
Cardinal Health's Challenge
Cardinal Health, Canada was facing a significant challenge in the adoption of their Salesforce CRM due to a number of reasons.
First, the sales reps were mobile workers and they were finding it quite difficult to invest a lot of time in training. The nature of work made it logistically hard to arrange classroom training sessions that the sales reps could benefit from.
Second, Cardinal Health was receiving repetitive support queries even after training sessions were held, indicating a gap in knowledge retention. A huge amount of time and effort that could be invested in solving more complex queries was being spent in answering simple, repetitive queries.
Third, the Salesforce training sessions focused more on why it was important for sales reps to use Salesforce rather than show them how to use the application. With sessions being more theoretical than practical, the sales reps were at a loss when it came to actually use the Salesforce application.
Cardinal Health's Solution
Cardinal Health approached Whatfix, a Digital Adoption Platform to improve their Salesforce adoption by providing their sales reps with a better form of training. They were subjected to a real-time learning environment through learning by doing with Digital Adoption.
Using Whatfix's core technology, Interactive Walkthroughs, sales reps were provided task-based learning that allowed for shorter and more effective training.
Why the Solution Worked
With training and user assistance available on-demand, sales reps could better engage with Salesforce. The task-based nature of the Whatfix platform was able to solve a number of queries that sales reps had on a consistent basis.
They could learn to use the application at their own pace without setting aside time exclusively for training. This actually made the sales reps more open to learning than they were with classroom training sessions.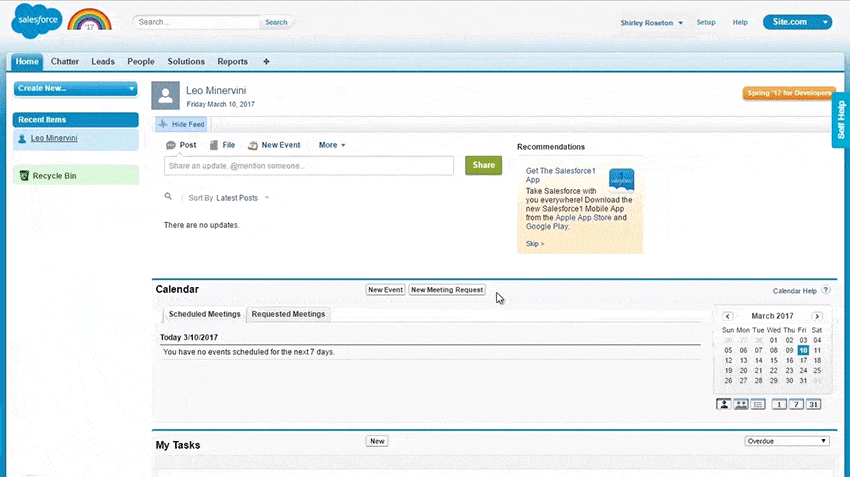 Above you can see how Whatfix seamlessly offers  Digital Adoption within the Salesforce platform. Sales reps can access all the information they need without having to disrupt their workflow.
3. IBM Using Microlearning to Develop Cloud Expertise
IBM's Challenge
Employees working with IBM Cloud often need to develop some key skills each time they handle a project. And they needed to develop these skills quickly. They could not wait for scheduled training classes and practice labs every time they had a project or an assignment.
IBM's Solution
In 2018, IBM launched IBM Microlearning, a platform that helped employees to develop cloud expertise at their own pace. The platform consisted of a number of exercises, each of which answered a specific question and helped employees develop a specific skill.
Why the Solution Worked
The IBM microlearning platform offered employees a quick, focused, and easily accessible way to develop the skills they require. Employees can access the platform at any time during their day and work their learning according to their own pace. The short-spaced lessons do not overwhelm employees with information, rather, it helps them develop their knowledge quickly and efficiently.
The image below shows the IBM microlearning platform.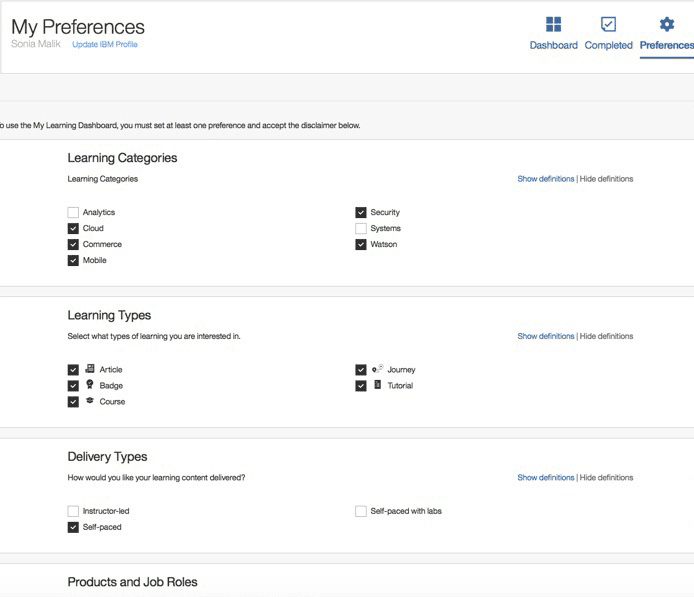 4. Cisco Using Bite-Sized Videos to Answer IT Questions
Next in our list of microlearning examples is Cisco's approach to answering information technology questions.
Cisco holds the Cisco Career Certification Program to ensure that IT professionals are equipped with the skills and knowledge required to work on Cisco products. The enterprise uses microlearning to help learners work their way through the information required to complete the Cisco certification exams.
Cisco's Challenge
Employees taking the Cisco certification exams found it tedious to go through all the course material before the exams. Not to mention, the vastness of the material meant employees were more than likely to forget significant chunks of what they have learned and not retain that knowledge.
Cisco's Solution
Cisco has a repository of resources that are dedicated to learners taking the Cisco certifications called the 'Cisco Learning Network'. The network consists of a series of short, 6-7 minute learning videos called 'Cisco Answers IT'. Each of these videos includes excerpts of longer IT training videos and deal with specific concepts. They act as a quick refresher of the most common IT topics.
Why the Solution Worked
Cisco's microlearning video series gives learners a quick recap of all the important concepts. Instead of spending hours going through long and endless training videos, learners can simply pull up one of these videos to refresh a concept in no time.
The content within the videos is just long enough to span the learner's attention and short enough so that the learner does not lose interest. The videos are also used by other employees as a reminder of important concepts before they start their work.
In the image below, you can see how each of the videos in the series deal with only one topic. You can also see that each of the videos is no longer than 6 minutes.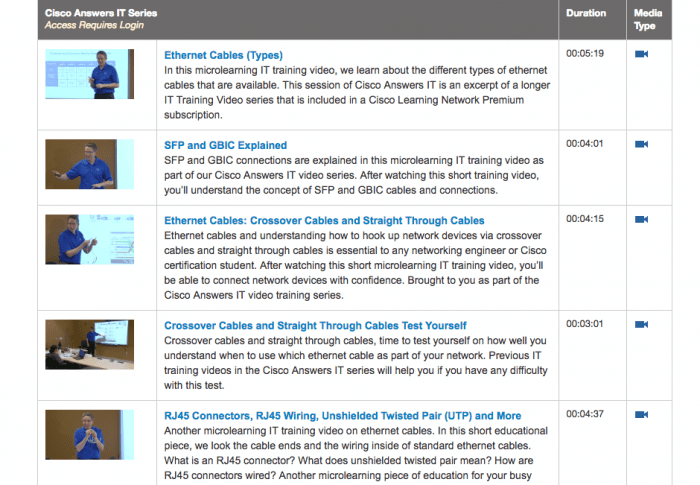 5. ADP Using 3-Minute Lessons for Client Training
ADP's Challenge
At ADP, frequent training is important, considering the sheer number of products and the equally large number of clients. The fast-paced nature of business demands left little doubt that they needed a training approach that could quickly and effectively enable personalized learning.
ADP's Solution
ADP adopted microlearning into their training approach and created the Learning Bytes platform for effective client training. The platform consists of a combination of job aids (or PDFs) and videos which can be consumed in less than 5 minutes.
Each application is divided into a number of lessons and each lesson is demonstrated using a narrative video or with the help of job aids. Instead of offering one-time demonstrations, all the training demonstrations are made available on the platform so that they are easily accessible and available right when and where the learners need them. Each lesson contains highly precise information and breaks down complex instructions into 7- 10 short, executable steps.
Why the Solution Worked
Within a few months of launching the platform, ADP noted a large number of logins and course completions. They also found that their total training time went straight down from 24 hours to 7 hours.
The reason the platform proved to be such a success is because of how focused each of the lessons in the platform was. Clients need not focus on the different applications at once. The job aids and videos are highly task-based. It helps the clients understand, in quick detail, how to execute the different aspects of an application and builds their knowledge as they progress.
Here is how the Learning Bytes looks to a learner. You can see that a single application has been broken down into several lessons each of which contains information in the form of a video or a job aid or both.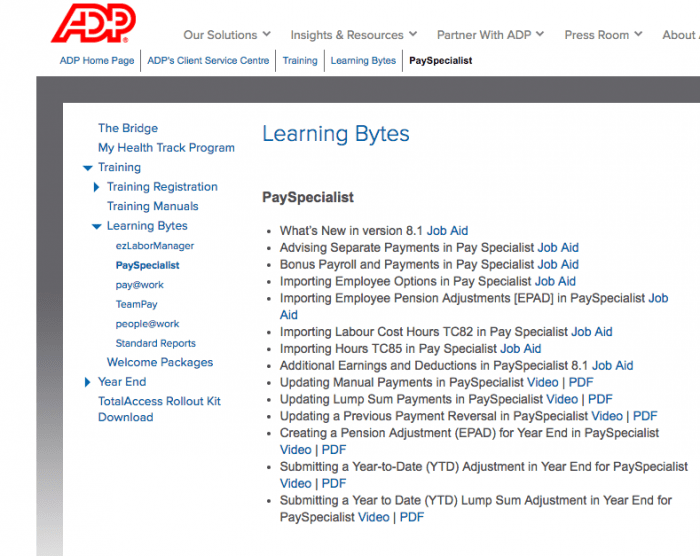 6. Unilever Using "Snackable" Learning for Employee Training
Unilever's Challenge
Unilever realized that despite the need for regular employee training, it was impractical to expect employees to dedicate a day or two towards such training. They also saw that most of the training material tended to be daunting and could distract employees even before they started learning. Unilever needed a training approach that could deliver learning in short bursts and was personalized to meet employees at the moment of their need.
Unilever's Solution
Unilever developed a microlearning tool to offer regular training to their employees called the "My Learning Platform." It consists of a number of modules that combine TED talks, instructional videos, social campaigns, and other resources that can help Unilever employees learn and grow in their careers. All the available material is simplified and personalized to help employees learn with ease.
Why the Solution Worked
Through microlearning, Unilever managed to make training content more approachable. Information was now more human, more personalized, and easily consumable. Employees are able to access these training resources at any given time during their workday and all they have to do is spend 15 minutes each day to learn a new skill.
As training becomes flexible with microlearning, employees begin to show increased interest and active participation in the learning process. More importantly, the platform offers learning material that is not just limited to what they do at work. Instead, employees are encouraged to explore topics of their interest as well, making learning personalized to suit individual interests.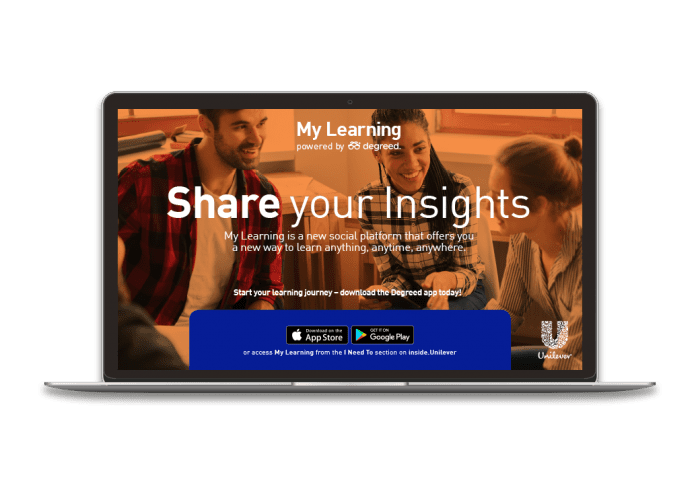 4 Ways to Leverage Microlearning for Effective Employee Training
Various tools and techniques have come up, that divide the course content into bite-sized fragments and then deliver it.
1. Performance support tools
With the help of a performance support tool, learners can obtain knowledge and implement it simultaneously. The information to be conveyed is broken down into small fragments and presented in a step-by-step manner, one instruction at a time. These tools integrate microlearning with 'learning-by-doing' approach.
Let's get into the nitty gritty of performance support tools, with the example of Whatfix. Along with dividing the course content into small chunks, Whatfix also makes learning interactive. This is accomplished with the help of an interactive walkthrough that appears on the screen and guides the user to take appropriate actions.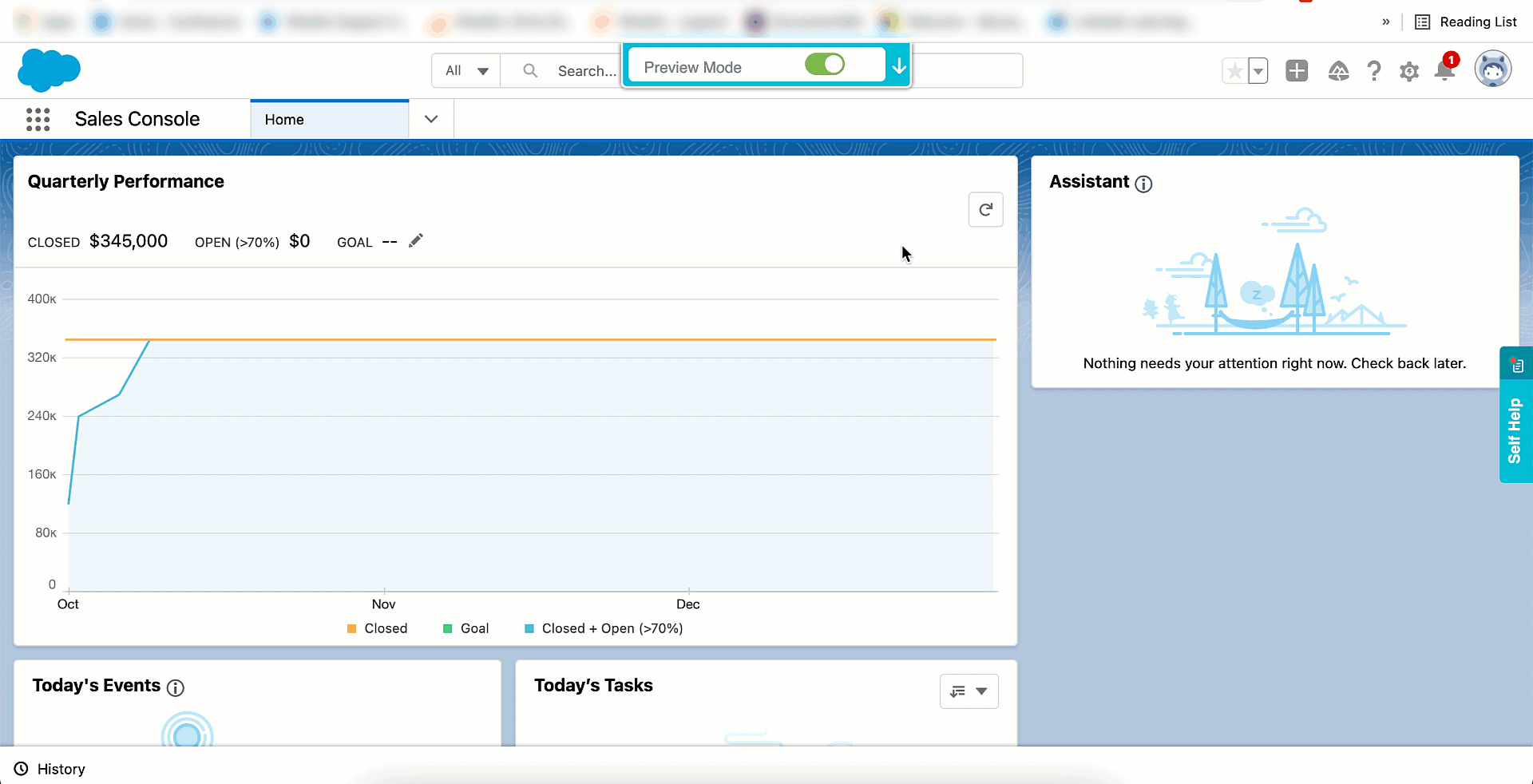 Whatfix becomes an ideal tool when you need to provide software training to employees. It can be integrated within the software on which training has to be done or, you can also easily integrate it with your existing LMS. 
According to Forrester, "employees are 75 percent more likely to watch a video than to read documents, emails or web articles".
Instructional videos of short durations can be used when you are trying to instruct an employee on how to handle various aspects of a complex activity say, risk management within the corporation or how to successfully handle customer complaints.
Videos can be used for training in multiple ways. You can design a video and integrate it directly into your site or even share it privately on a video hosting platform (such as YouTube) in order to deliver it to remote employees. The employees can then access the video whenever they need it and take their own time to absorb the information being offered.
Short length of the videos ensures that employees stay engaged and are able to apply knowledge right away.
CRM Learning provides videos that are used by organizations to improve the overall effectiveness and provide employees with compelling online and classroom training. These learning videos can be streamed from CRM learning's proprietary LMS, or from your organization's own LMS. You can also purchase DVDs or USBs for use in classroom training or blended learning.
3. Lesson-based podcasts/webcasts
Podcasts personalize training by creating a conversational framework that improves effectiveness and retention. It allows employees to access training at different times depending on their workload and availability.
Podcast as a microlearning tool is beneficial as it delivers content through small learning steps supported with small chunks of learning content with easily digestible information.
Podcasts are specifically useful for auditory learners, i.e the people who learn best through listening. Most of the training methods are designed for visual learners because they constitute the majority (60 percent).
Research done by Sultan Qaboos University, Oman studied the effect of including podcasts as a microlearning tool. The before and effect of its usage is depicted in the graph below.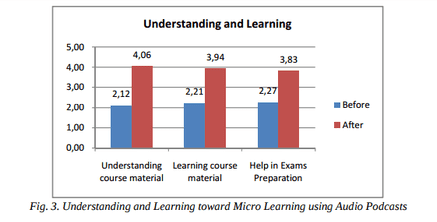 For hosting your podcasts, LibSyn (Liberated Syndication) is one of the largest platforms. It has a striking feature set of offering the option of turning your podcasts into a mobile app.
Training simulations present users with a game-like atmosphere. In a virtual environment, the application includes images and graphics along with voice, background music, and special effects. In a live environment, scenarios are recreated to resemble real-life situations.
Typically, if users don't select the best solution, they are remediated until they do so. With practice, learners identify suitable solutions to practical issues and later incorporate these solutions into their daily activities. In some simulations, the learner receives points for each decision he makes, helping him understand the effectiveness of his decisions.
Training simulations have gained popularity as a microlearning tool because the user chooses when to start and end the simulation and finishes it without any external help.
Designers from Designing Digitally create simulated learning experiences for employee training. These simulated learning experiences range from a complete 2D simulated software experience up to a 3D immersive experience.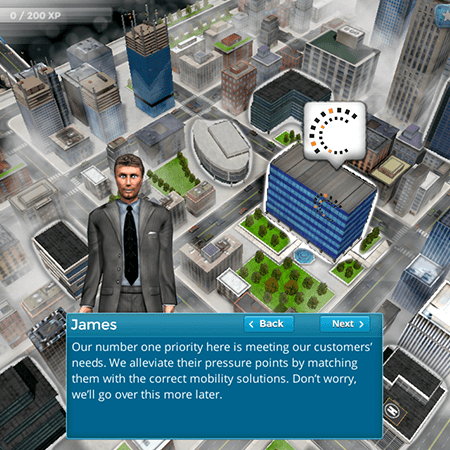 Integrating Microlearning into Your Corporate Training & Development
Microlearning is the technique you need right now, to augment your training for employees with low attention spans.
To ensure that your employees are engrossed in the training that you provide to them, you need to take care of their learning needs. Due to the dwindling attention spans of this generation, it makes sense to incorporate microlearning in your company. But along with benefitting the learner in multiple ways, microlearning also proves to be beneficial for a business. That is because it's –
Affordable and agile – Due to the short training duration, the microlearning costs are lower than traditional eLearning. They can be created and deployed rapidly, much quicker than traditional eLearning.

Shorter development cycle – Typically, all the formats of microlearning, whether a performance support tool or an instructional video, have a much shorter development cycle.

Wider application – Microlearning formats can be used to train a new employee from scratch or can also serve as a refresher for an experienced employee. You can also use these nuggets as stand-alone assets or they could be part of a series of microlearning courses.

Easy to update – Small-length courses are easy to update as well as upgrade.
In today's fast-paced digital environment your employees want to constantly up-skill but have little time to learn. So by implementing microlearning, you can provide your workforce a chance to learn and grow.
Microlearning has numerous benefits associated with itself, from an employee and business point of view. When technology brings in so many returns, it's definitely worth giving a try.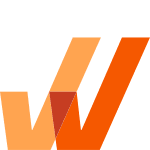 Request a demo to see how Whatfix empowers organizations to improve end-user adoption and provide on-demand customer support
Subscribe to get new content delivered directly to your inbox.