The CHRO of Unilever, a Fortune 500 company, makes an interesting observation about how employee learning has changed in today's competitive business environment. She points out that "all learning is underpinned by curiosity and focus".
Employees learn best when they encounter challenges in their business processes that they have to solve. Every time a challenge arises, employees are curious to find out effective solutions. This need to learn combined with a heightened focus makes learning more effective during these bursts of curiosity than at any other time. This is also the point where employees look for highly relevant, concise information that they can quickly consume to find immediate solutions.
This is where microlearning fits in.
Microlearning breaks down information into smaller chunks, each with a specific outcome. These chunks are easily consumable and available to your employees at the exact time of their need.
Having gained traction as one of the top online industry learning trends today, microlearning is being used for employee training even in enterprises. When looking at microlearning examples, you can see that enterprises like Unilever have already implemented this approach in their employee training. Leena Nair and her team use microlearning to deliver 15-minute lessons every day to their employees.
Here are six great examples of corporate microlearning
Google's Whisper Courses for Manager Training
Cardinal Health Using a Digital Adoption Platform to Improve Its Salesforce Adoption
IBM Using Microlearning to Develop Cloud Expertise
Cisco Using Bite-Sized Videos to Answer IT Questions
ADP Using 3-Minute Lessons for Client Training
Unilever Using "Snackable" Learning for Employee Training
6 Microlearning Examples to Use as Inspiration in 2021
Apart from Unilever, there are a number of microlearning examples across other billion-dollar enterprises like Google, IBM, and Cisco, to name a few. In this article, we will explore each of these corporate microlearning examples, one-by-one.
1. Google's Whisper Courses for Manager Training
A training session or a seminar is fruitless if learners do not apply what they are taught in real-life situations. This is precisely the challenge that Google wanted to address. They needed a training method that would help managers retain important information and also prompt them to try what they knew.
Google's solution is quite simple. They implemented microlearning through what they called the 'whisper course'. It consists of a series of emails each of which contained a suggestion that managers could try out during their team meetings.
The whisper courses are centered around the idea that often, what you need is a gentle nudge, a reminder to try out what you know. Each of the emails focuses on 'the what, the why, and the how' of the learning objective and is followed by a simple CTA or an experiment.
Below you can see an example of one such email.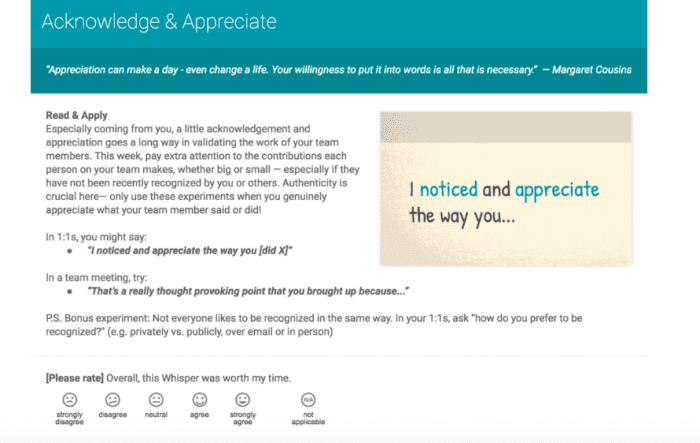 You can see right away that the email is practice-focused. Instead of overwhelming employees with an overload of theoretical information, you simply break it down into small, easily executable tasks. This way information is easy to retain and easier to apply.
2. Cardinal Health Using a Digital Adoption Platform to Improve Its Salesforce Adoption
Among the microlearning examples we have taken here, Cardinal Health's approach is particularly interesting. The employees at the Fortune 14 company were facing a roadblock in adopting Salesforce and they needed an effective solution.
Cardinal Health's Challenge
Cardinal Health, Canada was facing a significant challenge in the adoption of their Salesforce CRM due to a number of reasons.
First, the sales reps were mobile workers and they were finding it quite difficult to invest a lot of time in training. The nature of work made it logistically hard to arrange classroom training sessions that the sales reps could benefit from.
Second, Cardinal Health was receiving repetitive support queries even after training sessions were held, indicating a gap in knowledge retention. A huge amount of time and effort that could be invested in solving more complex queries was being spent in answering simple, repetitive queries.
Third, the Salesforce training sessions focused more on why it was important for sales reps to use Salesforce rather than show them how to use the application. With sessions being more theoretical than practical, the sales reps were at a loss when it came to actually using the Salesforce application.
Cardinal Health's Solution
Cardinal Health approached Whatfix, a Digital Adoption Platform to improve their Salesforce adoption by providing their sales reps with a better form of training. They were subjected to a real-time learning environment through learning by doing with Digital Adoption.
Using Whatfix's core technology, Interactive Walkthroughs, sales reps were provided task-based learning that allowed for shorter and more effective training.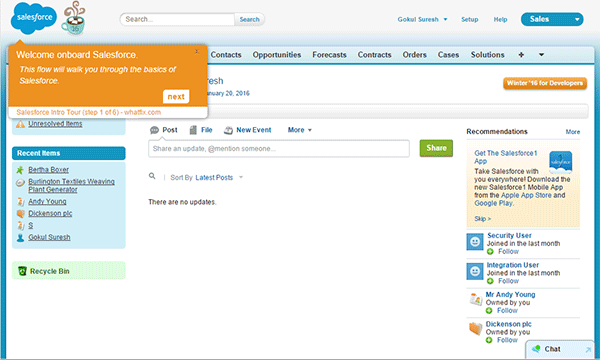 With training and user assistance available on-demand, sales reps could better engage with Salesforce. The task-based nature of the Whatfix platform was able to solve a number of queries that sales reps had on a consistent basis. They could learn to use the application at their own pace without setting aside time exclusively for training. This actually made the sales reps more open to learning than they were with classroom training sessions.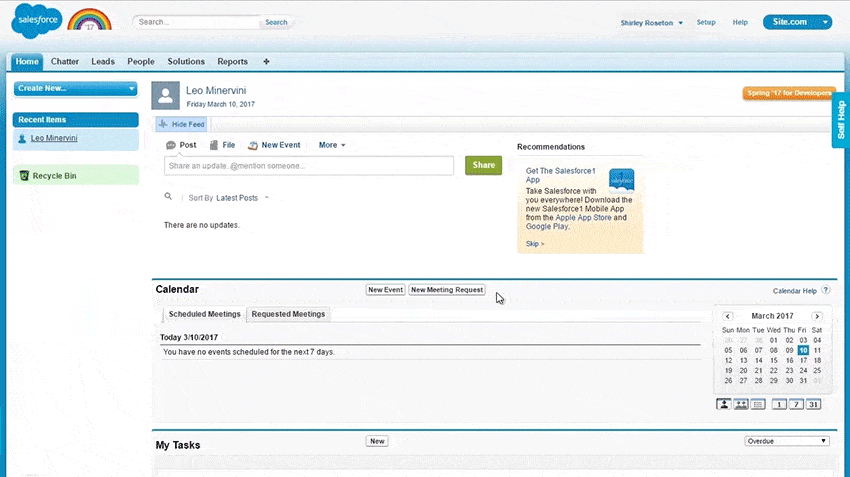 Above you can see how Whatfix seamlessly offers  Digital Adoption within the Salesforce platform. Sales reps can access all the information they need without having to disrupt their workflow.
Enable interactive microlearning at your organization with Whatfix
Discover how Whatfix's Digital Adoption Platform can help your organization create continuous employee training and development programs with in-app guidance, personalized workflows, and self-help knowledge bases.

3. IBM Using Microlearning to Develop Cloud Expertise
Employees working with IBM Cloud often need to develop some key skills each time they handle a project. And they needed to develop these skills quickly. They could not wait for scheduled training classes and practice labs every time they had a project or an assignment.
In 2018, IBM launched the IBM Micro Learning, a platform that helped employees to develop cloud expertise at their own pace. The platform consisted of a number of exercises, each of which answered a specific question and helped employees develop a specific skill.
The IBM microlearning platform offered employees a quick, focused, and easily accessible way to develop the skills they require. Employees can access the platform at any time during their day and work their learning according to their own pace. The short-spaced lessons do not overwhelm employees with information, rather, it helps them develop their knowledge quickly and efficiently.
The image below shows the IBM microlearning platform.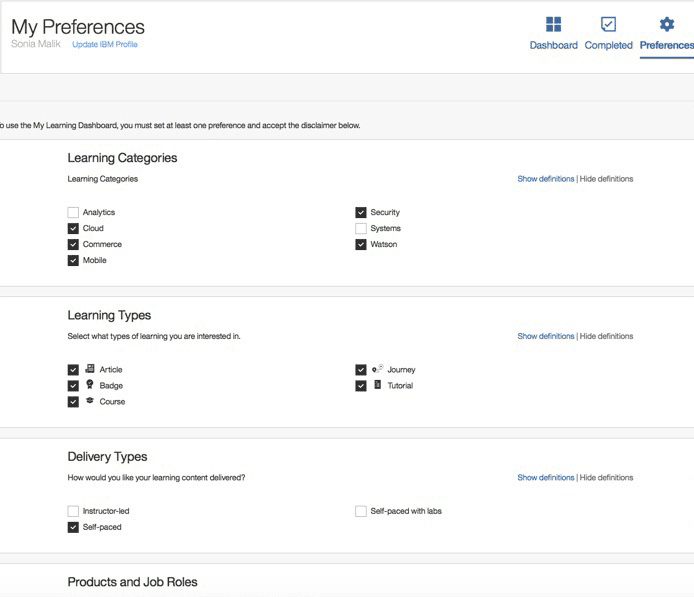 4. Cisco Using Bite-Sized Videos to Answer IT Questions
Next in our list of microlearning examples is Cisco's approach to answering information technology questions.
Cisco holds the Cisco Career Certification Program to ensure that IT professionals are equipped with the skills and knowledge required to work on Cisco products. The enterprise uses microlearning to help learners work their way through the information required to complete the Cisco certification exams.
Employees taking the Cisco certification exams found it tedious to go through all the course material before the exams. Not to mention, the vastness of the material meant employees were more than likely to forget significant chunks of what they have learned and not retain that knowledge.
Cisco has a repository of resources that are dedicated to learners taking the Cisco certifications called the 'Cisco Learning Network'. The network consists of a series of short, 6-7 minute learning videos called 'Cisco Answers IT'. Each of these videos are excerpts of longer IT training videos and deal with specific concepts. They act as a quick refresher of the most common IT topics.
Cisco's microlearning video series gives learners a quick recap of all the important concepts. Instead of spending hours going through long and endless training videos, learners can simply pull up one of these videos to refresh a concept in no time. The content within the videos is just long enough to span the learner's attention and short enough so that the learner does not lose interest.
The videos are also used by other employees as a reminder of important concepts before they start their work.
In the image below, you can see how each of the videos in the series deal with only one topic.
You can also see that each of the videos is no longer than 6 minutes.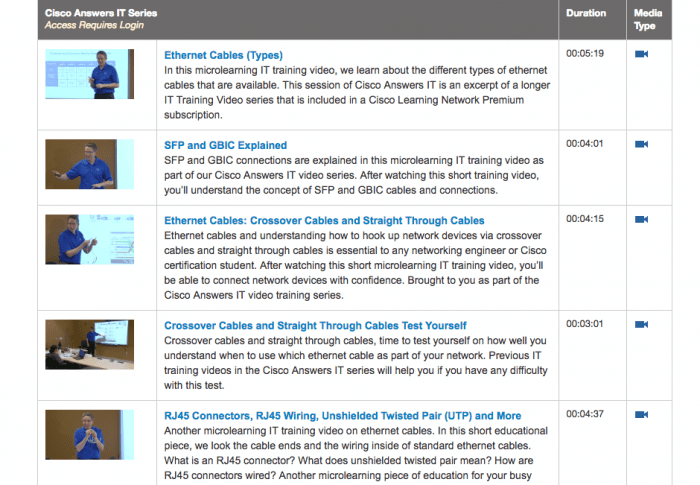 5. ADP Using 3-Minute Lessons for Client Training
At ADP, frequent training is important, considering the sheer number of products and the equally large number of clients. The fast-paced nature of business demands left little doubt that they needed a training approach that could quickly and effectively enable personalized learning.
ADP adopted microlearning into their training approach and created the Learning Bytes platform for effective client training. The platform consists of a combination of job aids (or PDFs) and videos which can be consumed in less than 5 minutes.
Each application is divided into a number of lessons and each lesson is demonstrated using a narrative video or with the help of job aids. Instead of offering one-time demonstrations, all the training demonstrations are made available on the platform so that they are easily accessible and available right when and where the learners need them. Each lesson contains highly precise information and breaks down complex instructions into 7- 10 short, executable steps.
Within few months of launching the platform, ADP noted a large number of logins and course completions. They also found that their total training time went straight down from 24 hours to 7 hours.
The reason the platform proved to be such a success is because of how focused each of the lessons in the platform was. Clients need not focus on the different applications at once. The job aids and videos are highly task-based. It helps the clients understand, in quick detail, how to execute the different aspects of an application and builds their knowledge as they progress.
Here is how the Learning Bytes looks to a learner. You can see that a single application has been broken down into several lessons each of which contains information in the form of a video or a job aid or both.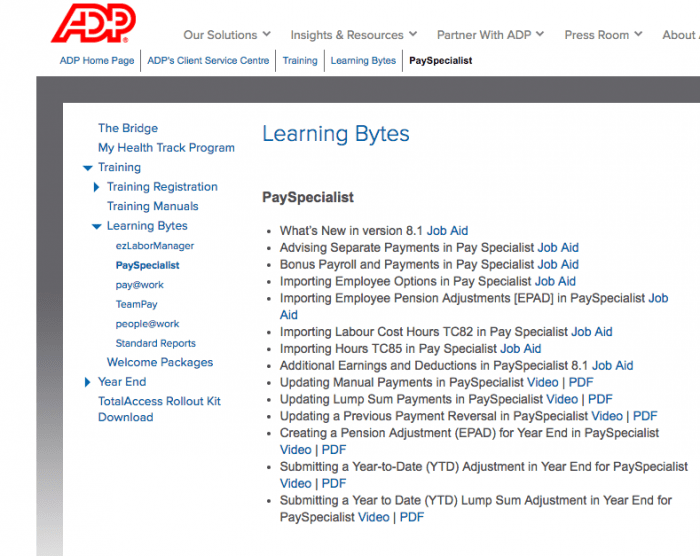 6. Unilever Using "Snackable" Learning for Employee Training
Unilever realized that despite the need for regular employee training, it was impractical to expect employees to dedicate a day or two towards such training. They also saw that most of the training material tended to be daunting and could distract employees even before they started learning. Unilever needed a training approach that could deliver learning in short bursts and was personalized to meet employees at the moment of their need.
Unilever developed a microlearning tool to offer regular training to their employees called the "My Learning Platform." It consists of a number of modules that combine TED talks, instructional videos, social campaigns, and other resources that can help Unilever employees learn and grow in their careers. All the available material is simplified and personalized to help employees learn with ease.
Through microlearning, Unilever managed to make training content more approachable. Information was now more human, more personalized, and easily consumable. Employees are able to access these training resources at any given time during their workday and all they have to do is spend 15 minutes each day to learn a new skill.
As training becomes flexible with microlearning, employees begin to show increased interest and active participation in the learning process. More importantly, the platform offers learning material that is not just limited to what they do at work. Instead, employees are encouraged to explore topics of their interest as well, making learning personalized to suit individual interests.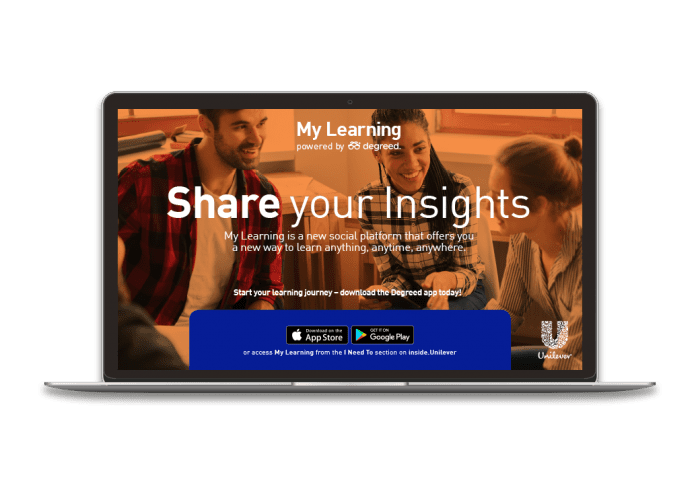 Key Benefits of Microlearning in These Examples
In all of these microlearning examples mentioned, you can see that the training approach has a number of benefits. We have picked out the benefits from each of these cases and summarized it for your understanding.
High-Impact Learning: Microlearning offers learning in short, targeted bursts with specific outcomes. This is quite evident in the microlearning examples we have taken above where you can see that it delivers high-impact learning that invokes immediate action.
Just-in-Time Learning: With microlearning, learning material is available in the form of bite-sized nuggets that can be accessed by learners precisely when they need it allowing for just-in-time learning.
Does Not Fatigue Learners: Another advantage of using microlearning in employee training is that since information is delivered in short bursts, it does not fatigue learners, rather, it reinforces concepts before they lose interest.
Learners Grasp Important Concepts Quicker: As you saw in the microlearning examples we took above, the training approach uses short modules that have a very specific outcome. Learners can quickly grasp important concepts and move on to the next bit of information.
Simple and Flexible Learning: Microlearning makes training content personalized and easily digestible, simplifying the learning process and making it flexible for learners.
Microlearning in the Flow of Work with Whatfix
See how Cardinal Health learns in the flow of work with the Whatfix Digital Adoption Platform