Post-COVID, many organizations adopted a hybrid and remote work culture with no preparation or time to adapt to change, leaving many HR teams struggling to move their  employee training online.
In this article, we'll take you through the best practices for launching an effective remote training program to keep your employees at the top of their game—even while working outside the office.
Remote training is the practice of onboarding, developing, and upskilling your employees digitally, regardless of their location. It's aimed at people who work from home, and is delivered via virtual classes, online courses, webinars, and other eLearning methods. Remote training offers flexible learning opportunities, as it transcends time zones and locations, and allows learning access at any time, from any location.
The Benefits of Remote Training
Here are the most significant benefits of remote training.
1. Train employees anywhere, no matter their location
Many companies have adopted the remote culture post Covid-19, making their workforce dispersed and deskless. Remote training breaks down geographical barriers and its 'train from anywhere' nature gives employees the freedom to learn anywhere without being tied to a physical location. 
With online remote training software, you can create personalized, interactive, and engaging training materials for your employees to ensure a better understanding of concepts and improve learning retention.
Remote training saves time for both employee and employer. With remote training, you only need to create the training material once and roll it out infinitely thereafter.
For example, the HR department must conduct an orientation for every new hire. Now, if they have to conduct an induction every month for all new hires who joined that month, it will be incredibly time-consuming – not just for the HR department but every other team member involved. On the other hand, creating a short orientation video for all your new hires and distributing it whenever they join saves a lot of time for both the HR department and the new hire and allows them to focus on other important tasks.
4. Gives employees more control and flexibility
The future of work is flexible and remote training caters to this flexibility. It enables employees to complete learning at their own pace and around their schedules. Having control and flexibility adapts better to your employees' natural productivity flow as opposed to the productivity disruption involved in pushing present tasks aside to take out time for traditional instructor-led training sessions.
Remote training allows better work-life balance for employees by giving them the freedom to learn whenever and wherever they want.
Once you create eLearning modules, they can easily be scaled up to roll out to as many employees and in as many languages as required.
Because everything is connected online with remote training, management can track the performance of individual employees and also get up-to-date analyses on how courses are performing.
Challenges of Remote Employee Training
Here are some of the challenges associated with remote training.
Some remote employees might have households that are considered inappropriate places for learning with family, pets, or chores around, making it difficult to focus. Although most people learn to adapt to their new surroundings and new distractions eventually, it doesn't make the initial struggle any less challenging. 
2. Ineffective use of remote learning tools
Effective remote training requires implementing online learning tools. However, people who aren't tech-savvy might struggle to use certain software to its full potential, rendering remote training ineffective.
People who have been accustomed to traditional instructor-led training for years might find it challenging to engage with lessons when there's no supervisor or instructor to facilitate training physically. Also, unlike classroom training, learners cannot instantly ask for clarifications in a remote training environment. This can hurt your employees' learning experience.
Technical issues can't be avoided when it comes to remote learning. When your training is all online, learners have to rely on a solid internet connection for a non-disruptive experience. However, not everyone is in an environment that allows them to stay consistently online. If your learners don't have stable internet or LMS access, you might want to reconsider remote training.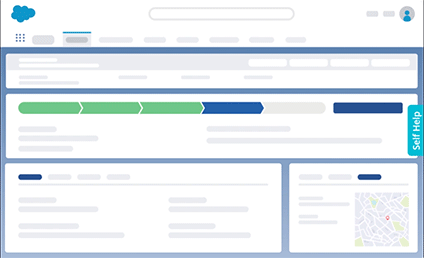 Train your remote employees with personalized onboarding and in-app training with Whatfix Digital Adoption Platform.
10 Best Practices for Effective Remote Training for Your Employees
Let's discuss some best practices for effective remote training of your distributed workforce.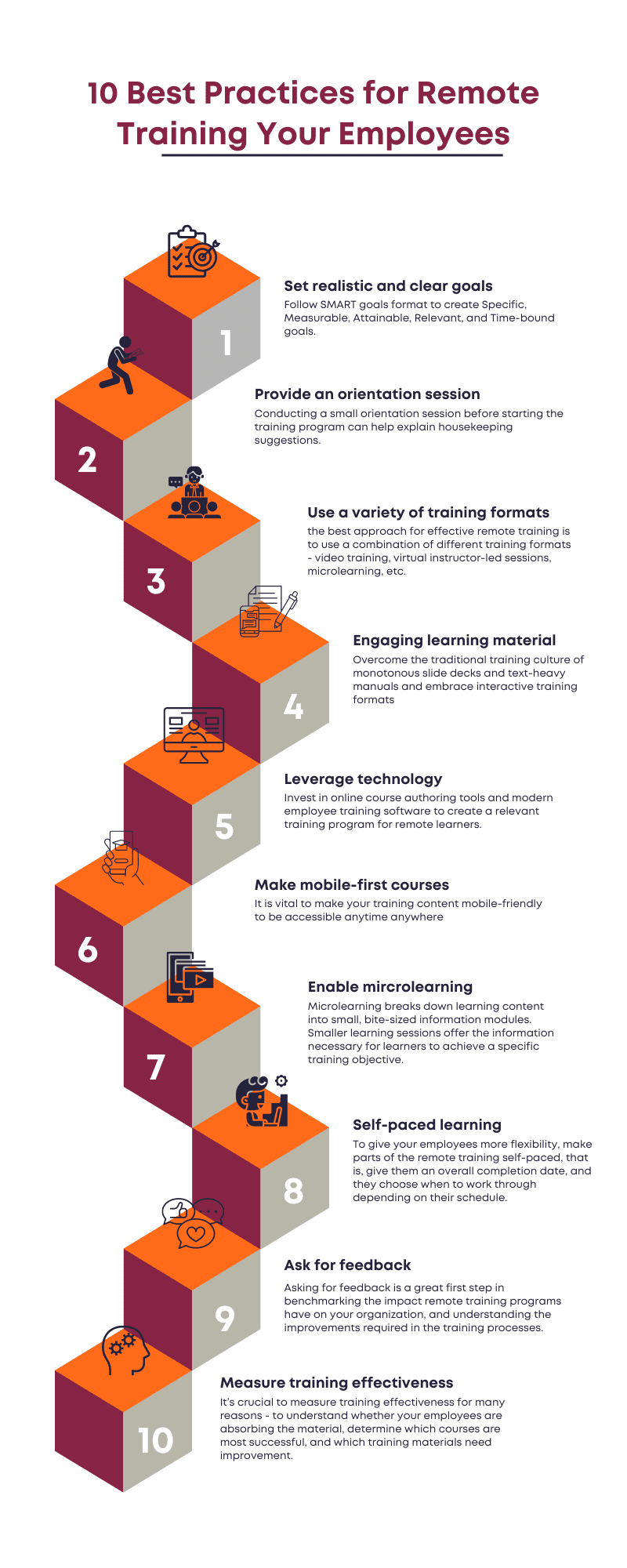 1. Set realistic and clear goals
Remote employee training needs to have long and short-term measurable outcomes to evaluate its effectiveness. Employee training objectives are not only defined for individuals but also for your company as a whole.
Here's how you can create effective, realistic, and measurable objectives for employee training:
Identify what you want to accomplish with this training – improve employee performance, bridge a knowledge gap, teach new employee skills, etc. 

Define expected training outcomes employees will achieve at the end of training. 

Consider different parameters that might affect the design and delivery of your training program—for instance, virtual training instructor, budget for training software, training timelines, etc.

Follow the

SMART goals

format to set training goals: 

S – Specific: Training goals need to be specific and narrow. 

M – Measurable: Learning outcomes need to be measurable. 

A – Attainable: Training objectives are realistic, given the required time and resources. 

R – Relevant: Your training goals answer the "What's in it for me?" question for learners.

T – Time-bound: The goals need to have a deadline.
2. Provide an orientation session
Similar to a traditional classroom session, you need to establish ground rules for your remote training and explain what is expected of your learners. Conducting a small orientation session before starting the training program can help explain housekeeping suggestions like:
How to deal with problems like internet connectivity during the training session.

Keep the microphone on mute when not speaking.

Use the hand feature to ask questions. 

Put mobile phones on silent.

Close email and other windows.
3. Use a variety of training formats
Different employees prefer different learning styles. Therefore, the best approach for effective remote training is to use a combination of different employee training formats. For instance, video training, virtual instructor-led sessions, and microlearning are all examples of different types of training you may implement as a part of a larger remote training strategy.
You should also create training materials in a variety of formats. Multimodal learning encourages L&D teams to use a range of learning material formats, including: 
Audio learning

Video-based and visual learning

Downloadable worksheets

Presentations and slide decks

Webinars
Using several file formats caters to different learning styles, keeps employees engaged, and creates a personal experience to boost learning retention.
4. Provide engaging learning material
For effective remote training, L&D teams must overcome the traditional training culture of monotonous slide decks and text-heavy manuals and embrace interactive training formats when designing training materials. Interactive training leads to higher productivity and performance by focusing on learner engagement.
Here are some of the ways to make your online training courses interactive:
Incorporate an interactive element into each slide.

Add digital storytelling to your courses.

Include interactive 360° images and videos.

Video training

is easier to digest, promotes knowledge retention, and improves employee engagement. 

Create simulated environments where training mimics real-world situations for learners to practice freely.

Use gamification techniques ​​by incorporating certain gaming elements into the training program.

Ask questions and encourage discussions.
Manually creating individual remote training programs that align with your employees' goals is time-consuming and inefficient for the L&D teams. Organizations must invest in online course authoring tools and modern employee training software to create a relevant training program for remote learners. These include:
Digital Adoption Platform:

A

digital adoption platform

(DAP) is an employee training solution that integrates with digital tools to provide automated, personalized remote training for your distributed workforce. DAPs assign each learner a contextual task list containing interactive walkthroughs and other in-app content based on the learner's profile. Walkthroughs are a series of step-by-step prompts that show users how to complete a certain process by guiding them through each step, showing them relevant training videos, or providing informative articles. DAPs work with learning management systems (LMSs) and eLearning software like xAPI and SCORM to track learners' progress and build relevant content in the future.
Learning Management System:

A

corporate LMS

provides a framework that handles all aspects of your remote employee training – from housing to delivering to tracking the training content. It helps L&D teams identify and assess individual and organizational learning goals, track progress toward meeting those goals and collect data for supervising and improving the learning process.
Video Training Software:

Video training software

allows you to create, publish, and share training videos and measure the rate of training and learning progression. Training videos are created to provide knowledge and education that can be used for

virtual onboarding

,

compliance training

, software education, etc. Video training software are easy-to-use tools that empower L&D teams or course makers to unleash their creativity and create instructional training videos efficiently.
6. Create mobile-first courses
Remote employees aren't always working from home and won't always have their laptops or computers within reach. This is why it is vital to make your training content mobile-friendly to be accessible anytime, anywhere.
Considering the fast-paced professional world and the reduced attention spans of the digital workforce, traditional long-form training programs that occur annually or semi-annually are not enough for employees to keep up with industry standards.
To help your remote workforce focus and engage with the training, consider implementing a microlearning training approach. Microlearning breaks down learning content into small, bite-sized information modules. Smaller learning sessions offer the information necessary for learners to achieve a specific training objective.
Microlearning takes only a small amount of the learner's time, does not overwhelm them with a lot of information at once, and enables them to apply the lesson in real time before they have a chance to forget it.
8. Make remote learning self-paced
To give your employees more flexibility, consider making parts of the remote training self-paced; that is, give them an overall completion date, and they choose when to work through depending on their schedule. 
Self-paced learning is especially helpful for remote teams who are not working the same hours. Also, when employees are training individually, it is easier to create personalized course recommendations than to tailor the course for a full group.
Asking for feedback is a great first step in benchmarking the impact remote training programs have on your organization and understanding the improvements required in the training processes. 
Training feedback can be collected via post-training surveys from trainees participating in the program.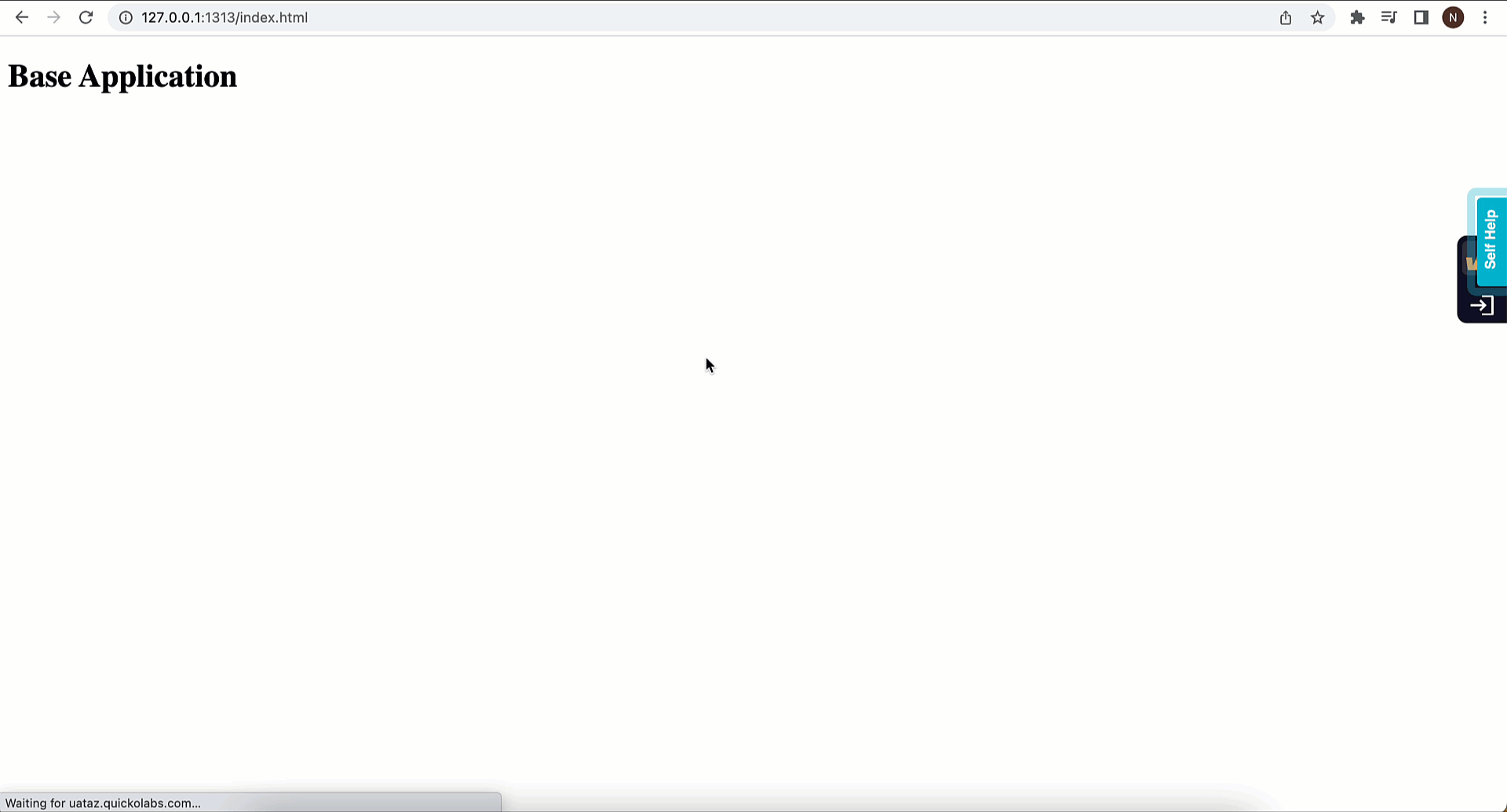 You can ask questions like:
What do you hope to learn and take away from this training?

Was the training material helpful to you?

Was the training program interactive and engaging?

Was the study material personalized enough to help you solve problems specific to your job requirements?

How would you rate the quality of this training session?

How would you rate the teaching quality of the instructor?

Was the training at a comfortable pace?

Was the trainer engaging and supportive?

What did you like the most about the training?

Did you get a chance to collaborate with your team members during the training?

Did the training meet your expectations?

Do you have any suggestions that can help us improve the training program?
Get your Post training Survey template now!
✓ Thank you, the template will be sent to your email
10. Measure training effectiveness
It's crucial to measure training effectiveness for many reasons – to understand whether your employees are absorbing the material, determine which courses are most successful, and which training materials need improvement.
There are several ways to measure training effectiveness in a remote setting, including:
Post-training surveys to collect valuable feedback on company-wide and role-specific training.

1:1 discussions

Kirkpatrick's 4 levels of evaluation

rate the training against four levels of criteria-

Reaction – Understand learner satisfaction through feedback forms. 

Learning – Gauge the understanding of a topic and degree of skill development by taking pre and post-test measures and hands-on assignments. This helps understand if the training objectives were met.

Behavior – Evaluate if employees apply their learnings from training to their everyday work.

Results – Check if the business objectives (such as greater productivity and fewer errors) linked to corporate training are met.

Phillips ROI model

ties the costs of training programs with the actual results. It builds on the Kirkpatrick Model and classifies data from different types employee training programs to measure:

Reaction – Short surveys help gather data about participants' responses to their training.

Learning – Participants complete an MCQ survey or quiz both before and after the training for training managers to determine the knowledge acquired.

Application and implementation – Collect data to find if the training worked and evaluate the reason behind the success/failure of the training.

Impact – Analyze the impact of training content and other factors contributing to participants' final performance.

Return on Investment – Cost-benefit analysis maps impact data to tangible monetary benefits and a set of intangible benefits.
Effectively train your remote employees with Whatfix
A distributed workforce poses many challenges in terms of training. The practices mentioned above, however, will give you the right direction to ensure your remote employees get their hands-on training that's just as effective as your in-office efforts.
To make your remote training efforts much more effortless, implement a digital adoption platform such as Whatfix. Whatfix enables effective training for your work-from-home employees with personalized onboarding and in-app guidance.
Learning via interactive walkthroughs, videos, and self-help menus allows you to train your remote employees on demand while providing insights to measure training effectiveness. You can create scalable training flows built directly into your website or enterprise applications – allowing employees to learn in the flow of work. The most significant feature of Whatfix DAP for remote training is the self-help widget that provides 24/7 support to remote employees without raising support tickets.
Train your remote teams anywhere with Whatfix.
Like this article? Share it with your network.
Subscribe to the Whatfix newsletter now!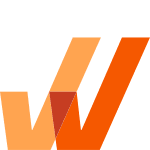 Software Clicks With Whatfix
Whatfix's digital adoption platform empowers your employees, customers, and end-users with in-app guidance, reinforcement learning, and contextual self-help support to find maximum value from software.