One of the top concerns facing many managers today is how to adjust to remote management while helping their teams adjust to working from home. Employees working remotely for the first time face numerous challenges. These include learning new technology, feeling isolated, and having to collaborate without meeting in person.
Employees expect management to have solutions for their concerns and to walk them through the adjustment period. In this guide, we'll give you the information you need to master remote team management, including tools to help your team members overcome the challenges of distributed work.
Each section will provide details and best practices for adjusting to remote work:
Approach Change with Empathy
As you start to focus on remote workforce management, you have to consider what your employees are going through and how you can help them transition. They may need more flexibility than before, particularly when it comes to set work hours. They are dealing with a different work environment than they are used to, with many new challenges. Some remote workers may have kids at home, or they may be caring for sick family members.
It's also more difficult for your remote employees to seek help if they are having trouble learning new technology or if they want to continue their professional development. One of the ways you can help struggling employees is to implement a digital adoption platform. With guided walk-throughs and self-help features, a DAP will help your remote employees learn new technology quickly and adjust to working remotely.
A vital part of managing remote workers is approaching the switch with compassion and empathy. Remember that your team is figuring out how to work remotely just like you are, and they look to you for guidance and support.
Keep reading to learn Everything You Need to Know About Telecommuting.
Develop a Remote Work Policy
Unclear expectations are a frustrating but avoidable side effect of transitioning to a remote environment. Developing a remote work policy is a significant part of understanding and building a solid digital workplace strategy. It will help your remote employees understand what is expected of them as they learn how to work remotely.
Use your remote policy to clarify your company's rules regarding working from home, including:
What positions are eligible
What process is to be used for requesting to work from home
How productivity will be measured (e.g., amount of time spent on a project, or numbers of customer meetings)
What times of day employees are expected to be available
Not only will a solid, documented remote work policy help your current remote employees, but it will also help future employees who want to work remotely. Having expectations and policies laid out clearly prevents confusion and the appearance of favoritism if only some positions are eligible for working from home.
Read Creating Compassionate but Effective Remote Work Policies to learn more.
Implement Tools to Aid Remote Team Management
Remote working may be new to you and your team members, but it has been on the rise since 2005. That means a variety of tools have come out to help with managing remote employees by fostering effective communication and collaboration.
Implementing some of these tools can help your team continue to work productively and collaborate on projects even though they aren't in the same physical location. For example, Microsoft Teams offers a secure workspace for sharing files and creating team-specific chatrooms. Taskade allows for real-time joint collaboration on files and has features for creating meeting agendas and task lists.
Communication tools are a great way to combat the isolation that can accompany remote work. You can use platforms like Zoom and Google Meet for video calls, and Slack for instant messaging and written communication.
Looking for more ideas? We put together a list of the top 18 tools for remote teams.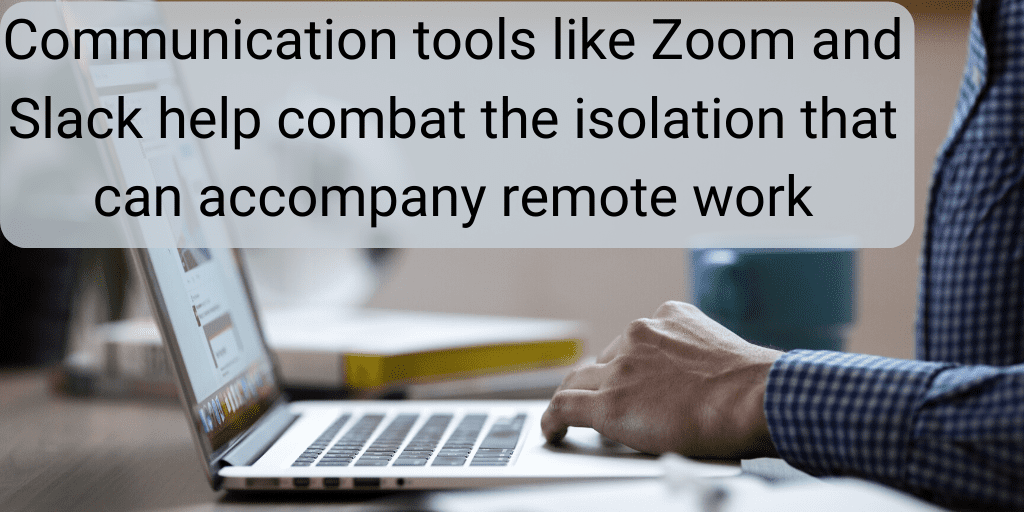 You can also make your company's "work from home" initiative a success with remote training via a digital adoption platform. Using a DAP for remote training and guidance makes it easier for remote employees to learn to use these new tools and quickly make the move to productive remote work.
Recognize the Top Challenges for Remote Employees
Even with the best tools and policies in place, employees are going to face challenges as they learn how to work remotely. The key to effective and compassionate remote team management is recognizing these challenges and providing solutions and suggestions to make the transition smoother.
We've already mentioned a few common challenges, such as learning new technology, being uncertain of expectations, and adjusting to work in a different environment. It's also not uncommon for employees to feel isolated. Managers should check in with their team regularly to see how they're adjusting.
Check out this resource to learn more about How to Help Employees Start Working Remotely for the First Time.
HR is as vital to the transition as team managers are. HR managers should follow up with IT managers to make sure the IT team is coping with the sudden increase in demand from newly remote workers. HR also needs to make sure employees have the equipment and resources they need to successfully work from home.
Are you in HR? Read on to see How HR & IT Can Support Employees During Quick Transitions to Remote Work.
Make Communication a Priority
For managing remote employees, there's no such thing as overcommunicating. Your team members can't stop by your office to ask for clarification, so be sure to clearly spell out any and all expectations. This includes how employees are expected to communicate with you and each other (such as Slack vs. email vs. video calls), and even things as seemingly small as whether employees are expected to have video on during calls. If you're not sure if it needs to be spelled out, do it anyway.
Early on in the process, ask questions about what they expect from the transition. This will help you address unclear expectations before they ever become an issue. Make sure everyone is on the same page by touching base with your team all together once a week or bimonthly, and meet with employees during one-on-ones at least monthly.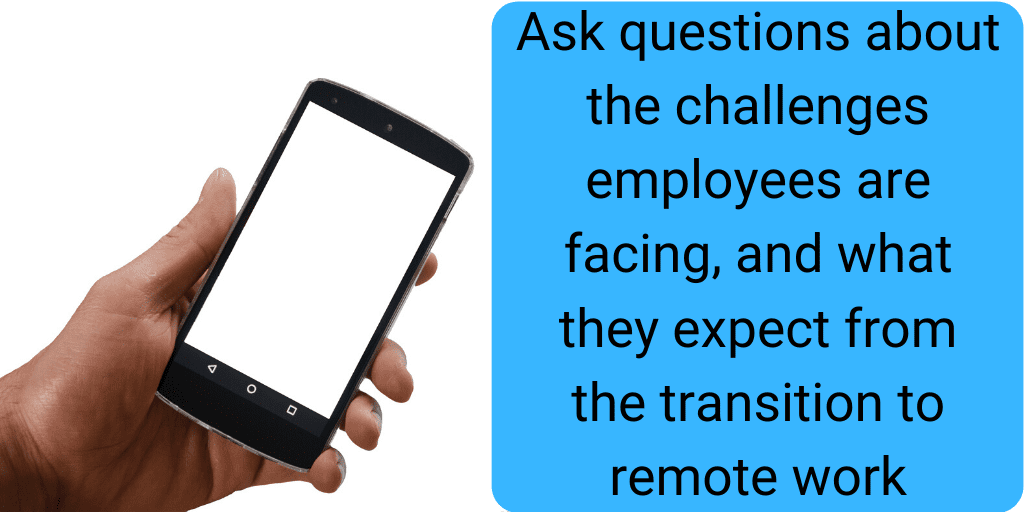 Communication extends beyond work-related topics. Set aside a specific time in your team and one-on-one meetings to ask about feelings and find out how people are adjusting.
You can learn how the sudden switch might be affecting you and your employees here: Building a Remote Workforce Under Pressure: Approaching Change With Empathy.
Video calls are a key component of remote team communication. People are more likely to open up if it feels like an in-person, spontaneous conversation than if communication is solely through premeditated written means. Video also allows you to see facial expressions and hear tones of voice, which can be strong clues to how your employee is really doing.
Want to know more about best practices for communicating with your remote team? Check out How to Master Remote Team Communication: Advice from Remote Team Managers.
Encourage Team Engagement
Part of managing remote employees is to keep employees engaged and to make sure they still feel and act like a team while learning how to work remotely. You can build a sense of community by organizing team-building activities. For example, content marketing company Animalz (a completely distributed company) organized a company-wide virtual talent show.
You can also encourage engagement by setting up ways for your employees to communicate socially with one another. Slack allows you to set up multiple topic-based channels, which you could organize by interest. You might have a channel for talking about food, and another for discussing movies. Or schedule regular "watercooler chats" using tools like Donut to randomly pair employees every other week.
Team-building activities keep employees engaged with other team members and help them feel connected, as they would if they saw each other in an office every day.
Keep reading for more tips on Team Building for Remote Teams: Keeping Employees Engaged During a Crisis.

Learn from Experienced Remote Managers
Figuring out remote management is an ongoing process. Some of your best resources are managers who are seasoned at managing remote teams. They have already experienced the transition and can offer insights into best practices and pieces of advice that were helpful for them or that they wish they had been given.
For example, Josh Ho, founder and CEO of Referral Rock, says, "Remote work required putting processes in place much earlier" so employees don't waste time hunting for resources or constantly messaging you or other employees about where to find things.
Employees can no longer have the quick "how do you do this" conversation, as they could in an office environment. Set up processes to make resources and information accessible.
We interviewed the experts and compiled their advice for easy reference.
Check out Managing Remote Employees: Learn from 11 Experienced Remote Team Managers.
Show Your Team You're Learning Together
As you help your team learn how to work remotely, you are learning about managing remote teams at the same time. If you find that certain tools or habits help you adjust more easily, share them with your team, and show them that you are there for them as a resource as well as a manager.
Encourage them to communicate with you, whether it's asking for advice, sharing concerns, or simply clarifying expectations. This will help keep them—and you—from feeling isolated, and it will help all of you continue to function as a team.