Today's modern workforce is quickly evolving and the process of hiring, training & retaining talent now involves both a cross-functional and dynamic level of support. When we think about how quickly operational requirements can change – this can quickly cause onboarding to feel overwhelming for both employee and employer in many cases.
HR's role has been rapidly changing over the past 10+ years with a shift from reactive to proactive organizational support and this is in large part, due to technology's involvement, which is empowering HR to make necessary improvements at scale.
Fast forward to 2019, we are seeing a shift where KPIs of HR departments are more inclined towards employee upskilling and Employee Experience than ever before. Perhaps most notably is how HR now has a seat at the table to impact a company's trajectory in a very tangible way: via the success of its people. In fact, A Gartner survey showed that building critical skills and competencies is a priority for over half of all HR leaders and 85% for Learning and Development Executives.
Technologies are being leveraged to help with these efforts. In 2018, the global spend on Enterprise Software rose by 9.5% amount to approximately $390 billion. HR technology was a major contributor to this surge.
A current front runner is Workday, which continues to lead as a vendor of choice with Fortune 500 organizations even in space with over 83 HCM players and growing. If you're one of our HR leader readers, then there is a high chance that you've also implemented this solution to meet your HCM needs.
What Makes Workday Unique?
You may choose Workday as your HCM software for the following reasons:
It sets out to be a one-stop-shop or rather a holistic solution to measure and improve employee & business performance. Starting from the most basic task of recruitment to leave & expense management to projecting the employee's career path.
Single code base – Workday's multiple and increasingly diverse modules are architected on a single code base (with the exception of Adaptive Insights acquisition which is being bolted on)
Entirely engineered for Cloud and mobile deployment which would imply that the employees are always working on the latest platform.
Multiple integration capabilities to plug into your existing workspace.
All of this sounds great and can certainly benefit your organizations in profitable ways…..that is if it is utilized by your employees.
Most HR Cloud projects fail to meet business expectations significantly signaling a problem in how HR transformation plans are approached.
Challenge: Workday Usage & Adoption
Boosting software usage & adoption is a long-standing but newly identified problem for at least 85% of business executives.
With it being the most widely purchased HCM solution, Workday user adoption takes high priority in 2019.
A survey conducted by NGA, a certified Workday partner, revealed that 69.3% of business leaders cited their top strategic objective for their Workday solution is to increase user adoption and improve the employee experience.
So, if Workday is your current HRIS, you might want to stick around a little longer to understand the problem in detail before we look at how to tackle it.
Let's get right to it.
The 'Why' in Poor User Adoption
Let's take a step back and list out some possible signs of low Workday usage:
Data Integrity: Missing or incorrect data points with regards to expense management, team details, the organizational chart, and even a user's profile. The first and most evident sign for low Workday usage is compromised data integrity due to incorrect usage of the platform itself.
Reducing Time to Hire: Longer recruitment cycles (Workday Recruit): Another sign for low Workday adoption is a significant time to hire is more than it should be. This could imply that your hiring manager is either disinterested or unable to effectively manage potential hires on the platform due to complexity in working out the features.
Reduce Ramp Period: Longer time to achieve employee competency/ inadequate skills development (Workday Learning): As I mentioned earlier, upskilling is one of the most crucial factors of an employee's journey in an organization. This can hint at a low consumption of learning material on the platform. Chances are that they are yet to set up their learning path on the software.
So, you've realized that your organization is diagnosed with a Digital Adoption problem. Now let's focus on why you have it.
Root Causes of the Problem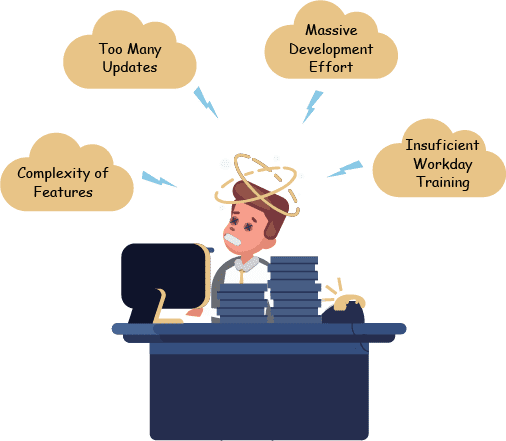 Appears: Seems easy to use ….  Reality: Not so much…
While I went through the review pages of Workday on

G2Crowd

&

Trustradius

, one of the major Cons I noticed was regarding the complexity in running certain features, especially with regards to Analytics and Reporting.


Here are what some users had to say about using Workday:

"The Time Off feature is confusing. It took me a while to figure out how to cancel a request." (Patrice F, Manager for Assessment and High Impact Practices, Higher Education Industry)

"It's not user-friendly, it is inefficient when trying to move from one screen to the next, it's impossible to do multiple things at once…" ( A User in the Education Management Industry)

"Reporting is not user friendly." (A User in Human Resources Department of a Financial Services Company)

"Many steps on the talent acquisition side of things do not flow easily and are not intuitive…" (Rebecca M, Recruiter- Energy and Engineering in a Staffing and Recruiting Company)

Workday has multiple features with lengthy navigations which can make things hard to comprehend, especially for new users. Once you log in, there are no in-app guides to let an employee know "what's what" in the software and how to get started. This makes it especially cumbersome for employees who may be engaging with an HRIS for the first time.
A New Update, Again?
As it is engineered for Cloud deployment, Workday pushes multiple updates in the system on the UI front along with introducing multiple new features. In fact, as of March 2019, they have released

32 product updates with their major ones happening every 6 months.

 While the regular product updates are beneficial to platform improvement, a common complaint with the application is that there are too many such changes and it becomes hard to keep track. Ultimately, improvement to the software is only beneficial when users are aware of how it works and what it means to them.
Massive Development Effort
Whether you're a legacy client or just getting started with Workday, you would've realized the tremendous amount of effort in rolling out any business process. Say, for instance, creating a to-do list that appears in Workday under the Inbox section would require a developer to run a code in order to make that up and running on the application. This increases the turnaround time in rolling out a business process, further depleting the motivation to adopt this practice.
Insufficient Workday training
The Ebbinghaus Forgetting Curve saw that about 90% of the training you receive is forgotten after a month. Traditional methods of providing Workday training aren't real-time, continuous and experiential. They do not suit different learning styles and preferences and are low in terms of variety of training content. To induce a self-serving practice of the application, Workday provides a Knowledge Base to the user. However, the navigations, functions and flows would be unique to the employee's role and level in the organizational chart. This material is generic and provided to every user regardless of their responsibilities.
It's the Experience that matters


90% of users

stop using an app due to poor performance. Users of Workday stated that they faced difficulties in using the Workday mobile application due to performance and navigational issues.


"…it's impossible to do multiple things at once (such as pull my whole teams time cards, and flip between them with ease), the search feature does not work to find anything, it's so hard to find what you need." (A User from the Education Management Space)

"The app does not have all the capabilities needed to operate in the recruiting role. Also, it is hard to accurately track results. We pulled several different reports and came up with different numbers in each one." (Mallory D,Talent Acquisition Specialist)

Glitches in the performance of an application are common among even the most robust software like Workday, Salesforce, Microsoft etc. However, this can be detrimental to the overall user experience, which is closely linked to the level of usage of the application.
The Initiative Didn't Go As Planned
It is highly possible that Workday adoption is low due to an unsuccessful launch plan seeing that

70% of digital transformation initiatives fail

. A poor

change management

plan might have possibly lost you

6 times the return

and could have led to resistance from your employees in many ways:


Low accountability by the admin concerned and a shortfall in the motivation to use Workday. This subsequently leads to a lack of knowledge of even basic functionalities.
Resistant to Change: Still comfortable with the older practices and the eventual setback to the older ways to get the job done.
These are the top reasons for low Workday user adoption and if any of these symptoms sound familiar, then keep reading to find out the solution.
Enable continuous employee learning and training with Whatfix
Discover how Whatfix's Digital Adoption Platform can help your organization create continuous employee training and development programs with in-app guidance, personalized workflows, and self-help knowledge bases.

An Effective Plan to Boost Workday Adoption at Your Organization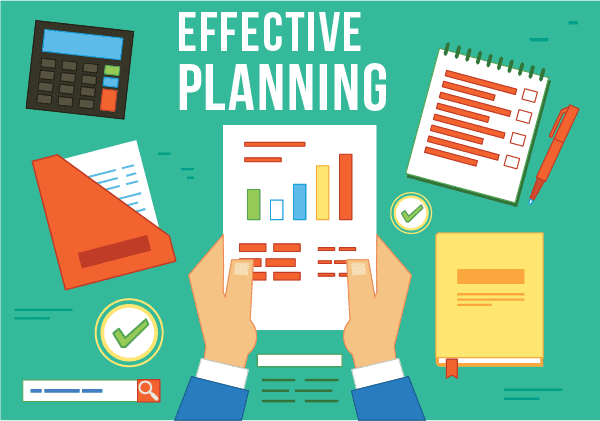 In this section, we will briefly cover some critical tips to maximize the return derived from your Workday HCM software. Some of them are best suited for the pre-rollout phase and the rest for post-launch stage.
Is Your Organization Ready?
While Workday has proven to offer multiple benefits to those companies effectively using the software, it is imperative that you assess if your organization is prepared for a transition from the current practice to a software like Workday. This would entail deep diving into your organization's structure, norms, technological setup or even the readiness of your workforce.
Typically, you can call for a focus group with the organization's department heads or your major stakeholders to help you find the details you need and get a sense of their confidence in deploying Workday.
Surveys are also an effective way to gather readiness data along with getting the word out about a possible transition to Workday which eventually settles into the minds of your employees.
This could be the step where you gauge any resistance from your staff and identify why they might face a challenge that factors into your Workday implementation plan.
The 'Face' of Workday Adoption

Every movement needs a leader to pioneer the shift within the organization. They would be the go-to for any Workday related challenges as well as managing the usage and adoption of the platform to carry out the required activities and attain the desired metrics.
The Workday Admin and/or the Change Manager at your company would ideally be the right fit to fill these roles. A substantial amount of training would be necessary to build them into experts a Workday implementation and adoption.
If you are looking to lead Workday adoption from the front, reach out to us understand more about how we tackle this challenge.
Tackle Resistance with Incentive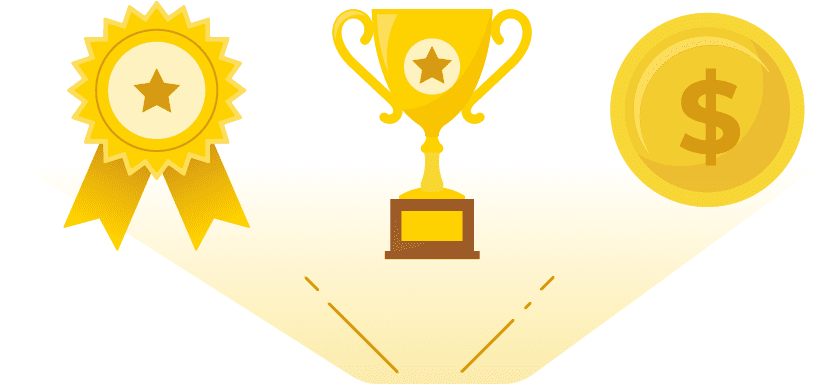 Seeing that Workday is a human resource software solution, It would make perfect sense to go down the HR road when it comes to incentivizing your staff.
"Workday Champion" Award
One idea would be to introduce an award called "Workday Champion" based on the level of usage and data quality maintained. To make things interesting, a quick quiz could be circulated which could also be a criterion for choosing the winner. A special bonus could be given to the champion to further ensure that your employees are driven.
Performance Appraisal & Promotion
Factoring in Workday adoption and usage as part of the KPIs of department heads would also keep the energy high and improve the acceptability of the solution. Managers and team leaders would be motivated to establish a continuous practice of carrying out processes on the platform as intended.
Regulating Processes
People tend to find workarounds to things like expense management, leave applications, Competency mapping etc. You should ideally start by rejecting any other practice and disabling your older software if any. This would make things difficult and might seem harsh at first but will eventually become habitual.
Invest the Right Amount in the Right Avenues

PWC suggests that you should ideally be investing at least one-third of your budget on adoption activities to see the best results.
But what should you be investing in?
Content Creation & Management
Training content needs to be:


Presented in different formats to adapt to various learning styles. The Workday Learning module can be leveraged to build paths of content for the employee to consume. This would, however, require substantial effort from your training manager to construct content in the form of videos, articles, slides etc.
Should be specific to the role of the employee as a user of Workday.
Just-in-time or On-demand to reduce the time to bridge the gap

Training Delivery
Delivery of software training works in tandem with the content pushed. Studies state that we are programmed to learn just 10-20% of what we see or hear and over

90% of what we experience

. Action tasks could be placed into the learning paths to add ad experiential element to it.
Adoption Platforms
A Workday adoption toolkit is provided at the time of implementation to shorten the go-live time. However, it isn't in-app and hence is less effective. It depends heavily on employee motivation towards going through the content to get up to speed. In terms of the format of the content, employees have the option of just going through PDFs and videos which require continuous updates at every new release.Your best bet would be to put your money on the right Digital Adoption Platform.

Digital Adoption Platforms

are used to automate the product adoption lifecycle of a software user. You get everything mentioned above and much more with such a tool. Fortune companies like Microsoft, Cardinal Health, Manpower Group, and Avnet have gained great adoption success with the help of Whatfix (

book a personalized demo

).Here's

why you should be choosing Whatfix

to maximize Workday Adoption:


Omni-Channel: Whatfix helps you create a completely user-centric experience by enabling cross-channel exchange of information from across the enterprise sources. Using intelligent segmentation, crawling and tagging, Whatfix contextualizes all your enterprise knowledge (knowledge bases, web-based content or inside-documents such as MS Word, PDF, Power-point) and surfaces them in-app. Users get updated training and support in multiple formats, and over various channels for a seamless experience, no matter where they are.
Quickest Time to Value: Whatfix is easy to deploy and implement. It automates the most complex pieces of content creation and administration to help companies go-live with comprehensive content in weeks.
Top-Rated Customer Service: Whatfix has been consistently ranked as

 

Customer Satisfaction leader

in the G2 Grid for Digital Adoption Platforms for the Enterprise segment. The adoption platform's customer care is really responsive and takes only 1/5th of the waiting time of the closest competitor. It even has a high Customer Net Promoter Score (NPS) of 65.
TCO and Security: Whatfix is ISO 27001 and SOC 2 certified, and GDPR compliant.
Multilingual Training: The Base Workday application is available only in English. However, in Whatfix, walkthroughs, and guides can appear in Japanese, Mandarin, French, Italian, etc. to support native speakers.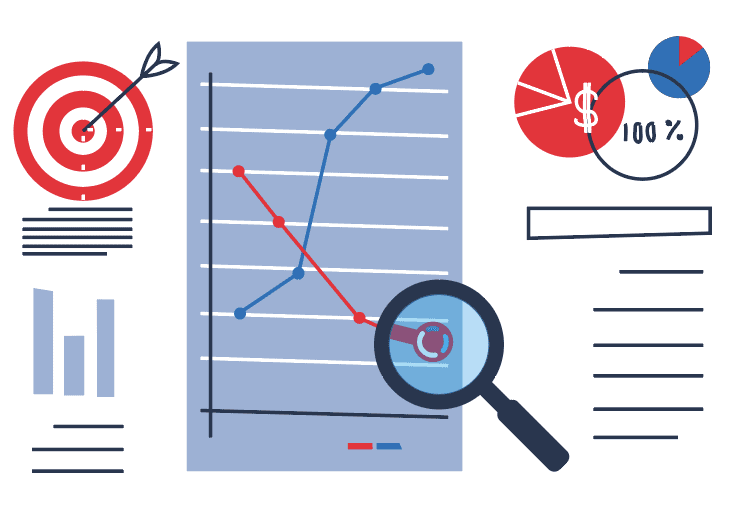 Once you've covered all the above areas, don't get complacent with what you've achieved. Workday Adoption is a continuous process and only truly begins at the Change Tracking stage. Keeping an eye on the right Workday adoption metrics can make or break the long term return. 
With that in mind, here are some of the initial ones that can be tracked, for starters at least: 
User login rates

Profile Details Updated Accurately to 100%

Basic information

Job details & skills 

Skill interests 

Certifications 

Awards & Recognitions

Manager Details (Current & changes) 

Relocation Details

Turn around time to roll out a business process

Within the Learning Module

Courses enrolled for and content consumed 

Speed of development of an employee, Skills acquired

General Processes

Expenses Uploaded, Details provided for each expense item

Frequent feedback and ratings (Managers & employees) 

Performance KPIs Up to date

Recruitment

Time to Hire

Time to Onboard and associated feedback 

Productivity

Reduction in Training & support time and cost

Time, Effort & Cost spent on Content creation 

Calls to the help desk reduced (Eg. During tax filing)
Learn in the Flow of Work with Whatfix
See how Cardinal Health learns in the flow of work with the Whatfix Digital Adoption Platform