The phrase ' digital transformation roadmap ' gets tossed around a lot in enterprise businesses, but the advice on how to deploy one tends to be unnecessarily complicated.
"Establish a successful process that will address the top-of-mind needs of your unique organizational environment" really means "find what works for your company and create a plan to make it happen."
So, let's keep it simple by establishing some basics on building a digital transformation roadmap.
What is a Digital Transformation Roadmap?
A digital transformation roadmap is just a plan to get your organization from Point A (using your current digital process) to Point B (using a new digital process). Think of implementing digital transformation as taking a road trip. How you arrive at your destination is just as important as the arrival itself. 
It is an approach to define and manage a digital transformation initiative. The transformation roadmap evaluates the digital maturity of the organization and provides a structured way to leverage several digital processes for successful transformation.
How to Create a Digital Transformation Roadmap in 5 Simple Steps
Only 27% of the digital business models have a coherent digital transformation strategy, according to Forrester. This explains why digital transformation initiatives fail substantially. To transform successfully, a  roadmap is imperative.
You can create a successful roadmap by following the below steps:
1. Gather & Analyze Your Data
For a successful transformation journey, you should look at the centralization of data to use it effectively and implement the actionable insights. Look at how your current processes and legacy systems are being used – and how much more efficient (and more output) your company could be by undergoing a digital transformation process.
2. Get Buy-In from Senior Management
A transformation initiative will be dead in the water if you fail to secure a commitment from the senior management. Since they can be the ones to drive the change in the actual sense, therefore, tech leaders and the senior management should be in unison.
3. Set Goals and Objectives
You should set clear, realistic, and measurable goals and objectives to drive the transformation process. Setting goals helps your organization set itself up for an overall successful digital transformation journey and see real ROI, faster.
4. Prepare Your Organization by Fostering a Tranformation-Ready Culture
To ensure a successful transformation, leaders should foster a transformation-ready culture in the organization. One way to do this is by effectively communicating the need for change and how the transformation initiative would lead to improvement in process efficiency.
5. Invest in Agile Project Management
Agility ensures a high rate of success for the transformation efforts. It includes the implementation of a project in sprints followed by feedback to improve the entire implementation process.
3 Tips for Successfully Deploying Your Digital Transformation Roadmap
When you are investing in new technology and transforming how you work, planning out what you hope to achieve is crucial to building your digital transformation strategy and roadmap. This may seem like obvious advice, but failing to plan is a common mistake. In fact, one study showed that of the 88% of executives in companies undergoing a digital transformation, only 25% had mapped out the journey.
No one wants to go on a road trip that involves driving in the same lane without stopping – digital transformations aren't much different. When you create your digital transformation roadmap, plan to weave between "lanes" to address the various aspects of the transformation, and establish milestones to reach along the way.
1. Turn Your Employees into Change Ambassadors
You're not taking this trip alone. In fact, you won't even reach your destination without the support of the people most affected by the change you are creating. Ordering your team to start using new technology in a way that transforms how they work will only lead to resistance.
Start by getting leadership buy-in. Influential people, like department heads and senior managers, need to understand the purpose and value of the transformation.
You can't expect managers to guide their teams unless you start by showing leadership where you are going and how you plan to get there.
Digital transformations are 2.5 times as likely to be successful with senior leadership support. Once managers and department heads see the benefits of the transformation, they can share that knowledge and excitement with their teams.
Take the time to establish change leaders – ambassadors for the transformation – and work with them to create a plan for communicating how the process will affect the company.
Clearly defined communication plans ensure the upcoming changes are communicated through the right people in the right way. If you expect your IT team to migrate all documents to SharePoint, the head of IT needs to communicate the "What's in it for me?" (WIIFM) and "What does it mean to me?" (WDIMTM) to the IT department.
In this case, the WIIFM might be that they'll have fewer help desk tickets about inaccessible files. The WDIMTM would be that they need to allocate time and labor to the migration process.
2. Set a Fast Transformation Pace and Share Early Wins
Once you've got your senior team on board, it's time to hit the gas. The first few months of your transformation plan are incredibly important and often set the pace for the entire process.
In fact, one study found that companies that fell in the top quartile for successful digital transformation achieved 57% of the transformation's value in the first six months.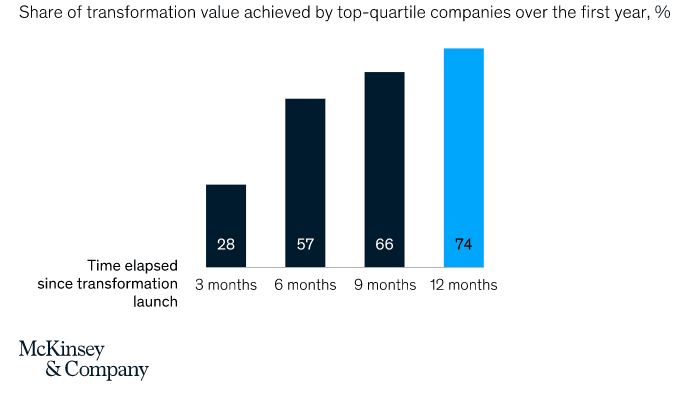 Celebrating early wins is a great way to maintain enthusiasm, but don't get complacent. As you see the results from your digital transformation, reinvest and add even more value.
Let's say you deployed Workday one month ago, and you've achieved a 30% user adoption rate. Instead of trying to push forward with brute force to get the other 70% on board – invest in the 30% who are already using Workday.
Check-in with those employees to see how they are currently using the system, and show them how Workday can benefit them even further.
As your early adopters see more value, you can convert them into vocal advocates for the transformation. In turn, early adopters can work with late adopters to identify knowledge gaps that can be addressed through additional training.
Remember, once you hit the road, you need to keep driving your transformation forward. The aforementioned study found that companies that failed to renew and reinvest in their initiatives – the ones that slowed down – fell in the bottom quartile of successful digital transformation.
3. Use Software to Support Your Digital Transformation Roadmap
By definition, digital transformations involve new technology, so it only makes sense to leverage change management tools to make the transformation run smoothly.
Using a digital adoption platform (DAP) is a great way to get users up to speed quickly. Not only does a DAP provide contextual guidance, but it also allows employees to learn in the flow of work. With the help of in-app guidance and walkthroughs, users can gain knowledge without having to sacrifice productivity.
In addition to a DAP, consider using a variety of tools that support different aspects of the transformation.
Feedback gathering tools like Viima encourage employee engagement, facilitate idea sharing, and allow you to prioritize initiatives
Knowledge wikis that serve as a central resource for training materials
Digital bullet journals that track progress on milestones throughout the transformation process
Dedicated chat channels in tools like Slack that allow employees to ask questions and share tips related to the transformation
Tools are an essential aspect of successful digital transformation. Much like road trips, transformation initiatives are rarely without obstacles. Keeping tools on hand from project management tools to business process management tools – will help you quickly and effectively right your course.
Conclusion: Drive Your Digital Transformation with Whatfix
A Digital transformation roadmap can seem long and often complex. While there are bound to be holdups along the way, you can ensure your safe and on-time arrival by providing in-depth guidance and support for your users right from the start.
With Whatfix Digital Adoption Platform, you can provide contextual guidance for users in real-time – keeping them engaged and informed as they work. Plus, Whatfix interactive walkthroughs and training are customizable, so you can continue to address employee concerns and knowledge gaps throughout the transformation.
Sign up for a demo to see how Whatfix can support your digital transformation today!