According to a global survey by Workday, technology is the biggest threat to the outdated insurance industry.
And it's not hard to figure out why: anyone who has ever gotten a mortgage or entered a payment plan for a new vehicle knows how frustrating the archaic insurance industry currently works.
A little discrepancy on your credit score and you're disqualified—even if you earn enough to cover it. You get cross-examined to figure out whatever you're hiding because a $1.2 trillion industry hasn't thought of a better way to provide a better customer experience.
Insurance technology, or insurtech, changes all that by giving insurers the tools they need to treat customers better and grow their bottom line.
As the field matures, technology helps insurers:
Consider more variables and factor in edge cases when issuing policies

Simplify the customer experience

Cut down on manual processes

Increase profits by growing their margins
This article will dive into the essence of insurtech, including:
How insurtech works

Why it matters to the industry

Technologies driving digital transformation in insurance

Benefits insurers can gain by adopting technology in their workflows
Top 5 Technologies Driving Insurance Digital Transformation
Big Data
Artificial Intelligence & Automation
Blockchain
IoT
Usage-Based Insurance
Investopedia defines insurtech as the use of technology to squeeze out savings and improve efficiency in the insurance industry. The aim of insurtech is to use technology to:
Make business processes more efficient

Process large amounts of data at scale

Customize your services to individual customers

Avoid fraud and reduce risk
When you look at those factors, you can understand the nature of insurtech. Traditionally, insurance protects people, businesses, and assets from risk by taking it on their behalf.
That involves a lot of effort to value insured assets, verify customer claims, tailor offers to different customers, payout premiums, and tackle permitting abuse and fraud.
Much of that work is done manually, and it's no wonder why insurance margins are as low as 2-3%, according to Investopedia.
Using technology, insurers and their partners can perform these functions at scale and, with little manual effort, increase customer satisfaction and grow their margins as well.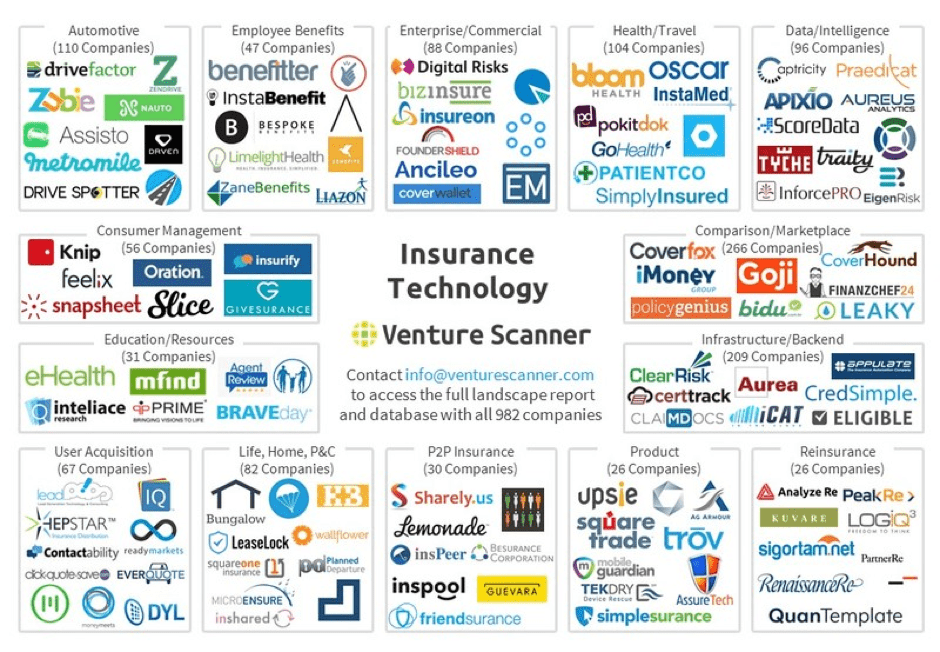 Above: A breakdown of the various spaces and leading companies across the InsurTech landscape.
Why is Insurtech Important?
The insurance industry has long needed to make drastic changes in order to stay viable and keep serving its customers—a niche that includes the entire population in developed economies like the United States.
Insurtech is therefore not just an optional strategy, but a pressing need that insurers must embrace if they want to survive.
Here are five of the benefits of using insurtech in your day-to-day workflow.
1. Engage customers across channels
It wasn't very long ago that you had to go into a bank branch for anything money-related. Fill out this long form, sign here, provide your social security number and address, write a cover letter to the manager, and sign an anti-fraud undertaking.
The only thing financial institutions didn't do was scan your retina as an identity metric.
Nowadays, banks like N26, Monzo, and Revolut let customers create savings and checking accounts in minutes, and users can browse and buy insurance policies for their vehicles, businesses, devices, etc. online.
As that trend accelerates, customers expect everything to happen online, and the only insurers who will be able to survive the trend away from walk-in, onsite insurance services are those that use technology to offer their services on the channels their customers use most.
2. Reduce operating costs and grow profit margins
Today, thanks to technology, banks like Mercury, Monzo, and N26, and retailers like Carvana & Amazon have just a few locations compared to their fully localized competitors.
Case in point: Amazon's revenue crossed $469.8 billion in 2021 generated from 285 locations globally, while Walmart managed to top that with $572.8 billion (21.96% more) but with 10,500 locations — 36 times Amazon's physical footprint.
If we extrapolate those metrics to the insurance industry, it's easy to see that insurers that have few physical assets and that use technology to do more work at scale will outcompete older giants that stick to the traditional insurance playbook that calls for large offices and manual labor.
3. Eliminate fraud & systemic waste
The insurance industry aims to take the burden of risk off customers for a premium. Many customers can be unscrupulous and aim to squeeze out their money's worth at an insurer's expense.
In fact, 18% of all insurance claims are suspected to involve some measure of fraud and 10% of all premiums paid out are dishonestly claimed.
At an $80 billion per year price tag, the insurance industry recognizes fraud as a significant concern but manual efforts to curtail them can only do so much. Insuretch can help assess claims, use big data trends to highlight possibly fraudulent claims, and identify loopholes insurers can close up to save money.
Insurers and financial operators are the number one target of cybercriminals because that's where the money is. What's more, insurance businesses collect vast amounts of policyholder data which bad attackers can sell, or use to target even more victims.
If you get hacked, you might end up paying ransom and also getting sanctioned by the authorities like Equifax found out when they were fined $700 million for not disclosing a database breach.
Deploying technology can help you encrypt customer data, highlight threat vectors, and make it harder for bad actors to compromise your company's defenses.
5. Improve the customer experience
Insurtech offers multiple channels for processing requests at scale and engaging customers with personalized offers which wouldn't be possible through traditional insurance systems.
Improving the customer experience can mean offering an app that shows customers a detailed breakdown of their premiums, chatbots that help policyholders find help faster, faster signups, assessments and payouts, processing support tickets quickly, and digital KYC processes that collect more data while being less intrusive.
5 Technologies Driving Insurance Digital Transformation
As digital transformation penetrates the insurance industry, there are a few innovations driving changes in the business model, such as:
Big data refers to datasets collected in exponentially larger volumes, variety, and velocity. For instance, years ago, all an insurer needed to offer policies was their customers' income, credit score, and financial history.
Using big data, insurers can access larger amounts of data generated by a potential customer's lifestyle, such as diet, health, entertainment options, marital status, clothing size, and purchasing habits.
When this type of information is collected at scale from millions of customers, patterns start to appear and insurers can offer predictive offers that fit into their customers' lifestyle for the right price.
2. Artificial Intelligence & Automation
Tools like chatbots and dynamic forms can engage customers, answer their questions in real-time, and resolve issues faster without involving a human agent. These tools are designed with artificial intelligence and predictive workflows that carry out specific actions depending on the customer's response.
While the blockchain has been overhyped lately, it still offers an opportunity for insurers who're looking to build trust with customers by using decentralized databases to manage customer data, price policies, and run their entire business transparently.
Blockchains are designed to make decisions based on majority voting and can create trust by assuring customers that insurers will not abuse their market position to jack up prices at will or roll out hurtful policies.
The internet of things refers to physical objects connected to the internet to enable users to interact with them, monitor their usage, and regulate them through the sensors and minicomputers installed on them.
For instance, IOT-enabled locks can let delivery persons through after you approve via an app —no matter where you are in the world.
If we bring it back to the world of insurance, digital trackers are useful for monitoring speed limits on insured vehicles, and tracking and updating the status of insured objects. IOT circumvents the human factor and can help insurers track if customers are obeying the terms of an insurance policy.
Usage-based insurance, also known as pay-as-you-go insurance, charges policyholders for their unit usage of their vehicle or whatever object they've taken out a policy on.
At the moment, usage-based insurance is limited to transportation and charges customers by the type of their vehicle, the hours of day they're driving, travel distance, road conduct, and location.
Usage-based insurance uses big data to factor all these tiny details into a customer's risk profile and charges flexible premiums that either increase or decrease based on the customer's behavior.
5 Examples of Insurtech Solving Traditional Insurance Challenges
Here are some of the ways technology is transforming the insurance industry by letting insurers process huge volumes of data faster, engage large numbers of users with offers tailored to their needs, and assess individual policyholders' risk profiles.
Insurtech helps insurers build workflows for managing the claims process at scale. Instead of manually reviewing each claim for compensation, insurers can use software to collect data points, validate claims, weed out fraud using artificial intelligence, and pay out claims to policyholders at scale.
Small agencies with hundreds of clients might have hundreds of customers but for larger insurers with thousands or even millions of policyholders, insurtech software is the only way to streamline the claims process without expanding overhead to tens of thousands of employees.
2. Underwriting automation
The underwriting stage is critical in insurance because it's where an insurer assesses a customer's risk profile and offers them a package, including their expected monthly premium and the compensation they can expect if they suffer loss.
Artificial intelligence can be used to assess thousands of data points on individual customers to determine their risk profile and render a decision on whether to extend a policy to them and how much it'll cost.
Like the name implies, smart contracts execute an agreement when certain terms are met. Whether it is to pay out a claim, upgrade a policyholder's insurance tier, close a customer's account, or approve a potential customer for a policy, smart contracts don't need human input and they automatically carry out certain actions when the requirements are met.
According to research by IBM's Institute for Business Value, a staggering 42% of policyholders don't trust their insurers. In such an atmosphere, insurers can win their customers' trust by replacing the human element with an impartial arbiter in the form of smart contracts that customers can understand.
4. Fraud & risk prevention
Insurtech can analyze more data points, check a customer's historical data with other insurer's, assess their risk profile, and use all that information to highlight fraudulent claims.
5. Customer identification verification
Verifying a customer's identity is the first step before an insurer can sign them up for a policy. And many times, you're onboarding a corporation with thousands of employees. Managing that volume of work manually can bring the rest of an insurer's operations to a halt.
This is not a gray area insurers can afford to overlook given that identity-related crimes affected over 42 million Americans at a cost of over $52 billion just last year.
Using identity verification technologies like document scanning and liveness detection, insurers can capture and verify identity information quickly, for less than a dollar for each instance. That alone can speed up underwriting, claims payouts, and fraud prevention for a fraction of what it'd cost to manually vet customers.
1. Engage customers across channels
2. Reduce operating costs and grow profit margins
3. Eliminate fraud & systemic waste
4. Secure customer data
5. Improve customer experience
The goal of insurtech is to use technology to:
Make business processes more efficient

Process large amounts of data at scale

Customize your services to individual customers

Avoid fraud and reduce risk
Use guided onboarding to speed up your insurtech adoption and implementation
Perhaps you're rolling out a new identity verification SaaS, or signing up for an AI-powered underwriting solution that will assess customer claims at scale.
Great, but how quickly can you get your team to use it? Or will it become another shelfware that rarely anyone puts to work?
Whatfix offers a guided onboarding solution designed to help insurers get value from technology solutions —by teaching your staff how to do all their work with your new tools. Whatfix acts as a canvas on top of your software tools and pops up to offer your team guided walkthroughs on how your new insurance tools work.
Subscribe to the Whatfix newsletter now!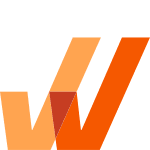 Request a demo to see how Whatfix empowers organizations to improve end-user adoption and provide on-demand customer support