Your company is already spending a hefty sum of money in recruiting, training and retaining employees. And SuccessFactors undoubtedly plays a vital role in helping you manage your workforce throughout their journey into the company. But, ironically even sophisticated software such as SuccessFactors, which was meant to reduce your workload could get cumbersome to use.
As SuccessFactors lacks built-in tutorials or demo videos, your onboarding and training can become complicated. So, to help you make the most out of SuccessFactors, we have listed out the best practices that you as an HR manager can follow.
Let's quickly breeze through them.
"25 percent of companies say that their onboarding program does not include any form of training, which leads to a loss of 60 percent of a company's entire workforce."
7 Best Practices for SuccessFactors Onboarding
Employee and manager onboarding is a critical step in your SuccessFactors implementation project. Here are seven best practices and tips to help your successfully drive adoption through effective application onboarding:
1. SuccessFactors Onboarding via the Free Intro course by SAP
An exception to the high priced SAP courses, this course is available for free. This course helps you to understand how to manage the full HR lifecycle using SuccessFactors. It begins with system demonstrations of over 15 SuccessFactors solutions and wraps up with a focus on Core HR including payroll and benefits.
The course can act as an introductory SuccessFactors Onboarding lesson for your new recruits, who may not have worked on SuccessFactors beforehand.
2. Buy only those SuccessFactors modules that your Organisation needs
SuccessFactors offers multiple modules like core HR modules, talent management modules, employee engagement tools, etc. Despite the availability of all these modules, you need not invest in buying the entire BizX Suite. Buying the required modules would be a more economical business decision. It is advisable to be clear on your needs before you find the right module that can be incorporated into your action plan.
The illustration below depicts the modules offered by SuccessFactors, and how they are related to each other.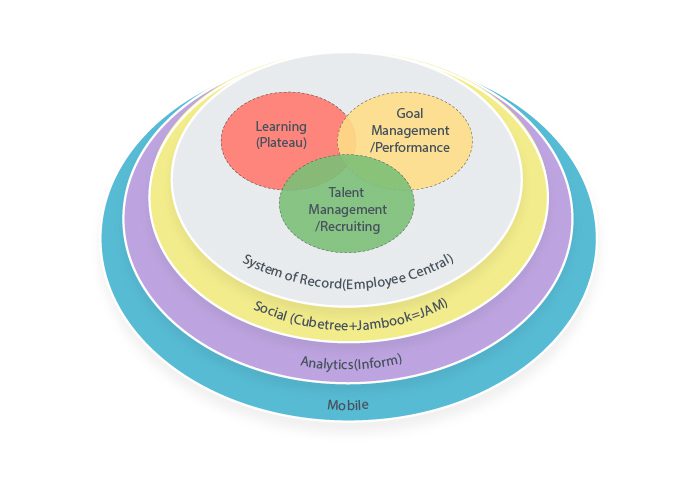 3. Hire 'Certified Professional Consultants' for setting up the SuccessFactors dashboard
Although it is not mandatory, having a Certified Application Professional leading your project is the best way to ensure that your SF implementation is done properly. You can either hire a Solution Architect or a Functional Consultant to execute this. But, they need to have hands-on experience to truly know the solution that they will implement for you.
If you choose to have an implementation delivered by consultants without Professional Certification, then that gamble might lead to a messy and stressful implementation or worse, even a failed project. Some faux consultants may forge copies of certificates to appear authentic. To avoid this, make sure you clarify which type of "certification" they have and to ask them to provide a copy of their certification.
4. Document the training sessions
If the SuccessFactors Onboarding provided by consultants is well documented, then it can be used effectively for training new recruits recurringly. Make simple notes of frequently used workflows and processes introduced in the training. Also, in the first month when you can avail the free support, try asking the support team for all the possible processes, workflows and include them in your documentation.
Using trial and error would be time-consuming and would lead the user nowhere. Instead, ask the new recruits to go through the training documentation before getting started.
5. Use interactive walkthroughs to make SuccessFactors onboarding effective
SAP certified consultants cannot be called upon every single time the HR team faces problems. Instead, if a proactive solution like Interactive walkthroughs is embedded, then that could hand-hold the new recruits, helping them get onboard the platform.
Interactive walkthroughs are guided tours that help in breaking down lengthy processes into step-by-step instructions. These appear in the form balloon tips that shows the action to be taken for a particular task. The best part about it is that. the user need not leave the screen to read the next instruction, instead can learn in real-time.
Whatfix is a tool that lets you create interactive walkthroughs without the need for any coding knowledge. It comes with a browser extension and provides additional features like the self-help widget, task list widget etc. With these widgets, you can list down all the help topics (workflows) of SuccessFactors. Each help topic is a 'How-to' question in itself. When a user clicks on a help topic an interactive walkthrough begins and handholds the user till the completion of the task.
Here's a sneak peek of how Whatfix's self-help widget and a task list widget.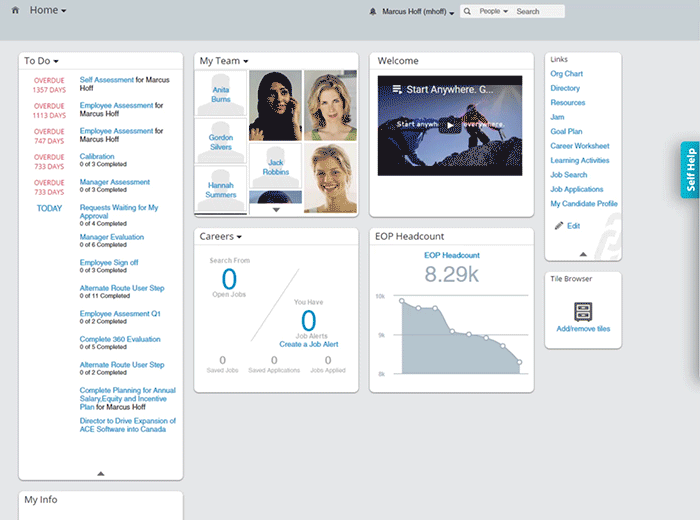 6. Use gamification for SuccessFactors Onboarding on Talent Management System
Bunchball Nitro for SAP SuccessFactors Learning is a customized motivation strategy and gamification platform that can help you drive meaningful engagement. It enables you to combine gamification and performance analytics with the LMS you're already using. As a result, you'll be able to quickly generate "performance enhancing data".
It requires no additional installation. All you have to do is to configure your SAP SuccessFactors Onboarding to integrate with Bunchball Nitro. But, it can only be implemented with Talent Management system module of SuccessFactors.
7. Introduce employee credit system for SuccessFactors Onboarding
In the employee credit system, every employee who trains another employee wins credits. These credits are placed in a league table that qualifies them to win prizes, incentives, etc.
For SuccessFactors onboarding, consultants provide a small training session to the HR team of the company after setting up the SuccessFactors dashboard for them. The HRs who avail this training can in return train the new recruits or the employees who missed the training. The incentive for them to do it could be an employee credit system.
Along with being a productivity exercise, this can also create a conducive environment to learn. Undoubtedly, a utilitarian software like SuccessFactors is worth all the money spent on it. But, if you can cut the time spent in onboarding your team on SuccessFactors, it can give a decent boost to productivity. When already a huge investment is made in deploying SuccessFactors, if a little more investment in interactive tools can reduce your onboarding time, it should be worth it.