SAP SuccessFactors has various talent tools in all the four cornerstones of HR Management – recruiting, performance management, learning & development, and compliance management. It is a well-rounded solution for businesses to manage the workforce throughout their journey. 
However, a sophisticated software, such as SuccessFactors, comes with its own set of roadblocks and could get cumbersome. ‌Therefore, we have listed the best practices for HR managers to enable SuccessFactors implementation and use the software to its full potential.
What Is SAP SuccessFactors?
The Importance of Contextual SuccessFactors Onboarding
The SuccessFactors onboarding experience must be tailored to introduce relevant and necessary information for users to get started.
Contextual onboarding can help here. It helps personalize onboarding flows and show the right message to the right user at the right time. For example, during the initial onboarding, after signup, when the user clicks a particular button, etc. 
The idea behind contextual onboarding is that the flow changes and reacts to an individual user. This makes it more effective than the traditional one-size-fits-all onboarding approach.
10 Best Practices for SuccessFactors Onboarding
Here are ten best practices for SuccessFactors onboarding for you to drive adoption.
1. SuccessFactors onboarding via the free intro course by SAP
The introduction to SuccessFactors solutions is a free openSAP course where employees learn from expert instructors how SuccessFactors solutions support the entire HR lifecycle. The course covers a brief session on why HCM matters, system demonstrations of over 15 SuccessFactors solutions, and core HR, including payroll and benefits.
The course can be an introductory SuccessFactors onboarding lesson for your recruits, who may not have worked on SuccessFactors before.
2. Buy only those SuccessFactors modules your organization needs
SuccessFactors offers multiple modules such as core HR, talent management, employee engagement, etc. Despite the availability of all these modules, you need not invest in buying the entire BizX Suite. Buying the required modules is a more economical business decision. It is advisable to be clear on your needs before you find the suitable module to incorporate into your action plan.
The illustration below depicts the modules offered by SuccessFactors and how they are related.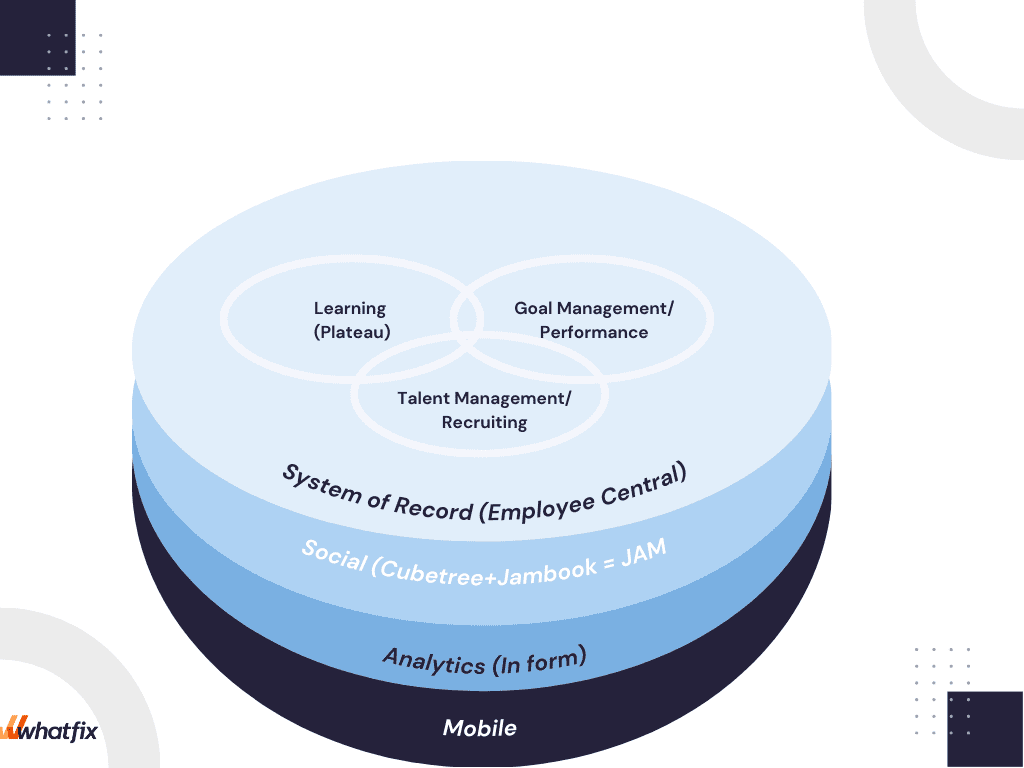 3. Hire certified professional consultants
Although not mandatory, having a certified application professional lead your project is the best way to ensure the successful implementation of SuccessFactors. You can hire a solution architect or a functional consultant to assist in every phase of a cloud implementation, including offer, realization, verification, training, and transition. Additionally, they actively coordinate software rollouts.
4. Document the training sessions
If the SuccessFactors onboarding provided by consultants is well documented, it can be used effectively to train recruits. In addition, it will take some burden off recruiters to give a rundown every time a new employee is hired.
Make simple notes of frequently used workflows and processes introduced in onboarding. Also, when you avail SucessFactor's free support in the first month, ask the support team for all the possible processes and workflows to include in your documentation.
Calling an SAP-certified consultant every time the HR team or a new hire faces an issue with the software is not feasible. 
A more proactive solution to onboard and ensure the success of your entire workforce to SuccessFactors is via in-app tutorials. 
In-app tutorials are interactive guides and tooltips implemented right within the SuccessFactors interface. These tutorials guide users through product features, key workflows, and best practices.
In-app tutorials include interactive walkthroughs, product tours, pop-up video tutorials, or chatbot flows. You can mix different types of guides to create a seamless user onboarding experience.
To create effective in-app tutorials for SuccessFactors onboarding, implement a digital adoption platform such as Whatfix. Whatfix allows you to build step-by-step instructions, walkthroughs, product tours, tooltips, task lists, self-help widgets, etc., for users to easily navigate an application or software. The tool also captures user behavior data to understand how your in-app content performs, allowing you to create better application experiences.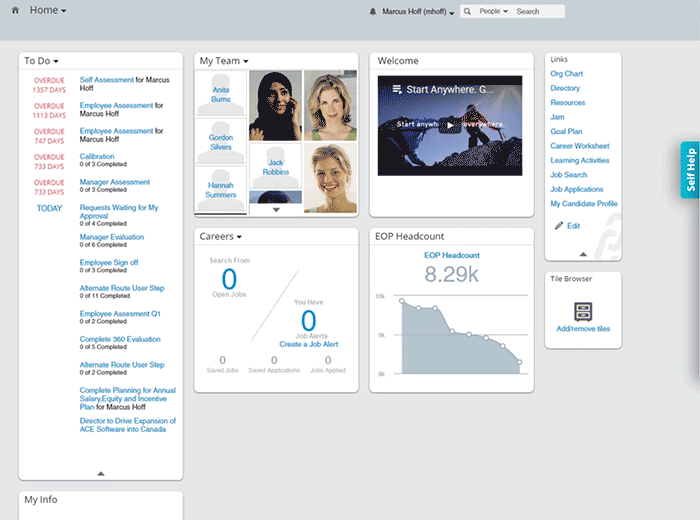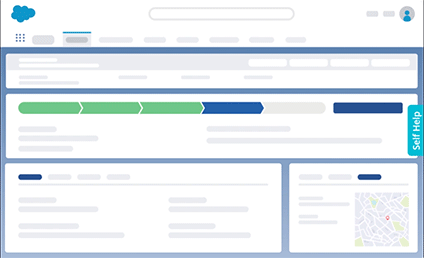 Create personalized onboarding flows for your enterprise apps with Whatfix
Learners today retain more information when they feel engaged and enjoy how information is delivered. Gamification training incorporates gaming elements such as points and badges into onboarding and training courses, putting a new spin on workplace learning. By leveraging psychology, the approach engages learners and makes them more willing to take on repetitive tasks despite the risk of failure. 
Bunchball Nitro for SAP SuccessFactors Learning is a customized motivation strategy and gamification platform that can help you drive meaningful engagement. It enables you to combine gamification and performance analytics with your LMS to quickly generate performance-enhancing data.
7. Introduce employee credit system
​​In the employee credit system, every employee who trains another employee wins credits. These credits are placed in a league table that qualifies them to win prizes, incentives, etc.
For SuccessFactors onboarding, consultants provide a small training session to the HR team after setting up the SuccessFactors dashboard. The HRs who avail this training can further train the employees and get incentives under the employee credit system.
Along with being a productivity exercise, this also creates a conducive environment to learn.
​​Product analytics in a digital adoption platform help L&D teams understand how users engage with your onboarding resources, use your software applications, and adopt their digital tasks and workflows.
Keep track of user adoption metrics to identify the software's least used features and spot user churn signals. Also, keep a check on how (and whether) users interact with your in-app tutorials to see how it affects your software adoption and make better decisions on optimizing your onboarding content.
Analytics can be leveraged to redirect your resources and double down on successful onboarding tactics.
9. Multilingual onboarding
Investing in a platform that can help onboard your employees in their native language is advisable, especially for companies with their workforce across different job locations.
10. Collect employee feedback
Listening to your employees' suggestions must be a preliminary practice after completing the new software onboarding.
Employee feedback can be collected via non-intrusive surveys, polls, and questionnaires to understand what users think about their product's features and how to improve their experience.
A digital adoption platform is likely to provide you with seamless user feedback on in-app tutorials and help content. The insights can be used to tweak or add content and build an engaging onboarding experience for your employees. 
Whatfix DAP For SuccessFactors Onboarding
To fully find ROI from your SuccessFactors investment, you achieve organizational-wide adoption of the new HCM platform.
With Whatfix, create in-app guided content to help onboard your employees and managers on using the platform's various features and provide on-demand self-help support that answers FAQs and links to external documents.
Ready to learn more? Explore Whatfix for SuccessFactors now!
Like this article? Share it with your network.
Subscribe to the Whatfix newsletter now!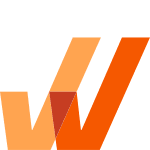 Software Clicks With Whatfix
Whatfix's digital adoption platform empowers your employees, customers, and end-users with in-app guidance, reinforcement learning, and contextual self-help support to find maximum value from software.