"Start with customer service  and work back towards technology, not the other way around" -Steve Jobs
It's quite evident from this quote that having a flawless product doesn't compensate for the need of customer service tools. No matter how well you design your product, customers will always have doubts.
Whatever may be the customer's reasons for seeking help, it is always wise to be prepared for tackling it, in advance. As a precursor to prepping you, we recently wrote an article about 5 distinct ways to provide the best customer support possible.
Taking a step ahead of it, this article aims to list down 30 best customer support tools that can help you provide an unmatched support to your customers. We have covered all the support channels and the best tools that fit into each one of them.
So put on your seat belts and get started.
Chat Tools for Customer Service:
Live online chat is the fastest way to engage with customers on your website. When customers have queries, they would want immediate resolution. If a chatbox is placed alongside and there is somebody present to answer queries right away, they would surely want to opt for it.
Either a support agent or a chatbot can provide instant resolution of queries. Some time back, chatbots weren't at all reliable. But now, artificially intelligent chatbots and are able to serve customers even faster than an agent. As both the ways are extensively used, we would be mentioning tools for each one of them.
Zendesk Chat
LiveChat
Comm100 Live Chat
Netop Live Guide
Velaro
Avaamo
Twyla
Cliengo
HelpScout
SupportBee
Front
osTicket
Casengo
Zoho
SlimFAQ
HelpDocs
Helpjuice
HelpSite.io
Whatfix
Crumble
Joyride
Digital Genius
Inbenta
Astute Solutions
Zendesk
Freshdesk
Desk.com
Intercom
Kayako
Groove
Chat conversations powered by support agents
Formerly known as Zopim Live Chat, this customer service tool lets you connect with customers via a chat interface allowing you to provide real-time support. Chat 'triggers' can easily be setup through the dashboard using simple conditional statements. Suppose a customer is stuck on a page for a long time, an automated chat pops up on the screen(because of the preset trigger). If the customer responds to it, an agent joins the chat and takes the conversation further.
Zendesk Chat is also equipped with analytics, that lets you measure chat stats (hourly traffic), satisfaction ratings, chat timings(how long visitors have to wait for a chat). When you opt for a premium account, you are also provided with 'agent reports' to analyze agent activity and performance.
Pricing: Free for 1 agent, basic plan then starts from $11.20 per agent per month.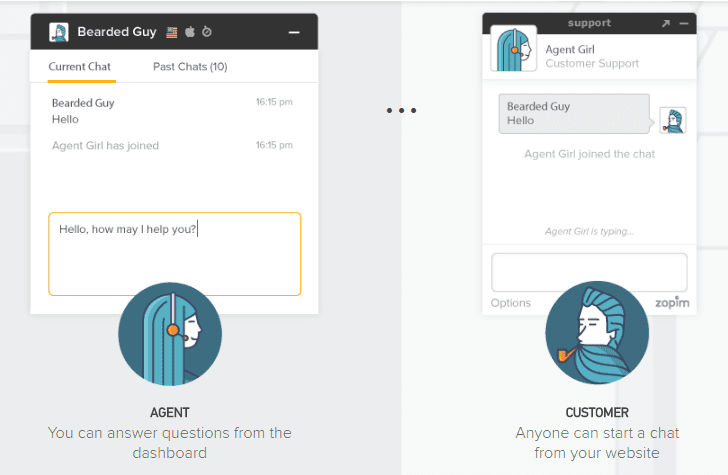 LiveChat, one of the best customer support software is designed with a focus on simplicity. You don't need any training to start using it to chat with your customers.

You can also find out what customers are typing even before they click the send button. This way, agents can answer common questions quickly with pre-made responses. Agents can also avail the client's chat history to know the context necessary to resolve customer cases. You can also customize the look and feel of the chat window as per your company's branding.

Pricing: Starts from $16 per seat per month.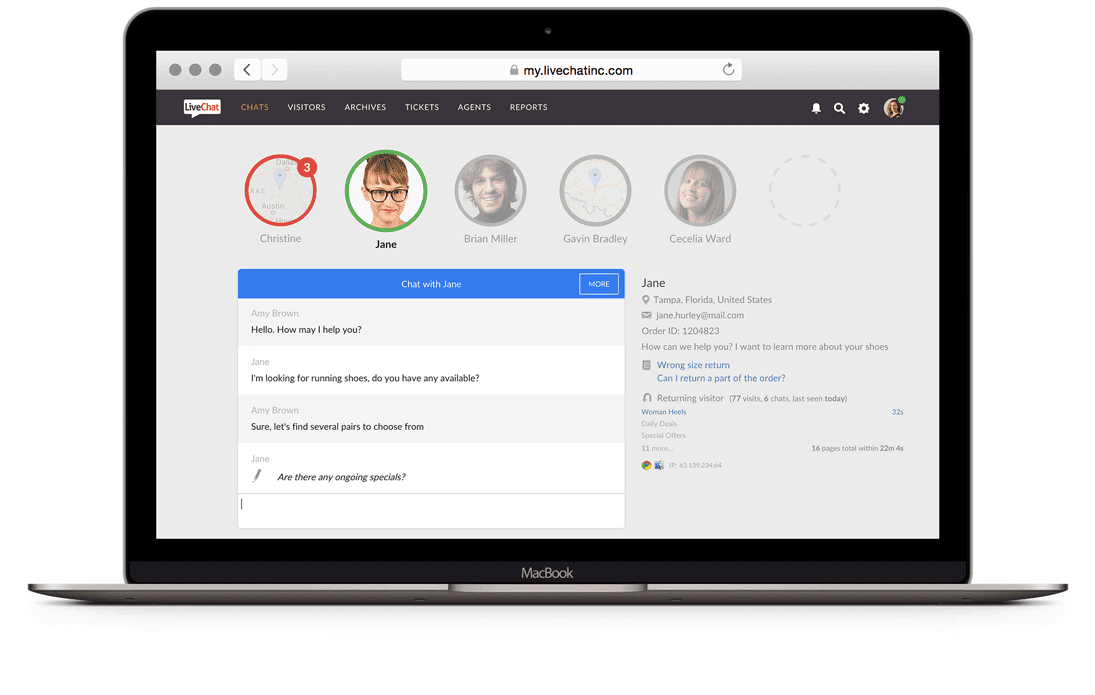 With Comm100, you get to know the visitor even before a chat begins. A pre-chat survey collects information about website visitors such as first name, email address, product inquiry type, etc. This way customer account information is directly transferred from the website to support agents' chat console. This lets chat agents engage in personalized conversations with visitors and improve service efficiency when handling multiple chats.
Additionally, all visitor data collected from the channels can be used as 'rules' in defining visitor segments.
You also have the choice of routing chat requests on the basis of agent skill set, or department.
Pricing: Starts from $29 per agent per month.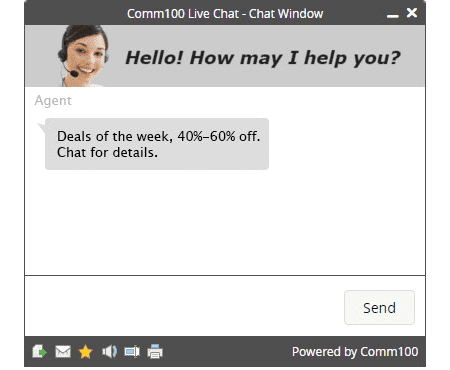 Before using Netop Live Guide, you can calculate how much you would save with Live Guide Chat using the 'customer service calculator'. With data masking, the sensitive customer information is never shown, taking security and privacy compliances to the next level. It also has an option for an audio-video live chat.
The co-browsing module provides features for screen sharing. Support agents and customers share a browser window – so that agents can guide customers in real time. Netop chat can also be embedded across all your social channels.
Pricing: Customized pricing based on individual business requirements.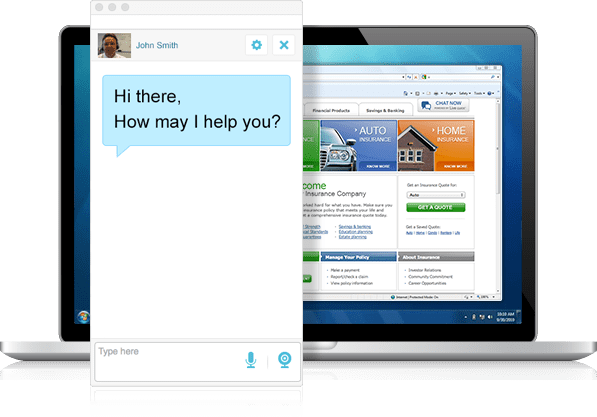 The next customer service software in the list is –Velaro. Its 'click-to-chat windows' and 'call to action' windows can be customized to match your brand. Agents can get an instant 360-degree view of customers by pulling in information from social media networks(LinkedIn, Facebook, Twitter, and Google+). You can also save frequently used responses and give support agents instant in-window access via a lookup service.
Velaro is the only online customer service software for a live chat that lets you share canned responses across groups within your enterprise. Using shared canned messages, your sales team can share common responses, and the support team can create another set of common responses to their most frequently asked questions.
Pricing: Starts at $19.95 per user.

Chat conversations powered by chatbots
Chatbots assist in solving simple, quick-response needs, leaving more time for customer service representatives to focus on complex customer demands and high-touch interactions. Therefore chatbots now also fall under the category of best customer service tools.
Avaamo smart bot is capable of evaluating and identifying all possible meanings and interpretations, to determine the user's query and answers accordingly.
Avaamo's conversation engine is considered as the "brain" of the bot. It consists of several core libraries and modules developed and trained to understand syntax, tone, behavior and goals of lengthy statements made by customers during chat.
Pricing: Customized plans as per features required in the bot.

To train Twyla bots, you can upload support chat logs to Twyla or let it 'listen and learn' from an agent's conversations with the customers. It can also be configured to replicate the tone and voice of an agent.
You may need to train and configure the bot before its deployment. But once it is deployed, Twyla bot can start having conversations with your customers self-sufficiently.
Pricing: Customized plan based on the number of features selected.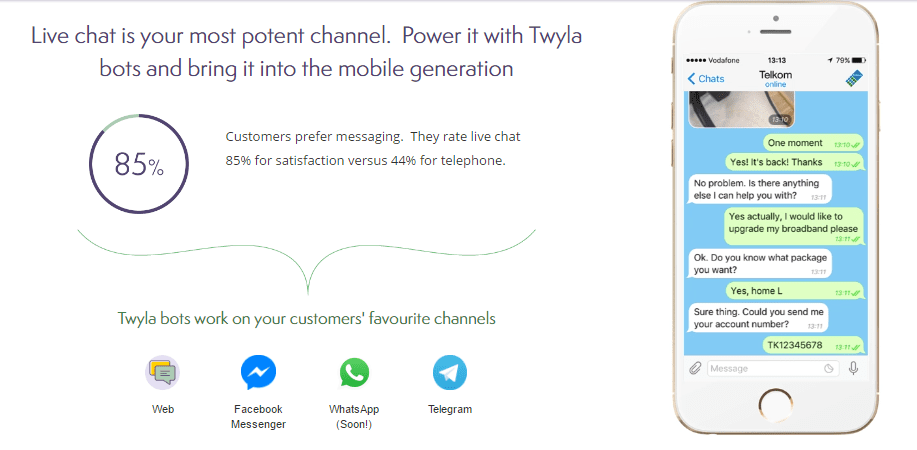 Cliengo is meant to function when customer support executives aren't present to handle queries or gather customer information. During nonfunctional hours of your business, you can deploy Cliengo to chat with customers interested in your product. It simply collects relevant customer information like email address, phone number, etc. The data is then organized in a customer manager app so that you can access it easily and do not miss out a potential lead.
Your bot handles the initial communication with your potential clients and then transfers the control to a support agent for further communication if needed. This makes it an efficient online customer service tool.
Pricing: Free for up to 10 leads a month. Basic plan then begins at $29 per month.
Customer Service Tools for Managing Support Tickets
The next category of customer service tools ie a ticketing system helps you manage support tickets raised on your websites through 'contact-us' forms, emails, etc. Right from the time when the query is raised till its resolution, everything is taken care of.
HelpScout lets you create multiple mailboxes for each shared email address so you can work collaboratively across departments from a single account itself. Repetitive tasks such as sending bulk emails can easily be automated using a simple automation system based on if/then logic.
HelpScout reports tell you about the busiest time of day, which segment of your product raises maximum questions, etc. It can be integrated with a live chat software so that each chat conversation gets saved within a particular customer profile.
Pricing: Starts at $20 per user per month.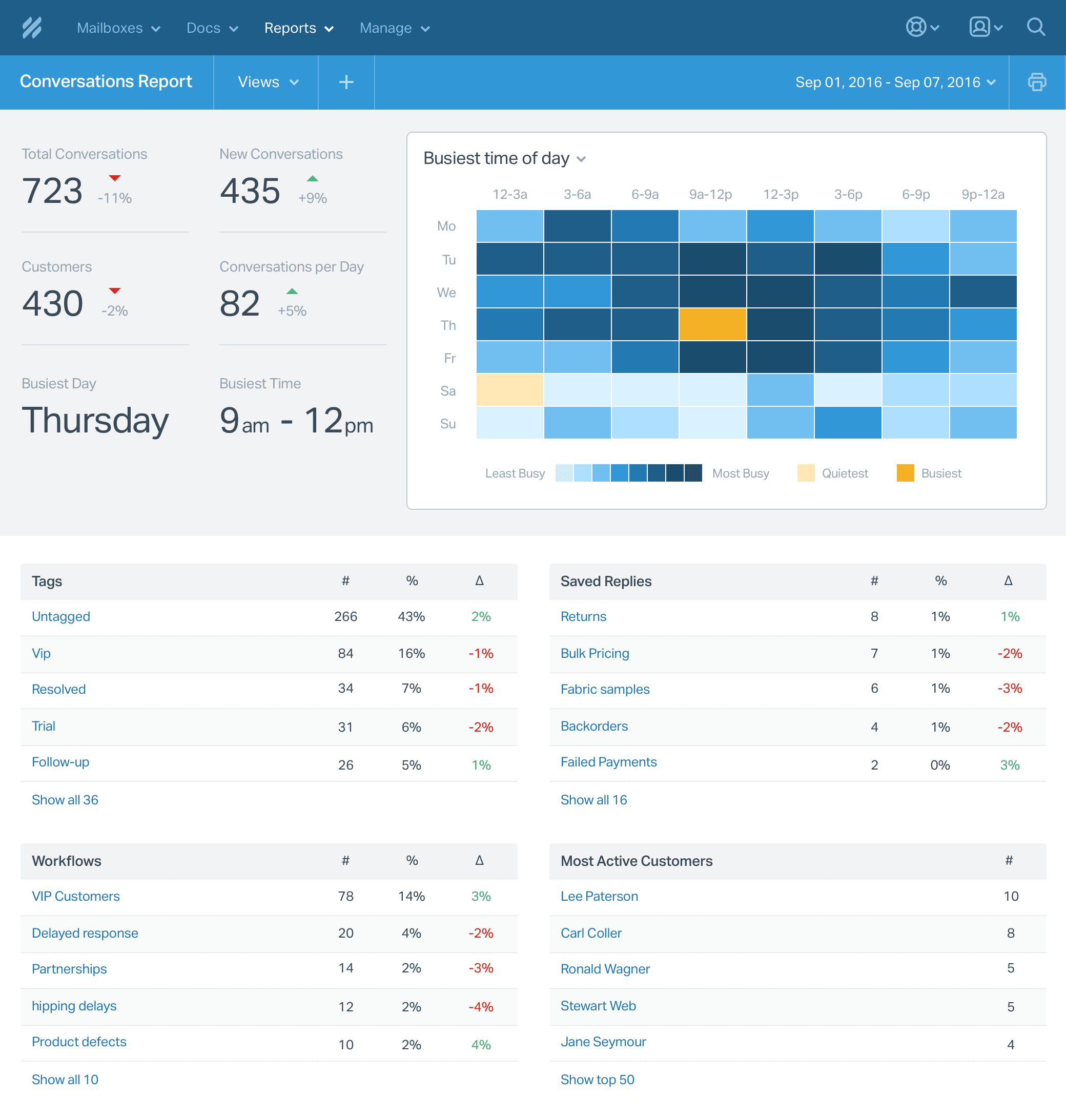 It helps you manage support tickets that you receive in your email inbox. With SupportBee, you can assign support tickets to agents or teams with just a click. Assignees get notified via email. Multiple requests from the same customer are merged into a single email thread. Agents can also create tickets on behalf of customers from the ticket interface itself, and let the customer know, at the same time.
Agents can serve customers better by viewing their interaction history. The 'inline image' feature lets you add relevant images and screenshots to replies. SupportBee can also be integrated with a variety of 3rd party apps such as Slack, Trello, etc.
Pricing: Free for 3 users. Basic plan then begins at $69 per month.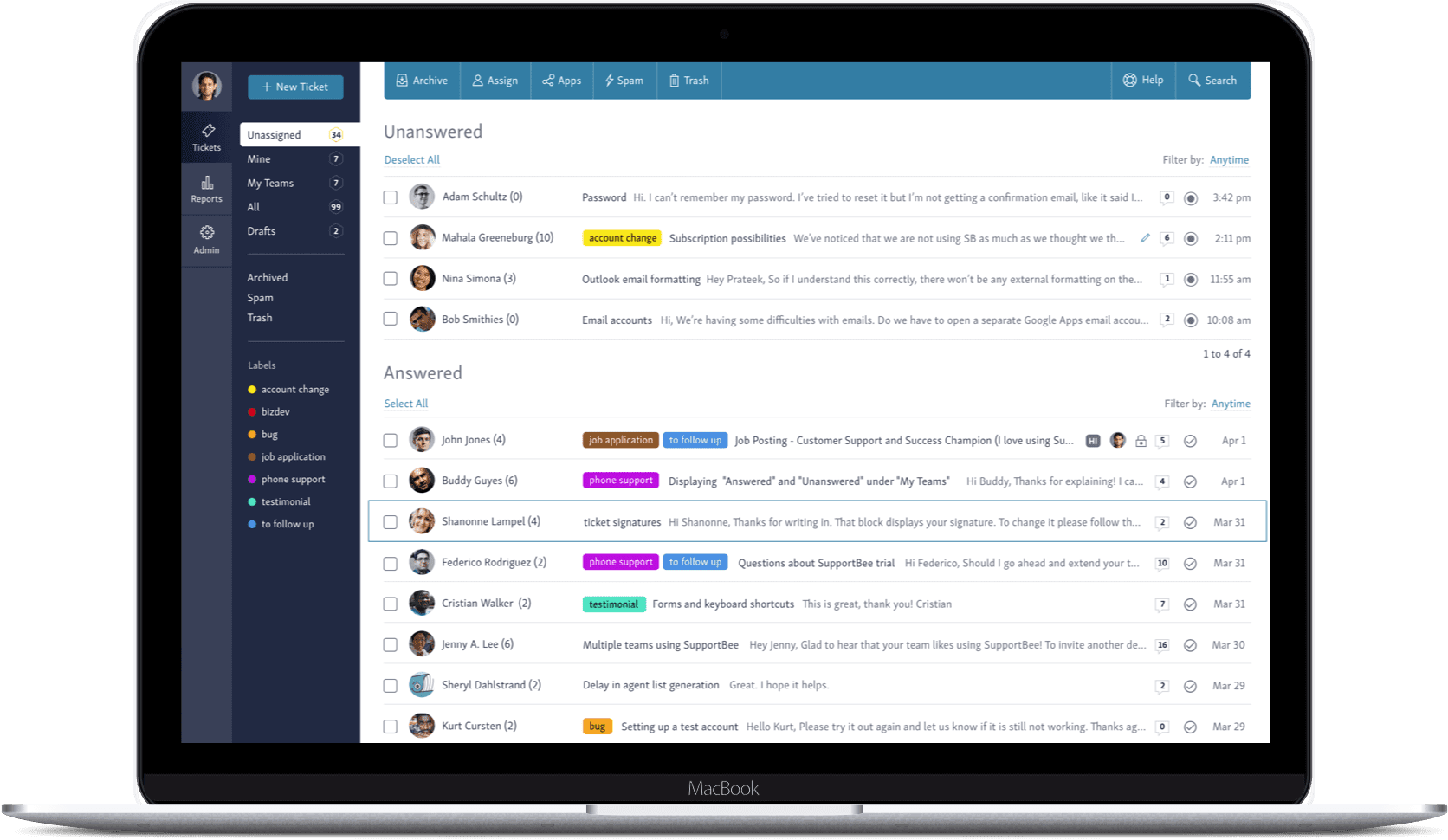 Front brings all of your external messages – emails to [email protected] or [email protected], Twitter, Facebook Messenger, chat, and SMS — into one unified inbox. With Front you can have a separate internal dialog with your team about customer's queries that the customer never sees. It makes working through tickets extremely fast.
In order to route support requests to the right agent, you can set up 'rules' and routing then takes place accordingly.
Pricing: Starts at $16 per month per user.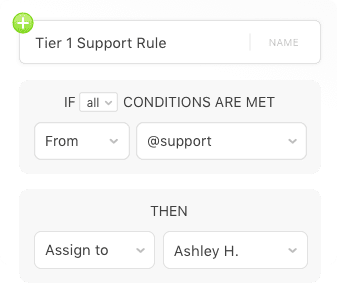 osTicket is one of the widely-used open source free customer service tools. It seamlessly routes inquiries created via email/ web-forms and phone calls into a web-based customer support platform. Features and customer support tools provided within popular support ticket systems in the market can be availed for free with osTicket.
By using the filter system, osTicket empowers you to automate the creation and routing of tickets. Actions such as 'ticket rejection', 'automatic department assignment' or  'send a canned response' can also be set up.
Multiple agents can be barred from responding to the same ticket at the same time, by locking the ticket in use for a definite time duration. When a ticket is locked, other staff can not respond to the ticket until the lock expires. Dashboard reports give you an at a glance view of the performance and functionality of your ticketing system.
Pricing: free.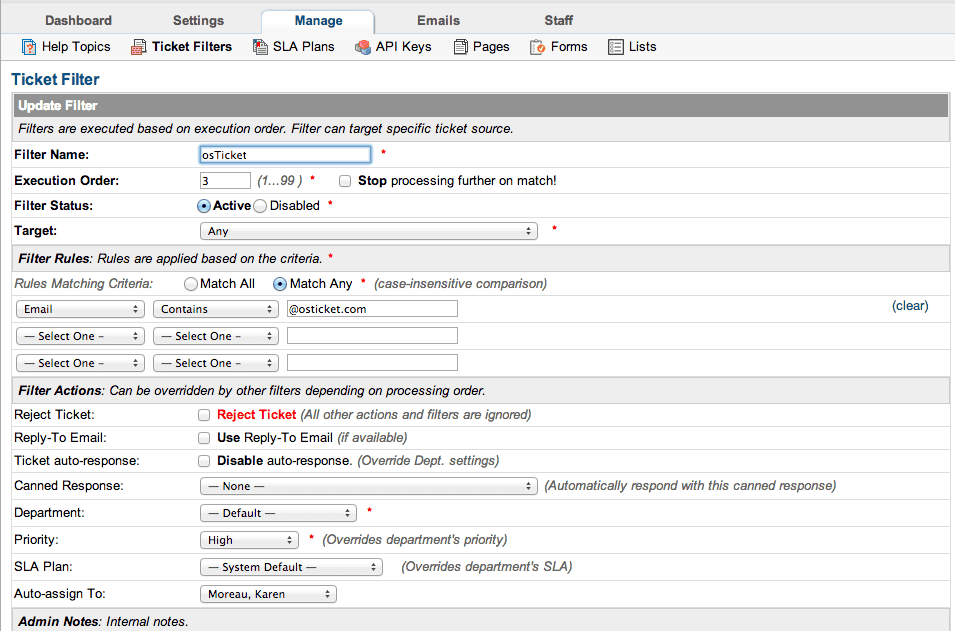 Casengo is a customer-friendly ticketing tool that integrates queries raised across various channels (including Facebook Messenger and WhatsApp) into your customer service platform.
While managing a team inbox, agents might not know which queries are being processed. Casengo lets you find out which customers are still waiting for an answer and which colleague is busy with customer queries.
The Casengo platform helps customer support managers to easily setup customer groups containing on the basis of channels and employees with different responsibilities or skills.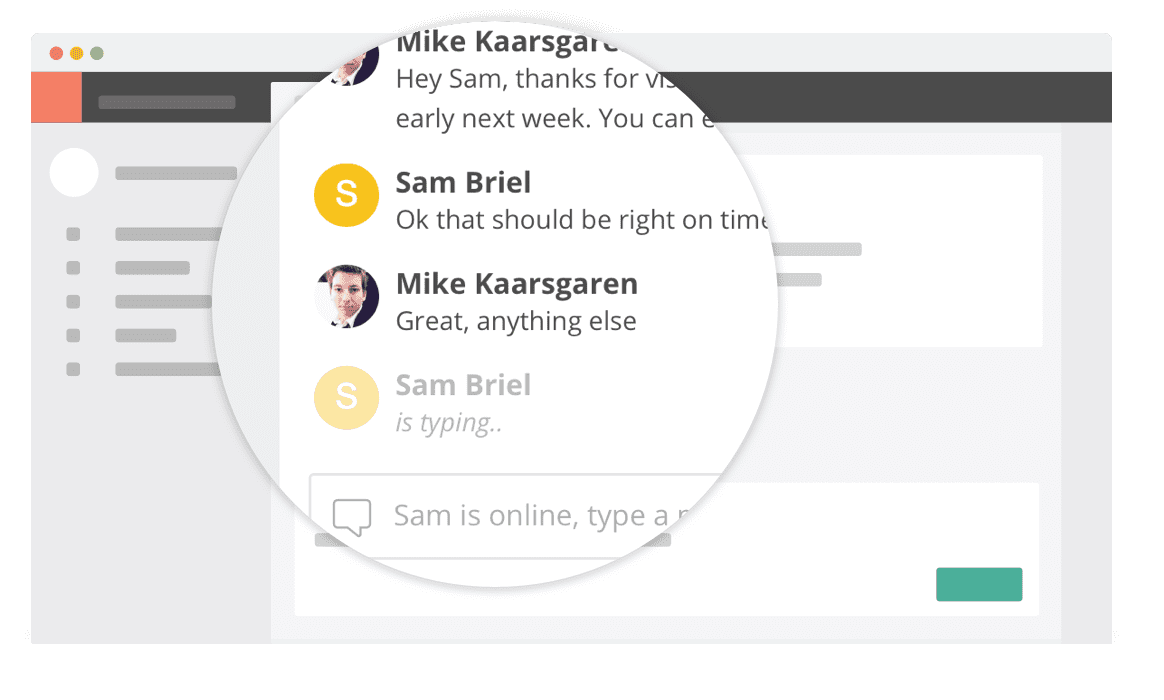 Zoho's countdown mode helps prioritize tickets by displaying them based on when they're due. Tickets automatically move to their appropriate column, so agents can stay updated. The 'work modes' gives agents the complete status of any ticket.
While working on a ticket, detailed customer information can be viewed with the help of Zoho CRM. This puts the conversation in context so that your agent knows exactly how to respond.
It also helps you with adding a knowledge base to your website.
Pricing: Starts at $22 per agent per month.
They fall under the category of customer service tools because they help in reducing the number of support queries raised.
SlimFAQ's easy to use editor makes the creation of categories, questions, and answers quick and easy.  Adding images or files is simple. The built-in high-performance search lets your customers find their answers on the go.
Pricing: Free for 10 questions. Basic plan then starts at $9 per month.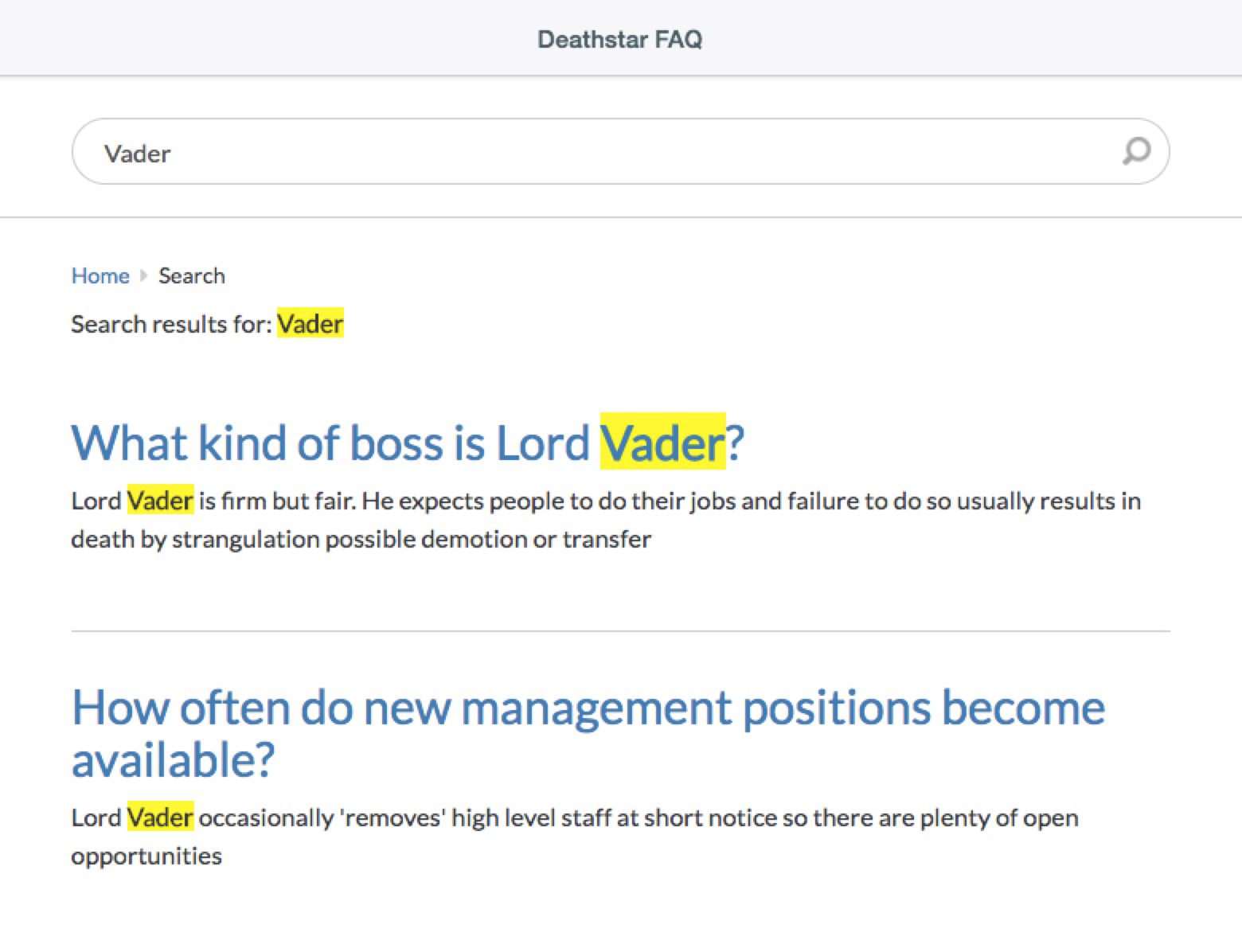 HelpDocs is a  knowledge base that blends in perfectly with your brand. When you're setting it up for the first time, you can quickly choose your brand color and upload your logo in it.
When your customers are looking for their answer, they get the best possible results based on the content, tags, and titles. Each search term is 'logged' so that you can find out what customers are struggling with and write about the same. Also, at the end of each doc 'related articles' are placed. It can also easily be integrated with your ticketing system.
Pricing: Starts at $25 per month.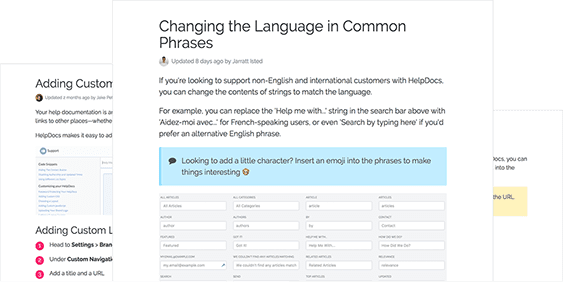 Helpjuice is an easy-to-use knowledge base software that guarantees 50% lesser support emails. All knowledge is centralized in a single knowledge base allowing everyone within the company to know about its activity and content.
Your customers can self-serve themselves and, get instant answers, in a customized fashion. Advanced analytics filters and shows you useful data that can help improve your support.
Pricing: Basic plan starts at $55 per month.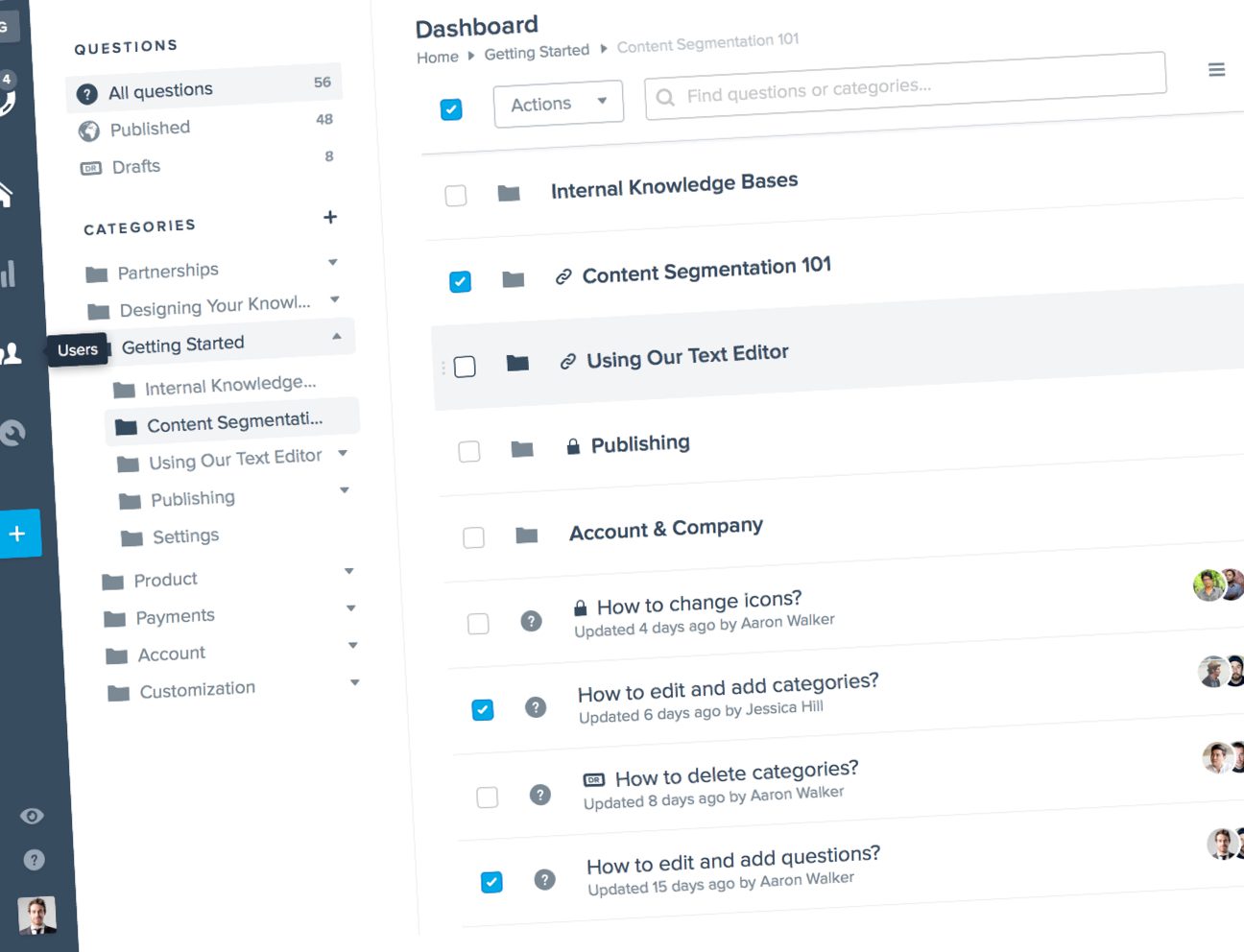 An admin interface lets you create knowledge base articles. With HelpSite, you can populate your website with answers to common questions.
A search box then finds relevant helpful articles for your users.It also has a smart 'contact us' form that auto-suggests articles as someone type their message in order to raise a support ticket. This way users get their questions answered faster and support agents save time.
Pricing: Starts at $14.99 per month.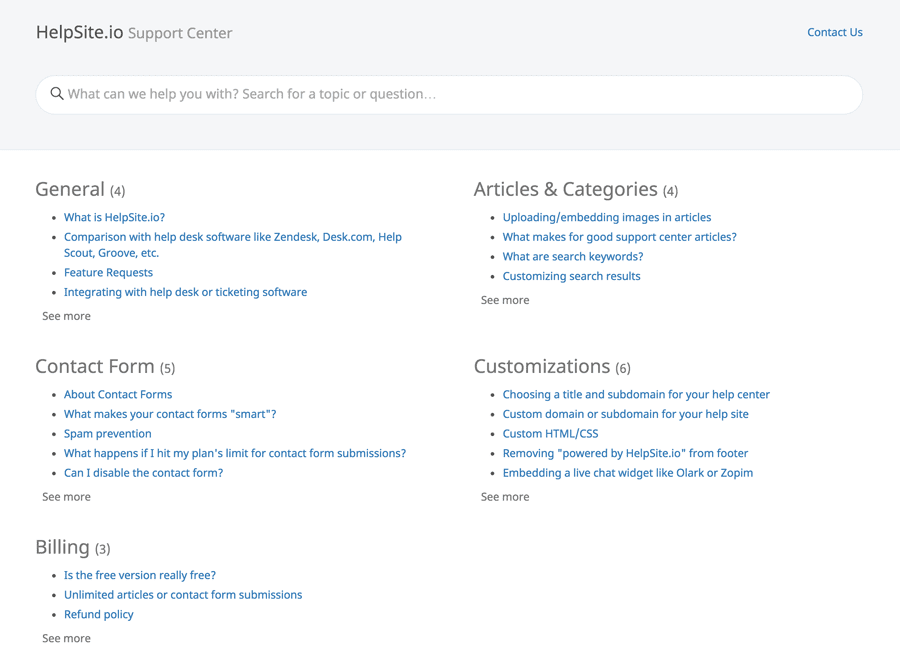 Customer Service Tools for Providing Self Servicing support
The customer service tools under this category provide a cost-efficient and effective way to serve customers by providing them information beforehand. According to Forrester, 72% of customers prefer self-service to resolve their support issues over picking up the phone or sending an email. Customers, especially millennial customers want it and companies need it to reduce the number of support queries raised.
With so many jargons of the customer service industry, it's easy to confuse one self-service support feature with the other.  To clear the confusion, we have categorized self-service customer support tools into three parts.
This is an another class of customer support tools that enhance your support system and reduce the number of support tickets raised.
Interactive walkthroughs are guided tours live contextual help by breaking down lengthy procedures into step-by-step instructions. The instructions are visible in the form of balloon tips right within the website/web-app. Unlike FAQ's, the user does not need to leave the screen to read the next instruction.
Instead of reading through lengthy knowledge bases, users get to solve their problem in real time, with an interactive walkthrough.
Whatfix provides a step-by-step guidance system that allows users to perform any task from start to end successfully. This reduces user confusion and helps them understand your product better. This way, a lesser number of support queries are raised. The self-help widget consists of help guides that can be quickly accessed by your users to solve their pain points.

Whatfix can be used seamlessly across all user touch points like email, chat, helpdesk, and social media. It helps in answering the tickets effectively and reduces the overall support overhead.

Pricing: Custom pricing based on business  requirements.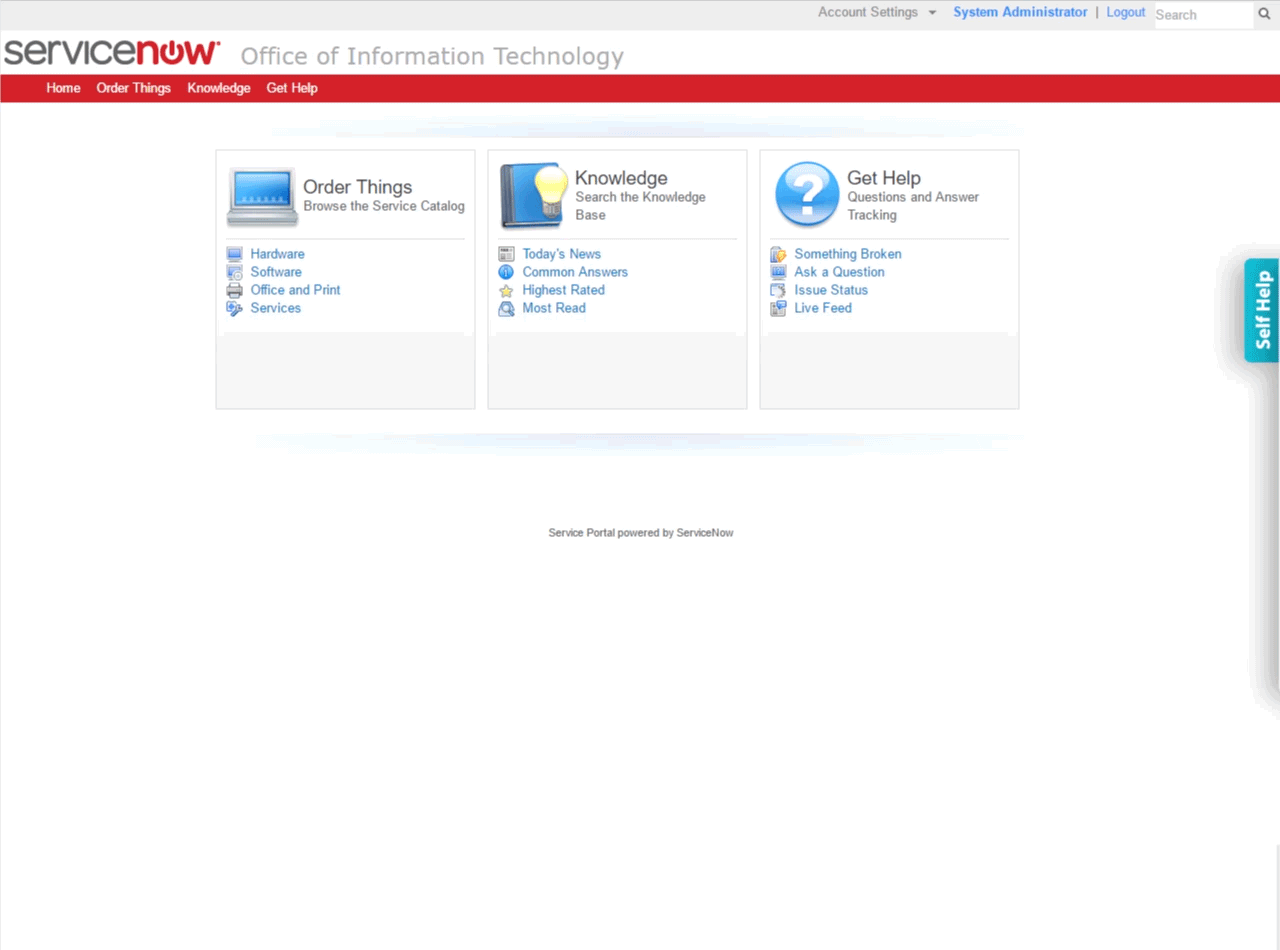 It can easily be downloaded through the public repository on Github.If you are familiar with a bit of programming, Crumble can help you build feature tours for your website or app using small bubbles!
The bubbles are visually appealing and draw user attention. But, their size is pretty small and only capable of containing small concise sentences. The tour itself is defined as a standard ordered list in your html code.
Joyride from ZURB enables you to create jQuery tours, which are cross-browser compatible and easy to implement. It works on every screen size and is just 12 kilobytes in size.
To get started just download the Joyride kit, add the Joyride markup to your document 'head,' define your tour stops, create a tour outline and include a small section of code before your closing 'body' element.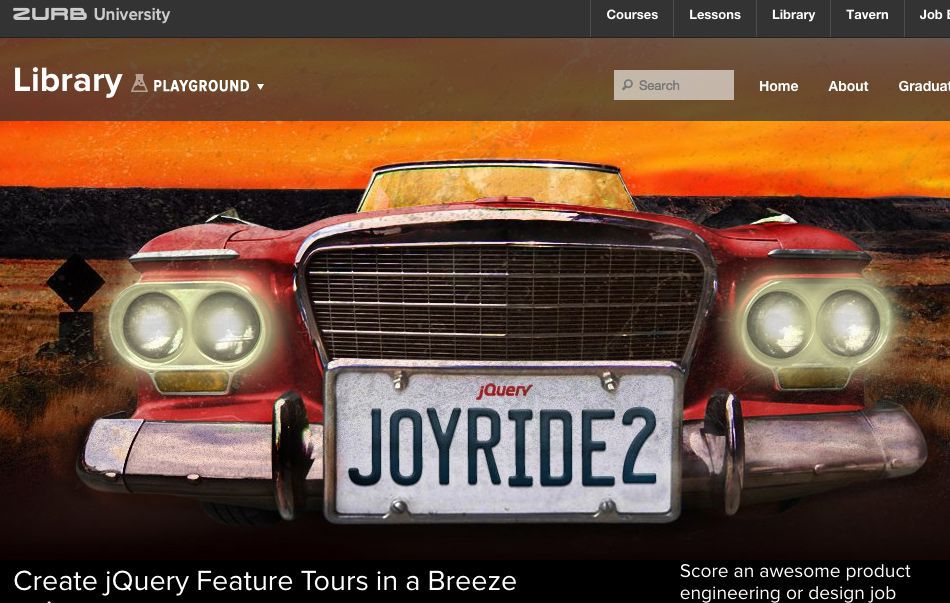 Customer Service Tools Based on Artificial Intelligence & Natural Language Processing
It is a tool capable of improving the performance of your customer support center. When customers contact you via a live chat, digital genius improves the productivity of your customer service agents by letting the machine pre-fill reason codes, case details, etc. Also, it can answer repetitive questions through the use of machine learning and artificial intelligence.
DigitalGenius gets trained by ingesting conversation data from historical and real-time conversation logs. The pre-filling of case information and automated tasks accelerate response times during traffic spikes.
Pricing: Custom made pricing as per business requirements.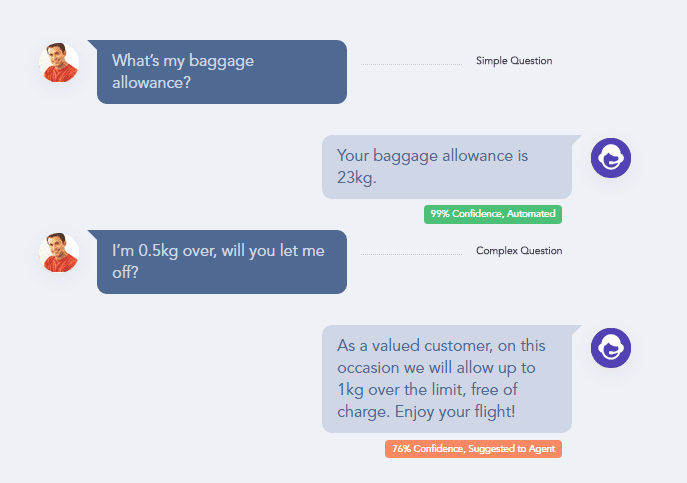 Your website customers raise search queries to understand your product better. Inbenta's NLP-enabled platform understands the nuances of human conversation and answers a query based on meaning, not individual keywords. Also, it supports 25 native languages. To answer queries, it pulls results from your FAQs, documentation and other help content.

Inbenta's chatbot named InbentaBot strengthens your business at two levels — search and transactions — even when support staff is away. It breaks down language into lexical functions to interpret the meaning of any user question & how it's phrased. It is also capable of identifying which questions get incorrect results to help create the right answers for your next customers.

It Integrates easily with all devices plus Desk.com, Endeca, Facebook, Google, Salesforce Service Cloud and Zendesk.
Pricing: Customized pricing based on business needs.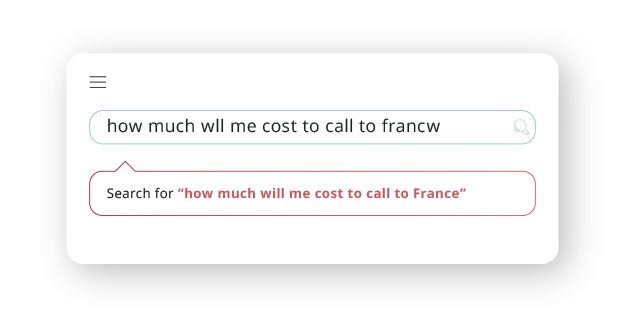 Astute's patented natural language processing technology understands what your customers are asking and searches your business systems for an answer. When it finds an answer, it interprets raw data into an intelligent, human-friendly response. This makes it one of the most distinguishing customer service tools.
Its NLP-enabled platform translates customer's speech into actionable software commands that perform the desired actions for customers.
This spares you from creating an entire knowledge base from scratch. The interpretations of the language are accurate irrespective of slangs or other complexities of human speech.
Pricing: Custom pricing based on requirements.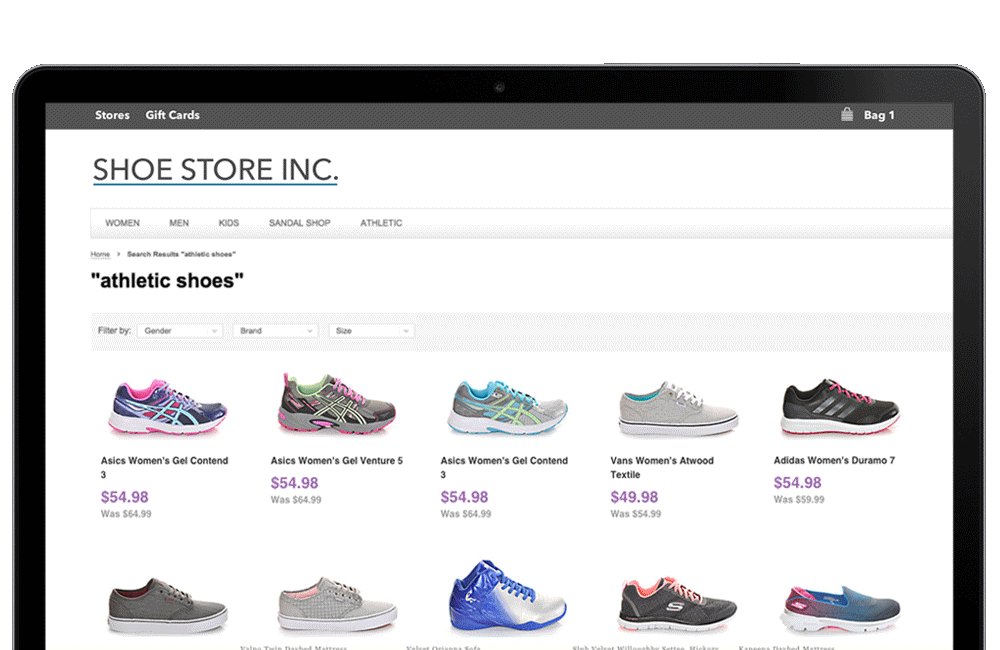 Customer Service Tools for Multi-channel support(Helpdesks)
A helpdesk could be one of the best customer service tools for you if you want to provide support across a variety of channels. They help you manage all your channels within a single platform.
But, if you are looking forward to providing support via only a single or couple of channels, this might not be the best solution for you. In that case, you can select one of the customer service tools that fits best in your targeted support channel.
It's one of the widely used customer service tools and can be integrated with almost all the support channels such as email, social media, chat, talk, texts or messages.
Zendesk also empowers you to increase the self-servicing functionality of your platform so that you get minimum support queries. To do this, you can create a knowledge base or an online community for discussions. self-servicingicing solutions aren't capable of solving customer queries, customers would resort to raising a ticket via one or the other support channel. Zendesk integrates all those channels into one.
It offers functionalities for live chat, integrated social messaging apps and also a shared team inbox. Analytics and reporting further lets you know about the performance of each of your channels and what can you do to make them better. Long story short, it is one of the customer support tools that are capable of providing 360 support across all your targeted channels.
Pricing: Starts from $5 per agent per month.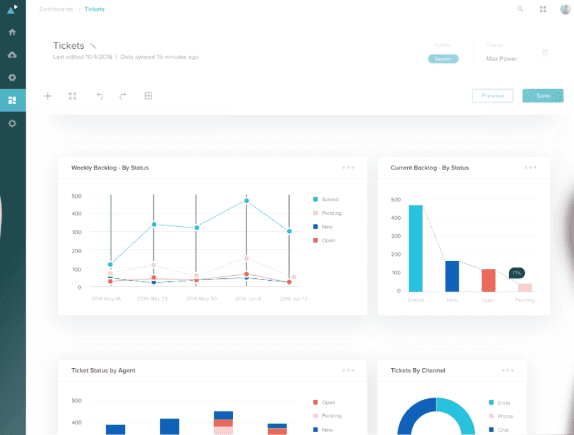 It comes under the category of customer service tools for a fully fledged support system.
Freshdesk manages all your support conversations in one place. Each Freshdesk account can have an unlimited number of mailboxes. All the tickets that are raised via different channels get integrated at one place.This shared inbox enables your team to collaborate and resolve issues without getting in each other's way. Every request sent to your support email becomes a ticket in your helpdesk. You can easily categorize and prioritize tickets and assign them to the right people in your team.

Freshdesk's integrated live chat solution lets you put a chat box wherever you want to enable real-time conversations with customers.With the feedback widget, you put your support ticket form in your website, application or anywhere your customers look for help.

It also has a phone app, that lets your agents carry the support desk with themselves wherever they go.

Pricing: Starts at $17.5 per agent per month. A free plan is also available to get you started.

Like all multi-channel customer service tools, desk.com also integrates multiple support channels within itself. It automatically turns customer emails into cases — each with an owner, priority, and status. You can also view and respond to tweets, posts, and messages from social media within Desk.com itself.
The chat window lets you interact with customers in real time, directly from your website.  It can also be integrated with partners like Olark, SnapEngage, or LiveChat.
To help your customers self-serve themselves, a discussion board can be added to your website. Agents can moderate posts or respond to threads on the discussion board directly from the universal inbox itself.
Pricing: Starts at $20 per month.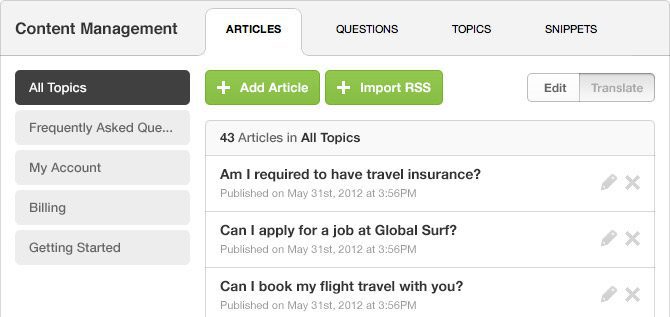 Intercom comes with features like 'in-app messaging', 'team inbox', knowledge base, etc.
With 'Intercom educate' you can create a robust knowledge base consisting of articles. If customers aren't able to find their answers in it, they can reach out to you via an embedded chat platform. With the in-app messaging feature, customers see faces and profiles of your team so that they know there's a real person sitting on the other end.
Data insights obtained through article reactions and failed searches can tell you what changes you need to make to your knowledge base.
The team inbox makes sure that you are able to respond faster with correct answers. Canned responses are saved and can be retrieved easily.
Smart suggestion automatically suggest help topics based on each conversation. 'Notes' and 'mentions' further simplify team collaboration.
Pricing: Starts with $98 per month.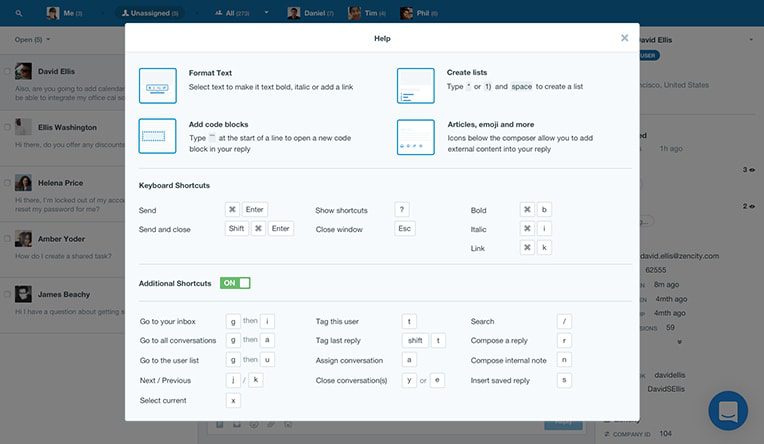 Kayako, unifies your customer conversations across all channels with everything you know about them, and puts it at one place that can be accessed on your fingertips.
With all your customer's data at their fingertips, your team can reach out and support your customers before they come to you with a problem.
Without switching apps, you can understand your customer's context and see their support history in Kayako.
There is also a 24/7 help center where customers can answer their own questions – whenever, wherever.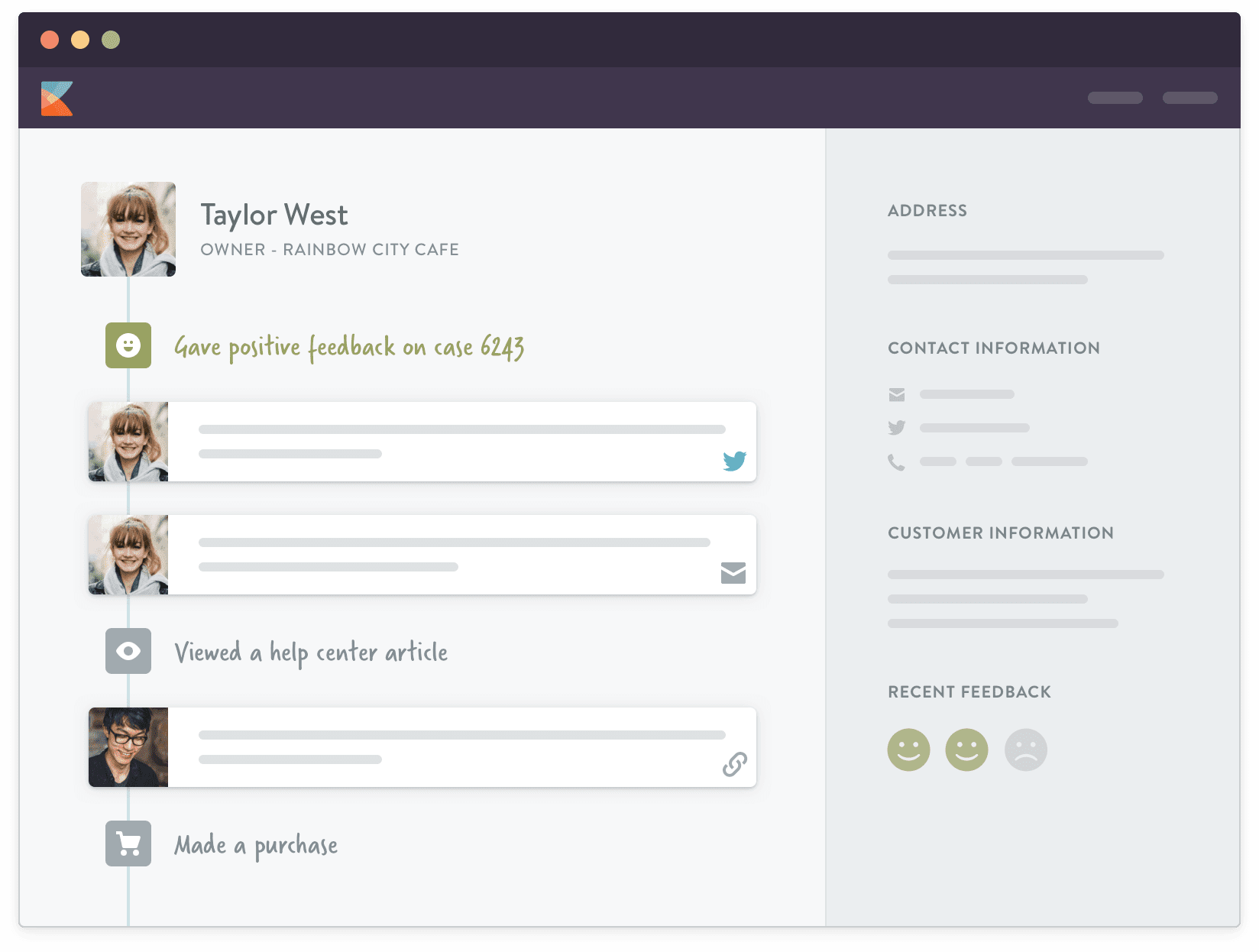 Groove, the last(but not the least) of the customer service tools, helps you with ticket management, knowledge base creation, adding a support widget as well as with live chat.
All your customer emails, social media posts, live chats and calls together can be collaborated in one helpdesk. You can respond to queries raised via any of these platforms from a single inbox itself. With collision detection, your agents can monitor in real-time who's working on what.
By giving your customers easy access to common questions(knowledge base), you'll get fewer support emails in your inbox.
Groove has partnered with Olark to deliver live support tool for your website, embedded within the Groove widget.
Pricing: Starts at $15 per agent per month. Also has a free basic plan.