It's not shocking to learn that help desk tools make customer service teams more productive. According to a 2020 Hubspot study, 86% of companies reported an increase in team productivity after implementing a help desk ticketing system. 
But despite overwhelmingly positive reviews, the same study found that only 42% of teams use a help desk and IT support ticket platform. More than half of companies are not optimizing their customer service team to work more efficiently and deliver a better customer experience. 
If improving customer support is a priority (and it should be), a help desk ticketing system is an easy way to do so. Here's everything you need to know about help desk software to make the right buying decision for your customer support needs.
What Is a Help Desk Ticketing System?
A help desk ticketing system is software that helps you create, manage and track customer issues. It gives your support team the tools they need to answer queries, connect with customers and collaborate with team members in a timely fashion.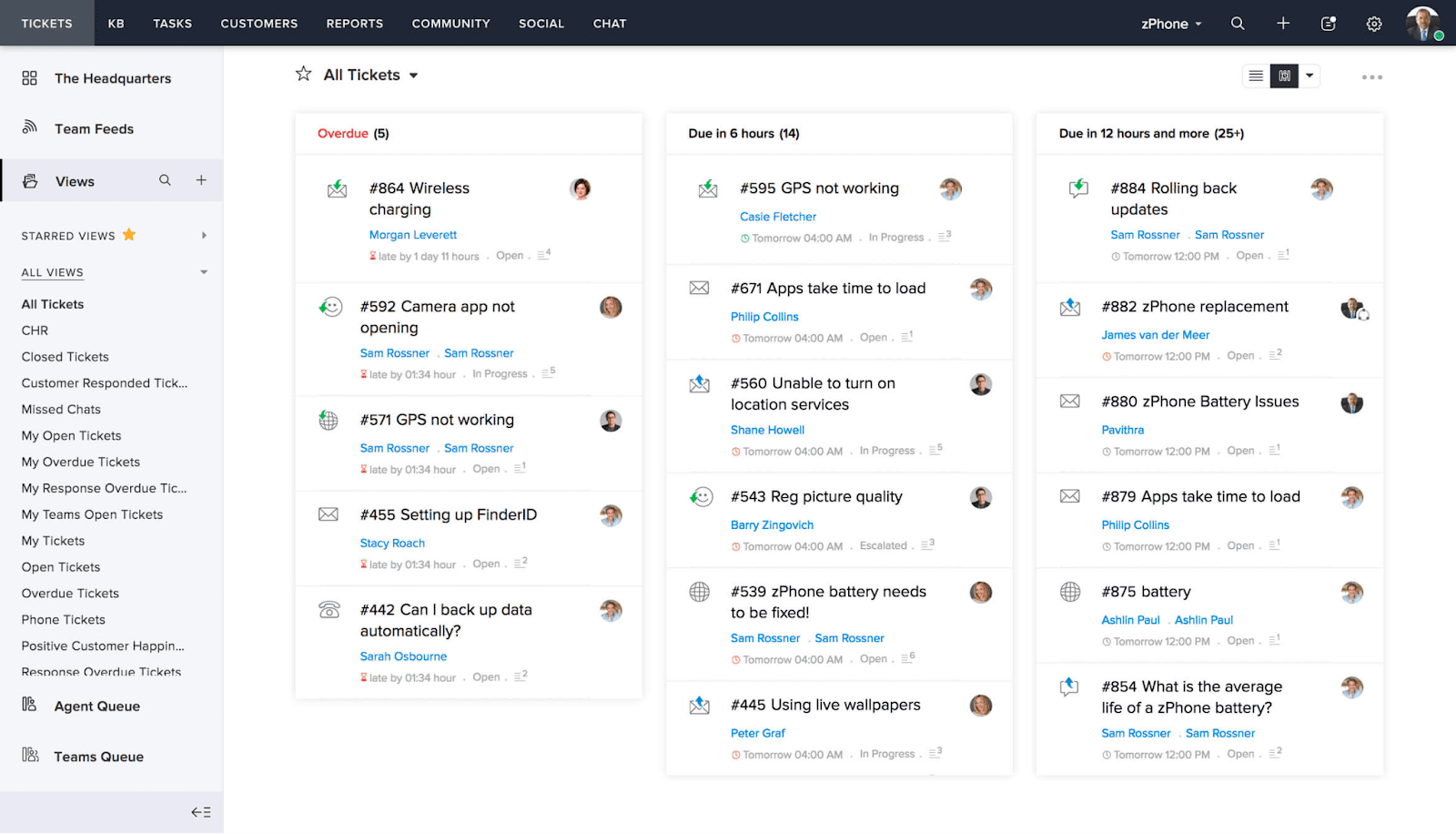 Key Features of Ticketing Systems
When comparing ticketing systems, here are the features to look out for: 
7 Benefits of Help Desk Software
Help desk software is the most used tool for a reason. Aside from providing a better customer experience, it also helps service teams understand what needs to improve through detailed analytics. The benefits may slightly differ depending on the software you choose, but here are the most common benefits you can expect.
1. Improved customer experience
Help desk ticketing tools are designed to improve the overall customer experience. Help desk ticketing software makes it easy for customers to get in touch with companies for support and reduces the amount of time it takes for the support team to respond. With multi-channel integration, tickets can be logged from any channel your customer uses — email, call, social media, or live chat.
2. More efficient and productive support agents
Any time-consuming, repetitive task can be automated and you can create new workflows to reduce the burden on support agents further. These automation features result in greater efficiency and increased productivity.
% of companies that reported an increase in team productivity after implementing a help desk ticketing system
3. Reduced time-to-resolution
Help desk software helps surface content that is relevant and timely, helping customer support teams improve their average handle time (AHT). Since customer service teams have everything they need at hand to solve customer queries, the time it usually takes to resolve issues is reduced.
4. Understand and improve support from help desk analytics
Improving customer service comes down to one thing—how well does the team perform? You can look at the individual performance of team members as well as the overall metrics. Plus, you can gain meaningful insights from reports like time to resolution, NPS, customer comments, or queries that resulted in no help articles to further improve customer service.
5. Scalable ticketing solution
A manual help desk makes it nearly impossible to keep up with all the customers. Tickets start to fall through the cracks or customers don't receive replies in a reasonable amount of time.  The ticketing feature ensures no customer query or complaint goes unnoticed. It sends an acknowledgment to the customer, adds it to the queue, and assigns it to a team member.
6. Creates paper trails for conversations
Support agents can reference previous conversations when faced with a similar query or track down a customer complaint if they're unsatisfied with the service. Help desk ticketing software creates a digital "paper trail" making sure there's complete transparency in the team, so customers don't have to keep repeating themselves to every agent.
7. Better support team collaboration
With help desk software, support team collaboration is simple. Teams can easily jump into conversations without losing the thread of the issue, escalate it to a more experienced support member, or ask for input from other individuals on their team. When your team can work together seamlessly, customers' questions are answered faster and more accurately. 
5 Tips to Successfully Implement a New Help Desk Ticketing Tool
Ready to introduce new ticketing software, but not sure how to get started? Here are our five best tips to make your software implementation successful.
1. Create an agent onboarding and training plan
Whenever you're introducing new software to your team, you need a plan to onboard and train them on how to use it. Before you roll out your new tool, come up with a plan for bringing your support team up to speed. 
A digital adoption platform (DAP) like Whatfix can make this process much easier. Your support staff will receive instructions, tips, and onboarding help as they get familiar with the tool, putting the information they need in front of them exactly when they need it. 
2. Integrate it with your existing support channels and customer relationship tools
Make the adjustment period as easy as possible by connecting your new ticketing software with the tools you're already using. Integrations can minimize disruption and keep everything moving forward as they get familiar with new software and new process expectations.
3. Launch a proactive, self-service knowledge base
Don't make your support team ask for help every time they run into a new hurdle. A self-service knowledge base can provide them with access to information, tips, and guidance 24/7. Your team can get questions answered easier and free up superiors to focus on more complex tasks.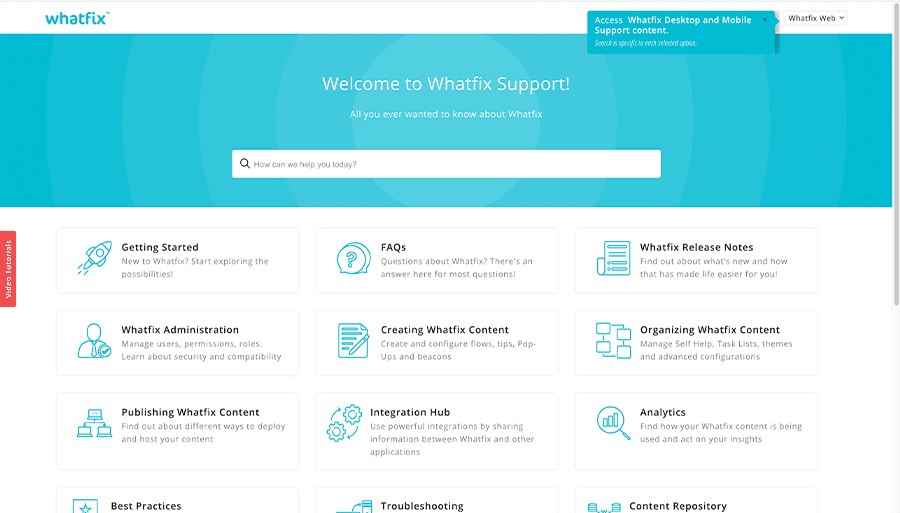 4. Define prioritization and tagging rules
Establish rules before they're necessary. Giving guidelines on how your team should tag incoming tickets and prioritize issues will make sure everything runs smoothly when queries start rolling in.
5. Set up ticket action automation rules
Take advantage of automation opportunities. What tasks or actions will your ticketing software automate? Set up those rules before your team gets started using the software so they can get familiar with the automated processes. 
14 Best Help Desk Ticketing Systems For 2023
The IT help desk ticketing software market is one of the most crowded SaaS spaces. To cut through the noise, we've narrowed the vendor list down to the 15 best enterprise solutions for help desk ticketing in 2022.
Level-up your help desk ticketing software implementation with Whatfix
New help desk ticketing software might be just the thing your team needs to dramatically improve productivity and start building stronger relationships with customers. While it can feel like an overwhelming task now, after you choose the right tool for your team and begin the implementation process, you'll see that the returns will be well worth the investment. 
Learn more about how Whatfix can support your help desk ticketing software implementation today.
Subscribe to the Whatfix newsletter now!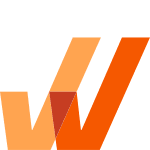 Software Clicks With Whatfix
Whatfix's digital adoption platform empowers your employees, customers, and end-users with in-app guidance, reinforcement learning, and contextual self-help support to find maximum value from software.