IDC research suggests organizations will spend $7.4 trillion on digital transformation by the end of 2023. 
With disruptive technologies driving enterprise innovation, IT departments can no longer exist solely as a reactive cost center to supplement office requirements. IT leaders must come to the foreground with a strategic IT plan to help sustain digital transformation and ITIL change management initiatives.
In this blog, we explore more about strategic IT planning and its phases, as well as software tools to facilitate IT innovation and modernization while delivering on their promise to reduce costs and drive strategic outcomes.
What is an IT Strategic Plan?
An IT strategic plan is a detailed document encapsulating an IT roadmap for a 3-5 year time span. The plan outlines the overall goals, required strategies, and tactics to support those IT goals in alignment with the organization's overall business objectives.
IT Strategic Plan vs IT Strategy
Although a strategic IT plan and IT strategy are similar-sounding, there is a difference. IT strategy guides an organization to focus on how the IT department will help the business succeed, while an IT strategic plan is a long-term roadmap to help the organization implement those strategies.
The Need for Strategic IT Planning
During uncertainties such as COVID-19, technological disruption has experienced rapid acceleration in recent years. Remote work and digital selling have become a norm, and many organizations struggled to keep up with these changes. However, organizations with a well-established IT strategic planning process were able to quickly adapt to change and manage new IT changes better and more efficiently. 
Given the criticality of a strategic IT plan, Gartner reports that only 29% of CIOs rated their IT strategy and planning as effective. However, the Fortune 500 organizations that have prioritized IT strategic planning have reported returns as high as 700%. 
When executed correctly, as a continuous and iterative process, IT strategic planning enables an organization to:
Be responsive to change

Focus on high-value programs

Reduce operational costs by funding the best-suited technology for digital transformation

Communicate better and collaborate cross-functionally

Understand changing customer demands, market landscape, and digital innovation driving the businesses. 
For example, when employees began working remotely across geographies, organizations relied on IT departments to take charge of investment priorities, security policies, and the adoption of new virtual technologies to keep businesses afloat, all of which required intensive strategic IT planning.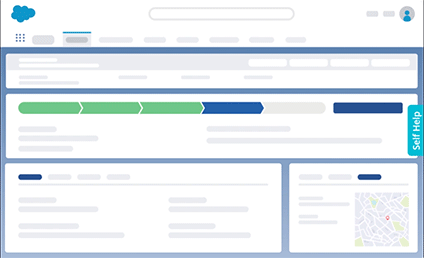 Create personalized learning & training flows for your enterprise apps with Whatfix
Key Components of an IT Strategic Plan
Every organization will have a different IT strategy that is suited to its business needs and requirements. Here are the core components that form the foundation of a successful IT strategic plan:
1. Alignment of IT with business goals
An IT strategic plan must be aligned with the overall business goals. Any IT infrastructure requests, digital transformation projects, and organizational change management strategies should be discussed well in advance to decide on investment priorities for the considered time frame.
The technology roadmap includes the long-term IT initiatives, requirements, and impact of technology implementation, followed by a detailed technology adoption plan. 
For example, many organizations have migrated to cloud services such as AWS and Microsoft Azure from legacy (and outdated) on-premise data centers. They required cloud change management for a successful transition during these projects.  
3. Change Communication Plan
Employees often undergo denial, anger, and resistance phases that make up the change curve before they are able to adapt to change completely. With a transparent and detailed change communication plan, you will be able to onboard your team members and help them embrace change better – driving adoption of new IT technologies. 
For effective IT strategic planning, IT leaders must standardize the IT services offered within an organization and bridge the gap between the existing and required services.
IT governance is a subset of corporate compliance and ensures efficient and effective use of IT within the organization. IT includes policies related to cyber security and data protection. With the rise of hybrid and remote work with employees distributed across the globe, the need for an IT governance strategy has never been more important.
IT organizations establish these IT best practices over a long period, and adherence to these practices ensure lower risks, reduced costs, and improved SLAs. Deciding on these best practices is a continuous process and must be updated regularly for relevance and improvement.  
IT leaders must clearly define the goals & KPIs in their IT strategic plan for the IT team to deliver timely. Well-structured KPIs and goals will allow your team members to better plan for ad-hoc requests. 
Based on the varying scopes of IT strategies across different organizations, the format of strategic IT plans differs. Here are three examples of IT plans for you to consider:
Gartner IT Strategy Plan Example:
Resolute Technology Services IT Strategy Plan Example:
Whatfix IT Strategy Plan Example: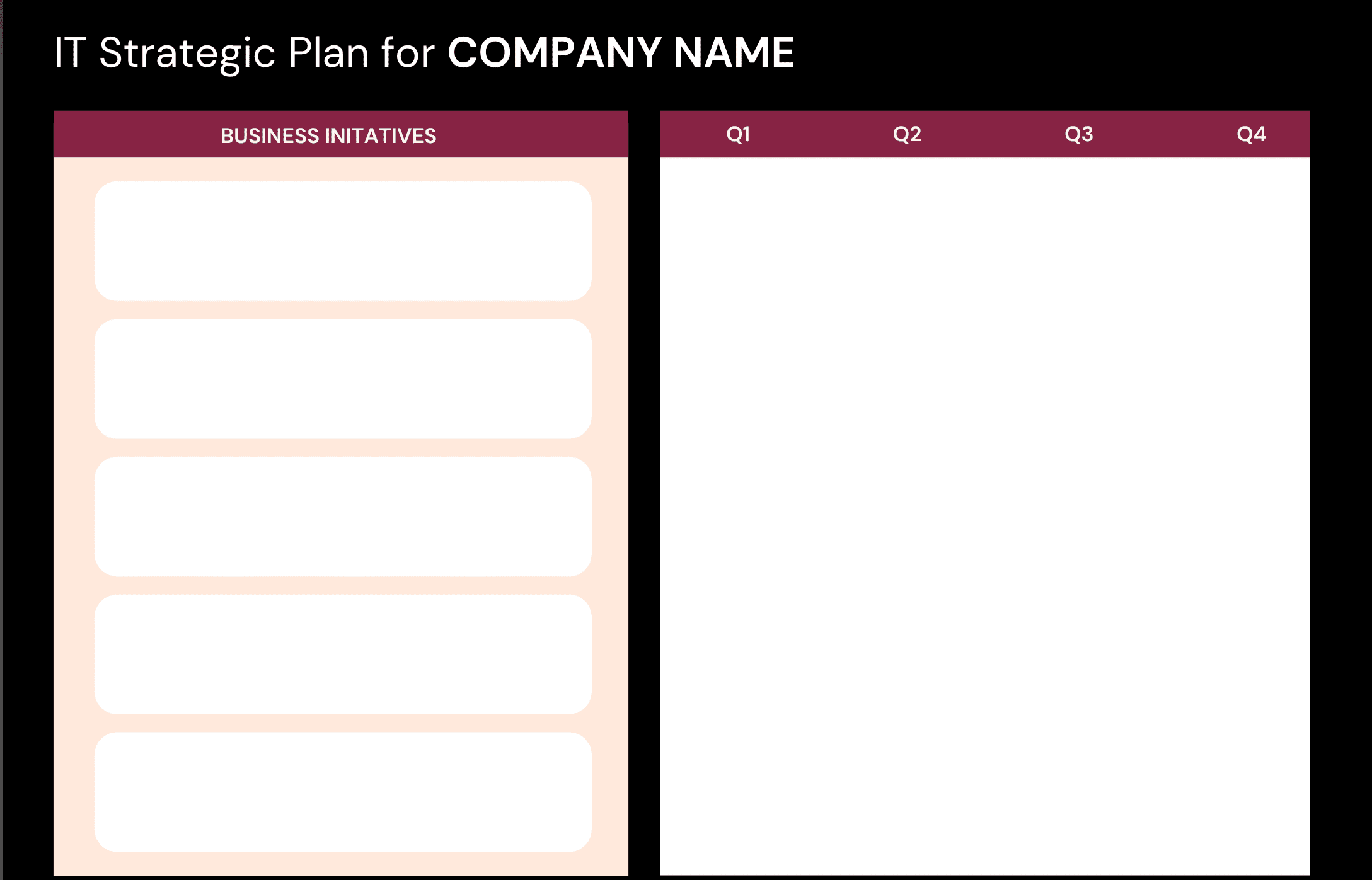 Here's an editable version of the above strategic IT plan to get you started.
Get your strategic IT plan template now!
✓ Thank you, the template will be sent to your email
5 Phases of the IT Strategic Planning Process
IT strategic planning mainly occurs in the following five phases: 
In the first phase, IT leaders must analyze the inefficiencies of their business processes. The project manager facilitates stakeholder feedback via employee surveys, focus groups, and stakeholder interviews to assess the challenges and opportunities. Data can also be collected from external agencies, customers, and industry best practices to provide actionable insights.
Any significant change implementation, such as software implementation, shouldn't be completed without stakeholder buy-in. The easiest way to achieve this is to involve them in the planning process and show them that the project has support from leadership. Organizations may also hire external change management consultants to bring in the required expertise and objectivity based on a project's scope. 
3. Assigning Roles & Responsibilities
Create a detailed project charter outlining the project scope along with roles & responsibilities in this phase. You may use the RACI matrix to clearly define roles and increase employee accountability.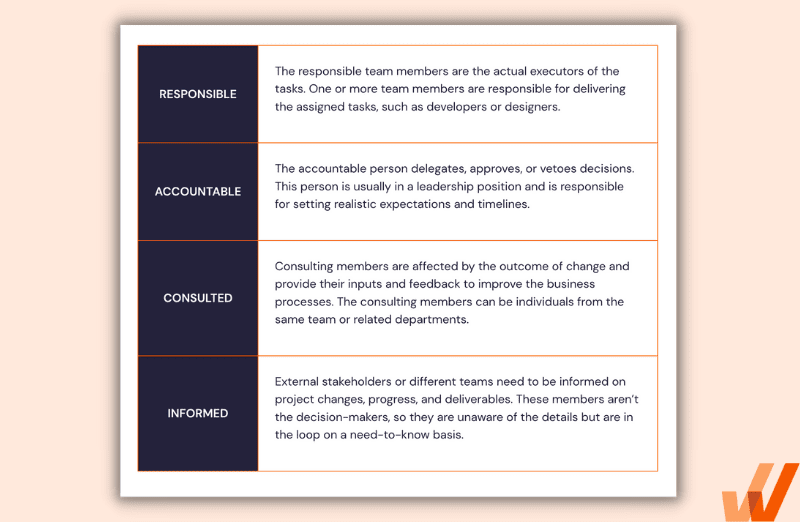 In the implementation phase, there is a clear outlining of the budget, deliverables, and timelines. Since external factors may sway the timelines, it is crucial to highlight and prioritize long-term and medium-term IT goals and objectives. This allows you to create a plan with a strategic roadmap, connecting strategy with outcomes. 
5. Review & Documentation
All implementations will not be successful in one cycle, and much can change over 3-5 years. Therefore, it is essential to regularly track the progress of your IT change plan project and document it for future reference.
Strategic IT Plan Use Cases
McKinsey's research found that 87% of leaders find "the complexity of existing infrastructure as an obstacle to implementing next-generation services". As a result, CIOs need IT strategic planning to simplify and streamline legacy environments. 
Here are a few additional use cases for IT strategic planning:
IT strategic planning helps enterprises focus on digital innovation by allowing internal and external stakeholders to collaborate on decision-making related to future technology and investments. Businesses focus on developing high-value strategies for digital innovation initiatives such as:
Switching from offline to digital processes

Implementation of new software and platforms

Development of a new technology

Automation, IoT connectivity, and big-data analytics 
2. Managing Existing IT Portfolio
IT strategic planning enables IT leaders to evaluate their current IT dependencies and associated risk assessments by obtaining regular feedback. This ensures enterprise cost optimization by conducting a cost-benefit analysis and redirecting funds to high-priority projects.
3. Digital Transformation
Strategic IT planning helps an organization progress from a nascent or emerging stage to a digitally mature stage on the digital maturity index, empowering them to become more adaptive to digital transformation. 
Deloitte's report on Digital Maturity Index indicates a 38.5% increase in revenue and a 16.2 % upliftment in EBIT numbers when organizations become digitally mature and are able to optimize both the operational and strategic indices through digitalization.
4 Best IT Strategic Planning Software
Digital tools help IT teams manage their IT strategy plans. Here are four of the best software tools to plan, execute, and manage IT strategy planning in 2022:
G2 Rating: 4.8
Pricing: $57 per month per feature
Cascade Strategy is a one-stop solution for planning, execution, reporting, and people management to enhance business performance through IT planning. The solution allows you to create customized strategic plans, manage IT goals & KPIs, track project performance with dashboards, and manage human capital. Users also benefit from features such as single sign-on(SSO), data encryption, and strong integration capabilities.

G2 Rating: 4.7
Pricing: Custom pricing
WorkBoard is the pioneer of enterprise strategy and result management solutions. It increases collaboration and accountability by clearly defining the goals in terms of OKRs. You can track the status of a project and initiate feedback if required. 

G2 Rating: 4.7
Pricing: Employee Performance Management – 15$ per user per month
entomo is a business-performance management software that helps organizations align goals to manage remote and distributed teams by offering skill gap analysis, task management, learning recommendations, succession planning, lead management, and augmented analytics.

G2 Rating: 4.4
Pricing: Custom pricing
ApptioOne helps create a unified model by combining financial and operational data based on the industry-standard taxonomy of cost categorization. This software assists in implementing a structured view of IT expenses, lowering IT expenditure, and accelerating forecasting cycles. 
With digital transformation on the rise, organizations must focus on the right implementation partners to support their IT strategic planning and IT change management. You can make your IT strategy more bulletproof by leveraging a digital adoption platform such as Whatfix. 
Whatfix helps organizations drive IT change, and modernization projects with an adoption strategy powered by in-app guidance, embedded self-help support wikis, and change management features such as beacons and task lists. 
Schedule a demo with our experts to discover how Whatfix can help you roll changes effortlessly.
Subscribe to the Whatfix newsletter now!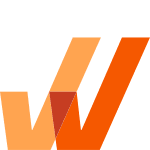 Request a demo to see how Whatfix empowers organizations to improve end-user adoption and provide on-demand customer support