While most change models focus on the strategic aspect of change management, McKinsey's 7-S Framework was first centered around an organization's structure when the model was first introduced. 
However, with increasing complexities & corporate expansion, change practitioners realized the importance of coordination across the entire organizational structure to achieve shared goals and find success. 
In this blog, we explore in-depth the critical elements of the McKinsey 7-S Model, its implementation, and how enterprise organizations have leveraged this model to manage change effectively. 
What Is the McKinsey 7-S Model?
The McKinsey 7-S Model is a change framework based on a company's organizational design. It aims to depict how change leaders can effectively manage organizational change by strategizing around the interactions of seven key elements: structure, strategy, system, shared values, skill, style, and staff.
The model highlights that there exists a domino effect when any one element is transformed to restore effective balance. The central placement of shared values emphasizes that a strong change culture impacts all the other elements to drive change.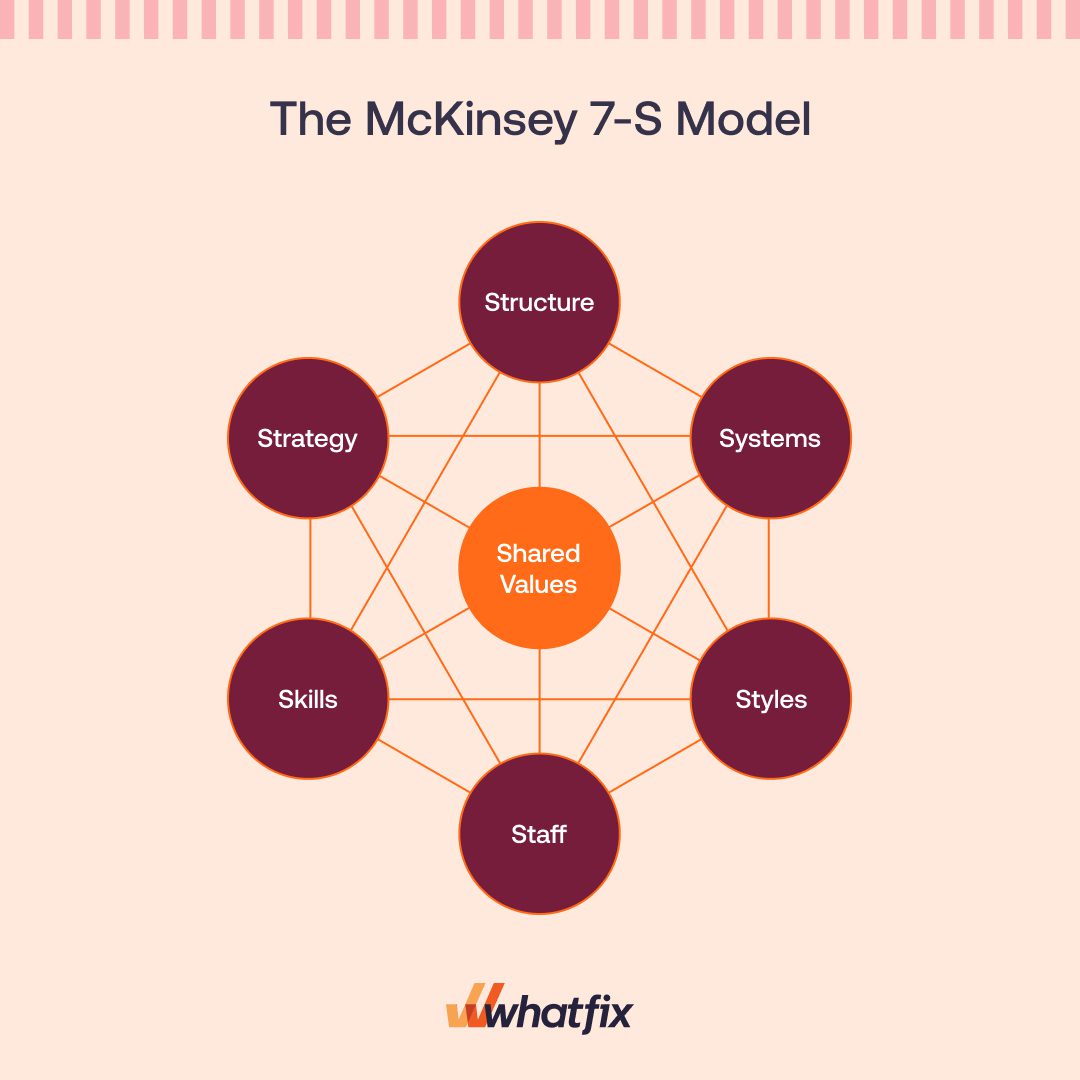 The Elements of the McKinsey 7-S Framework
There are seven shared values that make up the McKinsey 7-S Model, which include:
Structure

Strategy

System

Shared Values

Skill

Style

Staff
The McKinsey 7-S Framework then categorizes these seven elements into two categories: hard elements and soft elements.
Hard elements that are easily identifiable and influenced by leadership and management.
Soft elements are those that are intangible and culture-driven.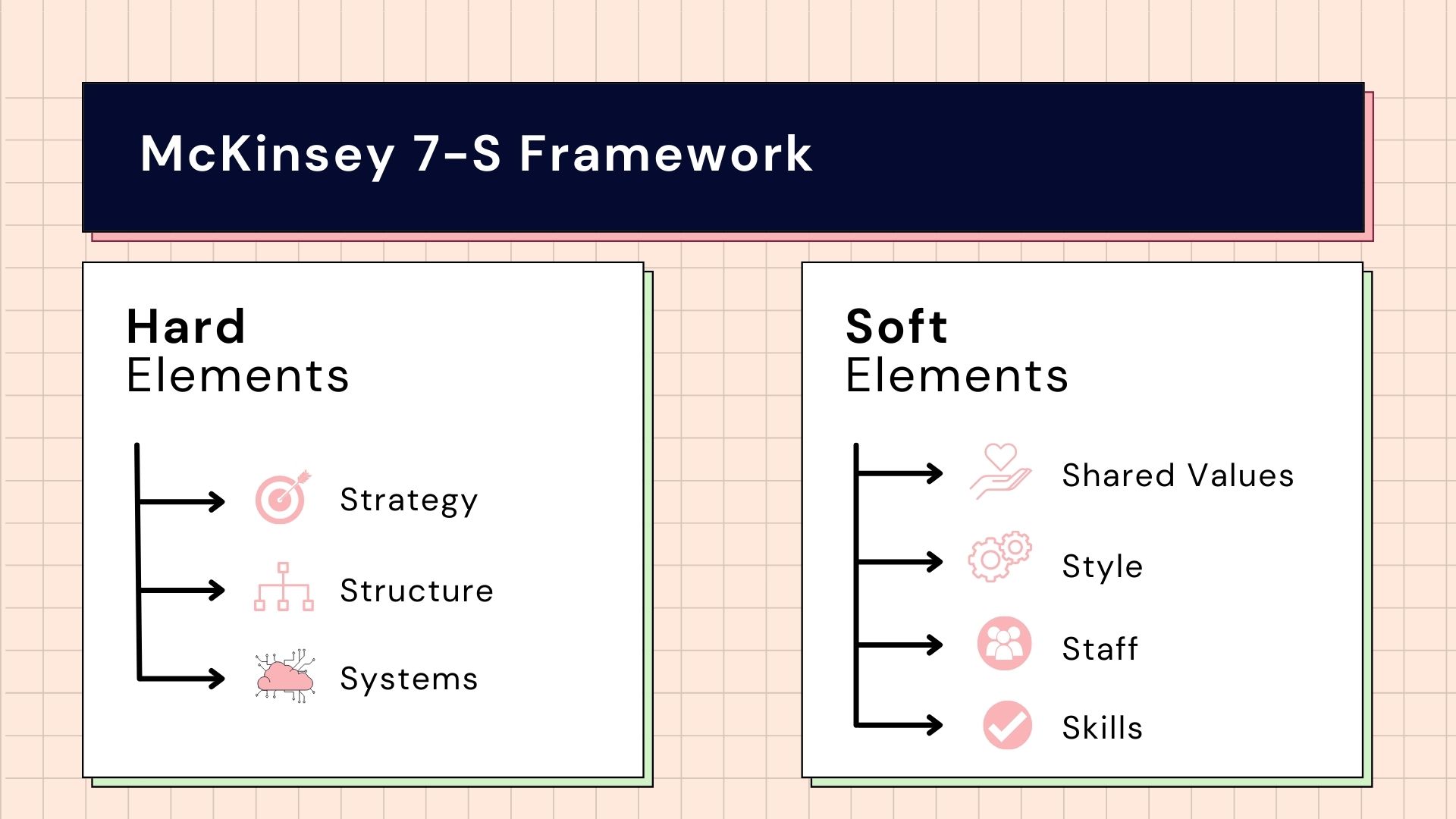 Let's explain each element of the McKinsey 7S Model in more detail.
The strategy element is a detailed plan that organizations create for successful change implementation and to gain a competitive edge. A well-crafted strategy is aligned with the other six elements of the 7-S model and is reinforced by a strong vision, mission, and values.
Structure or organizational structure refers to a clear chain of command to avoid chaos & confusion. Structure is a simple yet crucial element as it creates a sense of employee accountability within the organization.
Systems refer to the business processes and operational procedures employed to complete a business's routine activities. An organization's SOPs consist of such practices and workflows that directly impact productivity and decision-making.
These are the core values governing an organization's health. While implementing a change, organizations expect a behavioral modification from their employees, which is only possible in a strong change culture and organizational values.
This element refers to the management style prevalent in a company that decides the level of employee productivity and satisfaction.
This element represents the talent pool required, the size of the existing workforce, and their motivations. It also considers how they are trained and rewarded within the organization.
Skills refer to the abilities of employees to complete tasks. A study suggests that 45% of respondents reported that a skill gap caused a loss in productivity. Skills gaps overburden experienced employees who have to pick up the slack for their coworkers' inexperience. It's essential to identify the skill gaps and create relevant employee training programs to bridge these gaps.
McKinsey 7-S Model Worksheet Template
✓ Thank you, the checklist will be sent to your email
Download your McKinsey 7-S Model checklist now!
How to Implement McKinsey's 7-S Model
Change agents can effectively implement the McKinsey 7-S model using a top-bottom approach. 
You must identify which elements of the 7-S framework you need to realign to improve organizational performance or to maintain alignment and performance during other changes such as restructuring, process improvement, a corporate merger, new software implementation, or a leadership change. 
Here are the following action items to consider before applying the 7-S model:
1. Identify the Gaps and Unaligned Processes
Perform a business process analysis to identify the gaps and inconsistencies in your organization's existing business processes and list out the unaligned areas, as well as what needs to change to restore the effective balance.
2. Determine the Ideal Organizational Design
This step is research-intensive and requires change leaders to find the sweet spot where management's vision of an optimal organizational design aligns well with the sentiments across the rest of the team members.
3. Create an Effective Action Plan
After identifying the outliers, change agents must create a detailed implementation plan. The action plan should include required changes to the organization's hierarchy, the communication flow, and reporting relationships, which will allow the company to achieve the desired organizational design.
The change implementation stage is the most critical stage of any change initiative, and only well-implemented changes will avoid resistance to change and prevent overall change failures. You should identify internal change agents or hire change consultants best suited to implement your changes.
5. Maintain the Momentum with Continuous Review Processes
These seven elements are highly dynamic and change constantly. Therefore, practitioners must track these elements and their impact on one another to maintain the momentum of change.
Examples of the McKinsey 7s Model in Action
The practical applications of this model including both the failure & success of organizational change projects can be seen by studying the following corporate examples:
From initially being a mobile phone industry pioneer, to drastically losing market share, and finally getting acquired by Microsoft, Nokia's journey of change failure can be explained using the 7-S framework.
Strategy: Nokia faced a dilemma and had to optimize costs and volume, enhance performance, and maximize security. Nokia opted for a cost-leadership approach and failed miserably on its innovation and performance fronts. 
Structure: Nokia had a top-down line of hierarchy where employees were working in silos with limited communication. To compete with the likes of Apple, Nokia should have opted for an agile and decentralized structure, along with a collaborative approach.
Systems: Nokia considered agility and being nimble as its key competitive advantages. With a skilled workforce, Nokia was in a position to innovate its products and increase operational efficiency.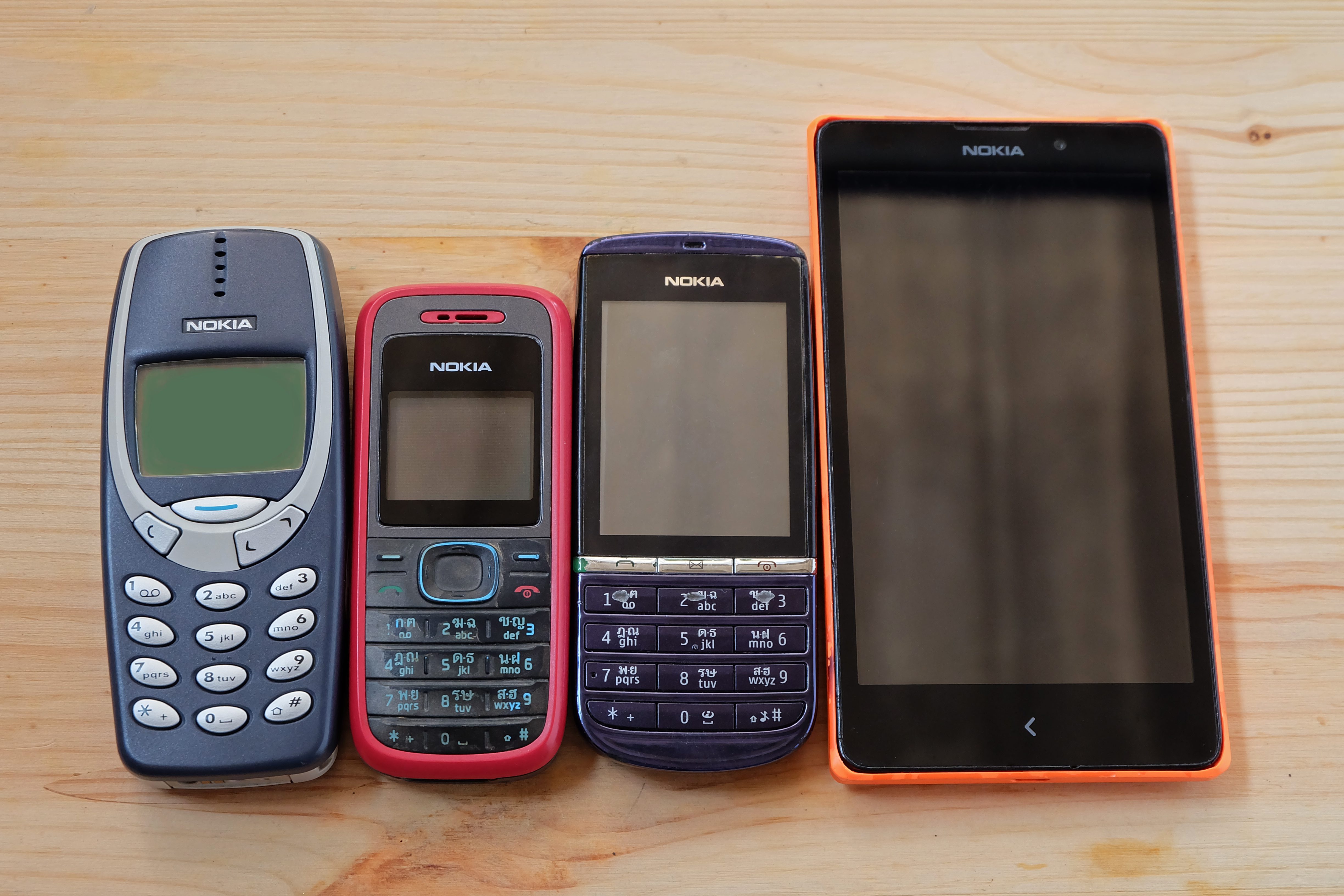 Skills: Nokia had a pool of highly-skilled engineers and initially designed highly efficient mobile phones. There wasn't any skill gap weighing them down.
Staff: During 2007-2010, Nokia surprisingly removed the CTO position from top management, leading to extremely high attrition rates. New hires weren't properly skilled, to begin with, causing the downfall of Nokia as a cutting-edge brand.
Style: Due to the low technical competence of leaders, employee morale was low. Instead of bringing in people with the right backgrounds to further company innovation and growth., Nokia needed transformational change leadership to help with technological advancement and cutting-edge designs. 
Shared Values: The core values of the company enabling business performance were Respect, Achievement, Renewal, Challenge.
Here's how the fast-food giant leverages McKinsey's 7-S model for driving organizational change:
Strategy: McDonald's gained a significant market share through its cost-leadership approach. Additionally, it sets clear SMART goals to achieve the long-term and short-term vision.
Structure: Unlike other multinational coporations (MNCs) with complex hierarchical structures, McDonald's has a flat structure where a store manager manages its employees. Employees work as a close-knit team and have easy access to the senior management if required. 
Systems: McDonald's is known for constantly innovating to reduce the wait time and make its entire production and supply chain more efficient – such as its new McDonalds app and self-ordering kiosks.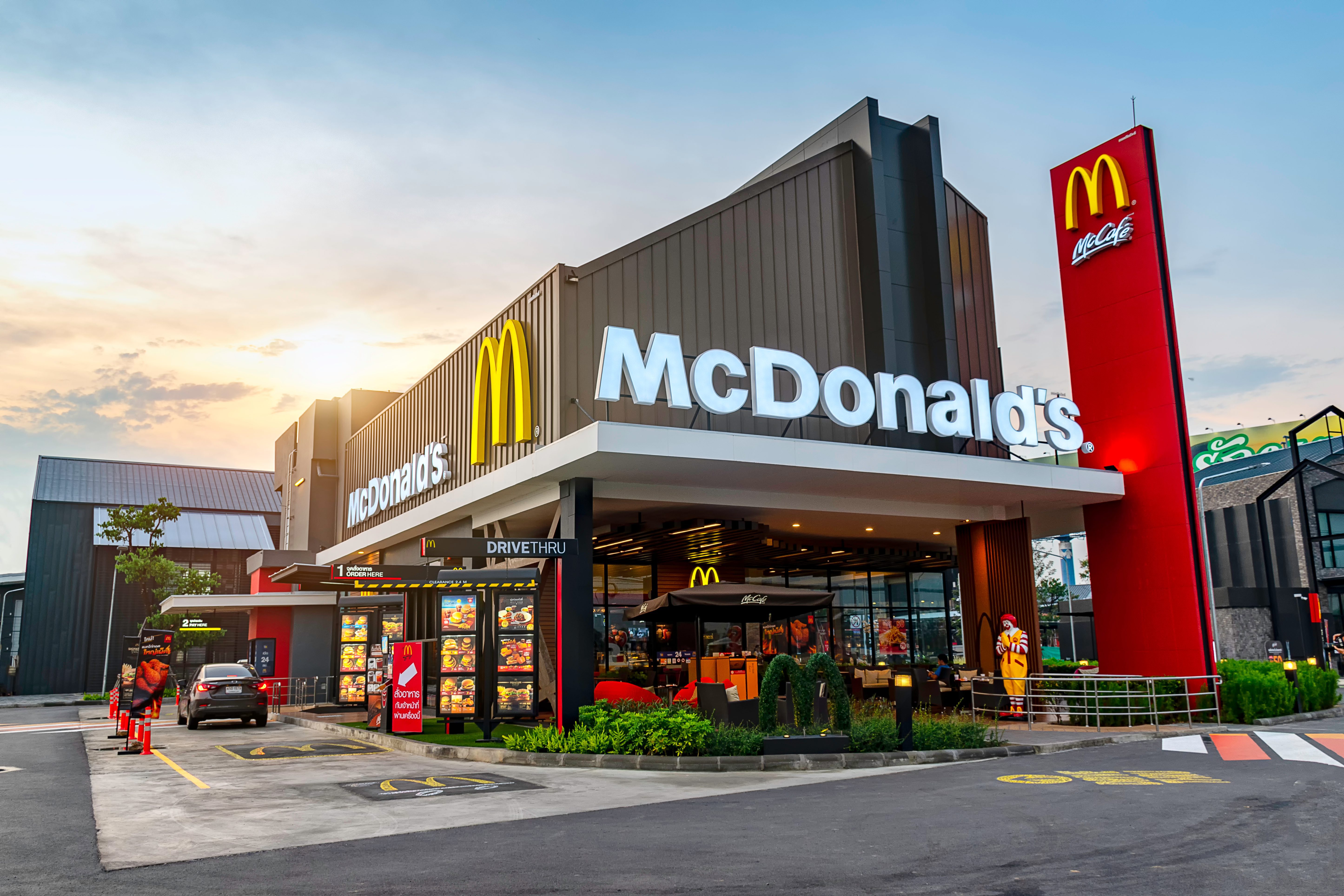 Shared Values: McDonald's aims to have a high level of integrity, serve a wide range of customers, hire employees from different backgrounds, encourage teamwork, and finally, give some profits back to the community with its core values: Serve, Inclusion, Integrity, Community, and Family.
Style: McDonald's leverages a participative leadership style where seniors engage with employees at different levels to seek their feedback to improve operations and resolve conflicts.
Staff: With over 210,000 employees, McDonald's is one of the largest employers in the world. It believes in the concept of diversity and works towards employee satisfaction.
Skills: McDonald's regularly trains its employees to provide an unparalleled customer experience and handle objections.
The Complete Guide to Change Management for Enterprises
Next steps on driving enterprise change
The seven elements (Structure, Strategy, Shared Values, Skill, System, Shared Values, Style, and Staff) are highly interconnected. If change leaders fail to create a well-rounded action plan to restore the balance, a company can substantially lose business. At the same time, a well-implemented change effort can be rewarding.  
You can explore additional change management models below:
Enable your employees, drive software adoption, and accelerate digital transformation with a digital adoption platform.
With a digital adoption platform like Whatfix, enable your employees with in-app guidance and contextual self-help IT support to accelerate the adoption of new software implementations, employee onboarding, change initiates, and more. Whatfix's no-code editor enables IT teams with a no-code editor to create product tours, interactive walkthroughs,  task lists, smart tips, pop-ups, self-help wikis, and more. Analyze and measure user engagement and software usage to identify friction points, measure digital adoption, and improve employee digital experiences.
Subscribe to the Whatfix newsletter now!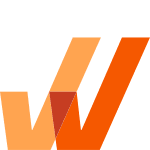 Request a demo to see how Whatfix empowers organizations to improve end-user adoption and provide on-demand customer support