A skills gap analysis is an assessment used by human resources (HR) teams to determine whether or not their workforce's current skills meet their company's needs. A skill gap analysis results in a list of skills your employees already have, need to improve, and need to develop. From there, you can fill in the skill gap using online courses and training programs to build a team of skilled workers that better meet your company's needs. So when you introduce new pieces of technology, you need to conduct a skill gap analysis to make sure that the members of your workforce have the necessary skills to use those technologies efficiently.
As work requirements change because of COVID-19, skill gap analyses are becoming more important. A recent CareerBuilder survey found that 45% of respondents reported that a skill gap caused a loss in productivity, and another 40% reported increased turnover. Skills gaps put more strain on your experienced employees who have to pick up the slack for their coworkers' inexperience.
In a suddenly remote-first work culture brought about by the world pandemic, employees need new technological and communication skills. For example, an executive with 20 years of industry experience who may have had virtually no skills gaps pre-pandemic may now have a significant and detrimental skills gap in how to use remote technology.
In order to assess how the pandemic (and other factors) affected your employees' skillsets, you may need to conduct a skills gap analysis. The analysis will show you where your employees' knowledge is lacking so you can create a plan to fill in the gaps.
Step 1: Create a Skill Gap Analysis Plan
If you've noticed that your workforce isn't getting more efficient, or worse, getting less efficient, with newly introduced technology, it's time to create a skills gap analysis plan.
A skills gap analysis can be conducted on two employee levels: the team level and the individual level. You need to first determine where the skills gap is largest then figure out who you need to talk with to identify which skills your employees are missing.
Decide At What Level The Skill Gap Analysis Will be Conducted
When conducting a skills gap analysis, focus on one employee level at a time—the level suffering the most. It's inefficient to attempt to solve all skills gaps in your company at the same time. You stand to see the highest return by addressing the level with the largest skills gap.
Figure out which employees need the most help. Look at turnover rates for each role. Look for exit interviews that consistently mention a lack of training. Look for key performance indicators (KPIs) that aren't consistently being met in a particular employee group. There's likely a significant skills gap if you're seeing high turnover, unmet KPIs, and frustrations with lack of training.
Employees can get especially frustrated when they need to rely on their colleagues' knowledge to find answers or spend hours searching for solutions online. And frustrated employees are disengaged—a 2017 study found that 36% of employees have left jobs because of a frustrating event.
Identify Important Skills for each job
Within your selected employee group, look at each role and determine what skills are critical for success in each position.
A great place to start is with the job descriptions you're using to recruit new employees. Use the description to create a list of necessary skills a successful employee must-have. Then interview current employees doing well in the role to get feedback on any other critical skills the job description doesn't cover.
For simplicity's sake, try keeping your list of critical skills to 5 or less for each role. When possible, ensure they are measurable. For example, "knows how to do graphic design" isn't as measurable as, "3 years' professional experience working with the Adobe Creative Suite." Once you've identified the necessary skillsets, you can use that list to identify how many skilled employees you have and how big your skills gap is.
Step 2: Audit Employees' Current Skill Levels
Once you know what you're looking for in terms of required skills, test employee's current levels of expertise and evaluate the results to determine where your workforce's skills gaps are.
Determine the Best Way to Assess Employees
There are several forms of employee testing, depending on your organization's size and which skills you're evaluating.
Written tests:

Great to gauge general knowledge, vocabulary, mathematical skills, etc. Test questions can be multiple-choice, short answers, or fill-in-the-blanks formats. Written tests are best for smaller organizations or teams with fewer employees since they have to be hand-graded.

Online tests:

Great for enterprise companies or large numbers of employees. Online tests can cover a wide range of subjects, and can even have job-specific practical sections. There are many companies that offer both custom and premade testing, like

TestGorilla

,

eSkill

,

skillrobo

, and

Capterra

.

Skills-based assessments:

Great for gauging soft skills or measuring more subjective competencies. For example, have a customer service rep get on a fake call to assess their skills under pressure or how they handle upset customers. This type of testing is often time and labor-intensive, and may even require paid actors or test proctors, so it should be used in smaller groups of employees only when necessary.

Employee interviews/evaluations:

Great as a supplement to any other type of testing, sit down with employees and have them do a self-evaluation on where they feel their areas of weakness are.
There's no one-size-fits-all or perfect option for testing. Choose whichever type of evaluation best measures your required skills and is most convenient.
Evaluate results using a common rubric
Rubrics provide a common scale to easily evaluate employees' skillsets for a role.
If you follow the rule of having 5 critical skills, a rubric may consist of:
Listing critical skills in the far left column

Creating a 1-5 score in the columns to the right of the critical skills

Measuring how successful the employee is with each skill

Calculating the employees' score for each skill

Calculating the cumulative score out of 25 for a total competency score
| | | | | | | |
| --- | --- | --- | --- | --- | --- | --- |
| | 1: No skillset | 2: Limited skillset | 3: Acceptable skillset | 4: Above average skillset | 5: Expert skillset | Total Score |
| Critical Skill #1 | | | x | | | 3 |
| Critical Skill #2 | | | | x | | 4 |
| Critical Skill #3 | | | | x | | 4 |
| Critical Skill #4 | x | | | | | 1 |
| Critical Skill #5 | | | | x | | 4 |
Example of what a skills rubric may look like. This rubric allows you to easily evaluate different employees' skills by looking at their total score or scores for each critical skill and see where skills gaps exist. For example, this employee has a significant skills gap in "Critical skill #4".
In order to assess where an employee falls for each critical skill in your rubric, make sure your tests clearly tag which skill each question is measuring. In written tests, this may mean 5 questions test for critical skill #1, and if an employee gets all 5 correct, they score a 5/5 in the rubric for that skill. Skills evaluations are more subjective and require the proctor to give their opinion on a score, while an employee undergoing a self-assessment can simply select where they feel they fall on the rubric.
Step 3: Fill in the Skill Gaps
Once you have your employee data and you've identified the skills gaps, determine the right method for improving the gap.
Determine the best method of training
Trying to fix everything at once will be overwhelming for your employees and ineffective for you, so prioritize which skills gap is the most critical and improve that one first. The rubric should have helped you identify where your employees have the right skills and where they need more mentoring.
Once you've prioritized skills gaps, determine the best training fit to resolve the issue.
Microlearning:

Microlearning lets your employees learn on-the-job skills in a quick-hit 15-minute format that doesn't significantly cramp their daily schedules. These

bite-sized lessons

are focused on solving problems they encounter in their roles on a daily basis, making the content relatable and helpful.

On-demand employee training:

On-demand employee training, like educational video series or click-through PowerPoints with voice-overs are good for bigger multi-lesson concepts that are less urgent, so employees can work at their own pace. On-demand employee training is best conducted with digital tools, such as

digital adoption platforms (DAPs)

, that can

gamify your programs

, make your courses more accessible, and

track your employees' progress

.

Small team training:

Hold in-person small group trainings when the topic is urgent but only relevant to a small, specific group of employees. These can be either hosted by an experienced employee or manager, or outsourced to a training company to host.

All-staff training:

Longer-format, all-staff meetings can be logistically challenging, but are often the most efficient choice when the concept is a skills gap for most of the organization. A contemporary example may be training your whole team on how to use video conferencing software in order to prepare for remote work, or how to speak externally about a large company change or crisis.
Analyze your training's effectiveness
Resolving a skills gap doesn't end with setting up training. You need to check in with your teams regularly throughout and after training to ensure it's effective and valuable.
In order to measure your training effectiveness, consider repeating the assessment you gave employees at the beginning of the skills gap analysis. This gives you control to compare results with, so you can easily see improvements on an individual and a group level. Make sure to translate their testing scores back onto your rubric for easy comparison. If the critical skill you decided to focus on has significantly improved, consider moving to the second lowest-scoring critical skill.
You should also re-interview your employees to get their feedback on the effectiveness of the training program and how it's improved their perception of their education. Finding the right training solution may require some trial and error, so be sure you use this feedback to update your strategy, if necessary.
Use Technology to Solve Your Skills Gap Problem
Technology can make solving skills gaps easier than ever before, especially in our newly remote business environments. Since COVID, one of the most common challenges skilled employees face is having to learn how to handle new, digital technology. Instead of pouring hours of time and money into giving employees in-person walkthroughs of new tech, consider using a digital adoption platform (DAP).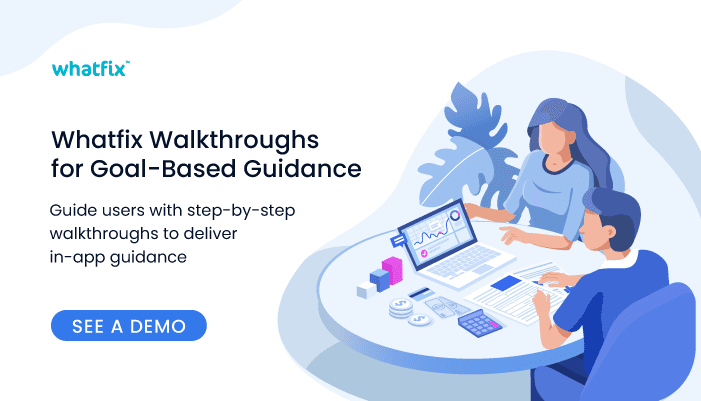 DAPs integrate with new technology to show your employees how to use those technologies to produce better business results. When you invest in new technology, if your employees are wasting too much time learning about those new technologies, then you're getting less return on your investment. Not to mention, employees are resistant to tech when you've not created a culture of constant learning and innovation.
DAPs break those barriers by training your employees with interactive walkthroughs, giving them better access to information through Self Help, and guiding them through processes when they need help.
Book a free trial to see how Whatfix can help narrow your business's skills gap.