Employee engagement has emerged as a critical driver of business success in today's competitive marketplace. It is becoming a top priority for businesses because high levels of engagement promote retention of talent. And talent retention directly translates to hiring cost savings which can potentially turn the HR team from a cost center to a profit center.
What Is Employee Engagement?
Employee engagement can be defined as how well your employees are engaged with the organization. Engaged employees are committed to their organisation's goals and values and motivated to contribute to organisational success. Employee engagement is based on trust, integrity, two way commitment and communication between the employees and the organisation. Employee engagement helps increase the chances of business success as it contributes to organisational and individual performance, productivity and well-being. 
Why Is Employee Engagement Important?
Productivity – An engaged employee would work hard and scale the extra mile to fulfil the given job. Engaged employees are 44% more productive than workers who merely feel satisfied.
Profitability – Businesses with the highest levels of employee engagement are 23% more profitable than those with low levels of engagement. 
Retention – Engaged and satisfied employees do not feel the need to look for other options. Employees who find passion and purpose at work are more than three times as likely to stay with their organizations as those who don't. 
In order to move the needle on employee engagement, you need to create a strong company culture and be open with your employees. If you're trying to boost engagement in your organization, here are a few employee engagement ideas for you to help your employees feel more involved and be more productive.
Top Actionable Employee Engagement Ideas for Your Organization
Create an Engaging Onboarding Experience
Onboarding is the first step in the employee engagement lifecycle. A new hire's experience on their first day sets their mindset for the rest of their employment. 
Effective onboarding process can improve employee engagement, increase employee productivity and ultimately, lead to higher retention rate. 
It's up to the HRs and managers to jump-start new employees' engagement by making them feel welcomed. 
Here are some employee engagement ideas for managers to drive engagement from the very first day:
Use a comprehensive

employee onboarding checklist

to walk new hires through the company's processes.

Make employees feel that they are contributing and adding value to the organization as early as possible in their employment.

Establish clear performance expectations to engage employees.

Create a strong internal social network to engage employees.

Automating your onboarding program can streamline the entire process and give your new hires a more personalized and

effective onboarding experience

.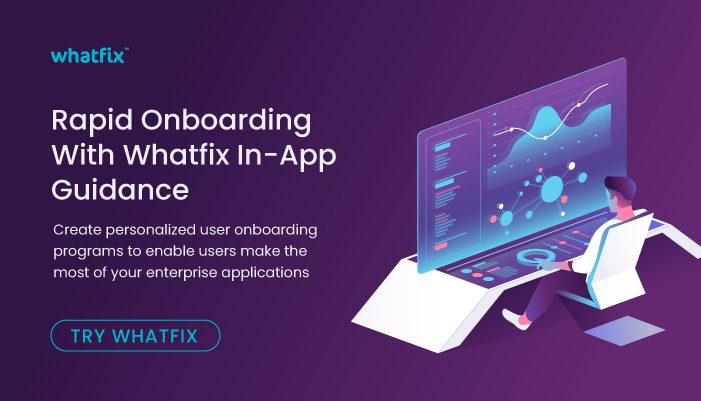 Continuous Feedback
One of the most result-bearing employee engagement ideas is to give your employees ample opportunities to share and discuss their thoughts or ideas with their managers or HRs. 
Here are a few ways for gathering feedback from your employees:
Workplace chatbots: Chatbots ask questions tailored to your organization and follow up directly with employees on reported concerns.
Manager one-on-ones: Bi-directional feedback can happen between an employee and their manager on a weekly basis. The managers can give their proactive feedback around employee performance and employees in turn can give proactive feedback about any challenges or suggestions they have.
Employee survey: Most employees feel hesitant while sharing any negative feedback or issues they have in the organization because of the fear that it might leave a negative impact on their manager's mind. Hence, conducting anonymous employee feedback surveys is a good option in such cases to encourage honesty and make employees feel more confident and open about their feedback. The catch is in designing the questionnaire in such a way that can determine which of the following keys is driving or inhibiting employee engagement and understand how to take action to improve.
Meaning – Do employees find meaning and purpose in their jobs?

Autonomy – Do employees have freedom and ability to make choices about their work?

Growth – Does the job provide development and growth opportunities for employees?

Impact – Do employees see that their effort makes a difference and contributes to the success of the organization

Connection – Do employees have strong connections with the people they work with?
However, focussing only on collecting employee feedback isn't enough. If companies want to optimize employee engagement, they need to use this feedback and take action on it to let employees know that they are being listened to and their input is valuable to the organization. 
Show Recognition and Appreciation
Employees can quickly become disengaged if they feel like they're invisible. Lack of recognition is one of the top reasons employees consider leaving their employer. 
Building a culture of employee recognition and appreciation is one of the most important employee engagement ideas for an organization. When people feel valued for their work, they are motivated to keep delivering and feel inspired to work harder. Hence, acknowledging and recognizing your employees' hardwork shouldn't just be a once-in-a-year practice, rather an everyday habit. Meaningful and consistent recognition is a reliable driver of employee engagement. 
Here are some suggestions for your organization to show employee appreciation and recognition :
Giving employees Reward cards

Providing due praise

Simply saying, "Thank You!"

Posting a message on your company portal

Publicly acknowledging an employee's achievements

Recognize your star employees on  social media

Celebrate employee appreciation day

Give regular peer-to-peer recognition
Open Communication
Effective communication in the workplace is an essential element of a business's progress. The most effective way to keep your employees engaged, focused and motivated is to constantly communicate with them. 
Maintaining constant communication is not very easy when your entire workforce is working remotely in the midst of a pandemic. Therefore the current conditions need more remote employee engagement ideas like fostering an open, two-way line of communication between employees and managers. Keeping an open communication within teams is critical during this remote work period. To improve employee engagement, your main focus should be to keep all possible channels of communications open so your employees can reach out to you with any concern they may have.
When it comes to communicating and keeping employees engaged, the role of a leader is to:
Communicate frequently with employees.

Help employees know and understand the business goals and strategy.

Provide information and feedback on performance.

Inform employees on how their role fits into the organization's overall future direction.

Encourage sharing of ideas or any challenges.

Listen to employees to make them feel an important part of the organization.
Prioritize Work-life Balance
For better employee engagement in the longer run, work-life balance is essential. Employees need some time to disconnect from work and pursue activities in their personal life that can help calm their mind, for their own long-term health and wellbeing.
Employers also bear this responsibility for their employees' work-life balance and can show their support by prioritizing programs that support this balance. 
Encouraging flexible hours, telecommuting, and allowing employees to work when and where they feel most productive can be a big step towards supporting your employees' work life balance. Implementing flexible work hours is one of the  most critical and relevant employee engagement ideas during this pandemic in order to accommodate the life needs of your employees. Flexibility in working hours can have a positive impact on an employee's health and overall wellbeing.
Invest in Employee Development
Providing new skills training and enabling professional development is one of the most practical employee engagement ideas to boost your engagement rates. 
When employers invest in their employees, provide tuition reimbursements or allow them to attend online classes during work hours, it encourages them to stay loyal to the organization and invest in its mission in return.
Every company may not be a technology company but every company needs to be a learning company. Employers can offer professional development opportunities for their employees by leveraging digital technology and online training to provide flexible training schedules.
Also, training mechanism is one of the critical areas of consideration. Companies must choose a delivery mechanism that aligns with user expectations. Ondemand training and precise support at the moment of need are foremost among user demands. 
A robust platform for successful training content development and delivery is an imperative for companies. Modern training and support technologies like the one provided by Whatfix empower companies to redefine the way their employees and application users learn.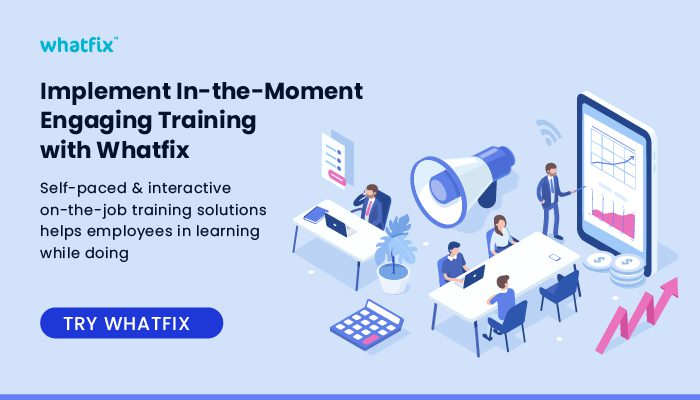 Don't Micromanage
You cannot engage your employees by restricting their freedom of working. Although it is important for managers to provide a clear direction and guidance for their employees, employees need to be encouraged to perform their job independently while asking questions as needed to perform tasks. This would make your employees capable and independent and increase their morale. 
According to a business survey, 68% employees said that their morale was dampened and 55% said that it led to a decrease in productivity. 
Micromanaging can be damaging to your business. Hence, employees need to be encouraged to work on their own, and develop their own ways to problem solve and engage with the work.
A List of Employee Engagement Tools and Resources
Communication Tools
Slack – The most common, well-crafted and flexible messaging communication tool used by remote teams. Its private or open chat channels, reminder settings, searchable archives, and numerous Slackbots enhance instant communication within a team.
Microsoft Teams – Microsoft Teams enables communication by chat messages in private or group conversations, voice calls and video meetings, pictures, and documents.
Zoom – Whether you need to connect with a massive number of colleagues through video conferences or run a webinar with many guests, Zoom is the best option for you.
Also Read: Top Collaboration Tools To Ensure Business Continuity
Feedback and Surveys
SurveyMonkey – Helps you to learn what's working and what's not directly from your employees by creating employee engagement surveys.
Connecteam – An all-in-one employee engagement app that helps boost engagement and streamline communication. Through Connecteam, you can analyze your team's feedback and review insights to improve your business in real-time.
Zoho Survey – Create your own survey, share with your employees on social media or through email, and get a customized report on the results.
Recognition Tools
Bonusly – An online platform for rewarding, recognizing, and generally celebrating your employees. It enables everyone to recognize anyone. Peers can recognize each other, managers can recognize direct reports, and so on and so forth.
Blueboard – World's top rewards and recognition platform that enables organizations to recognize their employees at scale. The platform makes it easy to send employees unique and personalized in-home or out-in-the-world experiences for anniversary awards, employee referrals, spot recognition, sales incentives, etc.
Snappy – A virtual gift-giving platform that allows employees to choose from a vast catalog of rewards. The platform can accommodate peer-to-peer gifting, bulk gift sends, virtual gifts,etc.
So these were our top actionable employee engagement ideas for you and a few tools suggestions to help you implement them. 
Now it's your turn to get started on building an engaging, people-first culture for your organization by firstly finding out what your workforce needs to feel truly engaged and then forming an action plan for implementing the employee engagement ideas accordingly.