An engaged team performs 34% better than a disengaged team, and yet very few executives have "increasing employee engagement" as one of their top priorities. In fact, while remote employees are more likely to be engaged than their in-office counterparts, a study by Gallup in 2020 found that the number of engaged employees dropped to a record low of 31%.
In this new remote environment, how do you even start increasing employee engagement? What metrics can you look at to determine if your workforce is performing at its best?
A digital adoption platform (DAP) makes increasing employee engagement at scale in a remote environment easier. With a DAP, you can automate processes, encourage learning, and ask for feedback whenever you need to.
What Is Employee Engagement?
Employee engagement is a combination of how committed, satisfied, and motivated your employees are. It isn't the same as employee satisfaction. An employee who gets to work late and leaves early is likely one that's satisfied but not one that's likely engaged. While you want employees to be satisfied (though not by regularly arriving late or leaving early), satisfaction alone doesn't mean that they will align themselves with your mission and goals.
The Importance of Keeping Your Workforce Engaged
There are multiple benefits to keeping your workforce engaged.
An engaged workforce is 17% more productive and 41% less prone to absenteeism, which shows that they are more motivated to get their work done and will show up to achieve your company's goals. And because they want to contribute in meaningful ways to their company's long-term mission, they are also more loyal to their companies, with 24% to 59% lower turnover rates.
An engaged workforce also increases profitability by 21% and outperforms competing workforces by 147%. The more engaged your employees, the more likely you are to succeed in achieving your goals and perform better than your competitors.
All of those things combined translate to customer satisfaction due to higher employee productivity and better overall performance. Employee disengagement, on the other hand, can cost around $450B to $550B per year.
6 Ways to Improve Employee Engagement at Scale with a DAP
The challenge with engaging a large workforce stems from the lack of personalized employee experiences and feedback. By integrating your employee engagement initiatives with a DAP, you can engage all of your employees and address their needs no matter how big your company is.
1. Automate your Onboarding Program
Automate your onboarding because if your new hire experiences poor onboarding in their first week, they're twice as likely to start looking for a new job within a few months of joining your team. Optimizing your onboarding process will increase new hire productivity by 54% and new hire retention by 50%.
Automating your onboarding program with a DAP can streamline the entire process and give your new hires a more personalized and effective onboarding experience. You can set up contextual walk-throughs for complicated tools and processes and integrate a self-help menu with your tools and dashboards so that they can access help documents in one place.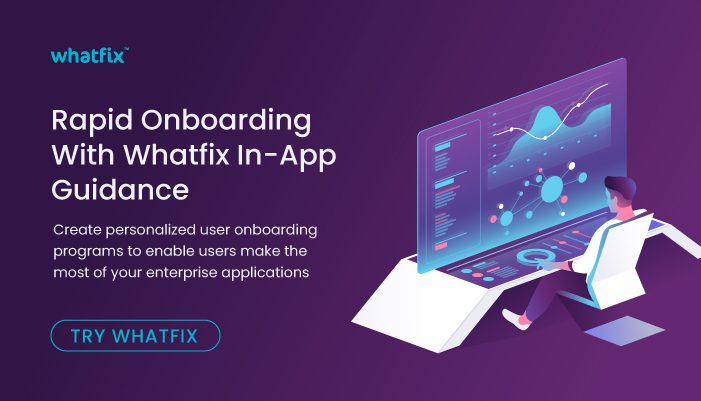 2. Set Your Employees Up for Success
Whenever you add a new digital tool to your arsenal, you have to provide the necessary training so that your employees aren't left to figure out everything on their own.
With a DAP, you can create walk-throughs for your new tool so that your team can learn by doing. When someone encounters a bug, you can create a quick popup announcement to tell your team that there's a known bug and what they can do to circumvent the problem. Apart from that, you can also have a list of best practices that are easily accessed through a self-help menu or a contextual popup for higher productivity.
Digitizing tool training and providing easy access to much-needed information means that your employees can learn on-the-go without needing to get on multiple one-on-one calls.
3. Invest in Employee Development
Lack of career development is leading reasons for low employee retention. In fact, 28%, providing new skills training, enabling professional development, and sponsoring continuing education is one of the top drivers of employee engagement.
Have a wellness stipend to encourage a healthier lifestyle and an educational stipend to show your employees that you care about their development. Investing in your employees encourages them to stay loyal to your company and invest in your mission in return.
4. Develop an Engaging Company Culture
A company culture that thrives on building each other up improves the employee experience, which leads to higher engagement rates. A helpful and welcoming environment can boost employee morale and encourage your employees to be more passionate about what you hired them to do.
Emphasize and embody your company values, encourage employees to chat with their co-workers, and foster an environment of helpfulness.
5. Give Employee Recognition and Feedback Regularly
A study by Gallup shows that employees who receive weekly feedback are three times more likely to agree that they are motivated to achieve results. When your managers are on top of providing feedback and helping your members improve, your team is more likely to be engaged. In fact, Gallup has found that manager quality is responsible for 70% of the variance in team engagement.
Tell your employees what they're doing right and what they can improve in a constructive way. By doing so, you are directly giving them opportunities to grow and improve themselves.
Apart from providing feedback, showing appreciation for your employees increases retention rates. Telling your employees how much you appreciate their presence can boost their motivation.
6. Be Transparent
Transparency fosters trust, engagement, and collaboration. Being as transparent as possible with your employees increases their trust and confidence in you to successfully lead the team to success. Having transparent communication ensures that each team knows what everyone else is doing, thus increasing opportunities for collaboration.
How to Measure Employee Engagement
Now that you have your entire employee engagement strategy all set up, you need to measure success. Communicate openly with your employees about how engaged they are so that they know you're investing in them and can tell you how they feel about their specific experiences as your employees.
There are four key metrics to look out for when gauging levels of employee engagement:
Listen to Your Employees
Listen to your employees. If they're saying that they feel excluded or isolated, don't brush it off. Take note of the reasons that they're feeling isolated and work from there. It's especially easy for remote workers to feel lonely, but an engaging company culture will encourage your employees to be more open about it and bring awareness to the problem.
Conduct Employee Engagement Surveys
Regularly conducting employee engagement surveys is an easy way to figure out how engaged your team is. Ask questions about how valued they feel and how satisfied they are with their jobs, how they feel about the company's mission and vision, and what they're doing to achieve their goals.
You can either do this through an online form or by integrating a DAP so that you can distribute the survey through your most commonly used tool or dashboard.
Tally Net Promoter Scores (NPS)
Apart from conducting employee engagement surveys, regularly ask your team the NPS question: "On a scale of zero to ten, how likely are you to recommend our business to a friend or colleague?" The average result of your employees' answers can tell you a lot about how engaged they are.
You can set up an NPS survey either through a human resource (HR) tool or with a DAP.
Monitor Absenteeism and Turnover Rates
People are less likely to do things that they don't enjoy doing. If your employees aren't showing up, that's a key indicator that they aren't engaged. If your employees are going on too many vacations or taking too many sick days, there's a problem.
The same can be said for turnover rates. If your employees are quitting left and right, they're not as engaged as they should be.
Determine what your baseline is for both absenteeism and turnover rates, and then keep checking against those metrics.
Invest in a DAP to Increase Employee Engagement
Training employees and setting them up for success at scale becomes a lot easier with a DAP.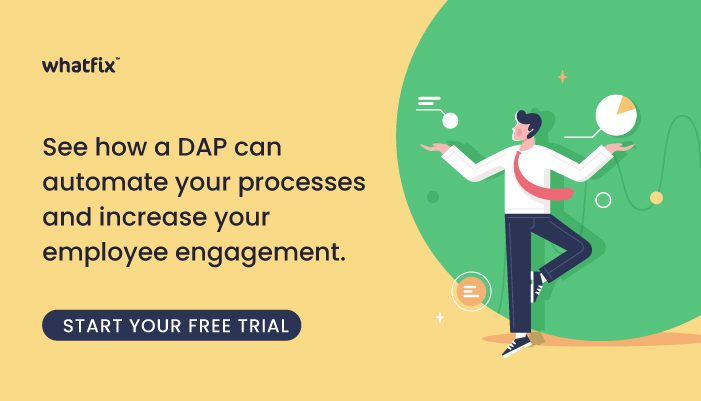 You can standardize processes, create in-application announcements, and encourage a collaborative environment. No enterprise employee engagement strategy is complete without a DAP.