Shifting to remote work is a significant adjustment, and you have a lot on your plate as you help your team through the transition. Managers serve in many roles, but one that's sometimes overlooked is that of a teacher. And one of your many jobs is facilitating remote learning for your employees.
With remote teams, you can't just call everyone into the conference room for training, and sending groups to conferences or seminars is even more difficult. But that doesn't mean professional development should be put on hold. With these 7 remote learning strategies, you'll be able to help your team hone their skills and broaden their professional horizons, all while working from home.
Top 7 Remote Learning Strategies That Work During This Crisis
1. Consolidate Your Remote Learning
The longer you manage a remote team, the more remote learning courses and materials you'll accumulate. Organizing and storing all of your company's professional-development resources in one place will make it easier for employees to find the materials they need. Consolidating your training resources also speeds up the onboarding process because new employees don't have to waste time hunting down training materials or asking for help locating elearning courses.
One method of organization is to use a learning management system (LMS), such as Adobe Captivate Prime or 360Learning. An LMS makes it easy for any team member to access courses and materials from wherever they are. You can add on to or change existing remote learning materials in your LMS as your company and industry evolve. For example, if compliance standards in your industry change, you can quickly access and update the relevant training resources.
Internal wikis, such as Tettra, are another great way to consolidate professional-development materials. Include details and breakdowns of courses in your wiki so employees know exactly which courses to complete based on their remote learning needs. A wiki simplifies and even automates the process for creating and organizing company documentation. Both internal wikis and an LMS make it easy for you to create, organize, and store remote learning materials so your employees can access them as needed.

2. Implement a Digital Adoption Platform
Newly remote employees have to adjust to using a lot of new technology. Speed up the learning process by implementing a digital adoption platform (DAP). You can integrate DAPs with your existing LMS and offer walkthroughs and videos to guide users through the new technology and help supplement their remote learning.
Most importantly, DAPs enable employees to learn at their own pace. A survey by Vyond found that 51% of employees preferred self-guided training. The guided walkthroughs and extensive self-help menu of a DAP enable employees to learn on their own time and in their flow of work, and they eliminate the need for you to schedule dedicated training sessions.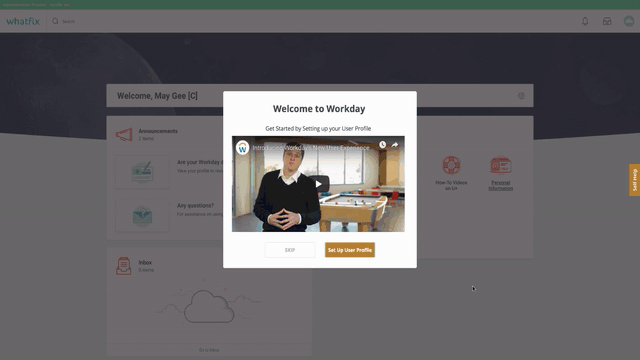 DAPs also allows you to easily carry out remote team communication about updates in the software. Users can click on the alert to open a guided walkthrough showing them how to use the feature. This saves time and prevents you from having to organize team-wide training for every update.
3. Use a Variety of Content Formats
Of course, not everyone learns the same way. Some people prefer reading materials, while others learn better through video. Using a mixture of content formats helps all of your employees get the most out of their remote learning experiences. Offer a mix of articles, videos, slideshows, and interactive content, such as webinars.
With a remote team, it's harder to tell if someone is struggling with the learning content, and providing content that appeals to a variety of learning styles ensures that there is something for everyone.
A digital adoption platform can help with this. Whatfix automatically generates your content in multiple formats when you author a walkthrough. This includes articles and slideshows you can embed in your existing LMS.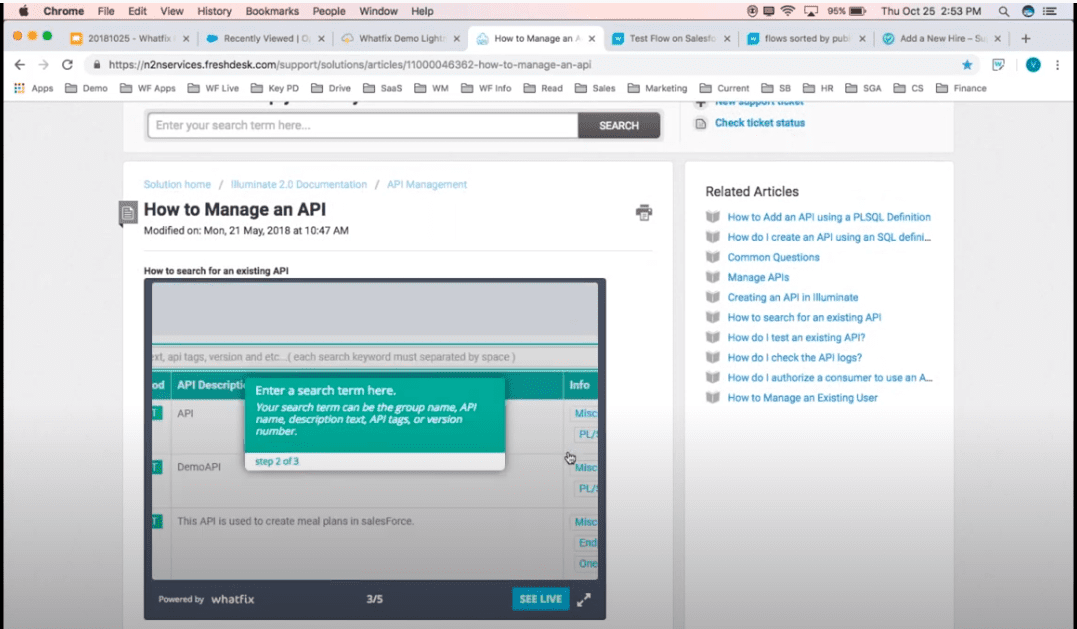 It's OK to think outside the box when it comes to content creation. If you have an informational article, for example, reformatting it as an animated video is one way to make it more engaging and help employees remember what they learned.
4. Host Lunch-and-Learn Sessions
Remote learning doesn't always have to be individual or asynchronous. A lunch-and-learn is a remote learning strategy, where your employees gather via video conference, and someone from your company presents material on a specific topic.
By scheduling regular sessions, you provide structured opportunities for professional development and make sure that your employees are honing their skills in important areas for your industry. Lunch-and-learns with multiple team members also offer employees the chance to ask each other questions about tools and about the content they're learning.
Host your lunch-and-learns at regularly scheduled times, such as at 1:00 p.m. on the first Monday of every month. This is helpful for employees with flexible schedules and ensures that the maximum number of people can attend. These sessions are a good time to teach employees about industry-important topics they may not seek out on their own. For example, one session might focus on new sales techniques, and another may focus on updates to industry-wide standard practices.
Record your sessions, and post them in your LMS or internal wiki afterward. That way, employees who were unable to attend can still benefit from the information presented.
5. Encourage Engagement
Watching videos and reading articles are staples of remote learning, but they are passive learning methods. Finding ways to actively engage your employees helps reinforce what they learned and improves retention.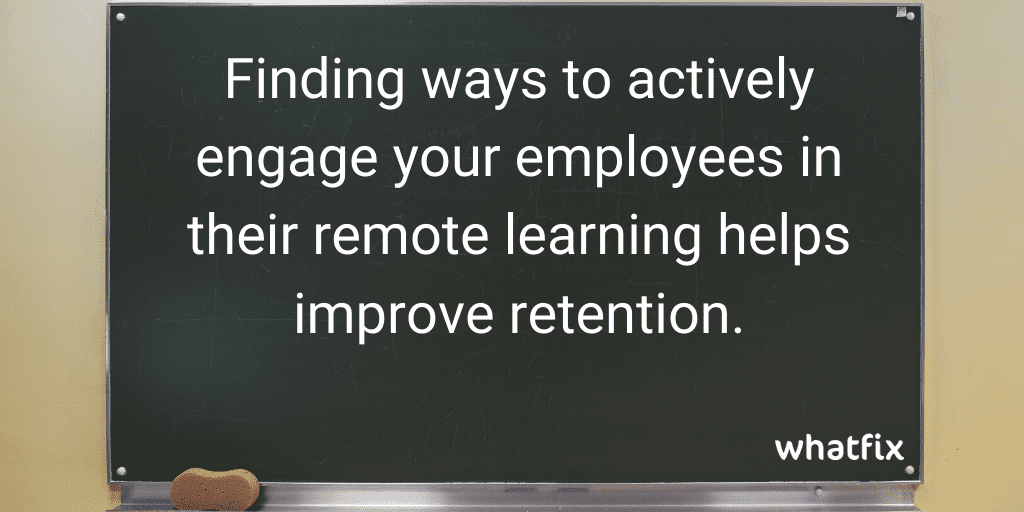 Studies show that following up training courses with activities that require recall improves long-term retention of material. For example, you could add quizzes throughout the course or include practice activities where employees have to use the new feature or update they are learning about.
Hosting webinars is another way of encouraging more active remote learning. With a webinar, employees can ask questions, making it more of an interactive learning experience. You can strengthen the interactive nature of a webinar by pausing for questions at multiple points instead of asking employees to save all questions for the end. Not only does this make it more likely that your team will remember their questions, but it also regularly draws back in any employees whose attention might be wandering.
6. Implement a "Buddy System"
Managers juggle a lot of responsibilities, and sometimes you may not have time to go through remote learning courses with each of your employees and answer their questions individually. The solution? Implement a "buddy system." Pair each of your employees with a teammate so they can collaborate on remote learning and go through courses and training together.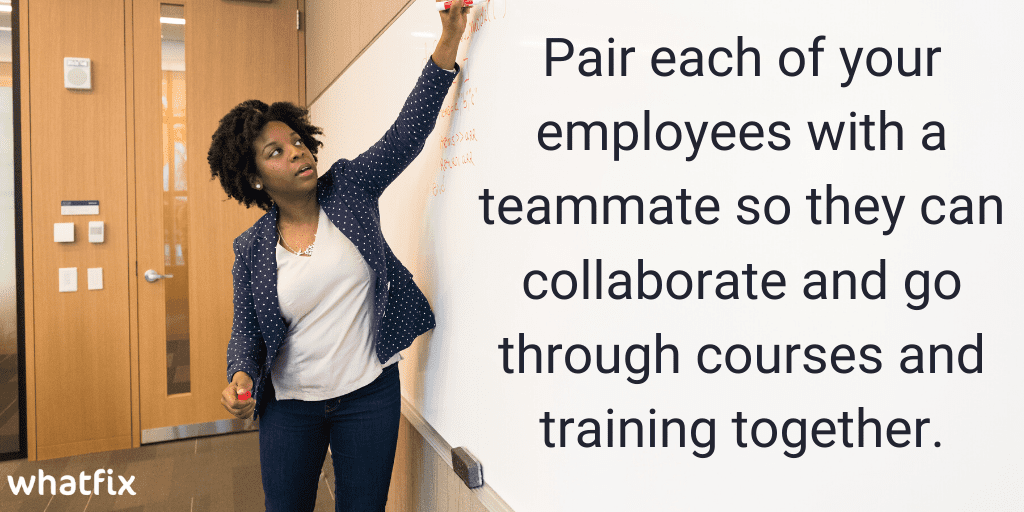 Peer feedback takes some of the burden off of managers to act as teachers. It gives each person a designated resource for asking questions and figuring out issues in their remote learning. Having a specific buddy encourages employees to work together and learn collaboratively before turning to the manager with questions. Knowing someone is regularly checking their work also keeps employees accountable.
The pairing shouldn't be completely random. Studies show that working with more experienced peers is one of the top ways employees learn at work. New employees will learn more being paired with an experienced employee than with another new team member. To enable fluid communication and connectivity between them, leverage the right collaboration tools.
7. Track Employee Progress
The key to any successful remote learning strategy is to track your team's progress and make updates to courses and materials when necessary. Monitor your employees' progress and completion rates as they go through courses, and follow up with people who seem to be struggling. Talk to them to find out where they are having the most trouble. They might benefit from a one-on-one coaching session to work through a particular challenge.
With a DAP, you can easily track employee progress through micro-learning plans to see what tasks and walkthroughs they have completed. You can then assign additional tasks and training based on where they are struggling. If multiple employees are stuck at the same steps, you can see this as well and then add more granular walkthroughs and self-help materials to guide them.
Employees may not want to reach out if they are having difficulty. Encourage them to ask questions and provide feedback about the training process and materials by specifically asking how their professional development is progressing. Your regularly scheduled team meetings and 1:1 calls are a good opportunity to check in on how your employees are doing.
Streamline Remote Learning with a Digital Adoption Platform
Continued professional development benefits your entire team, even if only some team members participate. But remote learning can be challenging, especially to employees who are still adjusting to working from home. Strategies such as having a buddy system, creating a variety of content types, and hosting regular lunch-and-learn sessions will help employees get the most value out of their remote learning. To give your employees a push, it also helps to add a section and guidelines about employee learning to your remote work policy.
By implementing a digital adoption platform, you can make it easier for employees to learn on their own. You can also track their progress and follow up when needed, ensuring that your whole team is making the most of their remote professional-development opportunities. To learn more about how a DAP can help your organization with remote learning, schedule a demo with our experts.