Today's world of professional selling offers more selling opportunities than ever before. At the same time, the problems sellers solve for and the solutions they offer are increasingly complex. These complex and larger-scale problems call for a more advanced sales strategy – known as enterprise sales.
If pitching to small and medium-sized businesses is an uphill battle, enterprise sales is like climbing Mount Everest. You need much of the same equipment, but it takes a lot of planning and tenacity that goes beyond the prospecting strategies practiced on transactional customers. 
But don't be deterred by the challenge – the view from the top of the mountain is magnificent, and the gains from enterprise sales are tremendous.
Top 8 Enterprise Sales Metrics to Measure
Time-to-close rate
Run rate
Win rate
Customer retention rate
Customer lifetime value
Customer satisfaction
Pipeline velocity
Pipeline coverage
What is Enterprise Sales?
Enterprise sales, also known as complex sales, refers to large business deals that involve long sales cycles, multiple stakeholders and decision-makers, dense contracts, and a higher level of risk than traditional sales (also known as SMB: small- and medium-sized businesses). An enterprise sale is an opportunity for startups to drive large amounts of revenue, but it is a daunting undertaking with many moving parts and people involved.
An enterprise sale is characterized by:
Level of risk –

high

Number of stakeholders –

several

Length of sales cycle –

long

Level of investment –

large

Complexity –

great
The reason enterprise sales are complex is that the customer doesn't have the capability, experience, or background to make a decision about a solution. It requires outside assistance, advisory, and expertise on the matter, which is why having designated enterprise sales experts is crucial. 
How SMB Sales Differ from Enterprise Sales
How you approach a sale that is high-risk, high-investment, has multiple high-level decision-makers, and may take months to close is very different than how you would approach a short and simple SMB transaction.
SMB sales refer to the everyday, straightforward selling of products and services to individuals or small groups. With transactional sales, the goal is to develop a solution for the greater market and determine how to distribute that product or service to the best-suited audience. They're low-risk, low-cost, and involve few stakeholders.
For SMB sales, cracking out demos, hopping on a quick phone call, and automated email outreach may be sufficient. But enterprise sales is a whole different ball game – it demands thorough knowledge of your target industry, clients, and prospects' unique needs. 
6 Challenges of Enterprise Sales
It should be a shock to no one – the larger the sale, the more complex the sales process. 
Of all the types of sales, enterprise sales is the most lengthy and complicated. It requires more touchpoints, better strategies, and a longer-term plan than traditional SMB sales.
Here are six common challenges that enterprise sales teams encounter:
In enterprise sales, the length of the sales cycle increases with the complexity and price of the solution. Complex, expensive solutions take longer to sell than less-complex, less-expensive solutions.
With longer sales cycles that overlap multiple months and even quarters, monthly and quarterly quotas are harder to predict and manage.
Closing the initial deal and nurturing the relationship into a long-term partnership also involves playing the long game, but it's one that can have the largest payoff.
2. Number of stakeholders
The larger the deal, the more decision-makers and stakeholders that come into play. Tech experts, financial advisors, executive leaders and managers, and other important influencers all have their hands in the enterprise sales honeypot.
The number of stakeholders isn't an issue because of the amount of people involved – it's because of the diversity of opinions inherent to a sales process with multiple prospects.
An average of 5.4 customer stakeholders are involved in a typical B2B purchase decision: As deals become increasingly complex, new stakeholders from different parts of the customer organization are weighing in on purchase decisions.
Each stakeholder represents a different part of your business, held to different metrics, with a different agenda and buying criteria. They all have to reach a common consensus, which is easier said than done.
While having multiple stakeholders can slow the process, it ultimately ensures well-rounded conversations and successful deliveries.
3. More expensive deals and longer contract lengths
As the complexity of the purchase and the perceived risk increase, so do the cost and intricacy of the contract. 
The purpose of a sales contract is to record the details of the agreement and offer protection to both the buyers and sellers. Because of the complex nature of enterprise sales, these contracts are often detailed and dense. It takes an experienced sales professional to navigate these more expensive deals and complicated agreements.
4. Custom solutions for unique customer challenges
Often with enterprise sales, businesses work to cater a product or service to a client's requests. Technology companies may create new software or adjust existing software to meet a business's unique needs, which requires technical skills and a solid understanding of the customer's desired solution. It takes time and attention to detail to design a unique solution for each customer and use case. 
To accomplish this, companies must gather their internal teams– product, finance, and executive leadership– to ensure the project is possible, profitable, and on track to fulfill expectations. Take the time to tailor each solution based on unique customer pain points to demonstrate your dedication to providing value.
5. Longer negotiation time
The bigger the deal, the more complicated the negotiation. The more complicated the negotiation, the longer the negotiation is going to last. Some issues are simply too complex and call for lengthy discussions. 
The best way to navigate longer negotiation times is to come to each meeting prepared with ways to move the deal along the pipeline. Establish an agenda, make note of action items or key talking points from previous discussions, and guide the conversation so each conversation is meaningful and productive.
To win big, you have to play big and risk more. But higher levels of risk need to be intentional and calculated – one misstep and the sale could fall through.
High-touch consumers want to protect themselves from overspending on a product or service that doesn't meet their needs, and companies want to ensure they're delivering a tailored solution that achieves the client's goals. Companies have to ensure their product is solid, their processes are tight, and their sellers are trained and equipped to succeed.
4 Stages of a Complex Enterprise Sales Funnel
Your sales funnel directs the path prospects take. Understanding your funnel can help you find the holes in your sales process — like identifying where prospects drop out and why they don't convert. If sales professionals don't understand the complexities of the enterprise sales funnel, they can't optimize it and major opportunities can be missed.
The first stage of the sales funnel is known as the discovery step. This is when people first become aware of, or discover, a business, and when businesses identify their target audience. Sales reps research a prospect's business, talk to them about their needs and requirements, and validate the business case.
An example of the discovery stage would be a prospect learning about your product or service by clicking on one of your ads, reading a blog post, discovering your website via search, or word-of-mouth. It's the first impression you make to potential customers, and you want to make sure your marketing efforts are impactful and reach the right consumers.
At the end of the discovery stage, sales reps should have a good idea of the gaps in the prospect's operations and how they'd like to patch them. That leaves sales reps with the task of evaluating their paint points and detailing a diagnosis. 
The best way to do that is by asking questions – about their business, common hurdles, and expectations to get a clearer picture of how you can address their problem and create a satisfying solution.
As you move through the discovery stage, consider the following for each prospect:
What are their core issues?

How can your product or service meet their needs? 

How can you customize your offerings to provide a personalized solution?

What are the steps needed to close the deal?

Who are the stakeholders?
The design stage is where you combine your industry knowledge and understanding of the client's pain points to draft, or design, possible solutions you can provide. Because enterprise sales are so complex, the solutions may require some creative thinking.
This is an opportunity to work with prospects to tailor a solution and demonstrate your value. The key is to focus on what you can offer that no one else can, and how your product or service makes a unique difference.
By working closely with prospects to create a custom solution tailored to their organization, you'll create a more impactful proposal that will be effective and accepted.
The final stage of a complex enterprise sale is the implementation or delivery of the product. Once the customer has accepted your proposal, your team can provide the outlined solution, track its performance, measure its value, and make adjustments over time.
8 Tips for Enterprise Sales Success
What does it take to become a top performer in enterprise sales? It takes determination, perseverance, and knowing the right sales tips to get the job done. 
Here are eight tips and techniques to boost your enterprise sales success.
1. Sell something that solves a critical problem
Mediocre sellers sell features. Average sellers sell benefits. Top performers sell solutions to challenges.
It's not enough to have strong marketing efforts and a well-trained sales team. If your product or service doesn't solve a problem and make your client's day-to-day easier, you won't get far.
Solve your customer's problems, be the solution, and keep them happy with your product and customer service so they become loyal advocates.
2. Focus on your core target customer persona
Sales is a numbers game. But it is not all about the numbers – it's also about creating connections and having quality conversations with qualified leads. 
The best sellers have strict qualification criteria and don't waste their time with prospects that don't match their target customer persona. If a deal is too low-level, a company is small, or buyers don't have the funds to spend, it's not the right match for enterprise sales. Top performers work hard to find out this information early on so they don't spend valuable time on prospects that aren't a good fit.
3. Build relationships with customers
In the sales world, building rapport means gaining a person's trust by showing concern for their needs and communicating well. It's particularly important for enterprise sales success since the risks are higher and deals are bigger.
Do what you can to build rapport early in your conversation. Make personal connections, show engagement, and humanize yourself as much as possible. Establishing a natural flow and space for comfortable conversation will help you build personal connections in-person and virtually.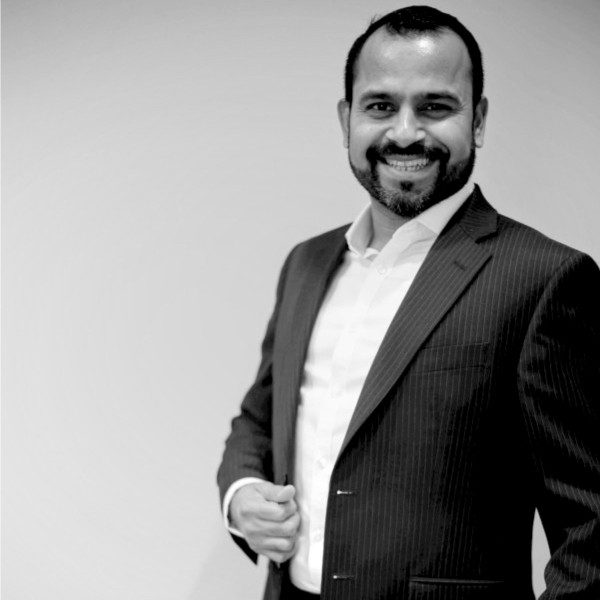 "Building rapport with a prospect is a function of establishing value from the conversation. Biz dev professionals can benefit from investing time to learn about what is of long-term value to the prospect and setting expectations upfront with them on how you can deliver that value versus the product/service you have to sell. Sharing that proof of value before a remote call works best in my experience."
4. Understand your customers' challenges
Understanding the hurdles your customers face doesn't just mean focusing on the areas where your product or service solves the problem. It also means looking at everything they're dealing with and common concerns associated with their industry – what's important to them, their most irritating pain points, their decision-making process, and solutions they've tried that didn't work.
The more intricate you can get in understanding their biggest challenges, the better equipped you'll be to make a connection and offer an impactful solution.
Knowledge is power, and for sales professionals, product knowledge can mean more sales. It's hard to sell to a customer if you can't demonstrate how a particular feature works or prove the effectiveness of your solution.
Coaching your enterprise sellers on your product empowers them to use different techniques and methods of presenting the product to prospects. But product knowledge requires ongoing training, not one-time support. 
With Whatfix, sales reps have access to contextual walkthroughs and relevant smart tips on-demand – all directly embedded into your CRM and other sales-related applications. Sales leaders can personalize the learning process and provide on-demand employee self-support to keep up with product updates and feature changes.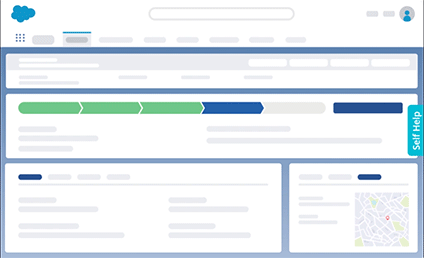 Create personalized learning & training flows for your enterprise apps with Whatfix
6. Use enterprise software and technology
Enterprise CRM software empowers sellers to act on sales opportunities by tracking deals as they progress in the pipeline, as well as managing the entire historical record of customer communications and relationships. This kind of monitoring allows teams to review stages and sales probability, ultimately improving sales forecast accuracy.
With the help of enterprise tech, sales team can manage leads, historical data, and communication in one place – serving as a central place for your entire company to access important insights. These insights can be used by other departments, like marketing, to determine which efforts are driving revenue and enable quick forecasting for your company.
Examples of enterprise sales software include:
CRM software

Sales analytics tools

Sales intelligence software
Whatfix offers guided walkthroughs that empower your sales reps to use your enterprise software faster and more effectively. Teams will be able to collaborate, sellers will be able to close deals, and your company will drive revenue without spending months on trial and error, helping to accelerate sales cycles.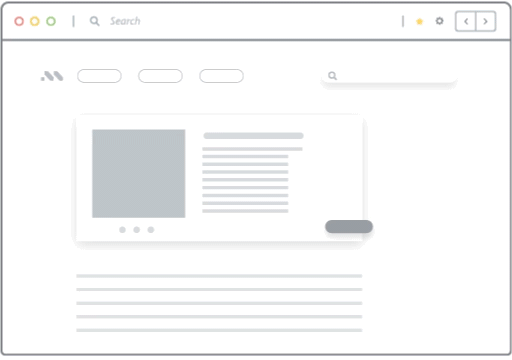 No one wants to feel tricked or like they're wasting their money and time. Your sales team might connect with prospects who have a need for your product or service but are skeptical or exploring other options, and naturally want proof that you can provide the benefit you are promising.
Now more than ever, consumers are interested in and are being inspired by what their peers are saying, doing, and purchasing. And the reason is social proof.
Social proof lets you shine a spotlight on your customers' good experiences with your company, which then piques shoppers' interest and influences their behavior throughout the buyer journey.
Examples of social proof include partner case studies, as well as third-party review websites such as G2, Capterra, and SoftwareAdvice. Here you can see an example of Whatfix social proof from a review from a real user on our Whatfix G2 profile.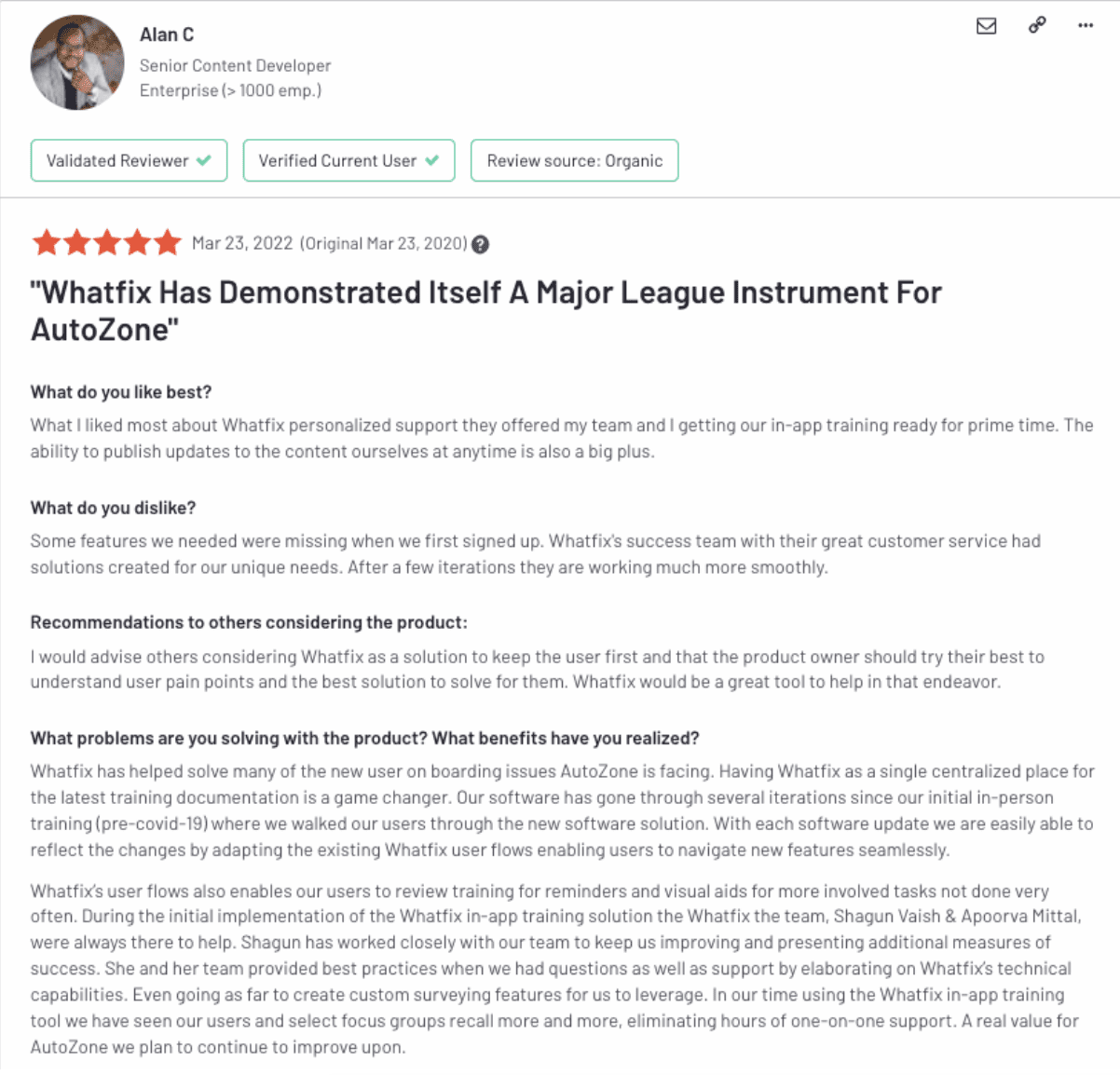 When it comes to enterprise sales, patience has to be action-oriented. With the length nature of the enterprise sales cycle, sellers must be attentive, thorough, and focused.  It's important to not skip steps or take shortcuts that might jeopardize a deal or relationship.
One of the key ways patience pays off is nurturing. The more effort you put into your relationship with a prospect before they buy, the more likely they are to buy and to keep buying. It's a slow and steady race, but it builds confidence in the buyer that you're in this for the long haul, not a quick sale.
The Structure of an Enterprise Sales Team
A high-performing enterprise sales team is the result of several strategic decisions – your defined sales process, tech deck, and who you hire. Without a strong, experienced, stacked sales roster, opportunities will be lost and missed.
The right enterprise sales team structure boils down to what works best for your business and sales reps, but the following roles are key to handling the unique qualities of enterprise sales.
1. Sales Directors & Leaders
Sales directors manage the work of junior salespeople and craft the overall selling strategy for a business. They're typically part of upper management and have complete control over the sales functions and reps within the company. 
The difference between a sales director and a sales manager is a sales manager manages a team of salespeople, and a sales director manages a sales manager. Sales managers communicate with their sales team and report to a sales director, while sales directors are responsible for downward communication.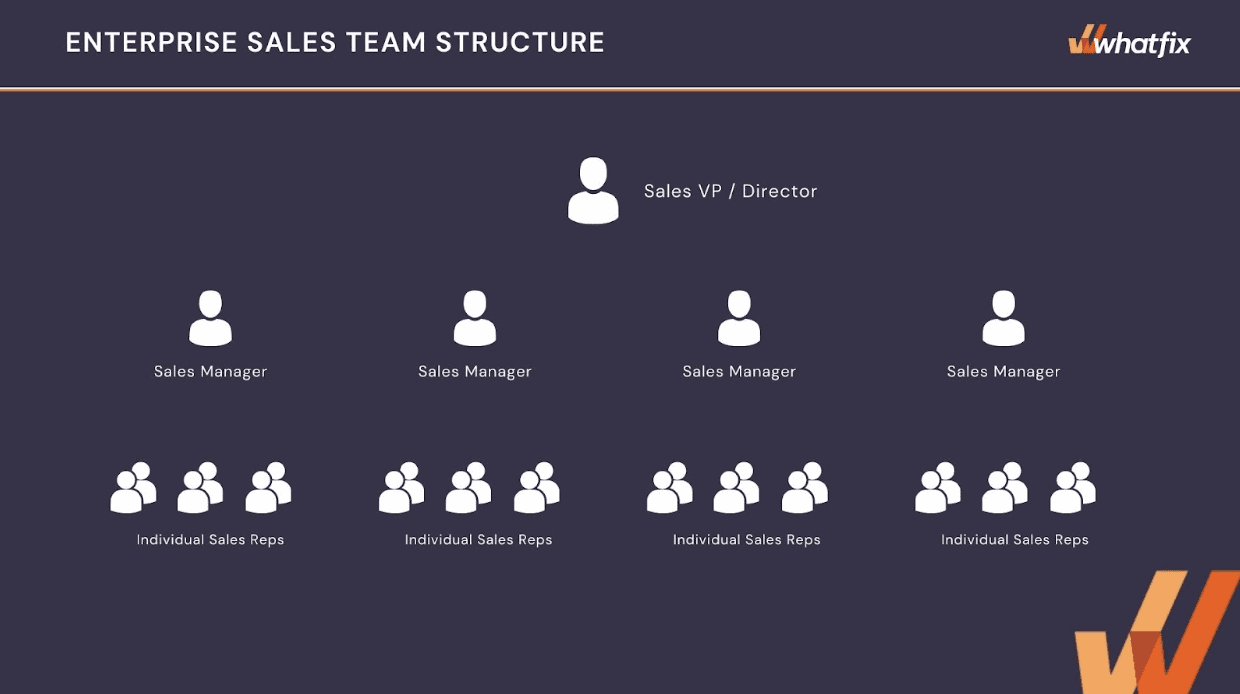 A sales director is also responsible for creating a sales strategy and decision-making, whereas a sales manager is in charge of implementing, monitoring, and controlling the sales strategy. And while a sales manager is in charge of managing a particular region, a sales director oversees all regions from a high level.
2. Account Executives (AEs)
An account executive is an individual sales rep. They are responsible for supporting current customers and closing deals with prospects. They typically have a revenue target and are paid commissions.
AE's report to a sales manager. Large enterprise sales teams are typically organized into groupings based on geography (ie. US West Coast, US East Coast, US Midwest, EMEA, APAC, etc.), industry (ie. healthcare, public sector, higher education, insurance, etc.), or for different solution areas or offerings of a company.
3. Business Development Representatives (BDRs)
A business development representative (BDR) generates new business opportunities by scouting, prospecting, and qualifying leads to engage with potential buyers.
This oftentimes includes BDRs setting up an initial call with inbound leads to understand what they're looking for. This helps provide better context for AE's to have a more personalized pitch, as well as weed out unqualified prospects. BDRs also heavily attack the phones with outbound sales pitches to help build the pipeline for enterprise sales teams.
4. Customer Success Managers (CSMs)
A customer success manager (CSM) supports customers as they transition from prospects to active users of your products. CSMs are critical in the customer onboarding phase, as they provide contextual training and support to new customers on how to best set up, use, and find ROI of your product or service.
CSMs are focused on customer loyalty and building close long-term client relationships, often staying with the same customers as long as they continue to work with your business. This helps customers grow and achieve goals while also strengthening their relationship with the business.
5. Customer Support Agents
Customer support agents act as liaisons for customers and the business, assisting with complaints, errors, orders, cancellations, billing, and other queries.
The main objective of the customer support agent is to ensure that there are excellent customer service standards and high customer satisfaction. Someone in this role must be helpful, knowledgeable, and articulate when speaking to customers.
Sales reps rely on technology advisors to assist in developing products and closing deals. These reps are instrumental in explaining product functionality, describing the steps and potential product integration concerns, and connecting the product's value to the customer's technical community. 
Technology advisors may also assist enterprise sales teams by keeping a pulse on new sales software and technology. People in this role are in constant communication with professionals across the sales team – from leadership to individual AEs and BDRs – to identify challenges and bottlenecks they face. Tech advisors then are able to connect how new sales technology is able to provide solutions to these issues and streamline operations and explore individual SaaS vendors to suggest applications to the team.
An IT architect designs high-level solutions for business systems, portfolios, applications, or an entire enterprise. They also develop IT services and solutions for companies and often manage communications, security, networking, storage, and more.
8 Enterprise Sales Metrics to Measure Success
While metrics are important in every aspect of any business, they're particularly critical in enterprise sales. Enterprise sales leaders can't rely on intuition alone to guide decisions — not only are they dealing with huge deals and a ton of information, but also carry massive risk.
That's why successful companies measure and monitor everything about their go-to-market model, sales strategy, and salespeople. Here are 8 of the most important enterprise sales metrics to track:
Time-to-close rate shows how efficiently a sales reps or sales team performs. It tracks how long it takes to move a deal through the sales funnel, from initial outreach to contract signing.
Time-to-close rate formula: sales in period / # of quotes sent in period
Run rate is a method of projecting upcoming revenue over a longer time period based on previously earned revenue. 
In general, run rate uses current financial information, such as present sales and present revenue, to forecast performance. There is an implied assumption that the current financial environment will not change significantly in the future.
Run rate formula: revenue in period / # of days in period x 365
Win rate is the number of deals in your pipeline that you've won. This measurement is one of the most highly tracked metrics among sales leaders.
To calculate win rate, divide the number of closed opportunities by the total number of opportunities over a given time. It's important to calculate the win rate based on the opportunities that are qualified, rather than on every opportunity in your pipeline.
Win rate formula: # of won opportunities/ total # of opportunities
4. Customer retention rate
Customer retention rate measures the number of customers retained over a specified period of time. It's expressed as a percentage of a company's existing customers who remain loyal within that time frame.
Customer retention best practices emphasize the importance of keeping customers happy and strive to make each customer experience unique. Most customer retention strategies involve making the shopping experience easier for buyers, which allows sales teams to get more value from customers and customers to get more value from sales teams.
Customer retention rate formula: [(E-N)/S] x 100 = CRR
5. Customer lifetime value (CLV)
Customer lifetime value is the average customer's revenue generated over their entire relationship with a company. 
Upon measuring customer lifetime value and breaking down the various components, sales teams can employ specific strategies around pricing, marketing, and customer retention with the hope of reducing costs and increasing profit over time.
When you know what you will earn from a typical customer, you can increase or decrease spending to ensure you maximize profitability and continue to attract the right types of customers. Tracking these details with accurate segmentation can help you identify your best customers and determine what's working well.
CLV formula: customer value X average customer lifespan
6. Customer satisfaction (CSAT)
Customer satisfaction is measured through customer feedback. The most common way to gather feedback is through questionnaires, idents, popups, or a persistent form on a website or inside an app.
CSAT formula: # of specific rating selected / total # of responses X 100
Whatfix allows you to collect user feedback seamlessly on your Flows and Self Help content. You can then use that feedback to influence new content creation and continuously enhance your in-app experiences.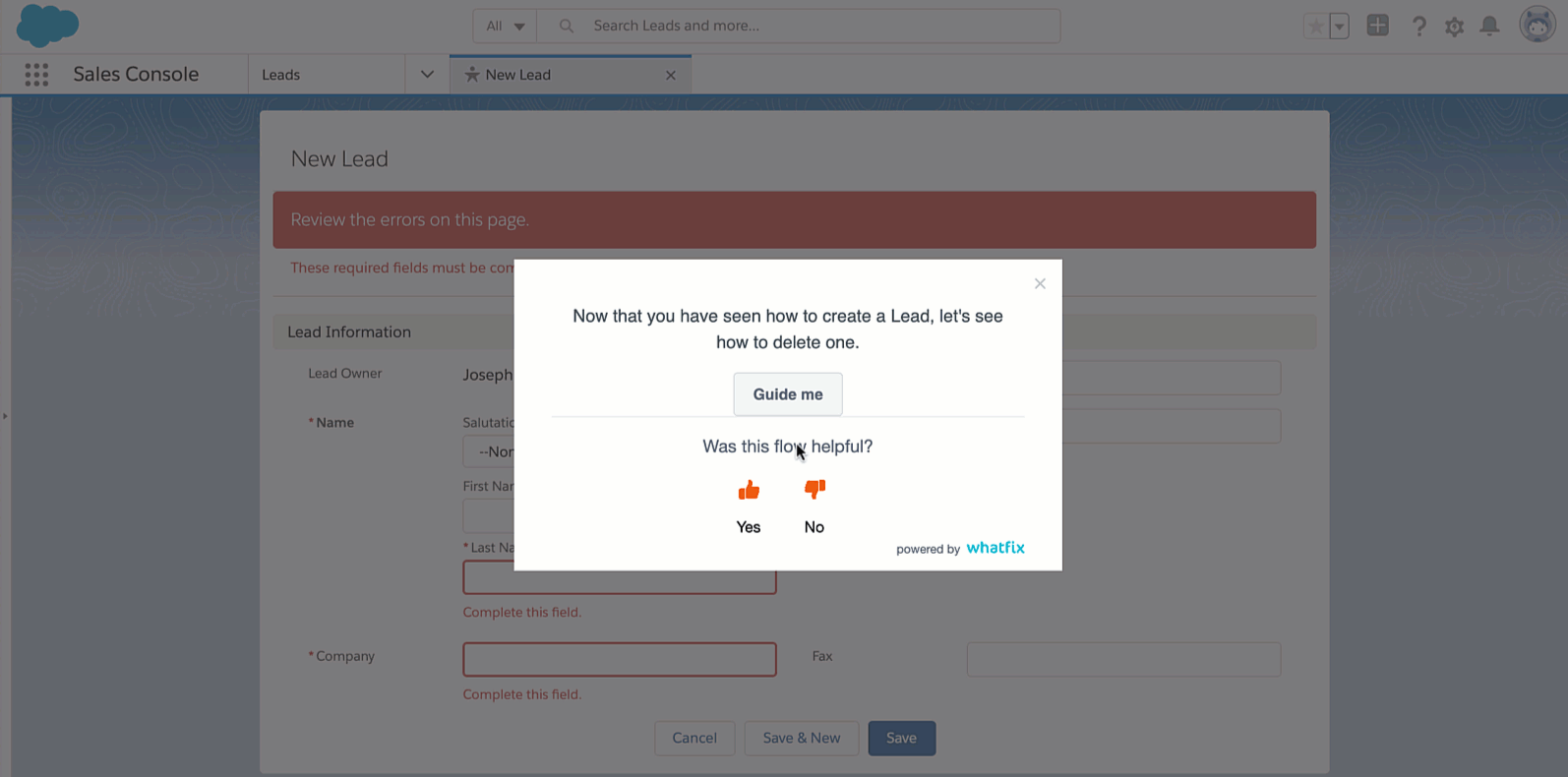 Pipeline velocity is the speed with which leads move through the sales pipeline. Measuring your pipeline velocity can help you with sales forecasting, which should be significantly more accurate since the forecast is based on live sales data. This metric is designed to give salespeople the average dollar amount coming in on a daily basis.
Pipeline velocity formula:# of opportunities X deal value $ X win rate % / length of sales cycle
Pipeline coverage measures the coverage sales teams have in their pipeline and how many qualified leads they need to close to meet their quota. To measure this metric, take the total pipeline for a period and divide it by the quota for that same time period.
Using historical pipeline data and targeting new ARR for the same period helps companies understand how their coverage ratios change over time. It also helps companies set realistic coverage ratios for current and future pipelines, allowing for better visibility into what their projected target ARR should be.
Pipeline coverage formula: customer value X average customer lifespan
Accelerate your enterprise sales with Whatfix
Enterprise sales is complex, and moving a deal forward can be challenging. 
To effectively train a sales team for enterprise sales, it is crucial to standardize your sales onboarding, implement real-time coaching, and peruse a program of sales training reinforcement. For sales teams using enterprise software, digital adoption is critical to the success of the organization.
Whatfix helps you create guided walkthroughs and support that empowers your sales reps to use your enterprise CRM to close collaborate, close deals, and drive revenue faster – no time wasted on trial and error.
Learn more about how Whatfix can support your enterprise sales operations today.
Subscribe to the Whatfix newsletter now!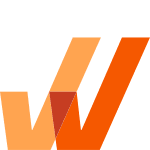 Request a demo to see how Whatfix empowers organizations to improve end-user adoption and provide on-demand customer support