To be efficient in their role, sales reps need an intimate understanding of product knowledge, business flows, team processes, and complete fluency on their CRM tool. 
Your sales onboarding process plays an important role in employee success as it provides all the essential training and information new sales hires need to get acclimated to their new position. A strong sales employee onboarding program gives reps the confidence to do their jobs better, boosting the success of the entire sales department.
What is Sales Onboarding?
Organizations provide sales onboarding for their newly hired sales reps to help them understand company values, gain necessary skills and knowledge, and learn how to leverage enterprise applications in an easy-to-understand format to start performing effectively.
An effective sales onboarding process, in combination with the right talent and technology, can be a key element in driving high revenue for your company and a competitive differentiator in the war for sales talent.
What Are the Objectives of Sales Onboarding?
Help your new hires be successful from the start with these objectives of sales onboarding:
1. Acclimate and Onboard: 
One of the major objectives of sales onboarding is to make new hires feel that they are an important part of the sales team and reassure them about their future with the company. The HR department is responsible for acclimating new hires to the company, making them feel comfortable, informing them about their job role, and helping them understand the business processes. Additionally, new hires should also know what kind of support they can expect to receive from their teammates and leadership.
2. Engage and Train: 
Businesses with engaged employees see much better outcomes than those without. And sales onboarding process helps boost employee engagement at an early stage by making employees feel excited about their work. Introducing new sales reps to the tools and information they need right from the start, makes them more involved in the company's goals and helps them contribute in a positive way every day. 
3. Retain and Grow:
In this competitive environment, it's not always easy to find the right talent for your business, but once you do, it's important to make them feel valued so they stay with you for a longer time. A strong sales onboarding process helps maximize your employee lifetime value. In fact, organizations with a standardized onboarding process experience 50% greater new hire retention.
The Benefits of Sales Onboarding
Here are some of the benefits that come from an effective sales onboarding process: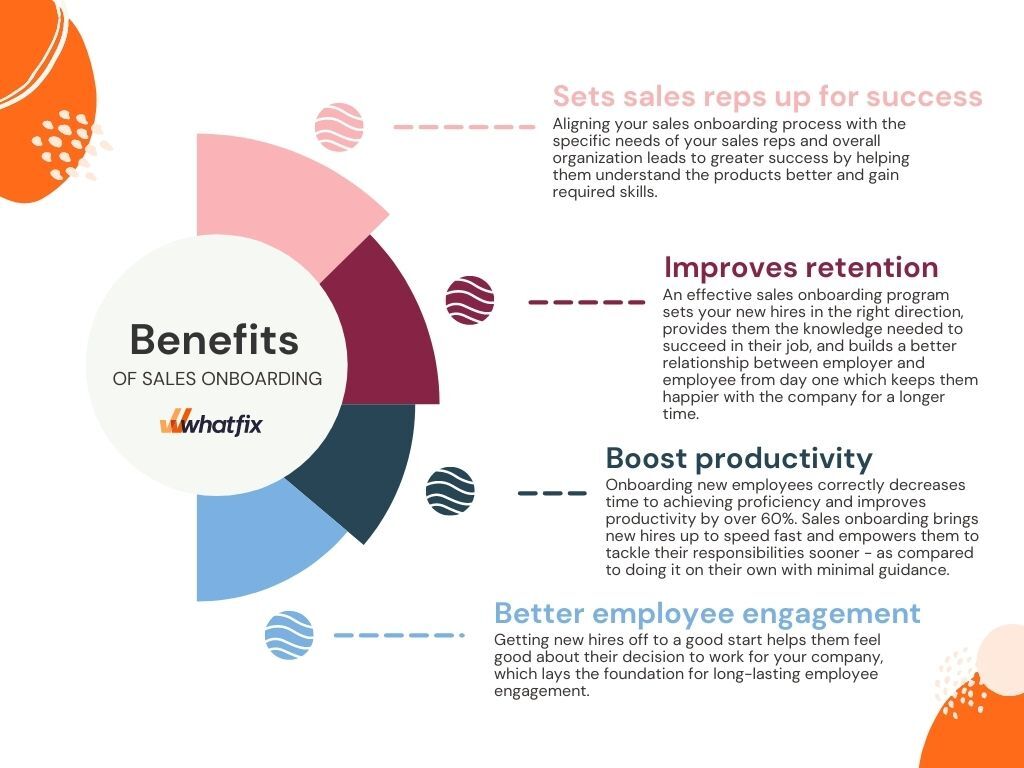 1. Sets sales reps up for success:
Aligning your sales onboarding process with the specific needs of your sales reps and overall organization leads to greater success by helping them understand the products better and gain required skills. Knowledge gained through the onboarding process helps new hires get to know their customers, enhance creative thinking around new business opportunities, and enter their job role feeling more comfortable and confident.
2. Improve retention rates:
Onboarding programs play a significant role in retaining your top talent. An effective sales onboarding program sets your new hires in the right direction, provides them the knowledge needed to succeed in their job, and builds a better relationship between employer and employee from day one which keeps them happier with the company for a longer time.
Onboarding new employees correctly decreases time to achieving proficiency in their job and improves productivity by over 60%, according to research by Deloitte. Sales onboarding brings new hires up to speed faster and empowers them to tackle their responsibilities sooner – as compared to doing it on their own with minimal guidance. This is done through proper onboarding, and providing sales team members with helpful, on-demand support such as process documentation and SOPs.
4. Higher levels of employee engagement:
Getting new hires off to a good start helps them feel good about their decision to work for your company, which lays the foundation for long-lasting employee engagement.
5 Practical Ways to Boost Sales Productivity Post COVID-19
To be more productive in the wake of COVID, your sales team needs to use their sales tools more intentionally, be clear about their goals, and receive enough support from leadership. Let's delve into each of these productivity drivers.
Sales Onboarding Best Practices
Here are the five best practices of sales onboarding to guide you as you bring on new team members and engage your existing employees:
1. Standardize the sales onboarding process
A new sales rep can't be expected to retain 100% of the knowledge they recieved during the onboarding process. It is always a good practice to have some resources and reference guides for new hires to use at any time to refresh their memory on the fly. 
Create process documentation filled with FAQs about the company, questions asked by previous employees and customers, phone scripts, email templates used by previous employees, etc. Developing these documents will save your new reps from wasting time on trial-and-error.
2. Present information in engaging ways
Asking your new sales reps to sit through hours of slide deck presentations and PDFs (in person or virtually) is not an effective way to engage them with your business. A successful sales onboarding process requires engaging ways to present information to help employees easily grab and retain the new information for a longer time. 
Polish your onboarding process by matching the onboarding topic with the format. For example, a classroom setting is good for general baseline knowledge and interaction, videos are good to demonstrate sales conversations like an elevator pitch and negotiation, and so on.
3. Set clear expectations
It is important for new hires to understand what's expected of them to be successful in their jobs. The sales onboarding process is the best setting to deliver these expectations. Start with your organization's mission – What are the organizational goals that the sales team is working towards? What part will the new sales rep play to help achieve them? 
The better new hires understand organizational and team goals, the better equipped they'll be to have a positive impact on the company. Additionally, setting clear and realistic expectations for new sales reps also acts as a guide towards success and also creates a culture of employee accountability.
4. Set up job shadowing sessions with senior sales team members
Job shadowing is a type of employee training that allows your new sales reps to follow or work alongside senior sales team members for a period of time – a day, a week, or whatever management feels is sufficient to give them a good background in the position and the company. This provides detailed, real-world experience to the new hires and enables them to get down into the trenches from day one to see what a particular job entails and how to manage every small detail.
5. Don't rush new employee training
Spreading the employee training process across a longer timeframe will provide more benefits than rushing it in the first week. Give your new sales reps time to settle and feel comfortable with your business processes before indulging them in training sessions. Spread out onboarding, job shadowing, and training sessions in a realistic timeframe, while also sprinkling in some fun activities in between so that employees don't suffer from information overload.
Sales Onboarding Checklist for New Reps
Here's a checklist for you to create an effective sales onboarding process for new hires:
✓ Thank you, the template will be sent to your email
Download the template to effectively plan and draft the onboarding process for your sales reps!
Send out a welcome email outlining their starting date, time and location, contact details of assigned POC, schedule for the first couple of days, and resources to give them a head start.
Introduce to the company values, culture, goals, company policy, employment rules, perks, org chart

Explain your expectations

Arrange meetings and one-on-one conversations with the sales manager, buddy, and each primary team member

Demo the product to instill an understanding of product capabilities

Approve and give enterprise applications/CRM access to new reps

Introduction to all sales tools, overview and access

Have reps attend customer calls as observers to gain an understanding of customer point of view and day-to-day customer interactions

Arrange CRM training sessions (1)

A short assessment to help retention of information 

Have reps go through exercises, teamwork, discussions, and role-play through each phase of the customer journey and sales process
Conduct product and service training

CRM training session (2)

Make it mandatory that new hires shadow as many sales peers as possible for calls and in-person meetings/presentations

Walk through your buyer personas

Provide a sales process overview

Train your reps on how your company handles prospecting

Practice negotiating and common object handling

Have new hires listen to the reps taking discovery calls to understand the questions to ask 

Arrange mock call based on the scenario

Have new hires practice and perfect their elevator pitch and send it to sales enablement team

Have new sales reps make sales call on their own to the prospects they've been reaching out to and making connections with

Check that reps are identifying relevant opportunities to support their continued sales effort and career development

 Continue to keep a schedule of frequent check-ins with new sales reps to evaluate their competency and provide support
Have sales leadership listen in on reps' sales calls to provide feedback

Explain long-term goals

Continue to keep a schedule of check-ins with new sales reps to evaluate the competency and provide support

Request new hire feedback and optimize the onboarding process if required
4 Best Tools for Sales Onboarding Training in 2022
Here are four of the best sales onboarding tools in 2022: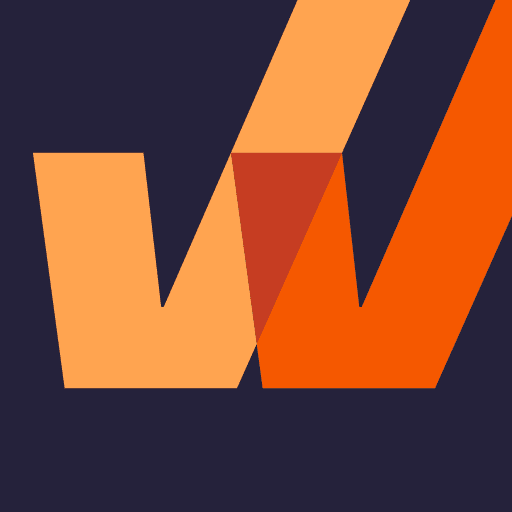 Whatfix is a digital adoption platform that creates personalized and engaging employee onboarding programs at scale. It is an end-to-end onboarding and training solution with which you can create quick guides that provide concise information to your new hires with minimal disruption to their ongoing workflow.
Welcomes new users with the first call-to-action based on their role.

Maximizes adoption of sales tools with personalized, in-app learning flows. With

learning in the flow of work

and the path to productivity during

change management

, new hire onboarding is faster than ever.

Creates task lists for new hires that need to be completed in order to get started with the sales tool

Tracks each employee's task completion rate and reminds them when a task is incomplete.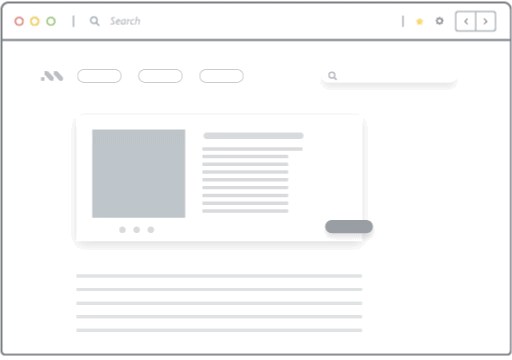 Whatfix guides new employees with its mission-critical software, enabling a faster ramp-up time and improving the overall adoption of enterprise applications and sales tools. Whatfix directly integrates with all popular sales software applications – from CRM tools to sales enablement software – allows teams to build on-demand onboarding and training content directly in-app.

Sales readiness platforms like Mindtickle deliver sales onboarding and training materials whenever and wherever is most convenient for sales reps, and on the device that is most comfortable to use. The software offers real-time access to the information and skills training specific to every individual. This accelerates time to productivity and win rates, keeps all reps engaged, and reinforces best practices. 
Microlearning

ensures that training and onboarding content is readily available for the salesperson to easily absorb.

As a new hire becomes a more seasoned rep, they can draw on tips and advice from the organization's top performers, made available digitally through the software.

Quizzes, consistent updates, and assessments ensure knowledge retention.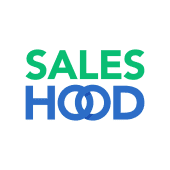 SalesHood is a sales enablement platform and sales onboarding software that combines learning, coaching, and selling into a streamlined system for your workforce. It enables companies to improve their sales productivity and revenue outcomes. 
Creates a repeatable onboarding process with role-based learning and content.

Ramps your team faster with peer reviews and manager coaching.

Creates self-paced and team-based work with certifications, exercises, and role-plays.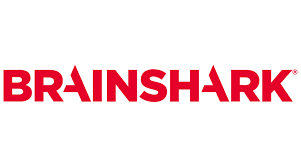 Brainkshark provides the tools to accelerate new hire sales onboarding and training and cut the time it takes reps to close their first deals and shorten ramp-up times.
Puts team members on the fast track with immediate access to content, learning, and coaching.

Uses CRM data to measure new hire performance and help them before it's too late.

Assigns on-demand courses and curricula via formal training environment.

Fuels programs with interactive, custom learning content.
An Effective Sales Onboarding Process Increases Employee Retention & Engagement
The importance of a sales onboarding program cannot be understated. It is a foundational layer for the ultimate success of your sales team and an imperative in today's hyper-competitive marketplace. A strong onboarding experience reduces ramp time, helps new reps get up-to-speed more quickly, and retains high levels of interest and confidence over the duration of their career.
At Whatfix, we help you set up and streamline your sales onboarding processes. Our platform offers a robust solution to create personalized and engaging employee onboarding programs at scale and catapult your employees to rapid productivity. Whatfix's digital adoption platform runs on top of other software platforms and helps new hires understand how to use an organization's CRM, ERP, HCM, and other tools while working on the application itself. This is the best way to ensure that new employees develop a high level of application proficiency, from the first day of work. The training is hyper-personalized to the needs of each end-user and allows them to self-learn.
Subscribe to get new content delivered directly to your inbox.