Sales training isn't a nice to have program–it's a competitive advantage. 
Even with product-led growth and shrinking sales teams, training salespersons to better convert prospects into leads and eventually into customers is a growth lever you don't want to leave untapped. 
Enterprise sales teams like yours understand the importance of sales training which explains why the global market for sales training is poised to grow by $4.21 billion during 2020-2024. 
But for all the billions you may pour into sales training, most of these programs are ineffective and boring. 
Sales training is still viewed as a one-time thing instead of an ongoing process. Plus, curriculum-based programs aren't enough to overcome the forgetting curve.
For sales training to be effective, it needs to be redefined. 
Sales training is an ongoing process that helps sales teams improve their seller skills, knowledge, and attributes to drive behavioral change and win more deals. 

What it's not: A once-a-year exercise that uses off-the-shelf content with success measured in completion rates.
4 Types of Sales Training
Sales training programs can be categorized into four different types—inside sales, field sales, service sales, and sales management. While some programs may have different names, they largely cater to these categories.
Selling via phone, email, or online i.e. selling remotely instead of traveling to meet prospective customers is known as inside sales. 
Since this is a popular sales model for B2B, tech and most B2C organizations, most programs tackle getting buyers to trust you in this crowded space. 
Take LinkedIn's inside sales training course for example. The course teaches inside sales reps how to sell effectively, do pre-call research, getting past objections and closing the sale.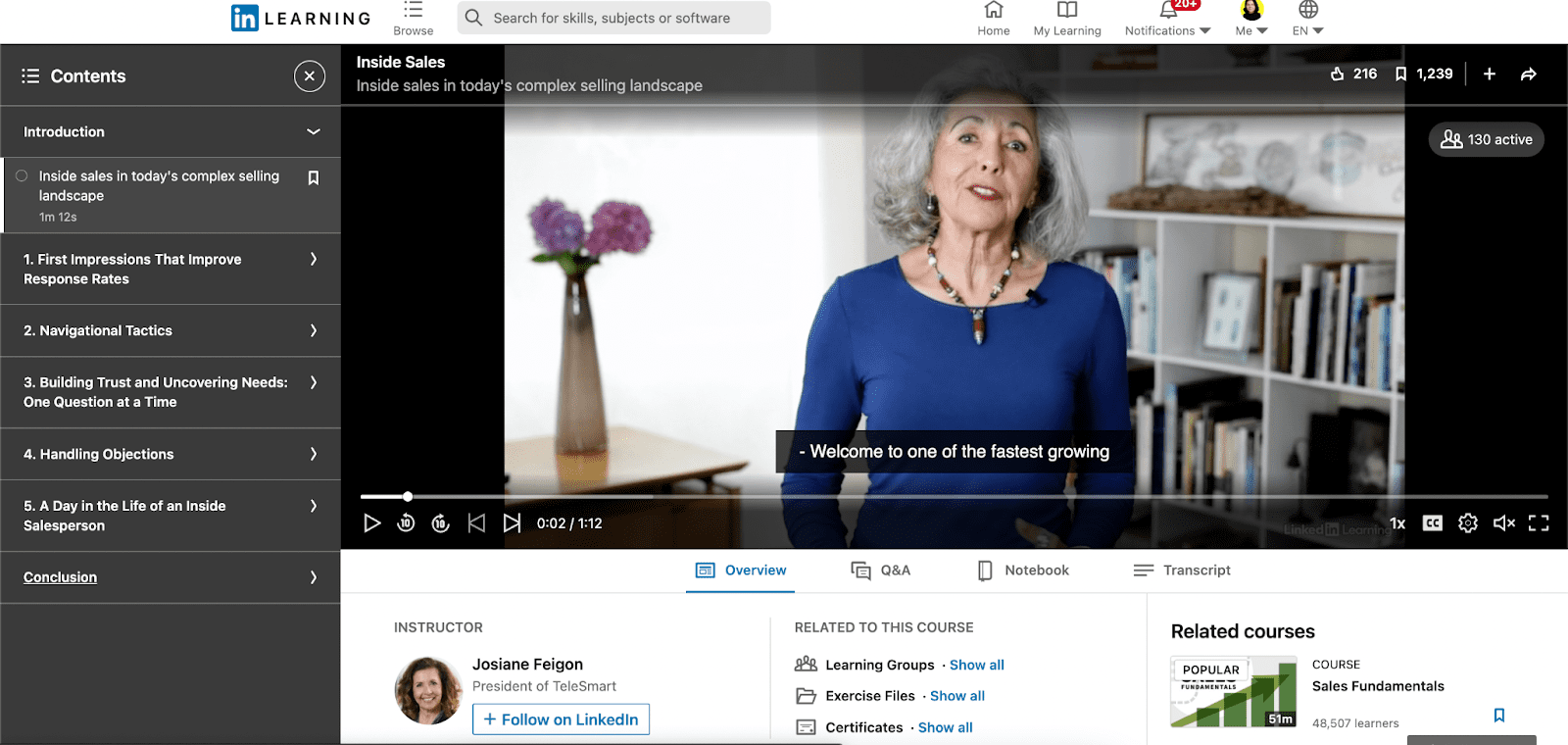 Field sales is the exact opposite of inside sales and so is also known as outside sales. It entails going out in the field and selling to prospective buyers. Field sales reps are often on the go meeting buyers and maintaining relationships with existing buyers. 
Service sales pertains to building customer loyalty and offering customer service to increase the LTV (lifetime value) of existing customers. Skills like consultative selling and storytelling come in handy.
Aimed at sales managers, this type of training helps them become better sales development coaches and build strong teams, especially for former salespeople who need more leadership experience. Some certification courses such as HubSpot's also focus on hiring and onboarding programs.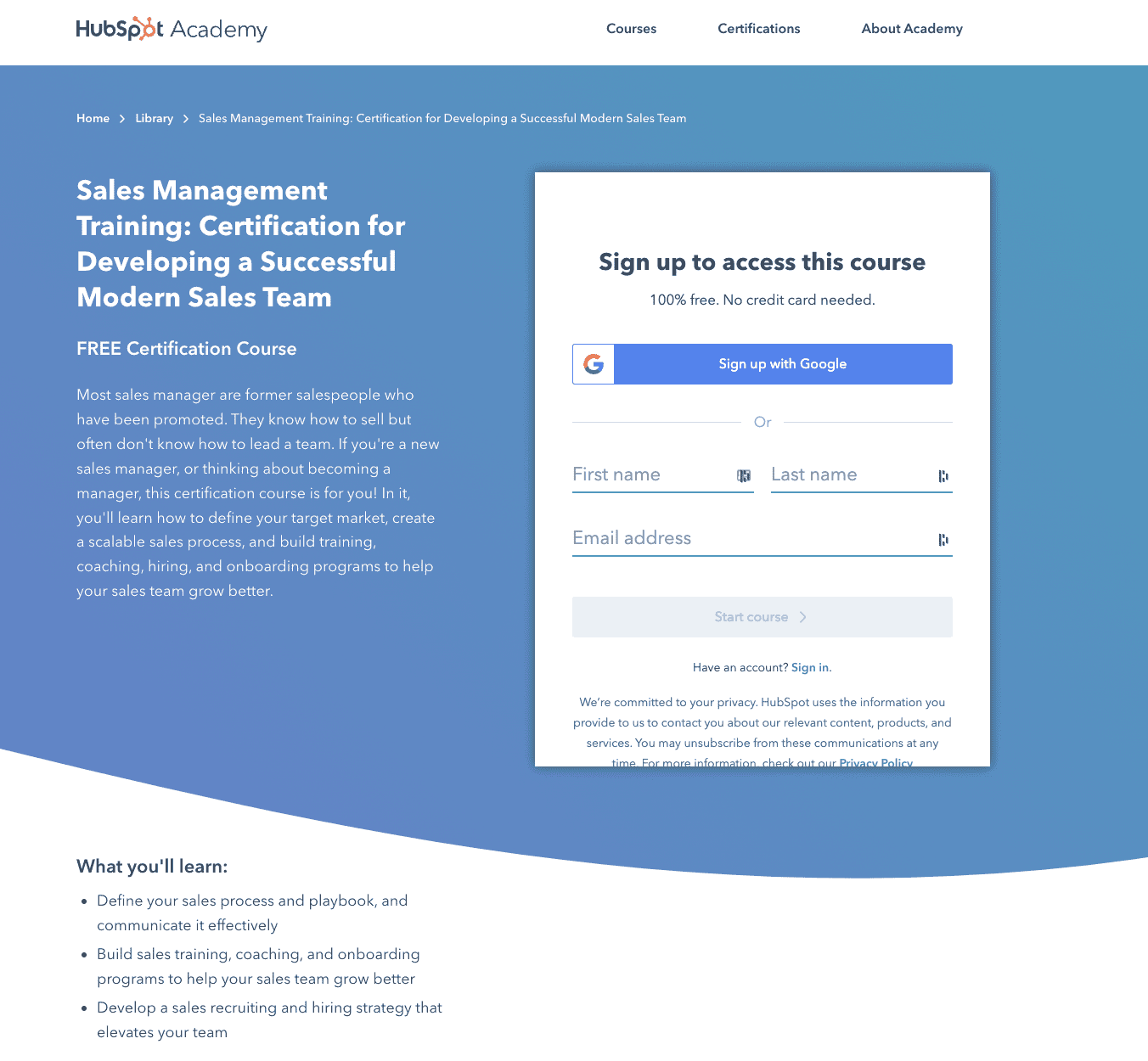 Alex Kracov, CEO and Co-founder of Dock, explains, "As a company starts to hire sales reps, they need to implement a sales methodology to train new reps and standardize the sales process. Two of the most popular methodologies are Sandler and MEDDIC. We used Sandler at Lattice and it was incredibly helpful in scaling the sales team."
5 Benefits of Sales Training You Should Know About
A 2019 McKinsey global survey of ~1,200 respondents across various sales roles found that fast-growing companies were 80% more likely to achieve commercial results from sales training programs when compared to slow-growing companies. 
We'll get into what influenced those results but across the board, sales training programs have a place in every organization and come with several benefits.
According to Salesforce, "80% of high-performing sales teams rate their sales training process as outstanding or very good." Good training programs have a direct and positive impact on sales.
Take Bluebeam Software for example. They created an online learning program for their resellers broken up into three levels of expertise. Of 2800 external salespeople who completed the first level of training, each reseller doubled their sales on average. Those who completed all three levels saw a whopping 400% business growth.
Pipedrive's State of Sales Report 2020-2021 found that only 53% of salespeople spend most of their day selling i.e. 47% do not report selling as their main activity. 
Admin, lead generation, and prospecting eats up most of their time. So training teams to automate these tasks with the help of a CRM or a better process for qualifying prospects means you free up their day to do what's going to bring immediate and more value—selling. 
According to Automate.io, sales teams can save 5 hours every week by automating day-to-day tasks.
3. Increase employee satisfaction
A 2020 study conducted by ValueSelling Associates and Training Industry found that sales training goes beyond getting sales results; it impacts the bottom line by improving employee satisfaction, motivation, retention, company culture, and enterprise agility.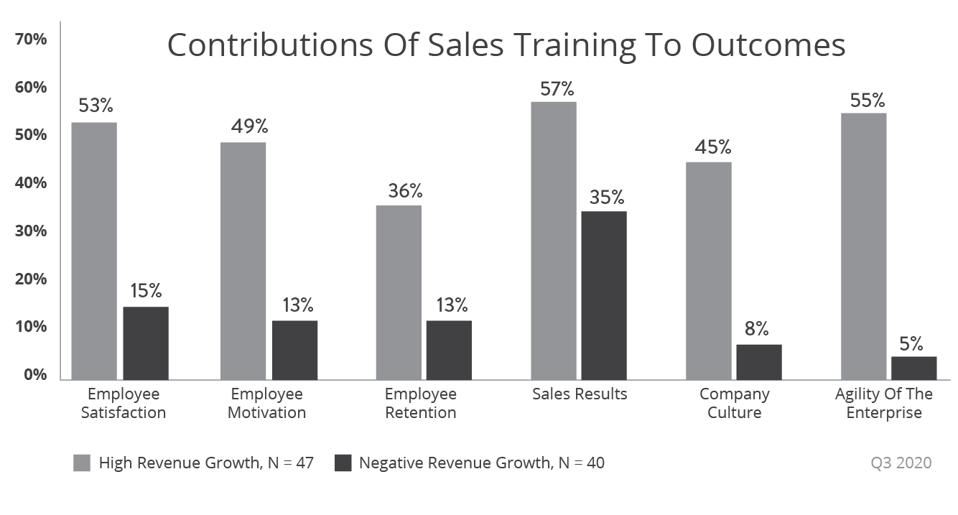 4. Adopt a buyer-first philosophy
The pandemic changed B2B customers way faster than sellers, hastening what's known as the Buyer First approach. It quite literally means to put the buyer first by offering complete transparency and empowering them to make an informed decision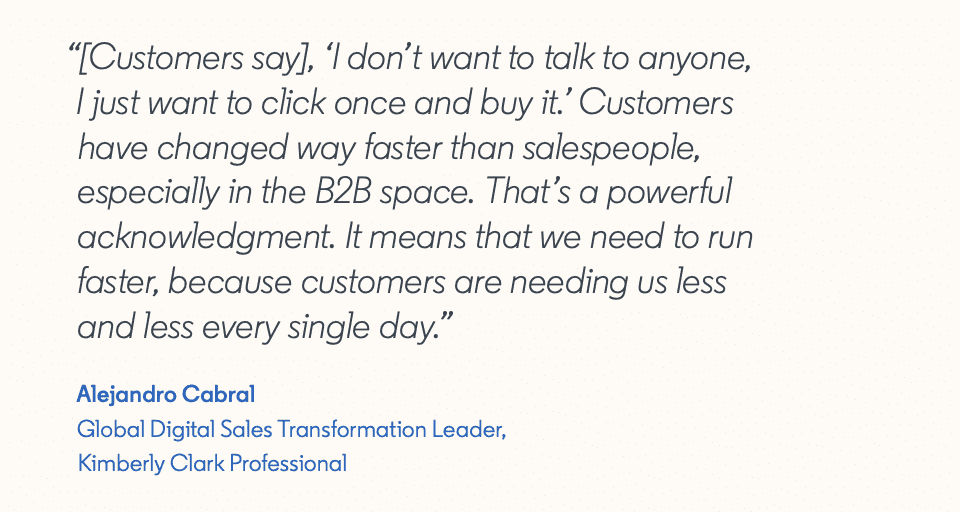 This approach has a ton of merit. According to LinkedIn's State of Sales 2021 report, 72% of top performers aka sellers who met quota by 125% always put buyers first. 
But there are barriers to building a buyer-first organization—lack of the right skills, inadequate coaching, and limited commitment to training.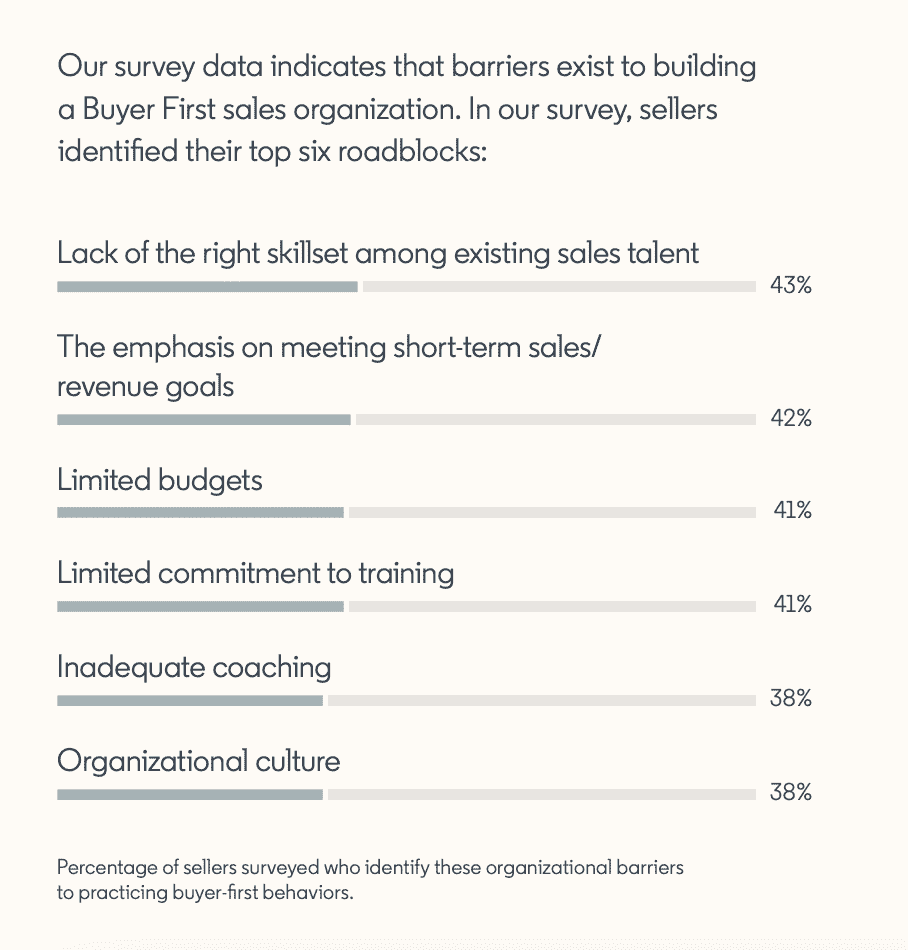 This means the opposite holds true. A vigorous approach to training can make way for a buyer-first approach leading to not only salespeople meeting their quotas but absolutely crushing it. 
LinkedIn's Sales Report also found that 89% of buyers do business with salespeople who are trusted advisors. 
And 51% of top performers surveyed by Sales Insight Lab in their Sales Data Study 2021 refer to themselves as experts in their field. 
Given how buyers are inclined to purchase from an expert they can trust, sellers need to know the product inside out to avoid misrepresenting facts, improve their soft skills and present themselves as an expert.
5 Components of a Successful Sales Training Program
Suzie Andrews, CEO and President of Sandler Training, shares, "The single most underutilized resource in any company is the sales leader."
Andrews recommends sales leaders align themselves to make sure they're efficiently managing their teams. 
"Simply said, how much time are they spending one on one with their reps? Try weekly one-on-one meetings, ride alongs, pre-call, and post-call planning, ad-hoc coaching, and role play."
Training leaders is the first step to building a successful sales training program. McKinsey's survey clearly points to the difference in sales training at good and great companies.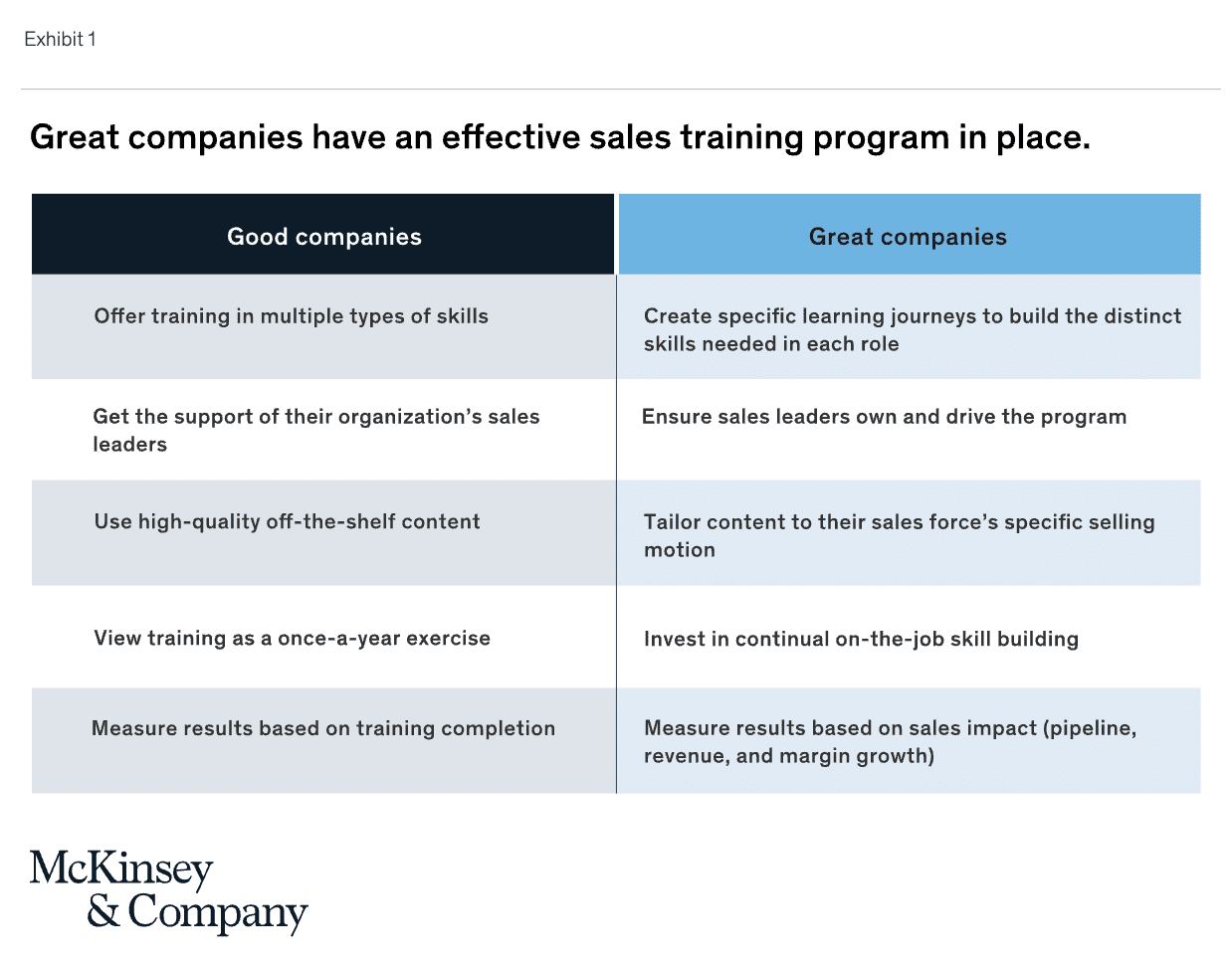 1. Ditch the curriculum-based approach
Remember when we talked about why fast-growing companies were more likely to achieve results over slow-growing companies? McKinsey found that one of the main reasons for this was a certification-based approach.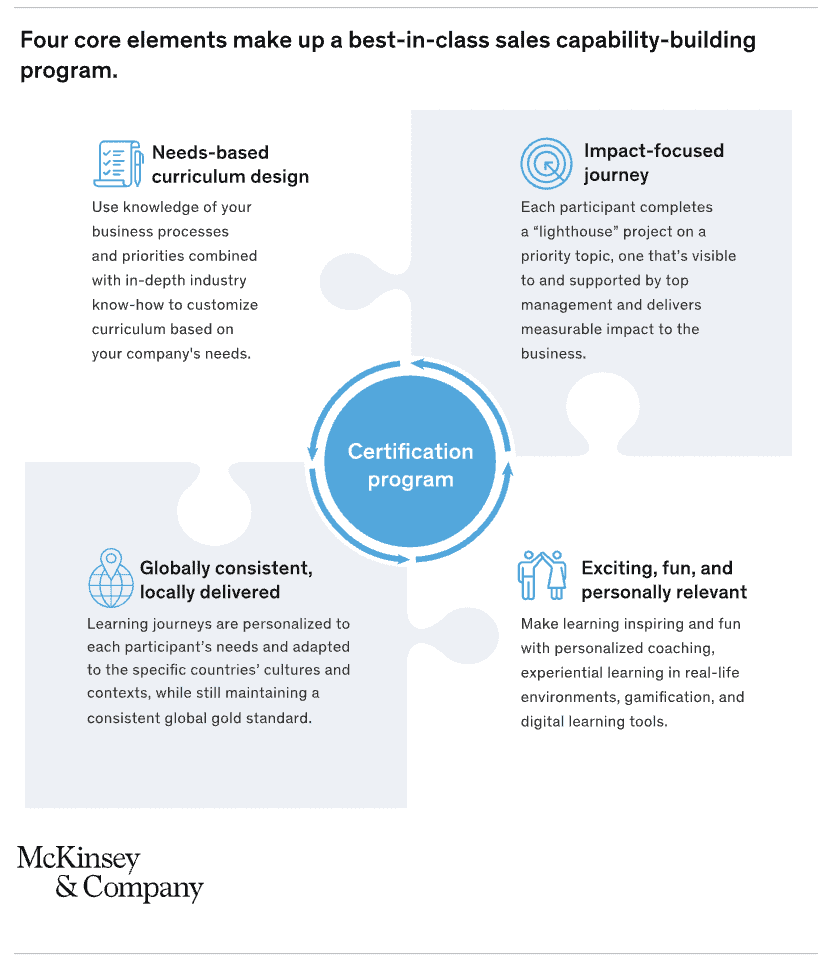 McKinsey recommends focusing on 4 key aspects to build a world-class certification program: 
Design a needs-based curriculum

Focus on measurable and visible impact

Consistent but personalized learning experiences 

Introduce experiential learning
Leslie Venetz, Founder of Sales Team Builder, shares, "The most successful sales trainings are hardly trainings at all, instead, they are interactive, engaging, and often collaborative sessions. The data shows that traditional classroom-style training does not work. With short attention spans, the rise of gamification, and this largely virtual world we are navigating, historical notions of what good looks like for training need to be reexamined."
Venetz follows the 70-20-10 learning methodology meaning that only 10% of learning should be done in traditional classroom-style training. The remaining 90% should be done through mentorship, coaching, and hands-on experience.
2. Provide on-demand, continuous support
Sales move quickly, and sellers need to be able to work through hurdles quickly. Provide technical customer support in real-time without your sales team having to raise support tickets and wait for long periods of time for resolution of their queries. 
With Whatfix's intuitive interface, users are able to get seamless on-demand, self-service on even the most complex features. Boost user performance by providing embedded in-app performance support to answer queries instantly. 
3. Allow sales people to learn in the moment of need
Learning on the go is a natural and unavoidable aspect of sales. Empowering your sales reps with the ability to learn in the moment allows them to perform any task from start to end successfully. This reduces users' confusion and their dependence on managers or support teams. 
Whatfix's just-in-time performance support software is always available to aid employees in performing critical tasks at the moment of need. 
4. Don't limit the training to sales teams
Selling is never a siloed effort. Anyone in a customer-facing role or with the opportunity to influence customer decisions should be trained. 
Marketing, sales, presales, customer success, support, product, and executive teams all have to be on board. A program that fails to do that only drives the wedge further between sales and other teams. 
5. Invite buyers to participate
Empathy is an essential skill for salespeople to adopt the buyer first approach. Getting buyers to share their purchase experience, pain points and the value the platform provides is a good way to help sales teams put themselves in their shoes and understand exactly what closes more deals.
4 Best Sales Training Tools
Here are 4 of the best sales training tools based on G2 and Capterra ratings and user reviews: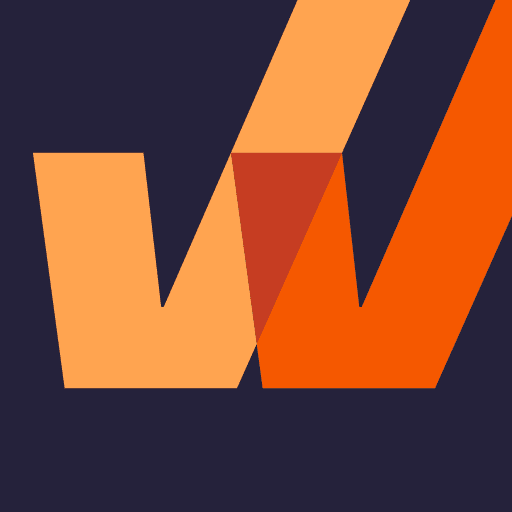 G2 Rating:

4.7/5 

Capterra Rating:

4.7/5

Pricing:

Available on request
Guide, train, and support sales teams to perform better across your team's technology stack including CRM, CPQ, and CLM platforms with Whatfix. Boost productivity by up to 3X by eliminating time wasted searching for help and support information.
Main Features:
Deliver in-app training guiding software users through each step of the task in realtime to drive better software adoption
Provide self-service help within your software and relevant to your users' realtime context leading to quick resolution
Automate routine tasks across your enteprise applications helping employees and sellers save time and effort to focus on selling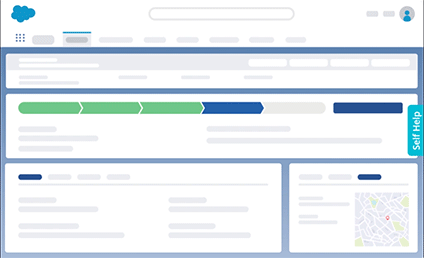 Create personalized learning & training flows for your enterprise apps with Whatfix

G2 Rating:

4.7/5 

Capterra Rating:

4.8/5

Pricing:

Available on request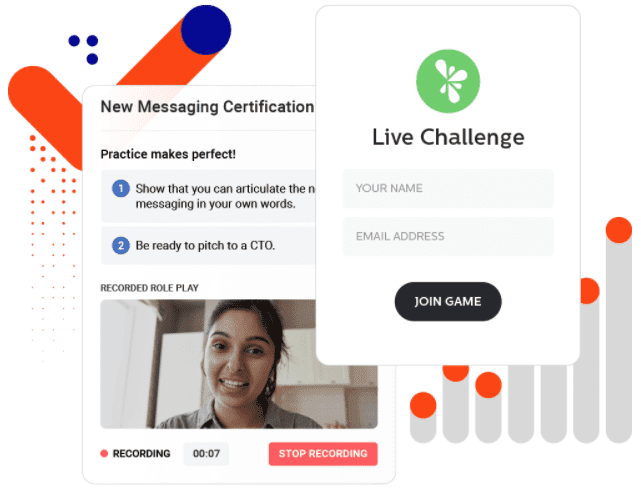 While Mindtickle isn't just a sales training platform, we'll cover only the features that enable training. The platform allows you to provide individualized training, practice, and reinforcement for every salesperson and coaches salespeople to improve the skills that prevent them from closing deals.
Main Features:
Identify real-time skill gaps with Mindtickle's Readiness Index

Stop skill erosion with AI-powered reinforcements

Drive teamwork and knowledge sharing with cooperative challenges

Find content easily with Asset Hub

G2 Rating:

4.5/5 

Capterra Rating:

4.2/5

Pricing:

Available on request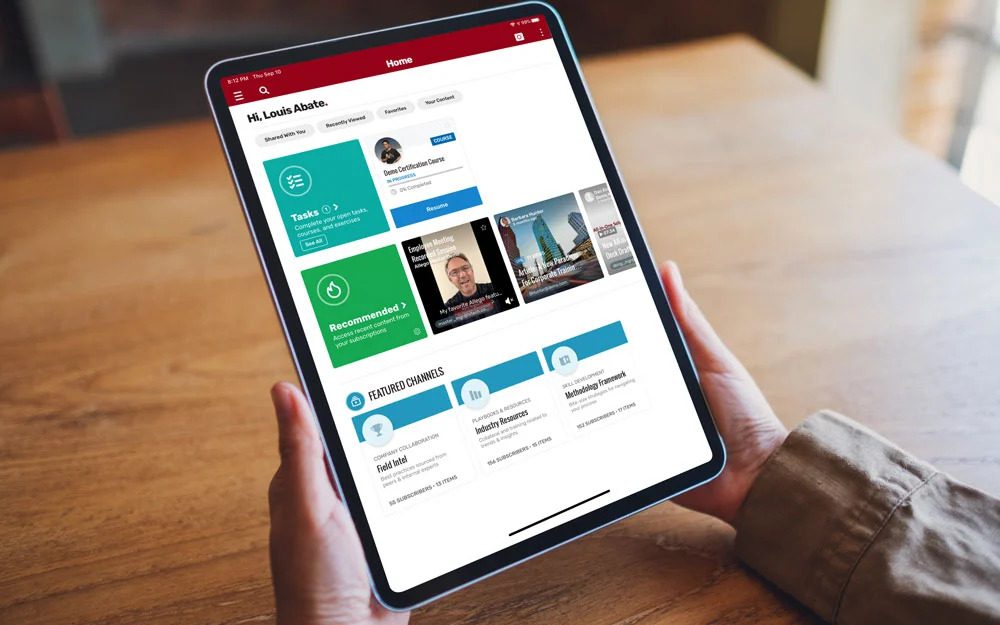 Allego's Sales Training solution is designed to deliver impactful customized training to ramp up reps to productivity fast. The platform helps increase engagement, deliver training when reps need it and foster a collaborative spirit.
Main Features:
Deliver personalized, continuous training from anywhere via a smartphone

Capture best practices and customer insights 

Share strategies and practices top performers use 

Assess competencies, and deliver targeted sales training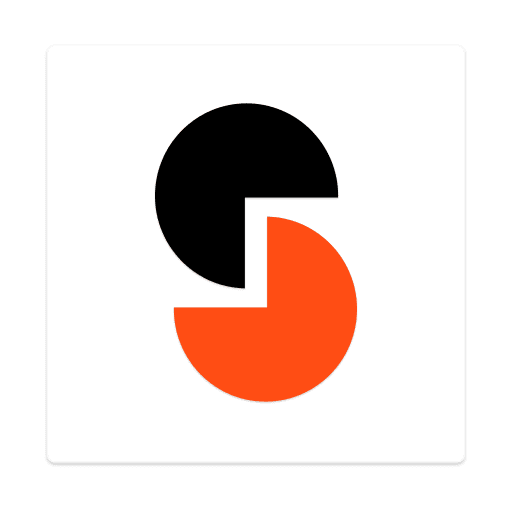 G2 Rating:

4.7/5 

Capterra Rating:

4.7/5

Pricing:

Available on request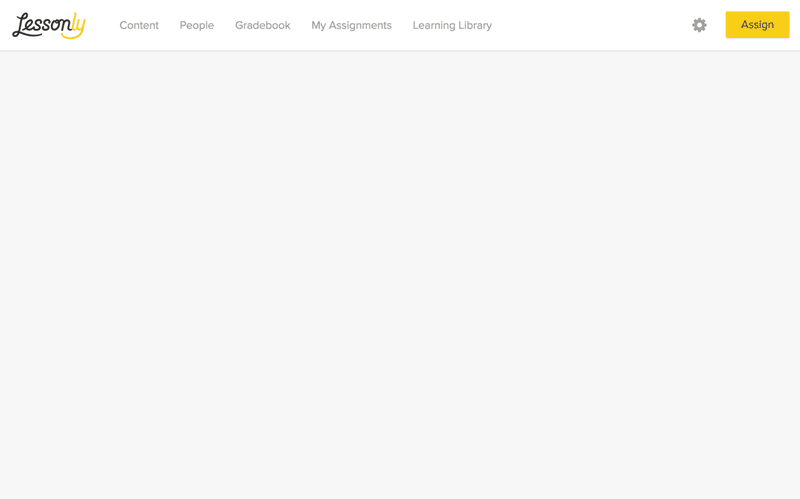 Lessonly by Seismic is a training, coaching, and enablement solution that helps teams ramp up faster, deliver effective feedback, and constantly improve. The platform allows you to visualize training engagement, see assessment results and identify skill gaps. Lessonly integrates with your existing tech stack. Think Zendesk, Salesforce, and Chrome.
Main Features:
In-person training along with the software capabilities

Enables remote, on the go training via mobile-friendly experience

Assign lessons or offer on-demand training

Drag-and-drop builder to create training material
Subscribe to the Whatfix newsletter now!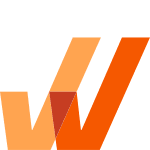 Request a demo to see how Whatfix empowers organizations to improve end-user adoption and provide on-demand customer support