A human resources information system (HRIS) costs $100 per user per month on average. Even though it's pricey, companies invest in them because an HRIS increases employee retention and employee engagement. But if no one knows how to use the HRIS, and your employees spend too much time trying to figure out how to use it, then it becomes a huge waste of money.
To successfully implement your new system, you can create an effective and easily scalable HRIS training program for your employees with a digital adoption platform (DAP). And when your HRIS solution is fully implemented and automating payroll, accounting, and management processes, your human resource (HR) department can start focusing on other HR initiatives to increase your company's overall success.
A DAP Is the Only Tool You Need for Successful HRIS Training and Implementation
An effective training program needs to be relevant, goal-oriented, demonstrative, practical, and continuous. A training program created with a DAP meets all those requirements. DAPs promote quick and effortless user adoption by guiding users through processes and making them do it themselves.
DAPs personalize the learning experience. With a DAP, you can customize the employee training experience by contextualizing your HRIS training program based on users' job descriptions. DAPs make sure that when an employee accesses a certain window, they'll see courses relevant to their position at your organization.
DAPs provide in-application HRIS training. A DAP lets you create workflow walkthroughs, videos, and articles that your employees can access without ever leaving the HRIS. A walkthrough will demonstrate what they need to do to achieve a certain goal and ask them to follow along for practical applications.
A DAP HRIS training program is available 24/7, even after onboarding. Even after the onboarding phase, your employees across the company can still access walkthroughs and training materials any time, reinforcing their learning and making sure that they're never left to figure out things on their own. You can also easily announce changes and updates across the entire company whenever you need to.
Traditional classroom training methods alone cannot bring about true digital adoption because technology changes so quickly. A DAP will make sure that all your employees know what they're doing—and if they don't, where to get help.
Increase end-user adoption with Whatfix
With Whatfix's Digital Adoption Platform, create in-app learning flows, contextual training and onboarding, and self-help knowledge bases. See it in action below.
6 DAP Features for Effective HRIS Systems Implementation
If you're wondering how you can use a DAP for effective training, here are six specific DAP solutions you can integrate with your HRIS software:
1. Interactive Walkthroughs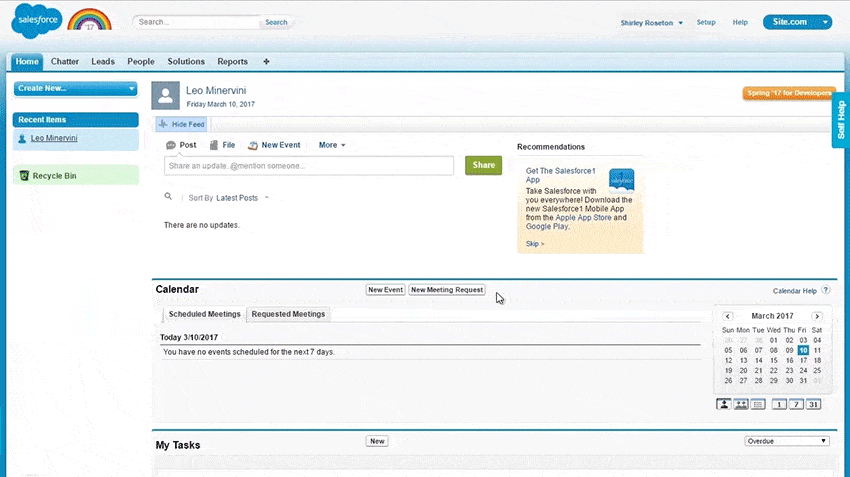 Description: This is a walkthrough created with a DAP.
An HRIS is a fairly complex system to navigate. A DAP makes it easier to navigate by providing walkthroughs, or experiential learning, of your HRIS training system, which, according to Meghan Castillo, learning experience designer at HubSpot, is more effective than traditional online training courses.
Walkthroughs show your employees how to complete important workflows and processes. As the name suggests, they walk your employees through processes that employees are using for the first time or may find confusing. For example, if your employee runs a walkthrough on "filing a reimbursement request," the program will show them exactly how to do that by telling them what to click and which blanks to fill in.
An HRIS has a lot of employee self-service features designed to save time for HR professionals. But if your employees don't know how to use the self-service features, then they're not saving time for anyone.
On top of all that, walkthroughs can be made into articles and PDFs by using screen recording software or exporting them to a PDF. With a DAP, you can provide asynchronous training sessions for all your employees and create various forms of learning content to suit their specific learning needs.
2. Smart Tips and Contextual Pop-Ups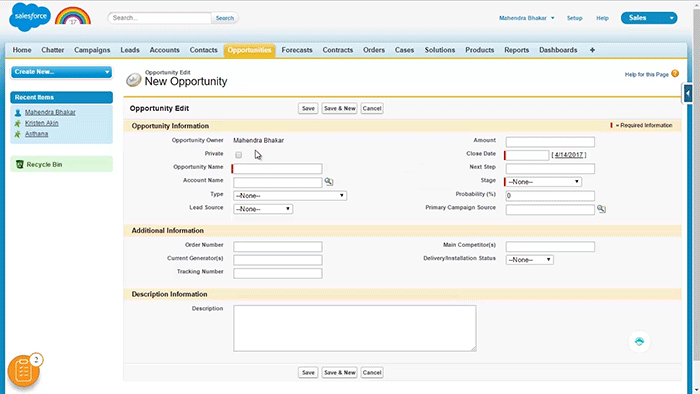 Description: This is a smart tip.
A DAP's smart tips and contextual pop-ups promote continuous learning by helping your employees understand the various functions and buttons they will find in your new HRIS system. Smart tips are descriptions that appear when your users hover over buttons or links. Contextual pop-ups are windows that appear on certain pages to announce a bug and the suggested workaround or an HRIS update and how to use it.
For example, if your company has a floating holiday policy, and one of your employees, Lisa, forgets what that is, she can hover over the "File a Floating Holiday" button, and a smart tip containing a description will appear. If the holiday filing system of your HRIS is temporarily down, upon clicking the "File a Floating Holiday" button, Lisa will see a contextual pop-up saying that she needs to manually file their holidays for the time being. If Lisa turns out to be an HR employee in charge of approving or denying holiday requests, the contextual pop-up can contain a message detailing the temporary manual fix and what they need to do.
3. A Task List or Mini-Learning Management System (LMS)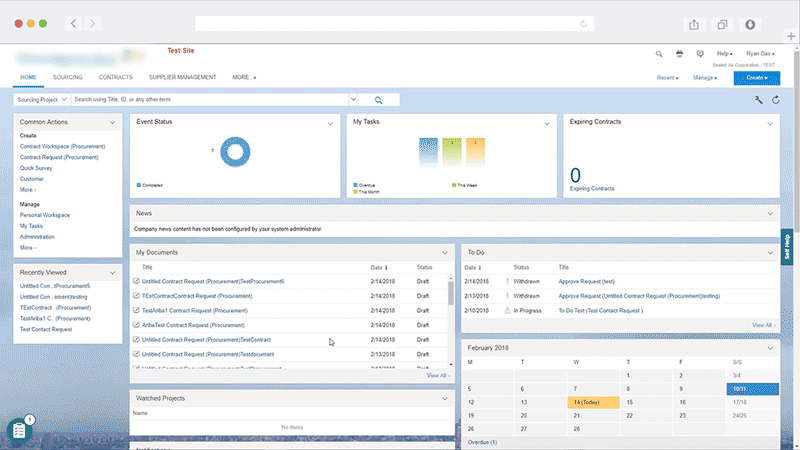 Description: This is a task list.
Your employees will likely need to complete a lot of tasks for HRIS training. A DAP can make the process more palatable with a gamified task list, which may lead to higher rates of training completion. Whether you're onboarding a new hire or teaching an existing employee how to use your new system, giving them a task list will tell them what they need to learn next.
4. An Aggregated Self-Help Menu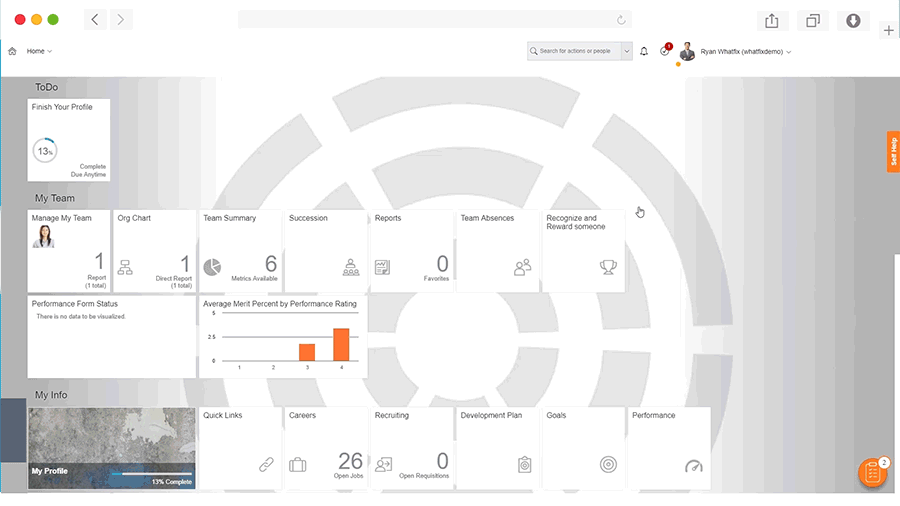 Description: This is the aggregated self-help menu.
Your employees need easy access to your training materials because they won't achieve complete user adoption during your two-week training program. A DAP's aggregated self-help menu makes sure that when your employee forgets a certain step in the process of filing for a floating holiday two months after the prescribed training period, they can easily find the answers on their own without ever leaving the HRIS.
The DAP compiles all of your in-house-developed help content and your new HRIS's existing help content so that your team can find whatever they quickly and conveniently. The self-help menu has a search function that automatically combs through all content that could be relevant to the search query and the open page and presents the user with a list of help articles that will solve the problem.
5. A Detailed Data Dashboard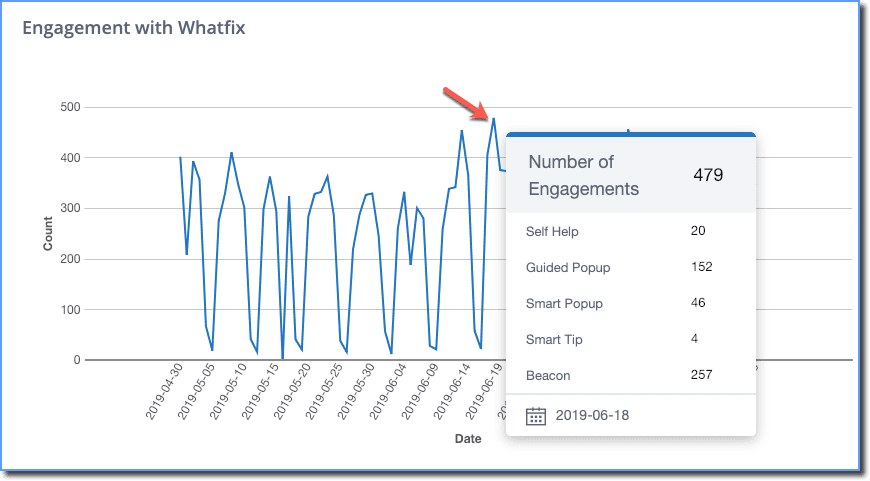 Description: This is a chart that shows the total number of engagements with Whatfix features.
You need to assess your training program in an objective way to know whether or not it's working. DAPs gather user insights from your HRIS that can tell you what your team members are confused about or need more support with. You can track everything, from user interactions with walkthroughs and smart tips to failed search queries from the self-help menu.
A certain flow being accessed more compared to others indicates more confusion or a lack of adoption of that certain process. A repeated failed search query means that you need to create a help document for it.
By tracking user behavior, you can find out what your training program is doing great and what you need to improve.
6. In-Application Surveys and Feedback Forms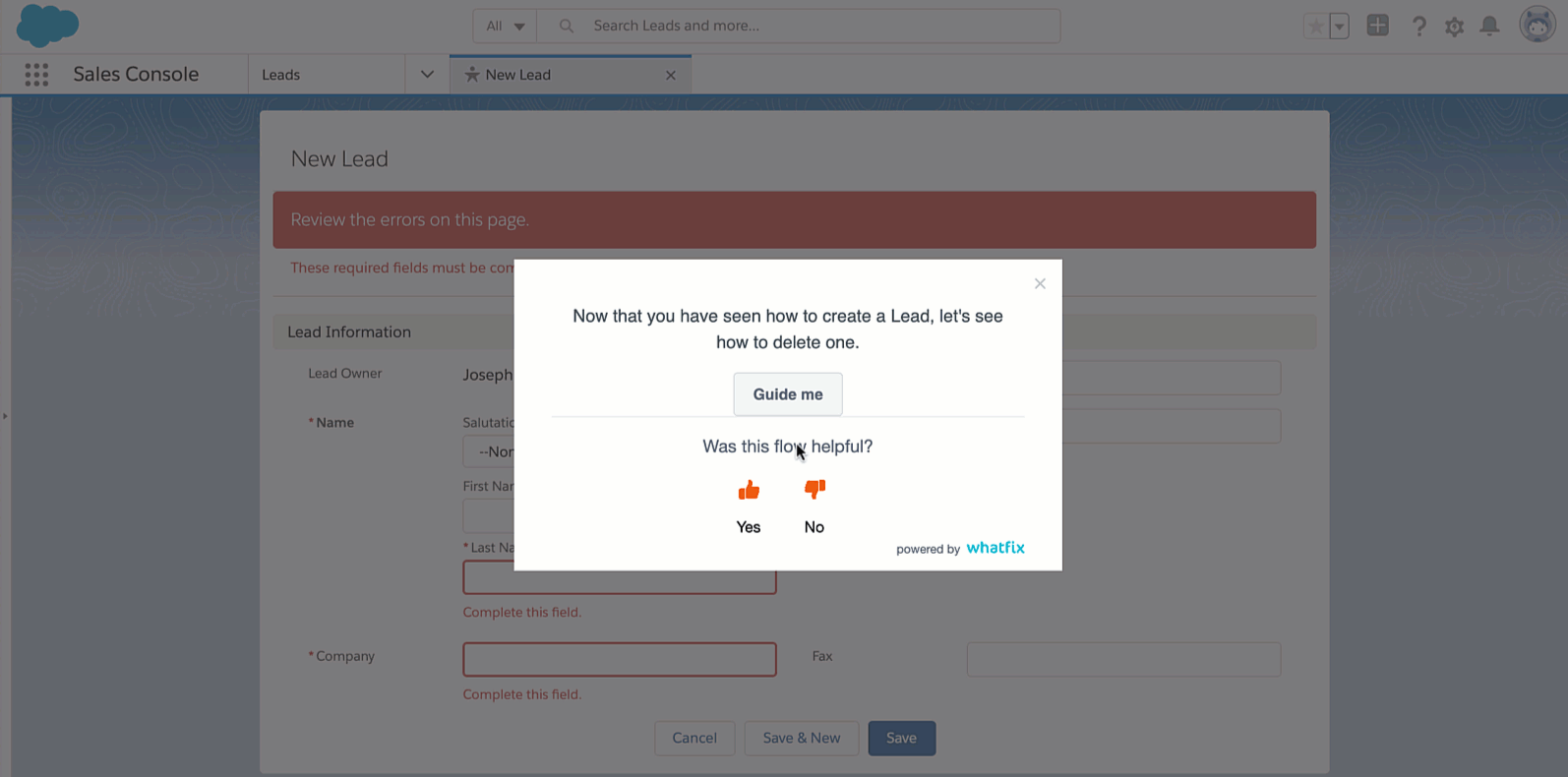 Description: This is a survey at the end of the flow.
If you don't ask for feedback on your HRIS training program, you won't know if the program is helping your employees understand how to use the new HRIS. A DAP lets you program feedback forms and surveys that can be distributed to specific departments in your organization. As soon as your employee opens the HRIS tool, they'll see the feedback form as a pop-up that they need to answer before they can proceed.
You can either embed a survey in a pop-up or simply add your survey to the end of one of your walkthroughs.
Enable continuous employee learning and training with Whatfix
Discover how Whatfix's Digital Adoption Platform can help your organization create continuous employee training and development programs with in-app guidance, personalized workflows, and self-help knowledge bases.

DAPs vs. Other Employee Training Programs
A DAP has all of the features you need to create an effective training program, but here are some specific reasons why choosing a DAP is better than both traditional and modern training courses.
DAPs Can Be Implemented with Existing HR Software and Learning Management Systems (LMS)
DAPs aren't difficult to integrate with existing tools and can be integrated with your existing HR systems and LMS.
If your HR department has decided to use Workday, then developing an effective training program and achieving true digital adoption are challenges you may face. Workday is such a powerful tool—if you can use it. A DAP can help you overcome both training and adoption challenges. If you've decided to develop your own HRIS in-house, you can still integrate a DAP by customizing your package and software requirements.
DAPs Are More Cost-Effective
Creating content with a DAP is easier and more cost-effective than creating traditional learning materials that involve video demonstrations and long articles. In fact, designing and developing an hour's worth of online learning material for a traditional online course can take up to 160 hours to produce and cost at least $8,150.
Creating training content with a DAP is 60% to 85% cheaper. For example, when you create a single walkthrough, you're actually creating three different kinds of training materials: the walkthrough itself, a video, and a PDF document.
DAPs Save More Time
DAPs save you time by increasing productivity, decreasing time to competency, and decreasing support hours.
DAPs like Whatfix increase employee productivity by 35% and decrease training time by 60% by making sure that your employees always have access to the information they need. Employees can access walkthroughs and pre-made help content right in the HRIS system instead of opening a new tab or setting up a video chat with another employee.
They also reduce time spent on support by 50% by redirecting queries to self-help solutions.
Conclusion: Use a DAP to Successfully Create an HRIS Training Program to Implement Your New System
DAPs have everything you need to successfully train your new employees and continue training your existing employees for better overall digital adoption. You can create task lists, walkthroughs, video content, and more, all with your DAP.
Book a demo with Whatfix today to see a DAP in action and learn how it can make your new HRIS implementation a success!
Learn in the Flow of Work with Whatfix
See how Cardinal Health learns in the flow of work with the Whatfix Digital Adoption Platform