"By 2020, customers will manage 85% of their relationship with an enterprise without interacting with a human." – Gartner Predicts
It's ironic that a major part of the customer's interaction with an enterprise during his /her journey is with the customer support team.
So, it's safe to say that, by 2020, if 85% of customer relationship with the brand will be managed without a human, a lot of customer service issues will also be handled without any human intervention. Possibly, even that remaining 15% will be in the case of issues other than customer support. Or in cases involving very complex queries which only a human can solve.
Why are we emphasizing on humanless interaction? Because the future is about automating tasks and giving users an excellent customer experience.
When it comes to eliminating human intervention in customer service, this is done primarily in two ways –
Either you can fully automate customer support with the help of artificial intelligence based chatbots and virtual support agents. When this virtual support fails, humans take the charge of the situation.
Or, you can use interactive resources for helping users self-serve their support queries. And only the complex queries will be passed on to the humans for resolution.
As you can see, in both the above scenarios, human intervention cannot be eliminated, but restricted to a bare minimum level. For doing so, support automation tools seem lucrative as we already rely on machines for most of our tasks. But, according to a report by Aspect Software, even self-service support becomes promising as "73 percent of consumers said that they should have the ability to solve most product and service issues on their own."
So now when both automated and self-service support seem lucrative, which one should you choose for your business? Let's walk the talk to understand each in depth so that we can make a more educated call.
Where Does Each Fit in?
Customer support is automated mainly for a quick resolution of support tickets. While self-service support tries to reduce the number of support tickets raised. So evidently, both cater to different use cases. Let's talk about those use cases in depth.
Automated Customer Support
A report by Desk.com revealed that "more than 30 percent of customers expect to get a response within ten minutes of reaching out for customer service via text messaging/social media." So to speed up customer communication", you need to use some sort of automation.
Currently, automation is mainly used to enhance your customer's support experience by encouraging and expediting their communication with your company. Virtual agents like IBM Watson have come up recently to offer end-to-end automated customer support. But it's reach and adoption is still limited.
Automation can be applied at multiple levels of customer communication. You can use it to initiate a conversation with the customer or to quickly solve a support ticket raised. Mentioned below are the use cases of automated customer service at various levels –
Providing support through chatbots – chatbots assist in solving simple, quick-response requirements, leaving more time for customer service representatives to focus on complex customer demands and interactions. Intelligent chatbots like Twyla bots can help you in such a situation.
Workflow management – customer service automation tools like Ameyo help in routing customer queries to the appropriate customer support agent. This eliminates the customer time wasted in transferring a call from one agent to another.
Research – the customer support agent has to collect relevant information for answering user queries correctly. Support automation tools do the grunt work of searching through the databases and providing the right information to support agent which he finally conveys to the customer.
Communication – a thoughtful, personal response to customers is to be drafted, which is time-consuming. Tools like Digital Genius, help in pre-filling solution details and answering repetitive questions through the use of machine learning and artificial intelligence.
Self-Service Customer Support
In contrast with automation, that reduces the response time of support queries, self-service support reduces the volume of support tickets raised.
You can deploy one of the following solutions on your website, for your customers to seek help from –
Interactive Walkthroughs – An interactive walkthrough provides live contextual help by breaking down lengthy online processes into multiple small tasks. Each task is an instruction that appears on user screen in the form of an interactive tooltip and prompts the user to take an action.
With Whatfix, you can create interactive walkthroughs within a few minutes and list down all of them within a widget. This widget can then be effectively used to provide self-service support to customers.
The gif below shows how a self-help widget and interactive walkthroughs provide online contextual help to users.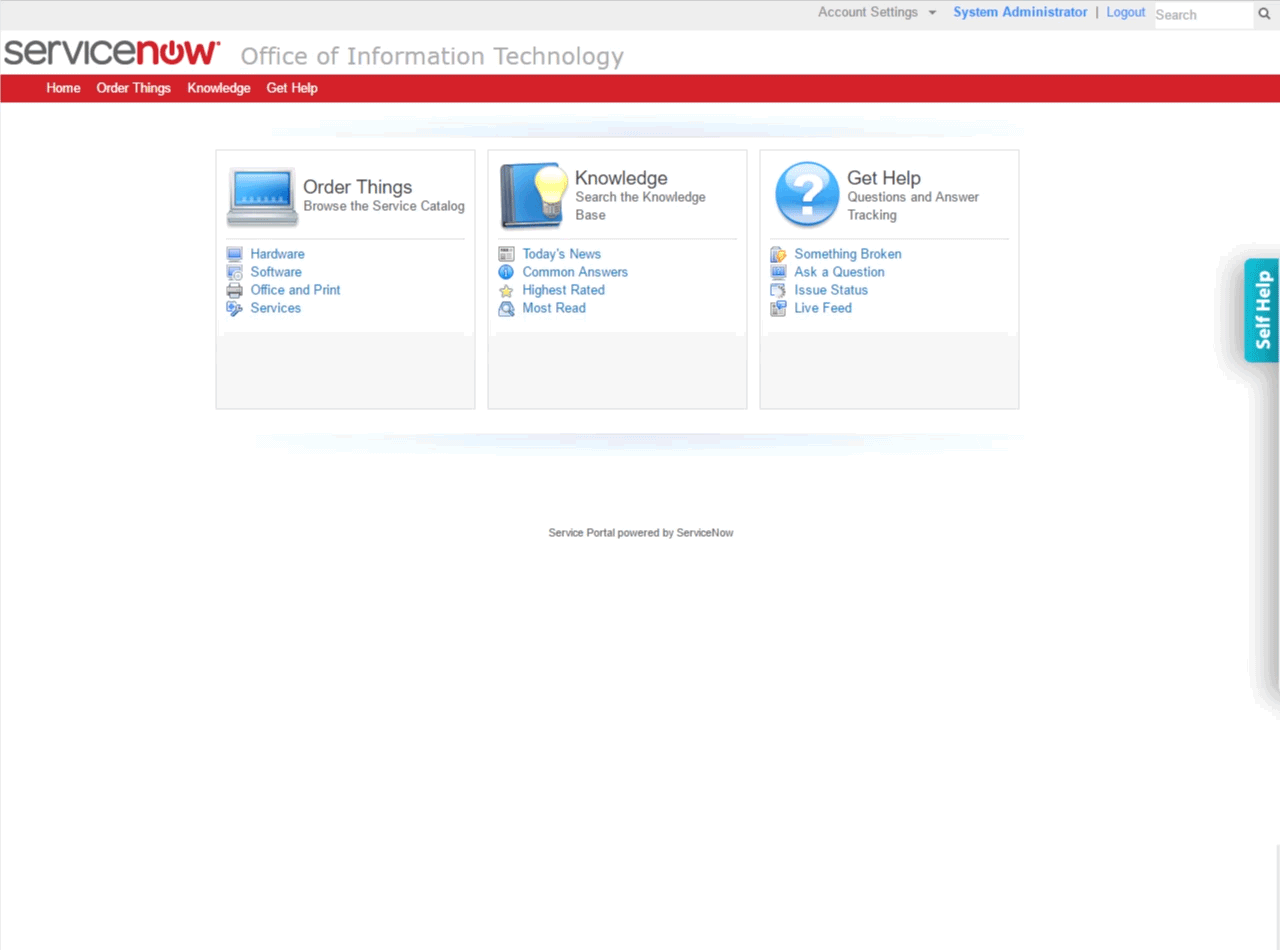 Static FAQs and Knowledge Bases – All the potential questions that your users might face about the product are compiled and put up on the website. The Fitbit website puts a little creativity into this.



Discussion Forums – Allows users to discuss queries amongst themselves. For example, through the MIUI forum, users can discuss their queries and also submit feedbacks on new features rolled out by MI.
How Do Automation and Self-Service Support Benefit You?
Now that we know what self-service support and automated customer support is, let's examine each to find out how can they help your business.
Automated Customer Support
Automation in customer service can relieve you from the job of performing mundane tasks repetitively. For example, you can use support automation tools to create canned responses, for replying to customers. The support agent will then simply need to add some personalization to the canned response before sending it to customers, instead of drafting a new response altogether.
Automation saves your customer's time by resolving their queries quickly. With the help of multiple support automation tools, a customer's query is routed to the right support agent, the agent is able to find all relevant information to help the customer quickly ( given that he doesn't remember it by heart), and the ticket is resolved in a jiffy.
When tickets are resolved quickly, your support agents can serve more customers in a smaller time frame. With the help of support automation tools, you can function well, even with a small team of customer support agents.
With the help of chatbots, your customers can get their simple queries answered right away. This is a win-win situation for both, you, and your customers. The customer is relieved from raising a support ticket and, the support agents don't have to waste his/her time looking into simple queries.
Self-Service Support
Self-service makes customer support conveniently available to the customers.It is accessible 24×7 and is available right when the customers need it.
Self-service solutions like an interactive walkthrough ensure that your customers are able to understand your product completely and can perform any task on it, without any hindrance.
Implementing self-service eases the ticket burden of other support channels because when customers can resolve their support queries by themselves, no ticket is raised. This eliminates the need of employing extra support agents during hours of higher demands. Because, only the filtered out queries which users aren't able to solve on their own, are routed to the support agents.
Discussion forums (a form of self-service support) help you understand what your users think about your product. You can identify and simplify a feature for your users on which they face maximum questions. Which means, you can incorporate the features in your product, that your customers want, and can make your product more customer centric.
Only Benefits? Aren't There Any Disadvantages?
There are disadvantages too. But, you need to weigh both the advantages and disadvantages, to find out whether you should be investing in either of them or not. We have already talked about the advantages first, so it's now time to be the bad cop.
What Concerns Does Self-Service Support Have?
The only drawback that self-service support faces is that it needs to be updated from time-to-time. New features will be added to your product continuously and those changes need to reflect in your self-service support section as well.
It's not a drawback in the purest terms because updating documents doesn't eat up a lot of your time.
Though the process of updating support automation tool with new technology isn't a regular one. But, whenever a support automation tool is to be automated, it time-consuming process.
What are the problems faced in automating customer support ?
The biggest problem with support automation currently is that it's still in a nascent stage to provide effective customer support. Sometimes support automation tools can misinterpret customer queries and show them irrelevant results. A chatbot might not be able to identify certain words and get confused. Or, while searching the database for a reply, the machine might not be able to find the correct response because of usage of a different word.
After installing an automated system, you'll also have to train your team on how to use it effectively. Or else, employees will not be able to make optimal use of the technology on which you made an investment.
Which One Should You Choose?
As per our analysis, you should go for self-service customer support tools.
Because, automation in customer support is still in a developing phase, it takes away the personal human touch. It is still years away from matching a human's ability to perceive, judge, and react to complex situations in a caring, helpful way. Some might argue that automation in support actually helps in providing a personal touch with the help of quick canned responses. But, customers are intelligent enough to distinguished a personalized email from an auto generated reply.
On the contrary, effective and reliable self-service options like guided walkthroughs (interactive walkthroughs) have already picked up pace and are widely used. Companies have claimed to reduce their volume of support tickets by around 30%, by providing online contextual help for customer support.
So, on a final note, to automate or to self-serve, is the decision that you need to make. But if you want to reach out to customers proactively, even before they ask for help, self-service support can do that better with the help of guided walkthroughs. And, as per a study initiated by inContact "A staggering 87% of customers want to be contacted proactively by a company, in matters relating to customer service."
So when your customers demand it, you should deliver it.