If you're like most Trailblazers, you're always hungry for more knowledge. While the internet is full of Salesforce tips and tricks, not all Salesforce blogs are created equally.
For the past few years, we've been compiling the best Salesforce blogs around so that we can save you the time and effort of hunting down the most valuable content.
We've broken down the 2020 Salesforce blogs to follow into four categories:
Everything Salesforce – This section includes blogs that write diverse content appealing to the Salesforce users and businesses using their products.
Salesforce MVP Blogs – Here you will find personal blogs run by Salesforce MVPs with content designed to educate, inspire, and enlighten the community.
Salesforce Women in Tech (WIT) Blogs – In this category, we are honoring some of the amazing women who have contributed to a diverse culture within the Salesforce community.
Salesforce Podcasts – This year, we added a new category dedicated to the best Salesforce podcasts for anyone who loves to listen while they work and commute.
Below are the top Salesforce blogs and podcasts in no particular order or ranking.
Top Salesforce Blogs and Podcasts 2020 That You Should Follow
Authors: Michael Gill, Chris Edwards, and Ines Garcia
Run by 3 incredible Salesforce MVPs, this is one of the most popular blogs in the Salesforce ecosystem. I personally love their different tones of narration, and most importantly their natural willingness to help and educate the community.
Must-read: Grab your Blazer, it's time to hit the Trail
Salesforce Weekly was so awesome to feature the article on their blog: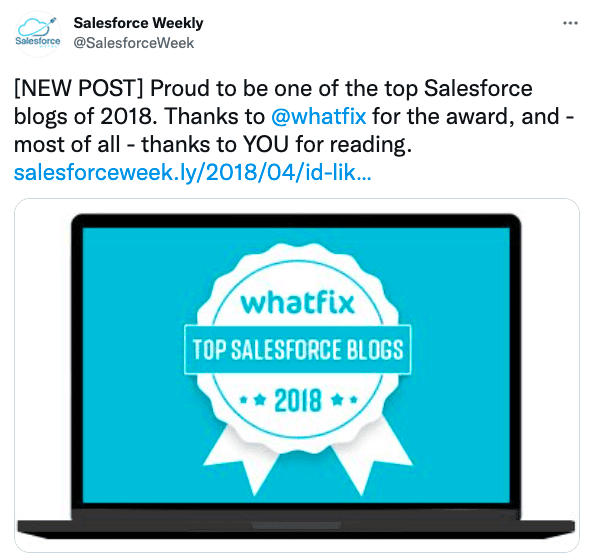 Author: Ben McCarthy
Ben is the Co-Founder & Chief Revenue Officer at Nymble who has been actively shared his Salesforce expertise and ideas since 2014. Not only does the blog feature Ben's knowledge, it also spotlights more than 150 guest posters. This is a great resource for Salesforce hacks and news.
Must-read: Salesforce Buys Mulesoft in Biggest Acquisition Ever!
Author: Brent Downey
Brent has been covering a wide array of Salesforce and general business topics written in an easily consumable manner, focussed on SFDC admins and businesses using Salesforce. Check out his blog for content on Lightning Experience and his brilliant series Zero to Hero.
Must-read: Taking You From Zero to Admin Hero
Author: Oliver Hansen
Global Salesforce Blogs, is not really a blog. But a website that lists plenty of curated content from across the world. Adding on to his brilliant initiative, Oliver has also started a newsletter that combines news from the top blogs in the ecosystem.
Here's what Oliver had to say about the list:
Author: Brian Kwong
Brian Kwong has more than a decade of experience administering and developing on the Salesforce platform—and he loves to share his passion. His quirky site serves as a central location for all the blogs, videos, and podcasts that Brian creates. Here, you will find information about Salesforce automation tools, videos about new features, podcasts with career advice, and more.
Must-read: How to Use the Salesforce Lightning Roadmap
Authors: Trailblazer community members
As the name implies, this community-run forum is dedicated to known issues. While it is not technically a blog, it's so useful that we believe it deserves a spot on this list. If you are looking for workarounds, fixes, and advice for dealing with Salesforce issues, this should be your first stop.
Authors: Various Internet Creations team members
Categories such as What's that Feature? (WTF?), Salesforce Tips & Tricks, and Internet Creation Employee Spotlight, make this blog stand out. You can count on Internet Creations for unique and refreshing content in the Salesforce realm.
Must-read: Skills on Pointe
Author: Rakesh Gupta
A six-time Salesforce MVP, Rakesh has experience in Salesforce as a Developer, Consultant, and Solution Architect. His blog focuses on all things automation in Lightning Flow and Process Builder.
Must-read: Learning Process Builder
Forcetalks is a Salesforce collaboration platform for admins, developers, consultants, architects, marketers, and business heads to contribute their blogs and ideas. It is an open platform where anyone can join and interact with the community. The community accepts blog posts, infographics, videos and also has a Q/A section.
Author: Eric Dreshfield
Eric's personal blog is all about giving back to the community. Most of the blog content revolves around featuring people from the community via interviews. The most famous being the (Kevin) Bacon of the Salesforce Community series, which features Salesforce employees, MVPs, User Group Leaders, Partners, etc., connected to Eric and is willing to share answers to his five simple questions.
Must -read: The (Kevin) Bacon of the Salesforce Community series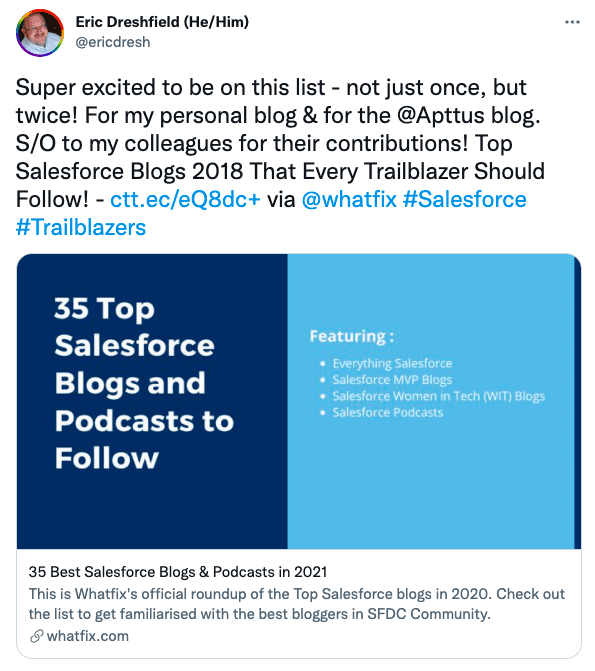 Salesforce Women in Tech (WIT) Blogs
Women are growing their footprint in technology, and it's getting especially big in the Salesforce Ecosystem. With Salesforce itself taking strides in encouraging equality at work, there is no wonder why we have so many rockstar women in tech.
This section features the top bloggers among the Salesforce WIT, who has contributed vastly to the community through their content, leadership, mentoring, and advice.
Author: Meighan Brodkey
Meighan's blog has loads of content for Admins and Developers alike. With more than a decade of experience with Salesforce, this Salesforce MVP shares all the tricks up her sleeve in her blog. Her advice and tips are great for all aspiring Salesforce learners.
Must-read: Guides for the AwesomeAdmin
Author: Andrea Tarrell
The Spot is Andrea's blog about all things Pardot and Marketing Automation. With over 8 years of experience on the platform, this Salesforce MVP dedicates this blog to marketers, sharing her ideas, thoughts and latest news in the industry.
Must-read: 6 Reasons Marketing Automation Managers Get Burned Out [& How to Overcome Them]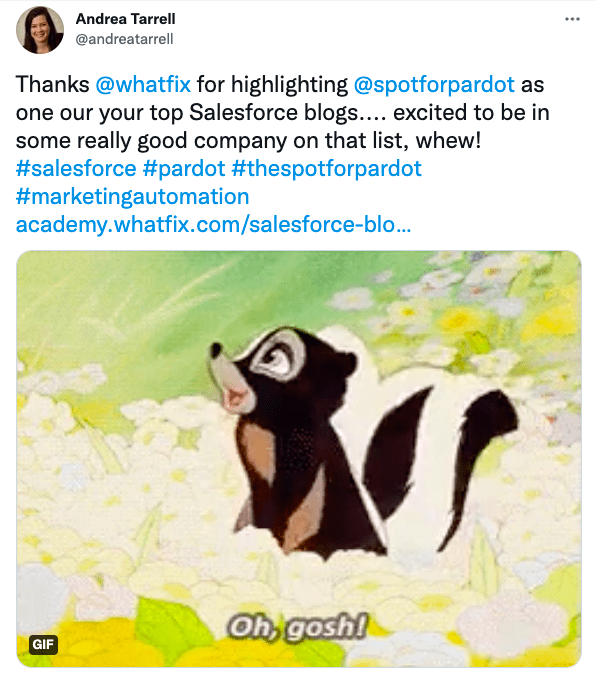 Author: Louise Lockie
If there's one word to describe Louise's blog, that would be Optimism. Her blog is filled with bits of advice and ideas on presentation skills, Salesforce training and personal development. Check out her blog if you are looking for something inspirational.
Must-read: Prove it to Yourself

Hosts: Trailblazers
This is another Salesforce-run podcast, but this one is all about sharing inspirational stories of Trailblazers from around the world. During the ramp-up period for each Dreamforce event, Blazing Trails also shares bonus episodes that provide cover Salesforce knowledge and announcements.
Must-listen: Representation Matters
Hosts: Jeremy Ross and John De Santiago
Although this weekly podcast covers a variety of technology and software topics, it has a heavy focus on the Salesforce Platform. Jeremy and John strive to keep Developers and non-Developers alike up-to-date about technology and Salesforce through casual and honest discussions.
Must-listen: Oh, Data!
Hosts: Steven Herod and Matt Lacey
Steven and Matt chat about all things Salesforce Development on Code Coverage. If you're looking for information on Apex, Visualforce, Heroku, or ExactTarget, this podcast is for you.
Must-listen: The Brisbane Time Glitch