Ebbinghaus Forgetting Curve suggests that on average 70% of employees forget the knowledge acquired through conventional employee training methods. Given that one-third of CRM implementations fail is a testimony that Salesforce's complex interface combined with the company-level customizations is making it harder for sales teams to stay productive. 
Salesforce recognized this gap between technological advancement and user adoption and released its own, branded Salesforce in-app guidance solution to improve end-user training, communication, change management, and much more.
In this blog, we dive deeper into Salesforce's in-app guidance, alternative options, and how it can transform the user experience positively for your sales organization – empowering your team to reach new levels of success.
What Is Salesforce In-App Guidance?
Salesforce admins heavily depended on mediums like Chatter, email, and Salesforce communities to engage with users. However, it wasn't the most effective way to communicate, as users were overwhelmed and spent non-productive hours figuring out how to use best and navigate the complex CRM platform. 
Salesforce introduced in-app guidance as a new platform feature that allows administrators to create and customize in-app messages and prompts declaratively without further installation or coding requirements. It aims to train and onboard new Salesforce users, communicate new feature updates, and enhance user adoption and proficiency.
How Salesforce In-App Guidance Works
Salesforce's version of in-app guidance empowers admins to create targeted content and determine the duration and position of this content in the form of a single prompt or a walkthrough limited to 10 steps. Using an orchestration mechanism, it detects how the user interacts with the command to decide whether or not to display the prompt again after the user takes the desired action.
The prompts are categorized into two types:
Floating Prompt:

Floating prompt can be placed on the page in one of the pre-decided locations. If it blocks any of the on-screen functions, users can navigate around it.

Docked Prompt:

Docked prompt is always in the bottom right corner of the screen and can be minimized, maximized, or closed.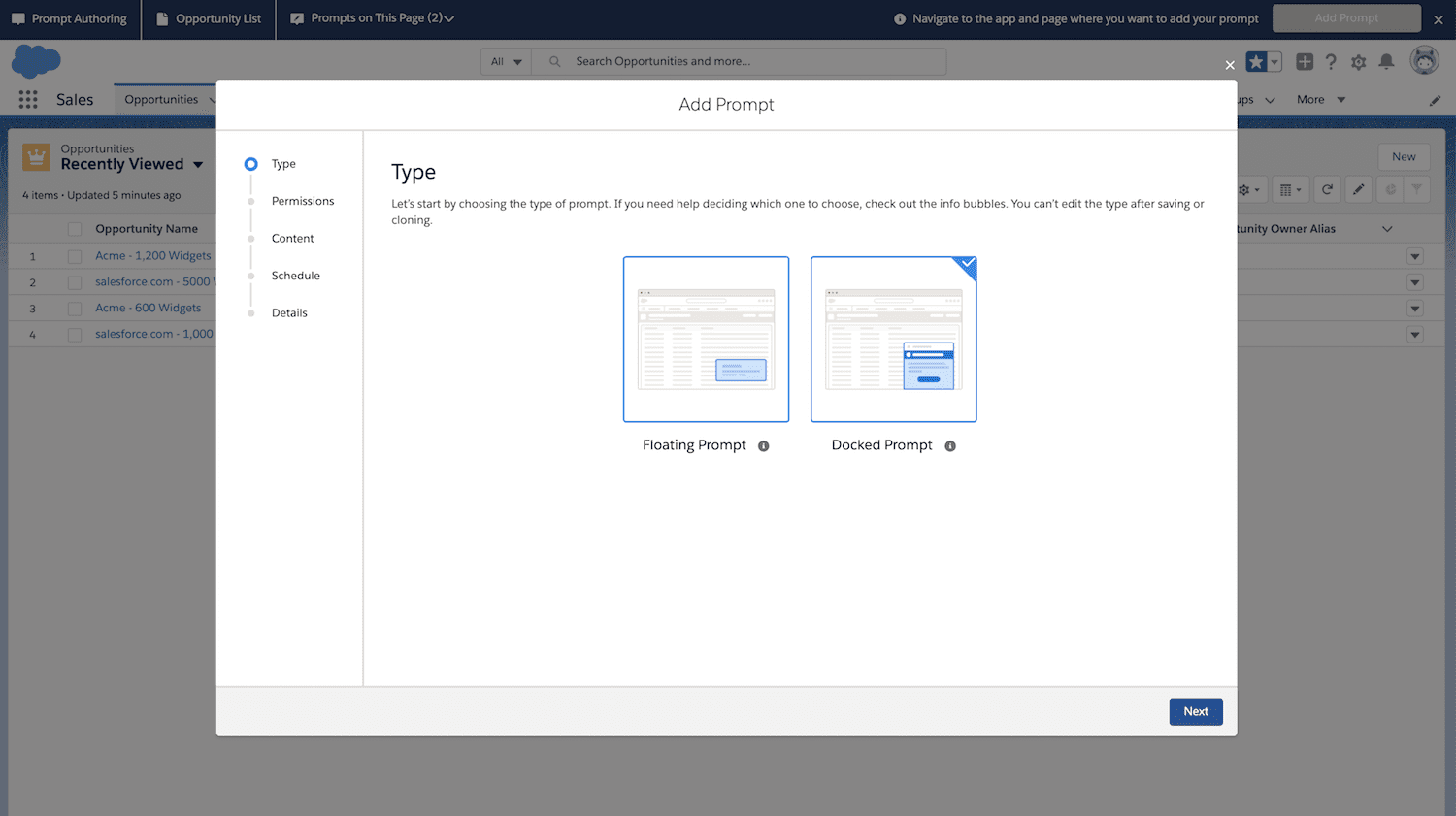 Salesforce In-App Guidance Alternatives
Gartner suggests that, on average, a sales personnel toggles between 14 applications to complete their day-to-day tasks. However, Salesforce in-app guidance is restricted only to the Salesforce platform, and a salesperson needs consistent guidance across their sales stack of applications, processes, and tools. 
With that in mind, what is your best bet to drive better Salesforce adoption?
Digital adoption platforms (DAPs)  solve this problem, as they are platform-agnostic solutions. With a DAP, admins, managers, and HR teams are able to build in-app walkthroughs, tooltips, tasklists, flows, self-help widgets, and more – empowering team members with on-demand, contextual training, and support content (without leaving their apps.) These platforms help organizations maximize their software ROI through better end-user training and support.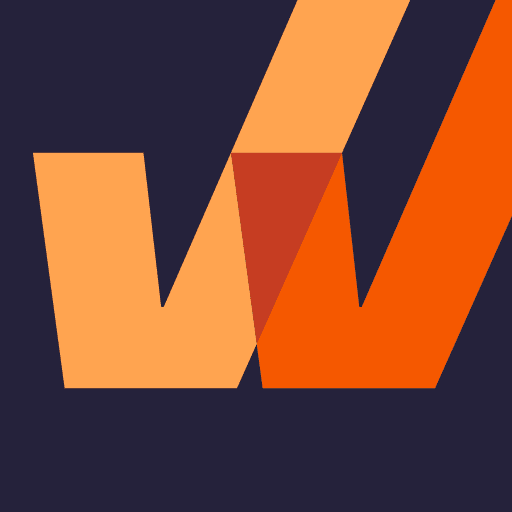 Whatfix integrates seamlessly with your enterprise applications to offer contextualized interactive walkthroughs and self-help guidance relevant to the user's role and location in the application. It has robust solutions for organizations looking for a more engaging, interactive in-app guidance and self-help support solution for Salesforce.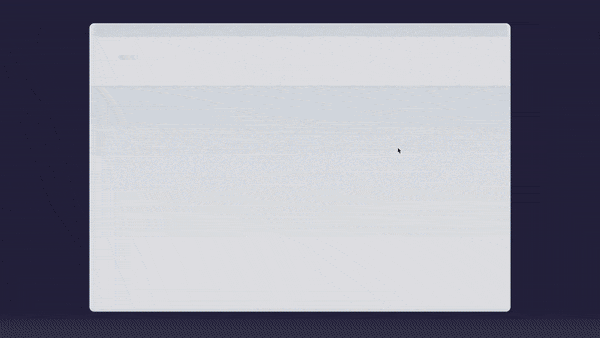 With Whatfix, sales operations and IT teams can create in-app guidance and UI elements such as:
Product tours
Interactive walkthroughs
Task lists
Field validation
Hotspots and tooltips
Pop-up messages
Self-help wikis
User feedback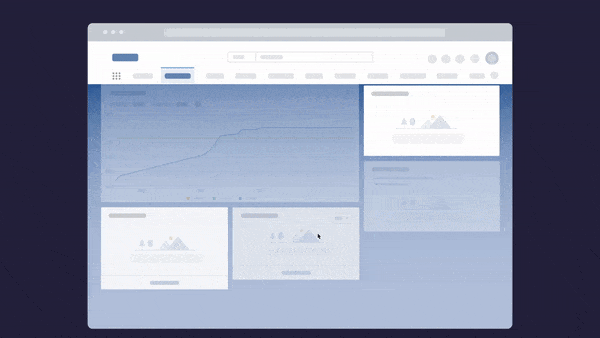 This in-app guidance enables your Salesforce end-users to become proficient, expert users – driving productivity and growth across your sales team. These tools manage change, reduce time-to-proficiency, and provide a self-help performance support system for your sales people
Whatfix also provides an analytics framework to understand how your end-users are engaging with your Salesforce application and its in-app guidance to understand time-to-value, reduce friction, and drive overall Salesforce adoption.
WalkMe maximizes the impact of your digital transformation initiatives by driving user adoption via smart walkthrus and smart tips.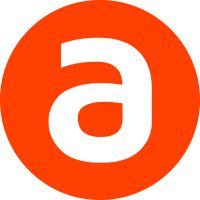 Apty offers user onboarding and customer support for enterprise applications. It aims to increase the efficiency and effectiveness of employees.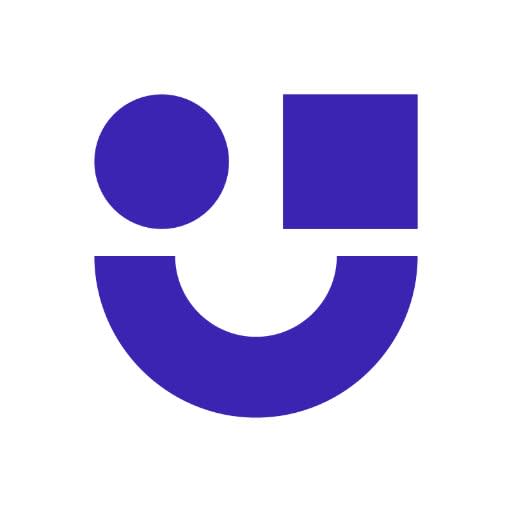 Userlane specializes in providing automated employee training and customer onboarding solutions. It aims to reduce the time to value by making learning easier.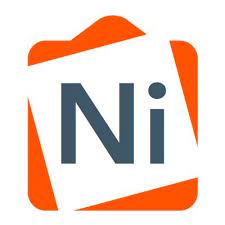 Nickelled is a user-friendly in-app guidance solution that supports simple user onboarding or customer success use cases.
✓ Thank you, the ebook will be sent to your email
Accelerate Salesforce Adoption With Interactive Walkthroughs
Key Differences Between Salesforce In-App Guidance & Whatfix In-App Messaging
Although Salesforce in-app guidance works seamlessly on Salesforce instances, there are several implementation gaps for which you require a digital adoption platform such as Whatfix. Here are the key differences between the in-app guidance provided by Salesforce and Whatfix.
1. Limited Customization of UX Elements
Admins can choose only a fixed position (at the bottom right of the page) or a general page area for the floating prompts, making it challenging to draw users' attention to specific features on the page. Admins can only place a prompt close to certain UX elements in Salesforce such as buttons and hope they can capture a user's attention.
It is a huge drawback in a user interface that's as complicated as Salesforce – it's why Whatfix offers algorithmic element detection for precise placement of the in-app messaging and prompts. It allows L&D teams, sales leaders, and admins to define interactive walkthrough steps and attach the appropriate guidance messages alongside the right element.
2. It Only Manages Simple Flows
The current Salesforce in-app guidance functionality can handle simple flows; however, in reality, salespeople deal with complex workflows and require relevant support every day. Whatfix's DAP is able to comparatively handle complex flows. 
Additionally, Whatfix provides content aggregation capabilities, crawls your content repositories and knowledge bases (such as Confluence, Sharepoint, Zendesk), and contextually places your knowledge assets in overlays inside your application via deep search algorithms.
3. Limited User Segmentation
Salesforce offers a few permissions, profile-based segmentation, and contextualization. However, personalization is much more than that. It is essential to understand user intent and actions and deliver relevant content to elevate the user experience on an enterprise application.
4. Limited Customizations
Salesforce in-app guidance allows for limited customizations. Admins can choose from a set of templates, while Whatfix is a highly customizable solution where you can select elements corresponding to your brand and business requirements. Admins will be able to choose from a color palette determined by your organization's theme.
Salesforce In-App Guidance is connected to a myTrailhead license for every user and costs $25 per user per month, paid in addition to the standard Salesforce license cost for each user. However, Whatfix offers flexible feature-based pricing and charges you only for the features you opt for, making it an economical choice.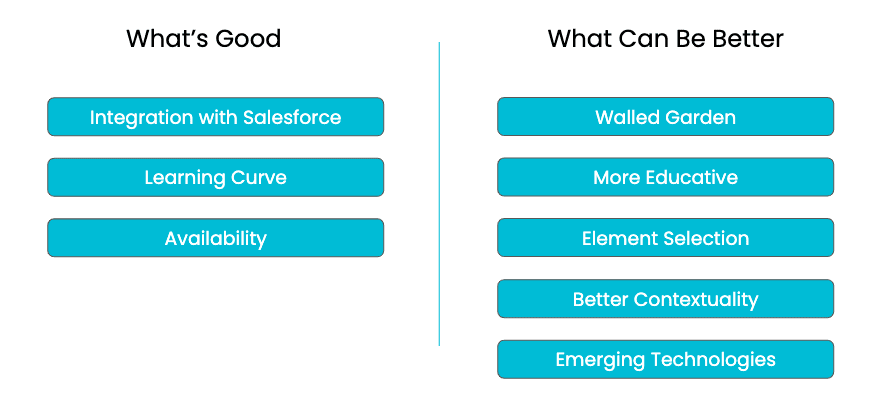 See the Whatfix DAP in Action
Given the key differences between Salesforce in-app guidance & Whatfix, here is a list of additional features that will empower your sales team to maximize the value of their Salesforce and other platform investments.
Whatfix promotes learning in the flow of work by offering multiple widgets such as smart tips, product tours, and task lists. It fosters a self-support culture by placing relevant content in the self-help widget. You can also notify users regarding new features via customized pop-ups and beacons. 
All these features provided by Whatfix improve the ongoing learning and training process, reduce the number of support queries, decrease the total cost of an application, and increase user adoption.
For example, Sophos leverages Whatfix to deliver in-app training and support for its Salesforce users, reducing sales ops cases by 15% every year.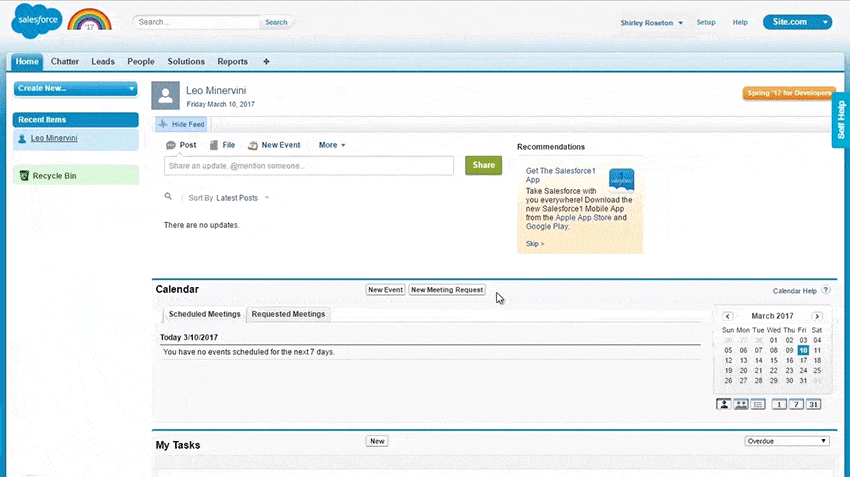 Whatfix drives Salesforce adoption no matter where your users go for learning. It supports content by providing a unified interface for all the help content. Whatfix further helps you create multi-format content that can be placed inside an application as interactive walkthroughs or SCORM/xAPI packages in your preferred content repositories (such as Knowledge Bases, Video Repositories, and LMS).
3. Guidance Across the Sales Technology Stack
Whatfix integrates tightly with your existing technology stack to provide real-time guidance across the applications. Moreover, due to bi-directional integration with all current content repositories, administrators can create content without any coding or technical expertise, resulting in faster training for end-users and reduced deployment time.
Studies suggest that the attention span of humans has reduced from over 12 seconds to just 8 seconds. With such minimalistic attention span, the conventional long-form of training becomes ineffective. Whatfix helps you deliver bursts of task-based microlearning content within your web applications to ensure better retention and improved productivity. 
5. Personalized Training & Onboarding
Every employee has different training requirements, and therefore implementing a one-size-fits-all approach may lead to the failure of your training efforts. However, with Whatfix's experiential learning, you can personalize your sales team's onboarding & training experience.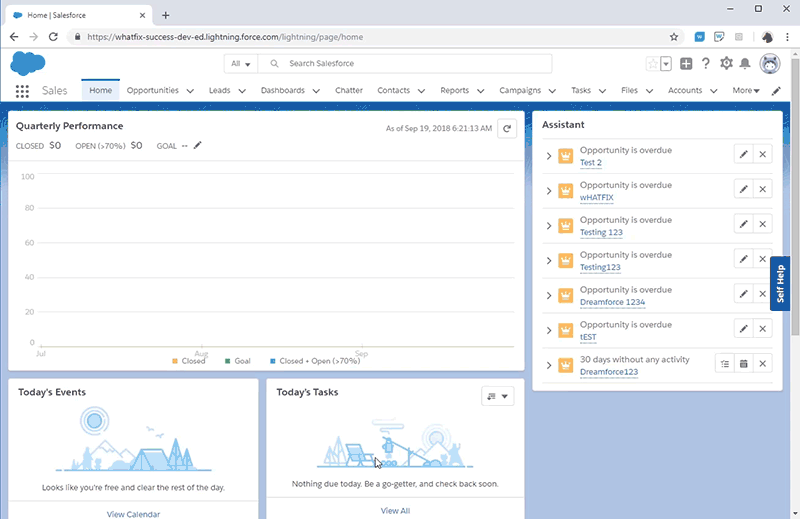 6. Smart Context & Task Automation
Whatfix allows you to author and contextualize walkthroughs with its user-friendly authoring platform, eliminating the need for complex coding, rules, or configuration by a technical expert. You can also automate these walkthroughs by automating the clicks & choosing an auto-fill option on the forms.
Whatfix offers strong analytics capability to create targeted content, provide usage and engagement-related data. You can also leverage 'User Action' capability for effective goal management and user diagnostics to tackle the drop-offs at every stage and remedy that.
Salesforce has made learning more accessible by introducing in-app guidance. However, digital adoption solutions such as Whatfix still have an edge. It empowers your Salesforce users throughout the sales lifecycle to leverage the platform better, increase productivity and drive better sales outcomes.
Schedule a personalized demo with our experts to discover how Whatfix can help you make the most of your Salesforce investment.
Drive Salesforce adoption with the Whatfix DAP.
With Whatfix's digital adoption platform, enable your salespeople to maximize their productivity and reach their potential by becoming proficient, expert users with in-app guidance and contextual self-help support - all directly inside Salesforce.
Subscribe to get new content delivered directly to your inbox.