Salesforce has been the most popular CRM for the last eight years, and it's currently running in 150,000+ organizations. It's a massive sales platform with dozens of products and third-party integrations.
As a large, enterprise CRM platform, it also offers endless customization and functionality than other options. As with complex solutions, the platform is also complex – meaning difficult application onboarding and training, as well as the need for continuous end-user support.
Organizations implementing Salesforce should prioritize an individualized training approach by providing a plethora of learning options and resources, tailored to various users and departments, to ensure employees have support for their unique needs.
A robust Salesforce training program will help set your team up for success, drive CRM adoption across your reps, and empower your entire sales organization to get the most out of your new Salesforce CRM investment.
Download our free end-user Salesforce training checklist now!
How to Create a Salesforce Training Program in 6 Steps
Implementing a Salesforce training program requires roughly the same steps of any large training project:
Specifying your training goals
Securing budget and resources
Determining how long the training will take
Communicating the training project to the rest of the organization
Setting up a feedback system
Evaluating and measuring your training results.
1. Identify each department's Salesforce training needs and goals
Because each organization will have a unique CRM that will likely be a combination of Salesforce products, third-party integrations, and possibly custom-built features, the skills your employees will need to learn will be unique to your organization.
The level of customization available when using Salesforce makes it impossible to simply set your employees up with standard training and call it good. You'll need to build a detailed plan that identifies all the information and skills employees will need to use the particular CRM you've designed for your organization.
It's not enough to say you want certain departments to learn Salesforce. You need to dig down and figure out what, exactly, each team needs to know in order to get the most out of your unique platform. Start by reaching out to department heads and asking them for a detailed list of what they'll be using Salesforce for.
Determine how many employees will need training and what they'll need to learn. Encourage them to get specific. The better you understand how employees will be using Salesforce and how much experience they have with the platform, the better the training you'll be able to give them.
2. Get budget approval from leadership for your training programs
Obviously, you can't implement training without funding to pay for it, so one of your earliest tasks will be to secure resources from leadership.
Now that you know exactly what skills and knowledge each team needs, you can determine the costs. While Salesforce's Trailhead training program is free, instructor-led classes can run anywhere from $300 per half-day for an online class to $2,900 per employee for a week-long, onsite training.
You'll need to decide which types of training fit your employees' needs in order to build an accurate cost estimate. For instance, employees who will need to do simple tasks in the CRM may only need a half-day online course, but for those who will be spending a good portion of their workday in the platform, you'll need a longer training that goes into more detail. Once you've decided which kind of training is right for your employees' needs, you can add up the estimated costs and build a budget proposal.
3. Agree on a realistic timeline for training rollout
With Salesforce instances being highly unique for different organizations, exactly how long it takes to train employees isn't standardized either. Add to that, people are all different and absorb the information at their own pace.
If your CRM is fairly simple with few customizations and your employees have available time every day to devote to training, you'll probably be able to get staff up and running in a couple of weeks. More complicated CRMs with lots of customization will take longer. It's not uncommon for Salesforce training to take months or even longer.
Many organizations roll out Salesforce implementations gradually instead of throwing a number of new tools and processes at employees at the same time. In those cases, it's wise to also roll out training gradually as well.
If you are using an implementation partner, they can help you create a realistic timeline based on their knowledge of your system and their experience with Salesforce implementations. Many implementation partners even offer training as one of their services.
Remember there will be updates and changes made to your CRM over time and new employees will be added to the team, so training won't be something employees go through just once. Whenever you update your Salesforce products and processes, make sure you train employees on all the changes.
4. Communicate with employees about the upcoming training
A major factor in the success of any project is how it's communicated to the organization. If your employees don't know what kind of training will be available to them, how they go about accessing it, and when they can expect to get started, they're likely to feel frustrated and left out.
Plan to start communicating about the training as early as possible. There will likely be things you don't know yet because you're actively working on how best to proceed. That's okay — just be honest with employees about it.
Create a documented training timeline for employees to reference. When that's in place, hold a kickoff meeting to go through the process and answer questions from your team. Ongoing announcements and updates through internal communication channels, like Slack and email, are also helpful.
5. Solicit feedback about the process
Building an effective feedback system is important to the success of your Salesforce training. Your employees' unique experiences and insights will be critical to preventing stumbling blocks and improving training over time.
A simple survey (whether it's a Slack poll, Survey Monkey survey, Google form, or another option) can tell you a lot about how to best support your employees throughout their training with just a few questions on employee preferences.
The key is to not sit around and wait for employees to come to you with their opinions and ideas. You have to reach out to them. And not just once while you're building your training plan, but on an ongoing and frequent basis. Your employees are experts on their own experiences and full of helpful insights. Listen to what they have to say and act on it to your best ability.
It's important to also run a post-training feedback survey to help gather insights into your Salesforce training program – helping you to improve your content and lessons when onboarding new hires into the application.
6. Set goals to improve your Salesforce training
Before your training is even up and running, set training goals and plan how you will measure results. Clear goals are a critical asset to improving your training, ensuring high engagement, and finding success with Salesforce.
Go beyond counting how many employees make it through the training and consider using innovative ways to measure your training, like using surveys, 1:1 meetings, and xAPIs. Be curious about your employees' experience in the training and be on the lookout for new ways to understand their experience.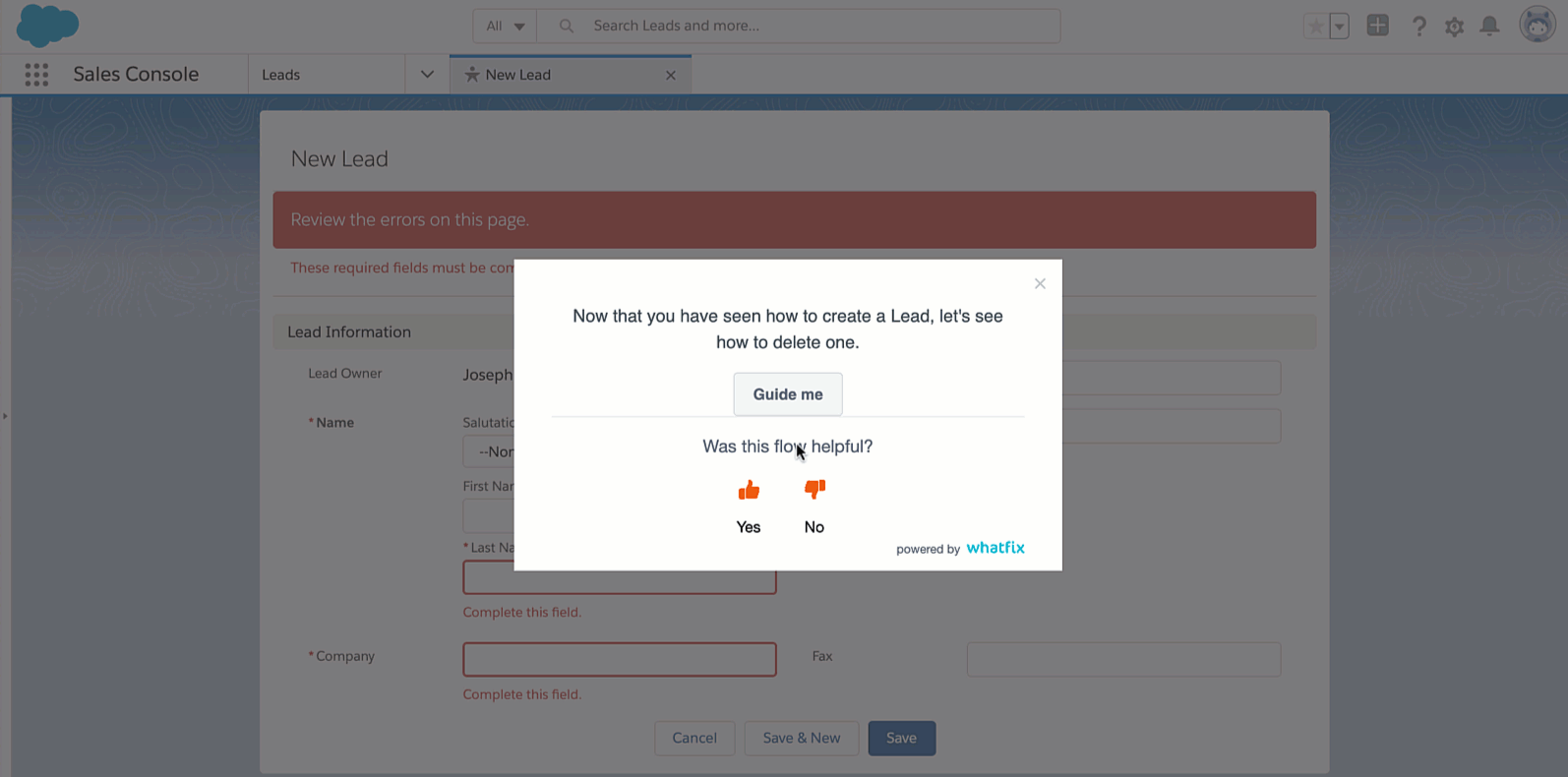 Above: You can use Whatfix to solicit and gather feedback on your Salesforce training content, in the flow of work.
Think of your training as a constant work in progress. You're always aiming to make it better with each employee who goes through it.
Since there will always be new employees who will need training, employees who need to upskill, and new products and functionality to learn, training will be an ongoing part of running Salesforce.
Measuring your results will help you improve your training over time.
Download our end-user Salesforce training checklist!
✓ Thank you, the template will be sent to your email
4 Types of Salesforce Training Methods
There are many different approaches you can take when it comes to training. Instead of trying to choose a single option, offer as many different ways to learn as possible.
People are unique, and you'll find each employee's learning style, personality, and needs are different. Your organization will also likely have some customization that requires individualized training that covers your particular build — how you go about offering it is up to you. There are essentially four basic categories of courses.
1. Online course providers
Usually composed of recorded video lectures or gamified apps, self-paced courses are a low-cost option for CRM training. These classes can't offer much in the way of individualization, but many of them are great introductions to popular Salesforce products and functions. Students can start the course at any time and progress at their own speed.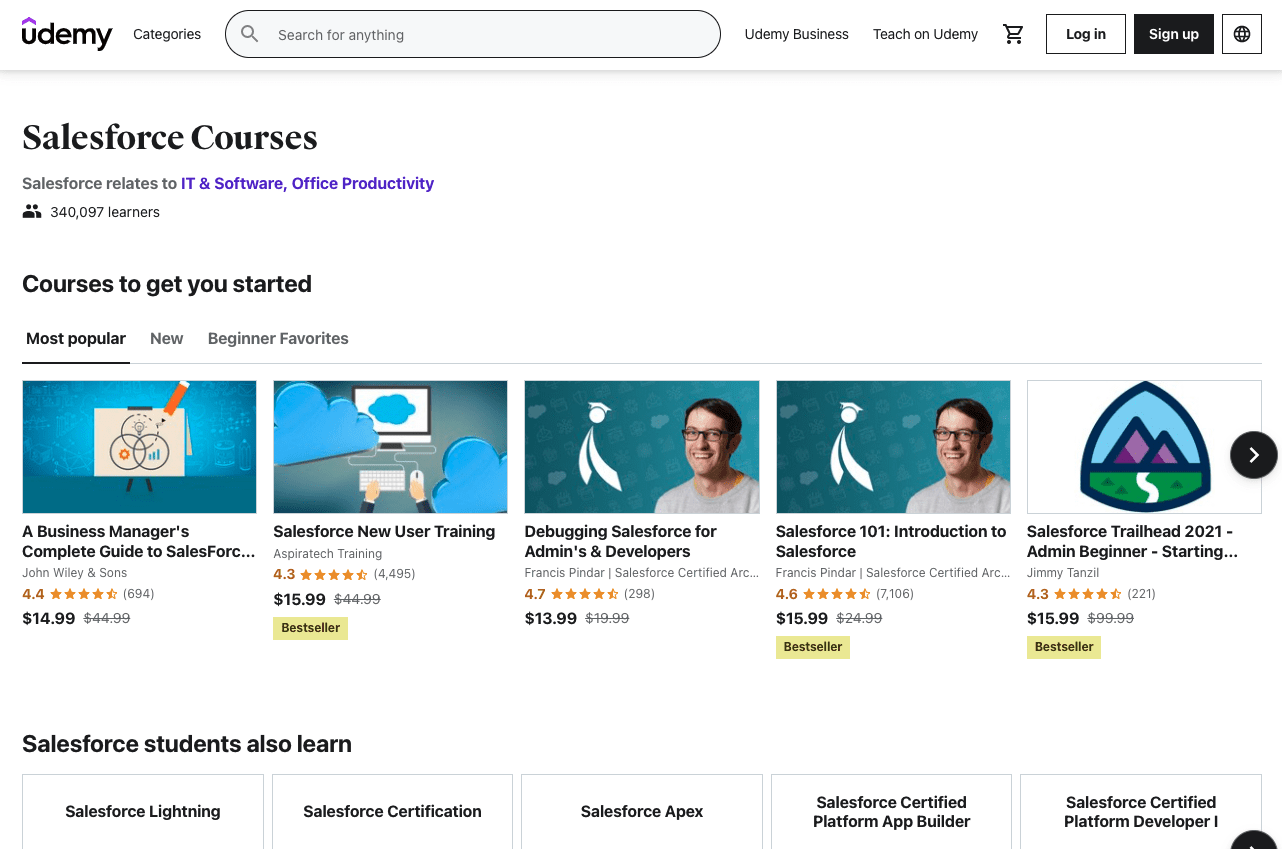 The official Salesforce training is called Trailhead. Trailhead is popular and offers an astonishing number of courses and paths. Other online course providers include:
2. Instructor-led live classes
One of the most expensive options, but one of the most popular for employee training, is a live class. Courses given by a live teacher can be tailored to your team's needs and can provide the kind of individualization that's hard to find in other forms of training.
This is what you think of when you imagine a traditional class: A teacher talks either in a classroom or over a video while learners take notes and ask questions.
A few popular instruction-led Salesforce CRM training courses include:
3. Salesforce In-App Guidance
Salesforce In-App Guidance is an official Salesforce training tool that gives administrators the ability to add prompts and interactive walkthroughs in your Salesforce application. This is Salesforce's attempt to give organizations more customization, and it can be useful.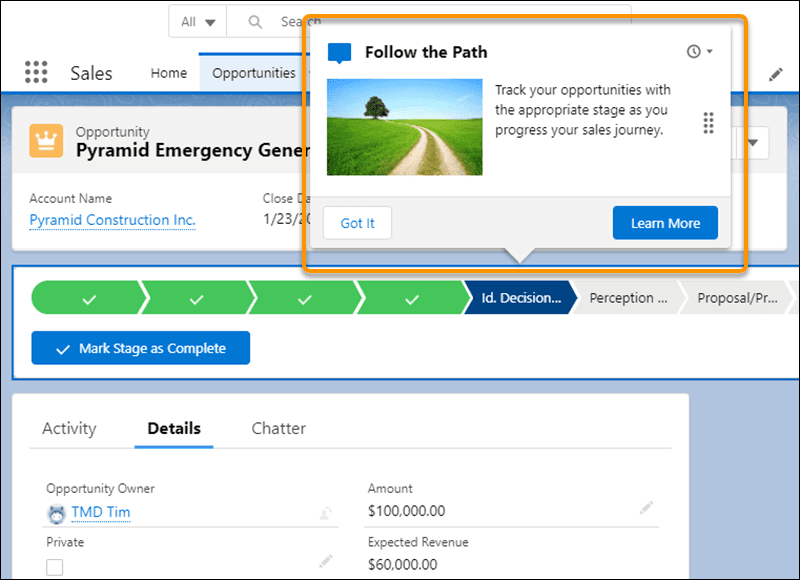 Trainers or curriculum creators can add small text bubbles or other small animations that pop when users perform a certain action. For instance, when users log in to Salesforce, you might set it up so In-App Guidance adds an animated arrow pointing to the first feature you want them to learn about. In this way, you can literally guide your employees through Salesforce step-by-step.
In-App Guidance offers more customization than many training tools but still has many limitations — most notably, it can only be used on Salesforce software. And because many organizations build some parts of their Salesforce platform in-house and use third-party integrations, In-App Guidance won't likely be enough.
4. Digital adoption platforms (DAPs)
Digital adoption platforms (DAPs) offer the same features as Salesforce's In-App Guidance but can be used with many different training materials and aren't limited to one brand of software. While In-App Guidance only works on Salesforce products, DAPs such as Whatfix can create a seamless employee training experience throughout your entire CRM.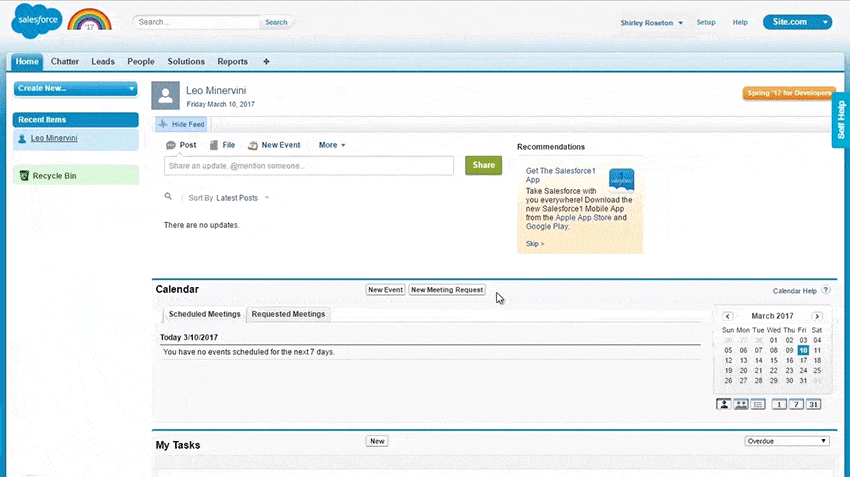 DAPs aim to improve adoption by allowing trainers to add a layer of custom prompts, buttons, animations, and other tools right on top of the CRM user interface. By adding context and instructions directly into the platform, employees get to learn while using the platform at their own pace.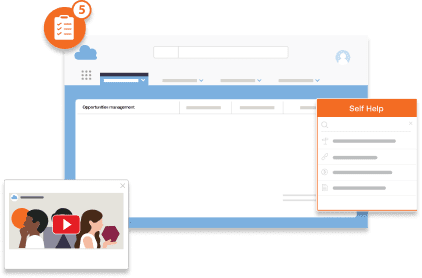 In addition, Whatfix can provide even more options to help guide users with prompts, guided walkthroughs, smart alerts, and on-demand self-help wikis. Training heads can track user progress and know when users need extra help.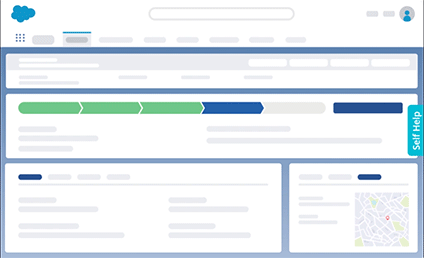 Create personalized learning & training flows for Salesforce with Whatfix
Don't Forget About Salesforce Certificates
Salesforce certificates are the official stamp of approval Salesforce hands out when users pass an exam on some feature or role in the platform. Certificates are highly sought after because they not only show off particular skills, but they're also considered the gold standard, and most companies hiring for Salesforce roles expect applicants will have at least a few certifications.
There are 36 certificates available to earn, and the ones best for your teams will depend on your industry and needs. To make choosing your certificates easier, they break down into the six roles that would likely need certification: Administrator, architect, developer, marketer, consultant, and designer.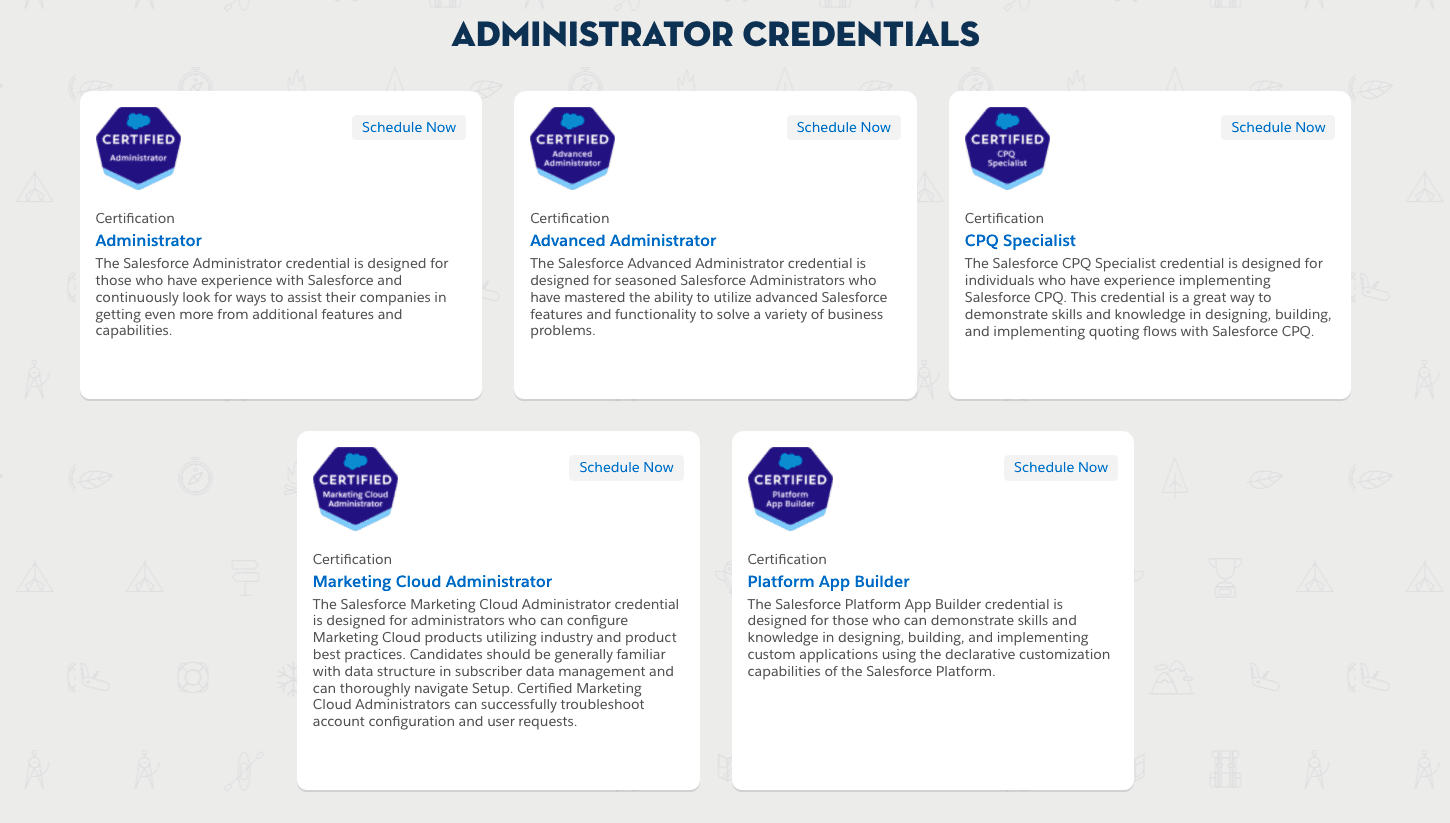 You're probably familiar with the administrator role already. This role is the core of the CRM and an expert in the software. In a lot of ways, this role becomes the point person for the platform and helps the organization get the most out of Salesforce by knowing every inch of it.
Architects do the big picture CRM planning and problem-solving to ensure the platform meets user needs. This role is important because Salesforce platforms are usually highly customized to the point of needing custom app building. Architects typically are experienced administrators, developers, or designers.
The developer role is fairly obvious: They use code to carry out the vision of the architects and customize the CRM. The designers are dedicated to creating the best CRM user experience possible on Salesforce, while marketers are the ones who use Salesforce to understand customers. A consultant acts as a bridge between the software and the users — this role is usually filled by someone with experience using Salesforce as well as experience implementing the platform.
These certificates are notoriously tough to earn, which is why it's important to provide employees planning to take the exams with many different ways to prepare. Most of the exams are about 60 multiple choice questions and last anywhere from 90 minutes to three hours.
Additional Salesforce Training Resources
In addition to offering individualized training, make sure you share other types of resources, like forums, articles, podcasts, and YouTube tutorials.
Providing a wide variety of resources for employees will let them grow their knowledge and deepen their engagement with the CRM at their own pace, in the ways that work for them.
It's also a way to keep Salesforce learning fresh. Providing employees with plenty of resources will further encourage them to learn with the best approaches for them. While some will be more engaged with a YouTube video, others will want to skim user guides, and still others will find cheat sheets the most helpful.
Providing resources can become a way to continue encouraging Salesforce engagement and education long after the initial implementation.
Here are a few of our favorite Salesforce training resources from around the web to integrate into your continuous learning programs:
Streamline your Salesforce training and on-demand support with Whatfix
Whatfix offers tools that take personalized training to the next level by letting you build the lessons directly in your system, so employees get hands-on experience right away. This creates an opportunity for more personalized training that lets employees learn in an engaging way.
In addition to building the actual training for learning in the flow of work, Whatfix allows organizations to build their own knowledge centers with information on each unique Salesforce configuration.
With Whatfix, employees become proficient three times faster, yet training content creation costs are 84% lower — great examples of how big a difference the right training tools can make both for your employee's learning experience and the business's bottom line.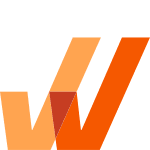 Request a demo to see how Whatfix empowers organizations to improve end-user adoption of Salesforce applications now!
Subscribe to get new content delivered directly to your inbox.