CRM (Customer Relationship Management) platforms allow businesses to manage and automate customer interactions in an effective and streamlined manner.
CRM solutions help companies with a 360-degree view of their customers and allow them to better understand and assimilate individual needs and preferences. CRMs can help automate various processes such as re-engagement with existing customers, marketing and customer service functions, and other mundane operations for increased performance and customer satisfaction.
In this article, we have compiled a list of the essential CRM-related statistics for 2021.
A CRM makes it easy for businesses to manage aspects across marketing and sales, using a single piece of software.  With CRMs, customer data is more centralized and accessible, and communication between teams is simplified. An organization may choose to opt for a cloud CRM or a traditional on-premise version, based on its size and business requirements. Here are some stats on CRM preferences of companies around the world and on how these systems are put to use.
40% of sales reps reported storing valuable customer information on spreadsheets and emails, instead of on a CRM. [3]

65% of sales personnel that achieved their sales quotas used a mobile CRM while 22% used non-mobile CRMs. [1]

Sales professionals recorded a 14.6% increase in productivity when they were given mobile access to their CRM. [1]

82% sales representatives reported a significant improvement in data quality with a mobile CRM solution. [1]

Businesses are known to use only 50% of the features they pay for in their CRM. [1]

43% of CRM users use even less than half the features that are offered by their CRM. [1]

87% of businesses accessed their CRM via a cloud-based solution and through multiple devices in 2021. [2]

82% of companies reported using a CRM primarily for the purposes of process automation and sales reporting. [4]

The use of Artificial Intelligence in CRMs is expected to increase by 250% or more in the coming years. [5]

The most-requested CRM software features include Contact Management (94%), interaction tracking (88%), and schedule/reminder creation (85%). [4]

Companies using advanced CRM software features such as Automation saw a 10% increase in sales potential. [6]

 51% of CRM customers said the biggest problem they faced was data synchronization. [1]
There has been explosive growth in the number of companies embracing CRM systems, and these numbers are expected to rise. While a huge number of companies have successfully absorbed CRMs into their day-to-day work, a few others have difficulties doing so. Here are some interesting statistics on CRM adoption, common motivators, and stumbling blocks.
91% of companies with 10 or more employees use CRM (to supplement or replace their customer service initiatives), as compared to 50% of companies with less than 10 employees. [1]

The number of businesses adopting cloud-based CRM solutions has increased from 12% in 2008 to 87% in 2021. [2]

65% of businesses are reported to adopt CRM technology within the first 5 years of launching. [4]

Companies having a CRM adoption rate of less than 75% report poorer sales performance. [7]

About 34% of SMEs report "resistance to change" as a reason for not adopting a CRM. [7]

40% of businesses without a CRM state a lack of resources as a primary reason for not adopting a CRM, while 38% attribute it to a lack of IT skills. [7]

Businesses choose CRMs based on factors such as ease of use (65%), schedule management (27%), and data snapshot capability (18%). [7]

20% of sales professionals reported that manual data entry was their biggest CRM adoption challenge. [7]

22% of sales professionals say they are unsure of what a CRM is. [7]

56% of businesses expressed a clear preference for Cloud CRM while 43% were willing also willing to consider on-premise CRM. [5]

70% of businesses plan to increase their annual IT spending, with a 49% focus on investing in CRM software. [8]

13% of businesses list investing in a CRM is one of their key sales priorities. [7]

CRM deployment to the cloud increased to 87% during the pandemic.  [2]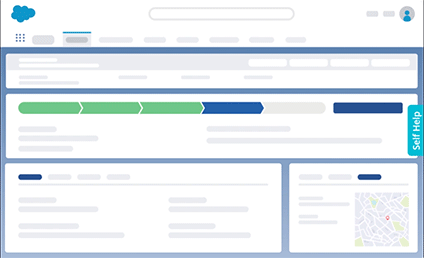 Drive CRM adoption & proficiency among your sales team with Whatfix
Whatfix empowers your users with contextual flows and self-help widgets, improving productivity and CRM feature adoption while cutting training and support costs.
CRM Implementation Statistics
Successful implementation of CRM can help a business effectively track leads, manage information, and analyze customer interactions – and a failed CRM implementation can have costly impacts that are felt for years.
An in-depth understanding of business needs can help companies adopt and implement the right CRM and maximize gains. Below are some CRM implementation statistics based on customer experience.
A traditional CRM can take anywhere between one to six months to be implemented. [11]

The implementation of CRM software is much quicker in organizations encouraging BYOD (Bring Your Own Device). [12]

13% of companies report that using sales technologies in their jobs is more challenging now than it was 2-3 years ago. [7]

As of January 2021, an average of 66% of users was able to implement and go live with CRM software in under a month. [10]

About 32% of CRM users belong to the service industry, followed by IT and manufacturing companies at 13% each. [7]

94% of overall CRM usage by businesses was attributed to Contact Management, 65% to lead nurturing, and 59% each to email marketing and sales forecasting. [9]

22% of business owners believe that embracing new technology is the biggest challenge for their company [7]

Sales professionals report spending over two-thirds of office hours on administrative tasks like CRM software management. [7]

An effective sales organization is most likely to be a consistent user of CRM or some other system of record. [7]

About 17% of sales representatives report "lack of integration with other tools" as their biggest challenge with the existing CRM. [7]

67% of CRM customers found that spending time evaluating systems was also another major challenge. [1]

91% of data in a CRM system is reported to be stale, incomplete, or duplicated every year. [4]
Only
50% of CRM
features are used by employees of organizations paying for the CRM platform.
CRMs help businesses create better relationships with their customers. Their all-inclusive models help businesses store, analyze and track customer information, manage marketing campaigns, and nurture leads – all using a single system. These stats shed some light on how CRM systems have been aiding businesses from around the world.
In 2021, a CRM is one of the top three tools for personalized customer interaction and to promote loyalty and better ROI. [7]

50% of businesses reported increased productivity with the usage of a CRM. [2]

74% of sales reps say that CRM systems have helped them gain better access to customer data. [2]

47% of the time, nurtured leads in a CRM system are converted. [9]

A 41% increase in revenue per sales representative was reported with the use of CRMs. [7]

Productivity increased by 26.4% when sales representatives added mobile and social media access to their CRM apps. [11]

Every dollar spent on CRM gives an average ROI of $8.71 [7]

65% of businesses experienced an increased sales quota, 40% reported labor cost reduction, while 74% enjoyed improved customer relationships with the adoption of a CRM. [1]

50% of buyers of CRM software saw an ROI in less than 6 months, while the others saw an ROI anywhere between 7 and 36 months of buying the CRM. Only about 7.5% of buyers have not received a full payback yet. [10]

64% of enterprises categorize CRM technologies as either "impactful" or "very impactful". [4]

CRM systems are known to improve customer retention by almost 27%, leading to profit increases between 25% and 85%. [7]

If a CRM software system is properly implemented, the ROI can exceed 245%. [7]

A customer is likely to spend about 20% to 40% more when they engage with a company using their CRM. [11]

Sales teams using CRMs reported a 17% increased job satisfaction rate. [4]
The State of Digital Adoption for CRM
Use the models, methods, best practices, and tools explained in this change management white paper to manage your next organizational change. 
CRM Market Share Statistic
With the onset of the remote work culture, more and more companies have been adopting automated and real-time tracking platforms like CRMs for smooth and improved customer relationships. It is expected that the worldwide revenue from CRMs will grow consistently over the coming years. Here is a list of some interesting CRM market stats:
As of 2021, CRM is the largest and fastest-growing enterprise application software category. [13]

There are 608 CRM systems on the market, but only 18% of them have a 4 or a 5-star rating. [10]

The CRM market size has a current value of $120 billion and is expected to grow to $128.97 billion by 2028. [5] [7]

Salesforce, Oracle, SAP, and Microsoft take up the highest market share in the CRM market. [14]

41.2% is the combined market share of the top 5 CRM vendors. [5]

83% of the existing Fortune 500 companies are Salesforce customers. Salesforce is the world's leading CRM vendor with a CRM market share of 19.5%. [7]

SaaS solutions account for about 75% of the overall spend for CRM systems. [13]

The global AI-enabled CRM market is expected to grow at a CAGR of 43.06% between 2017 and 2023. [15]

The global healthcare CRM market is projected to grow from $7.27 billion in 2017 to $28.89 billion by 2026. [3]

CRM systems overtook the database management systems (DBMSs) in terms of revenue in 2017. [7]

75% of companies that want to buy a CRM have an annual turnover between $1 and $50 million. [5]

US companies spend an average of $12 billion every year on traditional CRMs. [17]

32% of the companies interested in buying a CRM platform belong to the service industry. [5]
Increase CRM adoption with Whatfix
With Whatfix's Digital Adoption Platform, create in-app learning flows, contextual training and onboarding, and self-help knowledge bases. See it in action below.