"I have not failed. I've just found 10,000 ways that won't work," said Thomas Edison some 140+ years ago. And would you look at the final result of all those instances of failure – the ubiquitous electric light bulb. 
Yet, avoiding failure has been hardwired into our collective psyche. That's not surprising considering errors in judgement can be costly. Especially, the failure of a CRM implementation plan (an expensive and complex affair) can set your organization back by thousands of dollars.
So, arguably, the real value doesn't necessarily lie in making mistakes. But it's about learning from that of others. 
And I can help with the latter.
5 Signs of a Poor CRM Implementation
Having seen so many CRM implementations in my career, I can now confidently map out the top characteristics of a software rollout that is destined to fail.
Many complex CRM features and customizations remain unused

Doing anything on the software takes too long and is complicated – be it entering a new record or delivering a quote – causing users to feel frustrated 

The information from the existing IT architecture is not available in the new CRM, causing users to revert to legacy software or spreadsheets

Duplicate, inaccurate or missing sales lead/opportunity records

User resistance to the sales workflow changes – refusal to use the new CRM

Confusion and disconnected user experiences across multiple versions of the CRM, in different Business Units

CRM ticket backlogs, broken SLAs and declining adoption among users 
All of this leads to CRM implementation failures and subsequent loss in productivity. And these are some of the top reasons why one-third of CRM implementation projects fail.  

Stands to reason that most of the obstacles in the way of a successful CRM implementation are driven by 'people issues' according to
Forrester Research
. Out of which, nearly half are due to slow user adoption.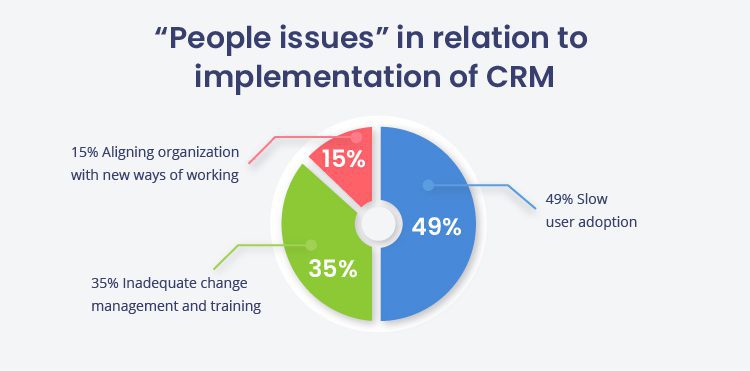 Thankfully, if caught early-on, it's possible to fix these gaps in your CRM implementation process and get real ROI on your investment. All you need is sound pre-implementation planning, people-focused change management strategy and
solid end-user training
(by leveraging innovative
Digital Adoption Platforms such as Whatfix
).
5 Tips for a Successful CRM Implementation
As previously outlined, there are so many ways a CRM implementation can go wrong. And when it does, sales people end up getting frustrated and blame the tool. But that's not only unfair, it's also counterproductive, as the frustration leads to sales users abandoning the CRM altogether.
To avoid tumbling down this rabbit hole, here are some tried and tested tips for decision-makers who are implementing CRM solutions:
1) Spend only on what matters 
According to a study by Inside CRM, 65% of CRM users choose usability over functionality. Also, a Hubspot report states that 54% of salespeople don't even invest in a CRM owing to budget constraints.
So it only makes sense to keep the CRM as narrow-focused (and cost-effective) as possible, especially around the first phase of implementation. 
During this period, always prioritize user experience and invest in only the most business-critical CRM features. And to narrow down the list of most important CRM experiences, just ask the end-user (through team wide surveys and feedback forms) what they need. 
Based on their responses, you could start with rolling-out features that range from Account, Contact, Lead, and Opportunity Management to the ability for users to access CRM on their mobiles. 
2) Integrate with data and other business systems
Sales representatives reportedly spend over 9.1% of their time managing spreadsheets related to CRM management, instead of using the CRM tool optimally, as outlined in a Forbes article. This just won't do.
If you want a disruption-free CRM workflow, then be sure to meaningfully integrate legacy systems and data with your new CRM. Also, connect with third-party apps that will give you additional features that are not readily available within your CRM. This could include email marketing, CPQ, and chat platforms or even in-app training tools such as Whatfix.
3) Clean up your data before CRM migration
Experian's(Global information services company) research reveals that most U.S. organizations believe 32% of their data is inaccurate. And your CRM is only as good as the data that you feed into it. So, even before you implement the CRM, make sure that the data that you are importing is accurate, complete, consistent and free from redundancies. This is the best way to steer clear of future data quality problems within your new CRM. 
4) Ease onboarding with a humanized change management process
It's the leadership team's responsibility to make users feel at-home with the new technology by answering the 'why' of the change. Unfortunately, according to a study by Really Simple Systems, around 80% of senior executives consider 'convincing employees to use new CRM technology' as the biggest challenge. 
To combat this issue, you may recruit agents of change to build confidence in the CRM and communicate how and why the CRM can help. Here is a more detailed guide to effective change management, when implementing a new CRM. 

5) Empower users with in-app contextual training across Business Units (BU)
Especially in the case of globally distributed enterprises, each BU could have a different instance of the CRM – tailored to meet the needs of the local sales reps. The differences could be as simple as different UI languages or as vast as different sales processes, different application integrations and so forth.
Here, adopting a traditional approach to train CRM users (in different geographies) will not be sustainable. Instead, try to predict the typical CRM workflow (and related user experience gaps) in each BU –  such as the most commonly used feature in the CRM and what part of the workflow users usually drop-off at. Then, build your training plan to solve their specific issues.
Next, use a mix of macro and microlearning tools to incorporate 'learning in the flow of work' which ensures that training happens, without disrupting the employees' work, by harnessing contextual and in-app digital adoption platforms (DAP), internal P2P platform, classroom style learning, LMS, emailers, videos, etc.
To unlock the true value of your CRM, you may use the following features of interactive Digital Adoption Platforms(DAPs):
Simple and real-time guided tours that help end-users understand how to create new lead or opportunity records, switch to Kanban view, view and edit reports etc

Whatfix's contextual widgets (tool-tips and self-help) to pull-up the most relevant help content, in real-time, based on the user's location in the CRM and historic behavioral data

SCORM and xAPI compliance that allows it to integrate with legacy LMS to create structured in-app guides and training programs, at scale.

One of the leaders in laser technology, Trotec, used Whatfix's ability to create real-time interactive flows within its CRM to simplify training for users across countries. This helped the company bring down CRM training efforts by 60% and content creation time by upto 50%.
The Process Doesn't End At Implementation
It is important to keep in mind that implementation is only the first of a series of steps in your CRM journey. As custodians of the enterprise tool, you need to keep measuring what sales and CRM adoption metric matters, via end-user feedback loops and big data analytics, and improve upon the user experience. For instance, Whatfix's analytics feature can help you pinpoint what kind of in-demand training content is missing and how the user engages with various elements of your CRM (eg: what part of the CRM workflow users drop-off at). 
Such insight can help you re-engineer your engagement tactics in order to convert the reluctant CRM users into power-users.
Click here for a quick demo to see how Whatfix helps manage elements of end-user onboarding and change management so that your CRM implementation can happen without any disruptions.