By harnessing the power of your CRM data and insights from every customer touchpoint, your business gains a competitive edge, increases sales efficiency, and drives revenue growth. 
However, before you can find the ROI from a new CRM investment, you need to create  CRM implementation plan that is contextual to the needs of your organization, its sales team, and its customer and sales processes.. 
CRM software manages an organization's customer relationships, including all communication, account history, contact information, and more. It helps sales teams stay informed and updated with all touchpoints and paints a quick narrative of the account's history. These tools are crucial to the overall growth and success of companies. 
CRM systems are powerful tools – which means they're expensive. Enterprise CRM applications can cost upwards of $130 per user.
With CRM software being so critical to your business's bottom line and such an extremely costly and complex investment, a successful CRM implementation plan is essential. 
In this article, we'll cover the key steps and best practices for successfully implementing a CRM system and how to choose the right CRM software, ensure proper data migration, and effectively train your team for maximum ROI.
What are the steps for a successful CRM implementation?
Define the reasons for migrating to a new CRM

Spend only where it matters

Establish a CRM implementation team

Integrate your CRM data with existing systems

Determine your KPIs and goals

Clean your CRM data before migration

Ease user onboarding with humanized change management process

Invest in CRM training & development for your employees

Analyze your data and get feedback
What Is a CRM Implementation?
A CRM (customer relationship management) implementation is the process of installing, configuring, and integrating a CRM system into your company's existing processes and tools. It typically requires analyzing your company's sales, marketing, and customer service processes and customizing a CRM system to align accordingly. It also includes non-technical components, such as creating an onboarding, training, and support plan to drive CRM adoption.
The overall goal of CRM implementation is to improve the efficiency and effectiveness of your company's customer-facing operations and provide a central hub for customer data and interactions. 
Why Is CRM Implementation Important?
A new CRM system will overhaul your established processes so it's crucial that your plan naturally integrates your new system with your current workflow to prepare your team for launch. 
Successful CRM implementation helps your business:
Drive adoption of a new CRM investment:

CRMs provide unification for customer-facing and sales teams, but are a costly investment. Having a CRM implementation plan will help support adoption of your new software investment.

Improve customer service:

A CRM system can provide a centralized database of customer information, allowing customer service reps to quickly access and update customer data, leading to more efficient and effective customer interactions.

Increase sales:

By providing sales teams with access to customer data, a successfully implemented CRM system can help identify sales opportunities and improve their close rates.

Streamline business processes:

A CRM system can automate tedious tasks like data entry and lead tracking, which can free up time for reps to focus on more important tasks.

Build customer loyalty:

A properly implemented CRM system can help your business build stronger customer relationships by providing personalized and timely communication.

Enhance data security:

A CRM system can store, manage and secure customer data all in one place, which is essential for protecting sensitive information.
7 Signs of a Failed CRM Implementation
Salesforce research states that one-third of CRM implementation projects fail. But there are early symptoms to watch for to know if your customer relationship management implementation project has gone off the rails.
Here are a few signs that your CRM implementation plan is failing – or already has:
Unused features:

Many complex CRM features and customizations that you paid big money for remain underused or not used at all.

Low user productivity & proficiency:

Doing anything on your CRM takes too long and is complicated – like entering a new record or delivering a quote – causing your users to feel frustrated.

Poor CRM data migration: The data and customer information from the existing CRM architecture is not available in the new system, causing users to revert to legacy software or spreadsheets.
Poor sales data quality: Duplicate, inaccurate, or missing sales lead/opportunity records are found throughout your new CRM.
Internal resistance to change: User resistance to the sales workflow changes – i.e., refusal to use the new CRM. You can remedy this implementation challenge by understanding the most common root

causes of resistance to change

.

No unified CRM experience: Confusion across different teams and poorly connected user experiences across your organization's CRM dashboards – and overall insufficient integration across company departments – i.e., account managers, customer success managers, and marketing managers all see different views with using your CRM.
Dip in overall sales performance: CRM ticket backlogs, broken SLAs, and declining

digital adoption

among your users.
These signs point to failed CRM implementation and subsequent loss in overall productivity across your organization.
What's the average failure rate of CRM implementation plans?
The estimated rate of CRM implementation failure ranges from 30% to 70% across data from major analysts and research firms such as Gartner, Forrester, and more.
You read that right– data suggests that seven of every 10 CRM implementation projects fail.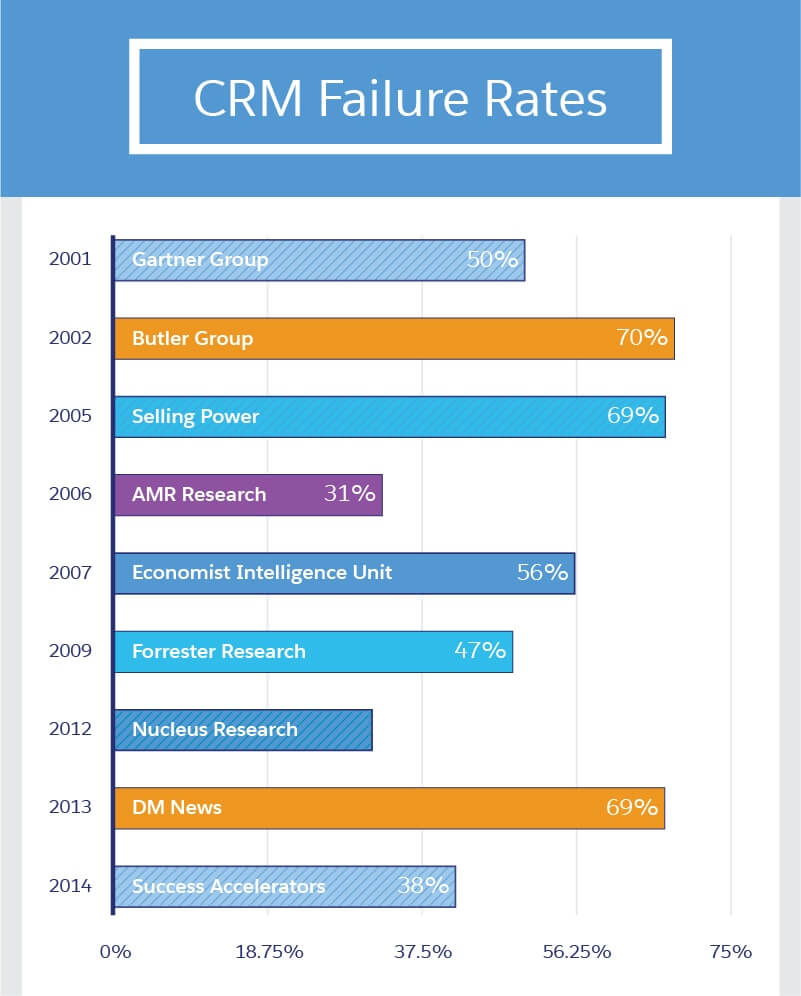 Most of the obstacles in the way of a successful CRM implementation are driven by 'people issues' according to Forrester Research. Out of these, nearly half are due to slow user adoption. These failure reasons reflect the signs for identifying a failed CRM implementation in your organization.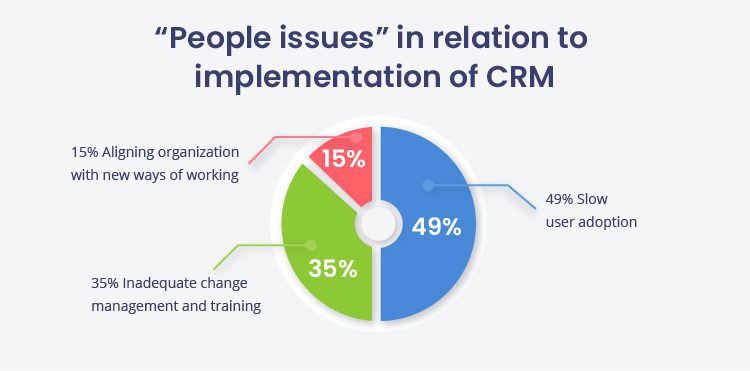 Thankfully, if caught early, it's possible to fix these gaps in your implementation process and find real ROI from your CRM investment.
The roadmap to success? Well-researched and documented implementation planning, a people-focused change management strategy, and solid end-user training by leveraging innovative digital adoption platforms for better CRM user adoption and proficiency.
9-Step Plan for Successful CRM Implementation in 2023
There are many ways your CRM implementation can go wrong – and when it does, users get frustrated and blame your tool.
That's not only unfair, but it's also counterproductive. This frustration leads to users abandoning the newly implemented CRM altogether.
To avoid tumbling down this rabbit hole, here is a nine-step plan with tips for decision-makers to follow when implementing a new CRM system:
1. Define the reasons for migrating to a new CRM
What are the reasons for making a switch? What are your organization's goals for moving to a new CRM? This could be the need for more sales automation, better integration with existing systems, or many other reasons.
Answering these questions will not only help you identify what system you'll eventually go with, but will also provide answers to your employee's questions when you announce the change. This will help ease resistance to the change – as you'll be able to show how a new CRM will benefit the eventual everyday users of the platform.
2. Spend only where it matters
According to a study by Inside CRM, 65% of CRM users choose usability over functionality. A Hubspot report revealed that 54% of organizations never invest in a CRM at all due to budget reasons.
That's why it's crucial to keep your CRM as narrow-focused (and cost-effective) as possible, especially in the first phase of implementation.
During this period, always prioritize user experience and invest only in the most business-critical CRM features your business needs. To narrow down the list of the most important CRM experiences, ask the end-users who will use your future CRM the most. Use survey and feedback tools to understand their biggest needs – and what features would provide them with the most benefits.
Based on the feedback, start rolling out features that will benefit end-users the most – from managing accounts, contacts, leads, and opportunities, to allowing users to access their CRM data on their mobile devices.
3. Establish a CRM implementation team
A CRM change management team provides your organization with a dedicated team of representatives from different business functions. This team serves as a centralized touchpoint that plans your implementation strategy, boosts company morale and buy-in from employees, and creates the employee training and onboarding strategy.
Your CRM implementation team should include:
Project Manager(s)

Application Analyst

Application Developer

QA Engineer

Account Manager

Sales Team Manager/Director

Marketing Manager/Director

Customer Success Manager/Director

Customer Support Manager/Director
This mix of backgrounds provides members on the implementation team that can create both a people and technical plan for migration. It also provides insights from different teams using the new CRM to get a wide range of opinions and feedback.
Having a range of internal reps across different departments will also encourage advocacy across your organization, as each department and business function will have one of its own in the decision-making process advocating for their needs.
4. Integrate your CRM data with existing systems
According to a Forbes report, sales representatives spend over 9.1% in spreadsheets housing customer data – instead of using their CRM tool properly (either because their CRM data is dirty or they lack the knowledge of how to access their CRM data.)
If you want an intuitive CRM workflow,  integrate legacy systems and customer data with your new CRM properly. Leverage third-party apps to integrate with your CRM, giving you additional features unavailable within your CRM. Examples of CRM integrations to consider include email marketing software, CPQ software, live chat platforms, and in-app training tools such as Whatfix.
5. Determine your migration KPIs and goals
Determining your key performance indicators (KPIs) is essential for successful CRM implementation because it allows you to measure and track the progress and success of your CRM strategy. Without clearly defined KPIs and goals, it will be difficult to know if your CRM implementation efforts positively impact your business. 
Setting specific, measurable, and achievable goals ensures that your CRM implementation is aligned with your business objectives. Monitoring your KPIs and goals for CRM implementation also allows you to identify areas of improvement, make data-driven decisions, and adjust your approach as needed to achieve your desired results.
6. Clean your CRM data before migration
The global research firm Experian revealed in a recent report that U.S. organizations believe 32% of their CRM data is inaccurate.
Your CRM is only as good as the data you feed it. Before implementing a new CRM, ensure your data is accurate, complete, consistent, and free of redundancies. This is the best way to steer clear of future data quality problems within your new CRM – and ensure you're starting with a strong foundation to build your CRM data on for years to come.
7. Ease user onboarding with a humanized change management process
It's your leadership's responsibility to make employees feel at home with their new CRM technology by answering the 'why' of the change.
Unfortunately, according to a study by Really Simple Systems, around 80% of senior executives consider 'convincing employees to use new CRM technology' as the biggest challenge. To combat this issue, recruit agents of change across your organization to build confidence in your new CRM and change management strategy, and then communicate the how and why behind the change.
8. Invest in CRM training & development for your employees
It's your leadership's responsibility to make employees feel at home with their new CRM technology by answering the 'why' of the change.
Unfortunately, according to a study by Really Simple Systems, around 80% of senior executives consider 'convincing employees to use new CRM technology' as the biggest challenge. To combat this issue, recruit agents of change across your organization to build confidence in your new CRM and change management strategy, as well as to communicate the how and why behind the change.
8. Invest in CRM training & development for your employees
Organizations must also invest in employee training and development programs to get real ROI with your CRM technology. This is especially true for globally distributed enterprises, as each business unit will use the CRM differently.
Tailor your training programs to meet the needs of everyone – local sales reps, account-based managers, CRM admins, marketing managers, and more will all need tailored training programs. The differences could be as simple as different UI languages or as vast as entirely different application integrations, dashboards, etc.
Here, adopting a traditional approach to training your CRM users will not be sustainable. Instead, try to predict each business unit's typical CRM workflow and related user experience gaps. What is each department's most used CRM feature, and what part of these workflows do these users usually drop off? Build your training plan to solve these specific issues.
Next, use a mix of macro and microlearning employee training software to incorporate learning in the flow of work. This ensures that training happens without disrupting the employees' work and productivity. This occurs by harnessing contextual and in-app digital adoption platforms (DAP), classroom-style learning, LMS, and a variety of learning content types such as knowledge bases, audio recordings, videos tutorials, etc.
To unlock the true value of your CRM, you'll want to consider the following features of interactive digital adoption platforms:
Simple and real-time guided tours that help end-users understand how to create new lead or opportunity records, switch to Kanban view, view and edit reports, etc.
Whatfix's contextual widgets (tool-tips and self-help) to pull up the most relevant help content, in real-time, based on the user's location in the CRM and historical behavioral data.
SCORM and xAPI compliance that allows it to integrate with legacy LMS to create structured in-app guides and training programs at scale.
Trotec, an industry leader in laser technology, used Whatfix's ability to create real-time interactive flows within its CRM to simplify training for users across the globe. This helped the company reduce its CRM training efforts by 60% and lower its content creation time by 50%.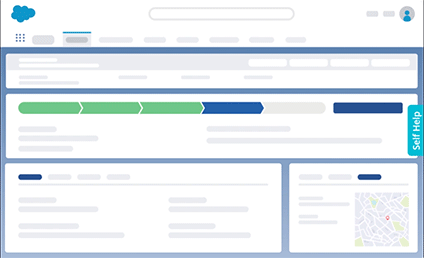 Create personalized learning & training flows for your enterprise CRM with Whatfix
9. Analyze your data and get feedback
By analyzing data and gathering feedback, your company can make data-driven decisions and continuously improve your CRM implementation. CRM systems collect a large amount of data on customer interactions, sales, and marketing efforts, which can be used to identify patterns, trends, and areas of improvement. 
For example, data analysis can reveal which marketing campaigns are most effective, which products or features are most popular among your customers, or which channels are most frequently used for customer service.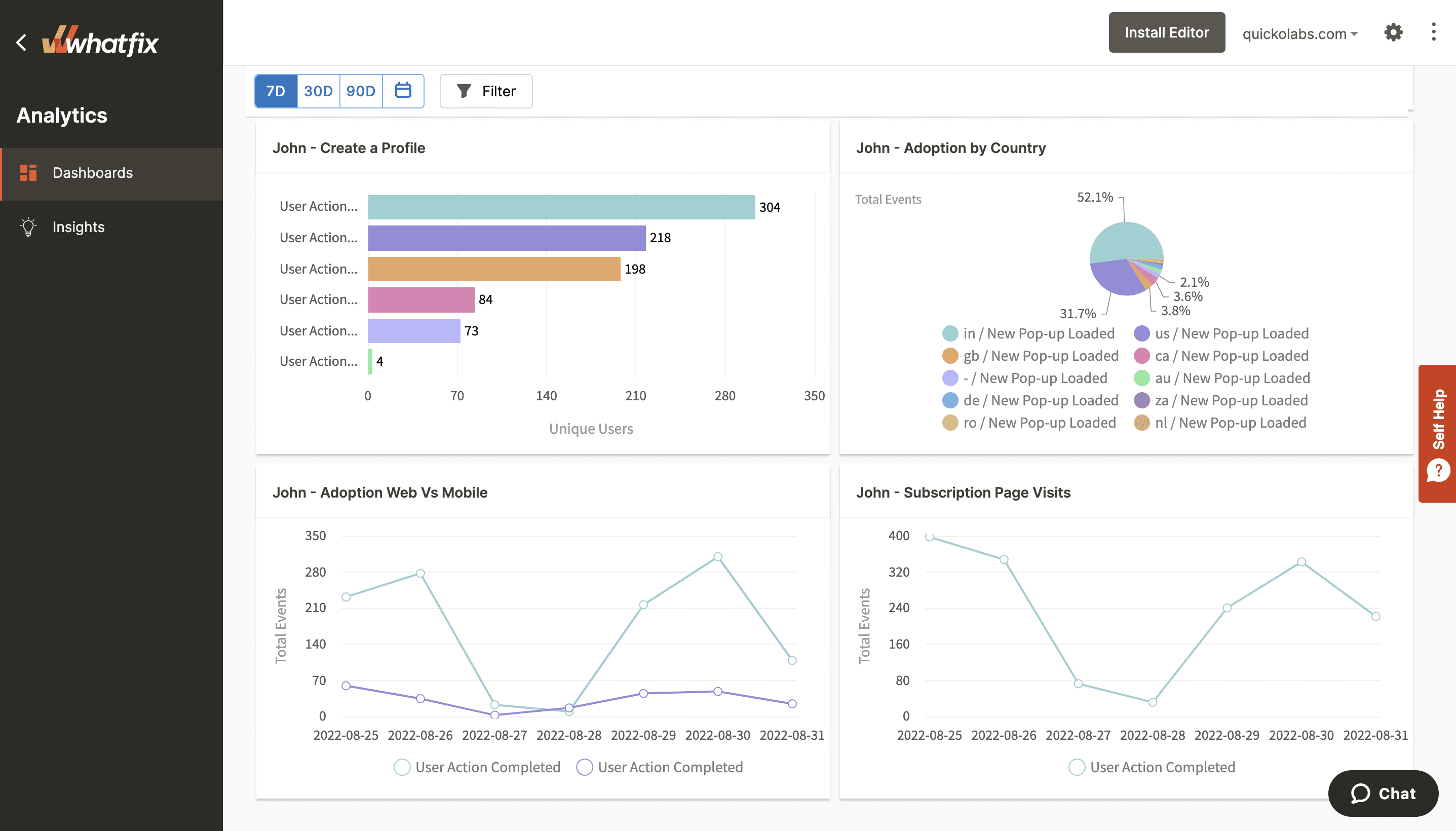 Feedback– whether from customers, employees, or other stakeholders– can also provide valuable insights into the strengths and weaknesses of your CRM strategy. Customer feedback can reveal which aspects of the customer experience are most important to them or can highlight areas of confusion related to your CRM system.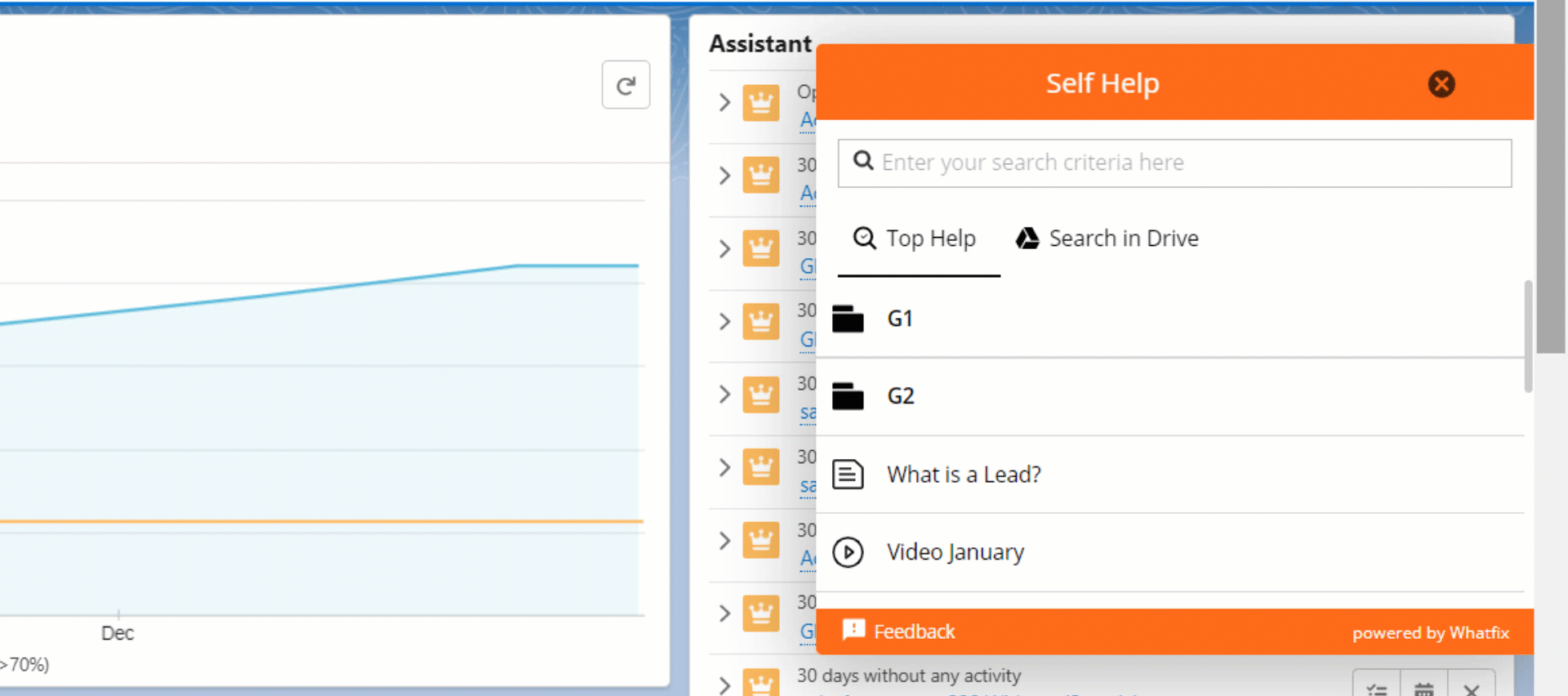 CRM adoption doesn't end at implementation
It's crucial to remember that implementation is only the first of a series of steps in your CRM journey. As custodians of an enterprise CRM tool, you must keep measuring the CRM adoption metrics that matter via end-user feedback loops and big data analytics. This fosters continuous improvement in your CRM's user experience.
For instance, Whatfix's analytics feature can help you pinpoint what kind of in-demand training content is missing and how the user engages with various elements of your CRM, such as what features are the most underutilized. This insight can help you re-engineer your CRM training tactics to convert reluctant users into power users.
Learn more about how Whatfix can empower your CRM implementation today.
Subscribe to the Whatfix newsletter now!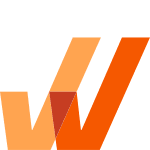 Request a demo to see how Whatfix empowers organizations to improve end-user adoption and provide on-demand customer support