Product release emails introduce new products or features to your audience, keep them engaged throughout the development process, build anticipation for launch, and drive engagement for your feature(s) or product.
But you can't simply draft up a wall of text & send it to all of your users & expect these campaigns to succeed. Instead, you need a new feature announcement strategy to target the right audience segment, create brief & effective messaging sequences, and enrich your emails with visual resources that increase the chances of users completing your desired action that ultimately drives feature adoption and product adoption.
What Is a New Product Release Email?
A product release email is an email update about recent changes to a product (or service). They can be used to inform your users about new features or entirely new product lines you're launching under your brand.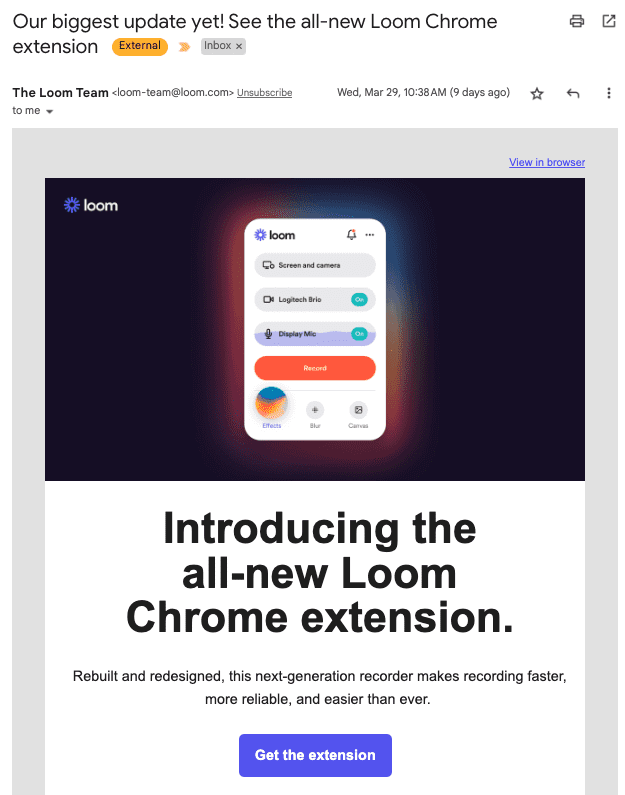 But, the most important thing to learn about product release emails is why they're so crucial since you can use conventional product release notes or changelogs to inform your existing users about new functionality.
New product release emails empower product managers to:
Improve product awareness among their existing users.

Drive new feature adoption.

Increase product roadmap transparency.

Convince users that their desired features are being (or will be) built.
Perhaps the most significant advantage release emails offer over simply publishing a revision history is reach.
By directly emailing your audience at an active address, it's possible to reach a more significant segment of your users than just updating your changelog (which most users will ignore, anyway).
Types of New Product Launch Emails
There are four main types of new product release emails. Those include:
1. New product release and update emails
New product launch and release emails are designed to announce new products, update users on the development cycle, and create anticipation for future and upcoming features and new product beta launches.
2. New feature announcement emails
As the name implies, feature announcement emails highlight new features you've just added to your product, including screenshots, GIFs, videos, and even testimonials from industry influencers who may have tried out the feature's beta version.
And no rule says you must limit it to just one email—you can launch an email sequence that slowly explores how the feature(s) in question works for performing tasks that are basic enough to spark your users' interests.
Better still, if you have a mailing list of users who have expressed interest in a particular feature, you can target them specifically, in addition to your general outreach to the rest of your audience.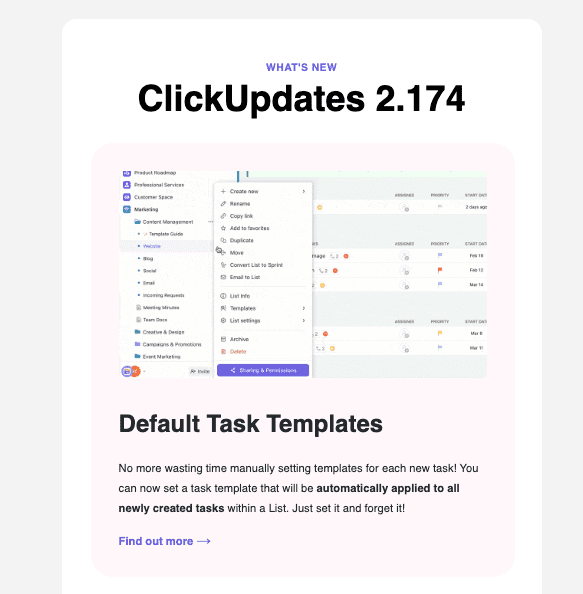 3. Future roadmap release emails
Future roadmap release emails will help keep your users updated on your product's development process and release cycle to create anticipation for upcoming releases.
Essentially, they give your users a sneak peek at your product roadmap and can be used to invite users to participate in a beta launch or undergo a survey to describe what they expect from the feature that's under development.
4. Pre-order and waitlist release emails
Pre-order and waitlist release emails are similar to future roadmap release emails, although in this case, they communicate about entire products that are under development, offer your audience an opportunity to pre-order them, publish details of the product development process, and release regular updates on when users can expect their first look at a product.
Waitlist release emails can also be designed as an engagement tactic by asking users to share a product with their network to move up the waitlist, get a pre-order discount, or join the product's beta launch.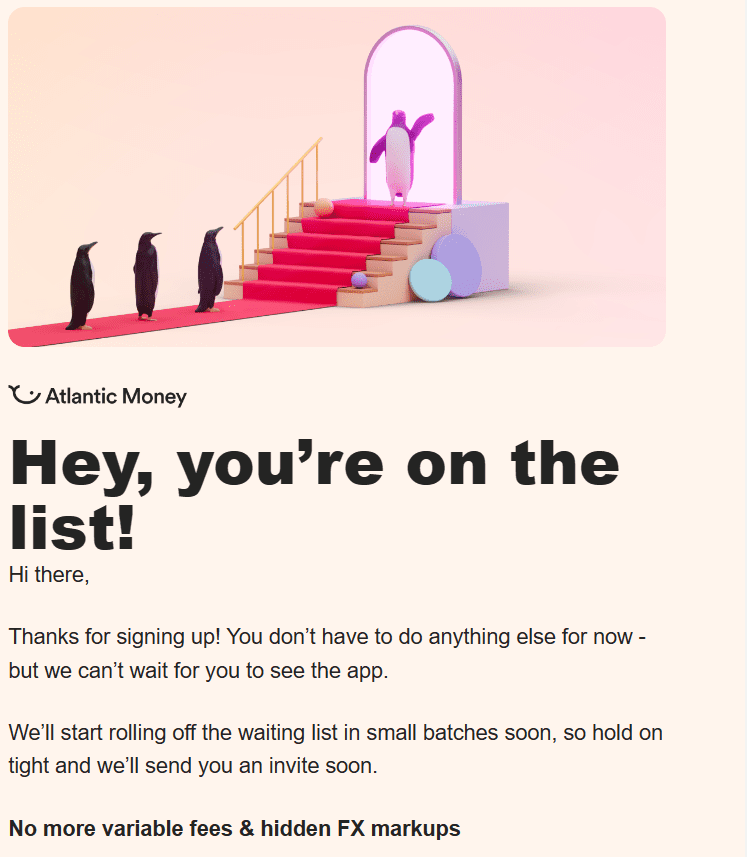 Best Practices for New Feature & Product Launch Email Campaigns
To create effective new product release email campaigns, you can follow a few best practices to help drive awareness of new product launches and feature announcements. Here are six tips to help you create effective product launch email campaigns:
1. Segment the email to the right customers and users
Understandably, your product might have a diverse audience that uses it differently. For instance, a couple might use Dropbox to save and organize memories from their kids' childhoods while a design studio will likely use it to store and share assets with clients. 
Likewise, a freelancer would use Airtable's relational database to track client relationships, collect pending invoices, and track ongoing assignments. In contrast, a startup might use it as a basic CRM for managing opportunities.
Depending on your audience's size (and diversity), certain features might be universally valuable, while others might cater to the needs of a particular segment. 
Instead of blasting emails to users whose needs are already well-met, you can double down on engaging those most likely to use a specific feature, based on their current usage history.
2. Write a strong email subject line
According to conversion rate optimization agency Invesp, 47% of recipients decide whether (or not) to open an email based on the subject line, while 69% would report an email as spam using the same judgment.
Of course, users who signed up willingly for your product (and mailing list) are not likely to be aggressive, but the point still stands: to enhance the chances of your release emails being opened, your subject lines need to be:
Attention-grabbing, without being clickbaity (

Avoid Mr. Beast-style titles

).

Concise & straight-to-the-point (

What were you saying, again?

).

Provide a sneak peek that draws users to open the email.

Use a captivating preheader that emphasizes your subject line.
3. Write thorough, yet condensed copy
When you're crafting release emails, there's always the risk of writing short, snappy copy that gets users to open an email but doesn't engage them all the way through; likewise, if you try to lecture users on everything a product does, you'll end up sounding too verbose and making them lose interest.
You should aim to strike a balance—write enough to draw your users in, in as many (or few) words as it takes to keep them engaged from the moment they open an email, until they click through.
Or, as Einstein said, "everything should be made as simple as possible, but no simpler."
4. Use GIFs, videos, and other visuals
Research by 3M Corporation shows that humans process visuals (images, GIFs, videos) 60k faster than text—which is probably why you can spend hours binge-watching YouTube, but you struggle to read a 3,000-word article.
Instead of trying to communicate with your audience in abstract terms that they have to imagine themselves, a few visual aids will eliminate and explain how a product works in clear terms.
Your goal here is to create an engaging picture of how the product (or feature) you're announcing works (or is going to), to build anticipation, demonstrate a product's functionality, and remove the ambiguity users have to navigate if they imagine everything in their heads.
Levels.fyi is an online platform that helps engineers & tech employees compare roles, career levels, and salaries at different companies. 
On April 4, 2023, they launched a new "jobs" feature where users can search and apply for tech roles at companies like Meta, Google, and Instacart. But, instead of drafting an email with a large wall of text, its email was just under 90 words, while they used a GIF to show its "jobs" functionality in action.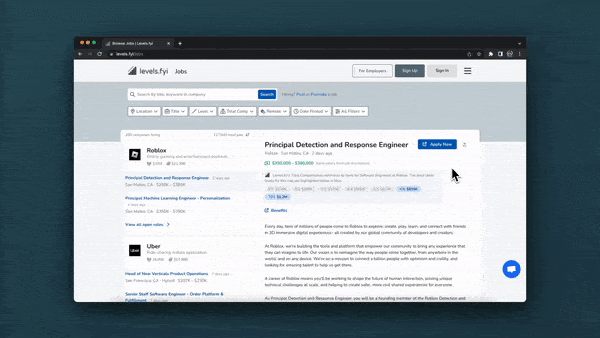 Likewise, when they launched their product's reporting function, Spreadsheet.com included a GIF showing the on-screen motions required for users to pull data from multiple worksheets and workbooks into a combined view they could share with anyone on their team.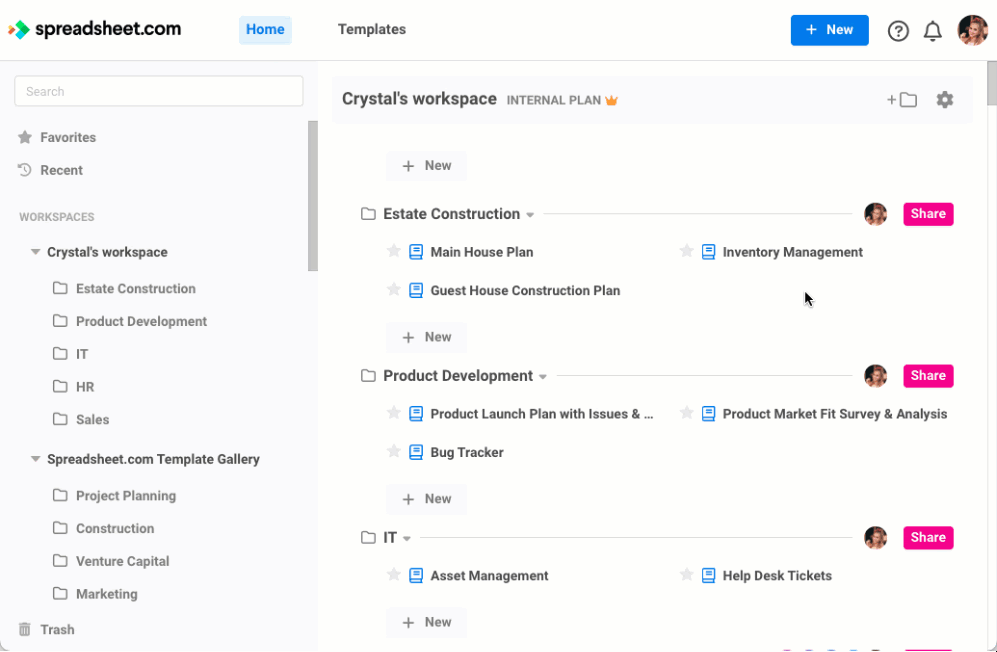 For the launch of their "simple tables" feature, Notion inserted a GIF of the new feature in action to offer users more context on how it'd work & to inspire them to head into the app and try it out live.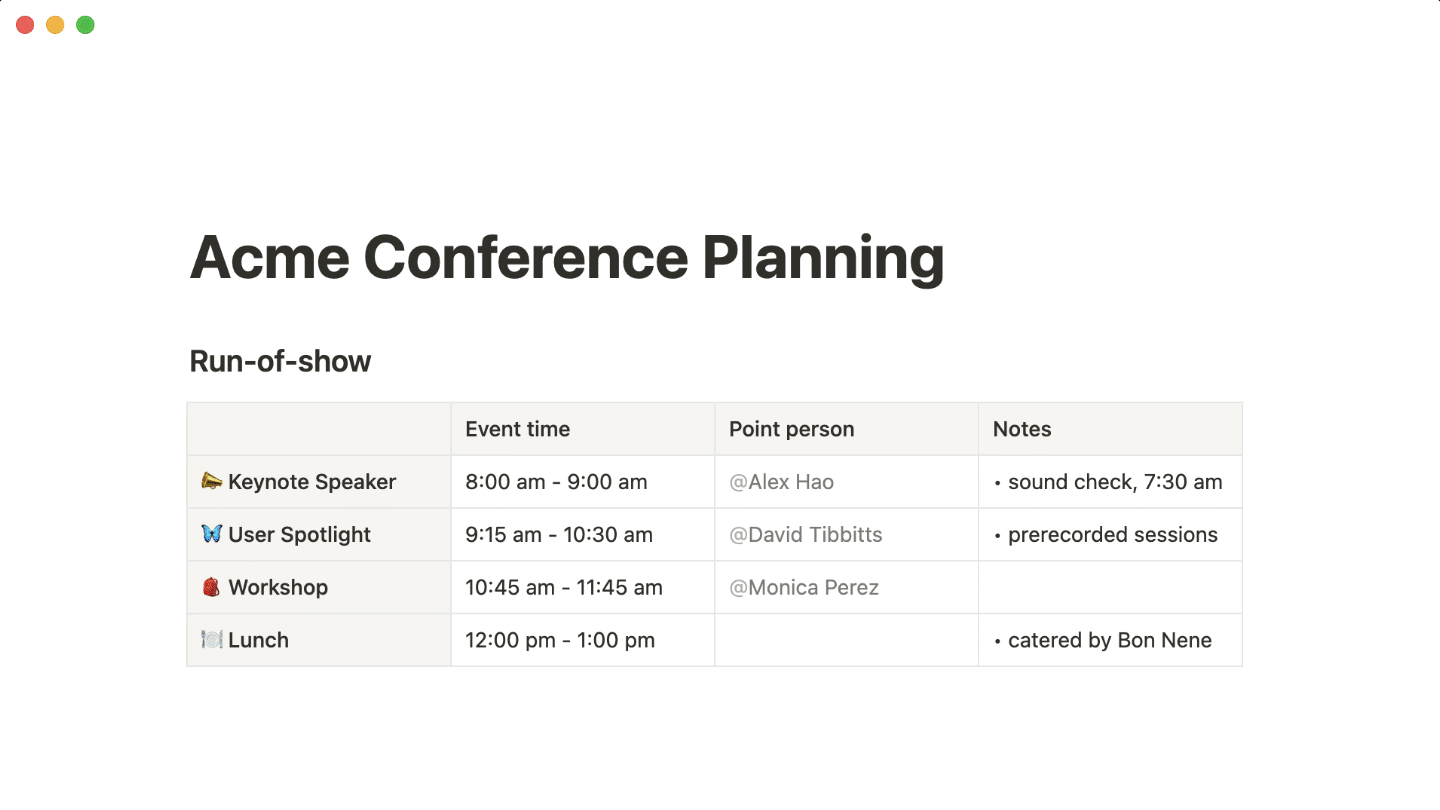 5. Have an end-of-email CTA to your full release notes for more context
A CTA at the end of your release email summarizes the essence of your message & makes it easy for users to click through and complete whatever action you want. And, even if you're launching multiple features at once, you can add a CTA button after each section (paragraph, line break, etc.) so that users can take whichever action they consider most important.
A few simple tips for adding CTAs to the end of your product release emails include:
Highlight your CTAs and make them stand out.

Make it simple, and give users only a few options—one, preferably.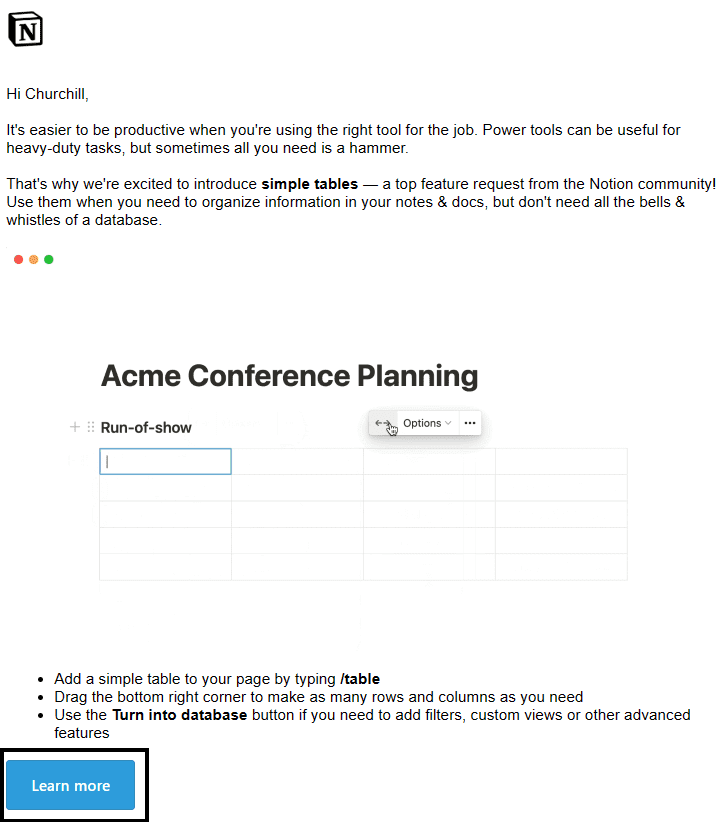 6. Create an email drip campaign for your product launch
According to 2019 email engagement benchmarks published by Mailchimp, the average open rate for emails across all industries was roughly 21.33%, with clickthrough rates at just 2.62%. At that rate, even if you have a highly-engaged community, it's unlikely you'll ever get >30% of your community's eyeballs on any of your email campaigns.
Drip campaigns can help you break up your release emails into sequences that drop in over time (e.g., a week or a month) and increase the chances that your users will engage with your sequences at some stage, even if you ignore some entirely.
Drip campaigns are perfect for introducing complicated products or features that might need detailed release notes, and helps you engage users without drafting a large wall of text.
20 Best Examples of Effective New Feature Release and Product Launch Emails
Let's explore twenty of the best new product and feature release emails from some of the leading B2B brands, and breakdown exactly why each is effective.
Ahrefs' May 2023 product update captures attention with an embedded YouTube video that's just a click away, plus a less-visible link pointing to a blog brief on the same topic. If you scroll on, you can get a video snapshot right inside the same email.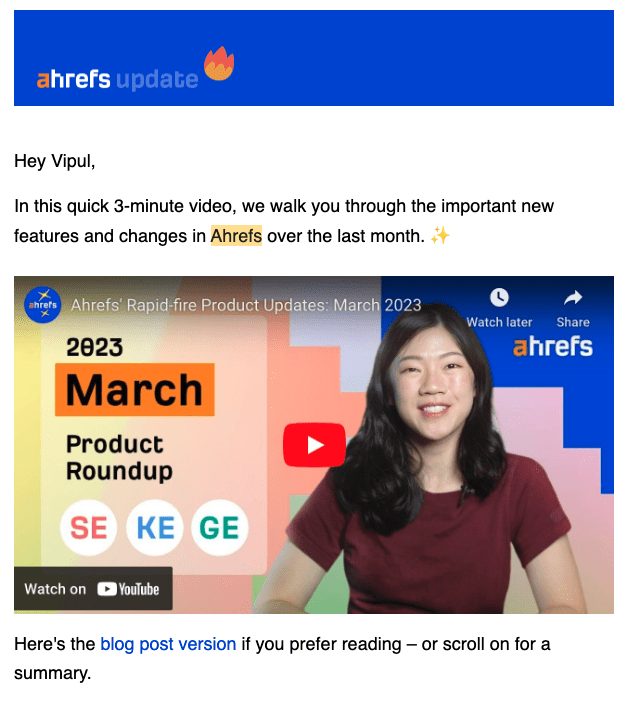 Loom is an asynchronous video platform you can use to record & share bite-sized videos without leaving your browser. This update email introduces a redesigned version of their Chrome extension that makes it possible. Instead of a text breakdown of the redesign's pros & cons, the image highlight shows that you can now toggle through different cameras, microphones, and screens, and trigger effects right from the add-on.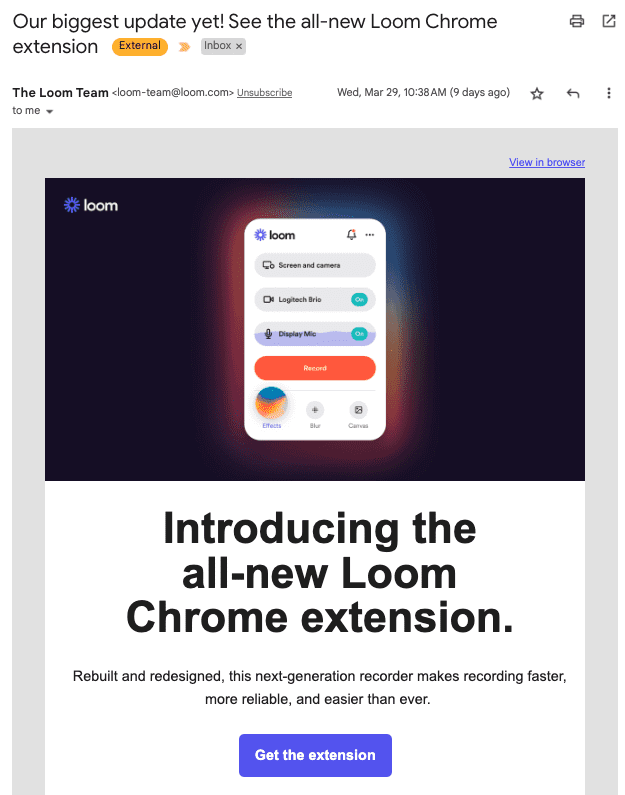 In this update introducing default templates for new tasks, Team ClickUp emphasizes its message with a still image of a user toggling options on a ClickUp dashboard, with a brief text explanation beneath.
It's effective because it's light on text and does much of the work with visual cues users familiar with ClickUp will understand.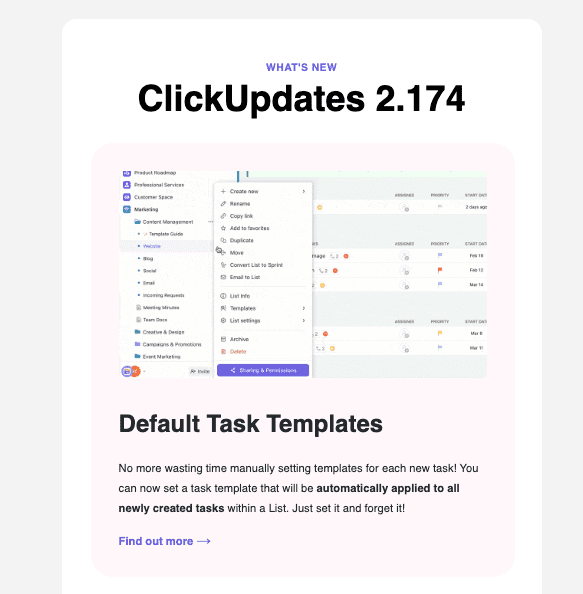 Elementor is a free WordPress website & web page builder for non-technical users.
This email is targeted at users who're already invested in the Elementor/WordPress ecosystem & would love to catch up on the team's plans, upcoming product features, and tricks and tactics for getting more out of the platform.
A single click redirects to a demo recording—in <40 words, readers can get the gist of the update email and decide whether they want to view the rest of the webinar recap within a minute.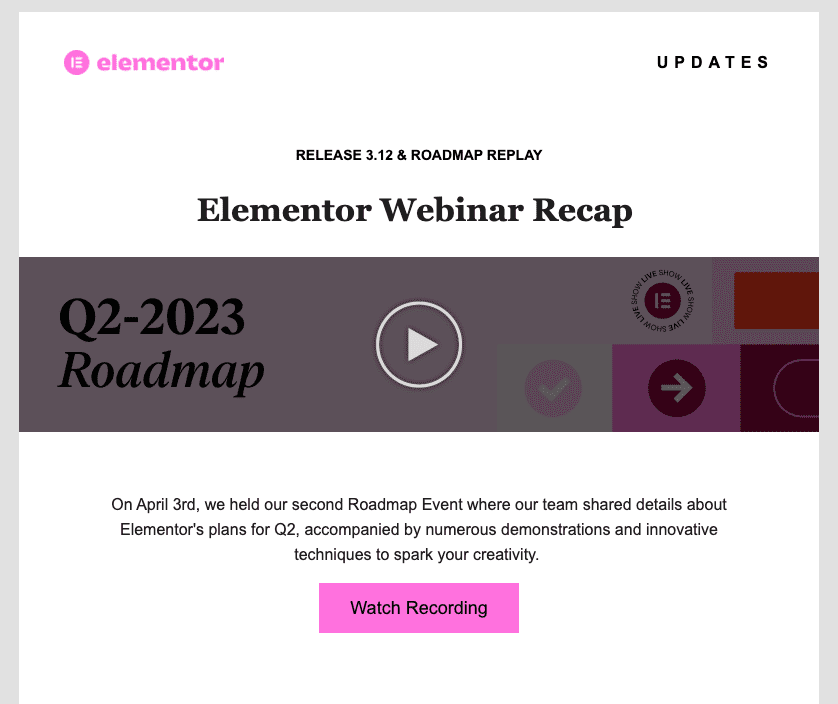 HockeyStack is a marketing analytics & attribution toolbox that helps you track every interaction an entity has with your business. This edition of HockeyStack's bi-weekly product updates shows an attribution feature that helps track when viewers from certain companies are browsing your website, including the device they're viewing on and their approximate location.
It works because it captures your attention with one image & shows you the level of detail you can get into your potential customers' activity on your website.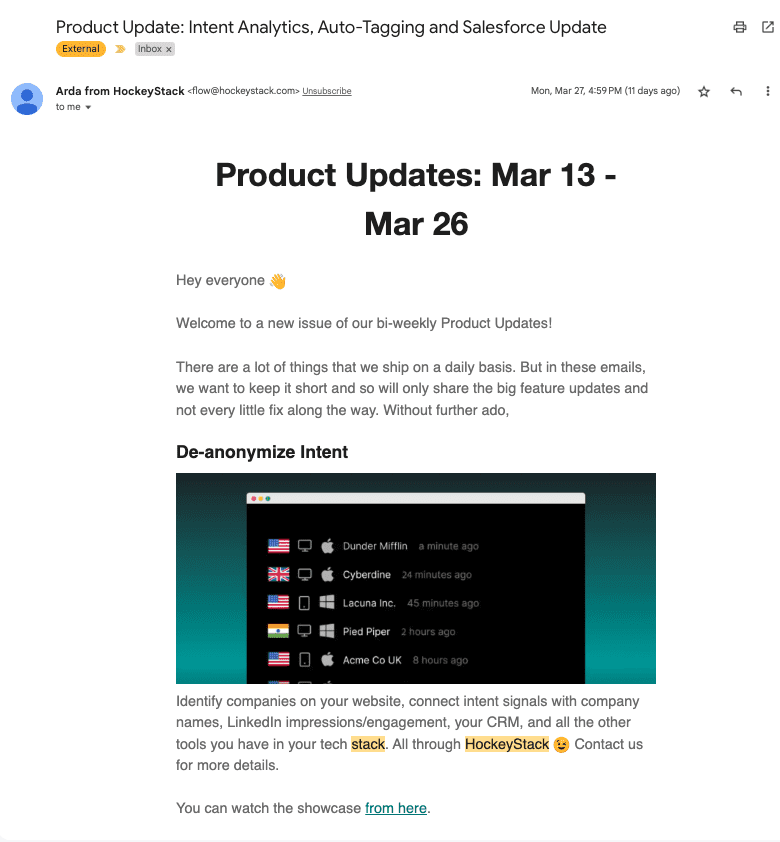 In the March 2023 edition of its monthly digest update, Confluence introduces a Tasks HQ on its dashboard where users can see all their tasks and filter through items using variables such as date created, status, etc. But, instead of a text-only brief, they combine:
A screenshot of the tasks HQ feature.

A one-line summary that promises users they'll never lose track of tasks again.

A bold CTA for users who want to learn more.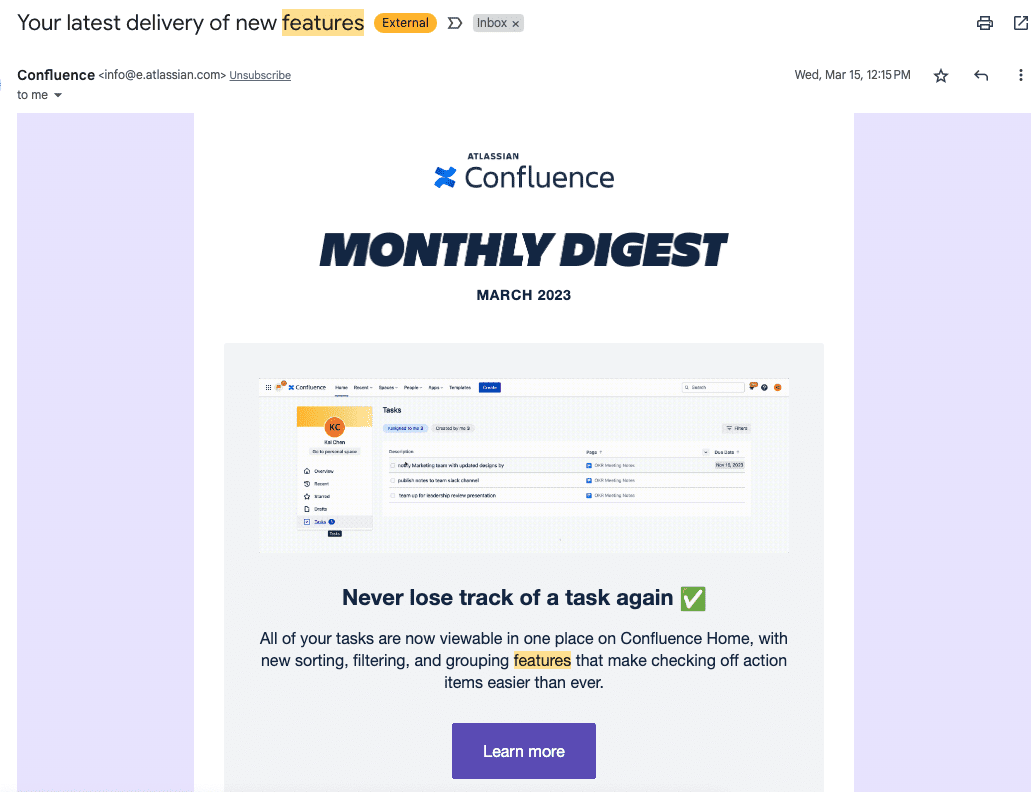 This invite to Grammarly's AI content production product is particularly effective, although it doesn't use visual aids to make its point. It's effective because—
It's exclusive (

We haven't launched but we can give you a sneak peek

).

Has a clear, highlighted CTA (

Join our beta…

).

It's contextually relevant—most recipients would have learned about ChatGPT & they have a reason to care about an AI content production tool.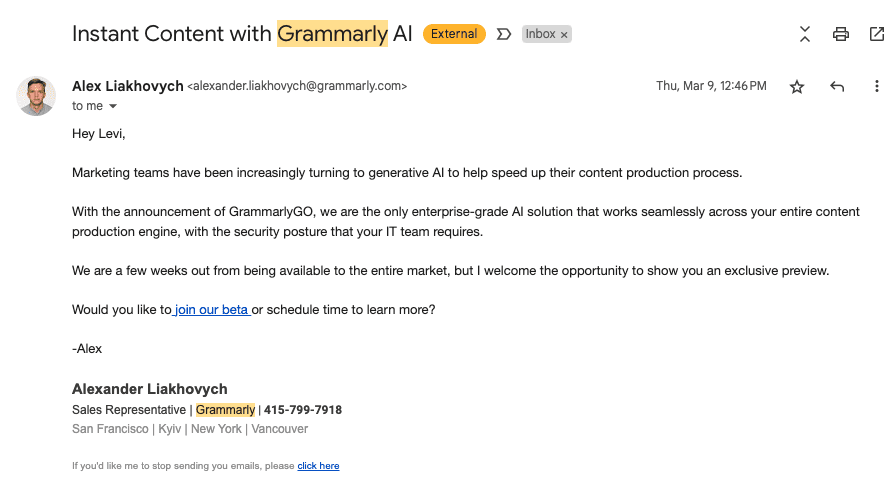 In this edition of Airtable's monthly newsletter, the product update email leads with a story about automating repetitive work—then it introduces its new option that helps you preserve records, bases, and databases and reuse them infinitely whenever you need to.
For one, it leads with a story, pivots to the explanation quickly, and has a hard-to-miss CTA.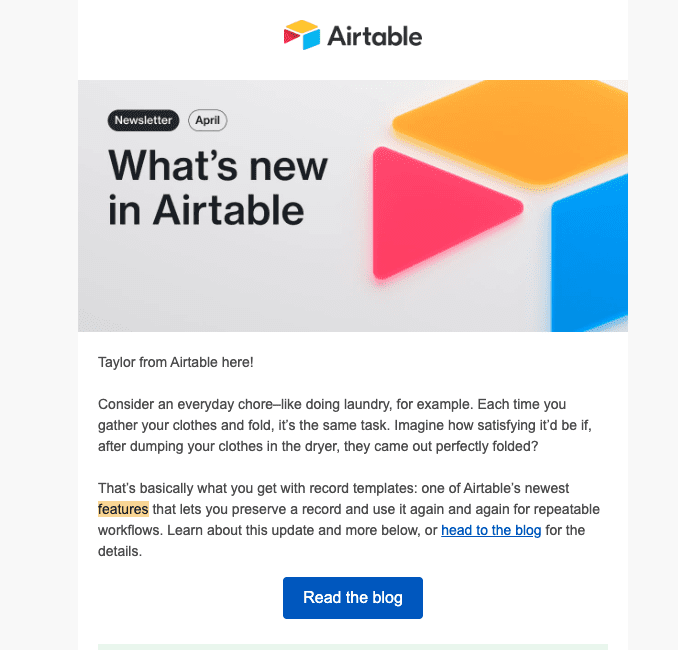 Scribe's product release email introduces AI-generated titling and explains that users can now record Scribe guides & AI will automatically suggest a name for it by observing the contents & context of the different slides in the guide docs. It ends with a simple CTA button that invites you to take it for a spin after a paragraph explaining the feature in <50 words.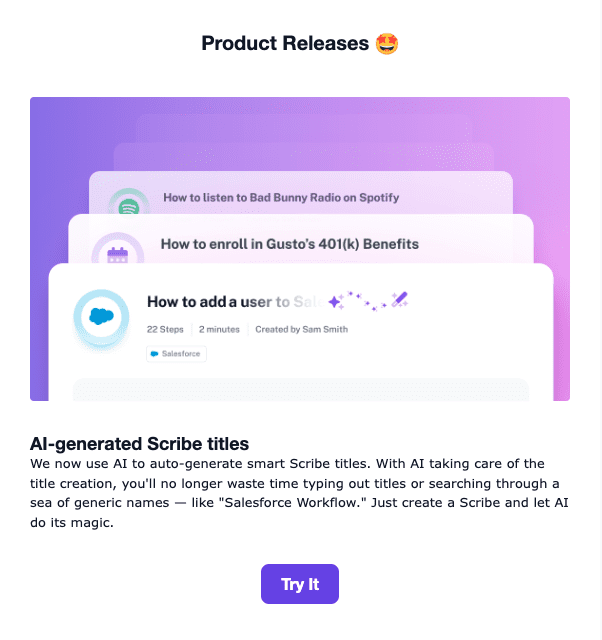 SpotDraft is a content lifecycle management platform that helps growing teams draft, review, and sign contracts faster, and it's used by teams such as Airbnb, Notion, and Beamery. In this product release email, Team SpotDraft shares their Intake forms release, which customers can use to ensure they collect essential information when users submit contracts for review resigning.
There's a video linked in the email to show how the feature works, while the still image does a lot of work providing helpful context for users who might not want to check out the video initially.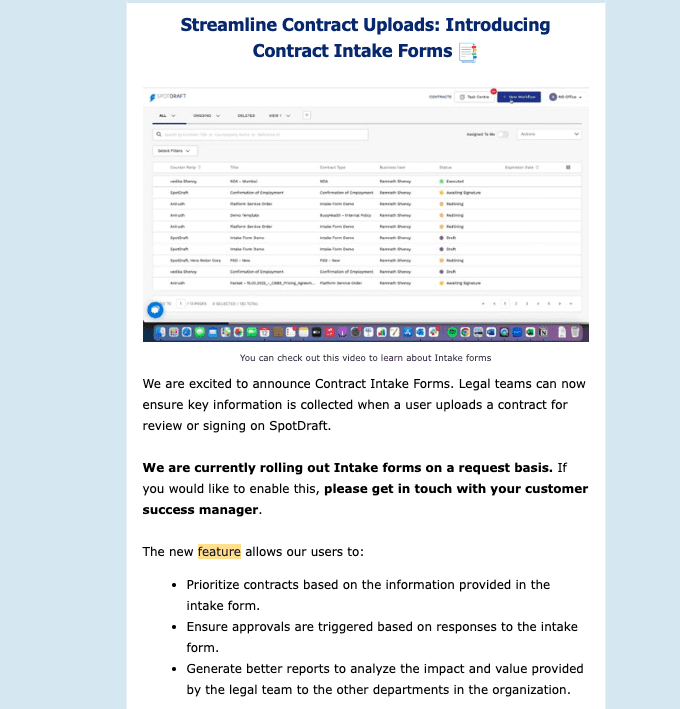 InvolveMe is an online no-code builder for creating interactive websites, forms, calculators, funnels, and quizzes—basically, dynamic content your users can interact with, but built without writing code.
This product release email introduces a bunch of new third-party integrations and offers a clear CTA so that users looking to connect the product in question with Involve can get to it right away.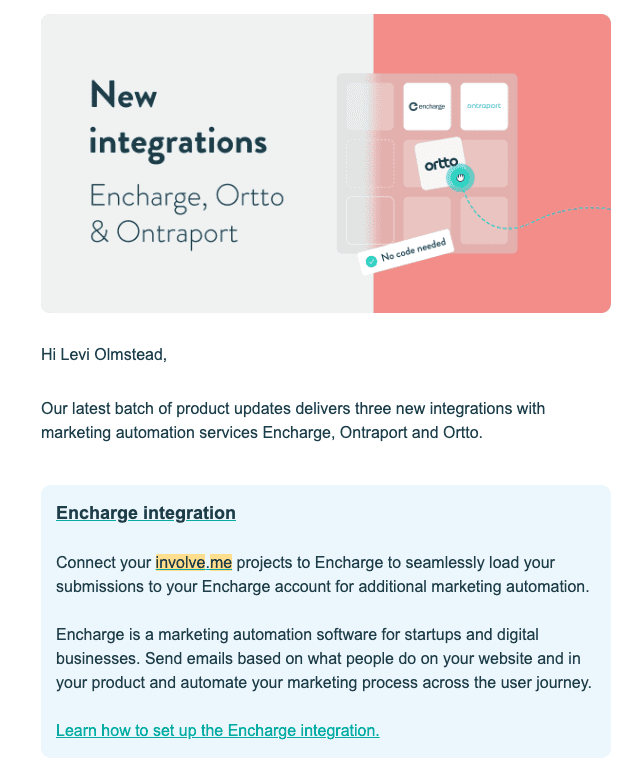 Peerlist is a professional social network for people in tech—developers, product managers, founders, and investors, with a LinkedIn feel. Recently, Peerlist launched a messaging feature users can use to DM their peers on the platform.
There are three things this update email gets right:
It introduces the feature right away without a convoluted explanation.

It explains why the team shipped it (popular demand, i.e.,

we listen to you!

)

It has a screenshot of the messaging feature on the desktop to emphasize how it works.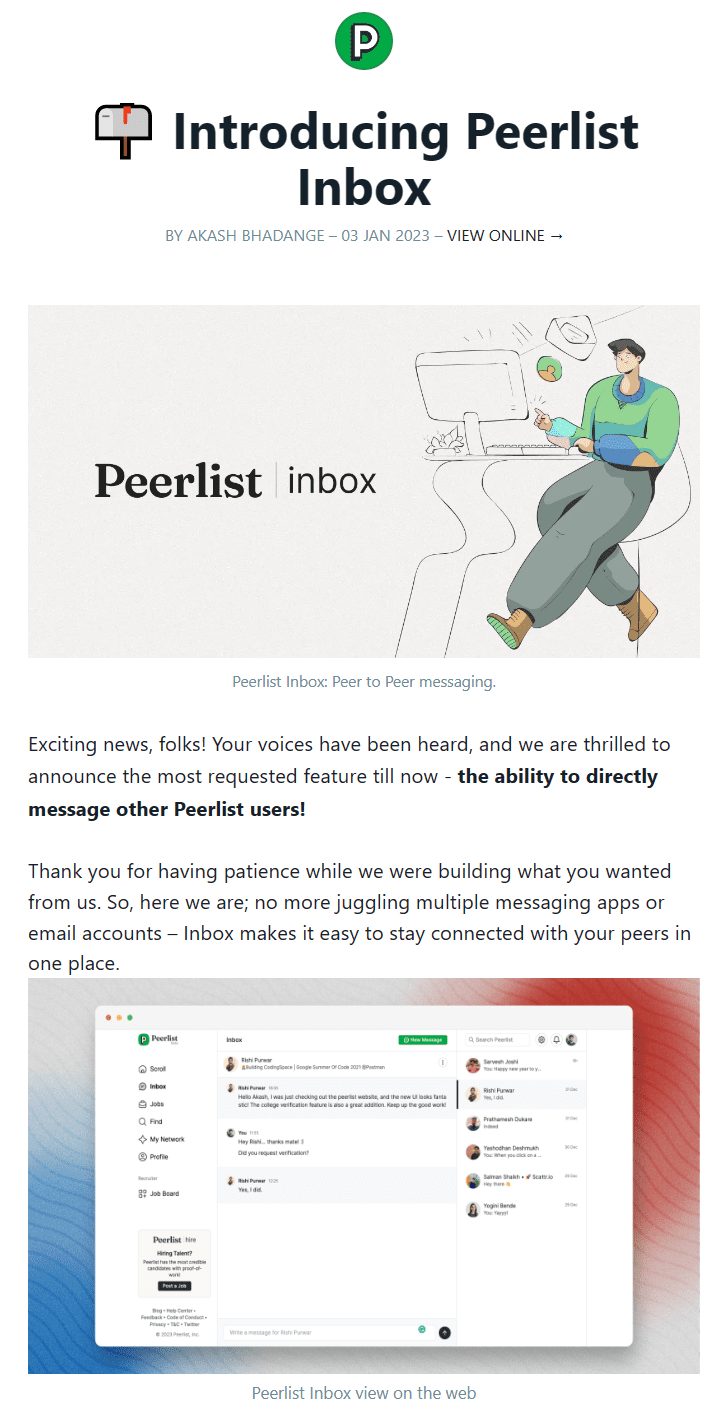 FAX.PLUS is a cloud-based software for sending fax online. Recently, the team behind the product decided to expand into making e-signature software, and this update email shares that with users and invites them to try it out at a discounted rate.
It's simple, to-the-point, and has a clear CTA for users who want to try it out.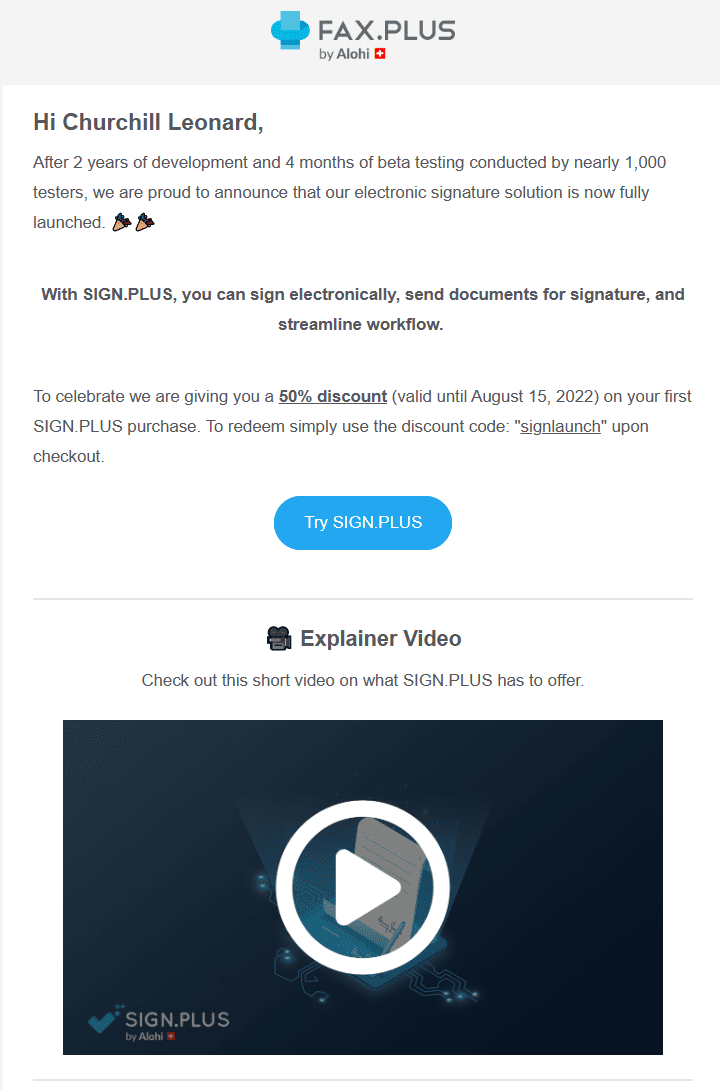 Tandem is a virtual office designed to help remote teams collaborate on documents, applications, and projects in real-time through shared plans. Since it was founded in 2017, Tandem has had a generous free tier accommodating up to four team members.
This email shares that Tandem's pricing is changing soon and that existing users can lock in early-adopter discounts by upgrading before their new pricing tiers kick within a month after the email.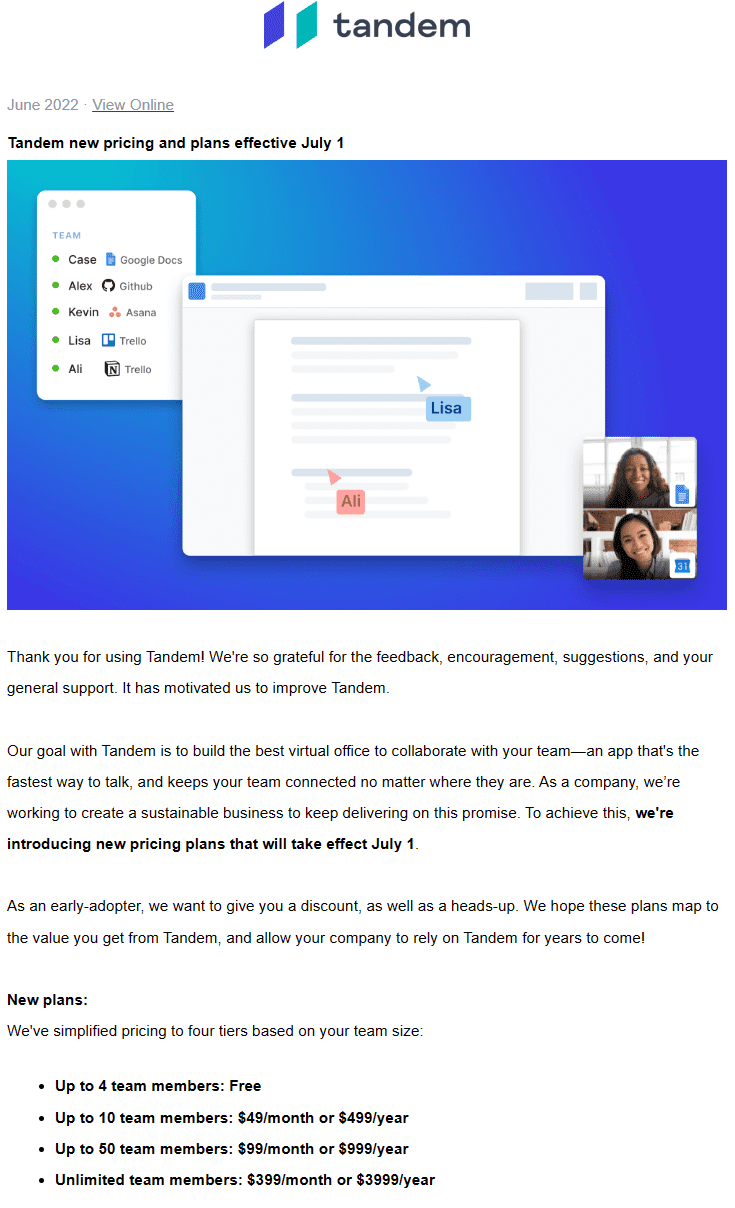 This email update by Cal.com leads with a brief explanation of the changes the team shipped recently. But the key point here is the screenshots of the product that shows the changes users can now make regarding how often specific events can be booked daily/monthly.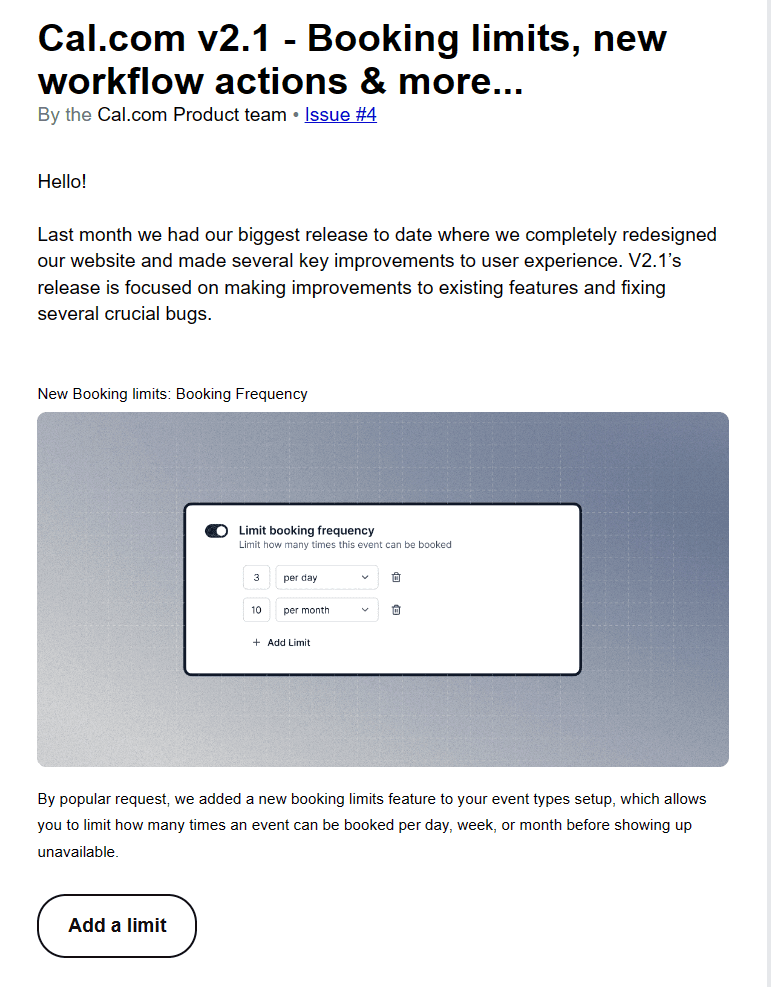 This update email from YouTube shows an embellished address icon that can help users anchor the idea of social media handles they're probably already familiar with from using Twitter, Instagram, and TikTok. Then it's followed by two brief paragraphs explaining that users can now customize their channel handle, plus how the policy will affect personalized channel URLs.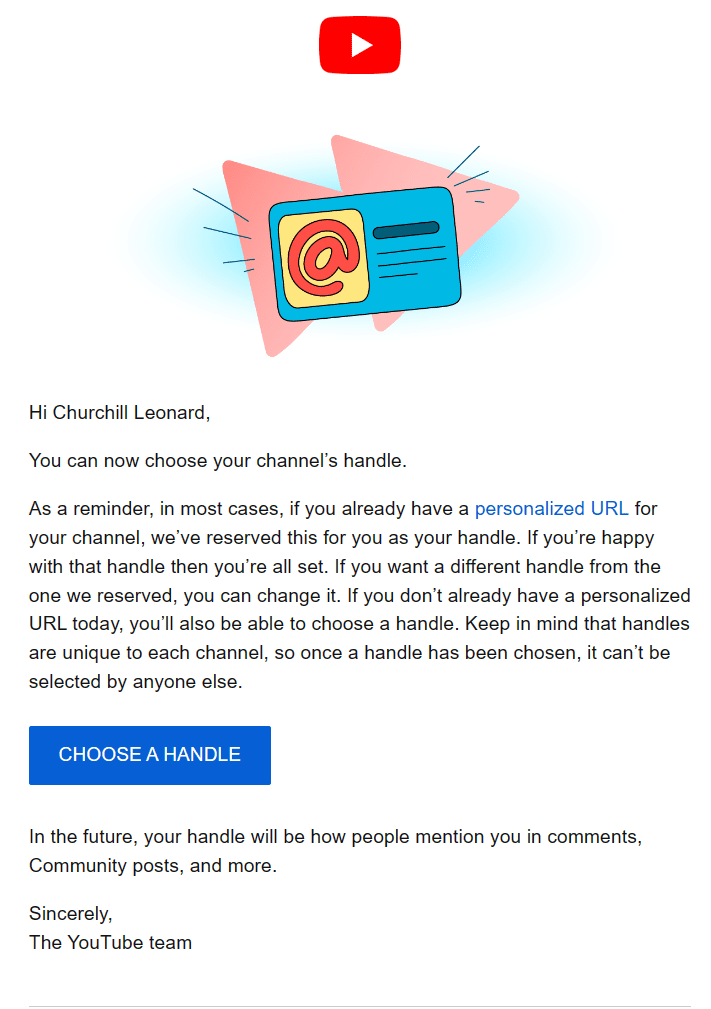 Spreadsheet.com is an online spreadsheet platform that's essentially a Google Sheets/Airtable cone, but better—it gives you superpowers for project management, managing databases, and building custom no-code applications from tables.
This product update covers the recent changes to the product, but the most potent cue is the embedded GIF that shows users how they can generate reports by pulling data from several worksheets in their account, all in a few clicks.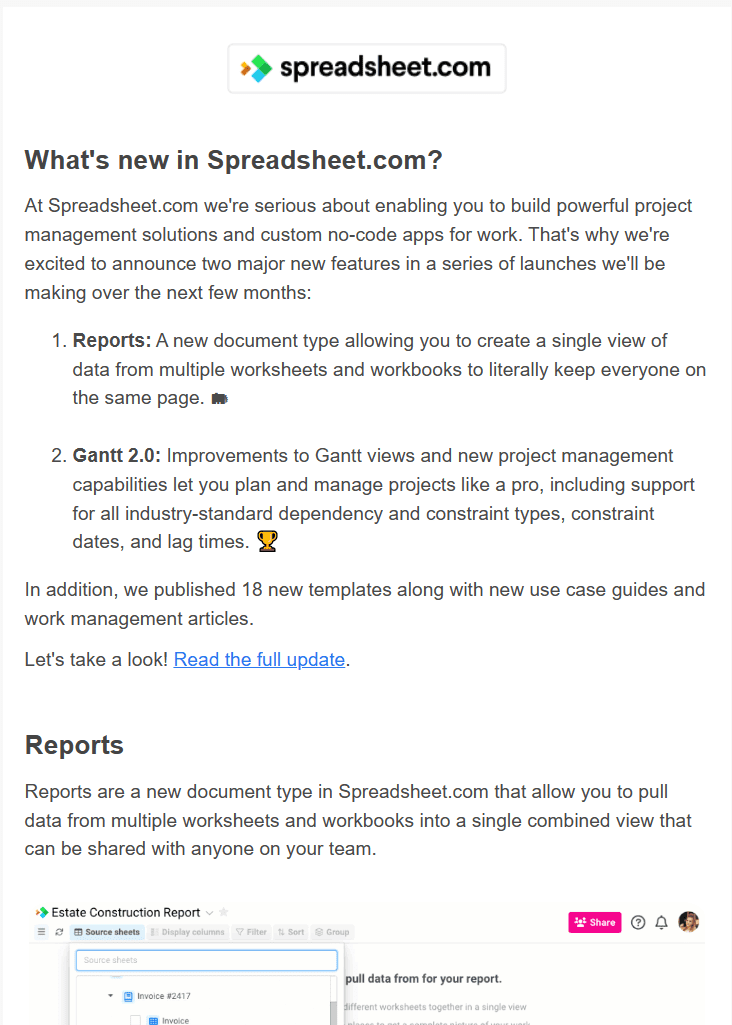 Bonsai is a time-tracking, invoicing, and expense management solution for freelancers and small business owners.
In this product release email, Team Bonsai shares that you can bundle multiple invoices into one & collect payment for them all at once—then they show a screenshot of such an invoice bundle live from their product's dashboard to remove any ambiguity as to how this feature works.
Finally, they cap it off with an explainer describing how users can try it out and a CTA to get started.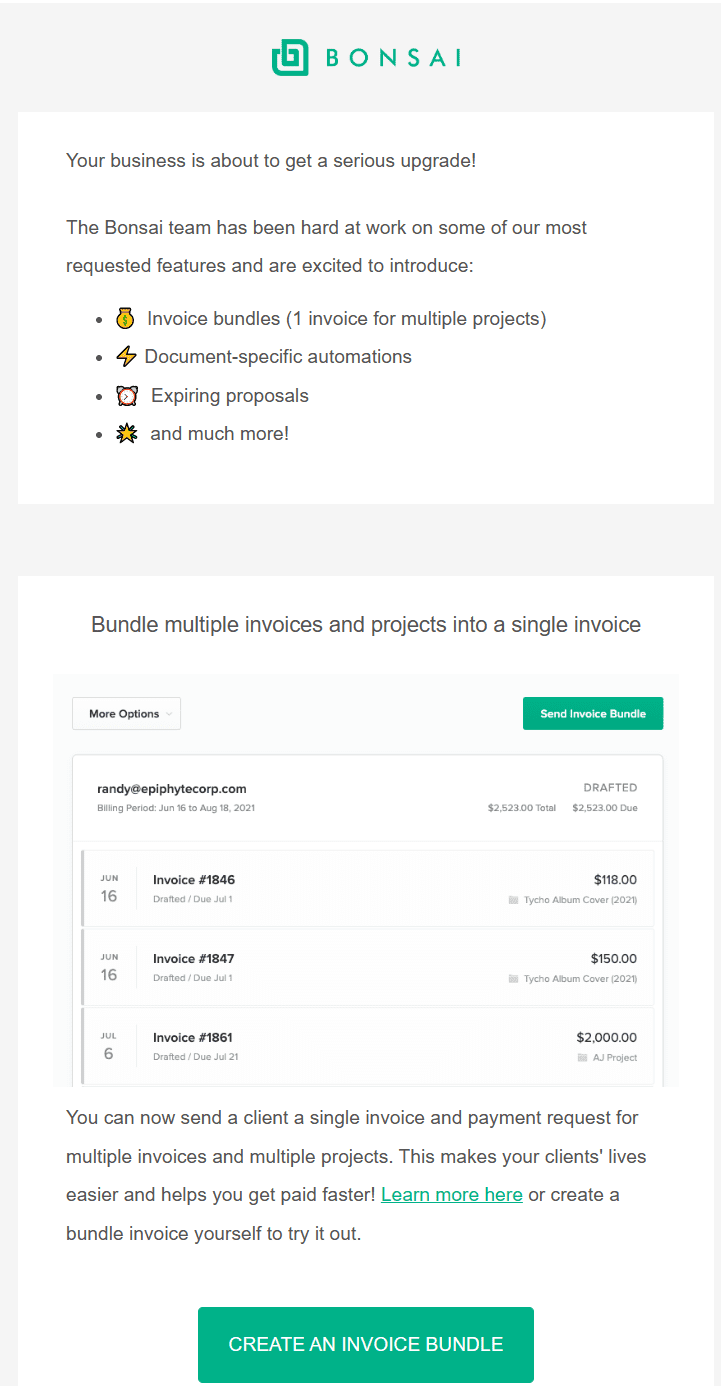 Atlantic is a money transfer platform that lets you send up to ₤1 million for a flat fee of £3 per transaction. This product release email is more of an engagement tactic designed to stay top of mind & retain the attention of those on its waitlist for when they eventually launch.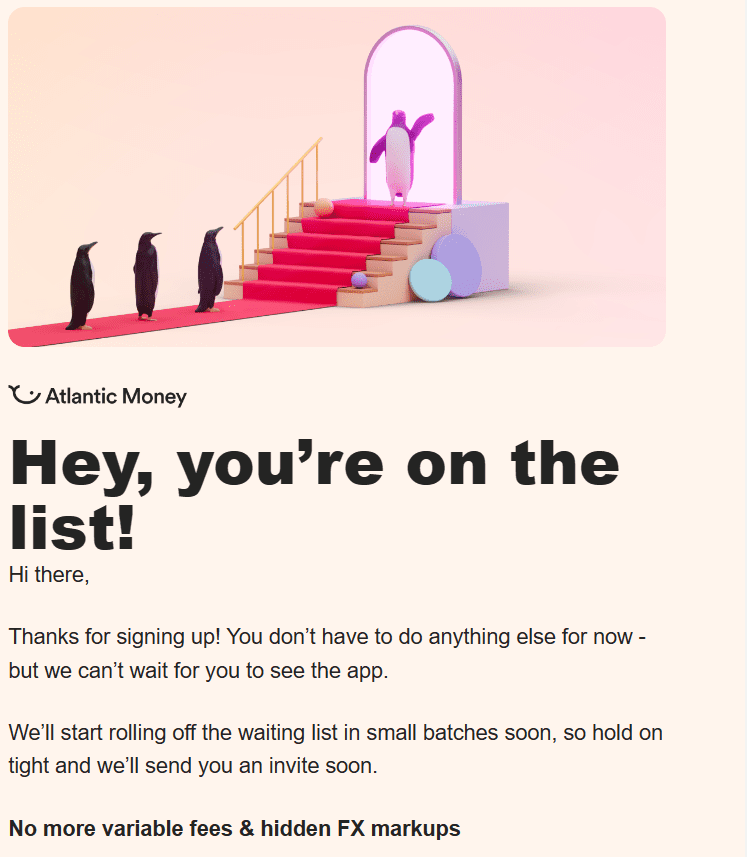 At first, this particular product release email from ActiveCampaign seems like it tries to communicate a lot in one email. But, it's all cleverly broken up so you can absorb it in a minute. It also uses different tactics to get the point across, such as:
Pattern interrupt—the deliberate (underlined) typo shows the new spell-check feature at work by standing out.
Context— ActiveCampaign framed its spell check feature like users would see it while creating an email inside ActiveCampaign's email editor.
Clear CTA—Try out these new features.
A clear breakdown—The bullet list neatly explains the rest of the features coming to the product.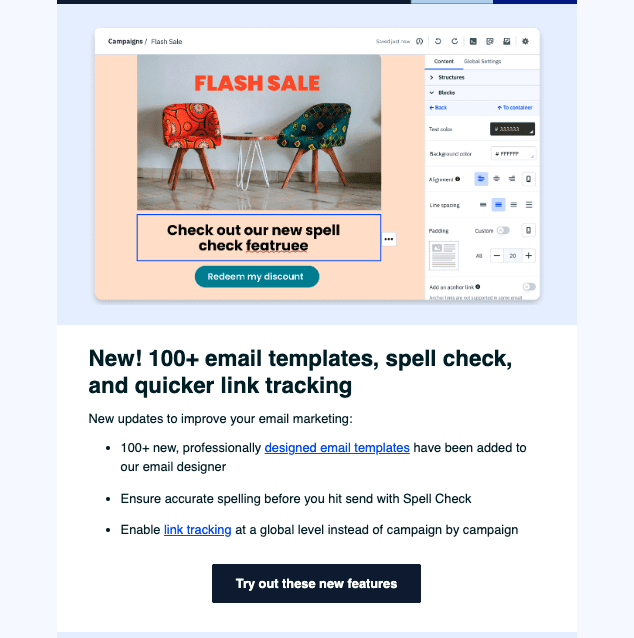 Drive new feature and product adoption with Whatfix's in-app guidance, self-help support, and behavioral analytics
With Whatfix's digital adoption platform and product analytics software, product managers are empowered with no-code tools to analyze, build, and deliver contextual in-app guidance and self-help user support to segmented groups of users. 
With Whatfix, create user onboarding checklists, product tours, feature walkthroughs, pop-ups, self-help wikis, and more – all overlaying on your application and created with your branding using its no-code editor.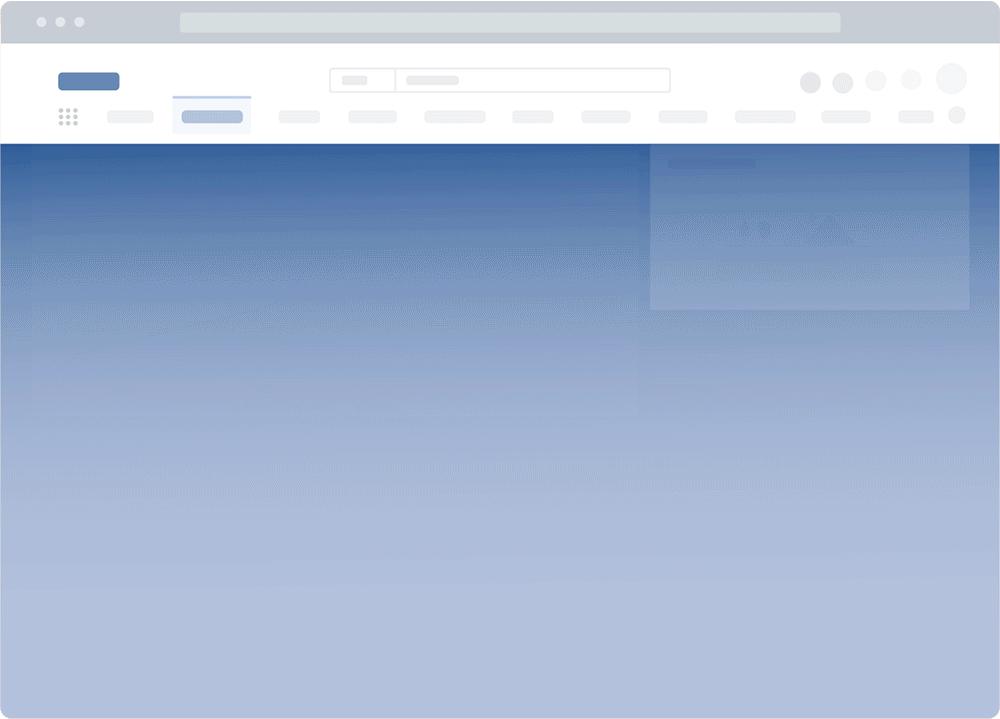 Connect your product tutorial videos, documentation, release notes, third-party links, and more – all right in your self-help wiki that allows end-users to search for how-to's, FAQs, and more to help them find answers to their support issues. Use analytics to identify new knowledge base articles and topics to cover.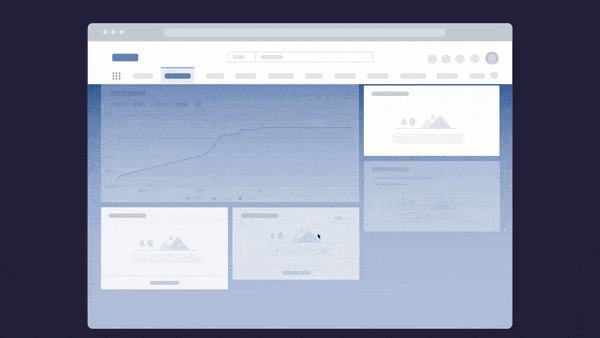 With Whatfix's product analytics, analyze your product experience to identify and fix drop-off areas, improve user onboarding, measure adoption, segment users, and more.
Create contextual user onboarding flows, drive adoption of new features, and make in-app announcements with Whatfix
Whatfix is a no-code digital adoption platform that enables product managers to create contextual in-app guidance, product-led user onboarding, and self-help user support – all without engineering dependencies. With Whatfix, create branded product tours, user onboarding checklists, interactive walkthroughs, pop-ups, smart tips, and more – all enabling customers and users with contextual guidance at the moment need. With Whatfix, analyze, build, and deliver better user experiences.
Like this article? Share it with your network.
Subscribe to the Whatfix newsletter now!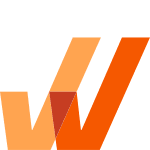 Software Clicks With Whatfix
Whatfix's digital adoption platform empowers your employees, customers, and end-users with in-app guidance, reinforcement learning, and contextual self-help support to find maximum value from software.