Over the past decade, organizations have adapted to an ever-changing corporate world by adopting new digital processes and technologies to help them be more successful in terms of output, productivity, and revenue through digital transformation.
To keep up with what has been termed the "fourth industrial revolution" (or "Industry 4.0"), organizations must invest in a corporate learning and development (L&D) strategy as a tool for continuous reskilling and upskilling of their workforce to meet new corporate challenges.
What Is the Strategic Purpose of an L&D Strategy?
A learning and development (L&D) strategy allow organizations to create training programs to upskill and reskill employees that align with corporate goals and needs, based upon changes in the business environment. A strong L&D strategy empowers employees to gain the knowledge and skills necessary to be proficient and productive in their role, as well as allow organizations to develop leaders from within.
Benefits of a Well-Crafted L&D Strategy
There are many benefits of investing in employee L&D for organizations, including:
More Proficient and Productive Employees:

As with any training program, the key goal is to improve and develop the learner's skills. With a corporate L&D strategy, organizations are able to refine and upskill employees with the skills that are most needed for a specific role or problem within the organization.

Develop Talent from Within:

It's always better to promote from within. It shows employees that your organization is willing to grow talent and promote internally, allows organizations to have more trust in their internal hires, and internal promotions are more likely to succeed – as external hires are 61% more likely to fail in comparison to internal hires.

A System of Knowledge Sharing: A well-developed L&D strategy promotes a system of knowledge sharing – allowing organizations to better handle new employee onboarding, transferring projects between departments to team members, and overall better workplace transparency.
Keeping Up with Change:

As organizations frequently undergo

change management

, and an L&D strategy allows organizations to create reskilling programs that are effective and easy-to-implement, creating an

adaptable workplace

.

High Employee Satisfaction: A culture of learning and development is inherently pro-employee. It shows that a company is investing money and resources into developing team members into better employees – resulting in workers developing deep, valuable skills that can be used to build a resume, earn a promotion, and receive a raise.
Higher Employee Retention: A more satisfied employee who you have invested resources in and laid out a development plan for is far more likely to stay with your organization – improving retention rates company-wide.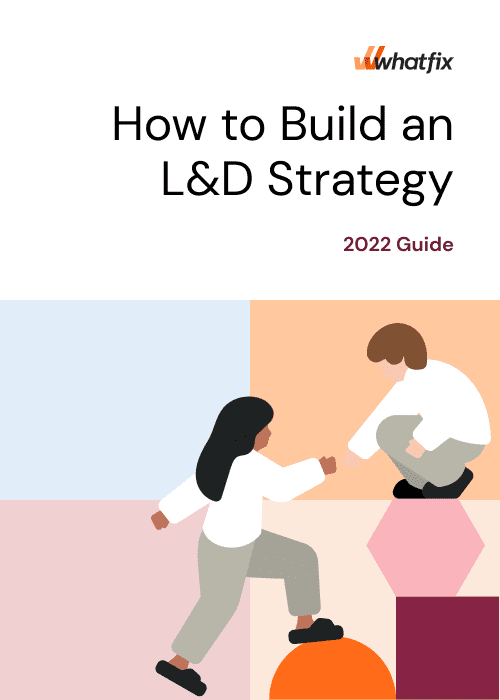 Building out your L&D strategy?
Download our new strategy guide now!
11 Steps for Building an Effective L&D Strategy in 2022
Here are ten steps for organizations to craft an L&D strategy that is both effective and efficient in 2022:
1. Understand Your Business Strategies
As with all corporate programs, you must first understand your overall business goals and align your L&D strategy to those organizational-wide goals. This gives direction to your L&D and HR teams tasked with creating your learning and development strategy – and what types of upskilling and reskilling they'll need to accomplish to find ROI with their L&D strategy. This allows provides a blueprint to secure buy-in from your leadership team to invest resources into a learning strategy to develop your internal talent.
2. Determine Ownership of L&D Between HR and Department Heads
Before getting into the nitty-gritty of developing your L&D strategy, you'll need to define clear ownership of the project – which is an L&D challenge for businesses. Many larger organizations – especially post-COVID – have created dedicated L&D teams. For other SMB organizations, learning and development still exist under the HR umbrella.
You'll need to create an ownership charter that clearly states who owns L&D – is it the HR department? Individual team leaders? A new L&D team that reports directly to the c-suite? 
No matter the ownership structure, be sure to create a cross-functional team incorporating individuals from various departments across your organization. This will allow you to get input on upskilling and reskilling needs across different business functions – as well as get buy-in from everyone in the organization.
3. Set Clear Corporate L&D and Training Goals
After assigning ownership and understanding business goals, it's time to set clear objectives for your employee L&D and training. These should be tied back to organizational development and be people-centric. Make these goals trackable, objective, clear, and obtainable. Share these goals with the organizations to make it transparent what your L&D strategy is aimed at accomplishing.
4. Conduct a Skills Gap Analysis
Once you understand the goals of your L&D strategy, conduct a skills gap analysis on the areas your L&D program will be focusing on. This could be different across business departments – and you may need to create a few different skill gap analyses (ie. think an analysis for the accounting team, the marketing team, etc. – as well as analysis for leadership, manager training, etc.)
Once completed, you'll have a better understanding of the depth of L&D training needed for different departments and individual employees. This will allow you to be hyper-targeted in your approach and created personalized learning experiences.
Skill Gap Analysis Template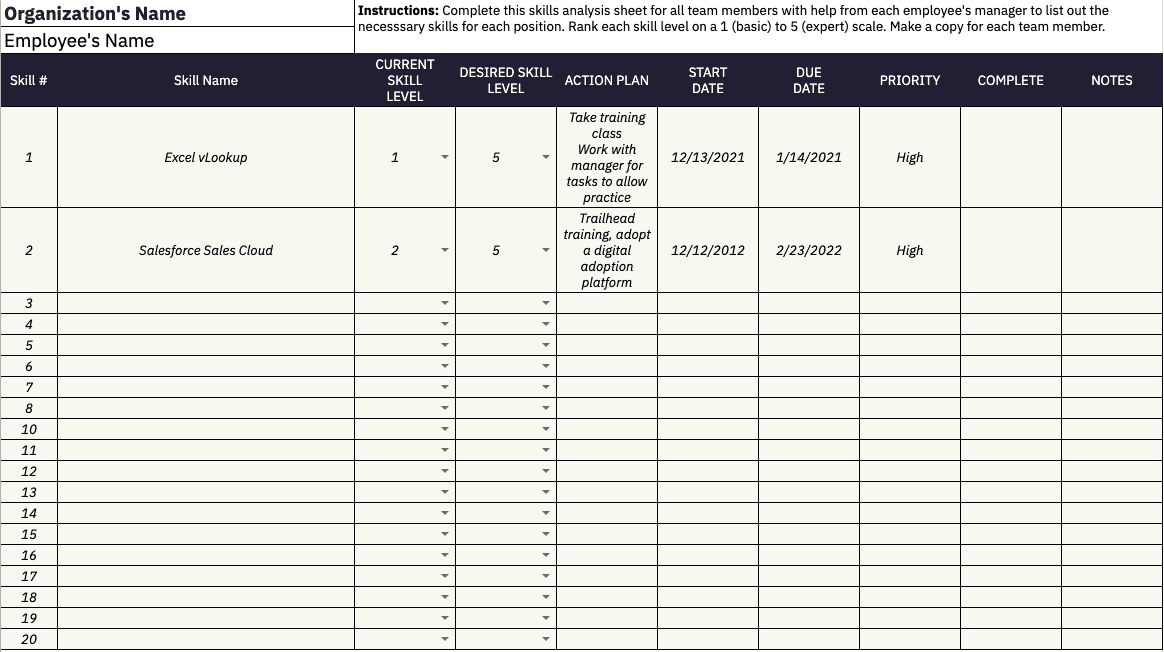 Get a free skill gap analysis template to customize for your organization, delivered straight to your inbox!
5. Design Contextual Learning Paths for Different Roles
With the skills analysis complete, use this information to create contextual L&D experiences for your different team member's ability levels. You should look to incorporate different employee training methods, as well as various multimodal learning formats such as video, audio, reading, and interactive training content. 
Repurposing L&D content into interactive, in-app experiences that give employees answers to their problems in the flow of work is a major L&D trend in 2022 – and should be incorporated into your various learning journeys.
6. Invest in Your L&D Software Stack
To create these various learning paths – and to properly measure the effectiveness of your training – you'll need to invest in employee L&D software technology. These tools will allow your L&D team to author, design, and publish learning courses in different formats, track progress, host courses, assess knowledge retainment, collect feedback, and more.
A few of the most popular tools in an L&D tech stack include: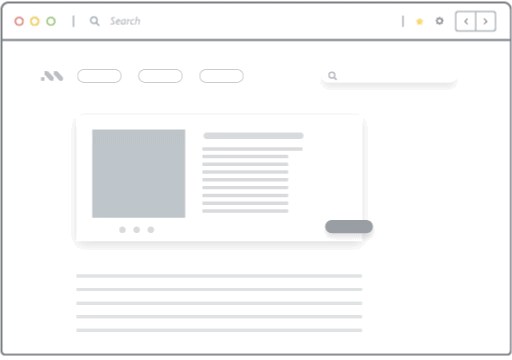 Create personalized learning & training flows for your enterprise apps with Whatfix
7. Launch Your L&D Strategy
Once you've crafted your L&D strategy, it's time to launch it. Before scaling it to the entire organization, get feedback from leadership and make changes accordingly. You should also look to "soft-launch" your L&D program with certain, limited audiences – such as one or two pre-selected teams. This allows you to work on the growing pains of an initial program launch and make those changes before you have a full-scale L&D launch.
Once you do launch your L&D strategy organization-wide, be sure to promote it. Explain to your workforce that you're investing in their growth – and that you need their buy-in to succeed. This is easier to implement with L&D advocates in key roles across your organization – so be sure to acquire leadership buy-in across your different business functions.
Download our free L&D template toolkit!
This learning & development planning toolkit includes five free templates – for measuring skill gaps, creating training plans, and measuring effectiveness, and more!
Get your L&D template toolkit now!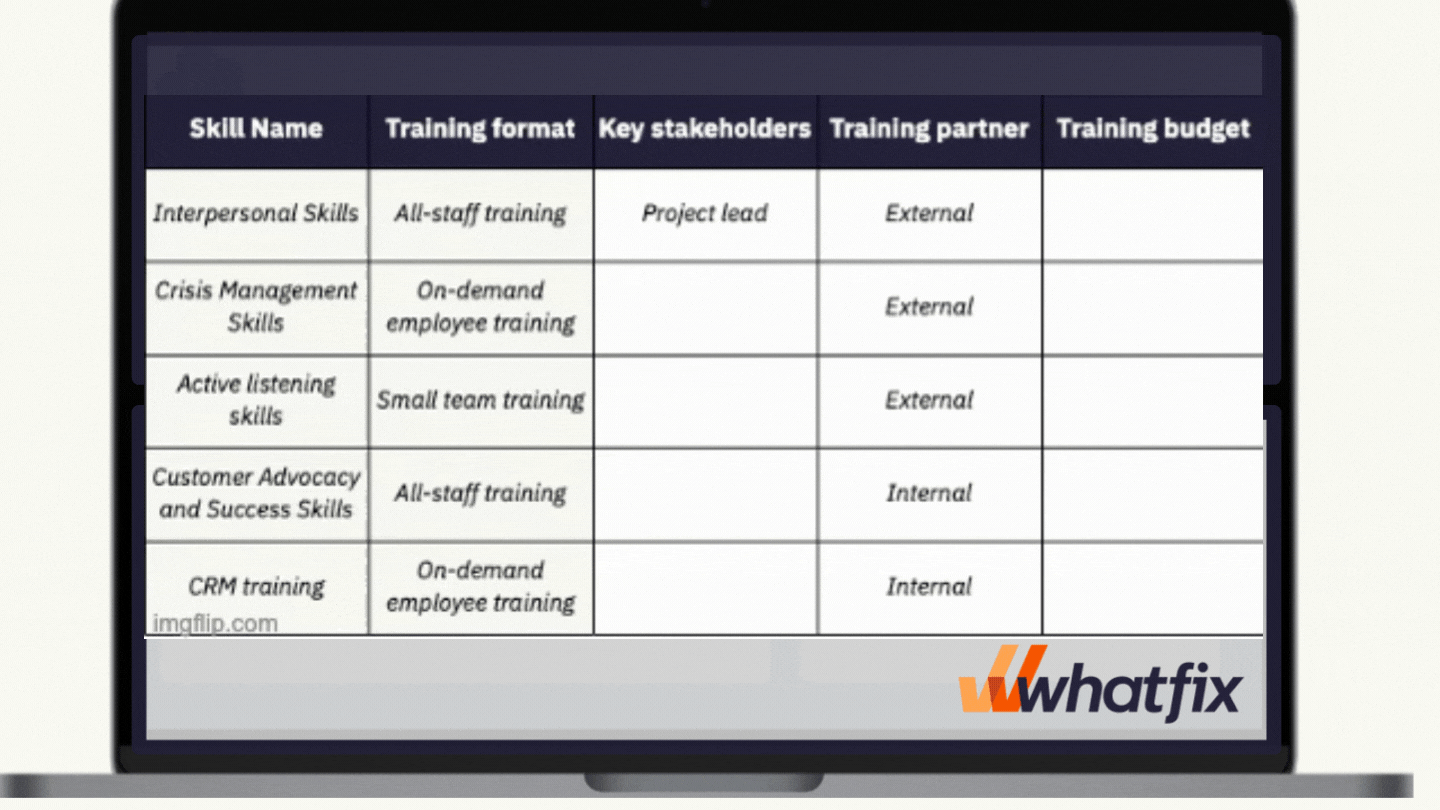 8. Measure the Effectiveness of Your L&D Strategy
As mentioned previously, using L&D software equips you with the tools to properly measure the effectiveness of your training program. Set KPIs such as course completion rates, training progression rates, assessment scores, lowering skill gap analysis, improving proficiency or productivity for different teams, improving digital adoption rates, etc.
This will allow you to find trouble spots in your L&D program and correct them as soon as they're made apparent. You'll also be able to benchmark your learning and development progression and set future goals to target improvement.
You should also overlay business performance and your L&D program to see if there have been any improvements in overall business KPIs that can be tied back to employee learning and development. This can be difficult to tie correlation to causation – but big data mined from your team's L&D software stack can help pull out insights.
9. Gather Employee Feedback on Your L&D Strategy
Outside of gathering data on the effectiveness of your L&D strategy, also collect qualitative data from team members who are taking part in your L&D strategy. This will help you highlight areas in need of improvement, but also if your employees are finding your strategy as a whole helpful. If team members see your L&D strategy as an HR mandate or not helpful, you'll not be able to achieve the objectives you've set, as employee buy-in will drop.
Look to gather feedback from different stakeholders and team members at various times, including:
In-the-moment of learning

Post-training surveys

after key courses have been completed

In 1-1s and performance reviews
10. Take an Agile Approach and Always Refine Your Strategy
Be flexible in your L&D approach. You'll need to take initial learnings, training progress, team member feedback, new business objectives, and more all into account – and use them to continuously refine and improve your L&D strategy. Fostering an agile approach to employee learning and development will allow you to take new data and insights and pivot to new learning opportunities. 
11. Integrate L&D into Your Core Business Strategies
Finally, corporations should look to integrate learning and development into all their business objectives. This ties back to the first step in this list – understanding your business strategies.
While often overlooked, simple employee development, training, and support can be a catalyst for organizational growth. Once you have an L&D strategy, begin to incorporate pieces of that strategy into all your department's quarterly goals. 
Invest in a digital adoption platform to support your L&D strategy
With Whatfix's digital adoption platform, you create interactive, in-app L&D content such as contextual walkthroughs, tooltips, knowledge bases, and more – all improve digital adoption for your employees.
Subscribe to the Whatfix newsletter now!