When it comes to training your users, knowing is half the battle. However, the greatest victory is that, which requires no battle.

As for ServiceNow, that greatest victory would be to build a proactive system that can take care of your users' training and support, all on its own. But, would such a system be effective and more importantly, practical?
Well, that's the solution that I'll reveal to you in this article. But before that, let's try and see a few things in retrospect, to set your expectations right. Especially on the lines of, 'How you train users on ServiceNow and where you are going wrong.'

Say, you are already en route to implement Service Management in your organization and amongst the many available tools, you've opted for ServiceNow. The ServiceNow ITSM gives you the leeway to solve all your user issues, by categorizing and addressing them in a structured manner. Now, the next step is to implement ServiceNow, define the processes and set up the playground for your users.
Put yourself in your user's shoes for a second – Your users are asked to get started with a new software, which is pretty sophisticated. It's highly likely that they don't even know how and where to begin. So, as per your training plan, they start prepping via the ServiceNow Onboarding and Training collaterals like slideshows and lengthy documentations, some nifty how-to videos and then possibly get a hands-on in a 'How to use ServiceNow' workshop.
Isn't that how you traditionally perform ServiceNow training?
Well, what if I tell you, however amazing your training program is, your users will forget what they have learned, they will lack the skills to master ServiceNow and they will come back to you with more and more queries. (It's quite inevitable, really!)
Statistically, "After two weeks your users will remember 10% of what they read, 20% of what they heard, 30% of what they saw and 50% of what they saw and heard."
If your ServiceNow training is not intertwined with all these essentials, then where do you think it will lead to? – Productivity drop, increased human errors and a higher overhead support costs. (And that too, on top of all that you have invested on ServiceNow.)
Do you understand where you went/are going wrong?
Now, imagine that there is a platform that makes it easy for you to streamline it all, with the least bit of maintenance, and a setup time of a few minutes. A platform that sits in the background and pops-up when your users' need help. Then, takes them step-by-step to complete the process/task in ServiceNow without referring to any other resources or asking for help from anyone in real-time. Much like a personal tour guide on the platform that meets, greets and gives them contextual advice on how to proceed just-in-time. Making the task of ServiceNow training simpler in all its essence, in a way that you never anticipated.
Much like this one.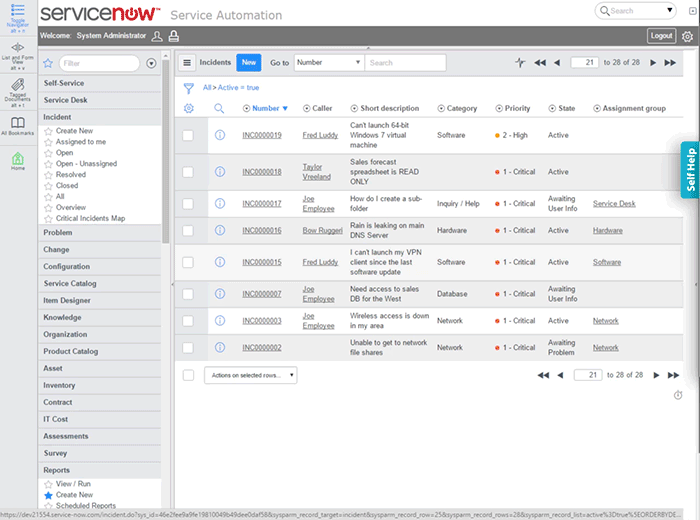 Well, this technology is the Swiss Army Knife, that this article is about; And it's called Whatfix. 
Why use Whatfix for ServiceNow?
Let's get down to the nitty-gritty of the tool. Whatfix is one of the most popular performance support systems that enable Enterprises to simplify their employee training, user onboarding, user engagement, customer support and change management. It provides in-app guidance via its zero-coding interactive walkthroughs, that guides users step-by-step, from start to completion of a task/process.
Much like how you were handheld on any of the platforms that you use daily when you were first-time user!
As you can see in the GIF (above), the contextual tooltip appears just-in-time when the users need help on ServiceNow. Prompting them to perform an action-guiding, teaching and training them on how to perform the task.
But, how is this tool going to be the strongest training weapon in your arsenal?
It's quite simple, really!
Whatfix can help you throughout your User Lifecycle, especially with all the training and support complexities that need attending to.
Let's have a look at the use cases one by one, to get some deeper perspective.
1. Accelerating ServiceNow Adoption
Product Adoption is simply the biggest challenge faced by Enterprises who use softwares like Salesforce (CRM), ServiceNow (ITSM), SuccessFactors (HCM), etc. The sophistication of the platform, determines the complexities in getting new users to adopt, learn to navigate, be comfortable and work proficiently in the platform.
In ServiceNow, when a first-time user gets on to the Self-service portal, it's highly likely that they would need help to understand how to raise requests, report issues and create incidents.
Whatfix's real-time guided walkthrough, helps them with the transition by facilitating their first-time navigation, with contextualized help that explains how to do each of the tasks, in sequential steps.
Let's take an example. The following are the steps to raise a Service Request on ServiceNow.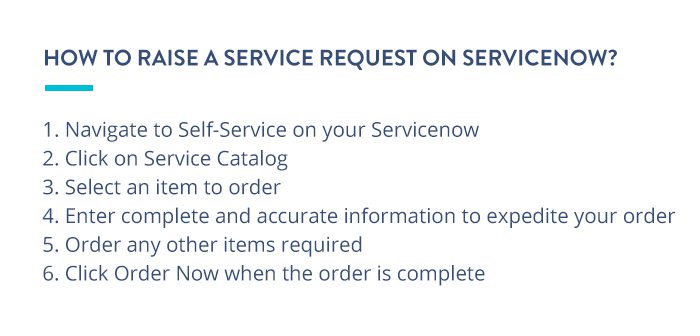 Simple enough, right? To understand how to do this, the user probably would have had to check the knowledge base or probably learn through one of the training methodologies in place.
Now, with Whatfix this is how you will help the user. For simplicity, I've made another GIF to show you how.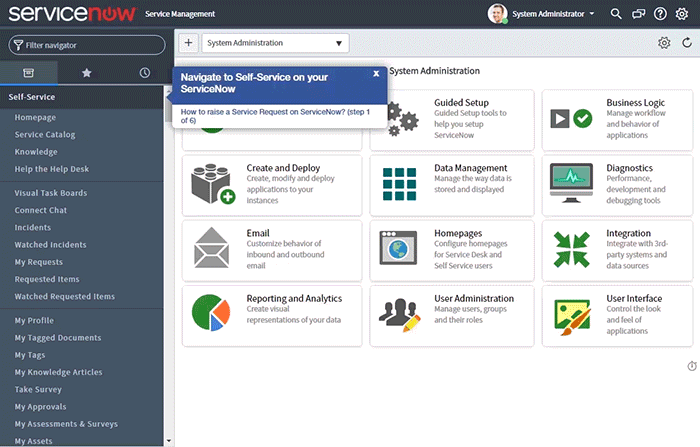 Much like the User adoption, you can also setup nifty Whatfix walkthroughs for ServiceNow Agent Adoption.
2. Streamline Your Agent & Employee Training
Albeit, a subset of User Adoption, training and onboarding are still critical aspects. Especially, when you have a multitude of employees who use ServiceNow on a daily basis, who must learn to use the platform like the back of their hand.
ServiceNow Training and Onboarding via Whatfix relies entirely on Experiential learning. That is, Whatfix helps your users 'Learn by doing.'
To help you understand, I'll show you how Mr. John Doe (he could be an Agent or an Employee on ServiceNow) gets onboard and trained via Whatfix.
As soon as John gets on the platform, he is greeted with the Whatfix Product Tour Pop-up which gives him a walkthrough of all the major touch-points on the platform.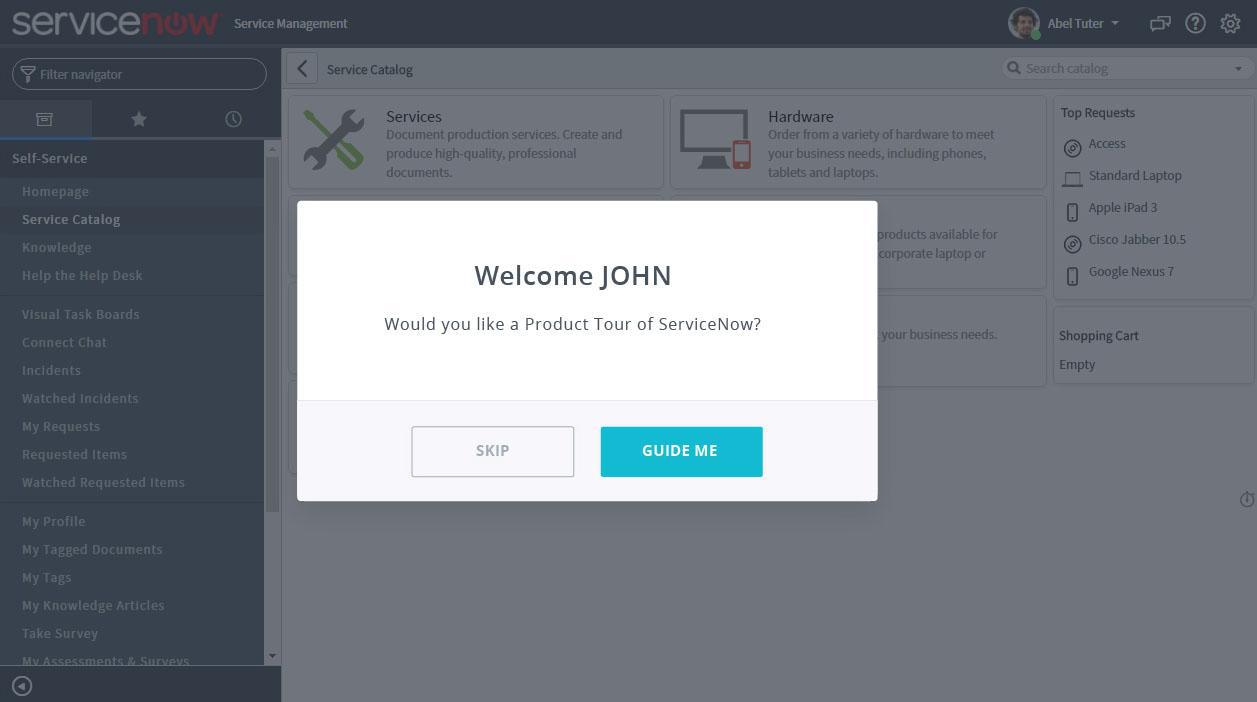 The product tour will expedite John's understanding of the platform, helping him reduce his time to productivity at large.
Once he is done with the Product Tour he is ready to take on the platform. But wait, there are a lot more functionalities of ServiceNow that he might need.
So, that's where Whatfix Task List, comes into the scene.
Whatfix Task List is a configurable checklist of walkthroughs that will help John experience a step-by-step progressive training. It can include all the priority tasks that he must complete as he starts using the platform.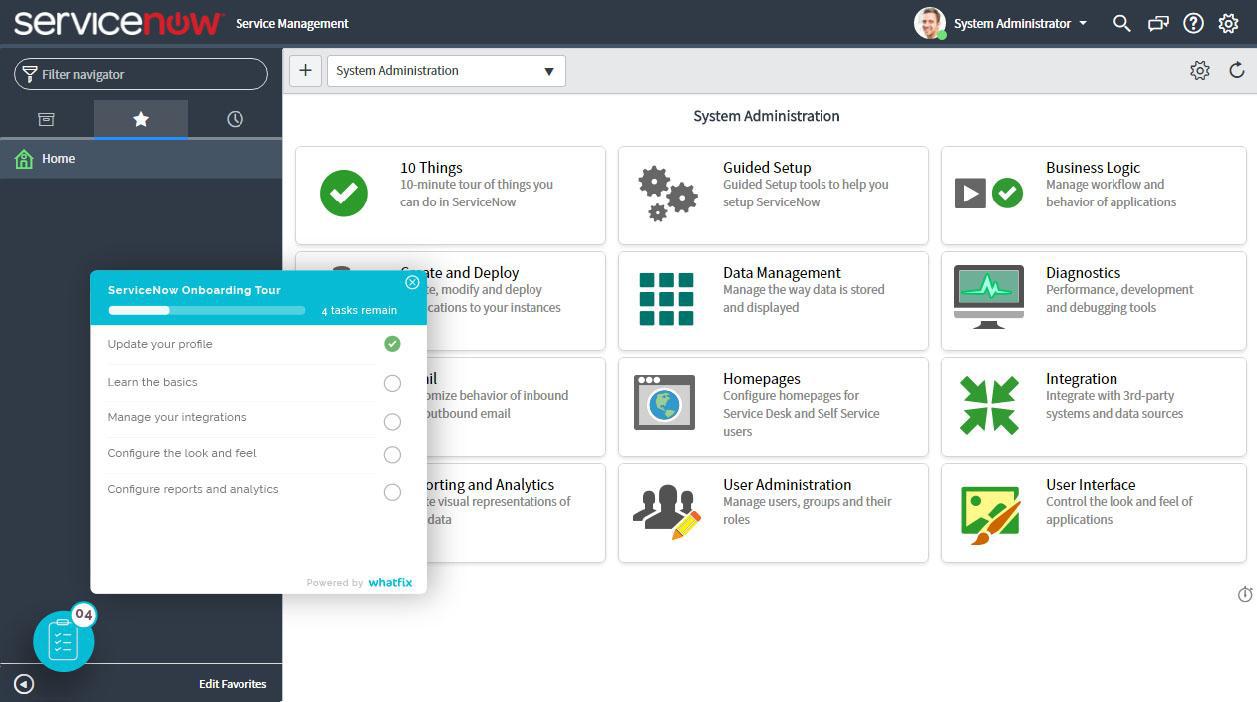 Once he completes the task, it is checked (✔) and the next task is initiated.
3. Just-in-time Contextual help
Now, let's say after a few days of using ServiceNow, John is seriously onto some work when he stumbles on a functionality that he does not understand. His basic instincts would be to Google for the solution or check the ServiceNow knowledge base or hit up his colleague next to him and ask how to do process further. This would break the continuity of his work and could also prolong the completion of the task. (Down goes the productivity!)
Enter Whatfix Self help widget.
The Self-help Widget is a quick access widget that can help John just-in-time by providing him live contextual help. All he does is click on his query listed in the widget, and he initiates the corresponding Whatfix interactive walkthrough.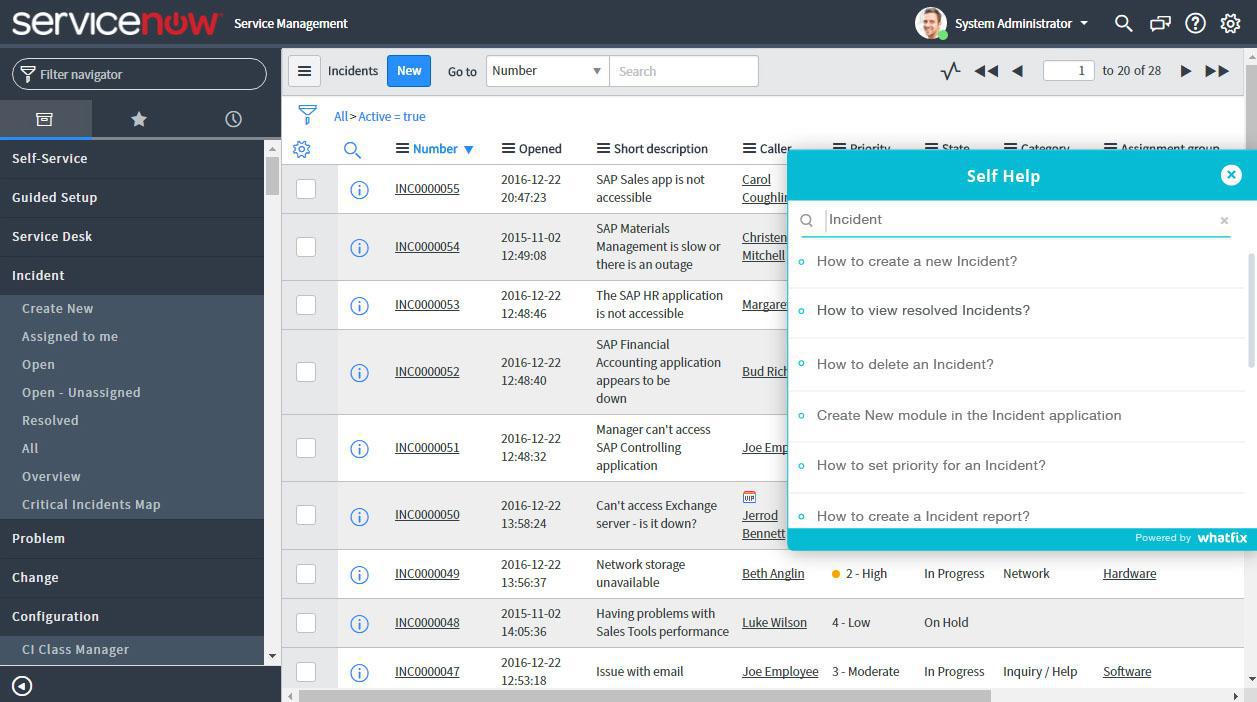 Soon enough, Whatfix Self Help widget becomes John's go to place for all support. He doesn't have to reach out to the support team anymore, nor does he spend his productive time hunting for how to resolve his query.

It's all available in a few clicks, and well you can imagine how his productivity escalates!
4. Support queries solved in a jiffy
By now you are already familiar with what Whatfix does. But then, what about reducing support queries?
John could be an ideal user, but there are still many users who need more convincing. And for that, they reach out to the Knowledgebase or to the support team.
Keeping it simple, let's say Ms. Jane Doe is that curious nut.
Jane couldn't find a solution to her issue and raised a support request. Now, the request has come to one of the support reps, whose task is to resolve her issue as quickly as possible.
If not already available in the widgets, the support rep can quickly whip up an interactive walkthrough, using the Whatfix Editor.
"The average time to create a guide ranges from 3 to 5 minutes"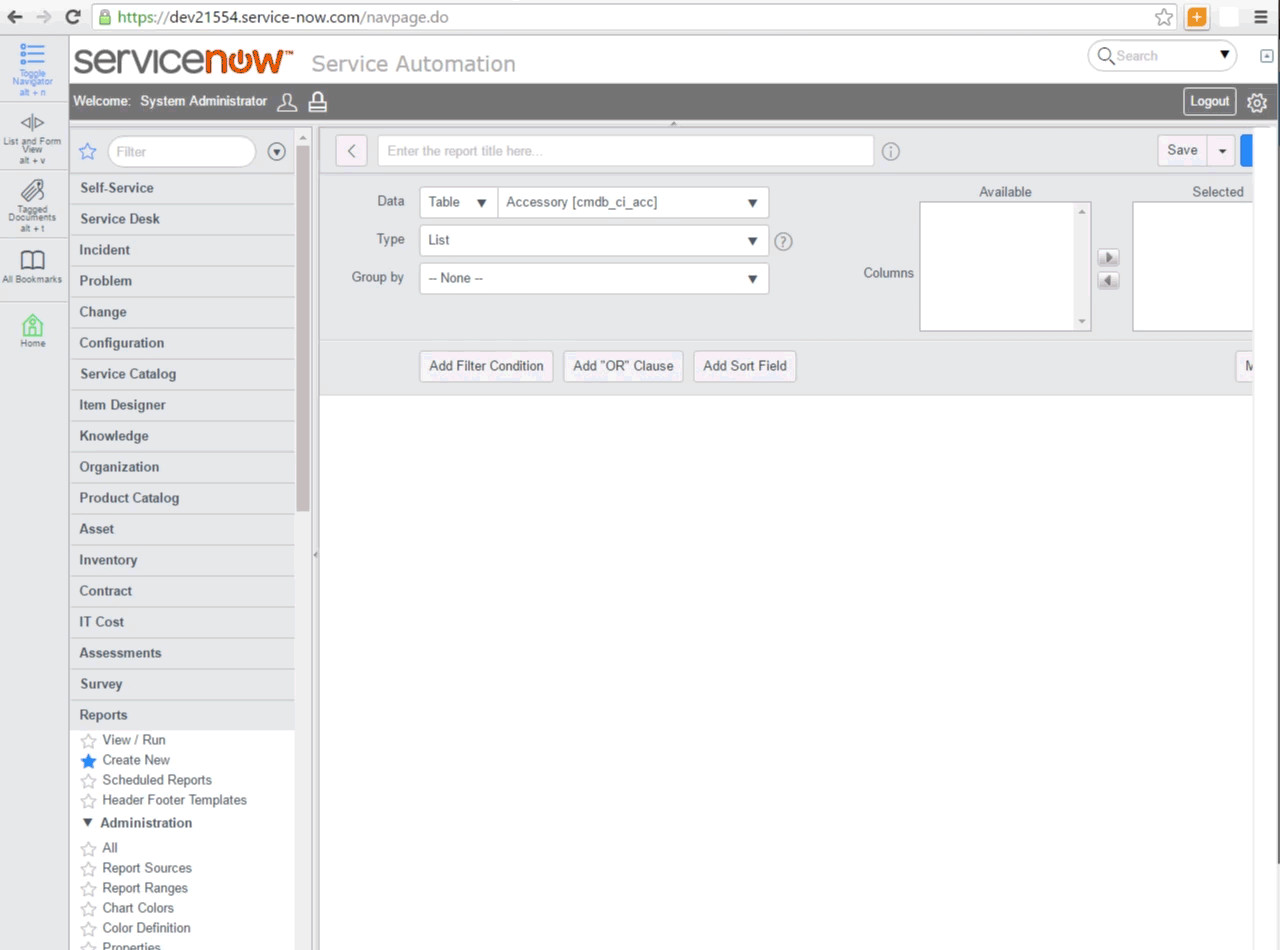 After creation, for quick reference, the support rep shares the Slideshow format of Whatfix guide with Jane, which gives a quick overview of how to solve the issue in sequential, annotated slides. Being a bit more proactive, the support rep also shares Whatfix Smart URL, that directs Jane to the interactive walkthrough that solves her issue.
Anticipating similar queries like Jane's in the future, the support rep then embeds the interactive walkthrough in one of the Whatfix multiple formats (Slideshow, Annotated Video, PDF, Article and Smart URL) in the Knowledgebase.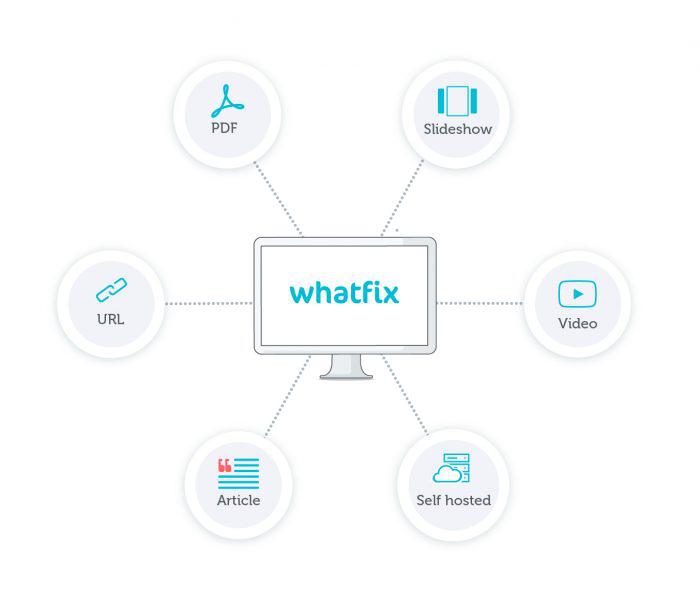 So, the next time, a similar query pops up, the only thing that the support team has to do is respond with a link.
Bottomline:

Whatfix is the Swiss Army Knife For Your ServiceNow Training & Support
If one tool can solve all the training and support issues throughout your User's lifecycle on ServiceNow, then imagine the possible outcomes.
Increase in ROI; Time-to-productivity of your employees

Reduction in Training time with experiential learning

Slashed Training and Support Costs

Efficient adoption of business process

Elimination of User confusion and Human errors

Minimal dependency on your Knowledge resources
So, with all that said, do you think, you should try Whatfix for your ServiceNow?
If you are impressed by Whatfix and want it to simplify ServiceNow training then schedule a personalized demo, right away!