Video training is the most preferred and effective way to deliver knowledge and to consume content in the digital age. This makes sense, as learning a new skill by watching a quick video is more convenient and less time-consuming than reading lengthy, text-heavy documents. Videos have become the preferred digital media in corporate training too.
In fact, two out of three employees absorb information 7% faster and complete tasks better when instructions are provided visually. According to Google, learners are 3X times more likely to watch a YouTube video tutorial than to read a manual or instructional document for a product.
Do you know why?
While watching a video, you're not just a spectator, you are in action. Visual representations make you easily perceive the information and store it in your memory longer. Training videos also cater to a wide variety of learning needs for all types of employees, increase knowledge retention with engaging knowledge transferring, and reduce learning time.
What is a Training Video?
A training video is an instructional video with the educational goal of teaching a skill or imparting knowledge to the learner. Whether it's for onboarding, continued development, or a software how-to tutorial, a training video is dedicated to educating learners on a specific topic and engaging them in their learning experience.
Benefits of Video Training
Video-based training is effective because it is convenient and puts the learner in charge of their own learning. It is easier to digest, promotes knowledge retention, and improves employee engagement. 

Let's have a look at a few benefits of video-based training:
1. Increased employee engagement and knowledge retention
Videos offer better engagement for your team members, with a higher chance of information retention. A study conducted by the SAVO group confirmed that presenting learning materials visually increases knowledge retention by up to 65%. This means better training effectiveness while reducing the need for continuous learning over time.
2. Boosts employee productivity
Video training sessions enable employees to learn at times convenient to them, without hindering their workplace productivity -ie. learning in the flow of work. If some other high-priority task comes along, employees always have the option to pause and restart their training another time.
Training videos are extremely cost-effective as you incur only a one-time cost for video production that can then be used endlessly. In addition, businesses don't have to pay anyone or pay for travel expenses for conducting in-person employee training sessions. This is even more critical for organizations as many are now completely remote workforces.
4. Multiple device access
Not all learners prefer learning on a desktop computer. Millennials mostly prefer learning on the go. Video training allows your audience to access training content at any time on their phones or tablets.
5. Encourages microlearning
Microlearning is one of the best instructional approaches to engage the modern-day workforce. Video-based training fosters a microlearning environment as the course content is broken into small bite-sized information modules that keep learners engaged and helps them comprehend the information faster.
Video Training vs. Traditional Training
There are pros and cons of both traditional and video training, including
Traditional Training Pros & Cons
Learning with instructors and colleagues in person provides opportunities for greater human interaction. 
Attending in-person seminars and training sessions might sometimes be inconvenient for remote employees.
Bigger training groups need to be divided into subgroups. This leads to inconsistent messaging and teaching styles of instructors.
High cost of implementation, both in terms of time and money.
Training Videos Pros & Cons
Even when paired with a live chat agent and other types of online interactive tools, video training does not offer the in-person level of human contact.
Online training is a flexible option for individuals working remotely.
A greater group can learn at the same pace online.
Cost-effective in terms of development hours, travel costs, and employee time away from work.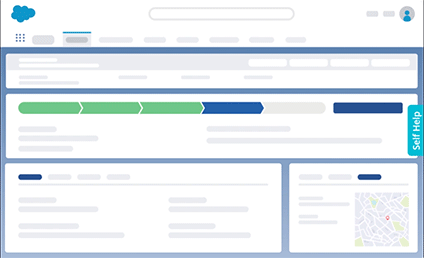 Create personalized learning & training flows for your enterprise apps with Whatfix
5 Types of Training Video Formats
Here are five types of training videos that are commonplace in modern workplaces.
A software screencast is a recording of a computer screen or mobile device that is perfect for training your audience on how to use software applications, websites, or follow any process on a computer. There are many simple video tutorial creation software tools that are perfect for managers looking to create quick and simple screencasts of software how-to tutorials.
Below you can see an example of a screencast recording of how to install Microsoft 365 and MS Office onto a Mac or PC: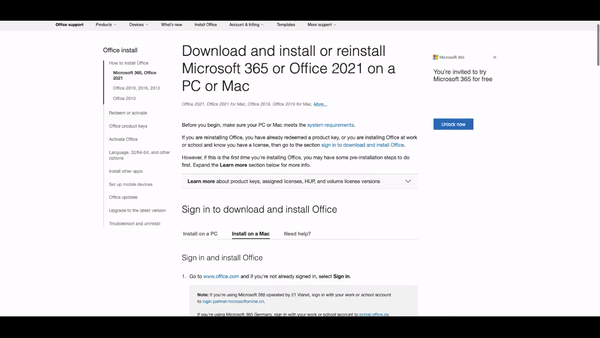 2. Corporate training videos
Corporate training videos are created for employee training and onboarding to help new employees effortlessly navigate different processes within enterprise applications used in their roles. For existing employees, corporate training videos can be created for upskilling and reskilling programs – or to use during the employee onboarding process. There are many easy-to-use video training software solutions available that don't require prior video editing knowledge.
This allows HR teams and managers to create solid training videos that get the job done, without needing to outsource video production to learn new video-related skills.
Below you can see an example of a corporate training video from Uber that helps onboard and train new drivers:
When you want to educate your employee on an enterprise application, software, or a process, animation videos can help illustrate complex processes easily and interactively. Moreover, these videos have an impactful stride that can emotionally connect to the audience and promote high engagement rates. One downside of using animated videos is that they're an investment. These videos require help from an animation professional, which can be a costly expense.
Below you can see an example of an animated training video on how to deal with difficult customers:
Scenario-based training is a powerful method that uses immersive simulations like VR environments, eLearning games, quizzes, role-play training, etc. to engage employees in live action and enable them to learn software or application on the job.
A video training platform allows you to write your scenario scripts and easily record live enactments using any video camera.
Below you can see an example of a customer service scenario video:
Interactive videos allow learners to lead their storylines and learn through an involved experience. These videos are made by the addition of immersive interactive elements such as images, elaborating text, links, quizzes, etc, and are stored in a corporate learning management system (LMS) or an online course provider such as Coursera or LinkedIn Learning.
How to Create Training Videos for Your Employees
While creating video content can be intimidating, you can use the following steps to guide you on your video creation journey.
1. Set goals and objectives for your training videos
Before creating your training videos, be sure to both understand your training goals, as well as your learning objectives for your employees.
Understand your goal(s): Before creating a training video, dig into your training strategy to understand the business goal and outcomes you want to achieve. Partner with your instructional design team and review the training needs together. Understanding your training goals and objectives will help clarify the full scope of your video project.
Define your learning objective: Define your learning objective in the sense that after watching this training video, what should employees learn or be able to do? Your learning objective should be clear, concise, and relevant. Defining a learning objective helps you provide clear instructions with achievable outcomes.
2. Create a learner profile for your audience
Ask yourself – who is this training video for? Developing a thorough understanding of your audience and their needs will guide key decisions about your videos. Take time to do your research and dig into the demographics to understand the education, age, professional organizations, job functions, interests, and concerns of your audience.
3. Choose your topics for your training videos
Once you have a thorough understanding of your audience, the next thing to do is select a training topic relevant to them. People easily abandon videos that don't provide them with the information they are looking for. This is why selecting an exciting and important topic according to your audience is critical.
A research study by Techsmith shows that the number one reason for people watching a video was because they were interested in the topic.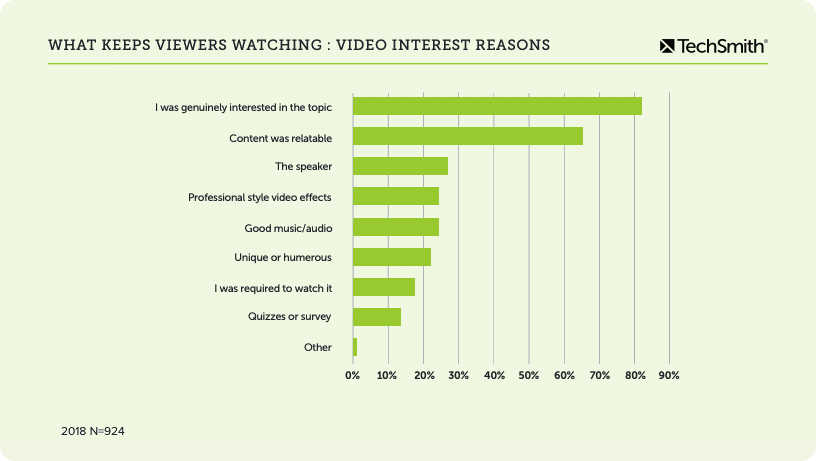 A good practice here is to pick ONE topic per video. This narrows your scope and makes your training videos more focused and easier to create. 
4. Select your video format and type
The next step in our how to create training videos checklist is to choose a format for your video. 
Earlier in this blog, we covered the different types of videos that you can create – animated, interactive, scenario-based, etc. Give them a read to determine the best type for your video training program.
All these video formats require different levels of time and effort. Consider the availability of your resources, timeline, goals, and stakeholder expectations in order to select the ideal video training format for your training program.
5. Create your training video script and storyboard
The most important prep task in creating training videos is to write a script or a storyboard. A storyboard is the visual representation of each shot in the video, and the script is an outline of the video audio and dialogue.
A well-written script is essential to creating an effective training video. Without a script, your videos will turn out to be confusing and disjointed. Writing a script takes practice, but here are a few tips for you to get started: 
Keep it conversational, not overly professional.
Make it well-organized and incredibly easy-to-understand
Cut out all the extra words and unnecessary jargon.
Use small words that everyone understands.
Explain what you're doing and why you're doing it.
Be sure to read your script aloud before you record.
Get feedback from teammates.
Now with your script set, it's time to match the text to visual representations, that is, creating storyboards. You don't really have to be an artist to create storyboards. Remember to keep it simple. Add some sketches or throw in images from Google's search engine. Honestly, you don't need to spend a lot of time creating the storyboard. Instead, focus more on the video development process and bring ideas to life.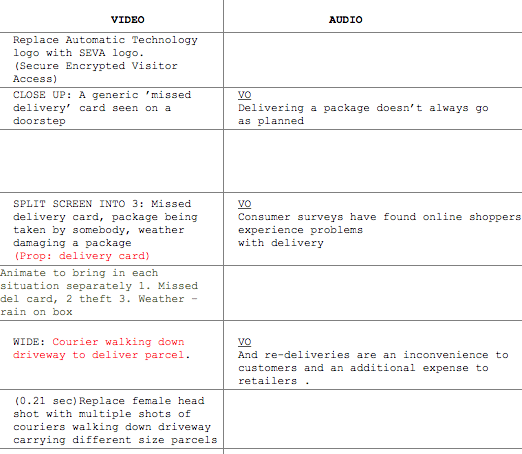 Scripts and storyboards go hand in hand. They help you better evaluate the audio and visuals of a video and decide what's best for the overall objective of your training video.
6. Prepare your video equipment
When you're ready to get started on creating a training video, there's video equipment that you need to acquire to be sure your video looks and sounds good. The equipment requirements depended on the video type. You may need fancy equipment like an HD video camera, lighting kit, tripod, or just a license to video animation software. 
Video training software makes it easier for L&D teams to easily produce impactful training videos for their employees. Our blog on the best video training software provides you with a list of the best and easiest-to-use video training software to help you create engaging videos without spending a ton of money on equipment, video editing services, and other resources.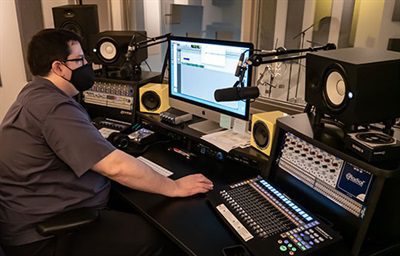 7. Record your training video
Once you are done with all the prep work, start recording. You don't have to be a video pro to create a great video. Anyone can record an excellent screencast with some practice or use their smartphone camera to record a role-play or demonstration video.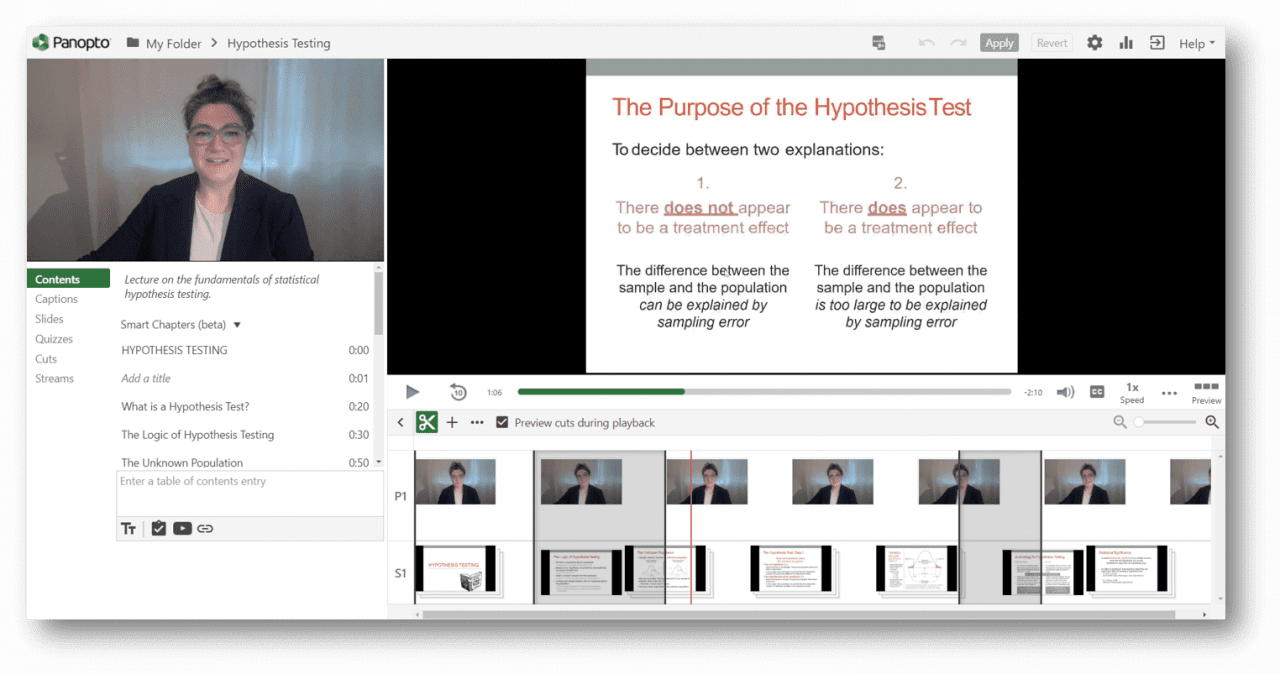 8. Edit your training videos
Once you've recorded the footage, there are a number of ways to edit a video and make it visually engaging. As discussed above, there are many simple-to-use video editing software to make editing a lot less intimidating. These tools are used to manipulate and arrange video files, edit the audio, add graphics and annotations, color correct, and much more.
Video editing tools come packaged with a lot of features:
Custom video templates and branding options
Embeddable quizzes and questions
Video analytics 
LMS integrations
Resources including motion backgrounds, animations, images, and music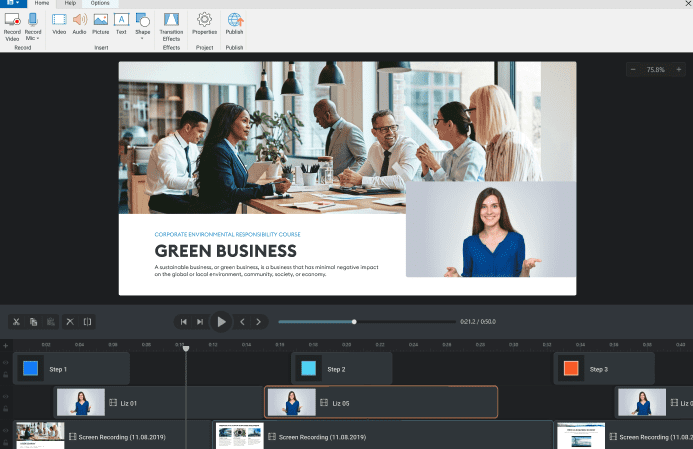 9. Review the training videos with corporate stakeholders and gather feedback
Once you've got an early draft for your training video, have your stakeholders or colleagues review it. Take this feedback from your teammates and use it to iterate and improve on your initial video. Feedback is the best way to ensure there are no mistakes and that the final product is polished.
10. Share and distribute your training videos
Once your training video is complete, it's time to get it in front of your audience. You can post it on the company's website, incorporate it into the monthly newsletter, or share it across social media channels.
Finally, think about where your video will live. If your videos are for an internal audience, they'll most likely be hosted on an LMS. If your videos are for an external audience, there are many online platforms available for hosting such as YouTube, Vimeo, or Screencast.
Free Training Video Checklist
Creating your first training video? You can download our free training video checklist to help you manage the entire process – from training video planning, execution, editing, and distribution.
Download our free checklist to help your create new training videos
✓ Thank you, the checklist will be sent to your email
5 Best Video Training Software in 2022
Here are four of the best video-based training tools that will help you create, edit, and distribute your training videos and empower you to hit your training objectives.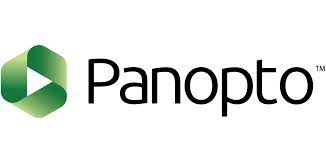 Panopto's video training software is a cost-effective video training tool that includes a variety of features record, edit, and share simple training videos. With Panopto, organizations help improve overall company and role-based comprehension and knowledge retention.
Panopto allows anyone to record their screen and audio, make quick video and audio edits, and add simple text overlays over the screen. It also houses all training videos in a dashboard with simple sharing features.
It instantly transforms training videos into just-in-time learning resources, indexing every video using speech recognition and text recognition. It also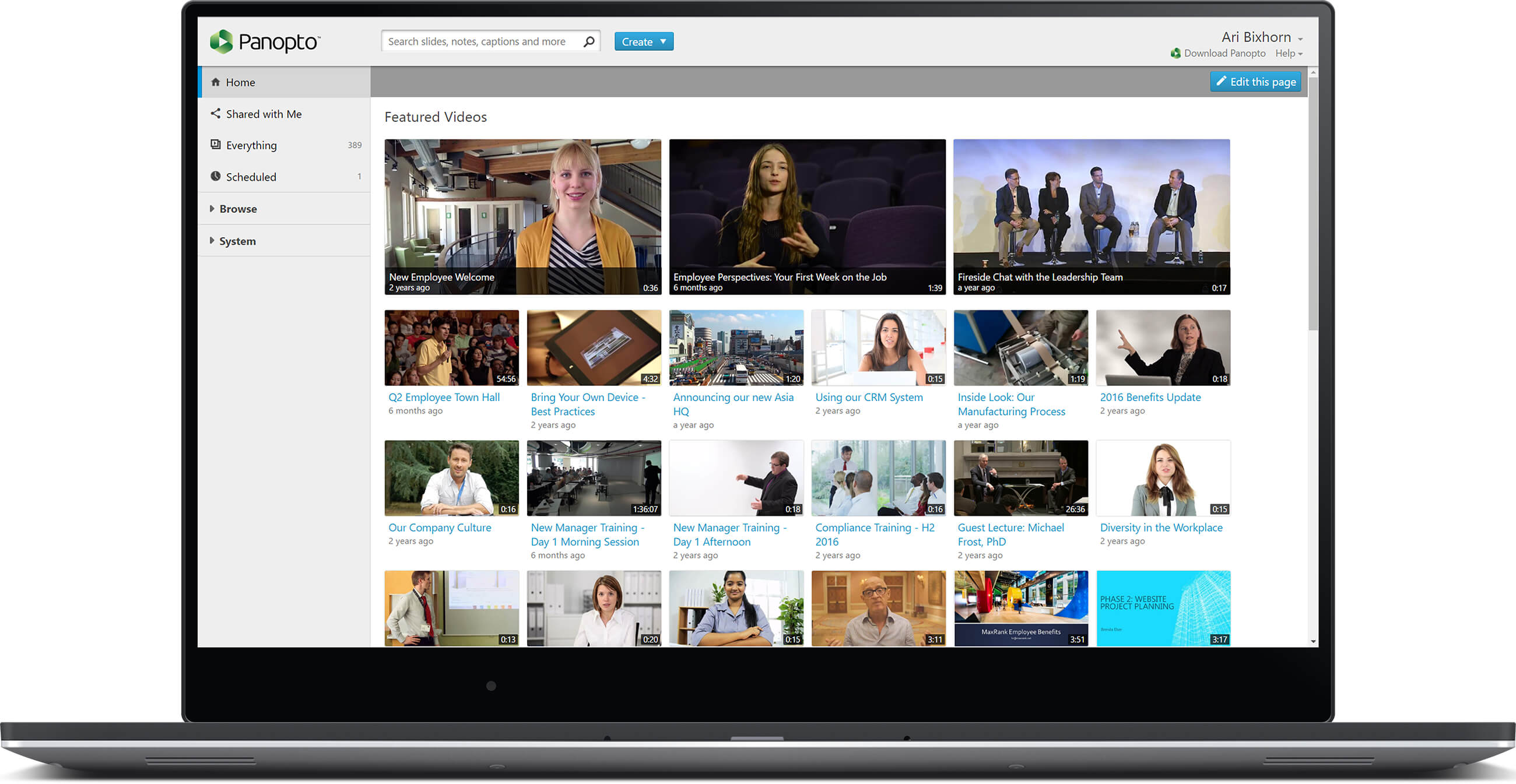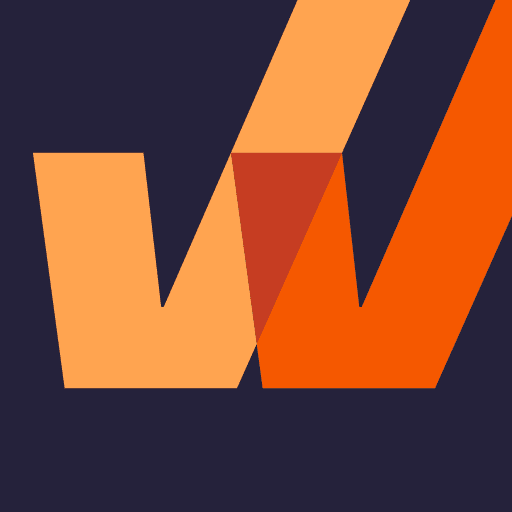 Whatfix is a digital adoption platform that allows organizations to create interactive walkthroughs for effective employee training and onboarding.
Whatfix isn't a traditional training video software tool – ie. you can't use the platform to record and edit videos – it provides additional features that empowers L&D teams to create interactive learning content, with in-app guidance such as step-by-step flows, smart tips, and nudges.
Flows can be created to provide in-app guidance for employees to effortlessly navigate through different processes within the enterprise applications used in their roles. These flows are then converted to video format and uploaded and embedded directly in the app for users to refer to any time they are unable to complete a process.
Whatfix also allows companies to create pop-up videos to overlay on employees' screens at various times – from onboarding, reskilling programs, to launching a new software.
Anytime a new in-app learning flow is created, L&D teams can export these flows into GIFs, videos, PDFs automatically, and more – allowing learners to learn on their own time, how they learn best.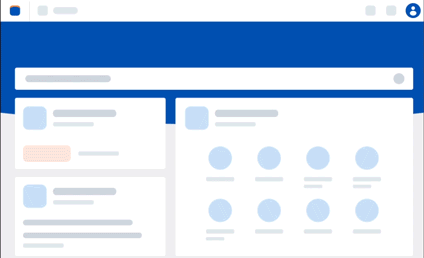 Whatfix is used by over 100 Fortune 1,00 companies to re-image their L&D programs with interactive, engaging, real-time learning.
Empower your employees with learning, training, and reinforcement training material – at the moment of need – with Whatfix.
Schedule a demo with our team to see Whatfix in action now.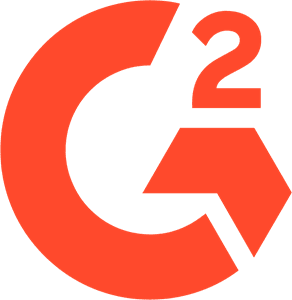 Before Whatfix we had video tutorials, it took so long to create them and the users were not happy with the idea of going through a video and try to reproduce this in the system. Our ERP system is constantly evolving and update tutorial videos takes so much time but update flows takes a few seconds. When a user needs help, you just create a flow - and if the user forgets how to do it, they always can come back into the flow.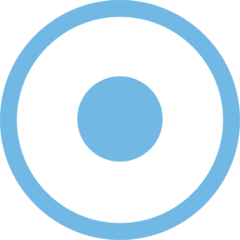 Screencast-O-Matic is a screen recorder and video editor tool that provides fast, free and instant recording of anything on your screen. This allows you to quickly export and publish your screen recordings into full-fledged training videos. Screen-O-Matic is ideal for creating tutorials and demonstrations on how to use software or applications.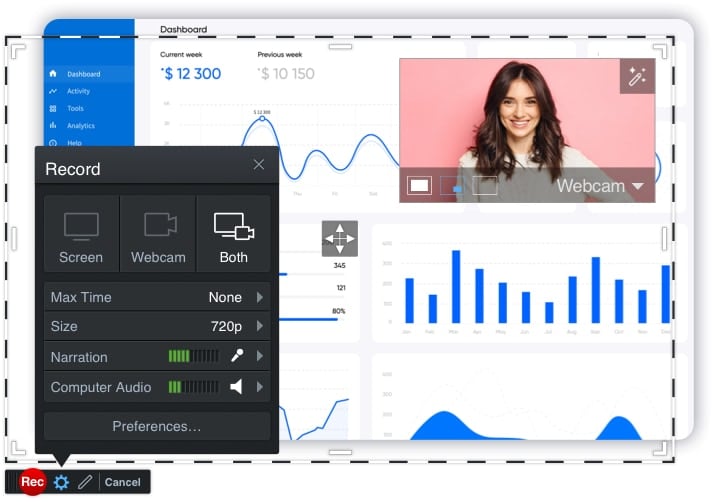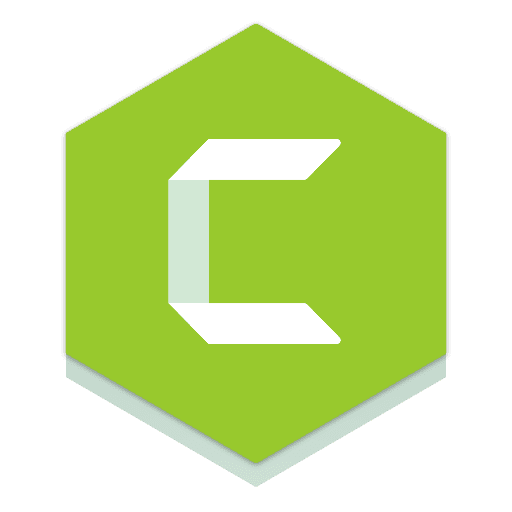 Camtasia is a great video training software for beginners to create high-quality interactive learning video sessions. You can record anything on the screen, and by giving a professional editor touch, upload it on any online video-sharing platform for users to access easily.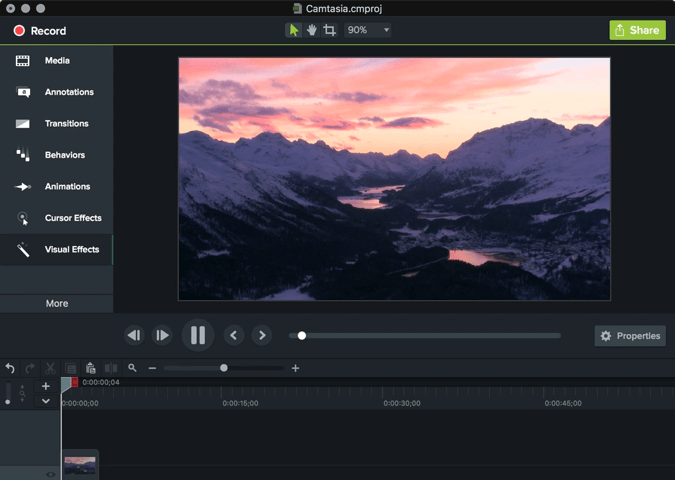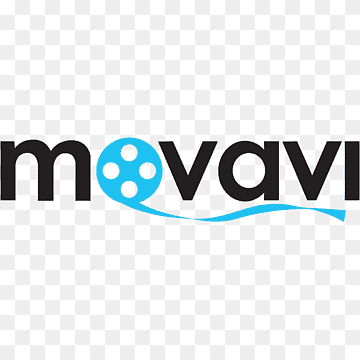 Movavi is a video editing tools that is available for both Mac and Windows devices. The tool is a more traditional video editing tool, meaning it is not equipped with employee training features or templates – but for anyone with a bit of video editing experience, the tool is a great choice for creating employee training videos.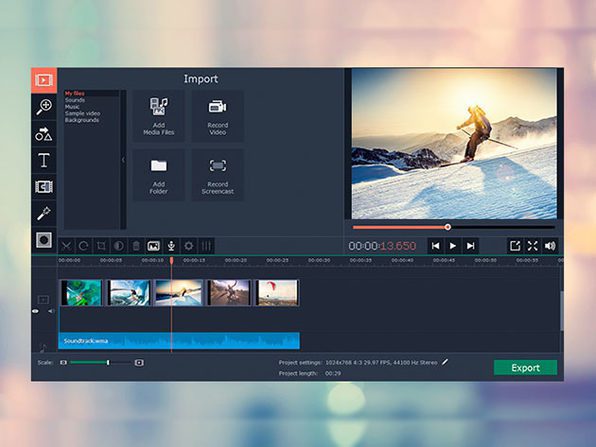 Evolve your traditional training with Whatfix
Subscribe to the Whatfix newsletter now!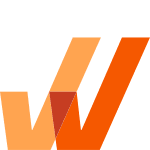 Request a demo to see how Whatfix empowers organizations to improve end-user adoption and provide on-demand customer support