Customer success teams are in a challenging position. A lot of work goes into ensuring your customers are satisfied and fully utilizing your product. There are dozens of complex customer success metrics to track, analytics to study, and onboarding flows to create and optimize. If you don't find solutions for managing all these tasks efficiently, you'll find it impossible to deliver value to your customers and, by extension, meet your business goals.

To achieve long-term growth, customer success teams need dedicated software that accurately paints a comprehensive picture of customers and their needs. Using these tools helps you stay on top of the above tasks more effectively than performing them manually, as they prevent errors and slowdowns. As your teams grow, it only becomes more important to adopt customer success software to ensure everyone is on the same page and meeting their objectives.

When you aren't spending most of your time collecting data and manually calculating complex formulas, you'll have more time to build more meaningful relationships with customers, which is what your team would rather be doing.
What is the Best Customer Success Software in 2021?
What is Customer Success Software?
Customer success software is specialized software that takes the customer data you have in your existing tech stack and automates the process of combining it to give you a 360-degree view of your customers. These platforms provide a holistic view of your customer's experiences and reveal important clues that show you if your current strategies are working and where you need to make adjustments.
This type of software offloads the heavy lifting of tracking and managing your metrics by uncovering actionable insights you can use to increase adoption and drive growth. By collecting accurate data and comprehensive information about your customers, you can improve retention, uncover additional sales opportunities, and boost your customer health scores.
With the right customer success software in place, you'll be able to automate your onboarding and customer journeys, optimize product adoption, instantly check on the health of your customers, and accurately track and report on the metrics that align with your company's goals.
11 Best Customer Success Software in 2021
With hundreds of customer success software options out in the wild, it can be challenging to figure out which tools offer what type of features and benefits. Here are 11 customer success software options that can help your team build a solid tech stack.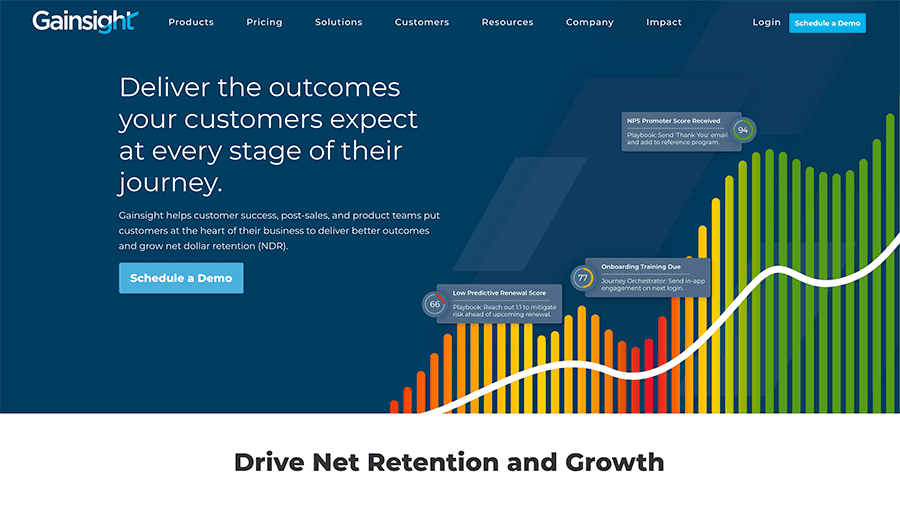 Gainsight is targeted toward mid-size to enterprise companies and is one of the most highly rated customer success software products on the market today. Their customer success software suite consolidates data from multiple sources into a central view and provides 360-degree layouts that show different views depending on the customer's attributes or the user's role. You can also analyze your company's activity with a customer and view a customer's entire chronological history.

One of Gainsight's most desirable features is the ability to create customer health scorecards that can be customized to reflect the data points that are most important to your company. It can also study your customer's behavior and predict possible outcomes with the help of AI.

Pricing: Custom pricing is available by submitting a request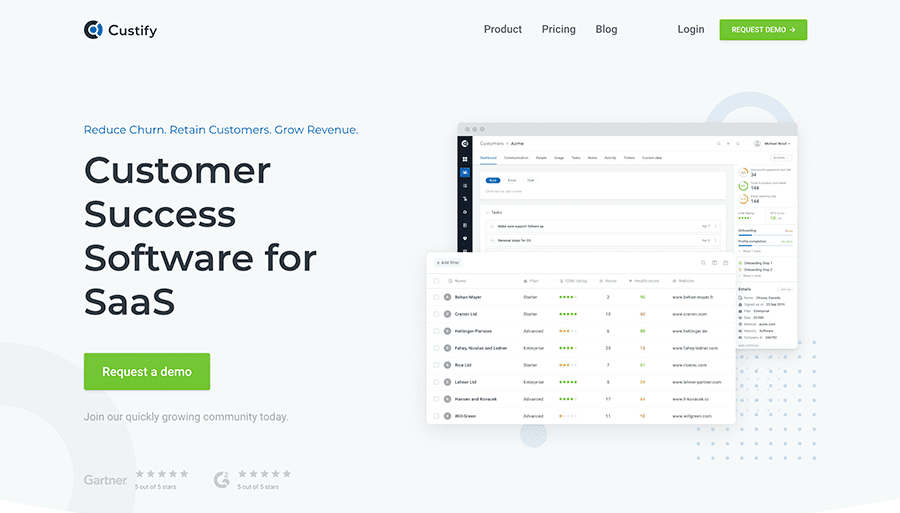 Custify is a customer success platform designed for B2B SaaS businesses. This software is popular with customer success teams because it offers views of your product usage and adoption and provides a comprehensive picture of your customer's lifecycle. It will also let you know if a customer is stuck onboarding or about to churn by sending you a message or email.

One of Custify's most interesting features is the ability to automate tasks. For example, it can identify triggers when customers hit certain milestones, so you reach out to them at the appropriate time. In addition, their relatively low pricing makes them attractive to new bootstrapped companies and startups.

Pricing: starts at $199.00 per month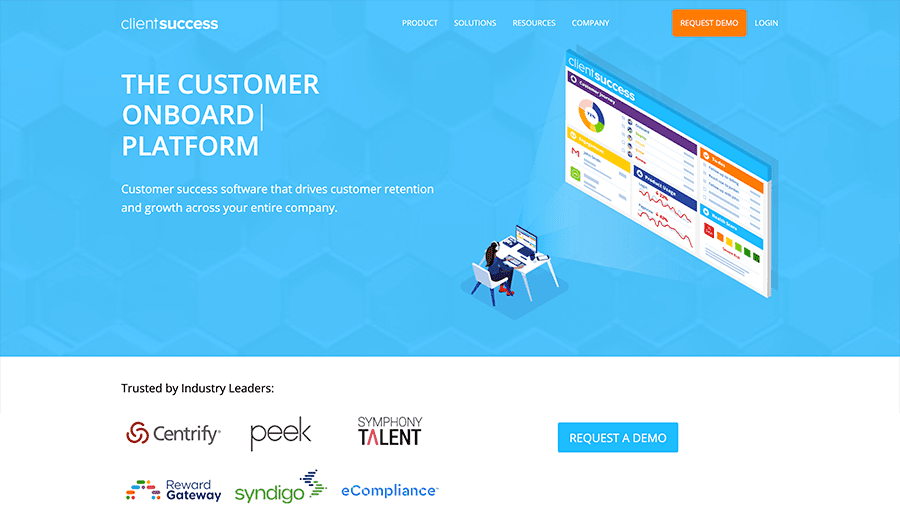 ClientSuccess is a customer success software platform that provides visibility across all customer activities, from onboarding to retention to growth. This software will track your customer through the lifecycle and give you several options for tracking your customer's overall health. It also includes features that let you share updates with your entire team in real-time.

A key feature of ClientSuccess is their pre-built integrations for many of the most popular CRM, support, and communication platforms, which means your customer success teams can get set up on their platform quickly.

Pricing: Available upon request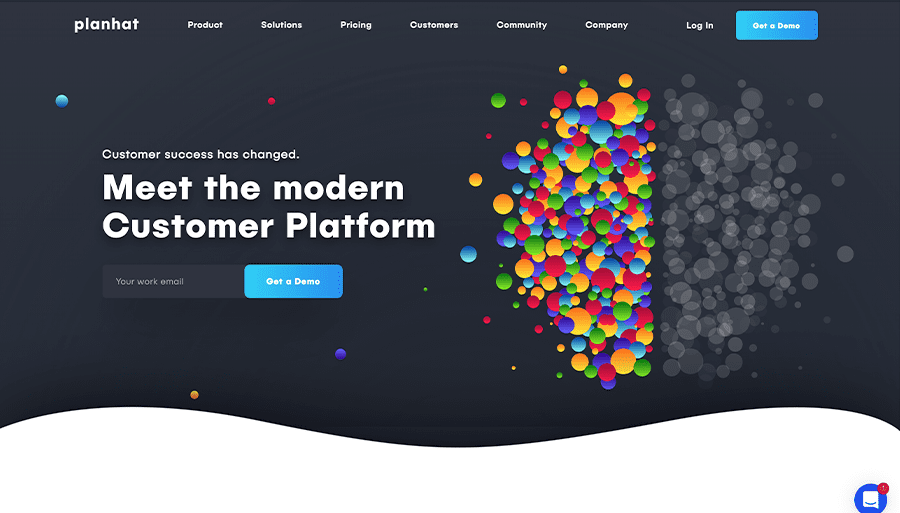 Planhat is another comprehensive customer success platform that allows you to unify your customer data, track and visualize customer usage data in real-time, set goals and ideal outcomes, and enhance your customer's experience with features like playbooks and collaboration. Additionally, you can see where your customers are in your lifecycle and find out which ones are doing well or need assistance.

Their customer portal is a notable feature that lets you create playbooks and share them with your customers to create collaborative workspaces. You can also construct custom metrics that are visible to your customers, so they have visibility into their own adoption rates.

Pricing: $1,150/month (+ from $1 to $10 per customer)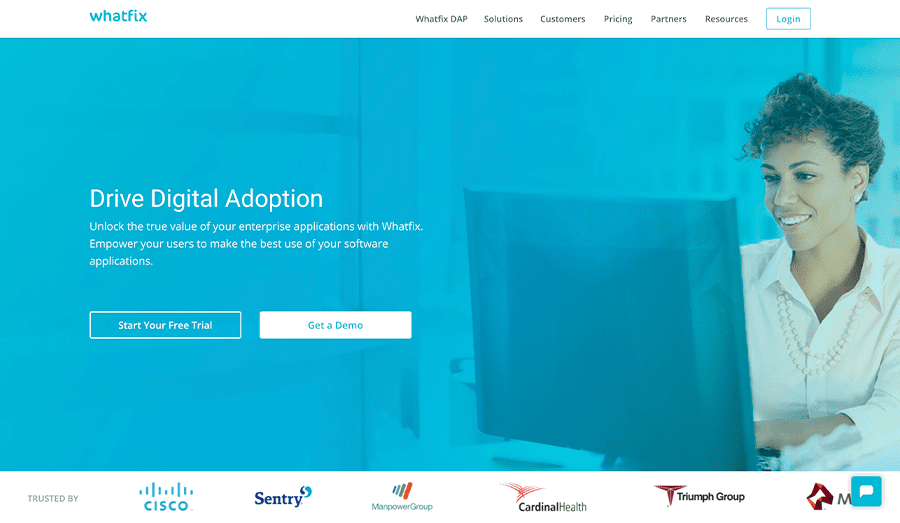 Whatfix is a Digital Adoption Platform that includes several tools to optimize your customer's onboarding experience. The software offers walkthroughs and guides designed to pop up for specific user segments and at specific moments within the app. For example, new users launching the app receive a basic tutorial, and returning users get more advanced guides relevant to whichever feature they're exploring at any given moment. This tool also provides advanced analytics that can measure your customers' engagement with your product.
One of Whatfix's standout features is the ability for customer success teams to create interactive product tours, step-by-step walkthroughs, onboarding task lists, and interactive guidance with no coding required.
Pricing: Custom pricing is available upon request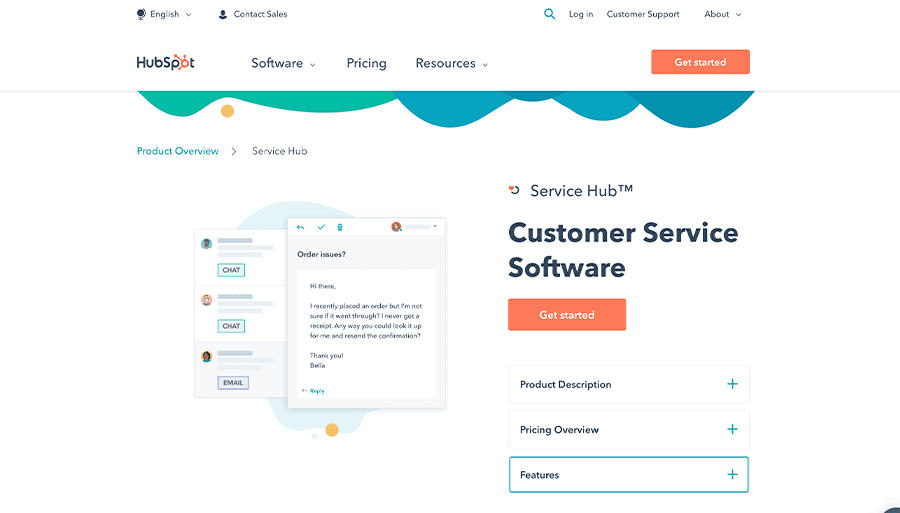 Service Hub is HubSpot's customer service management platform. With this platform, you can build conversational tools, construct help desk automations, and create a knowledge base for your customers. Their support ticketing tool gives customers a way to contact you and offers ticket routing to make sure the right team sees your support requests.

One benefit of Service Hub is that it allows you to collect feedback from your customers using their feedback tool. This tool lets you quickly send customer support, customer satisfaction (CSAT), and Net Promoter Score (NPS) surveys.

Pricing: Starts at $45.00/month or a limited free version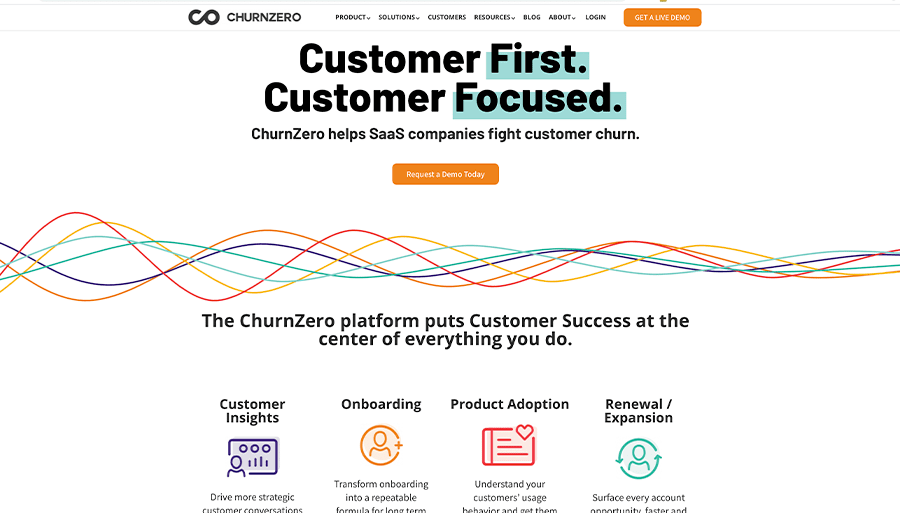 ChurnZero is a real-time SaaS platform designed to reduce churn by helping customer success teams better understand customers. It monitors usage statistics to provide visibility into how your customers are using your product, analyzes your customer's overall health and probability of renewal, and can automate your customer's experiences.

One feature that's particularly helpful for customer success teams is taking customer data and turning it into customizable reporting dashboards. Another helpful feature is an API that can pass data directly from your ChurnZero account into the rest of your tech stack.

Pricing: Pricing upon request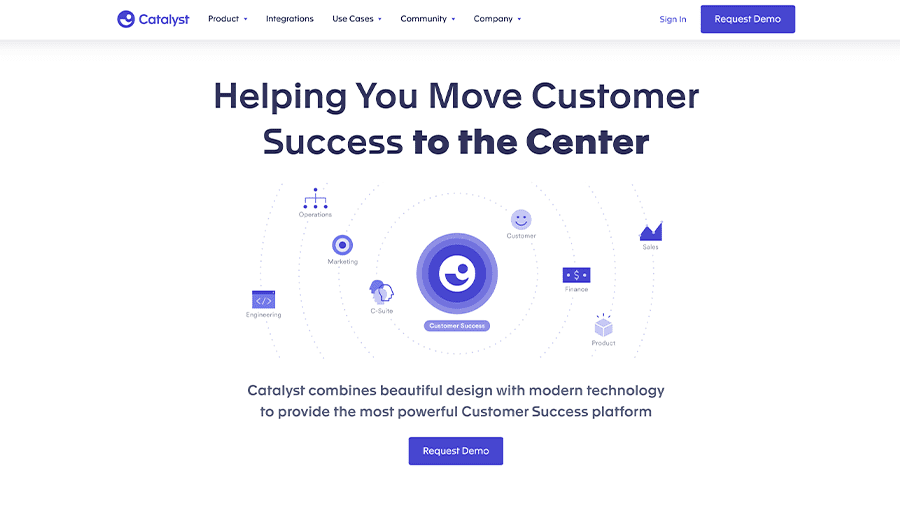 Catalyst is a customer success platform that offers a 360-degree view of your customers and builds customer health profiles tailored to specific customer segments using data from your existing tools. It also provides one-click integration with several other pieces of software, including Salesforce, Segment, Zendesk, and Slack.

If you're a Salesforce user, you may be very interested in features designed to help you streamline your processes. For example, you can use shortcuts inside Catalyst that automatically update Salesforce fields and create next steps and tasks to ensure timely follow-up. Catalyst can also automatically log meetings to Salesforce.

Pricing: Available upon request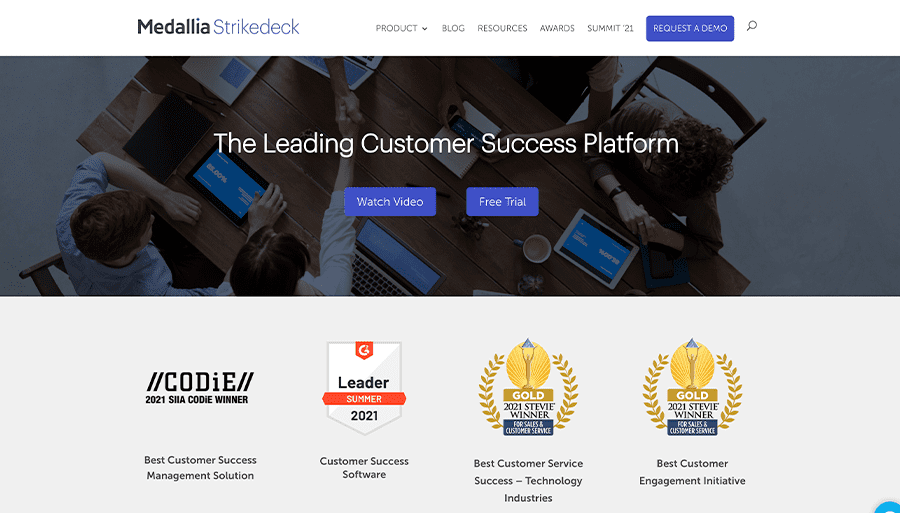 Strikedeck is highly customizable customer success software that includes several advanced tools for reducing churn and improving your customer's health. Their Customer 360 tool provides a complete view of your customers in real-time. In addition, the algorithm inside their health tool can be customized using key customer insights. They also incorporate tools that can track and measure product usage in real-time.

One of Strikedeck's features that stands above others is its advanced segmentation capabilities. For example, their query builder can create detailed segments based on attributes such as profitability, utilization, vertical, and geography. You can then use these segments inside their health scoring, dashboard reporting, and workflow automation tools.

Pricing: Available upon request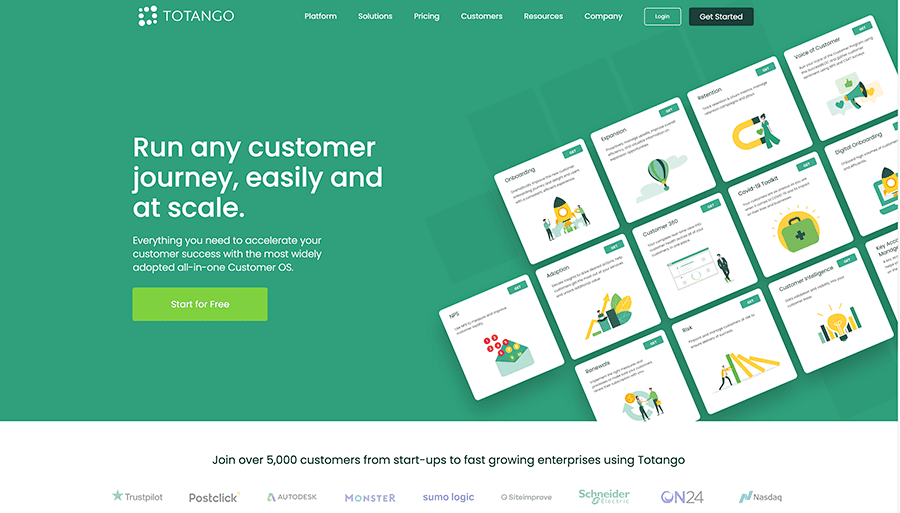 Totango is a feature-rich software platform that mainly targets SaaS enterprises. They offer a suite of tools, including their Spark tool, which monitors customer health signals in real-time. Their SuccessPlays feature allows you to set up tasks or actions that automatically trigger when a defined set of rules is matched. Those triggers send an action plan to your customer success team so they can address any situation quickly.

While Totango targets enterprise, its free version is quite extensive, excluding only a few of its many features. This makes Totango an attractive option for growing SaaS companies or teams getting started with customer success.

Pricing: Zero for their forever-free version or request a quote for their Enterprise version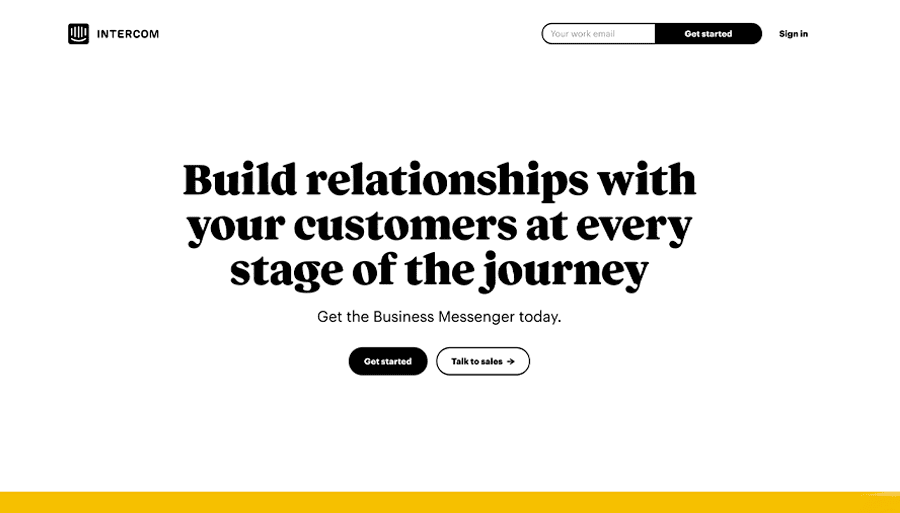 Intercom is a live chat solution designed for customer success, marketing, and sales teams. Their platform offers three main solutions — Conversational Marketing, which lets you target website visitors and greet them with personalized messages, Conversational Engagement that can onboard and activate new customers, and Conversational Support that provides self-serve, proactive, and human support.

Intercom's software can be complex to set up, so they offer several resources to learn how to maximize the use of their product. They provide comprehensive setup instructions, a help center, a developer hub, and even an academy where you can learn advanced tips from others who have mastered their tools.

Pricing: starting at $65/month for very small companies, request pricing for other companies
Tips for Choosing the Best Customer Success Software for Your Team
Once your team decides it's time to implement customer success software, you need to lay some groundwork before rushing into selecting a platform.
1. Check on Software Integrations
Make a list of your tech stack and have it handy when doing your research. If the software solution you purchase doesn't fully integrate into your existing tech, you won't realize any benefits.
2. Advice from Team Members
It's also helpful to pull in the people who will be implementing your integrations to make sure you don't miss any potential conflicts or shortcomings.
3. List Must-Have Features
Before you start demoing platforms, take the time to figure out which features are must-haves and what goals you expect to achieve by implementing software.
4. Conduct Scenario Workshops
An effective way to align your needs with the right software is to build out several scenarios that walk through the process of accomplishing that goal inside a particular platform. For example, if you want to get an alert when a customer becomes a churn risk, determine what data you need to signal that risk, how various software would find the risk and trigger the alert, and how and when your team will receive the message depending on which you select.
When you find the platform that matches all of these tips, scenarios, and your team's current processes, you can be assured you're choosing the best customer success software for your unique team.
Increase end-user adoption with Whatfix
With Whatfix's Digital Adoption Platform, create in-app learning flows, contextual training and onboarding, and self-help knowledge bases. See it in action below.