When customers sign up for your product, it's the start of a critical make-or-break period: customer onboarding.
Customer onboarding software helps you make a good first impression during this critical period of the customer journey. It helps you introduce an application's features to customers, train new users on a product's capabilities and feature set, understand if new customers are using all the features as intended, drive product adoption, and use product usage data to create better customer experiences.
What are the best customer onboarding software tools in 2022?
Whatfix
Appcues
Inline Manual
Chameleon
Demio
Loom
Gainsight PX
Pendo
CustomerSuccessBox
Maze
Mixpanel
Research shows that poor onboarding can cause 90% of users to churn within the first month of signing up. To prevent losing new customers, you need to pick the right stack of customer onboarding tools to welcome and educate customers on how to best use their new tool.
Get your SaaS Customer Onboarding Checklist now!
✓ Thank you, the checklist will be sent to your email
What Is Customer Onboarding Software?
Customer onboarding software helps customers learn about the different features of your product and derive maximum value out of it, fast. Different customer onboarding tools help you welcome and educate customers in different ways. A few of these include:
A few onboarding tools also help you analyze customers' app usage patterns and collect customer feedback to create better onboarding experiences.
3 Benefits of Customer Onboarding Software
Customer onboarding software helps you grow revenue and decrease costs in three major ways:
1. Increase in user adoption and retention rates
Customer onboarding software helps you teach new users how to use your app and get more value out of it, thereby increasing their chances of using the app on a regular basis and improving your product adoption.
According to Wyzowl, eight in 10 people said they've deleted an app because they didn't know how to use it. The same is true for B2B software. Investing in customer onboarding software provides contextual onboarding that gives your users the training they need to become proficient users.
2. Decrease in customer support costs
Customer onboarding tools offer customers self-service support help such as videos, walkthroughs, and tooltips to understand the features of an app, reducing the need to contact customer support. For example, Cardinal Health Canada created over 50 knowledge centers and walkthroughs throughout its online portal for its customers, reducing its overall support costs with 24/7 in-app self-help.
3. Increase in upsells and cross-sells
Customer onboarding software provides you with insights about which features new customers are using and which features they're most interested in based on their activity in your product.
This makes it easier for you to recommend suitable upsells and cross-sells to customers – as well as understand what are your product's most valuable assets. This gives insights for your product team to build out on what's working – and fix what's not.
11 Best Customer Onboarding Software in 2022
We'll cover three major types of customer onboarding software:
Best tools to create in-app onboarding and training flows
In-app onboarding includes step-by-step walkthroughs of different features of your app, product tours, helpful tips, and pop-up messages in your app. Most in-app onboarding tools also allow you to personalize onboarding workflows for different users.
Take a look at the best tools for creating in-app onboarding: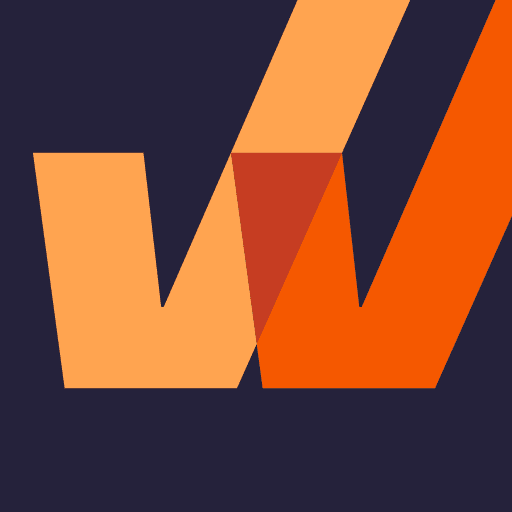 Whatfix is a digital adoption platform (DAP) that lets you create step-by-step walkthroughs, tooltips, videos, and PDFs to help new users better understand the different features of your app. It also allows you to add self-help widgets inside your app, so users can access training content as needed and learn in the flow of work.
Whatfix is best for onboarding users onto feature-rich, complex apps like Salesforce and Microsoft Dynamics 365.
Price: Available on request – start a free trial now
Applications and browsers supported: All web-based applications. Browsers you can use for content creation include Mozilla Firefox, Google Chrome, and the new Microsoft Edge (Chromium).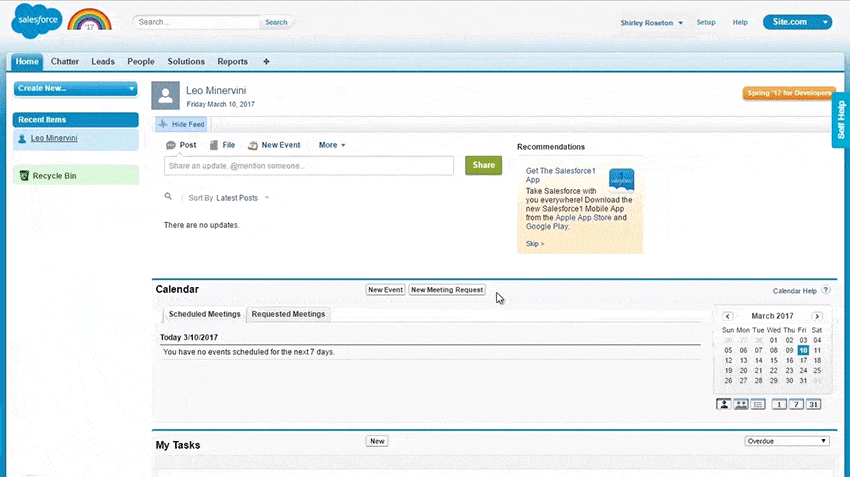 Unique Features of Whatfix:
Contextual cues: Show onboarding guides and Self Help that are related to the section of the app users are in. Avoid overwhelming customers with features and help them find value in your app quickly.
Task List widget: Create a list of tasks within your app for new users to complete, so they can track their progress.
Multilingual support: Convert training content into multiple languages to suit the needs of your customers.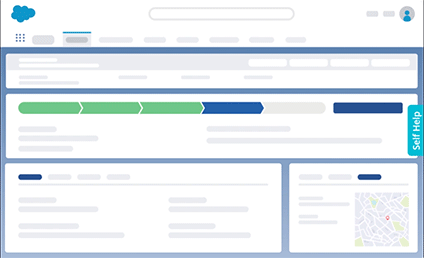 Whatfix helps customer success teams improve onboarding KPIs with personalized, in-app training and development workflows and knowledge centers.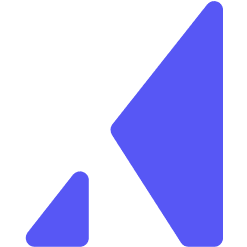 As the name suggests, Appcues lets you add "cues" or tips and guides to your app to educate new users. The platform, which is mainly focused on the mobile-app space, also lets you create in-app NPS and CSAT surveys to ask customers for feedback on your onboarding process.
Price: $249/month for the Essentials plan, $879/month for the Growth plan, and price on request for the Enterprise plan.
Applications and browsers supported: All web-based applications. For authoring, you'll need Google Chrome.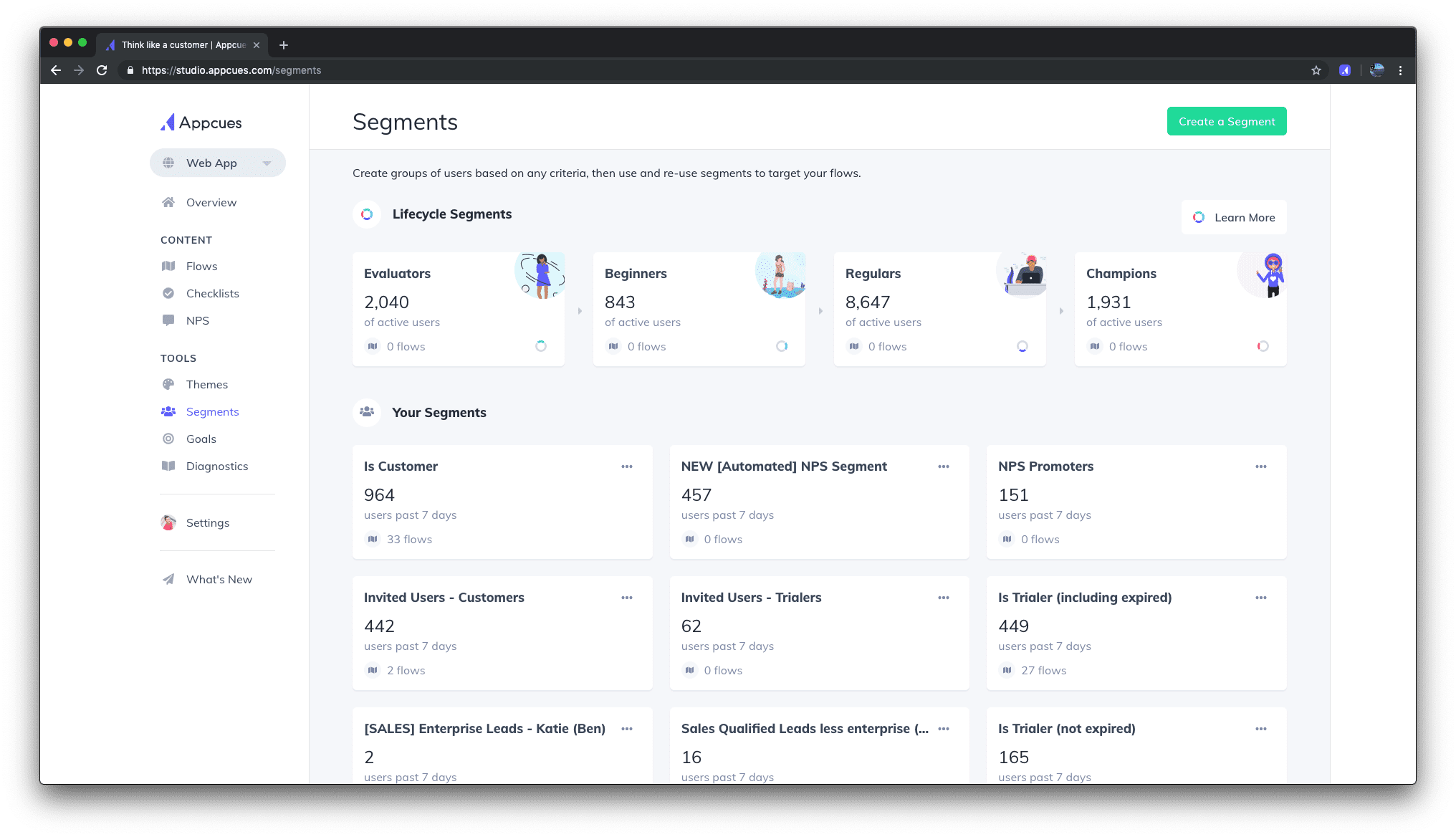 Unique Features of Appcues:
Branded onboarding: Use custom themes, designs, and fonts, so your onboarding looks native to your app.
Segmentation and user targeting: Segment users into different types depending on their plan tier, persona, and stage of use of the product, and target onboarding materials accordingly. You can also target onboarding guides specifically for users who haven't tried a feature yet or who have low levels of engagement with your product.
Goals: Create goals such as completing X number of steps in your app and track their completion.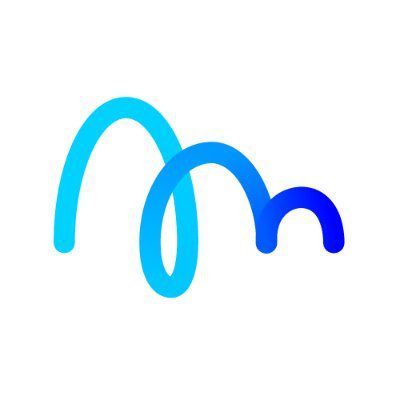 Inline Manual is a digital adoption and SaaS onboarding software that allows onboarding teams to create product tours, videos, interactive tutorials, announcements, and help articles built directly in your app. It also allows you to collaborate with your team to create onboarding content.
Based on its starting price, Inline Manual is a good option for small software businesses that wish to onboard users in a more practical way.
Price: $158/month for the Standard Pro plan, and price on request for the Enterprise plan.
Applications and browsers supported: Any web-based application. Authoring tool needs Google Chrome.

Unique Features of Inline Manual:
Version control: Easily save and update onboarding content to fit newer versions of your app.
Branching: Create multiple branches of onboarding content and showcase content to users depending on the path they choose to follow.
Release management: Save content as drafts and make sure the correct version shows up on your app.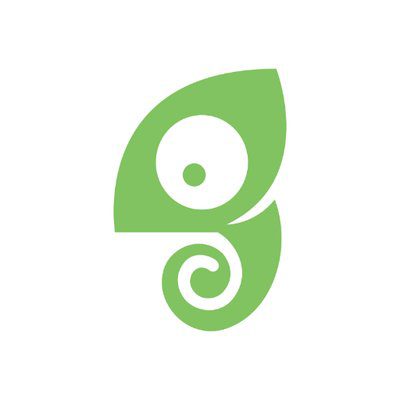 Chameleon lets you offer Slack-like user onboarding with contextual messages and guided tours. You can also use a wide range of surveys like CSAT, NPS, and CES within your app to collect customer feedback.
Price: $279/month for the Startup plan, and from $600/month for the Growth plan.
Applications and browsers supported: Any web-based application and its mobile app. Google Chrome needed for authoring content.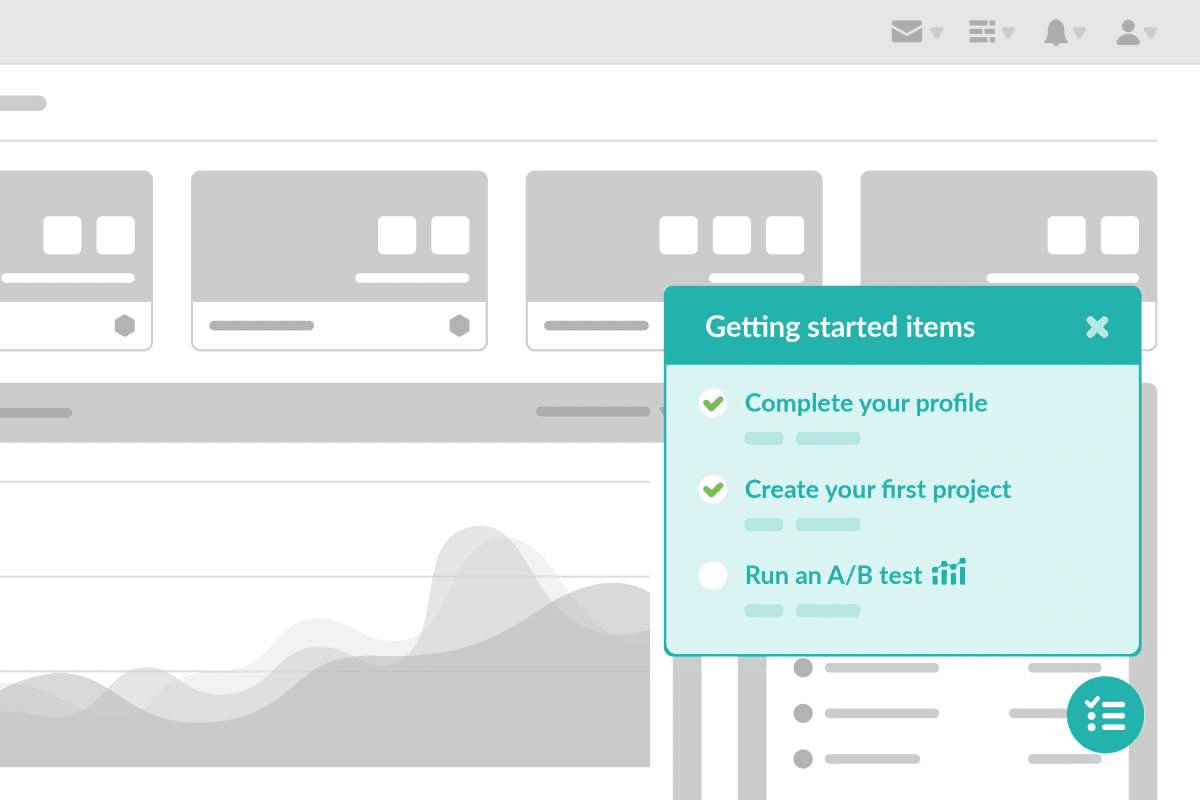 Unique Features of Chameleon:
Custom design: Use your own fonts, emojis, and custom styling elements in your onboarding content.
Templates: Create templates for tooltips and tours and reuse them whenever you like.
Integrations: Use data from HubSpot, Mixpanel, Stripe, Segment, Amplitude, and Salesforce to make your onboarding experience more personalized and targeted.
Best tools to create onboarding videos
Onboarding videos are prerecorded or live demos of your app that explain the features of an app. Prerecorded onboarding videos can easily be placed in-app with the help of the in-app onboarding tools mentioned above.
Take a look at the best tools to offer video-based onboarding: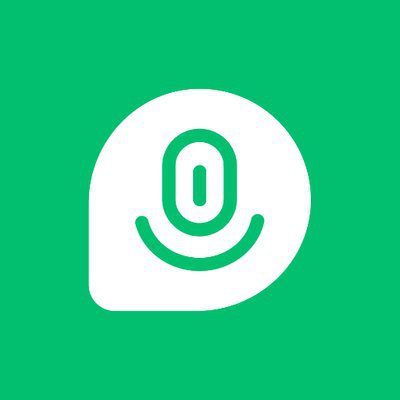 Demio allows you to host daily or weekly live or on-demand webinars to educate customers about your product. A live webinar is a real-time video session with your customers where you can provide walkthroughs for different features and processes in your app.
During the webinar, you can also share slides, videos, and links with attendees. Your webinar is automatically recorded and can be shared with customers who may have skipped the live event.
Apart from customer education and engagement, Demio can also be used to host webinars for lead generation.
Price: $34/month for the Starter plan, $69/month for the Growth plan, $163/month for the Business plan, and price available on request for the Premium plan. 
Applications supported: Any web-based application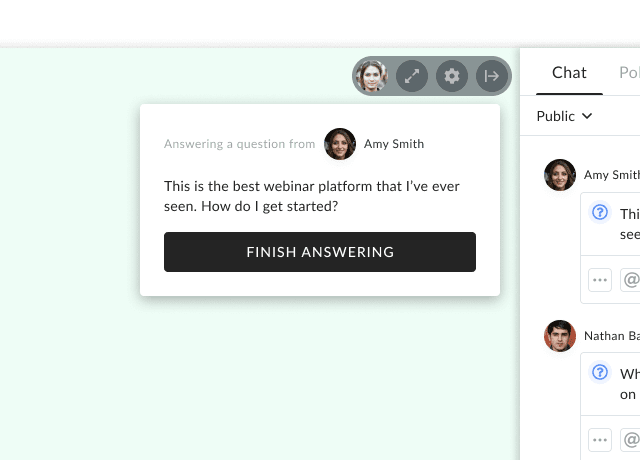 Unique Features of Demio:
Easy access to live onboarding: Customers can join your onboarding webinar with a single click without having to download any software to their computer.
Branding: Add your brand's logo to your webinar, as well as any materials you present in the webinar.
Q&A session: Conduct a question and answer session at the end of the webinar to solve customer queries and help them get more out of your product.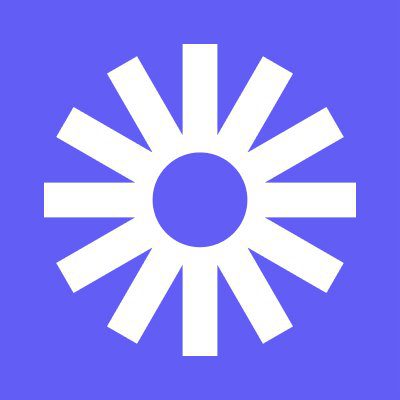 Loom is a video messaging tool that lets you create prerecorded onboarding videos for your app. You can record both you and your screen when explaining the features of an app to customers. Once recorded, you can share the video through any form, such as email, chat, knowledge base, or even in-app.
You can create bite-sized demo videos for individual features or even an hour-long demo video of your product. Loom is built for internal communication within teams as well as external communication with customers.
Price: Free Starter Plan, $8/creator/month for the Business plan, and available on request for the Enterprise plan.
Applications supported: Any web-based, iOS, or Android application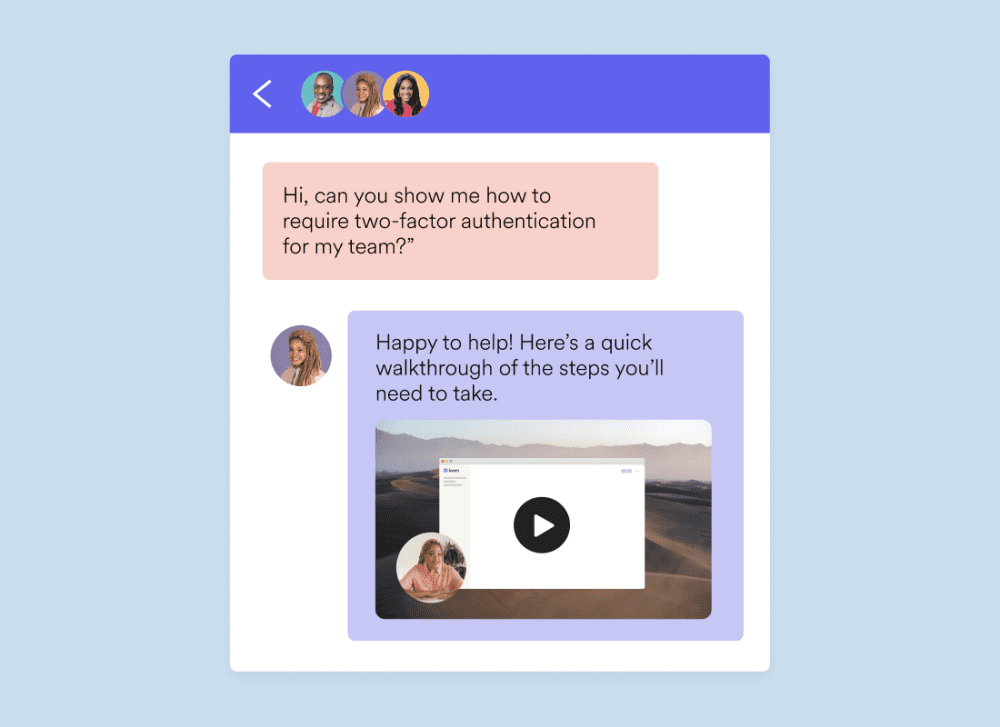 Unique Features of Loom:
Engagement insights: Check which customers have viewed your demo video and the duration for which they viewed your video.
Calls-to-action: Link to Help docs or additional resources at the end of videos.
Quick upload: Upload and share your videos with customers in minutes via email, chat, or another channel.
Best tools to analyze and improve customer onboarding
Analyzing the actions customers take inside your product helps you design better customer onboarding experiences. For instance, if you notice low adoption of certain features, you could publish a tooltip to highlight those features, or if your latest feature release receives a lukewarm response, you could add more training materials to educate users.
Here are the best tools to improve your customer onboarding experience: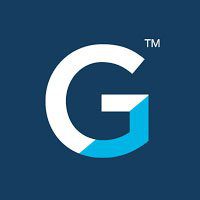 Gainsight PX is a product experience platform that helps you understand how often customers use different features of your app by tracking user behavior within your app. Based on this data, you can create better in-app onboarding content.
Price: Available on request.
Applications supported: Web-based and iPhone apps.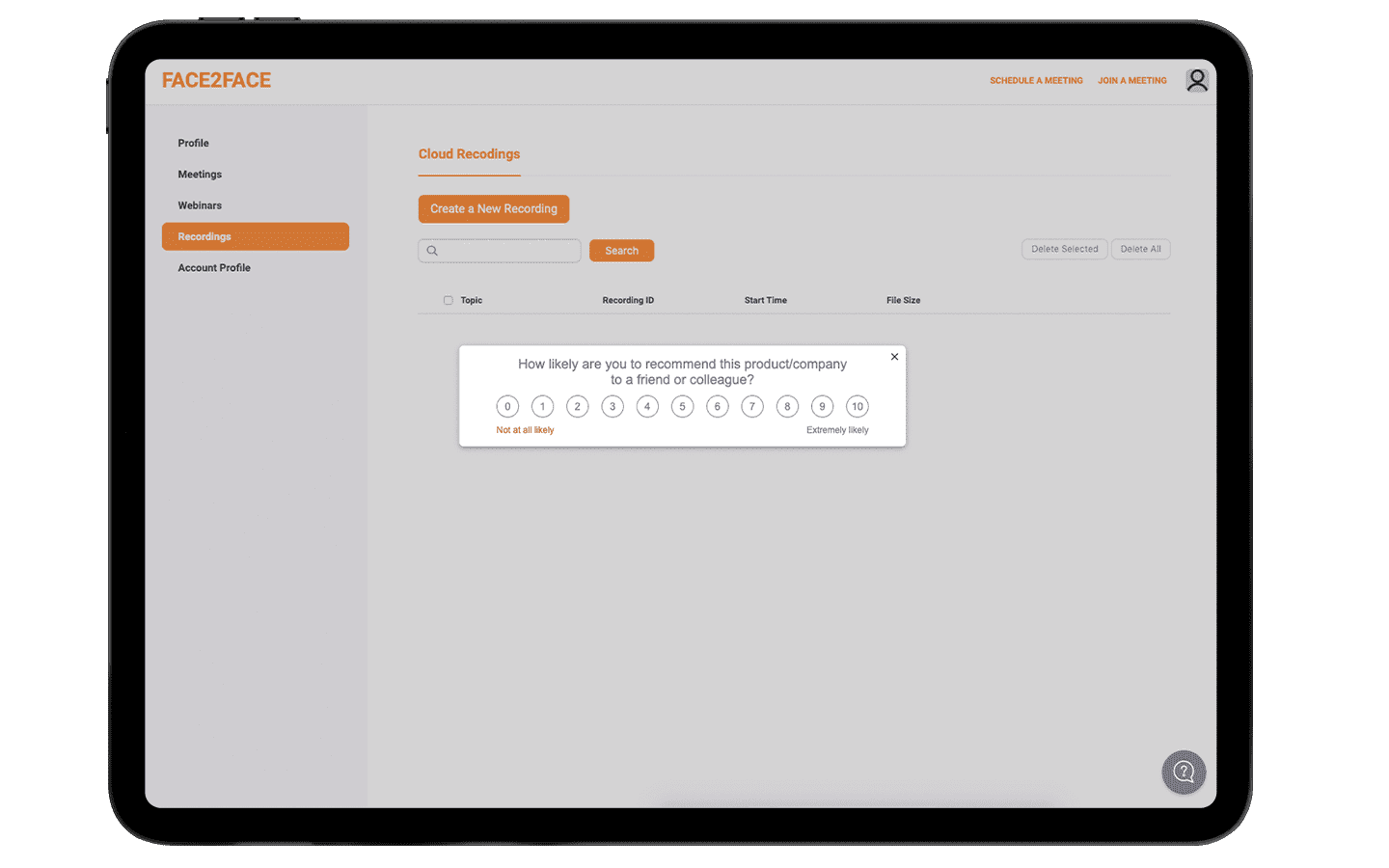 Unique Features of Gainsight PX:
Feature adoption analysis: Track feature adoption by user and account type. Find features that drive the most revenue for your product.
Collaboration with customer success: Data from Gainsight PX can be used with Gainsight's customer success tool to drive customer retention.
Targeted surveys: Send surveys to user segments based on product usage and other attributes.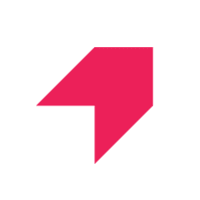 Pendo is Latin for "value," and, true to its name, the app helps you make your app more valuable for users. The product analytics tool lets you track customer usage patterns in a simple, accessible way and use the data to inform your onboarding and customer education efforts. Pendo is mainly built for product teams to analyze product usage and inform product decisions, but it's an equally useful tool to improve onboarding and drive adoption.
Price: Free plan, and available on request for the Team, Pro, and Enterprise plans.
Applications supported: Web-based, iOS, and Android apps.

Unique Features of Pendo:
Simple feature and product analytics: Easily understand usage data with simple reports like number of clicks, number of accounts that clicked, and number of visitors.
Top 10 lists: Create lists such as top 10 users who interact with a feature and top 10 accounts based on feature usage.
Star features: Bookmark important app features to quickly pull up their usage data.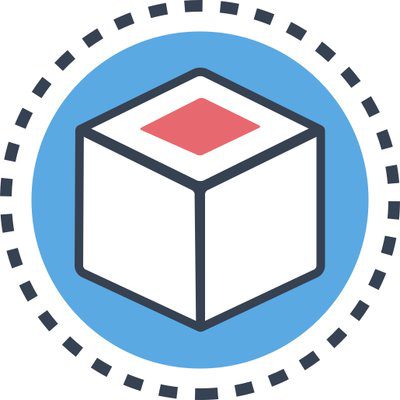 CustomerSuccessBox is a customer success platform that lets you create customer success plans and onboarding playbooks and track product adoption milestones. Customer success managers can create customer success playbooks for new customers, track feature usage among customers, and access data from different platforms, like the help desk and billing, to improve customer retention.
CustomerSuccessBox is best for onboarding customers for medium- to high-touch B2B software where customer success managers need to constantly stay in touch with customers and guide them through the onboarding process.
Price: Available on request for the Grow, Business, and Enterprise plans.
Applications supported: Web-based apps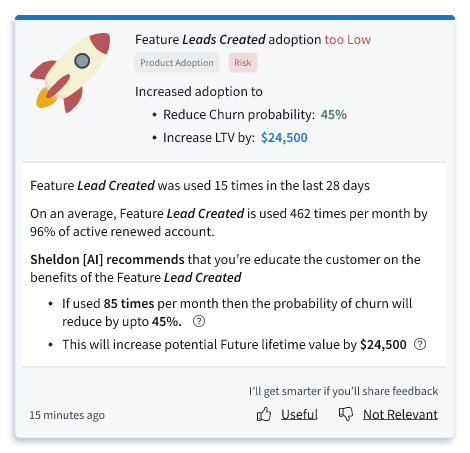 Unique Features of CustomerSuccessBox:
AI-based recommendations: Get automated recommendations to educate customers based on customer engagement with product features.
Customer health scores: View customer health scores based on data from your CRM, help desk, billing system, and so on. Predict which customers may churn and intervene at the right time.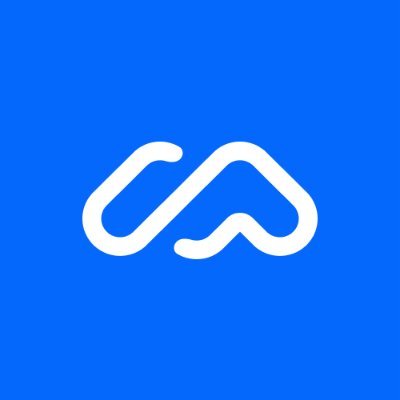 Maze is a user-testing software that allows you to test if your onboarding workflows are effective for your customers. You can conduct usability tests with actual users to gauge their comfort with your onboarding process and ask if they have any suggestions for improvements.
Testing your onboarding workflows with users early on helps you build better onboarding workflows and avoid costly errors. After taking users through your in-app onboarding workflows, you can ask them if they found your product easy to use, if the onboarding material was helpful, and how you can improve the visibility of features.
Maze can also be used to test new features, calls-to-action, and sign-up flows within your app.
Price: Free plan, $25/month for the Professional plan, and available on request for the Organization plan.
Applications supported: Web-based, iOS, and Android apps.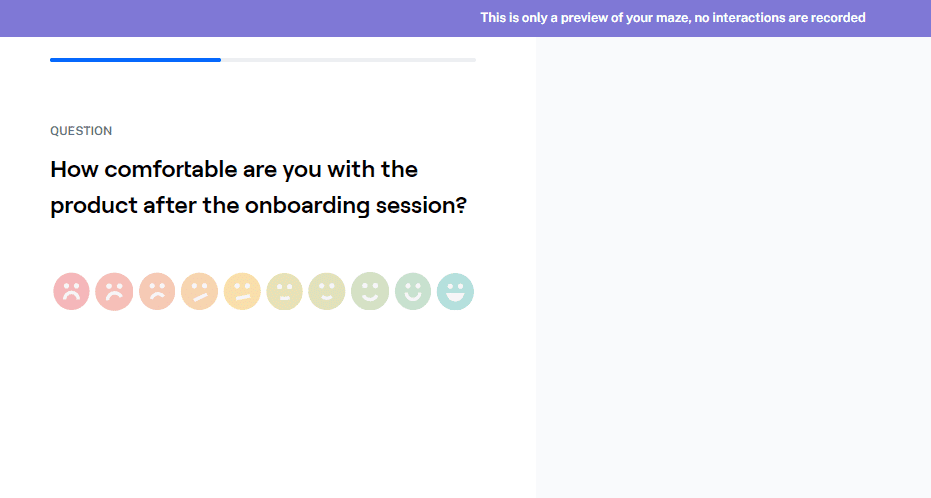 Unique Features of Maze:
Templates: Choose from a wide range of product-testing templates, such as product onboarding, new feature adoption, and calls-to-action.
Qualitative and quantitative data: See users in action as they go through your onboarding process and get qualitative feedback on your onboarding process directly from customers.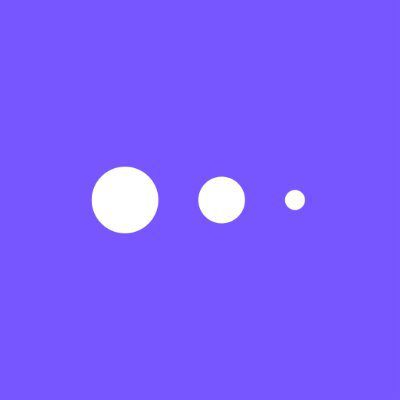 Mixpanel allows you to test and improve user adoption for your app. You can analyze if users complete important actions in your app, compare usage data for different customer segments, and find what power users of your app do differently. Mixpanel works well with apps that cater to a lot of different user segments, thanks to its ability to slice and dice through user data.
Price: Free plan, $25/month for the Growth plan, and available on request for the Enterprise plan.
Applications supported: Web-based and Android apps.

Unique Features of Mixpanel:
Funnels report: Analyze how different users perform different processes in your app — which steps do users drop off at, which customer segments usually complete all steps, how many users complete all steps in a process.
Top user flows: Find the steps that power users take in your product, and understand what leads users to make a purchase or to sign up for a service or product.
Launch impact: Get reports on whether new features affect the adoption of old features and if your feature launches are successful.
Next Steps: Choose customer onboarding software that makes onboarding effortless for your customers
Imagine signing up for a new tool and receiving a 30-page user manual PDF or a series of hour-long videos to introduce key features. Considering the time and effort such onboarding takes, you're likely to add such onboarding tasks to your to-do list and promptly forget about it.

Effortless onboarding means customers should be able to learn how to use an app within the app itself without having to click on multiple different pages or view lengthy onboarding content. When users want to perform an action, they simply click on a given tab, and it launches into a series of steps they should perform or a guided walkthrough. When users are unsure how to best use a feature, they see a pop-up that provides them with helpful tips. What's more, users should only be able to see content relevant to the section of the app they're in to avoid feature overload.

Whatfix lets you provide such guided, contextual onboarding within your app in a simple way. Sign up for a Whatfix demo to see how it can improve your organization's customer onboarding KPIs.
Subscribe to the Whatfix newsletter now!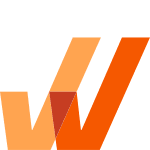 Request a demo to see how Whatfix empowers organizations to improve end-user adoption and provide on-demand customer support