With the rollout of new products, services, tools, and features, the hope of all companies is that their new and active customers will adopt the new product.
But with so much competition in today's market, how do companies ensure customers adopt their product or service? Contrary to popular belief, what defines successful adoption for the customer and the company are two sides of the same coin. 
Customers want results, whether that means improved productivity, increased efficiency, or whatever helps them reach their goals and desired outcome. Meanwhile, businesses want to provide results by building trust and helping them achieve those desired outcomes. Customer adoption harmoniously meets them in the middle.
By leveraging data-driven insights and customer testimonials, you can create a truly proactive customer adoption strategy that enables personalized content and touchpoints with an omnichannel experience for maximum customer value realization. 
What is Customer Adoption?
Customer adoption refers to introducing a new product to the marketplace and acquiring new and/or repeat customers. It's the start-to-end process of product awareness and integration into a customer's life. Customer adoption also refers to the rate at which current customers adopt or purchase new products, features, or services, and how quickly they adapt to using them as intended.
In short, customer adoption pertains to maximizing potential and the effective use and implementation of your product or service for your customers.
5 Stages of Customer Adoption
The consumer adoption process is ongoing. Tools and technology may evolve, and consumer discovery of products and behaviors may change. Nevertheless, these five stages make up the consumer adoption process:
The awareness stage is when a new or current customer becomes aware of a new service, product, or feature. This could happen via a customer success rep, a product notification, customer word of mouth, social media, or a marketing email.
In the interest stage, a customer is actively curious about your product or service. If they're a part of your current customer base, they may reach out to their CSM to express interest, and prospects may do more research into your company.
The evaluation stage is where a customer assesses your product or service offering. They evaluate whether it's something they want, need, and mostly importantly, are willing to invest in.
In the testing stage, customers actively try out your product/service. This may be by signing up for a free trial, being a part of beta testing, or watching a demo/tutorial. The objective is to see whether or not your product or service is a good fit for a customer's goals.
When a customer decides to make a purchase, they "adopt" the new product or service to be used as intended. Some customers may benefit from high-touch customer support during the adoption and onboarding phase. A formal customer onboarding process is common during this stage 
Once this is done and the product is integrated into the customers day to day, you've achieved customer adoption.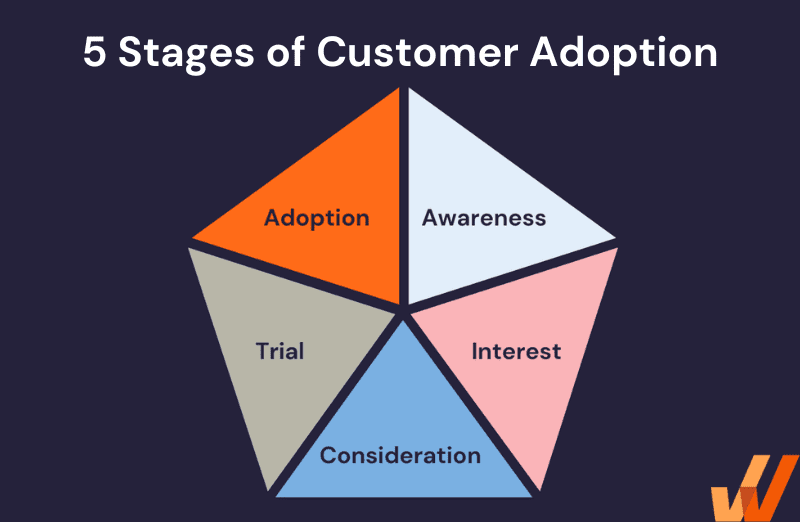 The Customer Adoption Curve
The customer adoption curve helps to organize customers into categories based on their interest in new ideas, tools, and technology. Similarly to the technology adoption curve, the customer adoption curve takes the form of a bell-shaped arch that splits customer adoption data into the following five categories: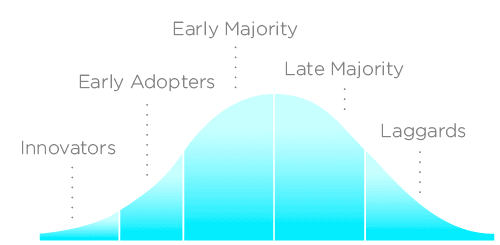 7 Benefits of Customer Adoption
Customer adoption is fluid. Strategy, technology, and product or service offerings can change over time, so the definition of customer adoption will likely change too. But for any product and customer base, you can anticipate the following benefits of customer adoption:
1. Higher customer lifetime value
Customer lifetime value (CLV) represents how much you spend on each customer that buys your product or service, and the value of that customer over time. It can help you conceptualize how customer adoption affects sales and highlight where you need to tweak your processes and efforts. 
2. Increase customer satisfaction
Customer satisfaction directly impacts a company's success. It's linked to increased market share, lower costs, and higher revenue and should be the mission of every business. 
Customer satisfaction is achieved through excellent customer service and customer adoption. When customers witness the benefits of your product, they can feel confident in its relevancy and application.
Customers tend to churn when they don't see the value they hoped they'd get from a product or service. 
High customer adoption can help reduce customer churn through positive customer experiences and successful customer onboarding. Your customers can accelerate their adoption and be able to integrate it into their workflows sooner, which lowers the chance that they'll disengage and drop off.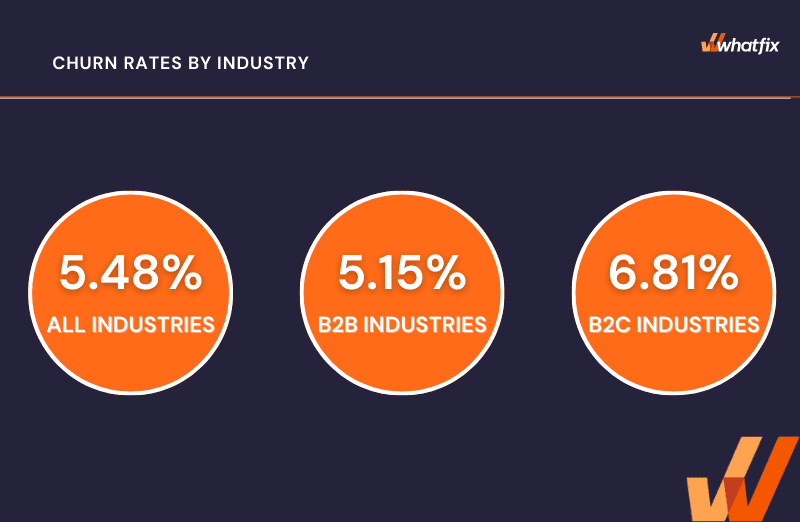 4. Provide better customer experiences
Your digital customer experience depends on how your customers use and interact with your product or service. If it's complex or unclear, it will lead to a poor customer experience. Ultimately, the most authentic way to increase customer adoption is to provide an excellent customer experience by providing a quality product.  
Your product or service must add value to your customers while being intuitive and straightforward. With quality products and a seamless customer experience, customers will want to adopt new features and tools as they're released. Prioritize an excellent customer experience, and a great digital customer experience will follow.
5. Reduce training and other costs
When your customers successfully adopt your product, you can save in several ways – including marketing and customer support as well as training and retention costs. Staffing a customer success team and developing customer training programs to educate customers is expensive and time-consuming, so focusing on customer adoption can help you save costs down the line.
Drive customer adoption using Whatfix to get the maximum value from your software application without shooting-up support costs. Regardless of where your users are, Whatfix provides relevant, always-available help using training resources across your company.
6. Implement product enhancements
By monitoring your customer adoption, customer success teams can follow trends in customer behavior and identify areas of improvement in your process or product. This information helps product development and sales teams understand what customers like and don't like about your product, how to market to them, and ways to improve the customer experience through product enhancements and updates.
7. Increase customer engagement
Customer engagement is about building meaningful customer relationships. Customers who are fully engaged with your business are more likely to stay longer and continue to renew their subscriptions. A customer retention program empowers teams to maintain their customer base and drive engagement at scale. 
5 Key Customer Adoption Metrics & KPIs
Significant customer experience improvements can be gauged through customer adoption metrics. For this to be achieved effectively, businesses must measure their success and set targets for the future.
Monitoring progress, creating goals, and understanding the effects of change allow businesses to gradually and consistently improve both customer and product adoption. 
Here are some customer adoption metrics that could help you understand customer adoption and how these product adoption KPIs can impact different parts of your business.
1. Customer adoption rate
Customer adoption rate is the number of customers who've adopted your product divided by the total number of customers. For example, if you launch a new product that 20 of your current 100 customers adopt, you'll have a 20% adoption rate. 
It's up to you to determine who qualifies as an adopted customer, as this may vary across organizations. 
Number of new users ÷ Number of total customers
2. Time-to-first key action
Time-to-first action measures the time it takes a new customer to engage with a particular function or feature. How you choose to interpret this metric is up to you and your customer adoption strategy. To find time-to-first action, you need to identify what action you're measuring and how you define customer engagement.
Measuring the time it takes a customer to complete their first essential action can show you two things: 
How fast customers are adopting your product 

How much time they're spending

without

adopting your product
Total number of days from signing up to the first essential action
3. Number of daily/monthly active users
Calculating the percentage of daily active users (DAU) or monthly active users (MAU) lets you see the actual number of existing customers that have adopted your product and are engaging with it during a specific period. This is particularly helpful for understanding how valuable your product is to customers. It provides a snapshot of user retention and helps evaluate traction and potential revenue.
Daily or monthly active users ÷ Total users x 100
4. Customer lifetime value
Customer lifetime value (CLV) measures the total income a business can expect from a customer for as long as that account remains a client. When measuring CLV, look at the total average revenue generated by a customer and the total average profit.
CLV is an important metric because it costs less to keep existing customers than it does to acquire new ones, so increasing the value of your existing customers is a great way to drive growth.
Average total order amount x Average # of purchases per year x Retention rate
5. Average session duration
Average session duration looks at how long customers spend on a platform during a single session. Analyzing average session duration can help identify gaps in product usage that may indicate customer disengagement or a more significant product issue. It can also better demonstrate a product's core value by seeing where users spend their time and for how long.
Total duration of all sessions ÷ Total number of sessions
How to Create a Customer Adoption Strategy
Customer adoption strategies are techniques that make users aware of your product and drive them to use it at every stage of the customer journey—from initial awareness to adoption and advocacy. 
To create an effective customer adoption strategy, you'll want to define the following:
Set goals for customer adoption
Understand and map out the customer journey
Define your customer personas
Begin implementing customer adoption strategies
Create a customer adoption outcome roadmap
Continue to assess and adjust your strategy
Customer adoption looks different depending on the product, the customer, and the company, so it doesn't always fit in a neat box. However, when planning your customer adoption strategy, your end goal should always be to keep your customers engaged and satisfied throughout their entire experience.
9 Tips To Improve Your Customer Adoption
Whether you're getting ready for your first-ever product launch or adding a new feature to your existing lineup, here are a few tips to help customers see the value of what you offer:
1. Test features before launch
If you're considering rolling out a new product or feature, it's crucial to conduct beta testing prior to launch. This is when you'll discover how the feature works in action and have an opportunity to manage any hiccups before launching. 
Note that you'll only have the tool/feature available to certain customers when you conduct beta testing, as it is not considered a complete rollout.
2. Analyze product or service usage
Analyzing product or service usage data is a vital customer adoption strategy. The more you analyze, the better ways you know to improve the customer experience and increase the adoption rate.
Whatfix Analytics offers actionable data on customer behavior within your applications, consumption of Help content, and real-time feedback on in-app experiences.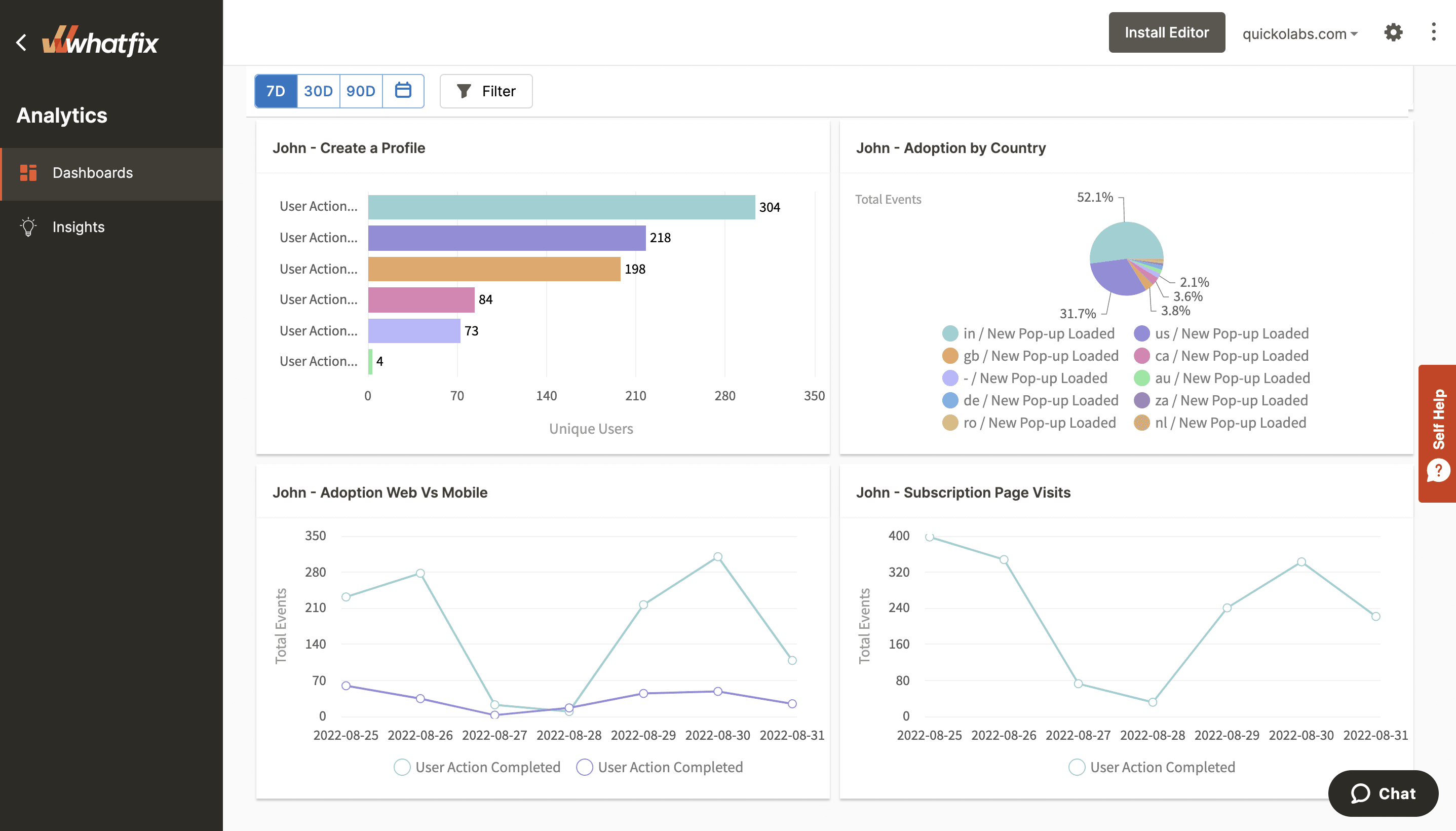 3. Enforce customer education
Customer education helps companies distribute guidance, best practices, and in-depth knowledge about their products and services. An excellent education program serves customers throughout the entire lifecycle, from onboarding new customers to engaging unresponsive accounts and moving upsell opportunities down the pipeline. 
4. Seek out and use feedback
One of the best ways to increase your customer adoption rate is to listen to your customers. After analyzing customer data and reaching out to happy customers, have the customers who used your new tools/features fill out a survey to directly learn what works, what they liked, and what they didn't like. From there, you can adjust your strategy or deliverables as necessary.
Whatfix's feedback feature enables customers to provide feedback and document their suggestions when they can't find what they are looking for. Providing in-app feedback lets customers share their thoughts and feedback in their workflow.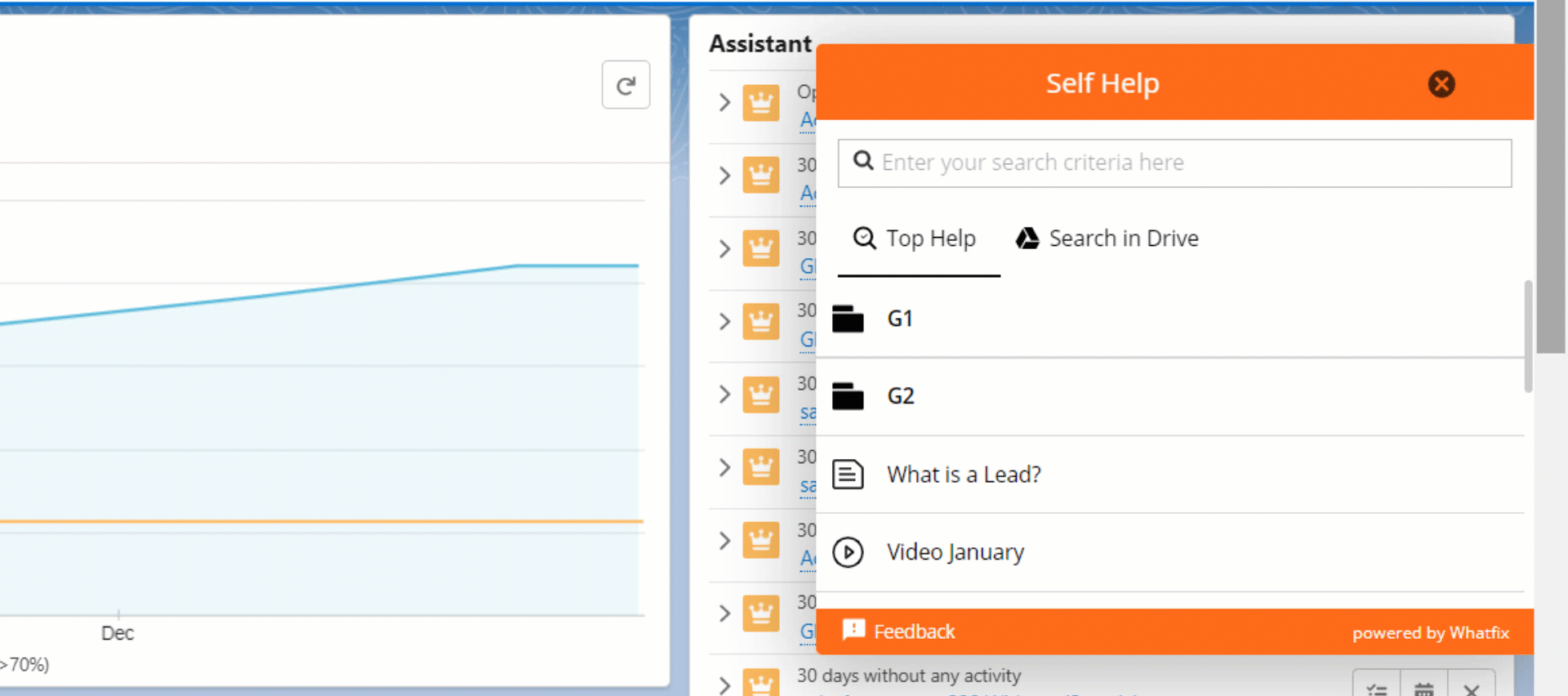 5. Create a strategic onboarding process
To improve customer adoption, create thorough onboarding documents and offer detailed tours of new features. Successful customer adoption through onboarding doesn't just show customers where to go and how to do things – it also shows how they'll gain value from your product. Everyone who uses your product has at least one goal in mind, and onboarding is how you guide them toward achieving those goals as soon as possible.
Whatfix makes strategic onboarding scalable. With Whatfix, you can analyze customer adoption data to create customer segments that allow you to offer contextual customer experiences based on cohort data. 
Get your SaaS Customer Onboarding Checklist now!
✓ Thank you, the checklist will be sent to your email
6. Prioritize accessible support and training
Successful customer adoption requires accessible support and training. If you expect as many people as possible to adopt your product or service, you need to accommodate as many different learning styles and personas as possible. 
Provide access to several types of support, training, and customer success. Some people are more visual learners and may need video support, while others are happy with self-help tooltips. What's important is that you accommodate every possible customer adoption learning curve and make new customers aware of their options right from the start. 
Boost customer adoption and proficiency with Whatfix. Accelerate training with in-app guidance and contextual on-demand support. Improve application proficiency with continuous training at the moment of need.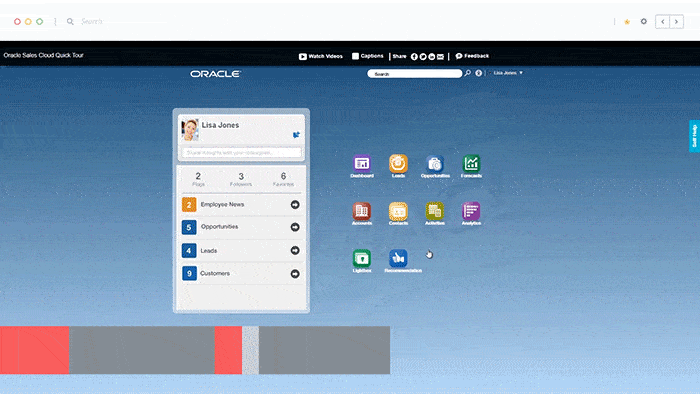 7. Personalize the customer experience
A personalized customer experience is the secret ingredient of any successful customer adoption strategy. The more personalization you offer customers, the more connected they'll feel to your product and brand. 
Customers will have specific needs, goals, and problems. They will identify with a persona. If you've done your research, you'll know they've been navigating the sales funnel tailored to their needs and persona. Guide them along the funnel with your customer adoption strategy, personalize their onboarding experience, and watch your adoption rates grow.   
Personalization is key to engagement, and Whatfix's user-level segmentation helps you create personalized customer onboarding experiences, leading to a higher engagement level.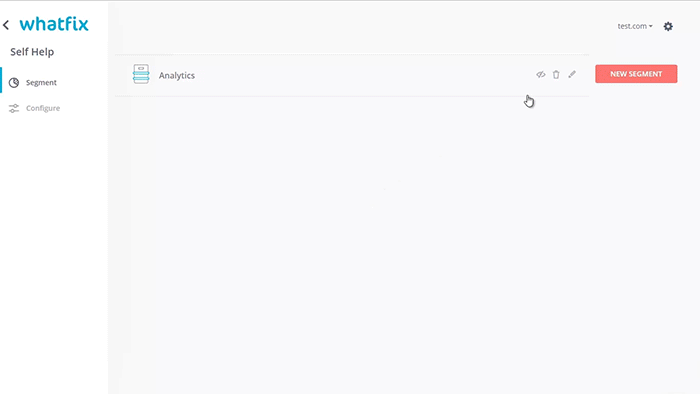 8. Provide in-app guidance with interactive flows and walkthroughs
Interactive product walkthroughs help users master the product by interacting with it. They encourage them to take action once they've learned something new. 
Design personalized onboarding flows and in-app guidance with Whatfix to guide customers through adoption. Creating a customized onboarding experience fills product knowledge gaps and reduces onboarding friction.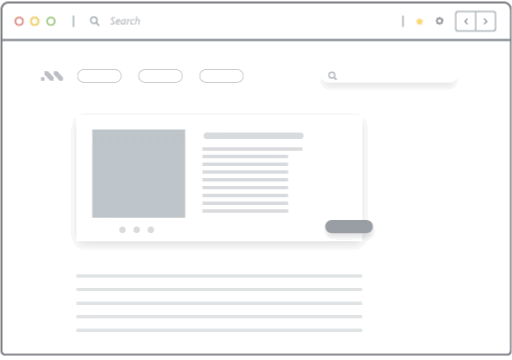 9. Offer on-demand, live support
80% of buyers want companies to respond and interact with them in real-time, and reports by CrazyEgg reveal that 38% of consumers are more likely to buy from a company if they offer live chat support. 
During the adoption phase, live chat is extremely useful for businesses and allows customer support agents to work on the go. Live chat empowers teams to quickly identify customer pain points and offer support in a non-invasive, convenient way. 
Whatfix offers contextual support to customers at the moment of need within an application. With Whatfix, you can make your help and support content from across enterprise systems accessible wherever the user is.
5 Tools To Improve Customer Adoption
When choosing a customer adoption tool, look for something that caters to different customer personas and provides insights throughout multiple adoption stages. It should be easy to use and engaging—for your customers and teams—and integrate with your existing tech stack. 
Here are five popular customer adoption tools, including their core features and pricing: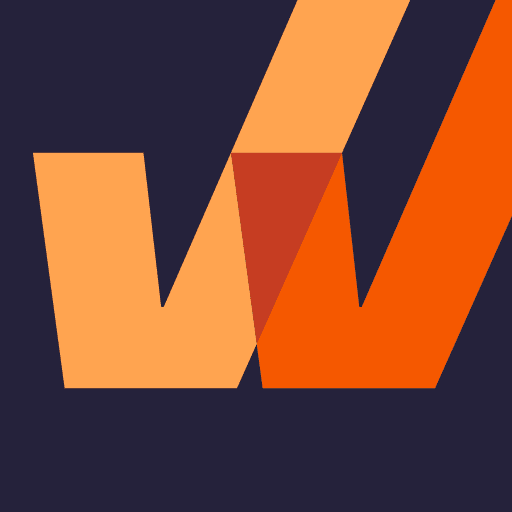 G2 Rating: 4.6 / 5 stars
Price: Quote available upon request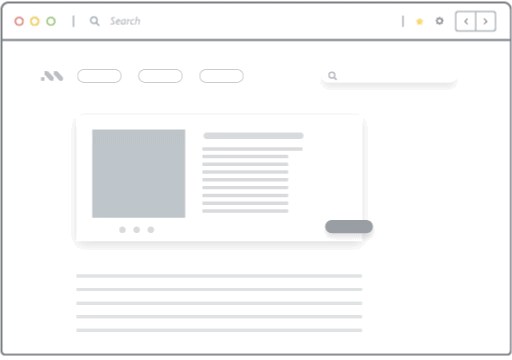 Whatfix is a digital adoption platform that helps teams improve customer adoption with on-demand support, in-app guidance, and product analytics. Use the no-code platform to tailor the customer experience for different customer personas using omnichannel content like product tours, task lists, reminders, and surveys. 
Key features:
Report on deployed content flows

Track and measure customer engagement with different product features

Make in-app changes and publish them quickly with content creation and curation tools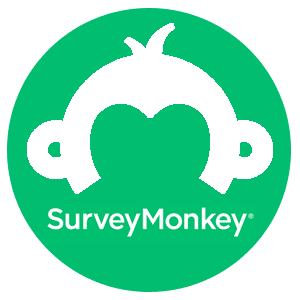 G2 Rating: 4.4 / 5 stars
Price: Quote available upon request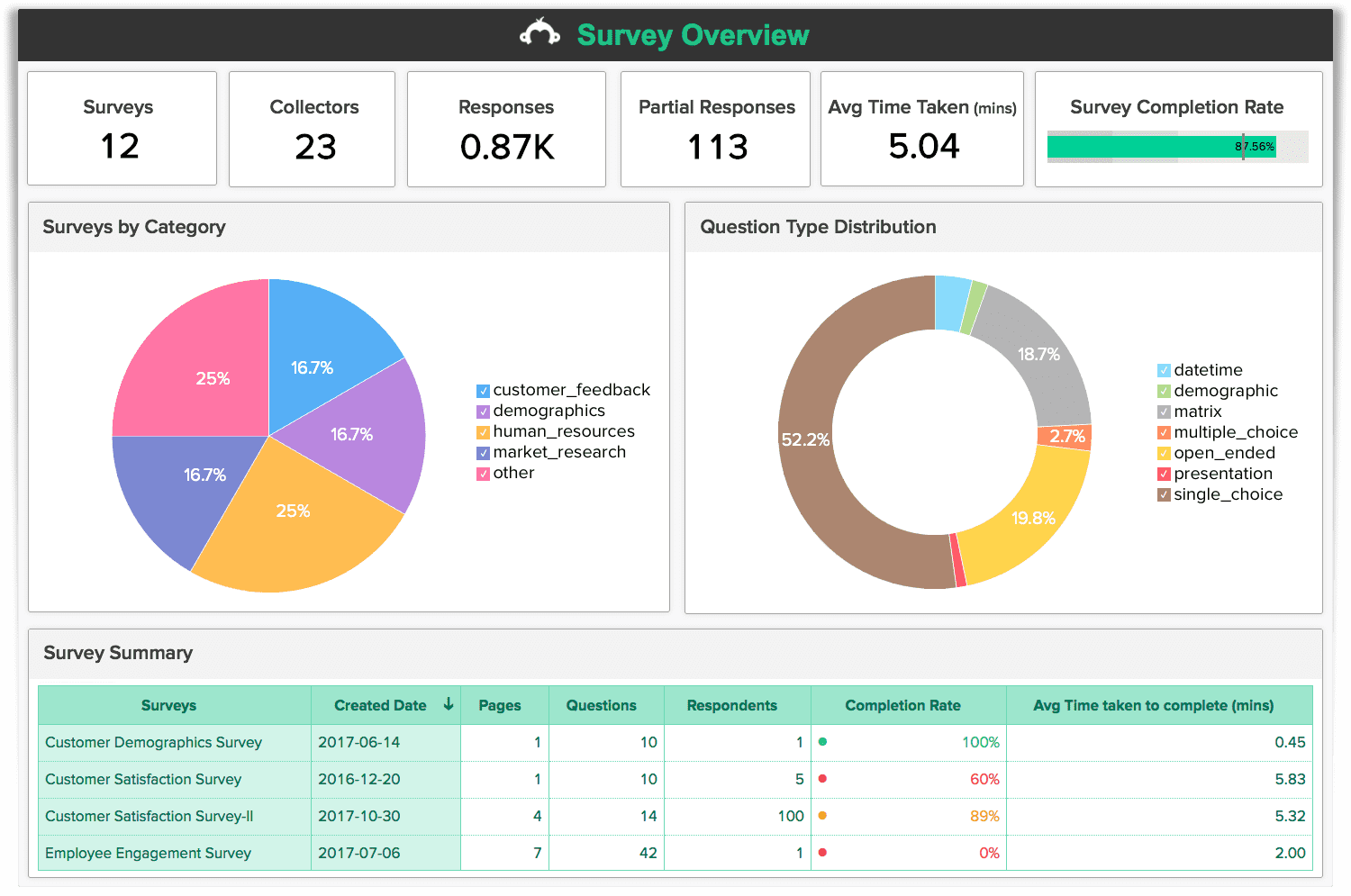 SurveyMonkey gathers insights about the customer adoption journey to help make informed decisions on improving your product, website, flows, and onboarding. You can also use it to get feedback on newly introduced features by incorporating screenshots in your survey and asking users to indicate what they do and don't like. 
Key features:
Customizable survey templates to create surveys, quizzes, and polls for any customer persona

Get data visualizations, analyze results, and analyze text responses with Word Cloud and Sentiment Analysis

Export results or integrate data with popular tools like Salesforce, Microsoft Teams, and more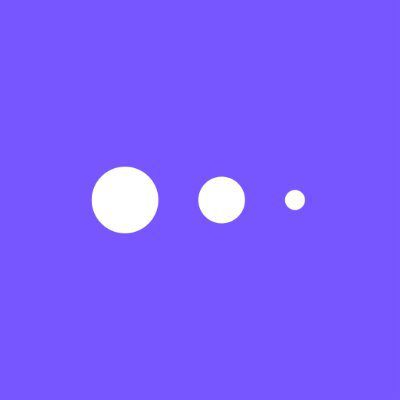 G2 Rating: 4.5 / 5 stars
Price: Free Basic package, Growth package starting at $25/month, contact for Enterprise package details

Mixpanel is a product and web analytics tool that tracks customer behavior and KPIs. It's designed to help SaaS companies and website owners get real-time data and insights into how customers engage with their products. Mixpanel's actionable insights help you figure out how to improve the customer experience (CX) to boost adoption and reduce churn.
Key features:
Interactive Reports visualize data on customer actions and behavior, conversions, engagement, user flows, and product adoption metrics

Segmentation capabilities perform cohort analysis and uncover hidden patterns in engagement trends 

Customizable Dashboards and real-time Alerts help teams stay on top of changing trends in data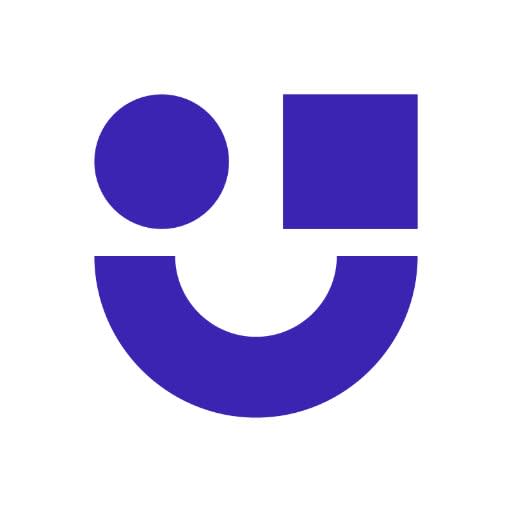 G2 Rating: 4.7 / 5 stars
Price: Quote available upon request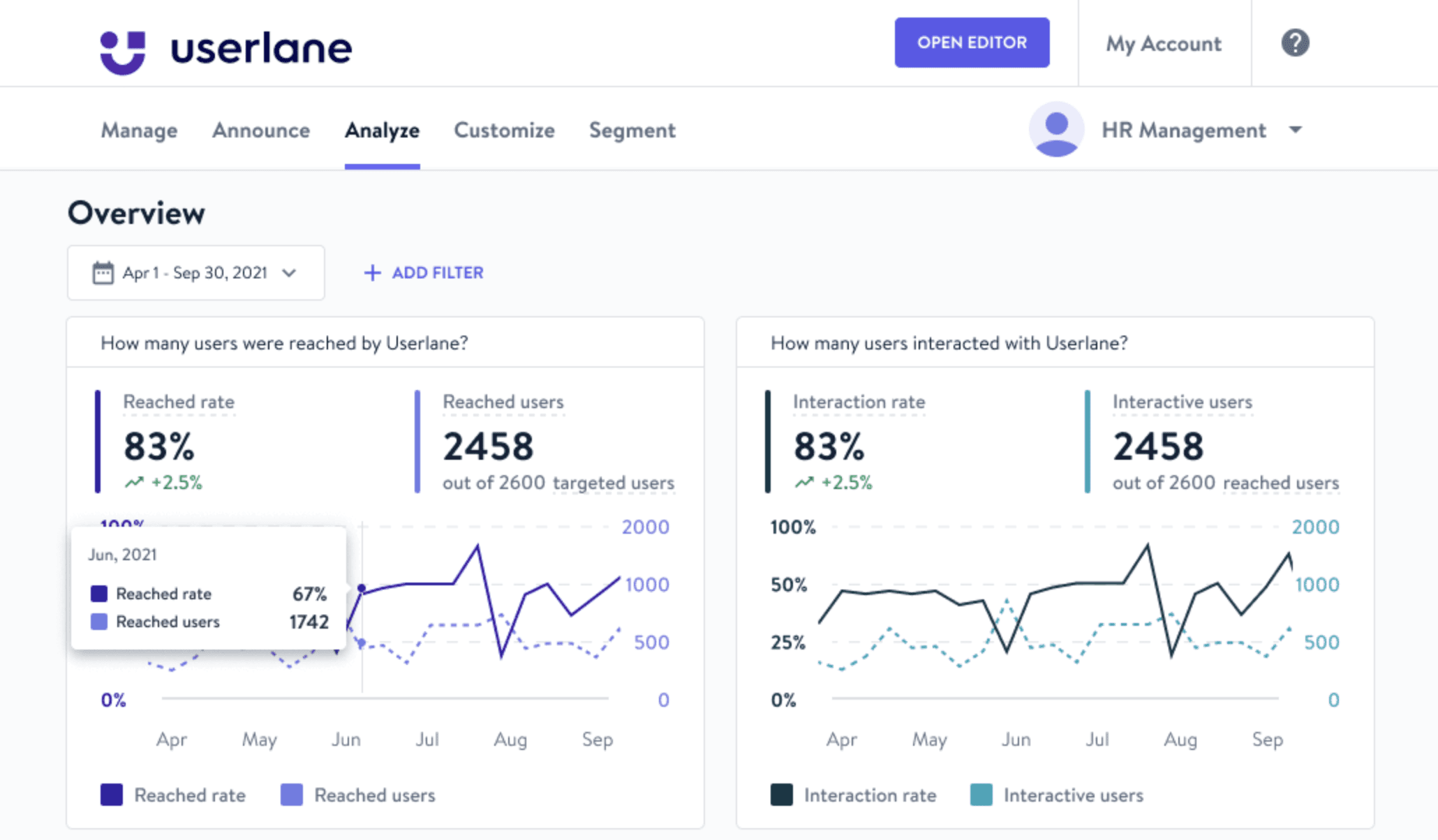 Userlane is a no-code DAP that allows you to create in-app, interactive content to guide customers in real-time. The platform offers intuitive on-demand assistance compatible with any browser-based software. Userlane analytics dashboard provides insights into feature and process adoption to help make informed content creation decisions based on customer needs and behavior.
Key features:
Provide customizable workflows for customer onboarding activities and tasks

User segmentation capabilities to define groups and the characteristics that set them apart, including subscription models, support needs, or usage behaviors

Create and send out surveys to customers to determine net promoter scores and other critical satisfaction information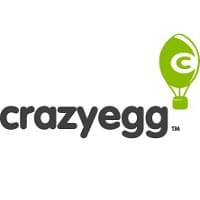 G2 Rating: 4.2 / 5 stars
Price: $29/month for Basic, $49/month for Standard, $99/month for Plus, $249/month for Pro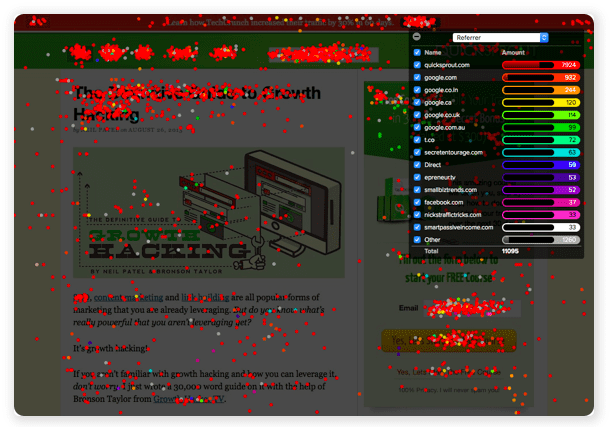 Crazy Egg allows teams to test variations of web pages and measure how they perform using heatmaps and recordings, making it easy to analyze website performance and track, evaluate, and improve conversion rates. Crazy Egg complements Google Analytics to reveal how and why people use your product. You can edit content, fix issues, and test new ideas when you know what's working and what's not.
Key features:
Use heatmap screenshots to generate reports that help to understand how customers interact with your product

Available A/B testing to experiment with headlines, copy, or product descriptions to monitor conversions

Accessible recordings that demonstrate how customers navigate your product and where they get stuck or drop off
Drive customer adoption with digital adoption solutions like Whatfix
There has never been a more exciting time to compete in the growing customer adoption sector. With year-over-year business growth and new technological innovations hitting the market regularly, the need for customer adoption is at an all-time high. 
In fact, with greater customer awareness than ever, customer adoption is expected to expand significantly in the next five years. 
As a digital product or service provider, it's crucial to focus on customer adoption to stay relevant in an increasingly crowded marketplace. Digital adoption platforms like Whatfix are essential to your customer onboarding, training, and care toolkit. 
Whatfix offers product and guidance analytics to initiate the perfect handshake between customers and your new product or features. It also helps identify key user behaviors within apps and track customer onboarding, training, and adoption progress. 
Learn more about how Whatfix can support your customer adoption efforts today.
Like this article? Share it with your network.
Subscribe to the Whatfix newsletter now!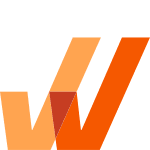 Software Clicks With Whatfix
Whatfix's digital adoption platform empowers your employees, customers, and end-users with in-app guidance, reinforcement learning, and contextual self-help support to find maximum value from software.