It's no secret that happy customers are key to business success, but it can be difficult for leaders to ensure satisfactory experiences as a company grows and hires new team members. 
While at first it might seem that all your business needs to ensure excellent customer service, the truth is that it requires thorough customer service training, clear guidance, and continued team member development and support. 
The best way to ensure consistent, premium experiences for your customers is to utilize a comprehensive customer service manual in your training program. A training manual is one of the most effective types of training materials, and when used effectively, will leave your customers happier and more likely to return.
What Is a Customer Service Training Manual?
A customer service training manual is a guide that contains all essential information your customer service team needs to provide an unmatched customer service experience. This comprehensive manual should empower your staff to self-train as they support unique customer needs.
What Should Your Customer Service Training Manual Include?
Your customer service training manual should cover the ins and outs of everything that is considered to be customer service in your company.
This may include every one of your company's departments, including high-level executives in addition to your regularly customer-facing employees. It should detail not only problem-solving measures, but also the ideal customer experience across the entire customer lifecycle.
To get you started, here are the essentials of any customer service manual:
1. General customer service best practices
Highlight standard practices for interacting with customers in-person and otherwise, handling customer concerns, and concessions that customer service team members are able to make on behalf of the company. 
Be sure to include details that relate specifically to your business and industry. For example, if your business deals with sensitive information, include what types of privacy policies are important for customer-facing team members to know.
2. Company mission and value statement
Your customer service representatives should understand and embody your business' mission and values in their work. Add these details toward the beginning of the manual and take the time to spell out the ways your customer service employees should apply them in every interaction they have with customers.
Unfortunately, not all employee-to-customer interactions will be ideal. Provide clear guidelines for conflict resolution and take care to acknowledge difficulties and frustrations while stressing the importance of empathy. Remember — the end goal is always customer satisfaction.
In the event that a conflict cannot be resolved with a single interaction, include a section that lets employees know exactly what steps to take to escalate the issue to a superior or whomever the appropriate team member might be.
5. Frequently asked questions
Chances are, your trainers and team leaders are well aware of problem areas that arise in training and day-to-day operations. Consult with these team members to develop helpful frequently asked questions to layout in your training manual.
Your FAQs should not only cover common customer service challenges, but issues that are specific to your business operations or industry as well. They should also lay out the questions and answers in addition to examples that demonstrate different potential solutions.
Feedback and input related to your customer service training manual shouldn't be limited to your leadership team. Provide all of your employees with a post-training feedback survey to allow them to provide input. This will allow them to suggest adding situations that may be missing or improvements to existing instructions based on their own experiences.
10 Best Practices for Creating a Helpful Customer Service Training Manual
An effective training manual will leave customer service and support employees feeling confident and well-equipped to handle any situation that might arise, increasing overall productivity and satisfaction. '
Follow these ten best practices when putting together your customer service training manual to ensure the best possible outcomes for your customer support staff, as well as your customers:
1. Emphasize positive customer interactions
Make increasing positive customer interactions as the main objective while writing your handbook, and encourage employees to do the same in their day-to-day work. 
In your customer service manual, you should be able to incorporate this objective and explain why customer service policies and practices are designed the way they are. This will promote understanding and more consistent service outcomes.
In a similar vein, drive home the importance of empathy when interacting with customers and dealing with service-related conflicts. Finding appropriate and helpful ways to remind your team members to understand how their customers feel can minimize frustration and facilitate resolutions. 
One simple way to do this is to emphasize active listening and including exercises that help employees practice those skills along with other soft skills like adjusting their body language or politely probing customers to gather the information necessary to resolve the issue.
3. Outline all customer service policies
Don't skip the basics. Include the full details of your customer service policies in your training manual as a reference for your team members to point to when they have to put their training to use.
Many customer service teams even create dedicated policy and procedure manuals for their teams that outline their support ticket priority levels, escalation policy, and so forth.
These policies should be the foundation of all of your customer service representatives' training, so it is vital to spell them out in simple language, and design examples and training activities to bring them to life. Utilize standard operating procedures (SOPs) and process documentation to highlight step-by-step instructions on how to tackle different issues.
4. Include escalation procedures
A comprehensive customer service training manual should include instructions for interacting with customers with the aim of finding an efficient path to resolution, but in the event that a conflict is more complicated, team members should be well-versed in escalation procedures.
Of course, not all conflicts will require the same treatment or escalation. Be sure to make clear which issues should, and should not, be escalated. Also highlight who should be brought in for specific issues, how best to reach out to the appropriate party, and what exactly to tell the unhappy customers while they wait for next steps.
5. Use role-playing scenarios
Develop a set of scenarios for trainees to act out in role-playing activities. These can be pulled from your FAQs and should provide examples of right and wrong ways to handle situations. Providing creative and realistic role-playing scenarios will give your customer service employees the practice they need to ensure that they can carry out best practices confidently when interacting with a real customer on the job.
6. Create an additional resources section
Providing adequate resources and information to employees will allow them to handle day-to-day customer service issues on their own, and ensure that they will only need additional intervention for issues that really need additional advisement. These types of tools could include:
Product information
Sales/marketing info
Ongoing training
Chain of command
Escalation procedures
7. Publish your training manual in various formats
Your customer service training manual should be provided to team members in a number of formats to ensure ease of use. It can be very useful to provide an up-to-date version of the handbook near the cash registers in retail situations or wherever your customer-facing employees work, but it is most important to make sure to keep a master digital copy as a living document that can be regularly updated and redistributed.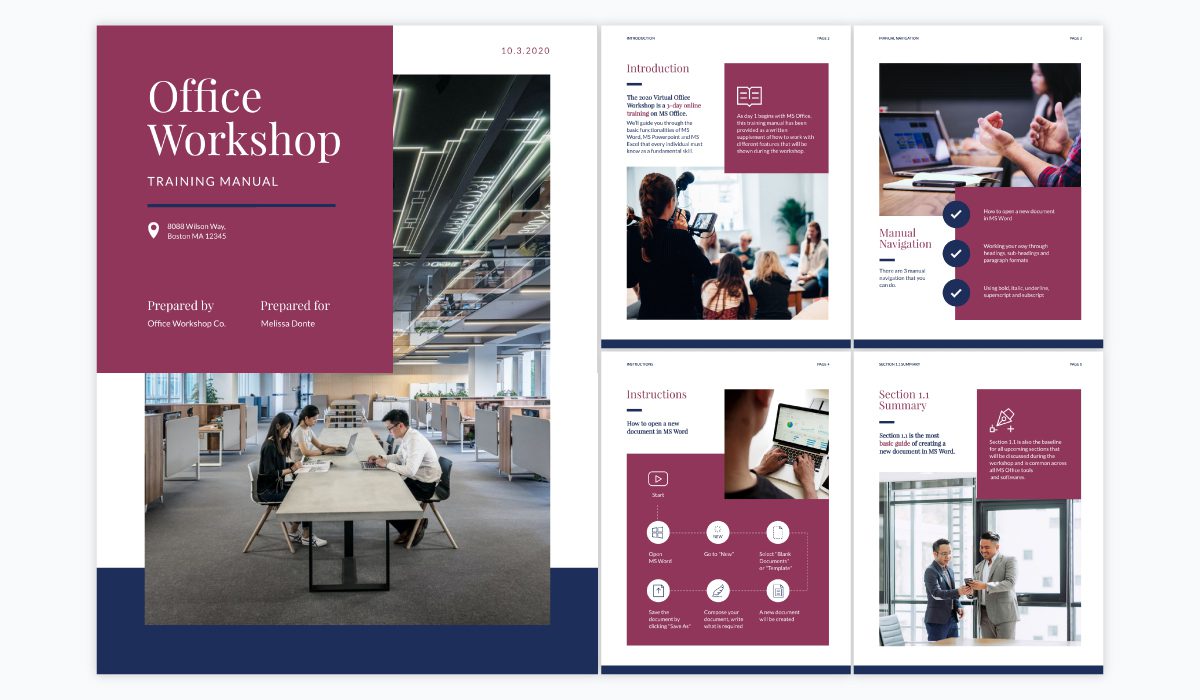 This will make it easier for you to invite comments, suggestions, and interactions from team members and find ways to incorporate interactive digital training methods such as videos, slideshows, or quizzes.
8. Make your training manual easy to access
Your customer service training manual should be kept in a central location that is easy to access and protected from editing. If your company uses an intranet link to it on the home page, otherwise find a way to make sure every employee can be sure they can find the live version whenever they might need it.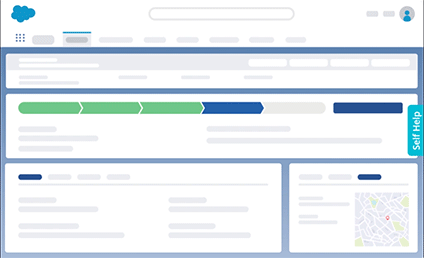 Create personalized learning & training flows for your customer support team with Whatfix
9. Keep your training manual updated
Whoever is charged with maintaining the manual should make a point to review it periodically, along with any comments or suggestions that have been submitted since its last update. Any policy changes should be added in promptly and once complete, employees should be notified of exactly what changes have been made and how they might affect their expectations in the future.
10. Gather employee feedback on your training manual
It is very likely that seasoned customer service employees will have useful comments and additions to the knowledge that managers or outside consultants would provide. Look to the employees tasked with these responsibilities to gain vital insight on how your best practices play out in real-time.
3 Customer Service Training Manual Examples
A customer service training manual is an invaluable tool for instructing your employees how to best provide top-quality service to your clients or customers. A comprehensive training manual addresses common customer concerns and internal policies that cover how you want your employees to handle issues related to product returns, complaints and service issues. 
Here are some customer service training manual examples to get you started:
Give customer service employees the tools they need to succeed with Visme's training manual template. You can easily liven up the manual's design with dynamic vector icons, shapes, and images.
You can also customize this template by choosing from Visme's outstanding range of stock images and photos. Once customized, you can easily download your new training manual as a PDF or as an HTML5 file offline, and share it using a link or embed it to a website or blog using a code.
Documenting your customer support onboarding and training procedures in a customer service training manual can help new hires learn their jobs faster and do their jobs better. With Hubspot's customer service training manual template, you can align your customer service support team on best practices, company policies, and business objectives.
Download this template and customize it with your company's training processes, employee resources, and product information so that new or tenured support employees can start helping your customers succeed.
Save time and money with Lessonly's free customer service training manual template. It covers the basic concepts that every customer service team should know, but is easy to modify and edit as needed. 
This template also helps staff members know how supervisors will assess their skills: Is it more important to act friendly and helpful, or to boost net profits? This template features basic principles, do's and don'ts, and training tips for your customer service team so that they'll always be on the same page.
Provide in-app onboarding, training, and support - in the flow of work - with Whatfix's digital adoption platform
With Whatfix, organizations are empowered to create digital, in-app learning content for their customer service teams in the form of step-by-step guided flows, interactive walkthroughs, onboarding task lists, smart tips, and more – all without the need for coding knowledge.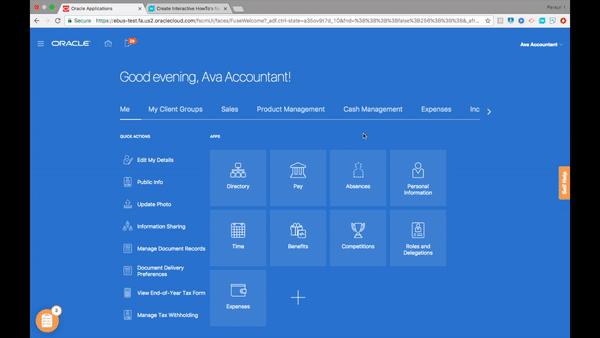 This content provides an engaging learning experience that guides customer service and support team members through various in-app guides and walkthroughs that helps them master digital applications – in the flow of work.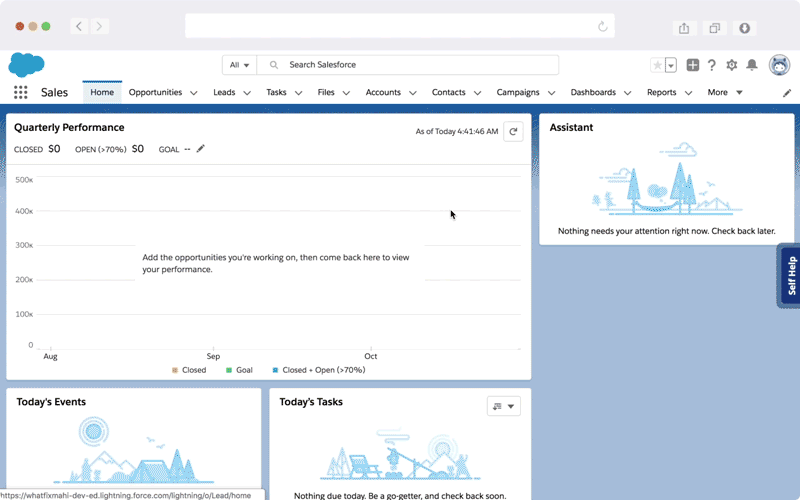 With Whatfix Self-Help, your customer service and support team are empowered to search and find answers and how-to documentation to their contextual support questions – right inside their digital applications and processes. This self-help portal aggregates content and documentation from an organization's intranet portal, knowledge base, Google Drive, LMS, and more to provide support teams with performance support right in their workflows.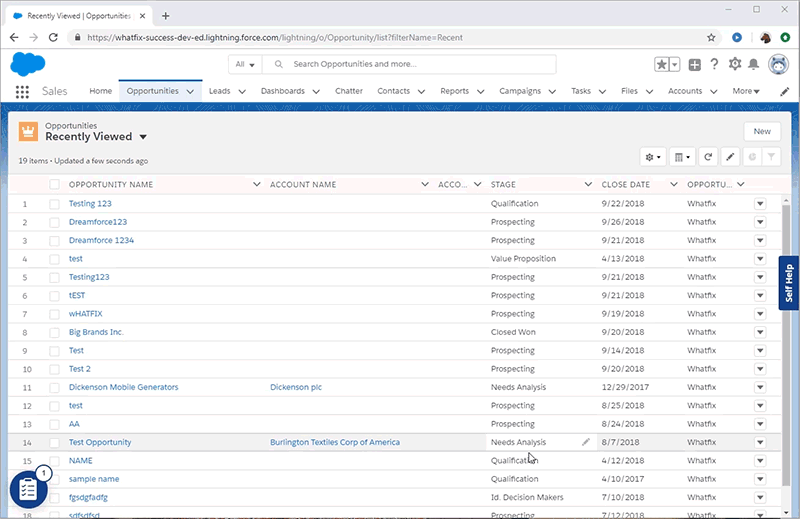 Customer service leaders and L&D teams are able to understand how employees are using their customer support applications and engaging with their in-app learning content through Whatfix Analytics. This automatically captures employee behavioral event analytics and creates automated reports that allow organizations to identify digital skill gaps, areas of training that need to be re-addressed, features or processes being underutilized, and improve their onboarding programs.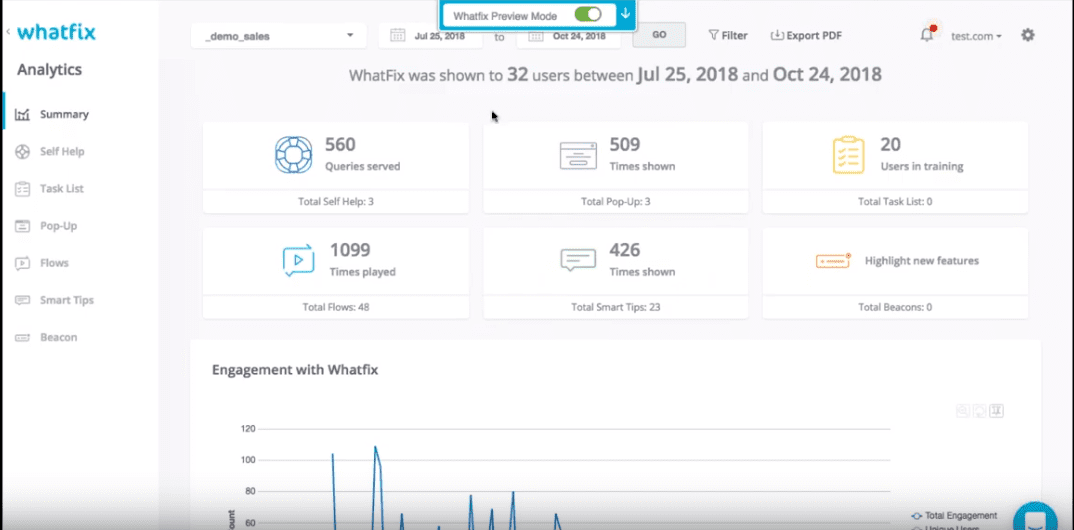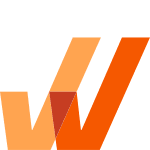 Request a demo to see how Whatfix empowers organizations to improve end-user adoption and provide on-demand customer support
Subscribe to get new content delivered directly to your inbox.