Industries are at the cusp of a paradigm shift. Digital adoption is at the top of boardroom agendas and global spending on enterprise software is estimated to be around $424 billion today. The reasons for this paradigm shift are ubiquitous. First and foremost, digital empowerment paves the way for better and more efficient enterprises, improved business outcomes, and of course, a boost in company revenues. To quantify this, Gartner reveals that more than half of global CEOs, 56% to be exact, attest to the fact that digital improvements do indeed lead to increased revenue growth.
However, in 2018, McKinsey also reported that only about 3% of digital transformation initiatives are entirely successful. These statistics are particularly grim, especially if your company is on the verge of a complete transition.
This article will help you successfully prepare for your organization's digital transformation by addressing why digital transformation efforts fail, how a digital adoption platform can help, and absolute must-haves to consider while choosing a Digital Adoption Platform for your company.
Why Do Digital Transformation Initiatives Have Such Low Success Rates?
McKinsey's numbers force us to find answers to two crucial questions.
Why do most digital transformation initiatives end up in failure? 
Are companies setting themselves up for massive failures by taking a step towards digital transformation, or is there something fundamentally wrong in the way we approach digital transformation?
The first thing to remember is that digital transformation is a journey. Whether it is migrating your entire business model to digital, or a department, or even just a process, every change requires a well thought out, meticulously planned execution strategy to ensure success.
Most organizations would agree that no matter the level of digital transformation your organization requires, fastidious planning is essential. The problem is, however, most organizations stop careful support at the post go-live stage of implementation.
To give you a better idea of how this approach is a set-up for failure, let's delve deeper into a probable scenario.
Consider that you are part of an organization-wide deployment of an enterprise CRM like Salesforce. A clear cut migration strategy includes all of the following critical steps: 
Drafting business cases for your present and future requirements

Evaluating the scope of each case

Creating data backups

Coming up with a blueprint for migration and deployment

Streamlining the implementation process with proper workflows, rules, and management

Managing the entire migration process until deployment
Once you have completed these steps and Salesforce has been successfully deployed, it follows to think adoption will be automatic and your organization will immediately start to see ROI, right?
However, without proper initial training and ongoing training support, these initial implementation efforts of your organization will be in vain. Unfortunately, your organization will likely become part of the astoundingly low adoption rate statistics.
Let's dive deeper into why this will likely happen.
As you know, a CRM like Salesforce has robust and complicated functionality. Salesforce is designed to help organizations close more sales, improve communication, boost data accuracy, and, ultimately, help businesses continue to grow. 
A software application with the ability to do all this for your organization means one thing: the app is sophisticated and equipped with several features and functionalities. This complexity makes it challenging for employees to learn how to use the application, embrace it fully, and to continue to use it successfully so that the organization can realize the full value of Salesforce.
In most cases, companies take a half-hearted training approach. They organize fortnight-long training sessions to help introduce Salesforce as a tool for employees. But, these training efforts are unsuccessful because the human capacity to recall large amounts of complex information from past presentations is limited, and most employees are likely to forget what they have been taught in just a few days.
Your organization will feel the impact of inadequate training and the lack of ongoing assistance post-go-live when employees finally interact with Salesforce on their own for the first time. With significant knowledge gaps, employees struggle with figuring out how to use the various features of the application, leading to sporadic engagement and a subsequent drop in productivity.
With low engagement across the application and a drop in productivity and efficiency, you will soon find out that tangible ROI is hard to come by.
Directly speaking, the lack of Salesforce adoption makes it challenging to justify the dollars you invested in the implementation and deployment of the CRM.
As a result, your Salesforce migration ends up in failure.
Extend the lack of Salesforce adoption to enterprise applications in general and you will see that a blatant lack of digital adoption is the reason why most digital transformation initiatives are set up to fail.
Tackling the lack of digital adoption with enterprise applications
The average adoption rate for enterprise applications in most industries is shockingly less than 20%. The reason? Enterprises focus on simply implementing applications without directing appropriate focus on properly setting up the workforce to manage a digital transition.
What all enterprises need to realize is that the efforts towards digital adoption hardly stops at initial training. Adoption is an ongoing process, one that lasts throughout the end user's lifecycle on an application. It starts with onboarding, and continues with training and providing consistent support to the user.
With enterprise spending on software only set to increase over the coming years, it is essential to empower employees to engage with the growing number of applications and remedy the problems with seamless digital adoption.
This is where a new generation of software applications, under a category that Gartner defines as Digital Adoption Solutions (DAS) makes its grand entrance.
This new category of software, is in reality, not all that new to us. Although Gartner defining this category has been a recent development, digital adoption solutions have been in the market for a while.
Digital Adoption Platforms (DAPs) are software solutions that simplify software training and the overall user workflow to create a seamless learning experience and obtain maximum proficiency of the application.
DAPs, as they are synonymous with enterprises today, are the fulcrum of digital transformation. These tools are enmeshed with web applications such as Salesforce, Workday, Bullhorn, or your in-house applications and are instrumental in guiding users across the various features of the application.
Digital Adoption Platforms make the process of knowledge discovery much easier with always-available, just-in-time help.
Choosing a Digital Adoption Platform for your organization
DAPs, although quite a focussed and still emerging category, has a significant number of vendors. And, as with any decision involving a number of choices, choosing a DAP that is specific to the needs of your organization can be a complicated task.
There are a range of solutions designed for SMBs, enterprises, and large enterprises. Some better than the others.
To make your job a lot easier, we've taken the liberty to compile a list of features and aspects that we think every DAP should have.
Let's dive right and see what features you should look for in a DAP that is suitable for your organization.
1. In-app learning experiences
https://gph.is/g/Z58oYOQ
Business applications are complex by nature. They have diverse features and functionalities as a result of the complex business problems they are designed to solve.
As discussed earlier, classroom training sessions do the bare minimum when it comes to familiarising end-users with an application. The typical next step is to provide end-users with user manuals and guides that can help them use the application.
But, again, the problem with these approaches is that they are disjointed and incoherent. They disturb the flow of learning and distract users from their current task leading to a loss in productivity.
The most important feature for any DAP is to offer knowledge discovery without being intrusive. This is why it is important to invest in a DAP that provides and nurtures in-app learning experiences.
In-app learning allows users to access relevant information, right when they need it within the app. This means users do not have to split their focus and can quickly get back to their ongoing tasks.
2. Ease of content creation and management
DAPs are primarily used to help your users navigate business applications with ease and efficiency. This requires a lot of content creation and means you need a tool that allows you to publish resources that do not require dependence on any technical resources.
Since content creation is often handled by personnel with insignificant technical backgrounds, it's best if your DAP allows code-less authoring.
Once you create and publish the training content, you still might need to make updates on a regular basis. Your DAP should allow you to quickly update your existing content and release it to your users within as short a time frame as possible.
It's also important to note that if you create different formats of content, any update to the existing content should also automatically reflect in these formats as well.
Another aspect that's quite important to consider here would be if the DAP enables multi-language support.
Sometimes, cases arise where end-users on a business application do not comprehend instructions and training content in a single language.
In such cases, it is extremely important that your DAP has multi-language support that can render and deliver content in the correct language to the end-user.
3. Ease of Integration and Scalability
Any enterprise manages multiple functions across different business applications. This is a given. Any DAP that you choose should seamlessly integrate with your business applications and cater specifically to what end users require from these applications. It is also important to note that the DAP faces no major issues, bugs, or drop in functionalities when scaled across the organization to multiple users. In other words, the tool must be enterprise-grade in its functionality and in its value proposition.
4. Security & Compliance Certifications
Since your DAP will be integrating with a number of enterprise applications, it also means that it can access a lot of sensitive information pertaining to an organization. It is crucial to make sure that your digital adoption platform has stringent information security policies and adheres to proper standards of data security policies and processes. For example, if your DAP has a browser based extension, you need to test that the DAPs browser extension is not capturing data on all of the user's web personal or business activity outside of the core target applications for adoption e.g. Salesforce, Workday etc.

Ideally, you should be looking for a vendor holding a valid security certification relevant to your region. One of the widely accepted and accredited certifications is SOC 2 which reaffirms the fact that the vendor's information security policies and procedures conform to the highest standards of security, confidentiality and availability. Another being an ISO certification, which when combined with the former ensures the vendor's commitment to data security and the trust you, as a client, have in them. In case you are dealing with solution providers based out of Europe, GDPR compliance is must-have security certification to ensure adherence to international data privacy laws

5. Support
When we talk about support, it is important to note that we mean all-round customer support. What this means is that you need to look for assistance that starts right from the time you consider purchasing a DAP to its implementation and throughout the customer lifecycle. Ideally, it should cover technical assistance, implementation support, and client success. Support in the broadest sense is making sure that your customer derives the full potential from your solution. It needs to be 24/7, interactive, and more importantly, immediate. 
We would suggest that you look for customer reviews on multiple software listing sites such as Capterra, G2, TrustPilot etc. that speak about the support and customer service offered by a vendor. 
More than just technical support, what you need is continuous guidance on the value derived by using the platform. A point of contact who understands your organizational setup, your goals with the platform and accordingly provides end-to-end assistance to your users to ensure that you hit the intended milestone.
6. Implementation
Digital adoption platforms are enterprise-grade applications. This means that they could be time-consuming and tedious in nature when it comes to its implementation. In such cases, it is important to look for solutions that offer solid implementation services and/or implementation through partners.
Considerations such as: Does the DAP provider offer a transparent, hassle-free price or do they nickle and dime you by charging for each Account Management call? Does the SAP provider offer free onboarding for your initial flows/ walk-throughs regardless of the number of uses? Is the DAP provider's Professional Services team embedded in your flow of work to provide whatever support you need to be successful?
There needs to be proper guidance and overview right from purchase, to deployment, to post go-live. Unlike plug-and-play solutions, DAPs often need to be customized to match the needs of an organization and the business applications it is deployed on. For this reason, it is important to check whether your digital adoption solution comes with a proper and well-structured implementation process and strategy.
7. Analytics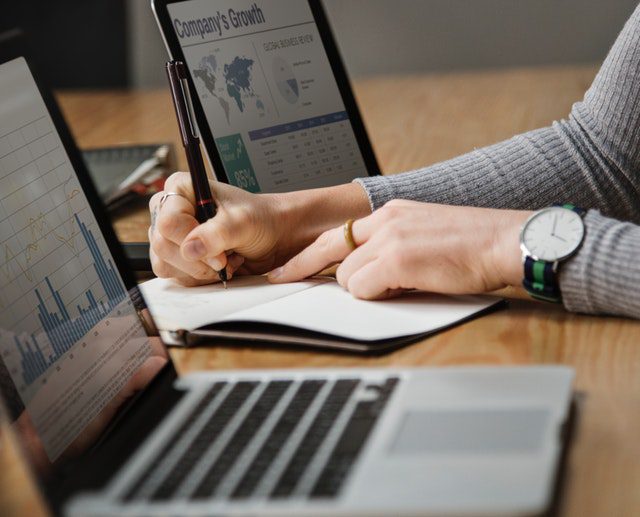 Photo by rawpixel.com from Pexels
A DAP should also provide quantifiable answers to the following questions:
How effectively has your DAP helped your users to figure out how to use an application?
How are your users interacting with the in-app experiences you design and publish?
These are essential factors to track, which is why your digital adoption tool must have an in-built analytics system that allows you to gather information on user engagement, usage trends, user feedback, the kinds of queries users might be having, and more.
8. Return On Investment (ROI)
The intent of purchasing a DAP is to maximize the potential of your business application. For every application, you would have to focus on usage and adoption metrics as well as productivity metrics relevant to the application.
What are the login and usage rates?
Time to solve a query?
Any reduction in the number of support tickets raised?
How streamlined is the usage after implementing the solution?
How well are your end-users interacting with these applications?
How productive are your employees after using these applications?
These are just a few of the metrics that need to be carefully measured out and compared against the actual ROI that a DAP can deliver. When exploring a DAP vendor, make sure to ask for references and/or customer success stories of enterprise-level clients.
After choosing a digital adoption platform, give it 3-6 months to experience a significant improvement in the overall adoption of your enterprise application.
Another quick and easy tactic is to, again, look at G2, Capterra, and customer testimonials in order to construct a near-accurate estimation of the ROI a DAP has been offering to its existing customers, at least with regards to user experience. This could tell you how a DAP could potentially benefit your end users as a group and your organization as a whole and help you evaluate whether you would get a justifiable ROI from the digital adoption solution.
Wrap Up
In today's thriving business world, digital transformation is too significant to get wrong. Investing in the right apps for your organization is a significant and successful way to streamline business processes and set yourself ahead of the curve, even if various software programs are expensive.
However, without guaranteed higher digital adoption rates and the promise of ongoing app support, your investment will be all for naught.
As you embark on your next digital transformation, or in an effort to boost the adoption rates of tools you already use at your organization, make sure you invest in the right DAP, Whatfix.