As your organization grows, it becomes increasingly important to have well-established procedures and policy guidelines for your employees for more streamlined processes and to scale your business.
Companies establish this type of process documentation for a variety of workplace tasks, from completing workplace training programs, guidelines to follow while working from home, guidance on how to use new technology, and more. 
Procedure manuals provide all necessary information and an overview of steps to guide employees to accomplish different business processes.
In this article, we'll explain what a procedure manual is, detail the benefits and elements of procedures, and list the steps for you to create helpful procedure manuals for your organization.
What Is a Procedure Manual?
A procedure manual is a resource for employees that establishes guidelines and protocols for all major decisions, actions, policies, and principles of an organization. It outlines action-oriented procedures that help improve the effectiveness, efficiency, and communication of your business processes. Well-written procedures are typically solid, precise, factual, short, and to the point.
What Is Covered in a Policy or Procedure Manual?
Procedure and policy manuals vary across different industries and organizations, but general procedure manuals incorporate business processes such as:
The vision, mission, and core values of the business

Organization culture

Employment policies

Employee health benefits, sick days, and vacation days

Payment procedures

Travel itineraries

Harassment and discrimination guidelines

Workplace guidelines

Technology usage policies

Expense reimbursement policies
Benefits of Having a Procedure Manual
While procedure manuals are a good idea in general, here are several specific benefits of creating an office policy manual: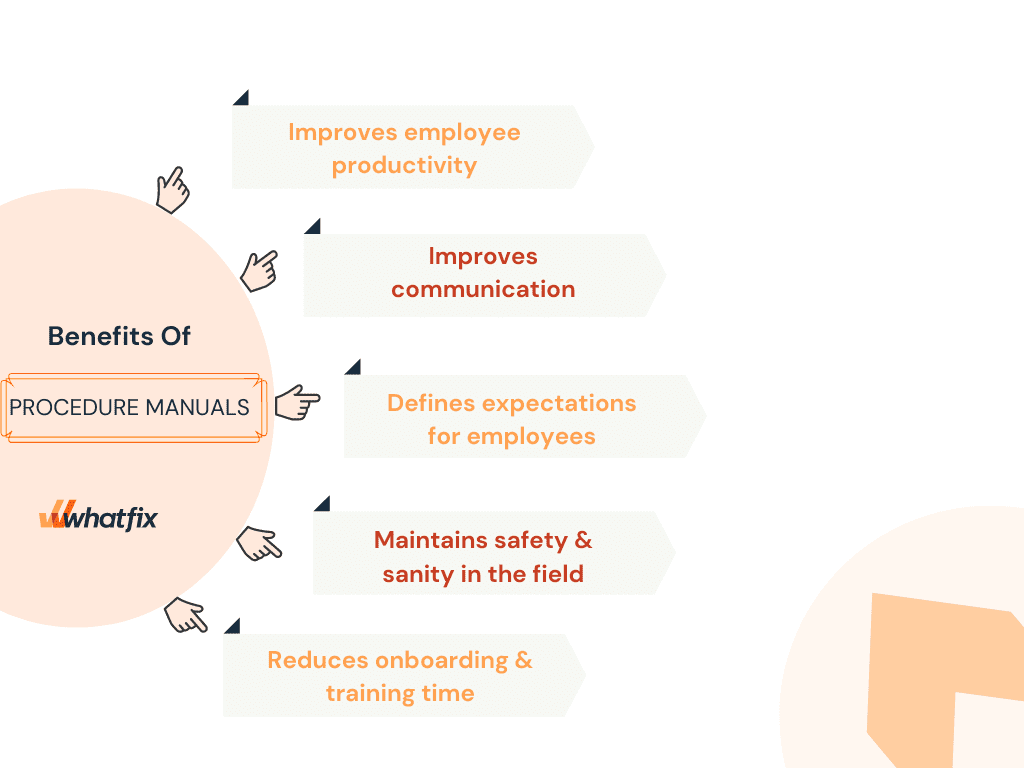 1. Improve employee productivity
A well-developed procedure manual serves as an authoritative resource that provides answers to common employee questions and helps them speed up their decision-making process and improve efficiency on daily tasks. This all helps to support higher employee performance levels.
Procedure manuals establish an organization's basic business operations, including modes of communication. As a result, it becomes a valuable communication tool for reducing the likelihood of misinformation or gaps in the communication process while efficiently processing business operations.
Procedure manuals help curate a company's mission, value, and prospects all in one place. These manuals clearly define expectations for employees regarding their performance and behavior and are easily accessible for reference in case of any queries.
Procedure manuals are a great way to signal company dangers as they contain all the necessary information and precautions to maintain safety and sanity in the field and avoid any unfortunate accidents and injuries.
5. Reduces employee onboarding and training time
Training-related procedure manuals help standardize employee onboarding and employee training processes. Quality policy and procedures are used as short, simple, and visual training content that helps new employees understand their job roles and responsibilities quickly. Additionally, procedure manuals ensure that all new hires receive the same training across the same topics and responsibilities, in the same amount of time.
Important Elements of a Procedure Manual
You can templatize your policy and procedure manuals to help your company create a standardized manual. Here's what a procedure includes like in general:
Title – A short and simple title that clearly conveys the procedure's content. 

Description – Describes the overall objectives, functions, or tasks that the procedure is designed to accomplish. 

Areas of responsibility – Lists departments, units, offices, and individual job titles responsible for daily control and coordination of the procedure, have the authority to approve exceptions to the procedure, and implement the procedure. 

Procedure Details – An explanation of how to complete the necessary tasks and policies by providing the user with procedural steps and "how-to" information.

References – Presents related procedures, regulatory documents, forms, and guidelines for reference.

Help Page – ​​A table that points users to training programs, telephone numbers, and other sources of help for completing forms or carrying out procedures.
✓ Thank you, the template will be sent to your email
Download our free customizable procedure template!
How to Write Effective Procedure Manuals
Follow these seven steps and you'll be on your way to creating effective procedure manuals for your workforce.
1. Determine which tasks need detailed procedures
Before you start to build your procedure manual, it's important to determine which tasks actually need detailed procedures. The number one rule of procedure writing is to make sure there's a reason to create them. 
A written procedure is necessary only if a certain task is important or if there will be a significant benefit from clarifying the process. You need to write detailed procedures for processes that are:
Lengthy or complex (eg: benefits administration).

Routine but requires the following of rules (eg: payroll).

Demands consistency (eg: handling refund requests).

Involves documentation (example: travel itinerary).

Changed or updated recently (eg: shifting to a new employee self-service portal).

Has serious consequences if gone wrong (example: safety guidelines).

Confusing for people.
2. Create a list of priorities
Once you determine the different tasks that you need to write detailed procedures for, the next step is to create a priority list. Since it's impossible to write every single procedure in a day, make sure you begin with the most important ones.
It's appropriate to begin with the procedures that are mandated by federal or state laws. In many cases, these are pre-written policies that you can easily include in your procedure manual.
As the procedure writer, you need a clear understanding and detailed information on the process you're writing the procedure for. From there, cut down the information to what the end-user really needs to best understand the process.
Here are a few ways you can gather information on processes:
Interview workers involved in the process on a daily basis.

Interview internal and external subject matter experts.

Interview long-time staff members and technical staff to gather in-depth data and content.

Find up-to-date laws, regulations, and accreditation standards.
4. Create a logical order
Make sure that your procedure manual is organized logically. Start with bigger issues, gradually narrowing them down to smaller ones. For instance, start with the company's value and mission statement, move down to employment eligibility policies and hiring procedures, and then to the dress code policy.
Use the blueprint style to create subcategories inside the manual and use a table of contents to allow for quick reference checks.
5. Write the initial draft
Writing policies or procedures is not a one time effort. The initial draft requires a few revisions as it incorporates a lot of feedback from stakeholders and coworkers. 
When you start writing the first draft of your procedure, don't worry about exact words and format. The main purpose of the draft is to include the information you need. Once you've done that, you can work on the words.
Here are some guidelines to follow while drafting your procedures:
Avoid too many words. Be specific and communicate clearly (Example: "Add to the 'records' tab in the excel sheet" rather than "Supplement the existing records on the excel sheet with the new ones").

Use active voice (Example: "Send the email to the administrator's inbox" rather than "The email should then be sent to the administrator's inbox).

Use lists and bullet points to explain step-by-step instructions for completing procedures.

Make sure your assumptions are valid.

Don't include information that may be quickly outdated.

Have clear and consistent formatting so that readers know how to follow the material.

Paragraphs should begin and end without confusion. Readers should not have to wonder where one step ends and another begins.

Any icons, images, or graphs/charts should be obvious to understand and simple to follow.

If you use an acronym, spell it out the first time you use it.
6. Send the draft out for review
Once you are done creating the first draft of your procedure manual, it's time to go through it with your stakeholders and management to gather feedback and input. You can ask the subject matter experts to review for thoroughness and non-experts to review for clarity and simplicity. This is key to your procedure manual's success.
7. Validate the procedures
Once the procedure manual is drafted and reviewed, it's time to see it in action. Distribute the drafts to the employees responsible for executing these procedures as a part of their job and have them perform the procedures. This allows you to gather comparative data on the procedure's performance and make specific and focused amendments before rolling it officially.
8. Obtain final approval/sign off
You need someone on the executive team to sign off on each new policy. They are ultimately accountable for the policies and procedures added to the procedure manual, which means they need to officially approve the final draft. This should always be done by the highest level of leadership that makes sense for each procedure.
For example, you need the CEO to sign off on new policies for workplace harassment or management of proprietary information or the CTO for acceptable use policy.
9. ​​Maintain your procedure manual over time
Those responsible for writing the procedure manuals are also responsible for conducting periodic reviews on them. If the material becomes irrelevant or outdated, the manual needs to be updated, revised, and improved. A procedure manual is only as useful as the work it enables readers to accomplish, and if it fails to do that, the writer owns the responsibility to change it.
Instead of having a printed version, consider having an online version of the manual, which makes it easier to ensure that your employees always have the latest content.
Using Policy & Procedure Manuals for Business Growth
Well-written procedures help you improve the quality of work within your organization, reduce the number of errors, and train new hires effectively to perform complex tasks and processes. 
Your policy and procedure manual sets the tone for conduct in your organization and ultimately defines the success of your daily operations. By taking the time to build an effective procedure manual, you're taking a big step towards positively developing your organization.
With Whatfix, embed a self-help widget directly into your digital processes and tools that link to your policy and procedure manuals – helping your team members with performance support, in the flow of work.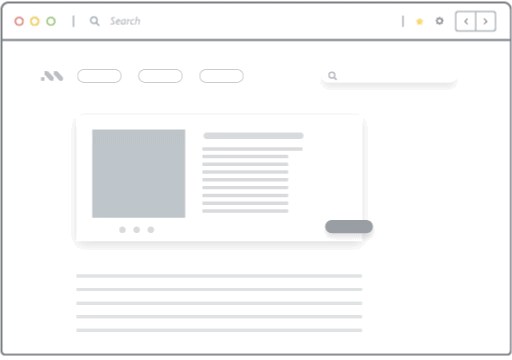 Explore Whatfix for on-demand employee performance support now!
A policy and procedure manual is a resource that establishes guidelines and protocols for all major decisions, actions, and principles of an organization.
A procedure manual is designed to assist users in completing different tasks. It outlines action-oriented procedures that help improve the effectiveness, efficiency, and communication of your business processes
Policies are a set of general guidelines that outline an organization's plan for tackling certain issues. They show the "why" behind an action. However, procedures provide step-by-step instructions for specific routine tasks. They explain the "how" behind an action.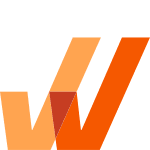 Request a demo to see how Whatfix empowers organizations to improve end-user adoption and provide on-demand customer support
Subscribe to get new content delivered directly to your inbox.