The pandemic has been an impetus for governments across the world to fast-track digital transformation initiatives. 55% of government CIOs say there is a requirement for technologically advanced solutions to tackle post-COVID work dynamics. For instance- Small Business Administration's (SBA) E-Tran portal crashed while processing loans under Paycheck Protection Program. Also, the IRS struggled to disburse relief funds to people because of the absence of digital records of tax-payers.
With such issues coming to light, it is evident that digital transformation is no longer a nice-to-have. It is imperative at the grassroots level, as local governments in cities and counties are at the frontline dealing with dynamic citizen requirements in unprecedented times like COVID-19. US Counties are making a stride towards digital transformation efforts to handle citizens' needs better. "Innovative counties are utilizing technology and data to better serve their citizens, respond quickly to citizen needs around COVID-19, and support digital experience initiatives," said Phil Bertolini, co-director, Center for Digital Government.
The effectiveness of these transformation initiatives is measured through the Digital Counties Survey every year. Los Angeles County, California, was recognized as a winner of the Digital Counties Survey 2020. It was also awarded the Future Ready Award for its pandemic preparedness and its work towards five goal areas: Mobility, Data as a Utility, Digital Civic Engagement, Workforce Empowerment, and Transforming Procurement.
To learn how US Counties are leaping forward with digital transformation, let's explore the key pillars and how the counties are working around them to become more agile and streamlined. 
Pillars of Digital Transformation in US Counties
In order to reap the tangible benefits of a successful digital transformation strategy, it is desirable to build a digital government transformation strategy around the following key pillars.
Citizen Engagement- User centricity is key for a satisfactory user experience. Hence, to improve engagement with citizens, US Counties should consider improving the omnichannel experience and digitize all the touchpoints. Citizens should be able to find answers to their queries & provide feedback with ease. Digital governance offers better collaboration, engagement, and experience for both government employees and citizens. 
Operational Efficiency- Digital transformation can help optimize government operations to promote cost and operating efficiencies. US Counties are continuously moving away from paper-based manual operations to faster digital operations. Los Angeles County and Alameda County implemented e-forms and e-signatures, which came in handy during the pandemic.
Cybersecurity- With the modernization of IT, cybersecurity and disaster recovery are another key focus area for the counties. To effectively prevent data breaches, security policies and measures should be in place. Working on the same lines, San Bernardino County initiated County-wide information security awareness and training. It developed the first cybersecurity website for internal staff and further added a cybersecurity review to the county's RFP and purchasing contract negotiation processes. 
Transformation of Services & Processes- Digital transformation provides US Counties with access to a large set of data, analyzing which can promote cost benefits and provide insights for improved decision making. Additionally, digital transformation leaves an untapped scope of revolutionizing services and processes like delivery and procurement respectively. The procurement process has become simplified, fast-paced, and flexible, which allowed local governments to address challenges related to essential supplies, vaccines, and medicines during the pandemic.
Empowerment of Employees- Government employees are the drivers of any digital transformation initiative, and hence it is essential to empower them, especially in the remote work scenario. Performance support tools improve the productivity of remote employees, automate mundane tasks, and provide on-demand support.
Emerging Digital Trends in US Counties 
There's a multitude of services that local governments have to provide their citizens and the government officials need to work intuitively to identify social challenges, opportunities, and citizen needs. Following are emerging digital trends observed across US Counties-
Cloud Adoption- 53% of US Counties are consolidating physical data centers and moving towards hybrid and multi-cloud solutions to optimize their IT infrastructure. With more people working from home, legacy systems are incapable of supporting the required infrastructure needs. Cloud services can reduce the number of data centers, ease the disaster recovery process, and facilitate efficient operations. Sacramento County has migrated to Oracle Service Cloud to streamline its operations and change the way citizens interact with 311 services. Using Oracle Service Cloud, the county has automated manual processes, which allows their communications center staff to focus more on customer service, collaboration, and engagement. 
Smart Cities- More and more counties are focussing on smart cities to improve the public services landscape and serve citizens collaboratively and comprehensively. Data is collected through smart city solutions like a network of sensor-based IoT devices to provide actionable insights. These insights are utilized to effectively combat traffic congestion, air pollution, degrading infrastructure, and other civic issues. Government officials can monitor air quality, run predictive analysis to deal with severe weather conditions, failure of critical infrastructure like bridges, and map time for repair work. 
AI/ML Trends- US Counties are climbing the AI maturity curve to adapt to new possibilities related to AI-augmented services. Governments are increasingly using AI to manage budgets, detect fraud, forecast, and limit energy consumption. During the pandemic, AI-based tools came in handy to mobilize resources like health workers, beds, and other essentials. Counties are also using AI to improve their water utilities and spot wildfires, and law enforcement using face recognition. 
Healthcare- Digital transformation has resulted in advancements in healthcare and telemedicine like never before. Ventura County partnered with several physicians to provide online treatments wherever possible. Remote visits were supported by doxy.me and Microsoft Teams. Hospital staff used ipads to enhance patients' experience, provide them social access, and leverage web-based applications for medical care.
Delivery of Services- Due to social distancing norms in place, there has been a realization that not every service requires physical presence. For instance, the physical presence of tax collectors and assessors is not essential. Permits and inspections are done online without inspectors being present on the field. With a higher percentage of government staff working remotely, US Counties are leveraging meeting solutions that facilitate easier collaboration between citizens and government employees.
These emerging digital transformation trends highlight commendable efforts on the part of US Counties to address citizens' needs in the wake of the COVID-19 crisis. 
But, will these initiatives be successful in the near future? What is the way forward?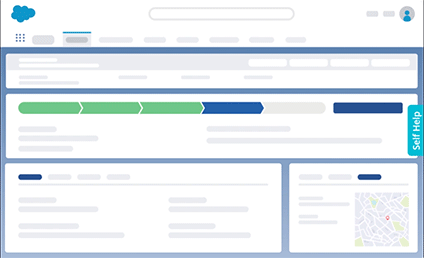 Drive digital transformation with Whatfix
Our interactive training and on-demand guidance provide constant support for employees to transform the way they work.
Recommendations for Successful Digital Transformation Strategy
Research suggests, 70% of the digital transformation initiatives fail, and trillions worth of Dollars are wasted due to inadequate transformation strategies.
Amidst the pandemic, when government resources are thinly stretched, and they are trying hard to meet citizens' needs, following recommendations are likely to ensure a better rate of success for the counties.
Targeted Strategy- US Counties should have a clear and targeted strategy to implement digital transformation initiatives. Instead of opting for a full-blown digital transformation strategy, they should implement smaller projects. It would ensure a higher success rate and will not block a significant chunk of their budgets.
Budget Constraint- The pandemic has adversely affected economies across the world. There is a decrease in revenue, and budget constraints are high. 
Does this mean that the counties should maintain the status quo and ride the digital transformation wagon only after the COVID-19 crisis is over? 
No, COVID-19 has proven to be the digital accelerant of the decade and has pushed governments to transform like never before. To effectively manage the dynamic citizens' needs, governments should prioritize and freeze financial resources in a way that frees up government employees to work more productively and strategically.
Redefining the role of IT- Since technology is an enabler for successful transformation, it's time to redefine the role of IT and identify it more as a strategic function rather than a supporting back-office function. IT should be a strategic partner at both organization and department level.
Leverage Insiders- More often than not, government agencies bring in third-party expertise to drive digital transformation initiatives. However, they should leverage internal resources and employees to drive the initiative and outsource only the required services. Internal employees are well-versed with citizens' needs and can assist in formulating an effective digital transformation strategy.
Organization Culture- To foster an innovative culture in government organizations, it is essential to understand that not all ideas succeed. Few transformation initiatives are bound to go sideways. But, each instance offers a learning experience to make a new initiative successful.
Performance Support Tools- US Counties need to invest heavily to become digitally savvy. To derive maximum value from such investment, digital adoption of the acquired technology, adequate training, and effective change management communication are imperative. Hence, they should invest in performance support tools like Whatfix. We effectively onboard, train, and support users on any web, desktop, and mobile-based application. Whatfix implementation can boost your user productivity by 25-37%, reduce support tickets by 45-60%, and increase time to value by 3x.
Download our white paper- 'Fastrack Digital Transformation At Your Local Government' to see how Whatfix assisted Moorabool Shire Council, Australia, with its transformation challenges.
Book a demo to see how Whatfix can be your partner throughout the transformation journey.
Increase end-user adoption with Whatfix
With Whatfix's Digital Adoption Platform, create in-app learning flows, contextual training and onboarding, and self-help knowledge bases. See it in action below.