How easily and how quickly can a customer solve a problem they're facing with your product or service? When a customer hits a dead end while using a product, the first thing they may interact with is your company's knowledge base. 
With over 40% of consumers now preferring self-service over human contact, it's become imperative for businesses to write in-depth, helpful knowledge base articles that empower customers with the documentation, guidance, and support to solve their own problems. 
We've compiled a comprehensive list of knowledge base best practices to make this process easy for you. But before we dive deeper into how to write a knowledge base article, let's look at what it means and why it is an important tool for improving your customer experience.
What Is a Knowledge Base Article?
A knowledge base article is designed to be helpful documentation and tutorial content that can be found and use by customers to solve common questions and problems in a self-sufficent way. A knowledge base article features guides, videos, infographics, GIFs, and other visual aids that help your customers get the most out of your product or service.
A well-crafted knowledge base consists of dozens of articles that empower your customers with the knowledge and tools to resolve their issues without needing to contact customer service.
What's the Purpose of a Knowledge Base Article?
A knowledge base article is a cost-effective way to help your customer find an answer to common questions in a helpful way, without the need to submit a support ticket or send an email. This ultimately helps you meet the gold standard for a high-quality, simple, and helpful customer experience.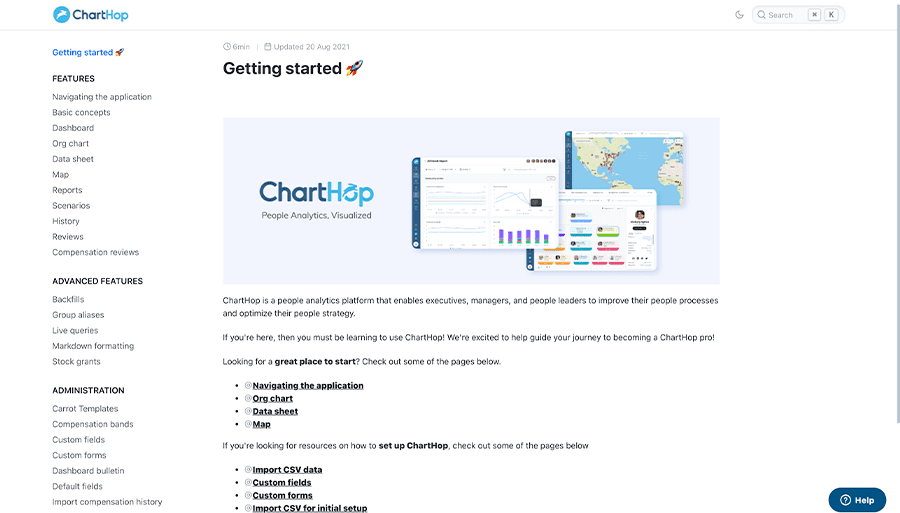 The main purposes of a knowledge base and its supporting articles include:
Provide 24/7, on-demand customer support: Even if you have customers are on the other side of the world, a knowledge base article provides customer self-service support that will be there with them 24/7, whenever they need it. 
Improve resolution rates:

A well-written knowledge base article presents answers right at customers' fingertips. It serves as an easy-to-use, self-serve portal that resolves issues very quickly.

Reduce the number of support tickets:

Knowledge bases and their support articles answer commonly asked customer support questions. Well-written knowledge base articles should answer many of your customers' questions, which in turn will deflect many simple support tickets that burden your support team. This allows for your customer support team to focus on critical support issues and give more attention to your more valuable customers.  

Acquire new customers: Knowledge base content appears in search results and helps boost SEO. In addition to helping and retaining existing customers, knowledge base articles help you acquire customers that are looking for similar products or services.
Having an effective knowledge base in place empowers your team to focus its time and energy on more pressing matters. In addition to the above use cases, a knowledge base helps you: 
Present everything customers need to know in one place 

Make your company look responsive and up-to-date

Lower costs and achieve operational excellence

Uncover insights to improve your knowledge base, product, or service

Cater to different kinds of learners with videos, text, or annotated images
Related Knowledge Base Resources
5 Components of a Helpful Knowledge Base Article
An effective knowledge base article is informative, engaging, easy to navigate, and unquestionably straightforward. Remember, the article is all about delivering valuable, easy-to-digest information to customers, prospects, and potentially even employees. 
Let's look at some of the key components of a well-written knowledge base article.
Use simplified language. It's sometimes hard to explain a complex problem. But using simple, clear language to show complex thoughts is the best way to help your audience. 
Writing sentence with non-common and complex words is the last thing you want to do in a knowledge base article. Take the time to edit your article. Be aggressive in cutting unnecessary copy and material.
2. Visual content such as screenshots and graphics
Embedding graphics and screenshots in your knowledge base articles is a crucial step. Your customers will thank you for including graphics and screenshots as opposed to a page of black and white text. 
Using a mix of written copy and visuals to help guide users through your products and services provides more context, is more inclusive to different types of learners and provides overall more support.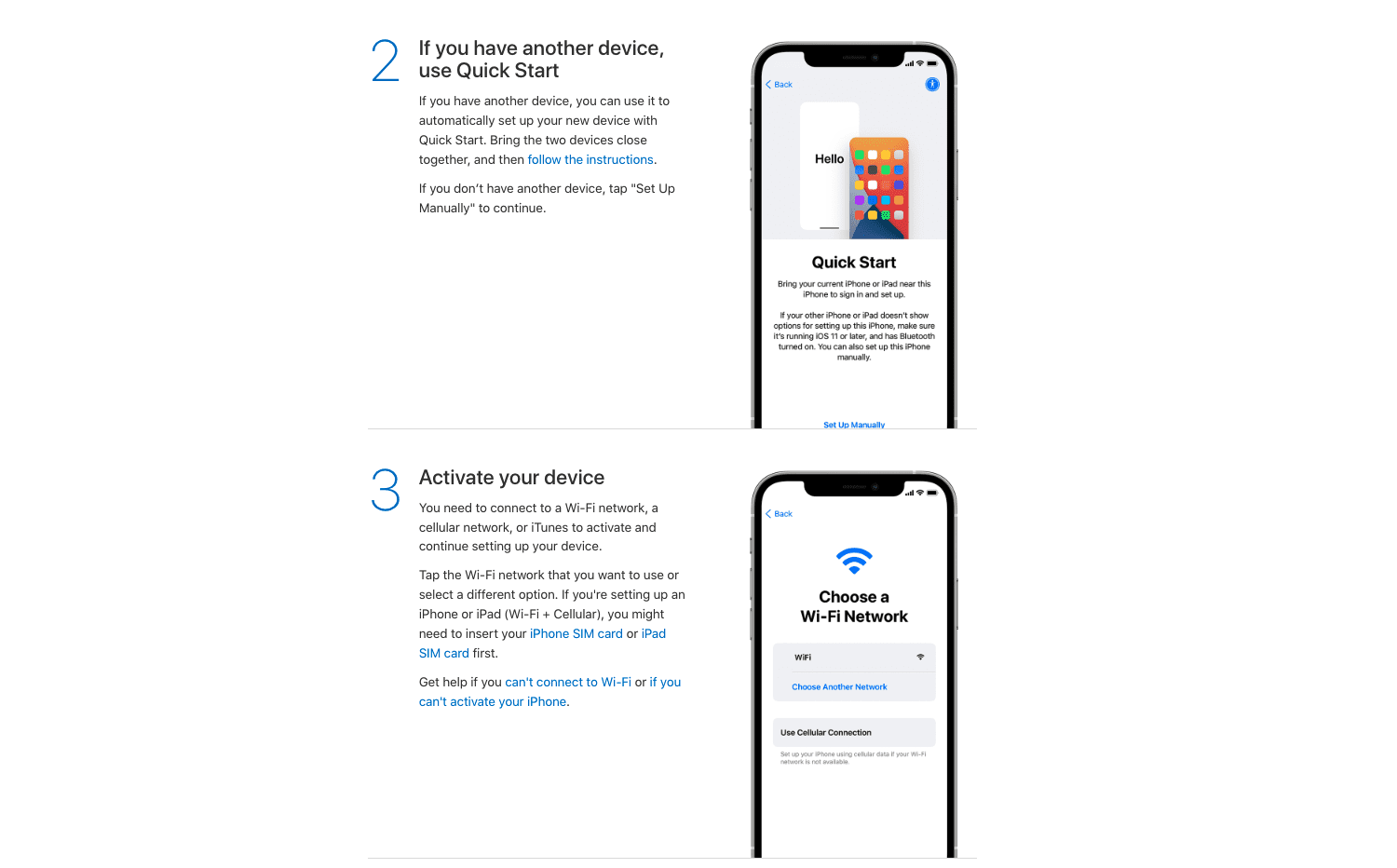 Usually, simple screenshots with annotations are perfectly fine – there is no need for heavily branded screenshots or over-the-top graphics. 
Here's a simple example of how Apple helps its new customers learn to take screenshots: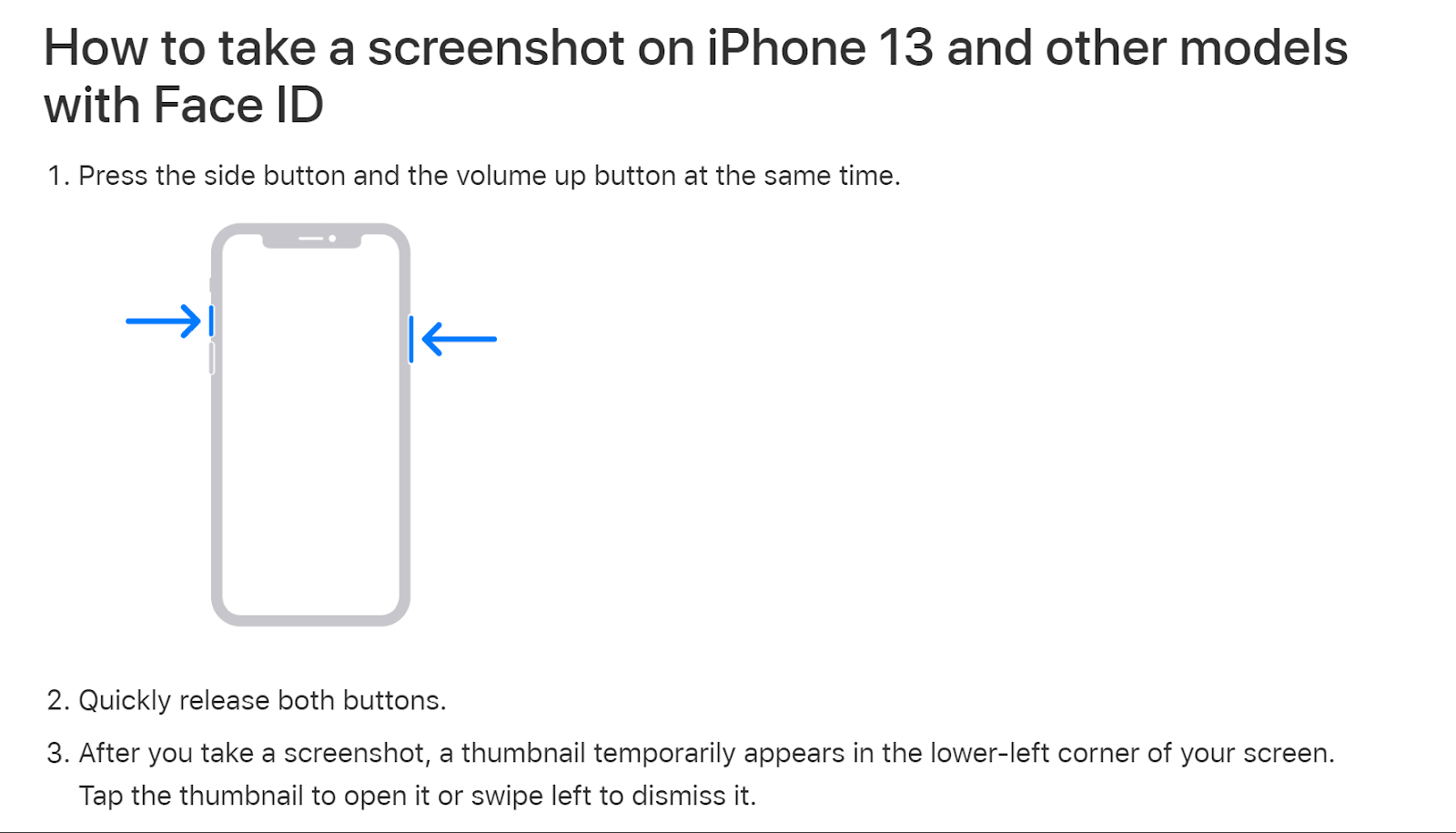 Adding video to your knowledge base articles is the perfect way to deliver faster, more contextual, and effective support content to your customers. Embedding videos help explain complex steps in less time. 
Let's consider a complex process that many people have trouble executing, tying a tie.
If you're reading a help article on how to tie a tie, an already tough-to-master process can seem even more complex. Instead, a quick 10-second GIF brings together the entire process into a short, more helpful explanation guide that adds more value than a long-form article.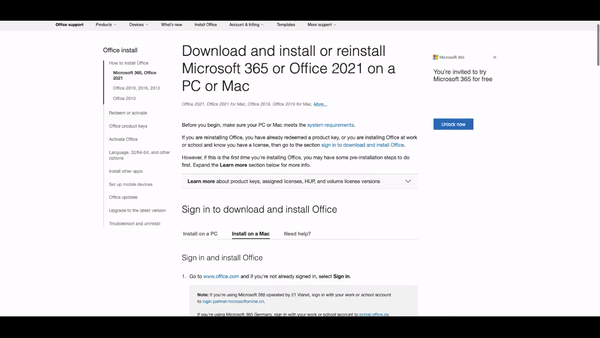 4. Jump links and page navigation
Structuring your knowledge base articles is the difference between providing actual helpful support or coming off as confusing. 
Chances are that most of your customers are coming to your knowledge base stressed and annoyed. We recommend taking the time to keep your article as intuitive as possible. 
How do you do that?
Introduce jump links and page navigation elements into your knowledge base article. Here's a quick run-through of how Whatfix segregates topics to help customers navigate through its knowledge base.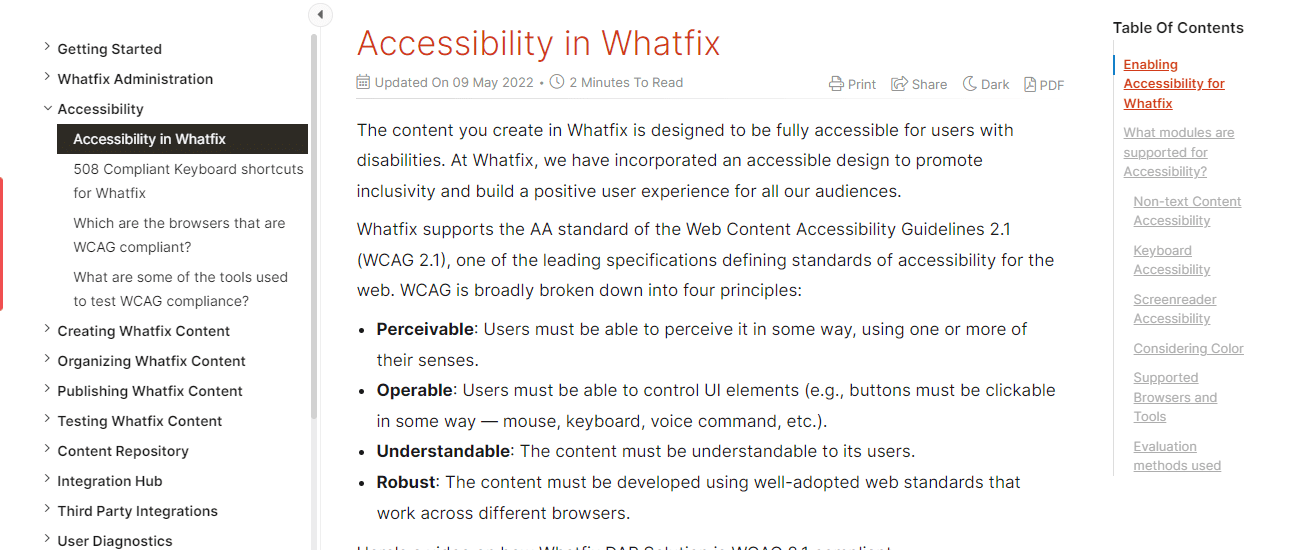 You can see that at Whatfix, we not only include left-side navigation that adds context to where the individual knowledge base article fits into the overall knowledge base – which provides related support content – but also a table of contents for the individual support articles you're on.
This allows readers to quickly jump through the article and find the exact answer to a contextual issue they're encountering.
You should also use headers, bulleted lists, shadow boxes, and other visual elements to provide structure, organization, and simple navigation to help draw your readers' attention to the right spots of the article.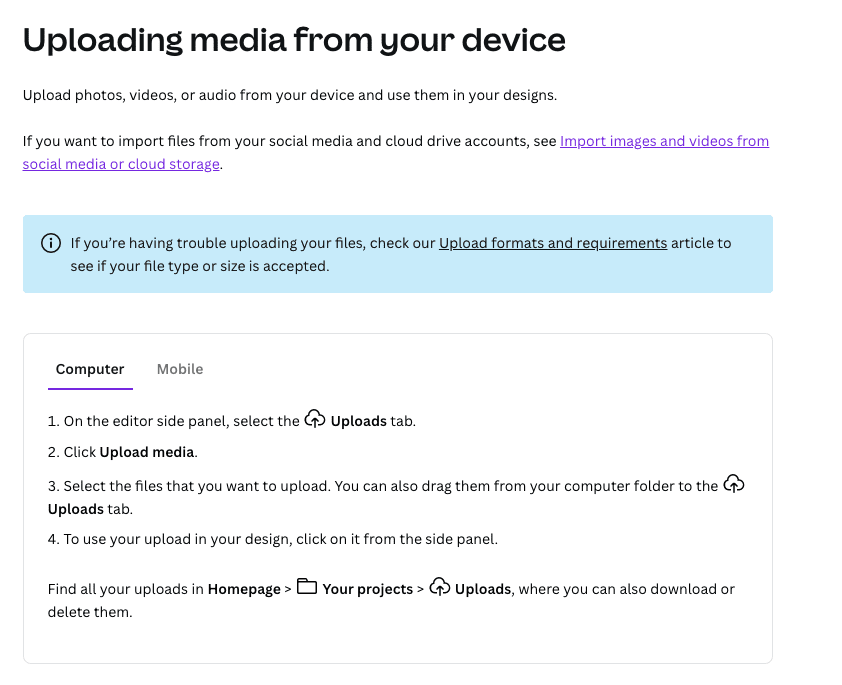 5. Simple article titles and tagging structure
Simple titles and tags help your customers find the right articles that have the answers they are looking for. 
Focus on writing simple and understandable titles. Look at what organic search your customers have made in the past and confer with your support team on some of the most asked questions to make this process easier. We highly recommend using action words like 'how to' and 'using' and leverage a keyword research tool such as Ahrefs to help with this process.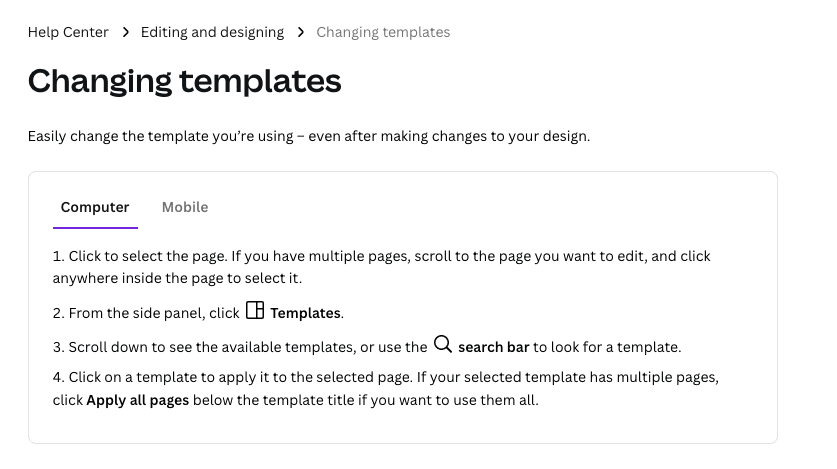 You should also tag each article with appropriate keywords to help organize your knowledge base content and make it more SEO-friendly. For example, tag all your knowledge base articles that cover account management topics – ie. updating billing, updating passwords, adding new seats – with a tag of "account management".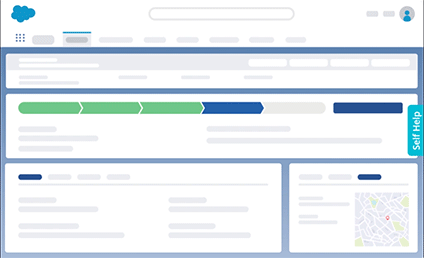 Create in-app guidance and offer 24/7, on-demand support for your customers with Whatfix
8 Tips to Write Effective Knowledge Base Articles
Your knowledge base articles should make it easy as possible to find answers. It's important that your knowledge base is formatted in a way that makes solutions clear and obvious. 
These eight tips will help you to write more effective knowledge base articles
Knowing your audience is the ultimate key to developing an effective knowledge base and writing knowledge base articles. 
Learning your audience's technical understanding or preferred form of learning allows you to fully cater to their needs. As a rule of thumb, you should already have a solid understanding of your customer personas and their related behaviors. 
Ask your support team to create a list of customer questions they spend the most time on. Then, begin to write knowledge base articles based upon those common questions. This will help you provide a higher level of customer support, create a helpful knowledge base, and reduce the number of support tickets coming in.
2. Don't make assumptions
Remember, most of your customers do not know the product as well as your internal stakeholders do. Put yourself in your customers' shoes and rethink the assumptions you make while writing the article. 
For instance, do not use complex language, technical jargon, or internal lingo in your article. Assume that most of the customers are novice beginners. We recommend over-communicating even "simple" instructions.
3. Organize your content with headers and subheaders
This goes without saying but we'd be more than happy to lay it out for you. Organizing your knowledge base content is a critical step in ensuring customers find what they are looking for. 
For instance, including a table of content makes it easier for users to skip past the information they don't need and navigate directly to the details they're looking for.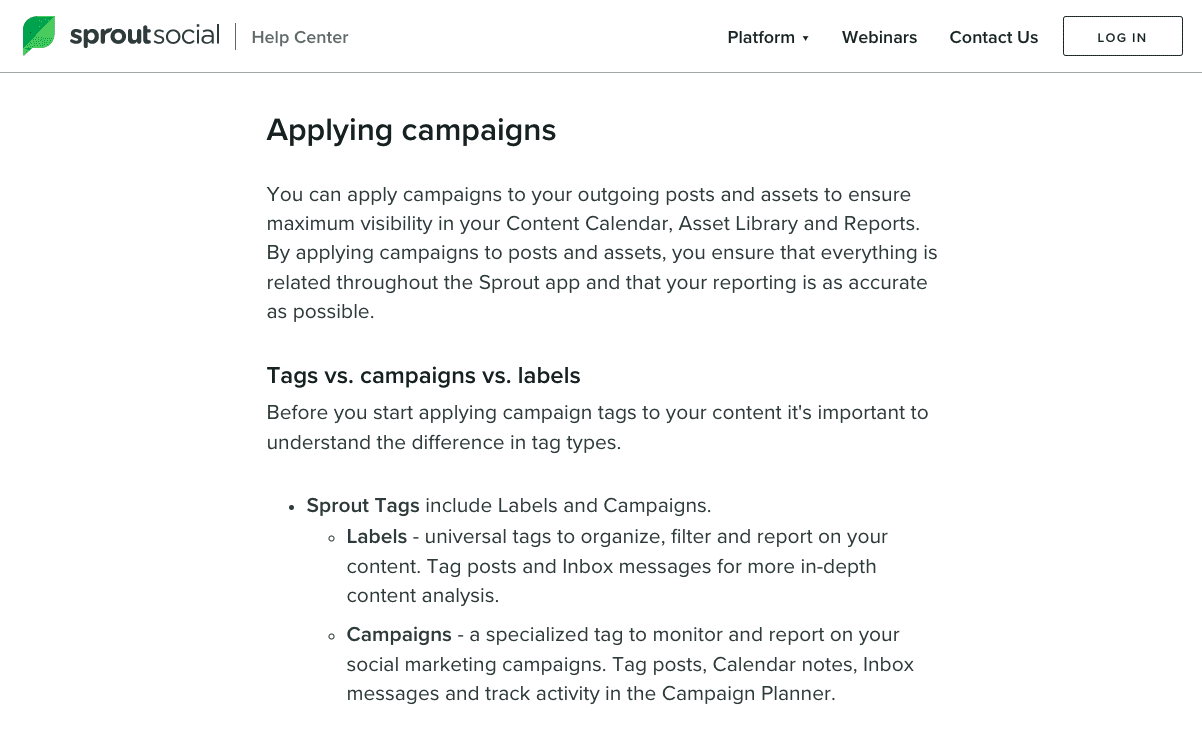 Don't forget to keep your headers and subheaders simple, as well as write and format them in an SEO-friendly way to help pull in long-tail keywords from Google and other search engines.
As discussed earlier, include anchor links in your knowledge base articles. Anchor links are web page elements that allow users to jump to another location on the same page. It guides your customers to the desired information in a matter of seconds and significantly improves the user experience.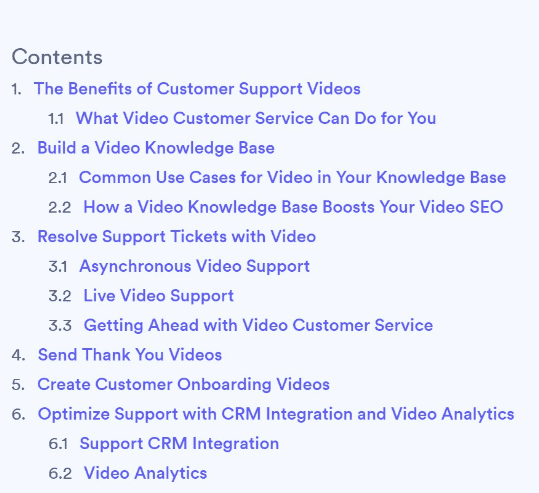 5. Create easy-to-read, skimmable articles
Imagine you are looking for a quick fix to your email scheduling issues within your new email marketing software's knowledge base. You start looking for an answer to this issue, but become buried in text-heavy documentation that includes tons of information that is not contextual.
Knowledge base articles are usually quite long to begin with, but it's essential to ensure that you don't intimidate readers with a wall of text. Introduce bullets, tables, and a variety of formatting elements to ensure your articles are skimmable and easy to read.
6. Use multimedia such as video, images, and GIFs
A sure-fire way to improve the effectiveness of your knowledge base article is to include multimedia content such as videos, images, GIFs, infographics, and animations. No matter how 'good' your writing is, it will most likely be overlooked without visuals.
7. Write straightforward titles
As discussed earlier, writing straightforward titles helps you summarize what your article is actually about. Refrain from getting too creative with the title, instead write simple search-optimized titles. 
This will help direct readers to the answers they're searching for – and will help your content appear in search results, providing more visibility for those searching for answers.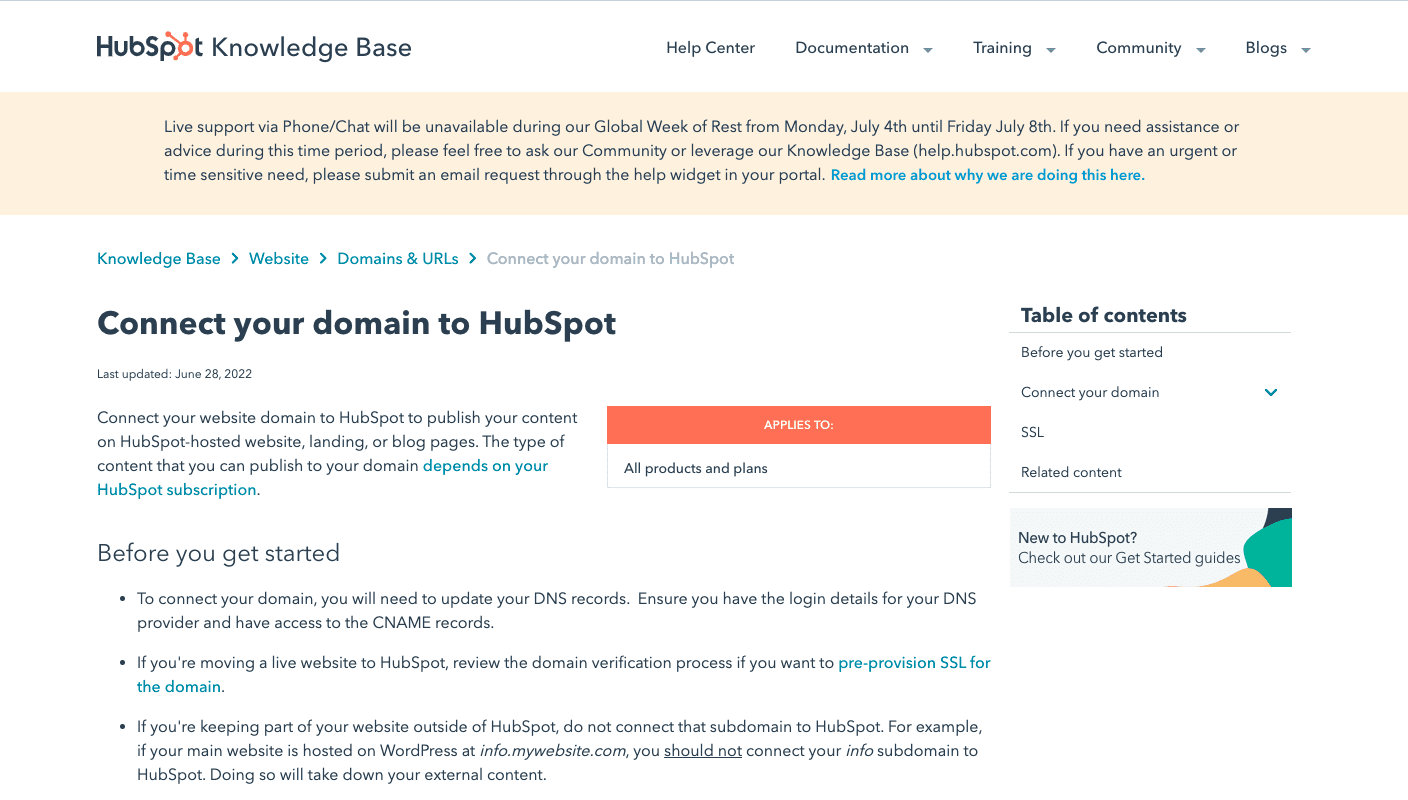 8. Create SEO-friendly articles
Try leveraging keyword research tools such Ahrefs and Semrush to keep your content SEO-friendly. These tools will give you insights into what your customers and users are searching for in relation to your support questions. It will also help you understand what types of queries are most commonly searched, helping you to plan new knowledge base articles.
Below you can see examples of potential knowledge base articles that Microsoft could write on MS Teams, based upon keyword research from Ahrefs: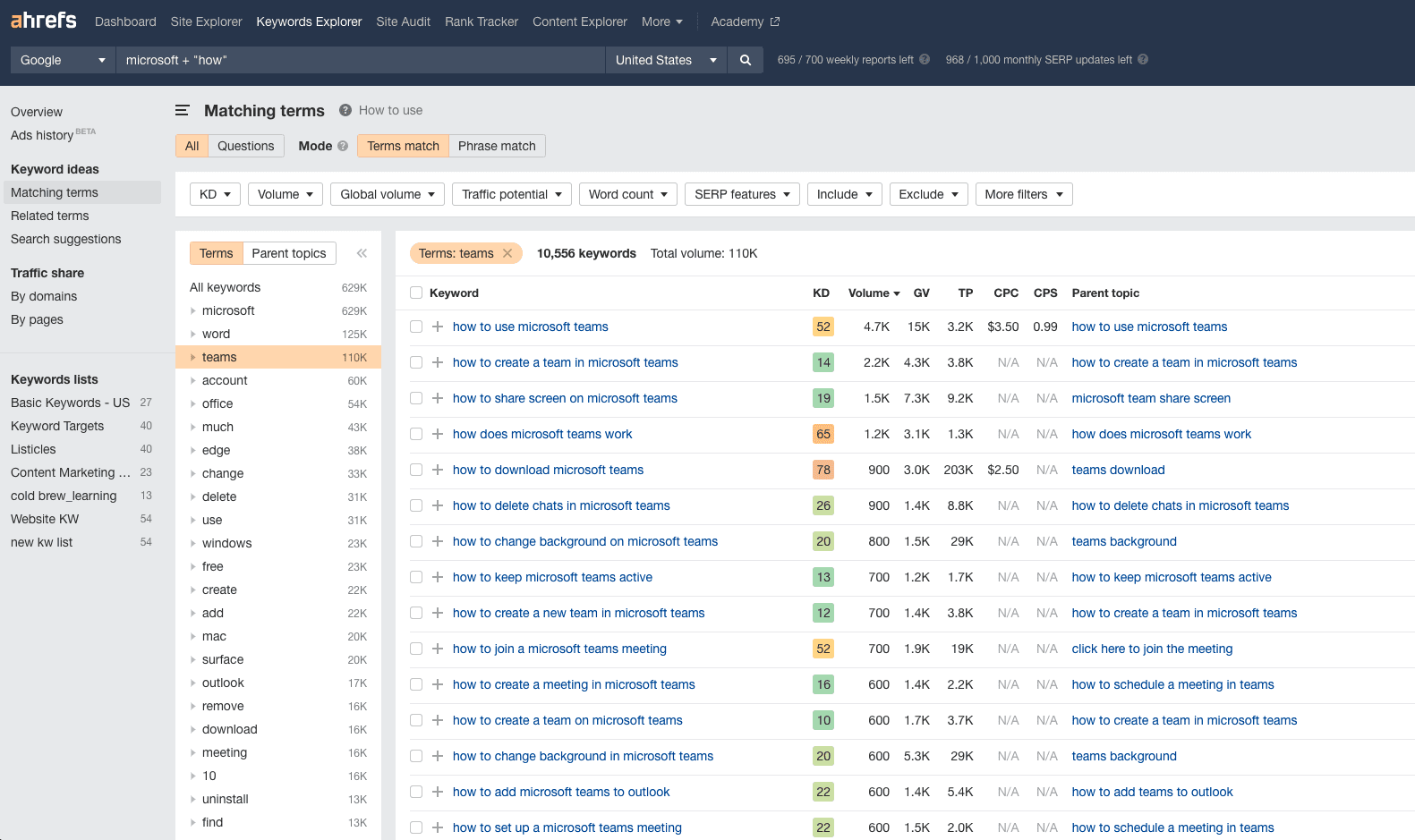 Examples of Helpful Knowledge Base Articles
Here are a few examples of brands that have perfected the art of writing knowledge base articles to get you started:
1. HubSpot's knowledge base articles
HubSpot has an in-depth knowledge base that breaks down common support questions into helpful how-to articles. For example, let's look at this knowledge base article on how to connect your domain to Hubspot.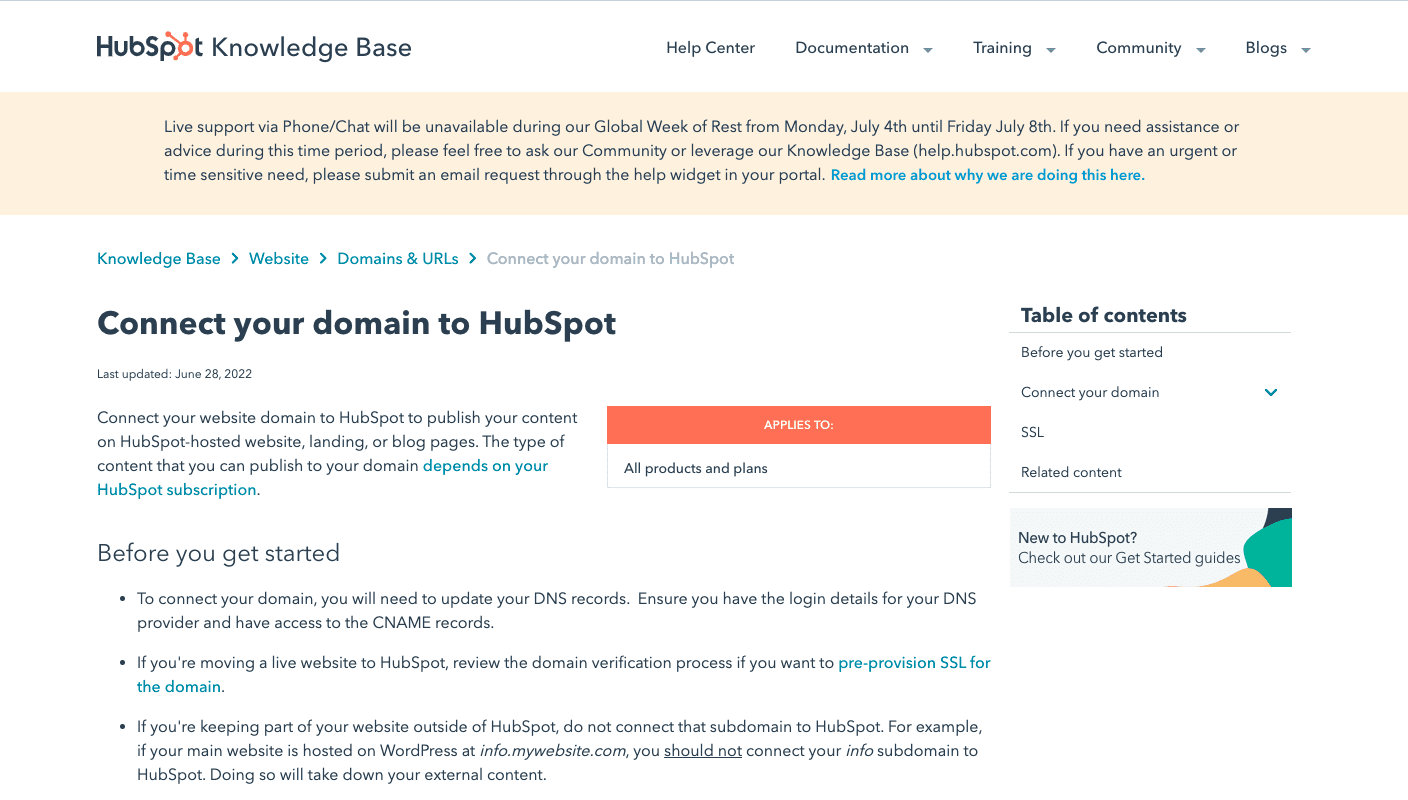 Why is this knowledge base article example from HubSpot so helpful?
It has a straightforward and SEO-friendly title – "Connect your domain to HubSpot".

It had a table of contents with jumplinks.

It is well organized and structure well, with sections on "before you get started", "connect your domain",  and "related help content".

It includes step-by-step instructions with contextual screenshots.

It asks readers if the content was helpful or not at the end of the article.
2. Apple's knowledge base articles
Apple is known for its incredible simple branding, user interface, and customer support. It's knowledge base articles are no different. For this example, we're look at Apple's knowledge base article on how to set up your iPhone.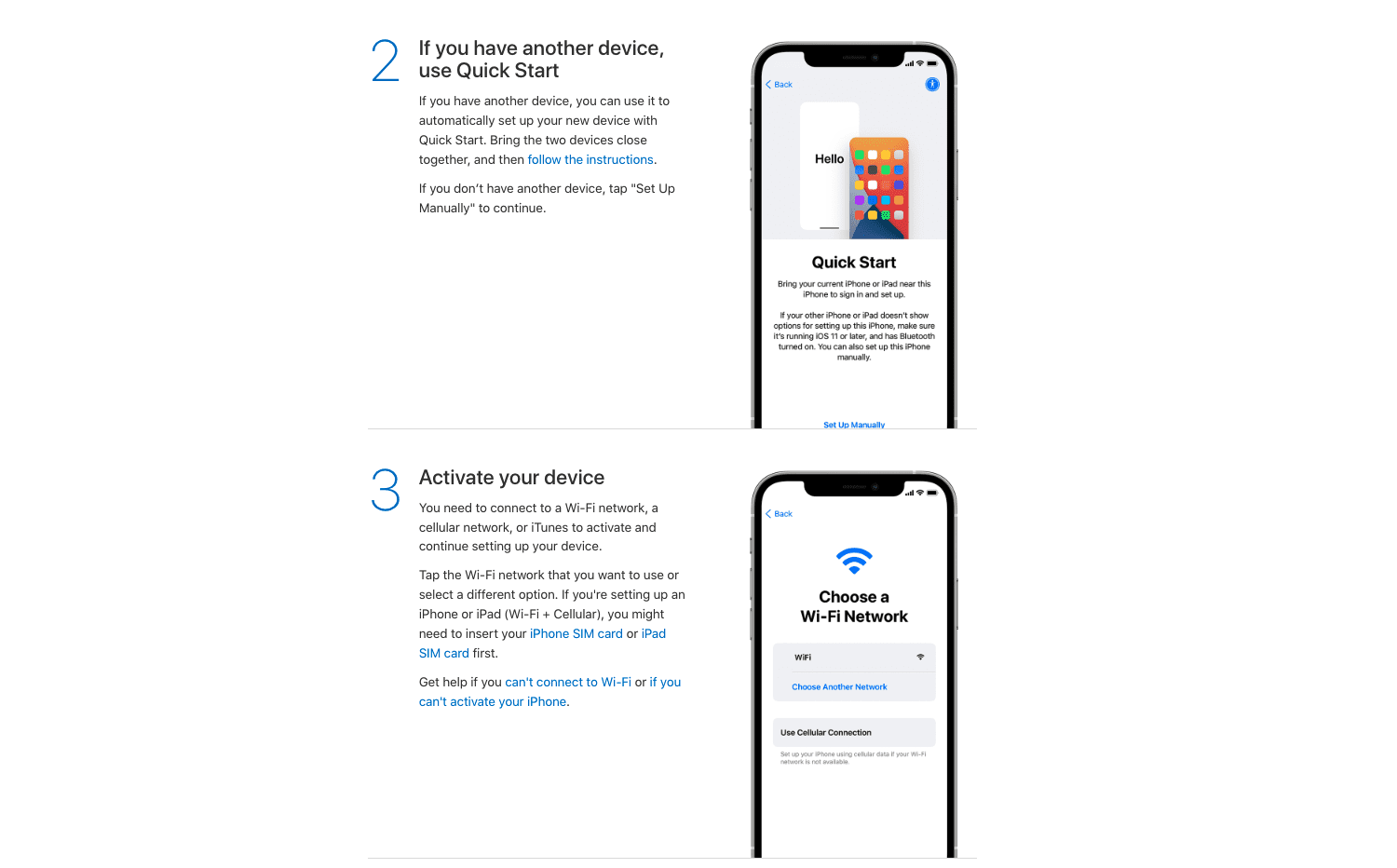 Why is this knowledge base article example from Apple so helpful?
It has a straightforward and SEO-friendly title – "Set up your iPhone, iPad, or iPod touch".

It starts with jumplinks that takes users to different sections of the page depending on if they're switching from another Apple device or if they're switching from an Android device.

It's headers are organized in a straightforward way and are straight to the point.

It uses custom graphics for each step of the process.

It asks readers if the content was helpful or not at the end of the article.
3. Microsoft's knowledge base articles
Microsoft has customers that span the globe and include various industries and business sizes. Many of its customers are enterprise-level, and contracts of that size require attention to detail and next-level customer support. For this example, we'll examine Microsoft's knowledge base article on how to download and install Office 365.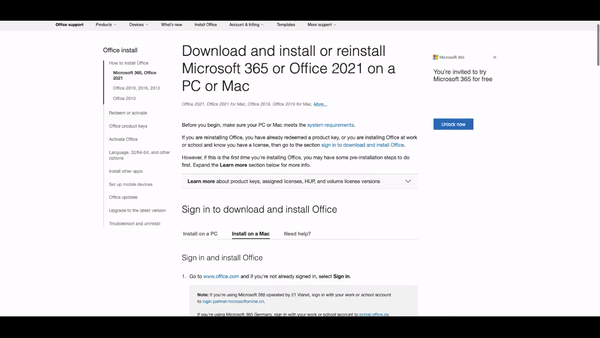 Why is this knowledge base article example from Microsoft so helpful?
It has a straightforward and SEO-friendly title – "Download and install or reinstall Microsoft 365 or Office 2021 on a PC or Mac".

It includes a simple navigation on the left of the page that includes related support content.

It includes on-page pagination that navigates readers to the contextual help content, depending on if they're Mac or PC users.

It uses drop-down content menus that expand on support issues that may need for detail – this is fantastic, as it hides walls of intimidating text, but still presents readers with the opportunity to read more if they're still confused with a topic.

It uses shadow boxes, bulleted lists, and other types of on-page structure that organize and breaks up the content.

It uses various screenshots throughout the article.

It includes links to additional support content at the end of the article to the Microsoft user community and an email to its online support.

It asks readers if the content was helpful or not at the end of the article.
Provide in-app training and support to your customers with Whatfix's contextual guidance and embedded knowledge base
As customer expectations change, so does the need for your company to offer higher levels of customer support. 
With a digital adoption platform (DAP) such as Whatfix, customer-facing teams are empowered to create in-app support content that showcases how-to instructions, task lists, smart tips, and knowledge bases, all embedded directly inside their applications. This allows customers and users to learn by doing and provides on-demand support that empowers customers to find answers to their problems without leaving the application itself.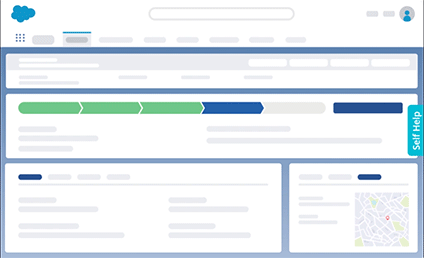 Whatfix also captures behavioral data, allowing organizations to identify the most commonly searched support queries to identify what new knowledge base articles should be written, as well as to understand what features are (and aren't) being used.
See how Whatfix's on-demand support is changing the way organizations onboarding, train, and provide support to their customers with in-app guidance for learning in the moment of need.
Subscribe to the Whatfix newsletter now!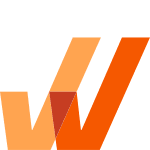 Request a demo to see how Whatfix empowers organizations to improve end-user adoption and provide on-demand customer support