Your customers have questions, and they need answers now. Creating a knowledge base is a fantastic way to make sure your customers learn how to use your product and troubleshoot their issues. But if your knowledge base is incomplete or hard to navigate, it may cause more frustration than it relieves.
The 15 Best Knowledge Base Examples
Whatfix

Shipt
Canva
Clearbit
Airtable
ChartHop
Livestorm
Box
Hulu
Alexa for Developers
Square
Wayfair
HelpScout
Shopify
Wistia
Creating a comprehensive, user-friendly knowledge base can be challenging because it requires significant research and planning. However, you can get a head start by studying examples of excellent knowledge bases.
What Is a Knowledge Base?
A knowledge base is a collection of resources with information about your company's products and services. Customers use knowledge bases to find answers to their questions, learn how an interface works, or get technical specifications. The primary purpose of a knowledge base is to allow customers to get answers without reaching out to your company for support.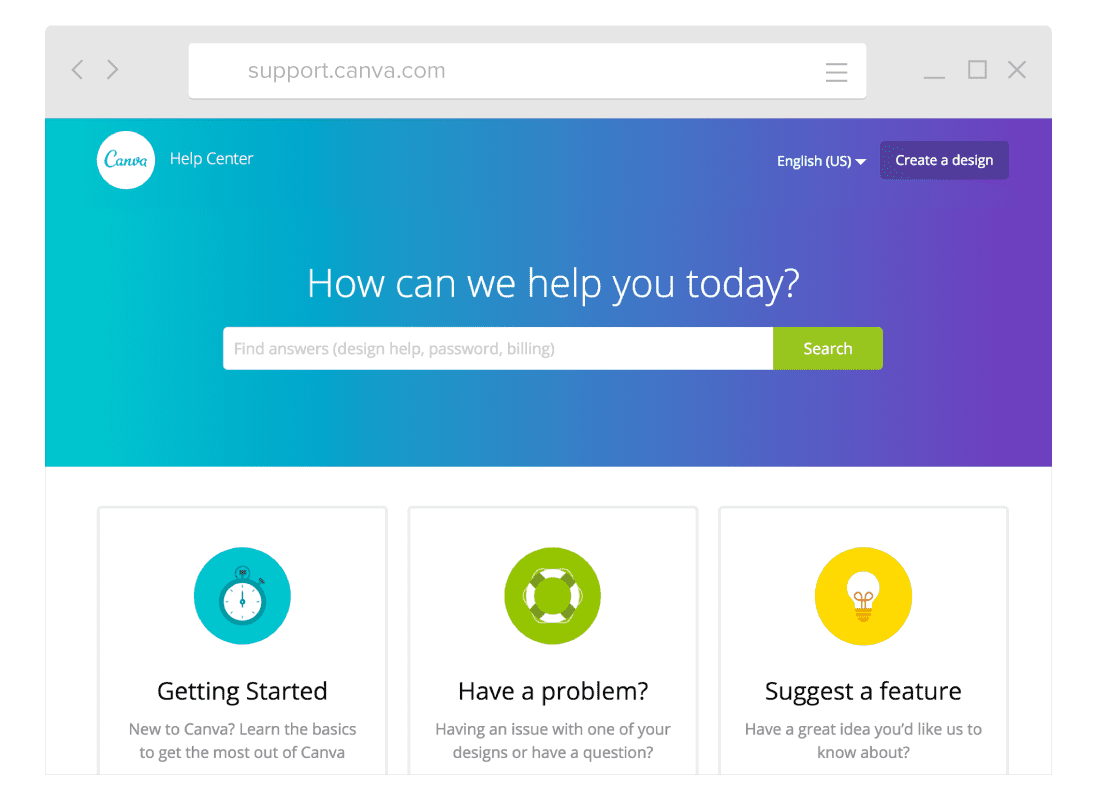 Example of a knowledge base from Canva
Knowledge bases are an excellent way for companies to provide helpful information in a knowledge management format that makes it easy for customers to find what they're looking for on their own (ie. see customer self-service.) When produced correctly, a knowledge base allows your customer to gain maximum value from your product.
What Makes a Knowledge Base Great?
A well-crafted knowledge base puts the reader first. It uses clear and concise language, is well organized, and includes a robust search function or tagging system to allow readers to find answers efficiently. In addition, each of the pages contains pertinent information and links to any relevant pages, giving users a clear path to find more information.
From a design perspective, your knowledge base needs to have an intuitive user interface and a mobile-friendly design so your customers can get information on any device. There are many knowledge base software platforms for organizations to leverage to help launch a new knowledge base for offerings.
15 Examples of Killer Customer Knowledge Bases in 2021
When you build your knowledge base thoughtfully, it helps your customers more easily resolve their issues. If you're not sure what to include or where to begin, we've curated a list of 15 knowledge base examples to divine inspiration from and help you get started.
Whatfix is a digital adoption platform (or DAP) that enables seamless adoption of enterprise applications through in-app, contextual guidance and self-help knowledge base tools. Its open ecosystem allows it to integrate with hundreds of the most popular and widely-used SaaS products, proving its customers with comprehensive knowledge management tools that cover installation and use in detail. It also allows users to find answers in both mobile and desktop views.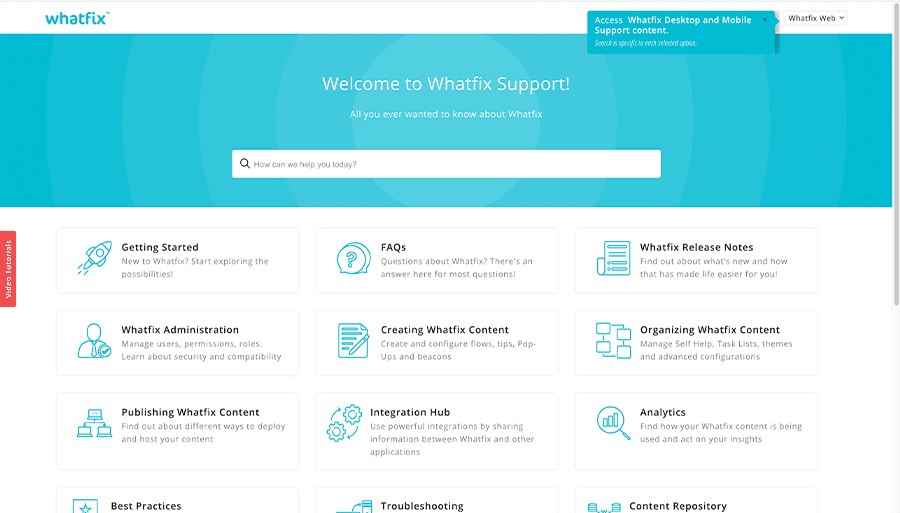 Whatfix allows users to learn in the flow of work, improving overall productivity and cutting down time to software proficiency.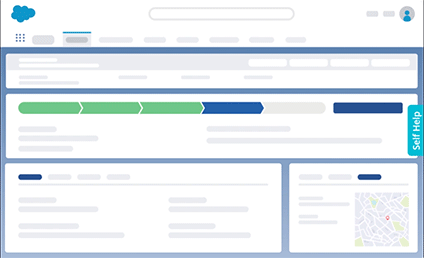 Create personalized learning flows for your enterprise apps with Whatfix
Whatfix empowers your users with contextual flows and self-help widgets, improving productivity and proficiency while cutting training and support costs.
Online delivery service Shipt's knowledge base takes a question-based approach—the most popular questions are listed on the left side of the page, and on the right, they present information in FAQ page-style. It includes information for both shippers and shoppers, making their knowledge base a one-stop-shop for everyone who uses Shipt.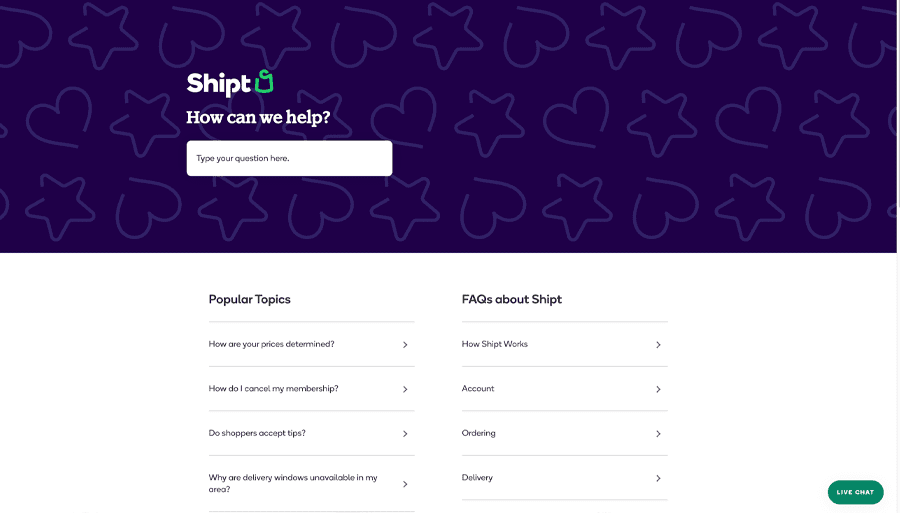 Shipt also places a user-friendly search bar in the most valuable real estate on its page to let customers ask their questions. This way, customers don't have to dig through pages to find a specific answer.
Design software Canva offers an attractive knowledge base that gives its users quick access to several different top-level categories. In addition, it include links to contact support at the bottom of its homepage that customers can use when they need help fast. There's also a link to Canva's design school for customers who want to dive deeper into its software.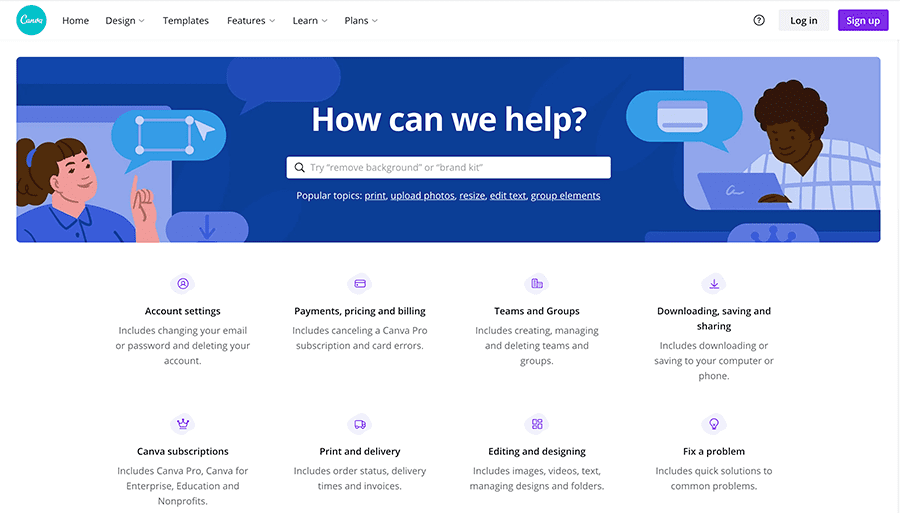 Customers scrolling through Canva's knowledge base will quickly see a "Top Articles" section where they can read more about the most common questions asked by other customers.
Clearbit provides tools that help customers deeply understand their clients, and their software integrates with several email platforms and marketing automation systems. Its knowledge base has a clean and minimal look and serves as a great starting point for new customers.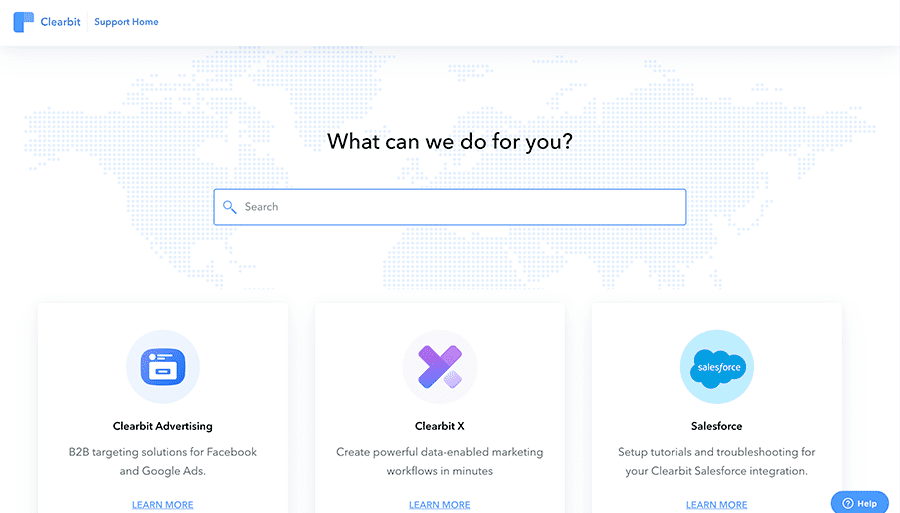 Clearbit also lists all of their different integrations on the home page of its knowledge base, so customers can find instructions for their specific integration quickly. It's a great example of how your unique product can inform the structure of your knowledge base.
Airtable is a database-driven collaboration and project management software, so it needs to provide a great deal of information to help its customers use the software and input data. Its exceptionally organized knowledge base includes four main sections at the top—Guides, Webinars, Account, and Billing—to give its customers a direct path to the information they need.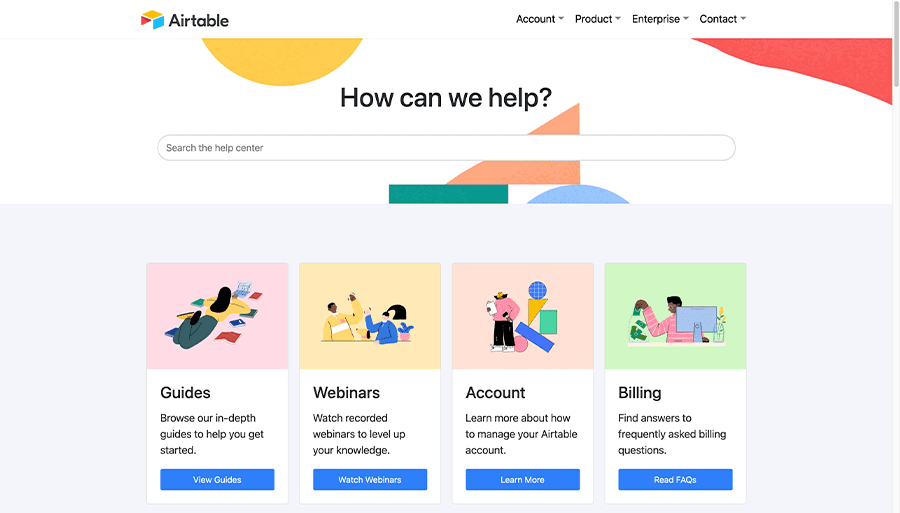 Airtable also includes a "What's new" section on the home page of its knowledge base that lets its customers find out more about newly released features.
Charthop is an analytics platform that helps companies strategically manage their employees. Its knowledge base includes a welcome message for new customers and provides several links to get started. ChartHop also provide a direct link to its frequently asked questions page.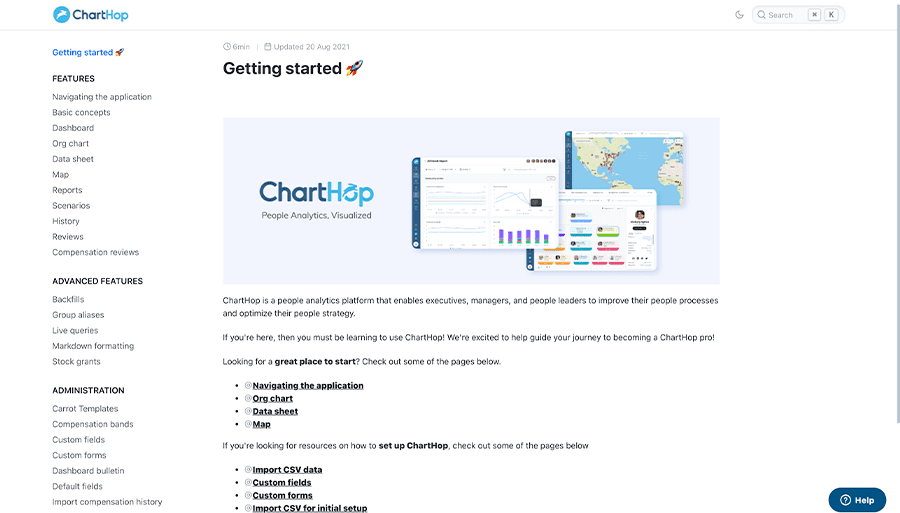 Charthop's knowledge base uses left-hand navigation to display its table of contents (TOC) at all times. This method of displaying their TOC makes sure every main topic remains at the customer's fingertips and makes navigating its information very fast.
Livestorm is a video conferencing tool with a simple but robust knowledge base. Customers begin by using the prominent search function or scroll down and choose from over a dozen categories.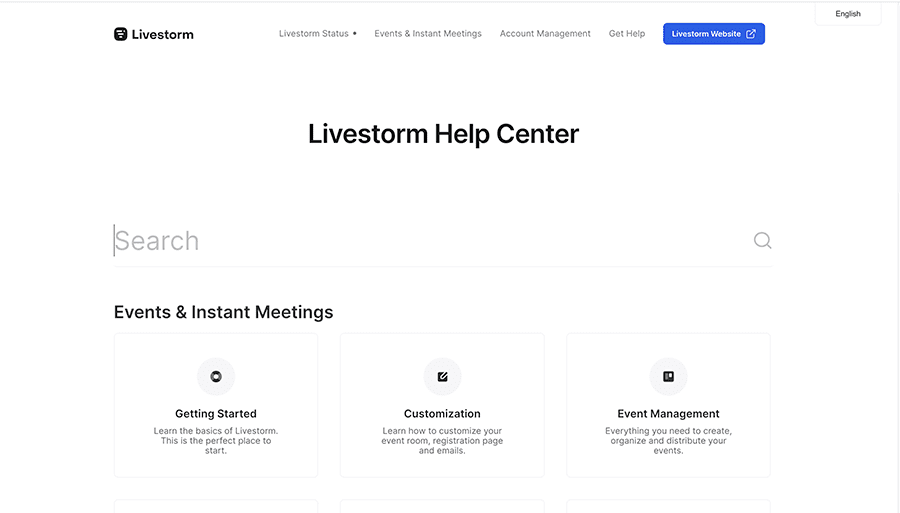 Livestorm categorizes this information in three different sections, so customers can easily find information. "Getting Started" is Livestorm's first support option in its knowledge base, making it easy for new customers to access.
Box, a cloud storage company for enterprises, offers its customers a bold yet straightforward knowledge base featuring colorful graphics that make each category stand out. In addition, Box has paired each graphic with a description to explain what each section will contain.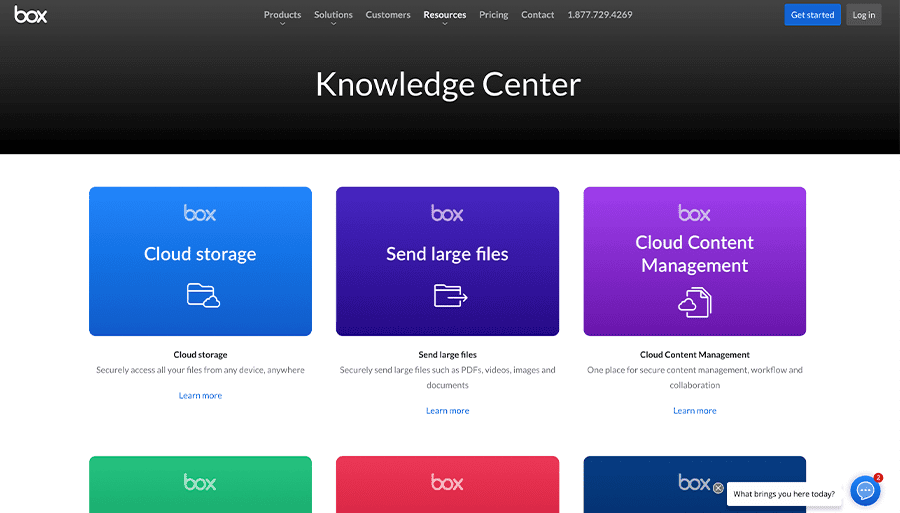 Box also includes a "learn more" link below each graphic to help customers get where they want to go, and each graphic is clickable. This simple addition ensures customers can find information without having to click back and forth between pages.
Video streaming service Hulu provides an abundance of information inside its knowledge base, including a section that allows customers to search and a section that breaks down information into three areas—Billing and Plans, Using Hulu, and What's on Hulu.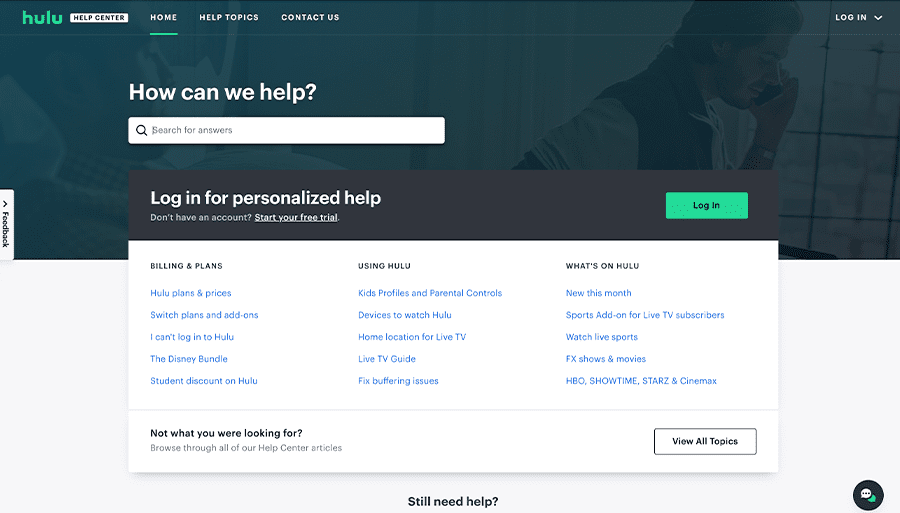 By splitting their information into distinct categories, customers don't have to wade through irrelevant information. Hulu's knowledge base also includes a link to its community where customers can seek answers from other users.
Amazon's Alexa Developer website serves as a knowledge base and comprehensive resource for voice developers who want to create and manage voice apps and integrate them with Alexa-related smart devices. Its website includes a myriad of guides, tools, and comprehensive tutorials to help developers build different voice experiences using Alexa.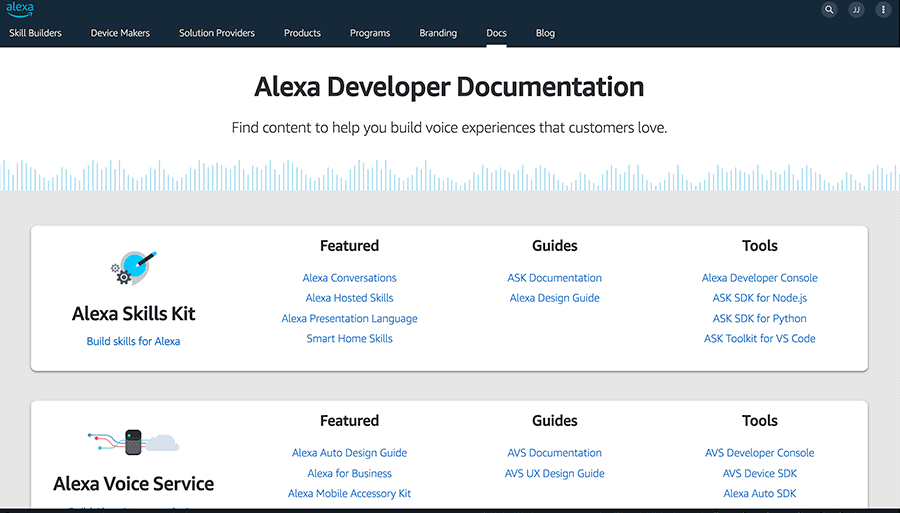 There is a vast amount of information on the Alexa Developer site. Organizing the main topics into four easy-to-read sections and including subtopics in each section helps developers pinpoint relevant information.
Payment processor Square's knowledge base includes information about all of its products. Rather than clutter their site, they display only their most popular products, and customers can browse more by clicking on drop-down menus.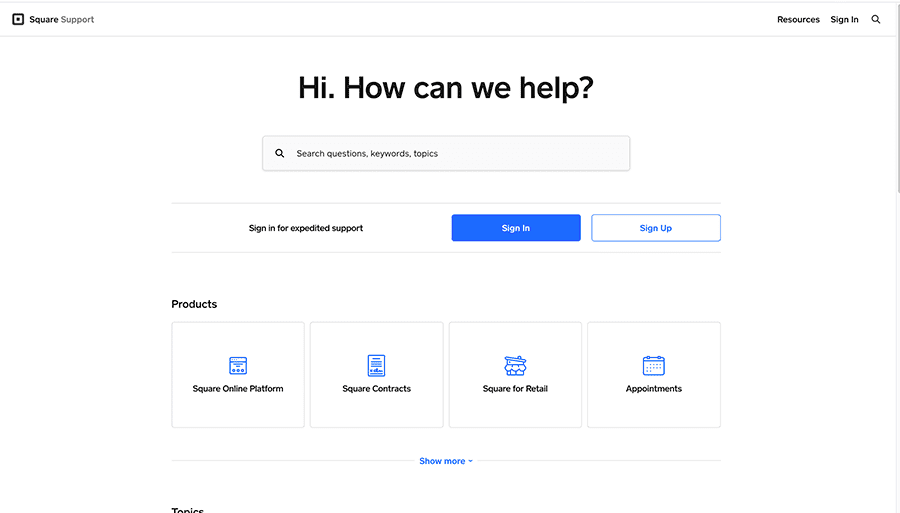 Toward the bottom of the page, it features trending articles to help customers find information faster. Square's knowledge base is available to the public, but customers who already have an account can sign in using the prominent, blue sign-in button to get expedited support.
Wayfair is a high-volume online furniture store. Its help center organizes information into six topics and displays subtopics below each one. Below the topics, Wayfair offers its customers a fast way to contact its support team. Wayfair displays four buttons at the top of its main page and explicitly calls them out as "Self Service Actions."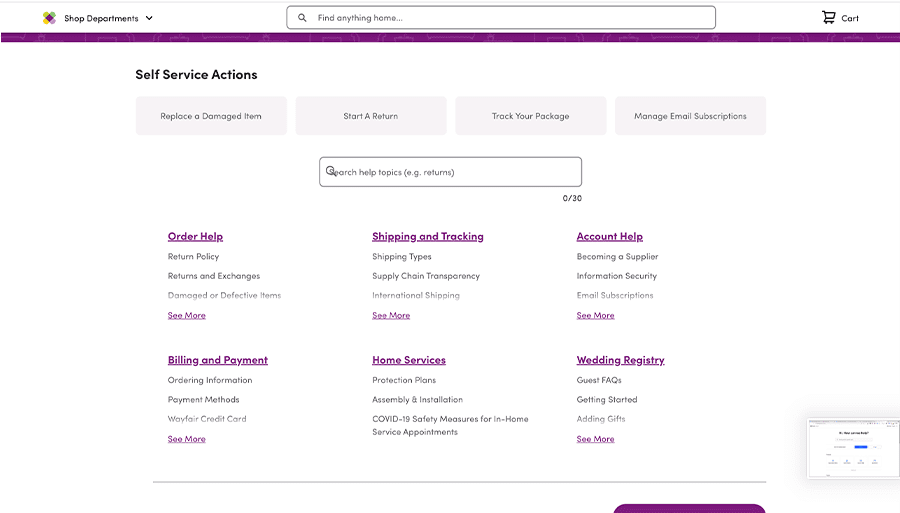 By labeling these actions, customers understand they can initiate a return, track a package, return a damaged item, or manage their email subscription without contacting support.
HelpScout is a customer service platform that includes knowledge bases as one of its products, so it's no surprise they have a solid knowledge base for its customers. This well-designed site includes a search function at the top and three separate sections that refer to its products, where each section lists topics.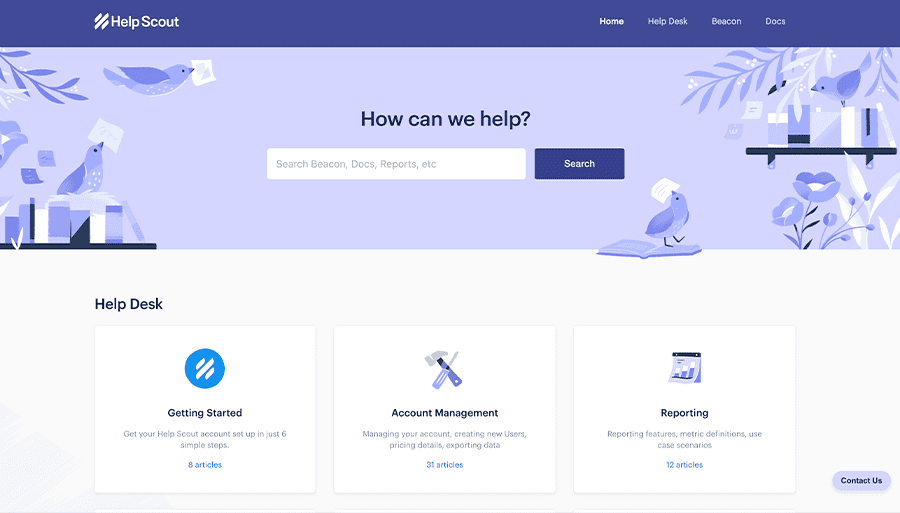 Its use of relevant icons above each help topic also makes it easier for customers to narrow their search for information using visual cues.
E-commerce software company Shopify offers a knowledge base that helps new customers get started and assists existing customers with their questions about selling and managing their shops.
It also includes extensive navigation choices where customers can select from dozens of topics. Shopify hosts its knowledge base on a subdomain but includes several links in its main navigation so customers can seamlessly access its main website or other help pages on its site.
Wistia is a video hosting platform designed for companies. Its knowledge base welcomes visitors with a search bar, then displays several categories customers can select. Users can also browse articles to learn more about its products.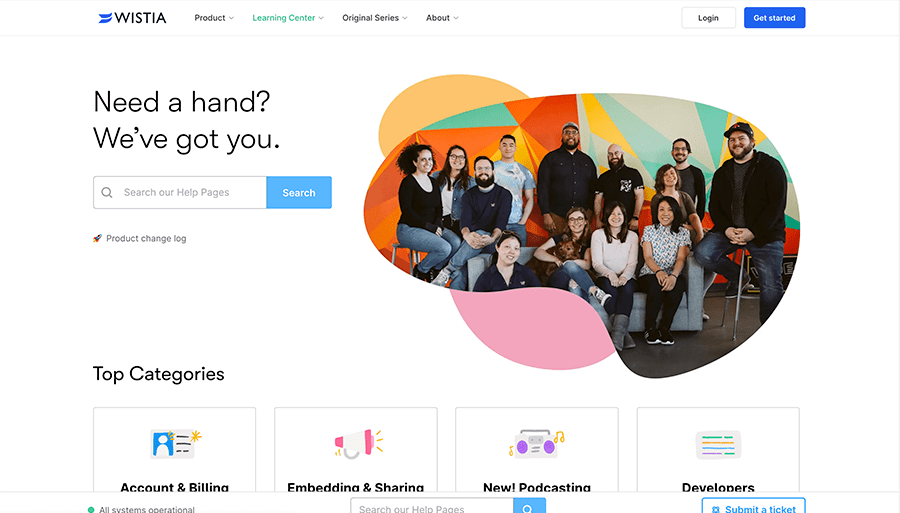 Wistia places a link to its product changelog directly under the search function at the top of the page so readers can learn about product updates. It includes a rocket icon to make the link more visible, and clicking on it displays Wistia's most recent updates.
Conclusion: Building a Knowledge Base Starts With Understanding Your Customers' Needs
When constructing a knowledge base, it's important to determine the types of information you want to include. To get started, review customer support tickets and conversations with customers to determine your product's most frequently asked questions and concerns.
You'll create a more useful knowledge base if you thoroughly understand your customers' questions and issues. Once you understand your customers' requirements, you can choose your knowledge base software and start building.
With Whatfix, you get more than just a knowledge base – you empower your customers with an entire set of self-help, in-app tools to learn in the flow of work. Get started with your free trial today! 
Explore all knowledge management articles now!
Increase end-user adoption with Whatfix
With Whatfix's Digital Adoption Platform, create in-app learning flows, contextual training and onboarding, and self-help knowledge bases. See it in action below.