The sales model has changed, many business leaders think, forever. Prior to COVID-19, a majority of sales activities involved in-person selling. Post-pandemic, most companies switched to video conferencing and online chat. Interestingly, 70–80% of B2B decision-makers said they preferred remote interactions and self-service, even after lockdowns ended. In field-sales-dominated sectors like medical products, only 20% said they hoped to return to in-person sales.
Given the shift toward digital selling, business leaders are turning to sales technology as the answer to increasing sales productivity for their teams.
More tools equal better workflows equal more productive sales teams, right? Not necessarily. Many reps find sales technology cumbersome to use.
Instead of buying more sales tools to make your team productive, you need robust training methods for existing tools and a better support system for your reps. Digital adoption platforms help you solve these challenges at scale.
Challenges of Selling in a Post-COVID World
A digital and remote sales model is convenient for both buyers and sellers, but it presents a few unique challenges for salespeople.
Product differentiation: In-person events and meetings served as ways to build credibility and go the extra mile to win accounts. Today, anyone can "jump on a quick Zoom call" to do a demo. Thus, companies need new ways to differentiate their offering and add extra value for customers.
Limited buyer attention spans: With the internet vying for your prospects' attention, it may be difficult to solely convey value through digital channels like email, video, or long-form content.
Remote work management: Without training and clarity, remote sales reps may struggle to get results. As one remote work survey shows, 49% of employees aren't aware of what's expected of them while working remotely, while 52% lack proper training to use work management tools.
Improve Remote Sales Productivity by 65%
Learn how Whatfix enables your remote sales team with automated in-app guidance.

5 Ways to Drive Sales Productivity in a Post-COVID World
To be more productive in the wake of COVID, your sales team needs to use existing sales tools more intentionally, be clear about their goals, and receive enough support from leadership.
Let's delve into each of these productivity drivers below.
1. Increase Adoption of Existing Tools
To help technology help your team, you'll first need to increase the adoption of new tools or tools you already have.
The first step to increasing software adoption is improving your training and onboarding efforts. Effective training helps your reps see how sales tools enhance their workflow. On the other hand, poor training simply "info dumps" features on the user without context. Software demos are guilty of this.
The best way to train sales teams and increase software adoption is to make training interactive, contextual, and on-demand. Digital adoption platforms (DAPs) help you do this, no matter the size of your team.
Like a helpful guide, a digital adoption platform gradually introduces new features to employees as they navigate different sections of a platform. This could be in the form of pop-ups, step-by-step walkthroughs, videos, or self-help widgets.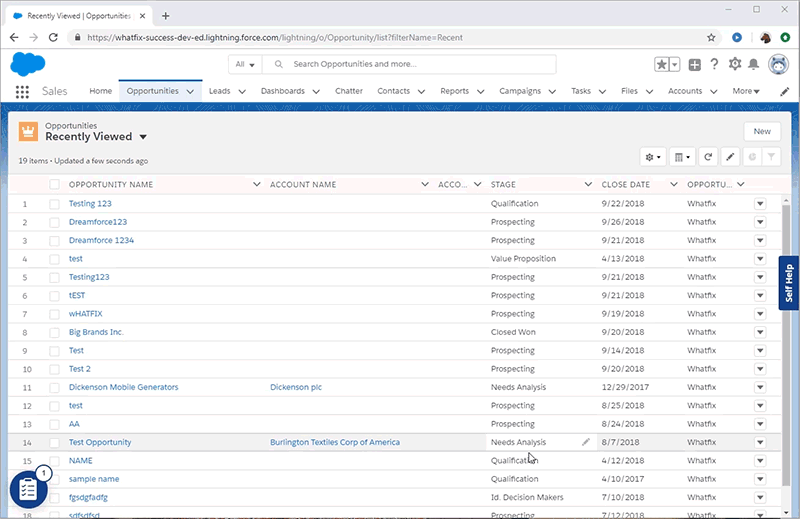 Since all content matches the context of usage—the Reports tab will only show walkthroughs of how to create a report—it's easier for employees to parse through and make use of.
Contextual training reduces onboarding time for employees and increases the adoption of sales tools like Salesforce and Oracle CRM. Better adoption ultimately makes sales tools more useful and drives productivity.
2. Embrace New Ways of Selling
Salespeople need to ditch traditional ways of selling to drive more sales post-COVID. Adopt novel strategies, like:
Social Selling: This means using your social network to find prospects and build relationships. Successful social selling requires salespeople to keep a close eye on their most important accounts and add context to anything they share online. One LinkedIn study found 78% of social sellers outsell their peers.
Hyper-Personalized Selling: In B2B sales, hyper-personalized selling means tailoring your pitch to a prospect's industry, business, and pain points. 85% of customers said they expect brands to demonstrate a deep understanding of their business.
Sales as a Value-Add: Sales as a value-add means sharing valuable resources like whitepapers and blog posts with clients who may not be ready to buy yet. It helps sales reps build trust and establish a relationship with prospects. This is important because 88% of buyers consider sales reps they do business with to be "trusted advisors."
Adopting new ways of selling has a direct impact on your sales reps' productivity.
3.Prioritize Sales Coaching and Training
The best salespeople are more likely to spend time in training with their managers. One study found coaching helps sales reps ramp up faster, achieve personal goals, and boost revenue. In other words, training directly impacts how productive your reps are.
In a post-COVID world, coaching is even more important. Startup advisor Geoff Perfect explains, "Salespeople need to get much better at picking up cues of body language over videoconference calls, asking great probing questions, active listening, and reconfirming what they heard."
Here are some quick tips to effectively coach your team on an ongoing basis:
Create Learning Opportunities: Sales managers expect their reps to "learn by osmosis" after initial onboarding. But as sales models evolve, reps need guidance beyond the basics of cold-calling and following up. To help reps learn on an ongoing basis, host group webinars for product demos, create self-paced courses, and encourage virtual ride-along for sales calls.
Develop Virtual Training Programs: Virtual training programs are a good way to train remote sales reps. Most learners agree they're as effective as in-person training programs. The key to successful virtual training is to not focus purely on content but also on engagement and interactivity. Instead of simply delivering a PowerPoint presentation, allow attendees to ask questions and break out into small groups to review material.
Hold Reinforcement Sessions: Reinforcement sessions help employees link classroom learning to business outcomes. One South Pacific telecommunications operator held 45-minute discussion-based sessions for their teams after formal workshops. After two months, 94% of their employees agreed they were getting support from their team to grow their capabilities.
When coaching is an ongoing effort, your team has more opportunities to learn from successful managers and reps, and ultimately, close more sales.
Salespeople are considered to be "right-brained," thriving on creativity and extroversion. But the best sales reps rely on their left brain, too, using data to make informed sales decisions.
Data helps increase sales effectiveness at various stages, like:
Prospecting: Data from sales intelligence tools helps you target the right prospects based on firmographics (company information), technographic (information about their tech stack), and buying signals like hiring. Real-time data also helps you tailor your pitch to prospects' unique needs—an important prerequisite for business buyers.
Evaluating Patterns: Data such as revenue per sale, sales by lead source, market penetration, and sales by location, helps you identify winning patterns and replicate success. As one survey found, top salespeople are more likely than their peers to evaluate closed-won and closed-lost deal patterns and study trends for locations to target.
Measuring sales performance: Metrics such as win rates and opportunities closed help you evaluate your sales team in an objective way and proactively help struggling reps. Sales coach Karen Rhorer suggests four simple steps to better use data for evaluating performance: identify metrics that matter, create a clear reporting system, monitor for deviations, and use insights to drive action.
The sooner your reps befriend sales data, the sooner you'll see its impact on their decision-making and productivity.
5. Define Clear Goals and Metrics
Realistic, actionable goals motivate your team and boost sales productivity. On the other hand, fuzzy, aspirational goals promote confusion and frustration.
When setting sales goals, don't pull a number out of thin air ("We need to grow 120% next year"). Instead, focus on the facts: historical conversion rates, number of reps on your team, and their average productivity.
Let's say you want to close $25K in sales per month. You know you'll need a minimum of 10 opportunities worth $2.5K each per month to reach that goal. This translates to at least 25 meetings to get those 10 opportunities. To book those meetings, your reps will need to do at least 150 sales activities.
Now think: Does your sales team have the bandwidth to undertake those activities? Are you willing to invest in new sales reps to increase sales activity? Set goals depending on your answers.
Along with being plausible, your sales goals also need to be actionable. As Karen Rhorer explains, an actionable goal offers a clear pathway for reps to move forward. For example, "You need to have a next meeting scheduled for each of your open opportunities and be in touch with at least three contacts at each account where you have an active opportunity." This goal is based on a clear set of actions and factors reps can control.
The more fact-based and actionable your goals are, the more likely they are to drive sales results.
Digital Adoption Platforms Will Help Drive Sales Productivity Post- COVID-19
Sales technology fuels the new sales model through personalization, automation, and analytics. But without adoption, even the best sales tools fail to deliver value. Digital adoption platforms help you close the gap between what technology can do and the impact it has on your team's work.
In 2020, most sales teams used at least 10 sales tools and planned to add another four to their stack. However, only 30% of teams had a clear plan to integrate those tools into their workflow. What's more, the demand for sales operations professionals—those who master sales technology and help deploy it—also doubled in 2020, further highlighting the tech adoption problem for sales tools.
If you're looking to drive sales productivity for your team post-COVID-19 and get more value out of sales tools, check out the Whatfix Digital Adoption Platform—a contextual, guided learning experience for sales tools like Salesforce and Oracle CRM. Sign up for a personalized demo here.
Increase end-user adoption with Whatfix
With Whatfix's Digital Adoption Platform, create in-app learning flows, contextual training and onboarding, and self-help knowledge bases. See it in action below.