When you're creating the optimal customer journey, it's not enough to only get them from point A to B. To stand out among competitors, you must engage and delight your customers at every step along the way with an effective customer communication strategy.
This requires coordination within your company, and it can be tough to get it right.
Internally, this coordination starts with a single piece of content created by the marketing team for your blog. Then you repurpose and distribute that content across multiple platforms — for example, chatbot and sales materials.
From there, IT tracks users' interactions to see what users do with that data and where they go after. IT sends that information as reports to sales, where they are used for revising content and creating personalized CTAs.
That's far too much for most teams to do manually – and that's where a digital experience platform (DXP) comes in.
DXPs create the best user journey possible in a way that's easy to manage for you, unlike the above manual example. These integrated platforms guide your customers seamlessly through every touchpoint with a personalized, consistent omnichannel customer experience.
What Is a Digital Experience Platform (DXP)?
A DXP is a suite of digital tools that helps companies host, manage, and deliver intuitive digital customer experiences. DXPs work across channels and connect each department with relevant user data — meaning your team can keep track of the content you've published, and how customers are interacting with it, as they move from prospects to sales.
Generally, a DXP handles the entire content pipeline, from creation to hosting and distribution. The same piece of content created by the DXP and posted to your company's website is repackaged to work in other places across the web. For example, it could be repurposed and shared to social media, ads on apps, podcasts, AR/VR advertisements, SMS marketing, and email newsletters.
After content has been created, hosted, and distributed, it will be monitored. DXPs use data and analytics to track interactions with the content. Then, AI processes this data to personalize the next stage of the viewer's journey to increase the chances of converting them into a customer.
Features of a Digital Experience Platform
Here are the basic features platforms must have to be considered a digital experience platform:
Provide solutions to manage and store content and media.
Create, edit, and optimize content for various channels. 
Rapid app, website, or portal development.
Gather data on customers are using and engaging with content.
Use APIs and webhooks to connect customer data with various software tools and create trigger actions.
Content personalization based upon customer data.
Content performance and user experience analytics.
DXP vs. Content Management System (CMS)
Content management systems (CMS) are the single-channel predecessors to digital experience platforms.
With a CMS, all content is formatted for your company's webpage. As such, it doesn't translate to other channels or requires much human interaction to get it to the other web channels.
DXPs manage content created for your company's page, but they also manage content created for the web, social media, apps, voice, AR/VR, chat, and other devices. Headless CMSs are an option; however, a CMS with headless architecture doesn't host the content, it distributes it.
These CMSs are more flexible than traditional options as they often let you take the same content and display it across different channels.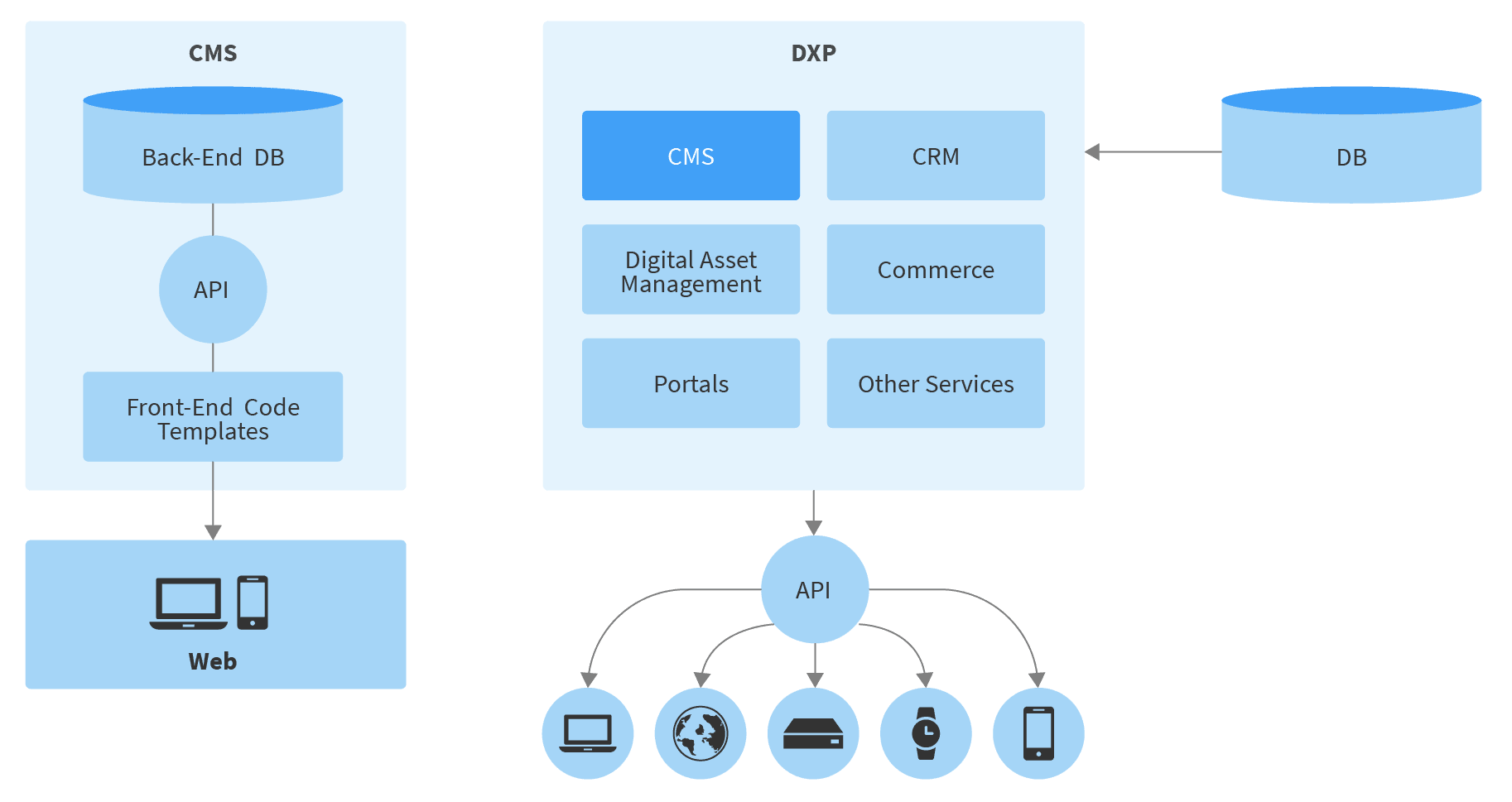 However, headless CMS platforms are still not as flexible as a DXP because it's not a true omnichannel solution. DXP is supported by AI that learns from each user interaction on each channel. Over time, AI further customizes the user experience on its own, saving brands more time and ultimately increasing conversion rates.
DXP vs. Web Experience Management (WEM)
Web experience management systems offer more integration and personalization than a CMS, but they don't rise to the level of a DXP. In short, WEMs have the basic functionality of a CMS — they track user interactions and data — but with more personalization options and data collection abilities. However, they lack the ability to specify target market segments.
A DXP integrates the best features of both CMSs and WEMs into one platform. This gives you a high degree of control over your user experience and content because it addresses these aspects as interconnected processes rather than separate, unrelated tasks.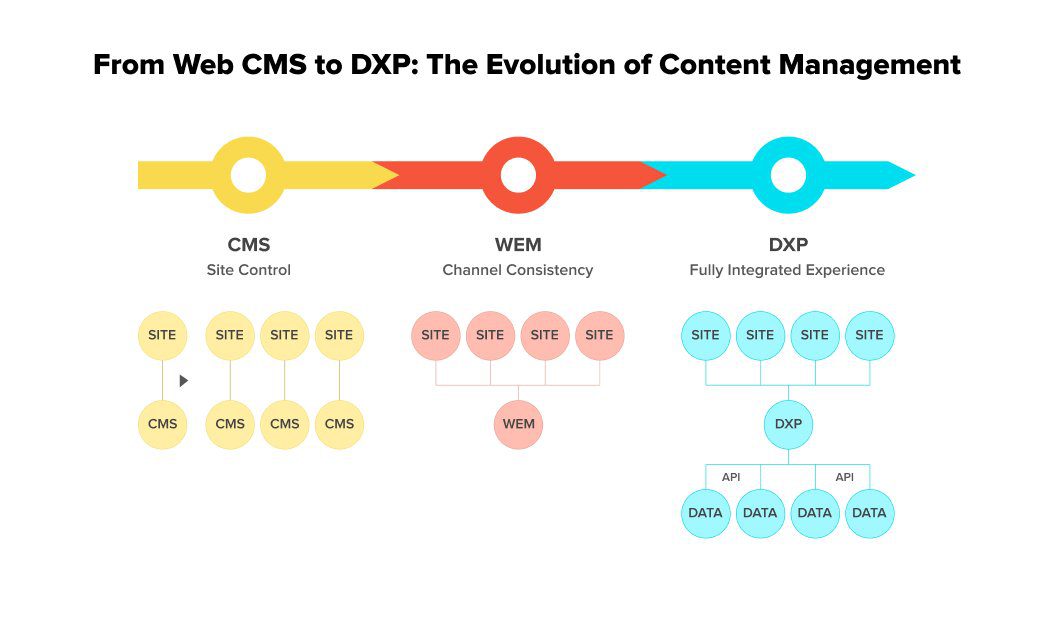 Benefits of Implementing a Digital Experience Platform
The core function of a DXP is to streamline content creation and distribution while providing your users with the best experience possible.
The benefits of a DXP far outweigh the costs because they can offer a more personalized experience to your customer in even less time than you'd traditionally be able to publish content across platforms.
1. Deliver a Consistent User Experience Across Every Channel
Consistency across all platforms maintains your brand identity, which boosts your brand recognition. DXPs offer omnichannel, proactive customer support, empowering organizations to create an experience that supports your brand across all of your communications channels: website, mobile apps, social media, and anywhere else customers interact with your company.
For example, if you create an article for your website's blog and then add it to your DXP, the DXP uses AI to repackage it to fit all your other channels. These channels could include whatever channels your customers use, which is important because different users prefer different channels. With a DXP, your bases are covered.
While many users subscribe to your blog, others prefer to receive that content on Twitter. Overall, user trends have changed over time — mobile is king now but didn't used to be — and will continue to do so, making DXPs important in placing your content where it's needed.
2. Build Customer Trust Through Personalization
DXPs create personalized experiences so the right message always makes its way to the right customer. That translates to more humanization for your brand and more trust from your customers. Personalization has a high return on investment because it can increase conversion rates, as over 30% of customers view it positively.
Let's say you've added a case study to your DXP. The DXP will engage loyal readers by adding this case study to an email and personalizing it with subscriber names and content from the case study that would encourage them to click through to read the rest.
3. Drive Data-Backed Decisions
DXPs are data-gathering powerhouses, meaning your team can make informed decisions about improving user engagement throughout the customer journey. DXPs gather the leading criteria for personalization — such as campaign source and products purchased — which help to inform the next stage of the customer journey.
4. Streamline Cross-Department Processes
DXPs streamline processes across departments. They also prevent internal silos by creating cross-departmental communication. For example, messaging update requests from the sales department make it to marketing, web team, and customer success instantly, so no one on your team accidentally gets missed in any update.
This instantaneous communication means everyone has easier access to the same data and insights. DXPs protect against information loss from employee turnover, as no information gets withheld by accident.
5. Future-Proof Your Customer Experience Efforts
DXPs are designed to be customizable, flexible, and scalable, so you'll never get caught having to figure out how to rework copy for a new platform again. Most are AI-driven as well, so they're incredibly adaptable platforms.
Artificial intelligence works with DXPs via machine learning and the internet of things (IoT). Simplified as: the DXP gathers data from data gathering computers in everyday objects — like Ring Doorbells.
These devices are the IoT, and the information used goes into a machine learning program where it's processed and analyzed. Then, it uses the insights from those analyses to replan and personalize the marketing strategy based on its new view of the target market.
For example, if you gather data that indicates your target market prefers a casual voice (when you've been using a professional one) on social, then your DXP will begin using more casual language as part of its strategy.
This process is why DXPs are great at scaling up and an excellent fit for larger organizations with complex content needs. Though smaller businesses don't often gain adequate rewards from using a DXP, keeping one in mind could be useful for when your company scales.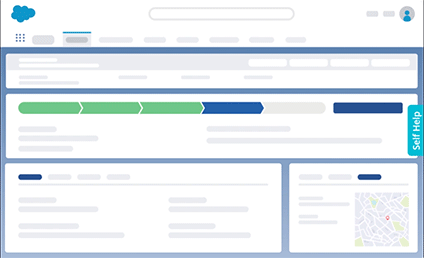 Drive adoption of your customer apps with personalized, guided in-app support content
8 Best Digital Experience Platforms (DXP) in 2022
Here are the best DXPs that meet the three most crucial characteristics of a digital experience platform in 2022: omnichannel content, integration, and data-based strategy.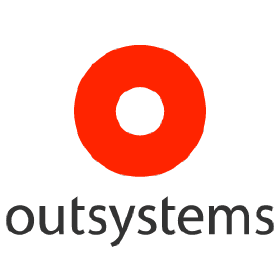 OutSystems supports omnichannel customer journeys and automation while being a low-code, AI-powered solution. It is primarily marketed as an app-building platform; however, they offer visual tools that are pre-built to link up content across different channels.
Other features include the ability to create apps for any device, simulate user flows and interactions, and integrate with many pre-existing technologies (such as GPS or barcode readers). User reviews are generally positive as well. One user said, "OutSystems it's an amazing platform, that allows the development of amazing applications. Its community is very helpful and in the forums, one's problem can be solved very fast by peers. Integrations with other systems are a great plus also."
Cost: $4,000 a month for the basic plan and $10,000 a month for the pro plan, though they do have free trials available.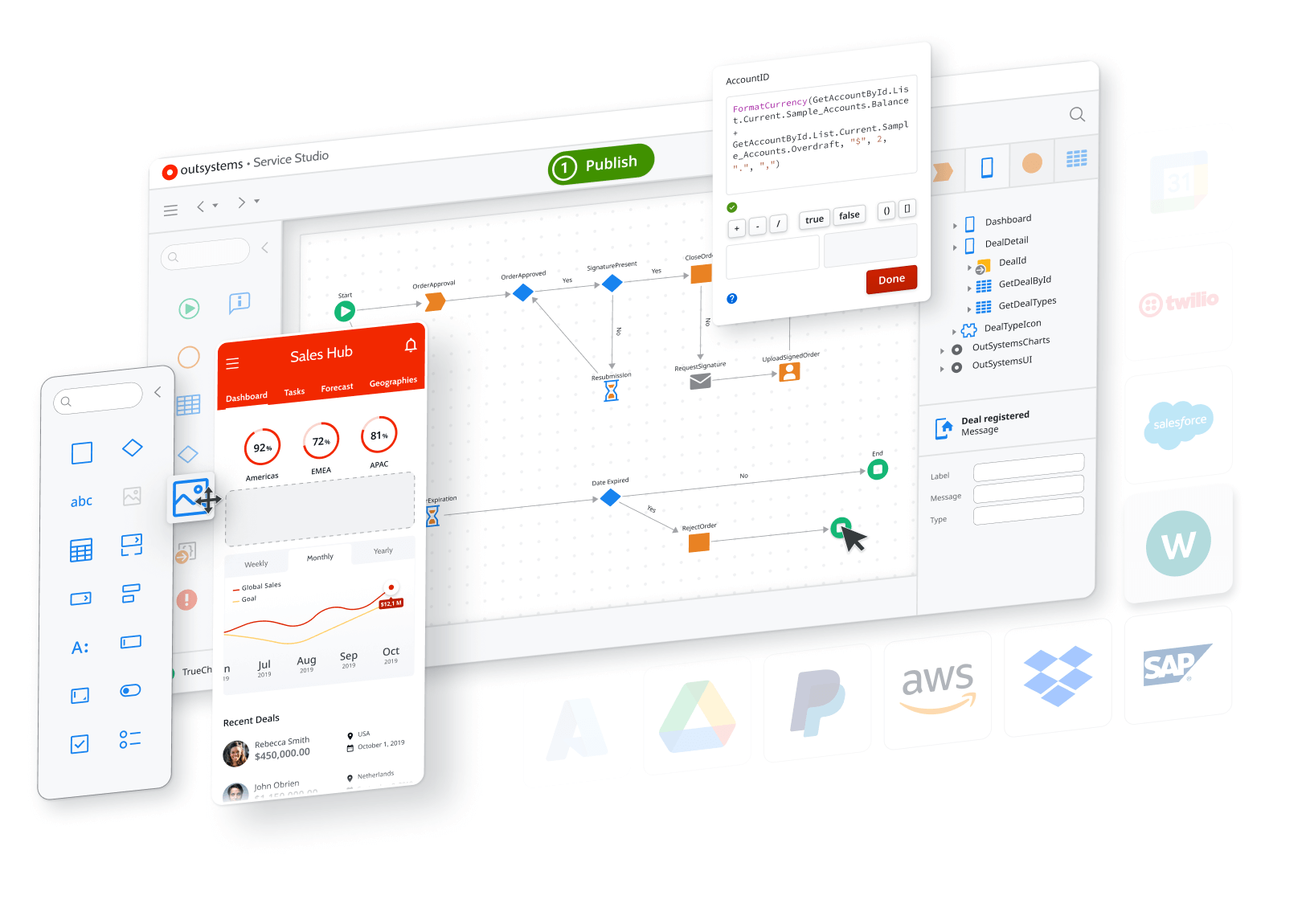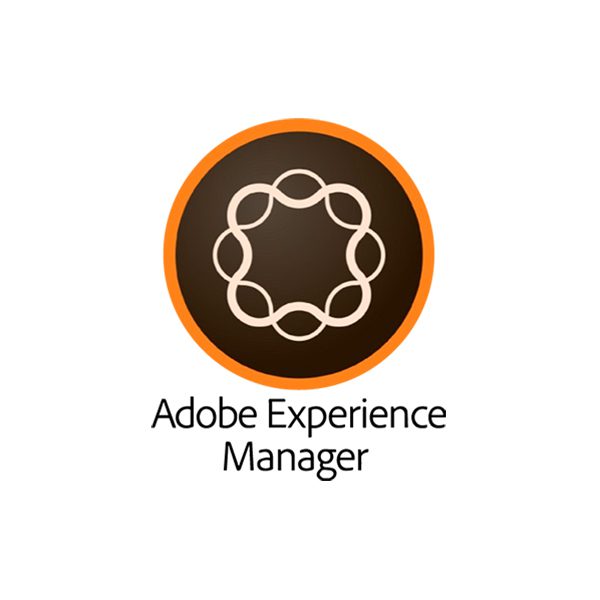 2. Adobe Experience Management Platform
Adobe Experience Management Platform includes a CMS, digital asset management, and cloud service for regular updates. What makes this solution stand out is its inclusion in the "Adobe Experience Cloud." Much like the more widely known "Adobe Creative Suite," this suite of software products comes together under one price — meaning people who use the Adobe Experience Management Platform also gain access to other powerful and useful tools like Content and Commerce or Digital Enrollment.
The other notable feature of this software is an AI-powered data collection, organization, and interpretation system. With this AI tool, you can save time on data analytics and further reduce the strain on your team. Gartner named this Adobe product a leader in digital experience platforms.
Cost: N/A – for pricing, contact Adobe directly.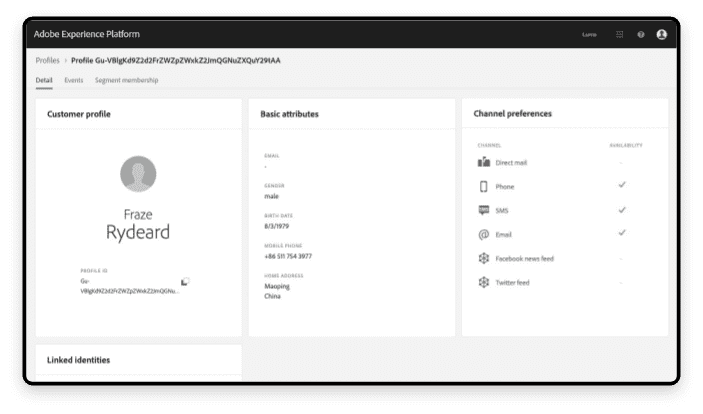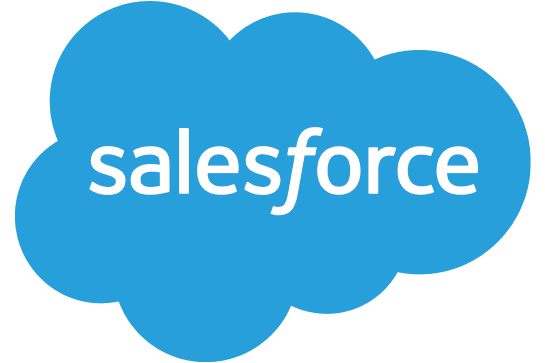 3. Salesforce Experience Cloud
Cloud-based Salesforce Experience Cloud seamlessly integrates with Salesforce's robust CRM software. In addition, Salesforce offers branded and interactive templates and tools to help you create engaged customer communities.
Other features include an abundance of integration options, the ability to use AI to personalize messaging, and the option to use internal collaboration channels and organizational features.
Cost: N/A – for pricing, contact Salesforce directly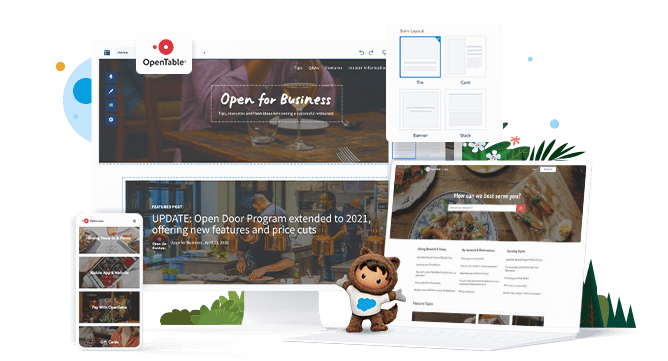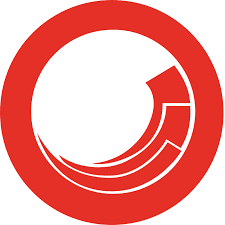 4. Sitecore Experience Platform
Sitecore Experience Platform is a multilingual DXP that integrates with Sitecore's Content Hub — giving you options for content deployment. You can choose to deploy your content to a:
Self-managed cloud – this is a virtual hard drive that you will manage yourself
Managed cloud – this is a virtual cloud that you will pay a third party to keep up
On-premises hosting – this is the traditional method p when you keep the data stored on-site and manage everything in-house
Other features include native analytics, testing and optimization options, machine learning and AI, and automation for cross-channel campaigns. Gartner ranks Sitecore a 4 out of 5 and describes it as a powerful platform with many options. However, critical reviews say it's complex with a steep learning curve.
Cost: N/A – for pricing, contact Sitecore directly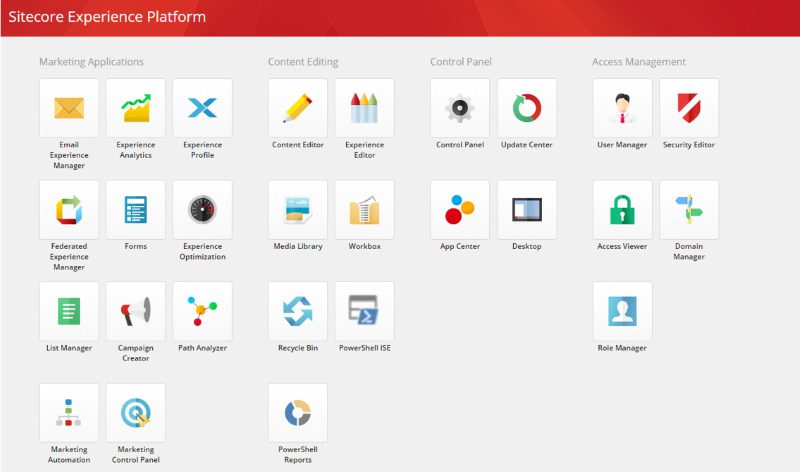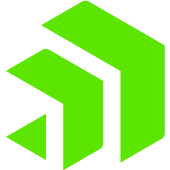 Progress Sitefinity is a bespoke DXP solution with which you can create your own custom DXP with the functionality you need. Features of your tailor-made DXP can include:
Omnichannel delivery, internal productivity features, integrations and API, and security (Sitefinity)
Cloud support (Sitefinity Cloud)
Personalization, AI, analytics, and data management (Sitefinity Insight)
Ecommerce support (Ucommerce for Sitefinity)
Sitefinity also earns points for ease-of-use and its included form-building tools.
Cost: N/A – for pricing, contact Sitefinity directly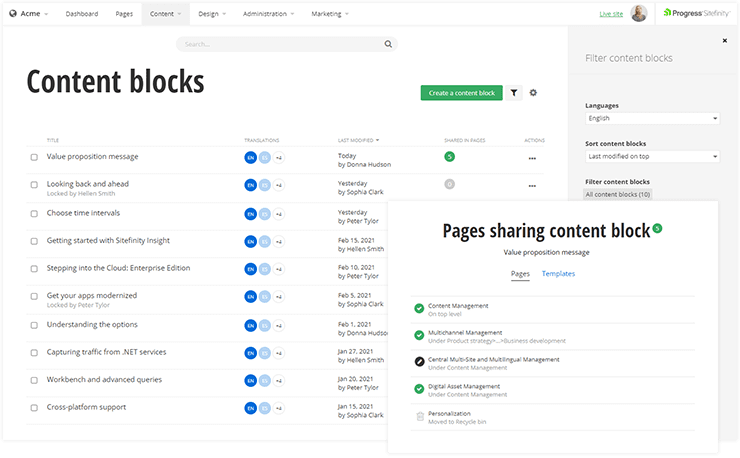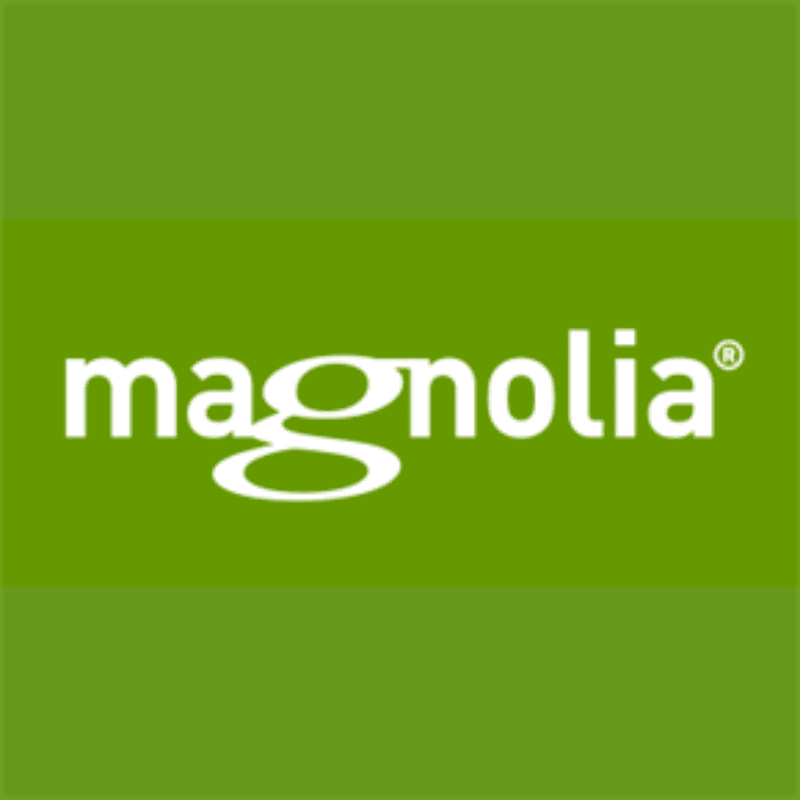 Magnolia offers what is referred to as a composable DXP. It features a headless content management system at its core with a rich collection of connection points. This allows customers to use Magnolia as a central hub around which they can connect and access other best-of-breed technologies as if they were part of one unified DXP.
This design provides freedom for companies looking to build a DXP around their existing processes and infrastructures. 
Features of Magnolia's DXP include:
Magnolia's Connector Packs allow for seamless integrations with leading CRM, marketing automation, analytics, e-commerce, and site optimization tools

Access content and data from any source directly within Magnolia's intuitive user interface

Authors and editors are empowered by full visual WYSIWYG editing and preview, even in headless scenarios

Built-in personalization and A/B testing help customers deliver individualized content in an effective and scalable way

Self-hosted and cloud deployment options
Cost: N/A – for pricing, contact Magnolia directly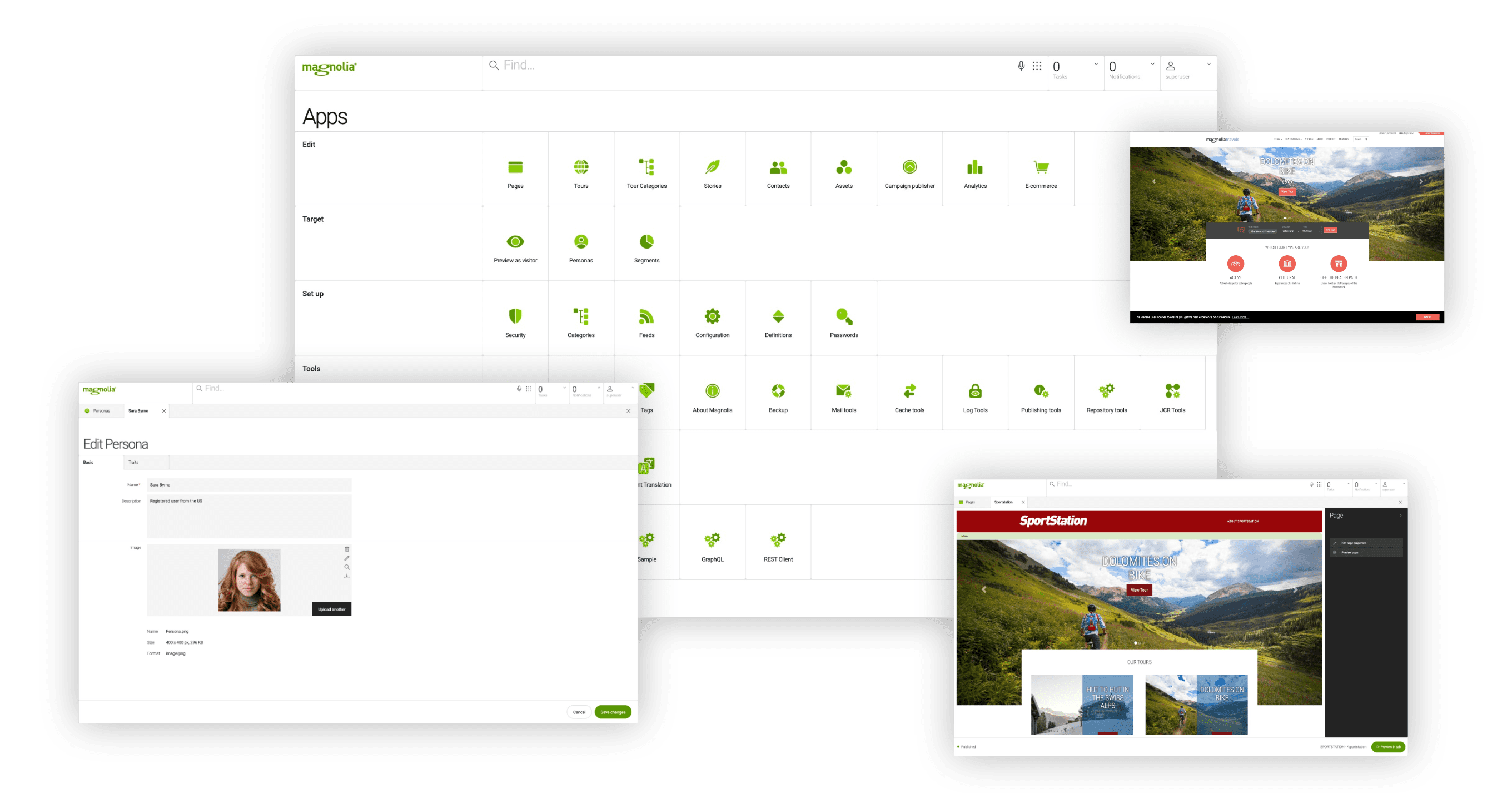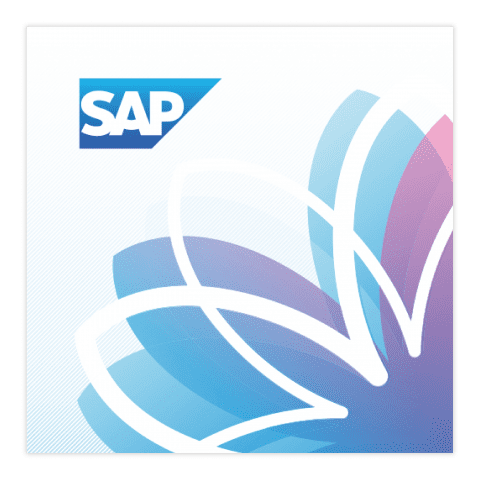 SAP Fiori integrates with SAP's suite of enterprise software, including its popular enterprise resource planning software (ERP), allowing you to develop apps that are employee-friendly and consistent across all devices. SAP Fiori aims to help speed up onboarding and lower training time for companies going through growth periods.
In addition, SAP Fiori features machine learning and integrated data so that you can further tailor your program over time.
Cost: N/A – for pricing, contact SAP directly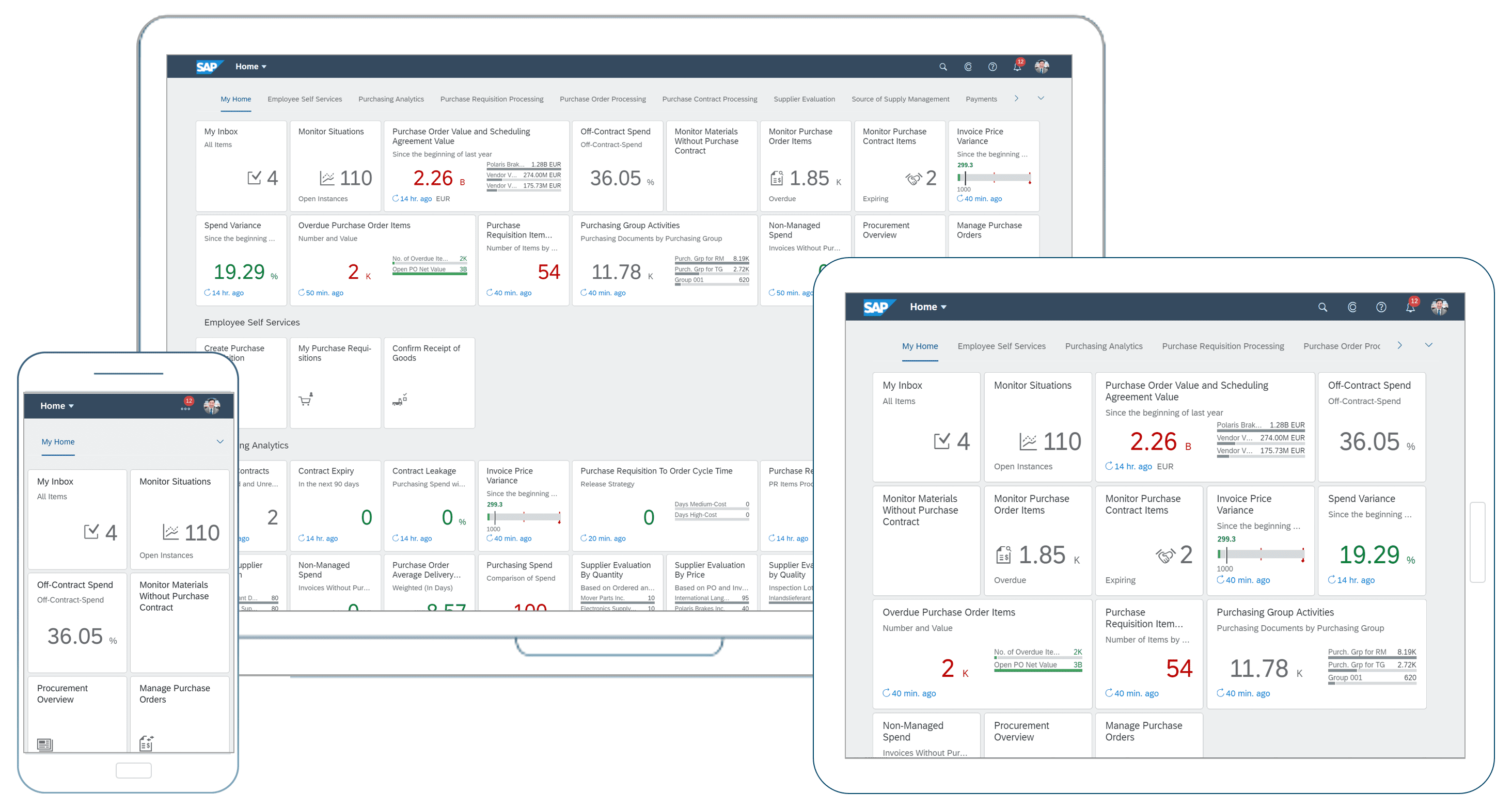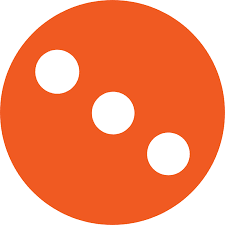 Kentico Xperience combines content management and digital marketing personalization with e-commerce experiences. What helps Kentico stand out is its focus on e-commerce and being low- to no-code. This focus makes it a good fit for marketers in e-commerce who want to deploy a solution quickly and without coding.
Other features that make Kentico a powerful solution for both e-commerce and non-e-commerce businesses are:
Integration with headless CMSs
Drag-and-drop widgets
Digital asset management
Personalization
Automation
Email marketing
Out-of-the-box integrations and APIs—such as Zoho and Salesforce
Cost: ranges from $10,500 to $18,900 per year.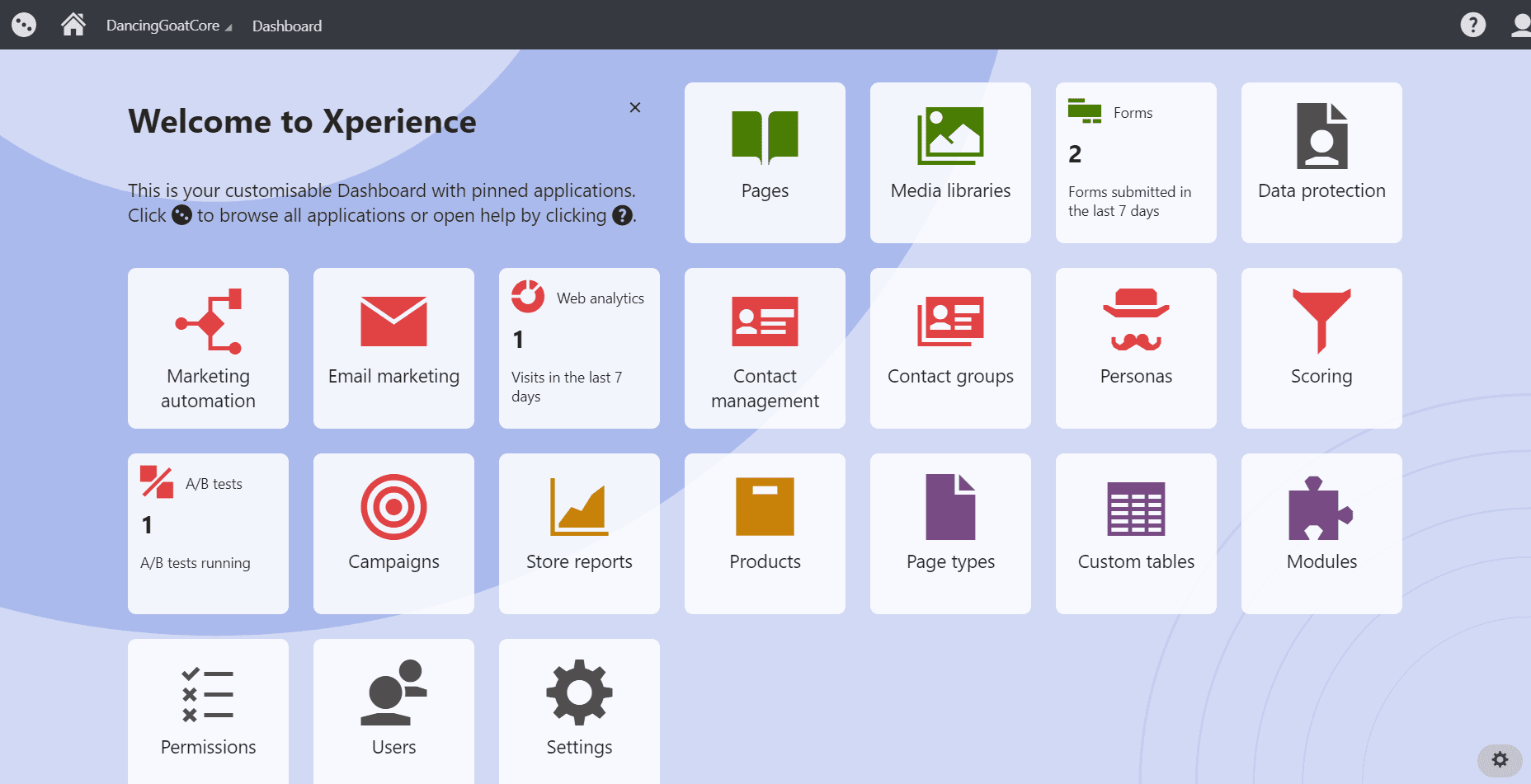 Support Omnichannel Customer Adoption With a Digital Adoption Platform
Digital experience platforms work best for large businesses and corporations looking for omnichannel communication with users. DXPs save time. Your work isn't done with DXP implementation, even with an omnichannel experience. Your customers need help during onboarding. That's where omnichannel digital adoption platforms (DAPs) come in.
Implement an omnichannel DAP such as Whatfix to help onboard your customers onboard faster, and well as offer on-demand self-help support once they're up and running.
Whatfix helps brands to create a seamless transition from pre-sales to post-sales to expert power user. A DAP increases the chance of successful implementation of your software and a higher retention rate, in the long run, thanks to the easy-to-obtain ongoing support.
On the internal side, Whatfix helps organizations implement a new DXP and drive adoption by providing employees guided onboarding and training, as well as on-demand self-help support.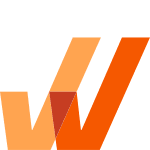 Request a demo to see how Whatfix empowers organizations to improve end-user adoption and provide on-demand customer support
Subscribe to get new content delivered directly to your inbox.