There is an old saying, "time and tide wait for none", and nowhere is that truer than in the way new technologies are emerging every day. There is an infinite number of new technologies available in every industry today, covering every possible process. And in order to avoid the risk of falling behind the competition, organizations need to continuously adopt the latest technologies or update the existing ones.
Latest technology or software products today are an important enabler for organizations. Every job role involves using multiple software for at least 40-50% of the work time. However, the implementation of new software or frequent upgrades in the existing ones might be overwhelming for some employees. When employees cannot keep up with these upgrades and their impact on their day-to-day work, they might feel frustrated or burnt out which could lead to a loss in their productivity. Therefore, implementing successful software training programs for your employees is the key to dealing with the constant changes in technology, reducing employee frustration, and keeping them engaged and productive. 
Benjamin Franklin once said "An investment in knowledge pays the best interest", and we couldn't agree more.
Software training is no more a nice-to-have for organizations, rather a vital part of a company's long-term investment and growth strategy. Realizing the importance of continuous corporate training, organizations are investing in software training tools to train their employees in the skills they need to improve their corporate performance. 
However, only 25% of respondents to a recent McKinsey survey believe that training measurably improved performance.
The ineffectiveness of the current software training and development programs implemented within the organizations might cause huge losses to businesses.
So where does the challenge lie in these training programs?
Challenges in Software Training for Employees
The importance of meaningful software training cannot be overstated, but several training challenges continue to trip up organizations. Some of these challenges include,
Traditional software training methods are time-consuming and pull employees away from their work environment to make them learn. 
The knowledge imparted in a traditional classroom training setting is seldom retained. Employees run the risk of forgetting what was taught in a classroom within a short period of time.
Conducting training programs that fit into the schedule of a geographically dispersed workforce is not an easy job.  
Traditional training doesn't allow for a hands-on approach or experiential learning.
For a remote workforce, the responsibilities of taking care of their families and household chores have been added to the list of daily tasks. This gives them very little time to spare for the extra training and development sessions. 
Traditional training methods lack the ability to understand how employees are responding to training and if it's having a positive effect.
These challenges give a fair picture of why training employees using the traditional training setups has become challenging for organizations. 
To address concerns around implementing software training for employees, organizations need to develop a training and support framework that aligns with employee expectations. At the same time, it should be focused on helping employees easily adopt new software products and drive business results.
So what is the most effective way to deliver software training within your organization?
Why Software Training for Employees is Better with DAP
Overcoming the Forgetting Curve
Remote Training and Onboarding
On-demand Training
Contextual Self-help
Interactive Walkthroughs
Microlearning
Effective Change Management
The Ultimate Software Training Solution: Digital Adoption Platform
The right training solutions or learning platforms allow you to streamline and improve the ways your organization prepares employees for the latest technology and provides the necessary education to work proficiently on a software.
The Digital Adoption Platform is your ultimate software training solution that addresses many of the shortcomings of traditional software training strategy and helps you effortlessly train employees at their own pace. 
To give you a clearer picture, here are few reasons to describe why software training for employees is better with DAP – 
1. Overcoming the Forgetting Curve
According to some studies, it has been identified that people forget almost 70% of what they learn in a matter of 24 hours. Because of this poor retention rate, an organization's investment towards traditional training methods might go in vain.
Learning in the flow of work, enabled by Digital Adoption Platforms, addresses the pain point here. DAPs augment your training by helping employees in learning within the software or application while working on it. This method eliminates the gap between theory and practice, which automatically engages your employees' memory and accelerates learning. 
In addition to this, learning in the flow of work does not require any extra time dedicated to lengthy training sessions. Hence, it is one of the simplest ways to conduct software training sessions without disrupting employees' daily routines. 
Share of employees worldwide who believe learning technologies are effective in 2018, by type of technology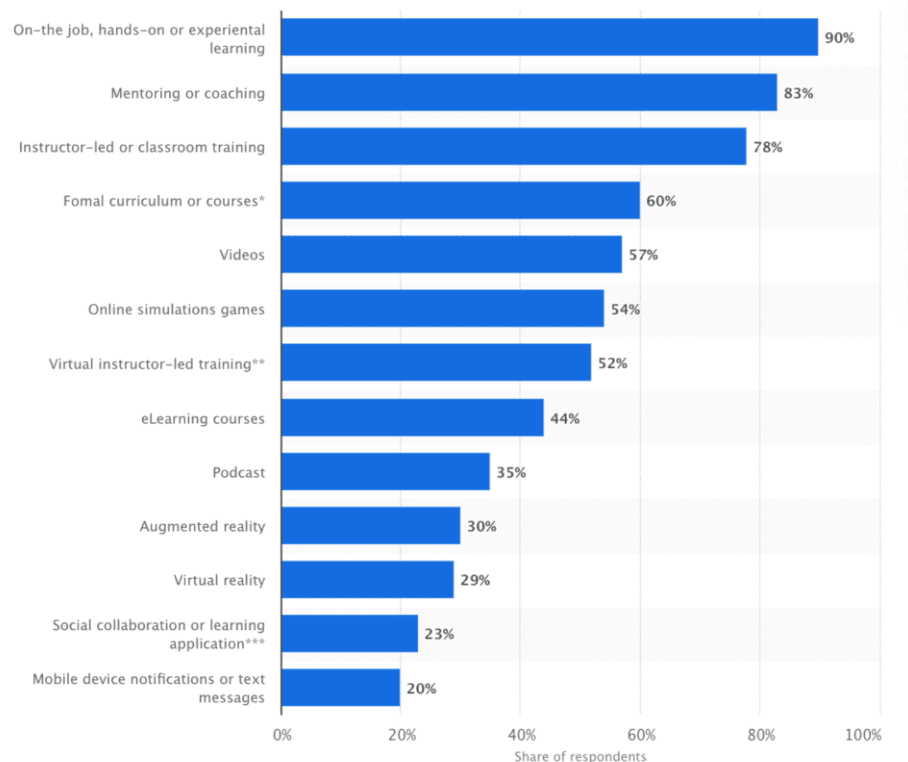 Source: Statista
2. Remote Training and Onboarding
Training a remote workforce via webinars or pre-recorded sessions is one way but it does not ensure effectiveness. Also, factors like unstable internet connection, user distraction, etc. might hinder the learning experience.
Using a Digital Adoption Platform to provide software training for remote workforce is taking one step ahead of the traditional pre-recorded or 1:1 training sessions. DAP enables learning via interactive walkthroughs within the application and ensures active employee participation. 
With DAPs, employees need not be dependent on any instructor, trainer, or support to realize the full potential of a software. These platforms are contextual, real-time, interactive, and a necessary training tool to adopt especially during this time of working from home. 
Furthermore, using a DAP for onboarding process can make new-hire training in a remote environment easier, less time-consuming, and more effective.
With the help of a flow-based learning methodology, employees experience in-app and real-time navigational training while working on software. DAP allows you to create onboarding task lists and self-help widgets within the application to track employee progress and create a self-serve onboarding journey for your new hires.
Training needs to be provided at the point employees need it which is within the software application. This means that training needs to be integrated into the live application. With the integration, training has to be available to employees when they summon it. Hence, training content needs to be easily searchable and on-demand, that is, it can be accessed quickly without having to search within a knowledge base or an eLearning course.
The in-app guidance feature of Digital Adoption Platforms gives employees access to all relevant information, resources, documentations, and workflows that they might need to work efficiently on new software. This guidance can be accessed whenever an employee is stuck anywhere in the software, without having to look for any external help.
Employees work on many applications/softwares every day and even after undergoing a software training program, it is possible for them to get stuck while performing a particular task. And reading an entire online training help manual looking for context and relevancy for one small query is a big waste of time for your employees. 
Also, submitting 'how-to' queries to the IT support team isn't very productive either since it takes a significant amount of time for the team to resolve these tickets. 
Therefore, to help users explicitly in the context they are in, companies are shifting towards providing contextual help to the users. Contextual help is a simple method of providing software training and support to get user queries resolved promptly. 
Digital Adoption Platforms can be leveraged to provide contextual support in real-time without employees having to raise support tickets and wait for a resolution for their queries. Contextual help is provided directly inside the software and the guided steps can be immediately applied without having to break from the current task or search for answers online.
Whatfix's user support solutions provide just-in-time contextual help to the user which they can use to answer their queries at any time.
Maxwell Health leveraged Whatfix DAP to change the traditional 1:1 approach of customer support and enable multiple clients to get support simultaneously in real-time. The integration with Whatfix helped them reduce 25,000+ support queries. 
Learn More: Maxwell Health case study
5. Interactive Walkthroughs
DAPs impart learning via Interactive walkthroughs, that are changing the way employees understand and interact with complex software. A walkthrough provides the help required to carry out a particular task in a step-by-step interactive manner. 
Interactive walkthroughs provide the perfect solution for onboarding employees to new software or train them on the new features of existing software.
Interactive walkthroughs can be used on multiple touchpoints, including:
For in-app guidance on web applications – An interactive walkthrough can be embedded on the application's backend
To reduce support queries – Interactive walkthroughs can be set up as real-time widgets
Onboarding new users – Interactive walkthrough can be incorporated into getting started guides and onboarding tours.
Whatfix DAP is a great example when it comes to providing users with interactive walkthroughs with easy implementation. 
BMC Remedy software, a global leader in innovative software solutions, leveraged Whatfix's in-app guidance to revamp their traditional help with Whatfix's interactive walkthroughs to simplify user engagement. BMC Remedyforce has solved more than 10,000 queries since integrating interactive walkthroughs on their platform. And all of that, by creating 34 nifty walkthroughs.
Learn More: BMC Remedyforce Case Study
15 Minute Guide To Interactive Walkthroughs
Get in-depth look into leveraging walkthroughs to improve user performance, engagement, and productivity.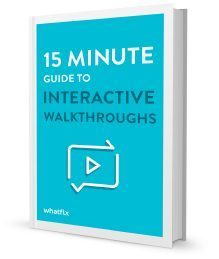 To engross employees in the software training that you provide to them, you need to take care of their learning needs. Due to the dwindling attention spans of this generation, it's becoming extremely difficult for organizations to keep employees engaged with the traditional, bulky training programs.
This is why many organizations are transitioning from traditional eLearning content to microlearning (aka bite-sized learning).
DAPs enable Microlearning by bringing in short and concise snippets of training which are conducive to how the human brain remembers information. Microlearning is a reliable software training solution mainly because it's –
Affordable and agile: Due to the short training duration, microlearning costs are lower than traditional eLearning. 
Shorter development cycle – All the formats of microlearning, whether a performance support tool or an instructional video, have a shorter development cycle.
Wider application – Microlearning formats can be used to train a new joinee from scratch or train experienced employees on feature updates. 
Easy to update – Frequent updates require constantly updating the training courses according to new requirements. Microlearning provides small-length courses that are easy to update. 
7. Effective Change Management
When enterprise applications or software undergo frequent updates and releases, it requires employees to change the way they do their jobs. While some employees might quickly adopt the change, others might show resistance. To combat this resistance, organizations use DAPs to support the change process. A digital adoption platform fills the significant gap in digital change management by offering employee onboarding support and ongoing training on a new or updated software.
For example, if you are implementing Workday as your new HCM software, you can use a digital adoption platform to provide in-app guidance for your employees. This platform will support the change by providing in-app guidance to help users onboard to Workday quickly and easily. 
With Whatfix, you can provide guidance through a variety of formats, such as step-by-step walk-throughs, balloon tips, videos, and written guides.
The contextual step-by-step training allows users to learn in the flow of work, which results in improved productivity throughout the shift to new or updated software. This ensures minimal downtime in productivity during the change and helps employees get back to speed as quickly as possible.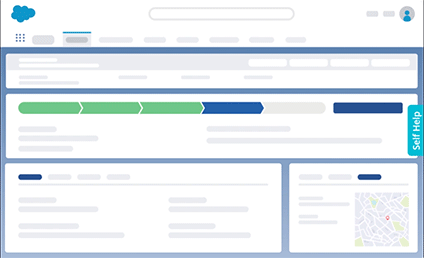 Whatfix Walkthroughs for Goal-Based Guidance
Guide users wth step-by-step walkthroughs to deliver in-app guidance
After analyzing the different factors mentioned in this article, it is safe to conclude that software training for employees is the most effective with Digital Adoption Platforms. DAPs are scalable, deliver interactive and personalized training, and allow you to train employees on demand which makes it the new-age ideal training solution.
At Whatfix, we have been helping businesses across different verticals ease employee onboarding, improve software training and reduce support costs. Our platform provides step-by-step guided instructions, raising employee efficiency, reducing the time to train, and improving the overall productivity. 
So, if you are looking for an interactive walkthrough solution to streamline your Onboarding, Employee Training, Change Management and/or Support processes, we urge you to try out our solution. Book your free demo with us today!