Training and developing employees is a complex — and often overlooked — process. 
68% of companies say training and development are of the utmost importance for their organization.  But according to Ebbinghaus' Forgetting Curve, new information is forgotten in a matter of hours without the right knowledge reinforcement. 
Even if companies are investing in an employee learning and development strategy, that time, money, and effort are thrown out the window if it's treated as a one-and-done procedure. 
A proper learning and development strategy must go further than one-day seminars or self-paced, generic eLearning courses. In order for new information to stick (and for employees and the organization as a whole to reap the benefits of their education investments), learning needs to blend into the employee's day-to-day. 
This is where L&D tools such as learning experience platforms (LXP) come into the picture to improve learning experience design and support an organization's employee development goals.
What are the best learning experience platforms (LXPs) in 2023?
360Learning

Udemy Business 

EdApp 

Continu

Docebo 

Axonify 

Auzmor Learn 

Tovuti LMS 

Bridge 

Cornerstone Learning 

Learn Amp

Whatfix
What is a Learning Experience Platform (LXP)?
A learning experience platform (LXP) is a next-gen employee training software platform that creates personalized education experiences for employees based on their unique position and contextual needs.
Using AI, machine learning, and behavior analytics, an LXP pulls from internal and external documents and content to provide custom learning recommendations that help employees learn what they want to learn, in a holistic learning environment.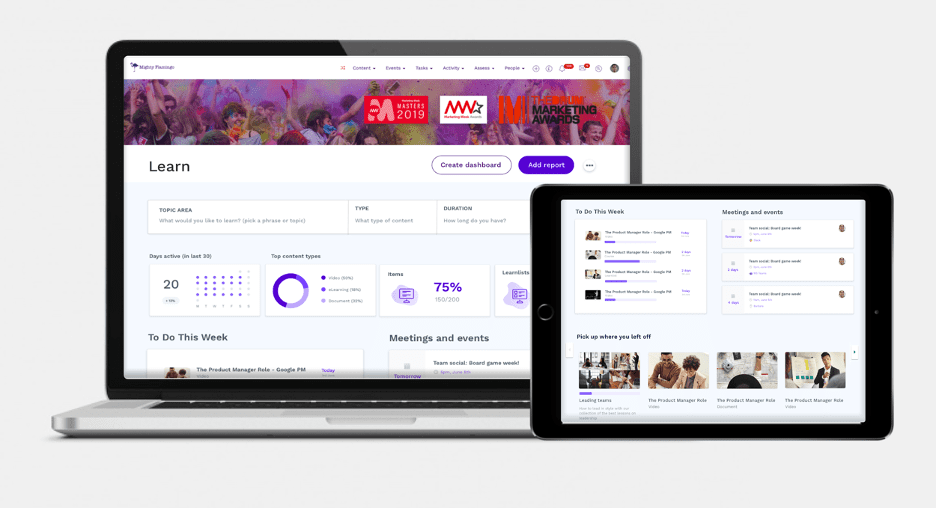 Above: An example of Learn Amp's learning experience platform 
LXPs also prioritize employee engagement, both with the content itself and with other users. Gamification features in LXPs often make learning competitive or collaborative and user-generated content allows teammates to add insights, lessons, and personal perspectives to the learning experience.
What Is the Difference Between an LXP and an LMS?
An LXP can sound pretty close to a corporate learning management system (LMS), and while the two share a few similarities, it's important to understand where they differ. 
Like an LXP, a learning management system is a way to distribute training materials to employees — but the major difference is in how that information is controlled. 
With an LMS, control of the content and resources is entirely in management's hands. Administrators define the learning curriculum and track the progress as employees move through courses or modules. But an LXP gives full control of the learning process to employees. Education is flexible and continuous, providing employees with new information they care about every day.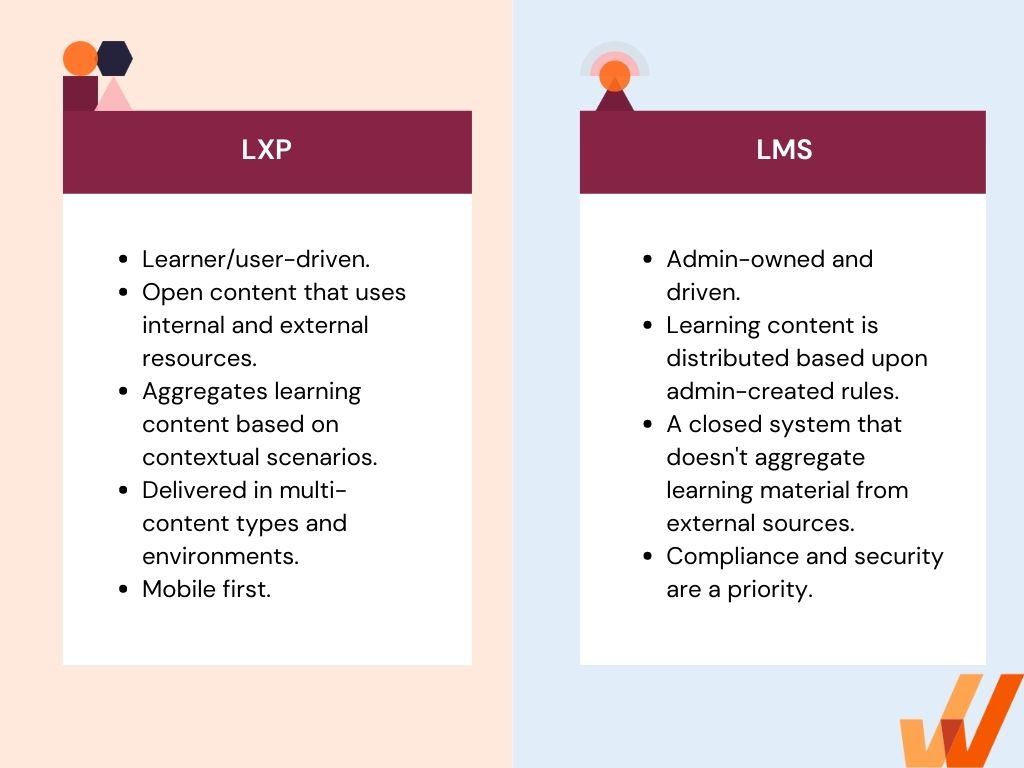 An LXP is designed with the end-user in mind. It goes beyond just a library of content with a few analytics features to create an education environment where employees actually want to learn and engage.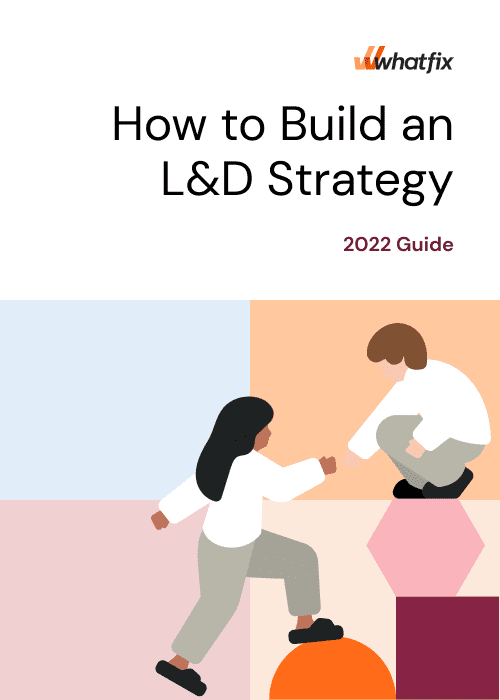 The 2022 Guide to Creating a Corporate Learning & Development Strategy
The best learning experience platforms provide a feature set that makes it easy to create a flexible and customizable learning experience. If you're shopping for a new LXP, here are the key features to look for: 
Strong UX and UI.

A tool with a great user experience and user interface will go much further than something difficult and frustrating (and ugly) to use. A good LXP will be responsive, personalized, and easy to follow. 

Powerful integrations.

To get the most from your LXP, you want it to be easy to add content from third-party sources. Connecting to analytics platforms, your CRM, and AI tools can also enhance your learning experience. Look for an LXP with the ability to integrate with a variety of tools and apps. 

Various learning methods.

Switching up your

training methods and techniques

help your employees retain more information and meet goals and objectives faster. Choose an LXP that accommodates different kinds of learning. 

Deep personalization.

A one-size-fits-all approach to learning doesn't work. An LXP with machine learning and AI-based recommendations can ensure each employee is given the resources and content they'll find most interesting.

Mobile learning options. Make it easy for employees to learn something new, even when they're away from their computers. An LXP with a mobile learning app gives employees the flexibility and comfort of learning in a way that works best for them.
12 Best Learning Experience Platforms in 2023
Here are the best LXPs to unify your organization's corporate training program and drive effective learning and development in 2023.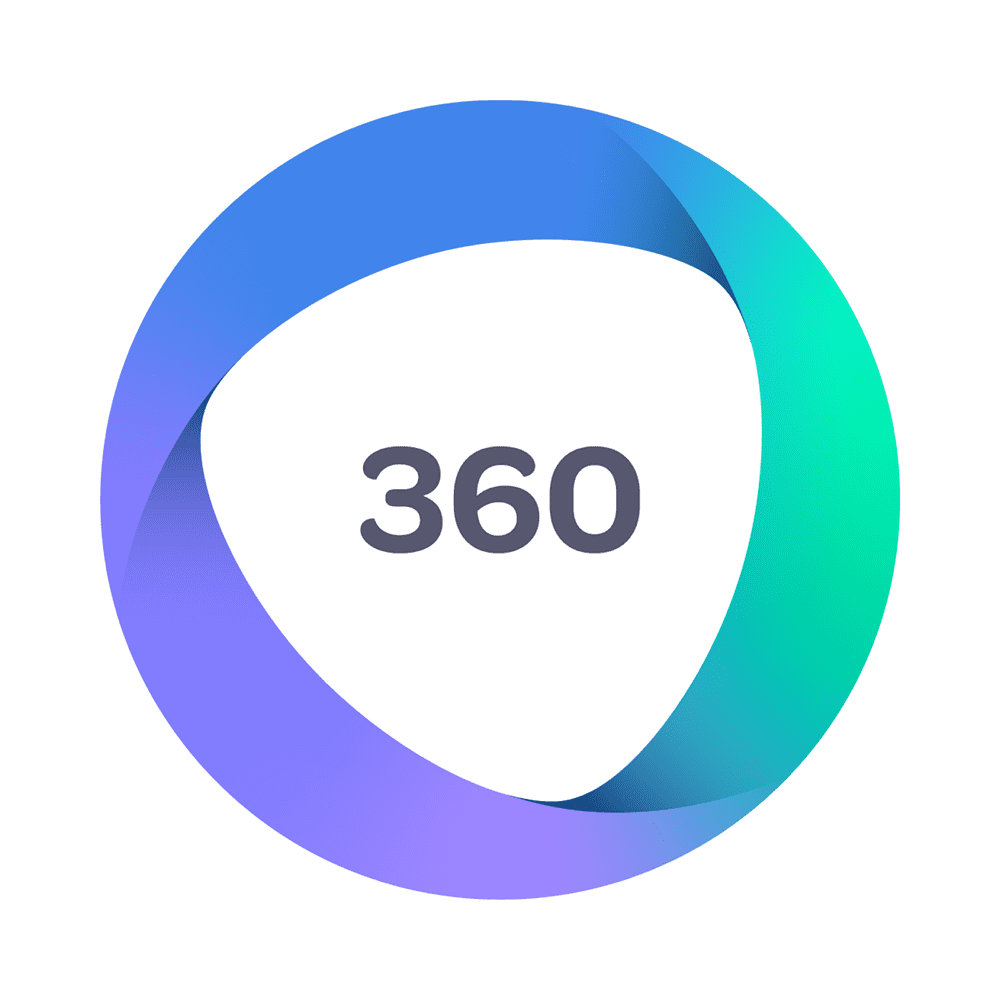 G2 Rating:

4.6/5 stars 

Capterra Rating:

4.6/5 stars

Pricing:

Starting at $8/user/month
360Learning helps teams create a collaborative training culture that replaces top-down learning. While 360Learning markets itself as a learning management system, it has additional features and tools that make it easy for employees, teams, and managers to contribute their ideas and content, share information, ask questions, and provide feedback.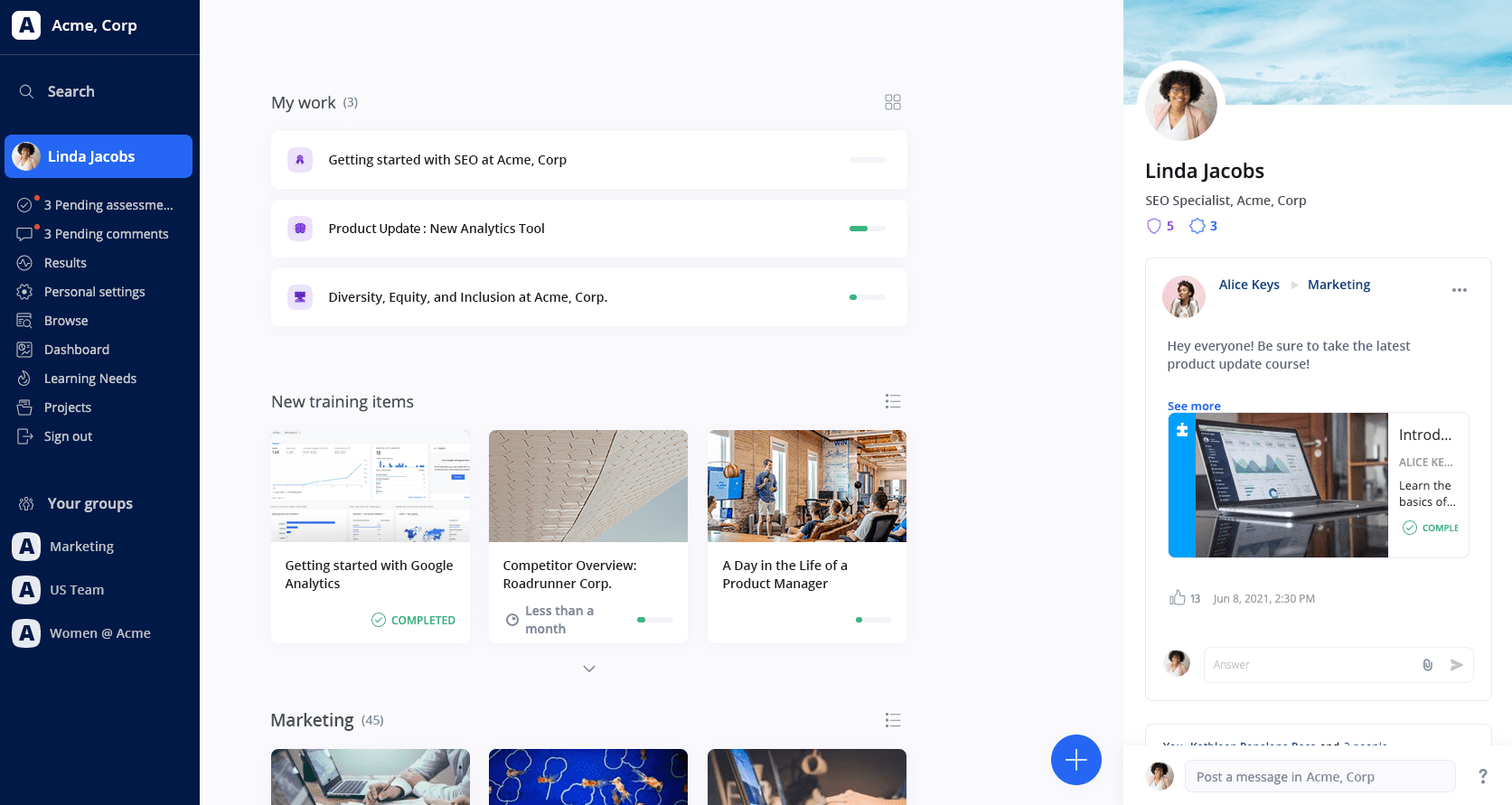 Employees can discuss topics on in-app forums, rank how relevant or useful that information was to them, and collect achievements for their work. 
360Learning integrates with popular training content platforms, including Coursera and Udemy Business, as well as HR management systems, content creation tools like Loom and Canva, and other popular business tools. The platform is flexible, allowing it to grow and change as your business and employee needs change.

G2 Rating:

4.5/5 stars

Capterra Rating:

4.7/5 stars

Pricing:

Starting at $360/user/year
Udemy Business is one of the biggest online marketplaces for training and development courses and content, making it more than just a platform to manage your own resources and information. With Udemy Business, you get instant access to their library of information, as well as the ability to create and upload your own content.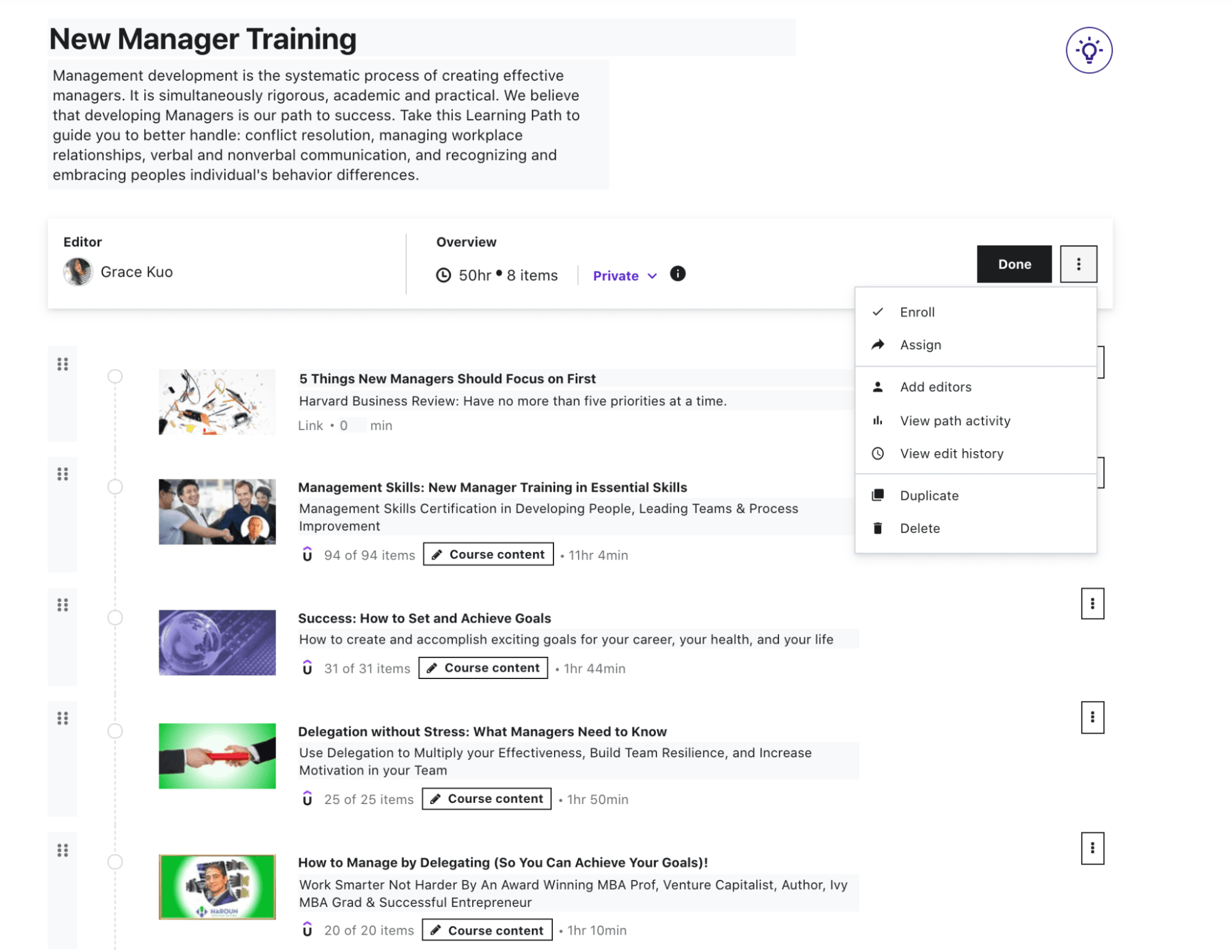 Udemy Business has most of the features you'd expect from a learning platform of its size (analytics, integrations, user management, etc.), but where it really shines as a learning experience platform is with its learning paths. 
Anyone within the organization can create a learning path comprised of courses, links, and other resources that bring them closer to achieving a unique or specific goal. The platform even offers smart recommendations based on what the user has engaged with or completed in the past.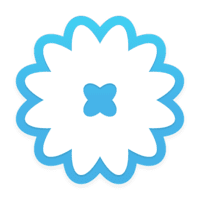 G2 Rating:

4.8/5 stars

Capterra Rating:

n/a

Pricing:

Free
EdApp is a free learning platform that prioritizes mobile and microlearning to fit the digital-first world we live in. EdApp uses gamification training, spaced repetition, and push notifications to encourage users to revisit and reengage with their content and courses, helping to reinforce what they've learned for greater retention.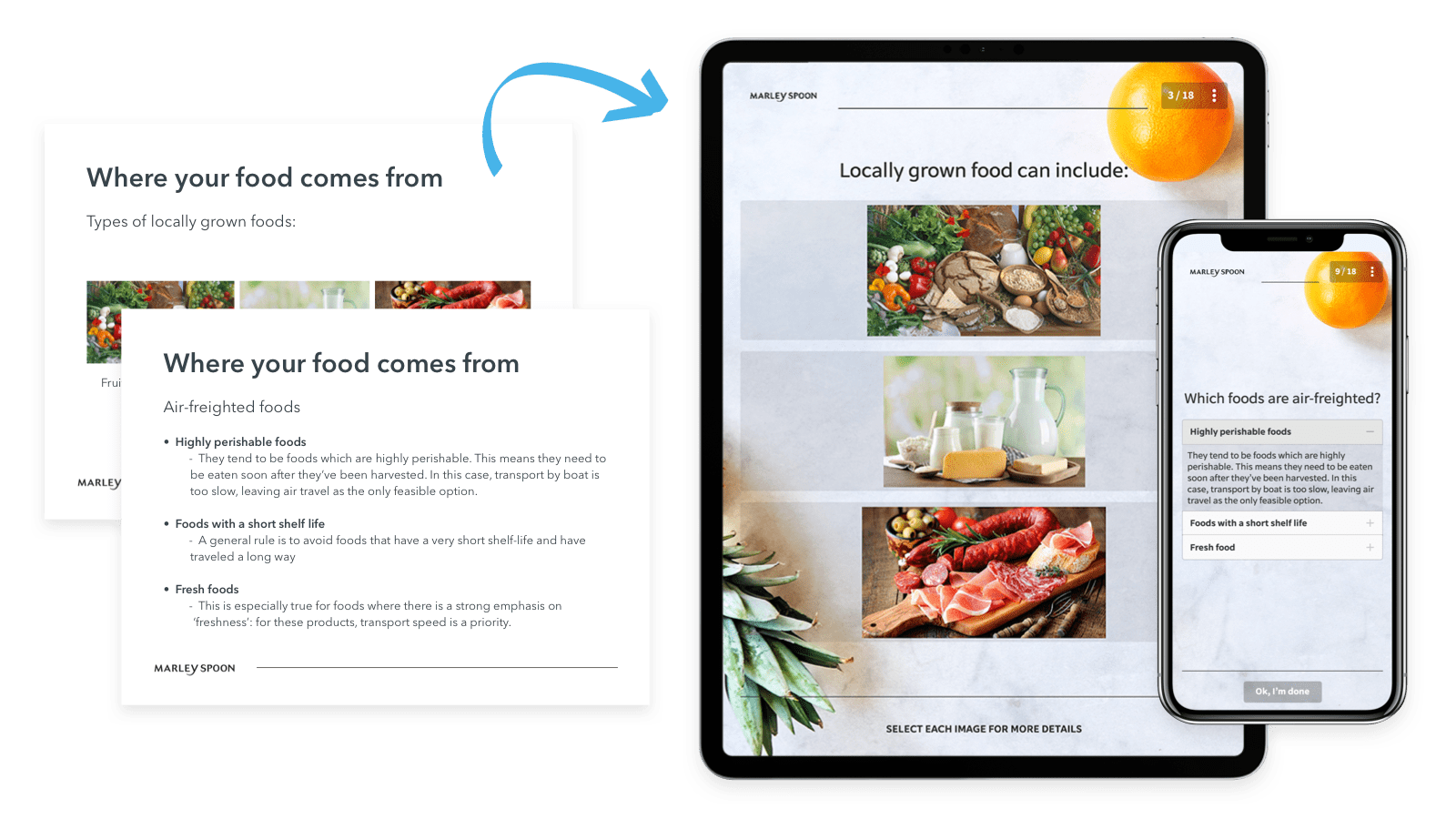 EdApp also makes content creation easy. Their authoring tool offers no-code solutions for creating custom content with gamification built-in — you can even upload your training slides and the tool will automatically create lessons for you. EdApp also features a free course library that you can copy directly or edit to better meet the needs of your team, letting you jumpstart your team training.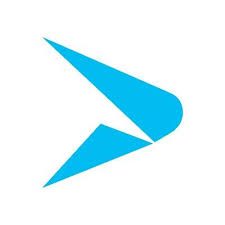 G2 Rating:

4.7/5 stars

Capterra Rating:

4.8/5 stars

Pricing:

n/a
Continu calls itself a Learning Amplification Platform, creating an all-in-one place for learning, content creation, and experience building. In Continu, you and your team can create learning content, share and distribute materials to the appropriate teams, connect and collaborate, and measure performance and engagement with real-time analytics.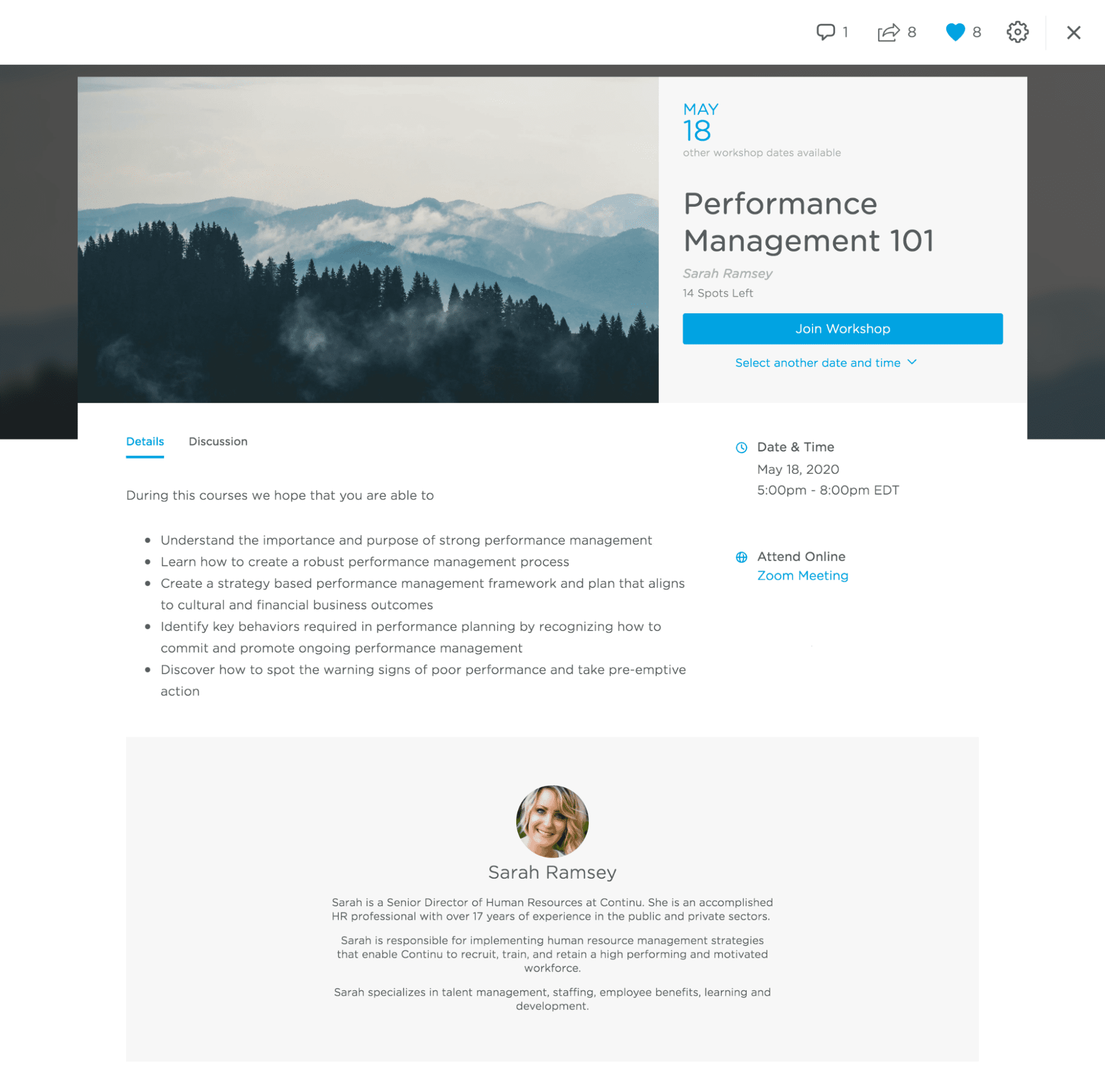 Continu allows for custom education paths through learning tracks and smart segmentation. Team members or managers can create custom courses and resources and tailor learning experiences based on where the employee is located, what department they're a part of, or based on other custom variables. Users can find specific information or courses using the sophisticated search function or browse personalized learning recommendations.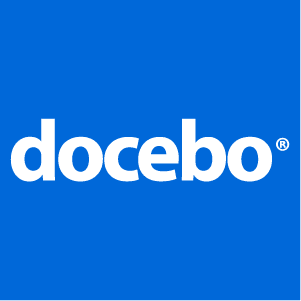 G2 Rating:

4.4/5 stars

Capterra Rating:

4.2/5 stars

Pricing:

n/a
Docebo is an AI-powered learning platform that makes creating user or audience-specific training pages easy. Drag-and-drop functionality lets you customize pages while free extensions like automation, gamification, certifications, and more can help engage your employees. You can even use Docebo to sell online courses to an external audience.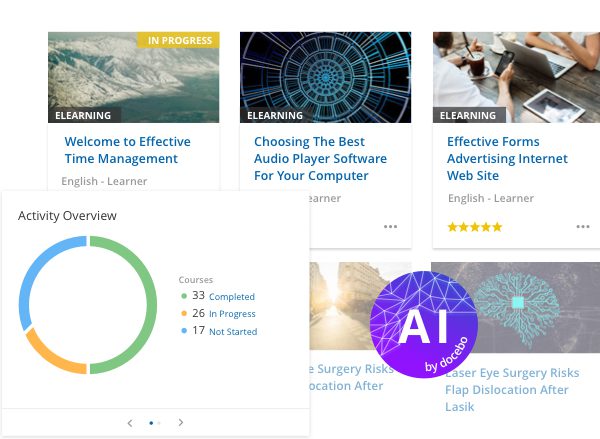 Docebo's AI software provides personalized upskilling and reskilling recommendations based on employees' experience and company needs. It looks at each individual's current skill sets and existing skill gaps to make learning and training recommendations right when the employee needs them the most — not when HR or management decides it's a good time. Employees can keep moving forward and skill gaps are closed before the organization even recognize they exist.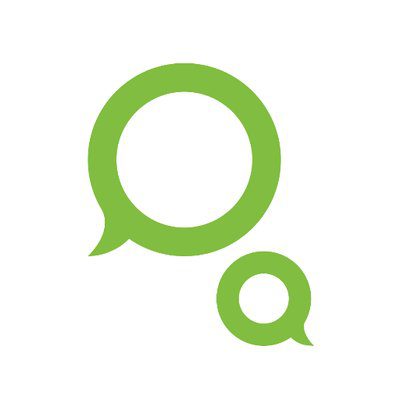 G2 Rating:

4.7/5 stars

Capterra Rating:

4.7/5 stars

Pricing:

n/a
Axonify is geared towards frontline employees, giving them mobile-first training options to learn when they're on the go. The app breaks down long-form training sessions into more manageable pieces (about 3-5 minutes each), helping team members like grocery and retail associates, warehouse workers, delivery drivers, or field service employees get easy access to the content and resources they need without needing to sit down in front of a computer.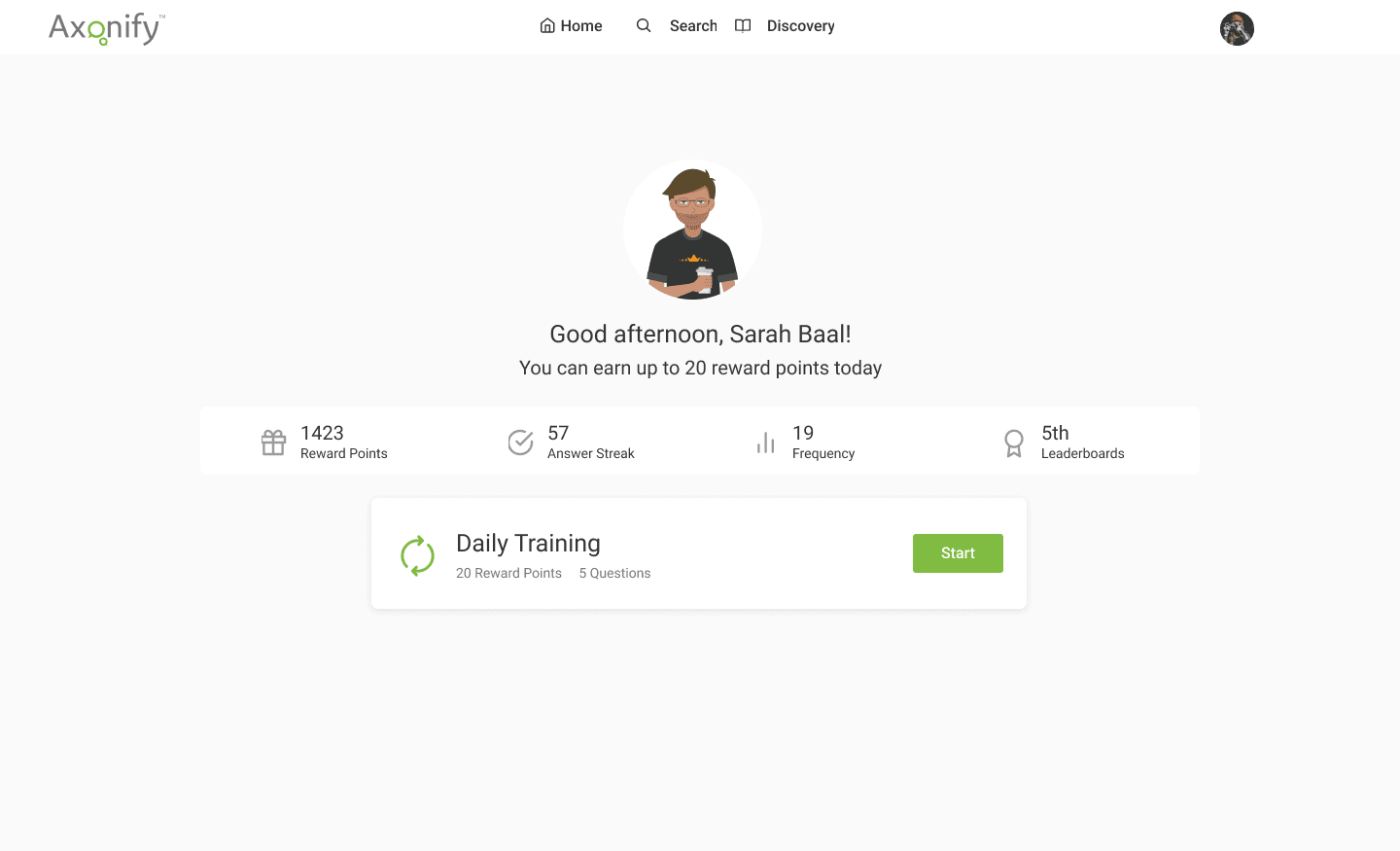 But the real power of Axonify is in its ability to help identify and fill knowledge gaps. The AI-powered engine looks for skillsets or behaviors that could negatively impact the business, then automatically adjusts the training protocol to solve the problem. It pulls from third-party systems or custom uploaded content to ensure employees are given the resources they need to perform at their best.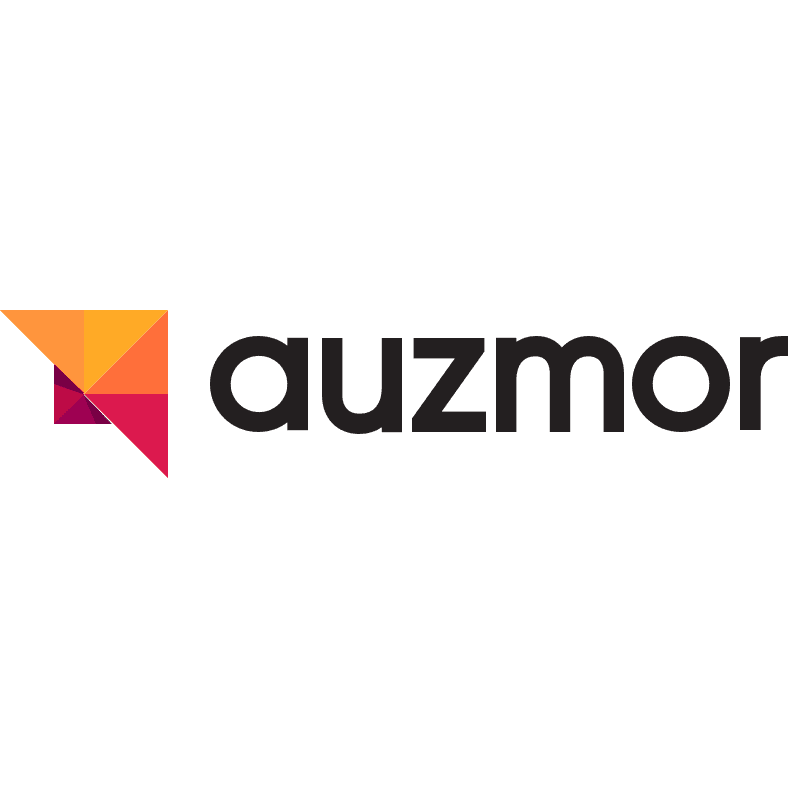 G2 Rating:

4.8/5 stars

Capterra Rating:

5/5 stars

Pricing:

n/a
Auzmor Learn promises one centralized location for launching, tracking, and reporting training. Its customized course builder makes it fast and easy to design your own courses (or you have the option to choose from the partner-created library). Invite your team, track their progress, and use real-time analytics and insights to discover knowledge gaps and opportunities for growth.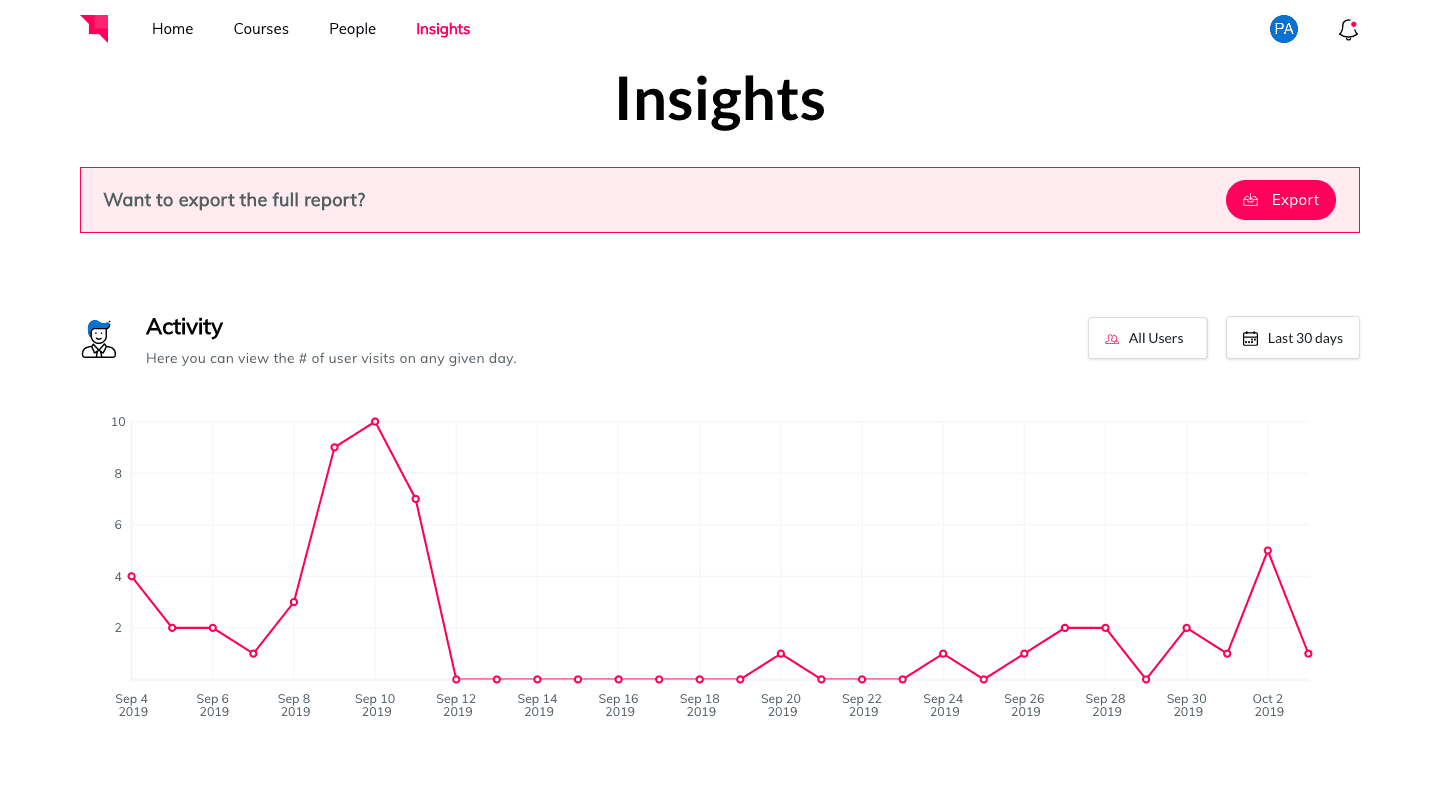 Auzmor Learn is heavy on analytics, providing the insights your team needs to make appropriate modifications and adjustments. See how your team is performing within specific courses, adjust your training as needed, and help your employees stay on track.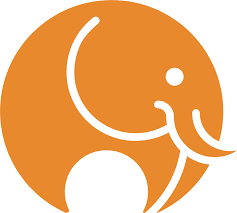 G2 Rating:

4.6/5 stars

Capterra Rating:

4.9/5 stars

Pricing:

Custom pricing
Tovuti LMS is a simple but robust tool for creating engaging learning experiences for your team. Gated eLearning progression lets you manage who can access content based on their previous skills training and courses and gamification can help engage users and make learning fun. You can even establish a virtual classroom to connect with employees or trainees live.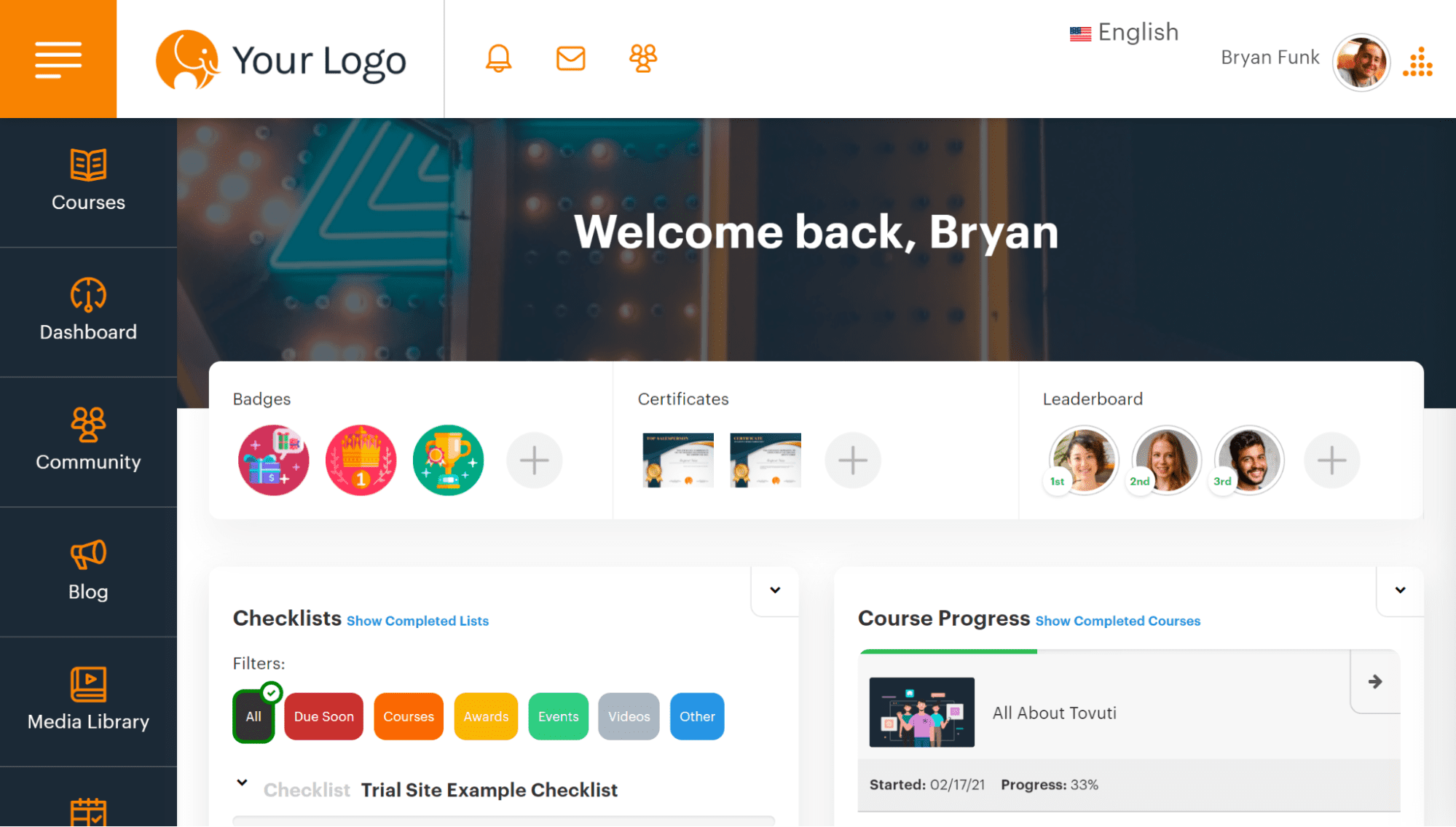 Users can create social profiles to show what they're learning or connect with other team members. You can even create different communities where team members and groups can form discussions, break into small groups, or make learning more collaborative.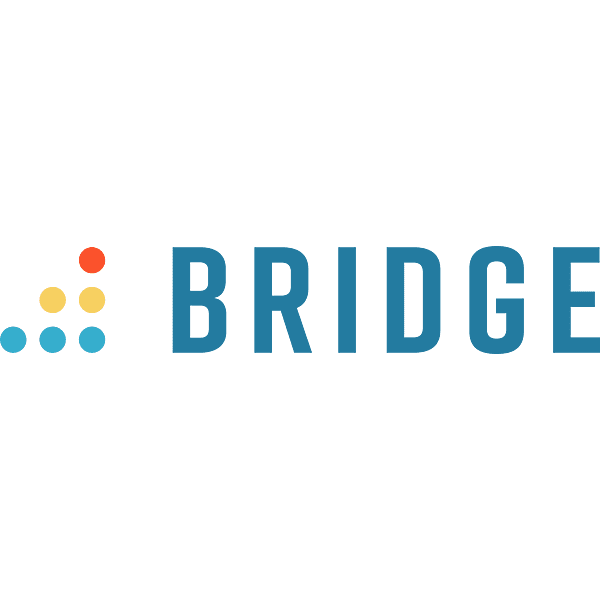 G2 Rating:

4.3/5 stars

Capterra Rating:

4.5/5 stars

Pricing:

Starting at

$4/user/month
Bridge prioritizes people in learning and development to make a bigger impact on the business. Bridge focuses on three main categories: connection, alignment, and growth — rather than simply providing employees with the training materials they need to achieve HR or management's goals, Bridge helps identify what employees want to know and how their development can benefit the organization as a whole.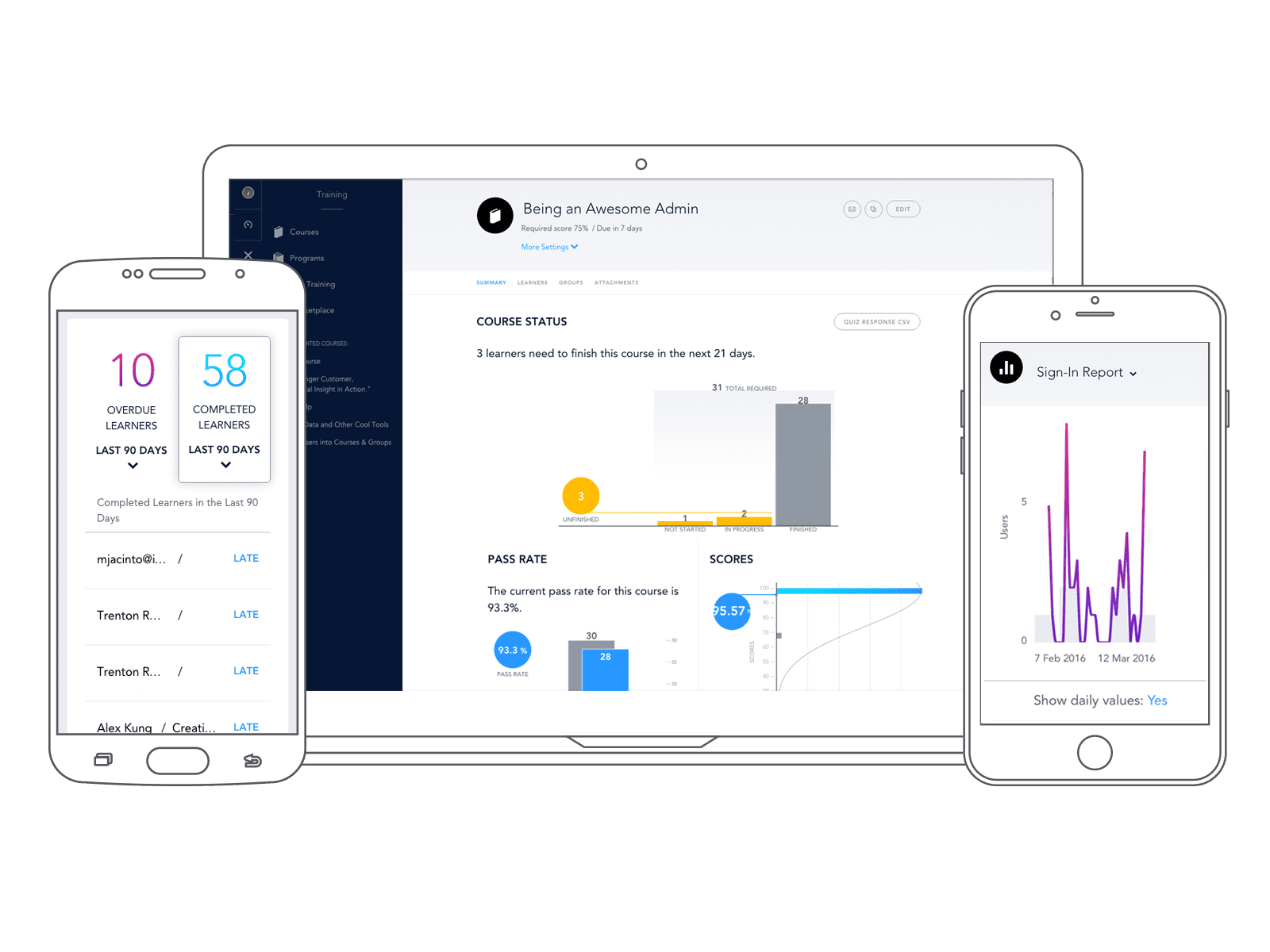 Bridge's platform makes it easy to tailor experiences to employees' or teams' unique needs. Easily create custom content, including video role-play. Then track your outcomes with analytics and insights. Customize your training experience and efficiently close knowledge and skill gaps while keeping employees fulfilled and engaged.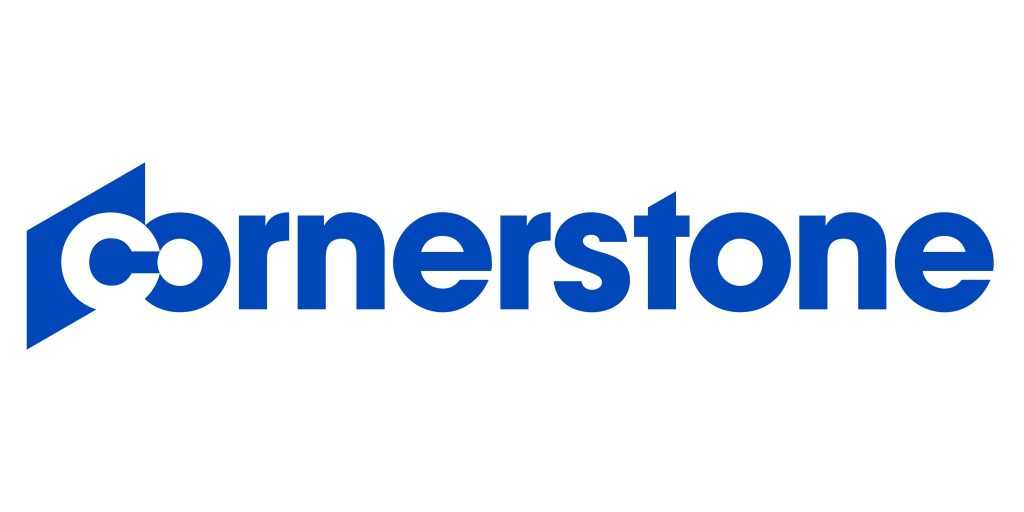 G2 Rating:

4.1/5 stars

Capterra Rating:

4.3/5 stars

Pricing:

Custom pricing
Cornerstone Learning's goal is to help create an environment that allows all employees to be successful and productive. It puts a company's LMS, LXP, talent management, and content delivery all in one place, helping organizations transform their approach to learning and people development to get better results.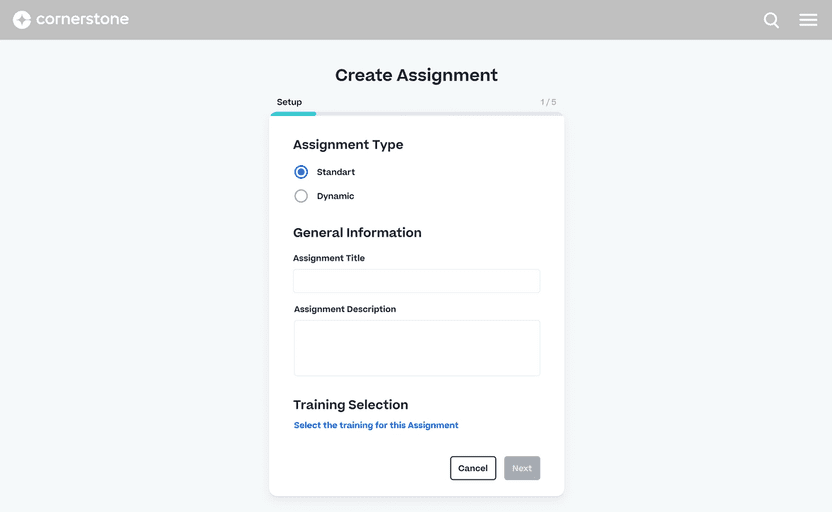 Cornerstone creates personalized curated content lists using AI-backed recommendations to empower employees to take control of their own learning. Actionable insights help the organization identify opportunities to guide the future of the company while also ensuring employees have the freedom and flexibility to learn and engage with content they find interesting.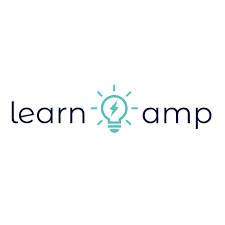 G2 Rating:

4.8/5 stars

Capterra Rating:

5/5 stars

Pricing:

Custom pricing
Learn Amp combines LXP features and LMS tools to create a learning application all of your team members will love using. Add content quickly, create templates, or pull from content libraries to get your training materials ready in minutes — not weeks. You can then use your content to create pathways or "playlists" that guide employees through curated content courses.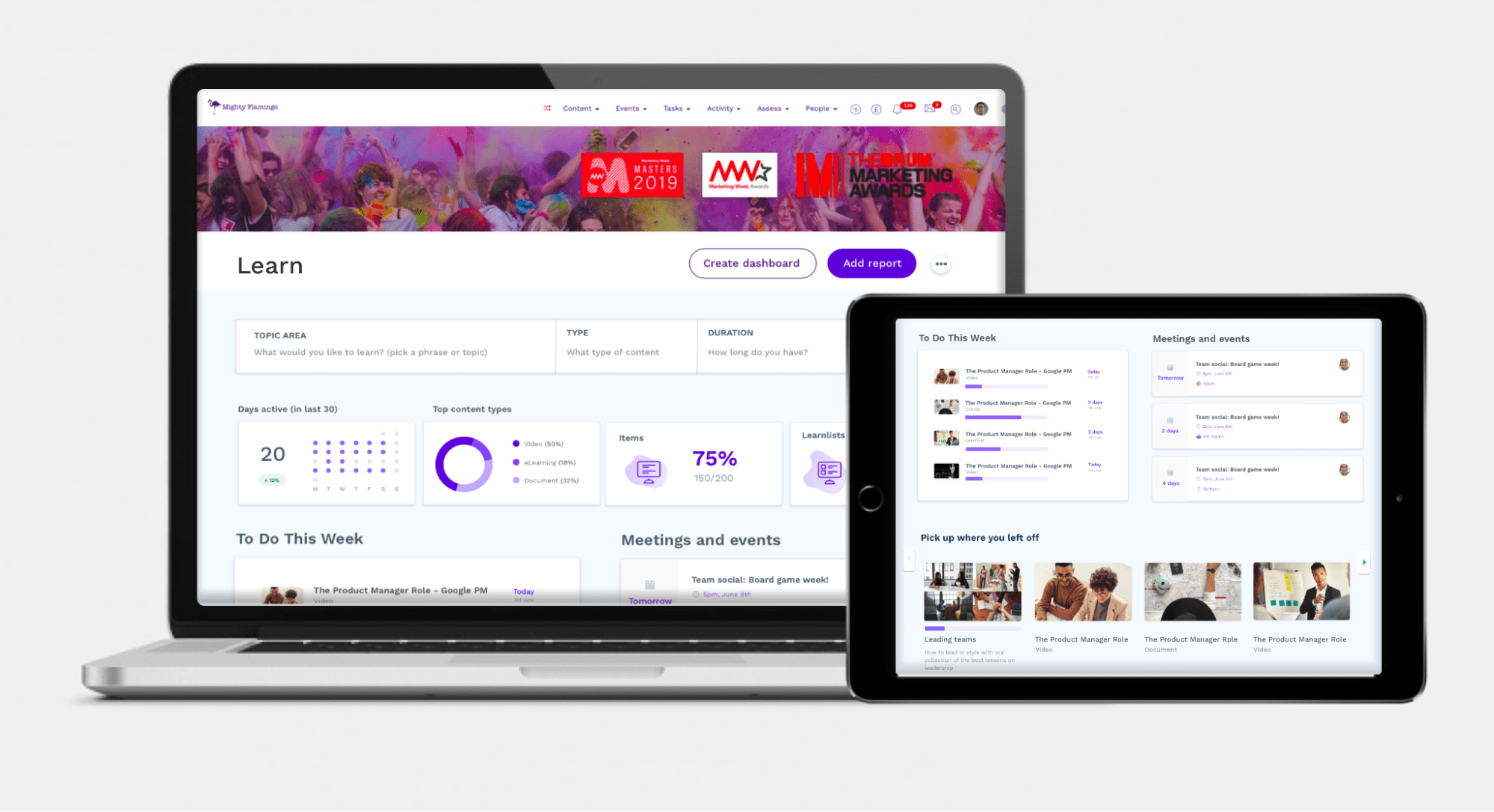 Users can search for content they love, get personalized recommendations, or tag their favorite content to easily revisit again and again. Learn Amp puts your employees in control of their learning and education.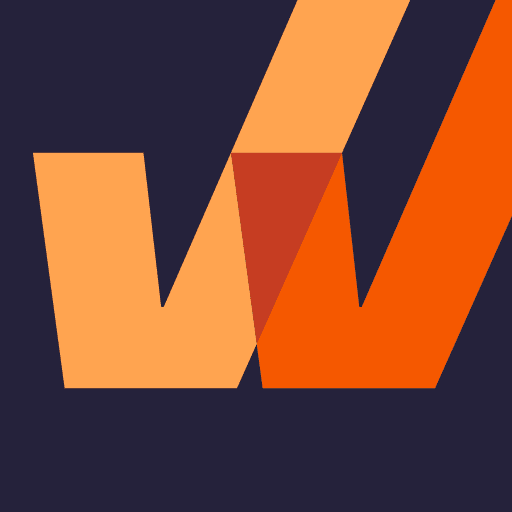 G2 Rating:

4.7/5 stars

Capterra Rating:

4.7/5 stars

Pricing:

Custom pricing
While not an LXP, Whatfix is a digital adoption platform (DAP) that provides powerful content creation tools for organizations to create in-app learning experiences such as guided walkthroughs, task lists, smart tips, and more – allowing employees to learn in the flow of work.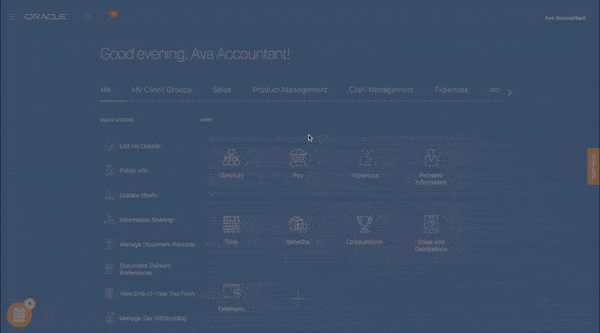 Whatfix also provides on-demand support for employees in the form of self-help embedded knowledge bases, providing team members with answers to frequently asked questions, in the moment of need.
L&D leaders are empowered to optimize their learning flows with in-depth training analytics on what in-app content is being consumed and build new in-app guidance to drive adoption of their organization's CRM, ERP, HCM, and other popular business software platforms.
Whatfix lays on top of all major SaaS products to provide contextual in-app learning experiences and also integrates with many major LMS, LXP, knowledge bases, intranets, and other employee training software. This allows employees to access learning content and support documentation right in their digital workplace.
Next Step - Choosing an LXP for your learning and development
Investing in the right tool for your learning and development can make all the difference. When your employees are equipped with the right resources, materials, and platforms to learn — and retain — a new skill or process, you can see new returns on that investment again and again. Not only will your employees feel more fulfilled with their jobs, but they'll be more productive and engaged with their work. 
Subscribe to the Whatfix newsletter now!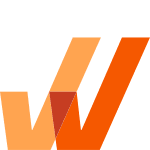 Request a demo to see how Whatfix empowers organizations to improve end-user adoption and provide on-demand customer support