Oracle HCM is a human capital management platform designed to help enterprises manage HR processes, such as onboarding new hires, coaching employees, managing payroll, and using human resource analytics to capture employee sentiment.
Whether you judge by ratings on G2 or by word-of-mouth references, Oracle HCM always ranks high among HR software platforms. The reason is that it's essentially a 360-degree solution for managing the entire HR workflow. Among others, Oracle HCM offers:
A simple dashboard where employees can view learning resources, track their vacation accrual, and store personal details such as work permits, visas, and payroll information.

An admin dashboard designed to help HR operators reply employee queries at scale, resolve reports raised by workers, onboard new hires with guided resources and enroll them for benefits.

Workforce management modules that manage employee absences, track time spent on the job, and remind employees to follow health and safety rules.

Pay employees and contractors in their local currencies in 13+ countries, eliminate compliance risk, and let your workers access their earned wages on demand.
Oracle's human capital management platform combines the best of other HR platforms, such as Gusto (payroll and benefits) and Rippling (workforce management and benefits), into one source of truth that's easy to manage.
This article will help you understand how Oracle HCM works, how to adopt it across your company, some challenges you might face as you start rolling it out, and best practices for deploying the platform in your workplace.
Challenges of Oracle HCM Adoption
For organizations adopting Oracle HCM, there are a few challenges that will be presented in the implementation phase. 
A HCM platform serves as a nerve center for all your company's human resource operations—it contains a wide variety of data on your employees' compensation, benefits, bonuses, absences, training resources, helpful FAQs, etc.
Exporting all that data to Oracle HCM creates unique challenges, especially if you're moving from on-premise servers or another platform that doesn't integrate directly with Oracle HCM.
In a worst-case scenario, you might end up with cryptic error messages, data fields that don't match, and other technical complexities that your in-house team may find difficult to handle. The way out is to retain the services of an Oracle implementation partner, clean up your data before you commence a migration, and build an in-house team of trained technicians to manage your Oracle deployment on an ongoing basis.
2. User onboarding and training
After setting up Oracle HCM, the HR team needs ongoing coaching and training to master the platform, learn how to use it consistently, and fix non-technical issues on their own.
Oracle offers a combination of training resources designed to help HR operators —consultants, partners, payroll managers, and administrators—understand how to implement and configure their HCM modules.
You should also invest in a digital adoption platform like Whatfix to create contextual, role-based in-app guidance to help provide effective, interactive onboarding, training, and on-demand support for both your Oracle HCM admins, HR users, and employee end-users.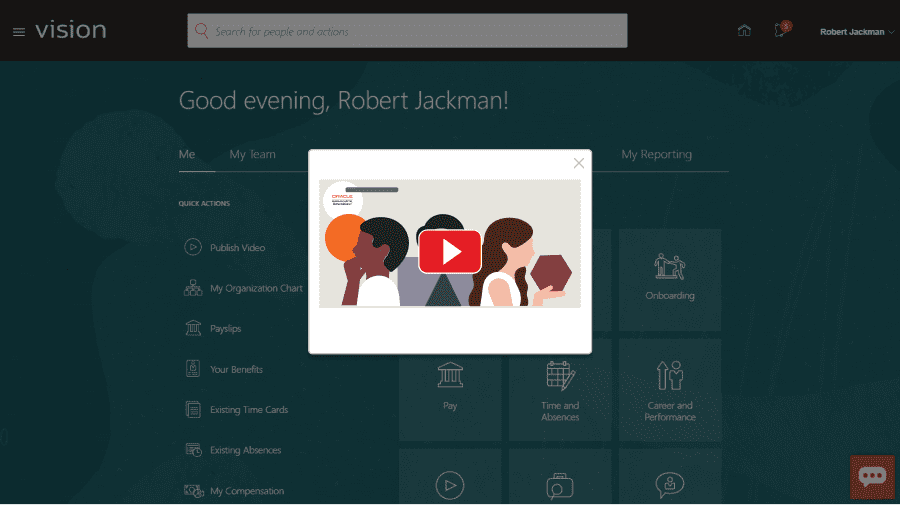 A DAP like Whatfix provides real-time guidance and support for all Oracle HCM users, exactly when they need it. That includes:
Onboarding new users with product tours,  interactive walkthroughs, and task lists to showcase Oracle HCM's features to different user types.
Smart tips and hotspots to show users where attention is needed in the app, such as unfinished tasks.
On-demand support such as self-help wikis allow users to find answers to their support questions in a searchable, embedded mini-wiki that overlays on top of the application.
User analytics to understand how end-users adopt and engage with Oracle HCM, identify pain points, and more.
TIP: You can learn more about Whatfix for HCM systems here.
Once your Oracle deployment is set up, it's a given that your employees and HR administrators will run into issues from time to time, especially given the platform's scope and how much it tries to do.
But Oracle end-user support is not super-responsive if your request is below Severity 2, reproducible bugs get ignored for years, and it's not unheard of for customers to get their accounts deleted for being persistent with issues.
Even after switching to a new platform, many companies tend to stay stuck with their old processes, data management rituals, and processes that may not work with Oracle HCM. Again, here's where continuous coaching and training might help your internal users embrace Oracle HCM, adjust their workflows, and leverage the new platform to its full potential.
9 Oracle HCM Implementation Best Practices
Here are some helpful guidelines to help you plan an Oracle HCM deployment, get buy-in from leadership, and manage the project from launch to successful completion.
1. Get buy-in from your HR team and leadership
The biggest challenge people managers face when switching to a new platform is not getting a budget assigned, migrating data, or coaching employees until they can use it efficiently.
Before any of that happens, you need to convince the C-Suite that:
Oracle HCM works better than what you have currently, and it's far more efficient because it brings all your human resource operations under one roof.

The platform will generate a positive ROI (Oracle HCM has a complicated pricing model, and depending on your company's size, your licensing fees may run into hundreds of thousands of dollars).

The productivity gains Oracle offers will make up for the time lost during deployment.
2. Determine job structures within your company
Enterprise software implementation is always a complicated undertaking that takes several months (or years) to complete. During that time, you will need input from several employees and external advisors to ensure Oracle HCM deployment is set up to support your company's unique needs.
Before diving into the deployment process, you need to assign each part of the process to a specific stakeholder, give them the resources they need to make it work, and hold them responsible for its success.
3. Align HCM strategy with business objectives
According to a 2017 report by consulting giant Bain & Company, just 5% of digital transformation projects meet or exceed their targets, and sources like McKinsey, BCG, and KPMG all agree unanimously that anywhere from 70% to 95% of such projects fail.
They either fail to meet the company's basic goals, drag on indefinitely, or exceed their budget outrageously. Many times, digital transformation is so divorced from a company's reality that they turn into an executive's pet project—they're not tied to a company's strategic goals like increasing revenue or employee satisfaction, getting profitable, or acquiring more customers. As a result, they continue wasting resources indefinitely because it's hard to determine what success looks like.
To avoid such a scenario during your Oracle HCM Cloud implementation, you must tie your strategy back to your company's goals. You need to ask exploratory questions, such as:
How does it directly affect our revenue and profitability?

Does it help us achieve any of our basic business objectives?

Will it simplify the employee management experience? Will our employees love it?
If your investment into Oracle HCM is backed by data, it'll avoid unnecessary bells and whistles and help you commit the budget required to make it work.
4. Create an Oracle HCM onboarding and training plan
Onboarding your HR team to the Oracle HCM platform is not as simple as asking your employees to take Oracle's training courses, attend a couple of webinars, and figure out things as they go. Instead, you must have a well defined onboarding and training plan, where you:
hire implementation partners to educate stakeholders and employees on how Oracle HCM works. Depending on your company's size and training needs, you can also retain their services until you build an in-house team or your employees reach a certain level of proficiency with Oracle HCM

combine onsite training and virtual resources, courses, and webinars

create a library of self-help resources, product docs, FAQs, and explainer videos your employees can access on-demand

hire in-house Oracle developers and technical staff as your need grows
If you are confused about where to begin your HCM adoption journey, try implementing a digital adoption platform such as Whatfix to improve your employee's HCM adoption with real-time guidance and personalized self-support made available at the moment of need, built directly within the HCM.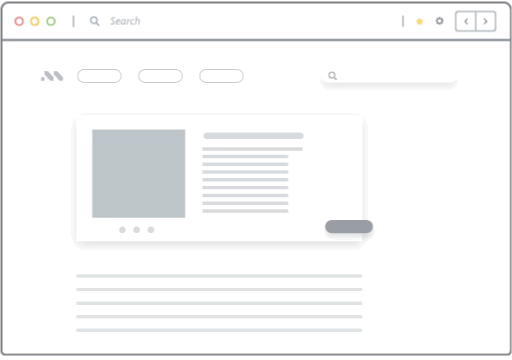 With just a few clicks, your users can get more context with explainer videos, watch step-by-step product tours, and get digital hand-holding that makes it easy to start using Oracle HCM.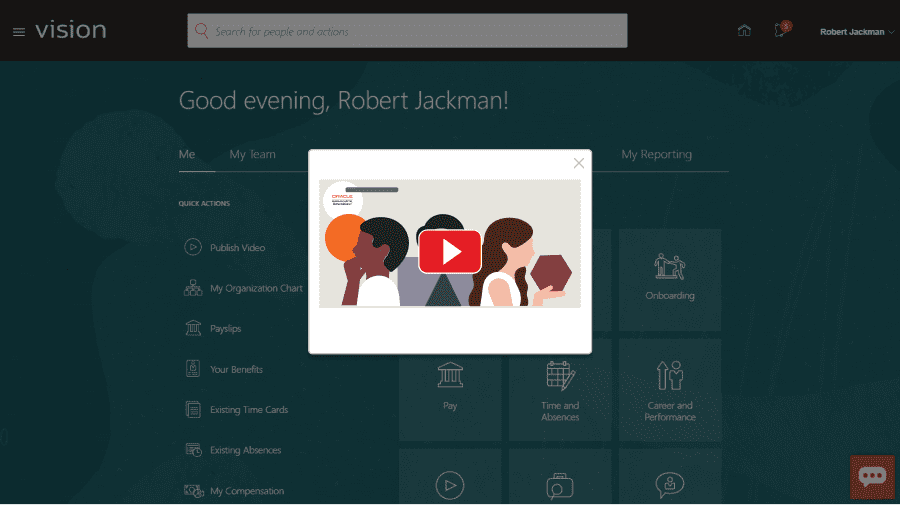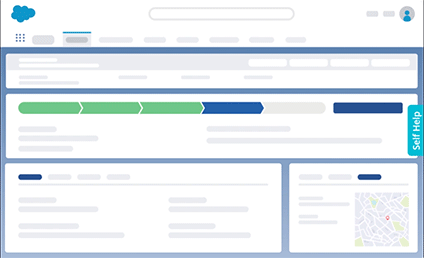 Improve your employee's HCM adoption via real-time guidance and personalized, self-support with Whatfix
5. Determine how to allocate IT resources for implementation
To allocate your engineering resources efficiently, determine the scope of your implementation project, figure out the resources you have at your disposal, and work out a plan to assign them accordingly.
6. Backup and migrate all HCM data
A 2018 study by the Ponemon Institute suggests that a data breach can cost an average company up to $4.24 million, And according to cybersecurity firm Acronis, an unplanned outage costs American businesses $7,900 per minute or $3.86 million per instance.
Data outages and breaches are not limited to those caused by hackers and bad actors—they can also be triggered by human error, hardware failure, or malware, especially if you're switching from an on-premise solution to Oracle HCM Cloud.
There are so many moving parts that it's easy to lose critical data that can delay your migration for months and leave you scrambling for stopgap solutions while you try to fix it. That's why backups should be a major concern during the migration process—you can't make any mistakes if you want your Oracle HCM implementation to go smoothly.
In other words, it's advisable to work with Oracle's implementation team, bring in third-party partners to assist in the process, and design the migration process for a high degree of redundancy so that you can make mistakes without losing all your data.
7. Consider all your integrations
Oracle HCM offers integrations with hundreds of databases and SaaS applications that are designed to help you connect with the rest of the software stack, such as enterprise CRM (NetSuite, SAP, Salesforce, SugarCRM ), customer support suite (Zendesk, and ServiceNow), and payments platforms (PayPal).
Even if the integrations you used in your previous human capital management solution aren't supported by default, you can customize your own solution with Oracle's REST APIs, database adapters, and other enterprise messaging adapters such as Apache Kafka.
So, if you have existing integrations and cross-app workflows, your IT team can help you rebuild them inside Oracle HCM or advise you to ditch them if Oracle has a better native solution.
8. Use data to measure ROI
At every stage of the implementation and adoption process, a strong emphasis on data will help you avoid spending too much time polishing bells and whistles. Model how Oracle HCM fits into your company's daily workflow and use those models to project the ROI that can be expected from an Oracle HCM deployment.
9. Have a soft launch to test Oracle HCM
A soft launch is like an internal beta test that helps you understand how your employees and HR managers are adopting the new features Oracle HCM offers, as well as any issues arising and any place it could be customized to work better.
Think of it as a feedback loop that helps you test out the new platform, refine it to work better, and repeat until you have a stable release that you can deploy across your entire organization.
How to Overcome Oracle HCM Adoption and Implementation Challenges With Whatfix
Oracle HCM is arguably one of the most powerful human resource management platforms for enterprises; it helps you tackle different HR functions that you'd typically need several different SaaS tools to replace.
But, that level of functionality can easily become a drawback if you don't have the resources to help your stakeholders learn how the platform works.
Whatfix is a digital adoption platform designed to help enterprises adopt new software tools, educate their employees on how they work, and reduce time-to-value with rapid digital transformation. Among others, Whatfix helps you:
Design

guided tours

users can view inside your Oracle HCM dashboard to understand how features work.

Roll out powerful localization that translates product docs and FAQs into 70+ languages.

Engage employees with non-intrusive alerts and notifications that can pass messages and updates to employees without being disruptive.

Collect feedback from your employees with detailed NPS surveys.

Use product analytics hub to understand how employees engage with the new software and training content.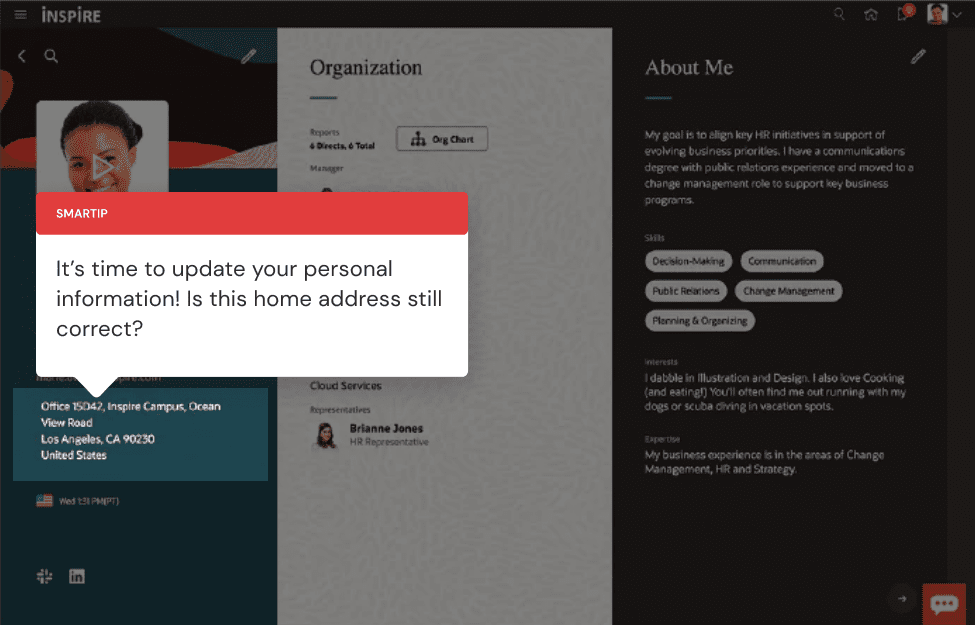 Whatfix simplifies digital transformation and software adoption by educating employees right where they are. The platform works like a digital canvas on top of Oracle HCM and lets employees access interactive walkthroughs, explainer videos, FAQs, product documentation, and 24*7 help resources right inside the Oracle HCM dashboard.
Intrigued to learn more about Whatfix? Schedule a free demo with us today!
Like this article? Share it with your network.
Subscribe to the Whatfix newsletter now!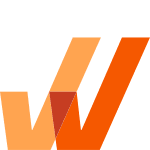 Software Clicks With Whatfix
Whatfix's digital adoption platform empowers your employees, customers, and end-users with in-app guidance, reinforcement learning, and contextual self-help support to find maximum value from software.