Microlearning is defined as breaking down learning content into small, bite-sized information modules. Smaller learning sessions offer just the right amount of information necessary to achieve a specific objective, making microlearning valuable, especially in business contexts.
It's effective because the learner is able to apply the skills they've learned before they began to lose attention, thus improving knowledge retention. This is also referred to as real-time learning.
Since the year 2000 (or about when the mobile revolution began) the average human attention span has dropped from 12 – 8 seconds. This could be the probable reason behind the revelation that fewer than 15% of people successfully apply what they learn and, within just 30 days, about 80% of the content is forgotten. When people aren't able to focus while learning, they won't be able to retain and apply the knowledge effectively.

The numbers above, are a reason for worry for Learning and Development teams.
In the year 2015, total U.S. employee training expenditure took an upward trajectory, soaring 14.2 percent to $70.6 billion.
On one hand, the training expenditure is increasing while on the other hand, the attention and memory retention span of employees is decreasing. This means that to generate the expected return on your training expenditure, you need to ensure that your training methodologies can engage distracted employees.
Considering this, a training method that makes certain effective learning, despite low attention spans, has gained huge traction recently. It's called microlearning, or 'bite-sized' learning.  Mainly because it breaks the content-heavy courses into small pieces of information (nuggets) that can be assimilated quickly.
Microlearning is not a newly invented approach but rather a realization of how the human brain is wired to learn. It's considered to be one of the best instructional approaches to engage the modern-day workforce.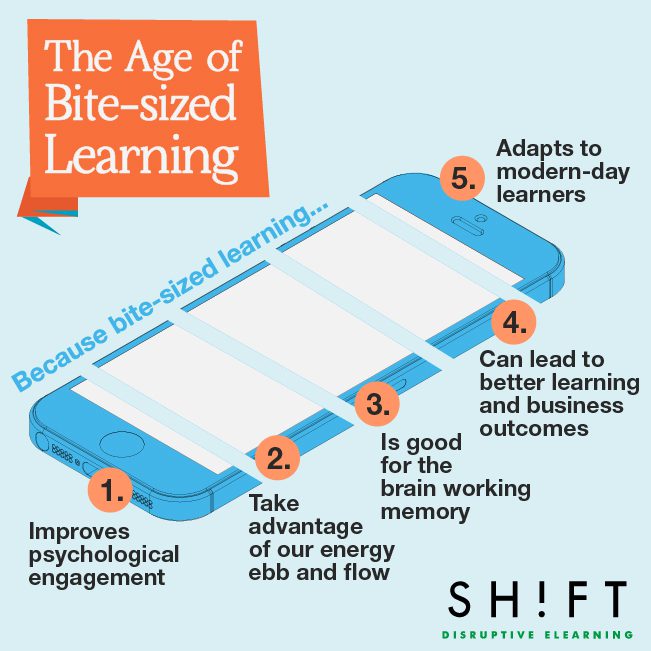 Credits: Shift Learning
Benefits of Microlearning
Here are a few of the biggest advantages of implementing a microlearning strategy at your organization. If you're looking for additional inspiration for building microlearning programs, check out our article on the microlearning examples.
Learners have an opportunity to choose and learn specifically what they need and whenever they want to.
2. Just-in-time & accessible
This is probably the biggest benefit for the learners. The bite-sized nuggets are available to them precisely when needed. They are also available on-demand i.e. learners can pull them rather than being pushed to go through them.
The short-length courses can be read and comprehended easily. Also, the design formats of microlearning include rich media formats that lead to better retention of knowledge.
4 Ways to Leverage Microlearning for Effective Employee Training
Various tools and techniques have come up, that divide the course content into bite-sized fragments and then deliver it.
1. Performance support tools
With the help of a performance support tool, learners can obtain knowledge and implement it simultaneously. The information to be conveyed is broken down into small fragments and presented in a step-by-step manner, one instruction at a time. These tools integrate microlearning with 'learning-by-doing' approach.
Let's get into the nitty gritty of performance support tools, with the example of Whatfix. Along with dividing the course content into small chunks, Whatfix also makes learning interactive. This is accomplished with the help of an interactive walkthrough that appears on the screen and guides the user to take appropriate actions.
Whatfix becomes an ideal tool when you need to provide software training to employees. It can be integrated within the software on which training has to be done or, you can also easily integrate it with your existing LMS. The gif below shows how an interactive walkthrough provides ServiceNow training.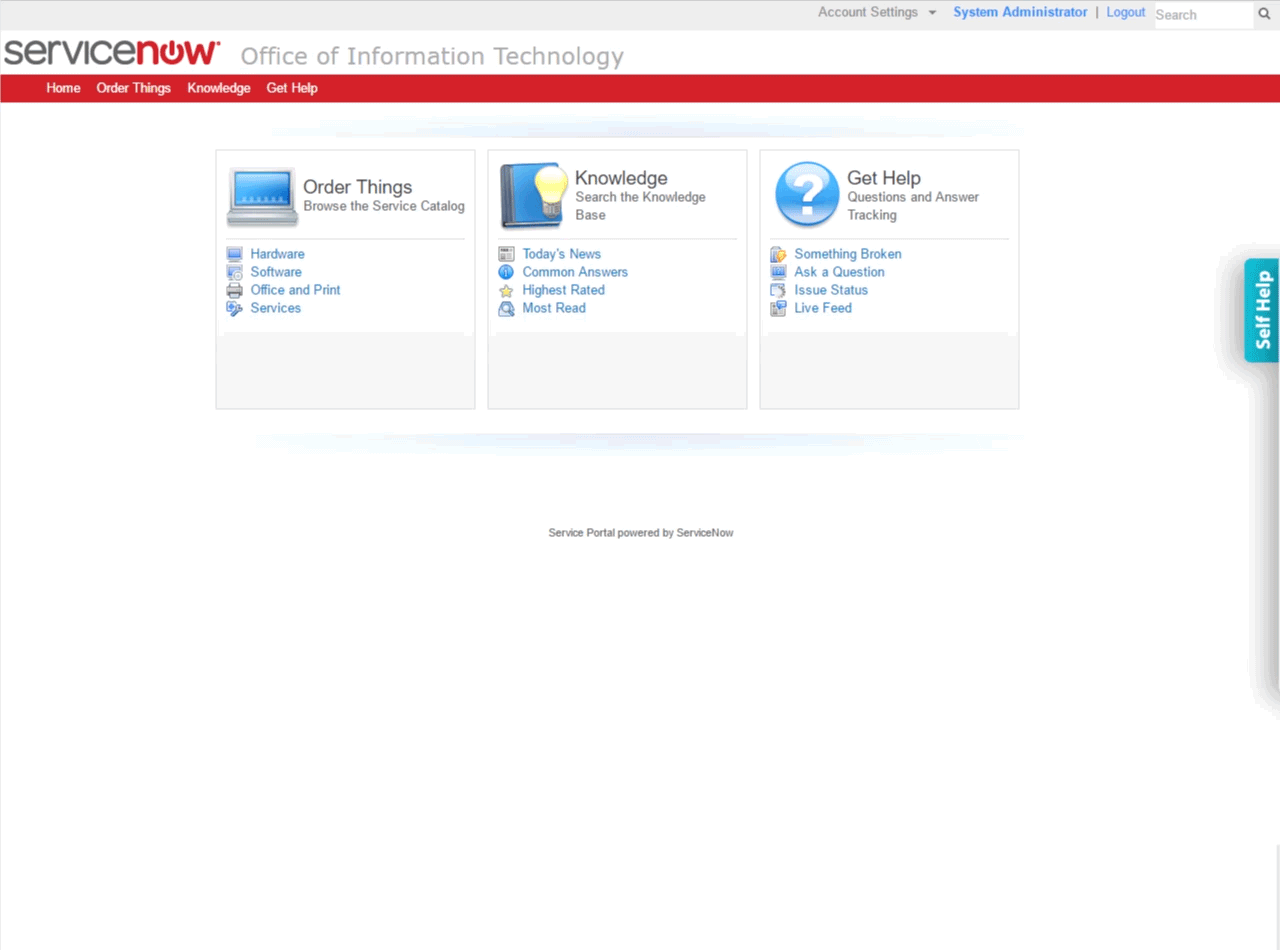 According to Forrester, "employees are 75 percent more likely to watch a video than to read documents, emails or web articles".
Instructional videos of short durations can be used when you are trying to instruct an employee on how to handle various aspects of a complex activity say, risk management within the corporation or how to successfully handle customer complaints.
Videos can be used for training in multiple ways. You can design a video and integrate it directly into your site or even share it privately on a video hosting platform (such as YouTube) in order to deliver it to remote employees. The employees can then access the video whenever they need it and take their own time to absorb the information being offered.
Short length of the videos ensures that employees stay engaged and are able to apply knowledge right away.
CRM Learning provides videos that are used by organizations to improve the overall effectiveness and provide employees with compelling online and classroom training. These learning videos can be streamed from CRM learning's proprietary LMS, or from your organization's own LMS. You can also purchase DVDs or USBs for use in classroom training or blended learning.
3. Lesson-based Podcasts/Webcasts
Podcasts personalize training by creating a conversational framework that improves effectiveness and retention. It allows employees to access training at different times depending on their workload and availability.
Podcast as a microlearning tool is beneficial as it delivers content through small learning steps supported with small chunks of learning content with easily digestible information.
Podcasts are specifically useful for auditory learners, i.e the people who learn best through listening. Most of the training methods are designed for visual learners because they constitute the majority (60 percent).
Research done by Sultan Qaboos University, Oman studied the effect of including podcasts as a microlearning tool. The before and effect of its usage is depicted in the graph below.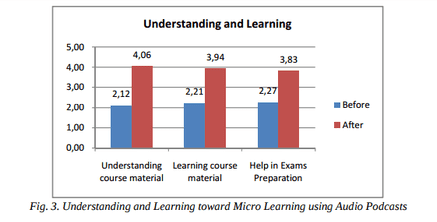 For hosting your podcasts, LibSyn (Liberated Syndication) is one of the largest platforms. It has a striking feature of offering the option of turning your podcasts into a mobile app.
Training simulations present users with a game-like atmosphere. In a virtual environment, the application includes images and graphics along with voice, background music, and special effects. In a live environment, scenarios are recreated to resemble real-life situations.
Typically, if users don't select the best solution, they are remediated until they do so. With practice, learners identify suitable solutions to practical issues and later incorporate these solutions into their daily activities. In some simulations, the learner receives points for each decision he makes, helping him understand the effectiveness of his decisions.
Training simulations have gained popularity as a microlearning tool because the user chooses when to start and end the simulation and finishes it without any external help.
Designers from Designing Digitally create simulated learning experiences for employee training. These simulated learning experiences range from a complete 2D simulated software experience up to a 3D immersive experience.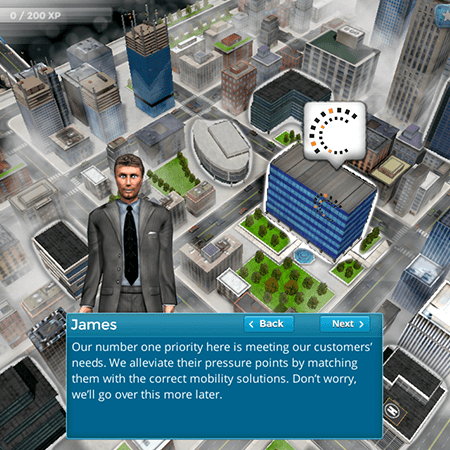 "Microlearning is the technique you need right now, to augment your training for employees with low attention spans"
To ensure that your employees are engrossed in the training that you provide to them, you need to take care of their learning needs. Due to the dwindling attention spans of this generation, it totally makes sense to incorporate microlearning in your company. But along with benefitting the learner in multiple ways, microlearning also proves to be beneficial for a business. That is because it's –
Affordable and agile – Due to the short training duration, the microlearning costs are lower than traditional eLearning. They can be created and deployed rapidly, much quicker than traditional eLearning.

Shorter development cycle – Typically, all the formats of microlearning, whether a performance support tool or an instructional video, have a much shorter development cycle.

Wider application – Microlearning formats can be used to train a new joinee from scratch or can also serve as a refresher for an experienced employee. You can also use these nuggets as stand-alone assets or they could be part of a series of microlearning courses.

Easy to update – Small-length courses are easy to update as well as upgrade.
In today's fast-paced digital environment your employees want to constantly up-skill but have little time to learn. So by implementing microlearning, you can provide your workforce a chance to learn and grow.
Microlearning has numerous benefits associated with itself, from an employee as well as a business point of view. When technology brings in so many returns, it's definitely worth giving a try.