If there is one thing that I love about the SFDC Community, it's their willingness to give back. If you've been to Dreamforce at least once, then you'll know that the entire community is incredibly supportive and helpful. This is further proven by all of the amazing Salesforce Chrome extensions that the community has contributed in the hopes of making Salesforce users' days more productive. Here are the top Chrome extensions for Salesforce to help you work better and faster in 2021.
9 Categories of Chrome Salesforce Extensions
Extensions for Quick Login
Extensions for Multiple Functions
Extensions for Setup Navigation
Extensions for Metadata Search
Extensions for Debugging
Extensions for Page Layouts & API Fields
Extensions for Production
Extensions for Managing Contacts & Communication
Extensions for Improving the UI
Thanks to this extension's security token support, you can escape those pesky verification codes and quickly sign on with one-click login. You can also import and export credentials by copying login information to a clipboard or generating a session login link. Stored data is synced to Google Chrome automatically, and passwords/tokens are protected by encryption, making this a secure option for managing multiple accounts.
This is a useful Salesforce Chrome extension for both Admins and Salesforce Developers alike. It will help you log in as any user in your organization quickly and easily. On click, it will give you a pop-up of all the Salesforce users on the listing page, and from there you can select to login as any specific user. When you log out, it will take you back to the first page you were browsing, before you logged in as the other user.
No need to remember logins and passwords with Salesforce ORGanizer. You can even store your security token to avoid being slowed down by verification codes. If you often work in multiple orgs at once, you'll love the option to assign a color to each org, which is then automatically shown on the relevant browser tabs. ORGanizer also has a Login As a function that allows you to toggle between multiple Salesforce users.
Many reviewers swear by ORGanizer for managing changesets. With this extension, you can export a changelog that allows you to remove items just by clicking remove. This saves a ton of time as you do not have to click next for every single item in the changelog.
Get the most out of your Salesforce Investment
Whatfix can help you drive the Salesforce Adoption at scale. Learn about the different browser extensions you can incorporate here.
Before we get into these Chrome extensions that solve and improve specific parts of Salesforce, let's look at some of them that have a lot of functionalities that you might like to have.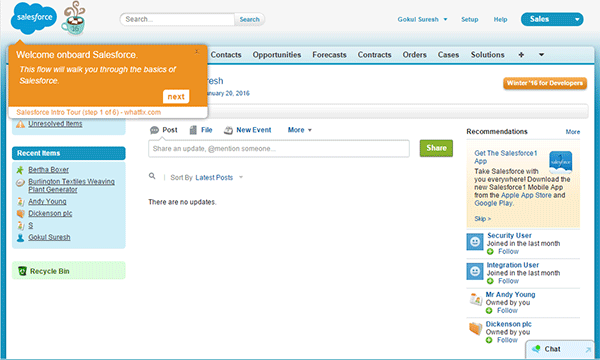 Whatfix on Salesforce is a nifty extension that will help in guiding and training users efficiently on the platform via interactive walkthroughs. The extension is a free version for individuals to train themselves on Salesforce. It includes a widget called "self-help" which lists all the walkthroughs on Salesforce created on Whatfix Community. On-click, the interactive walkthrough will launch in real-time and virtually handhold you through the completion of each task.
For extensive use, organizations can also avail Whatfix Enterprise version that is used widely for Salesforce Onboarding, Training, and Support.
Known for providing many functions that users believe should come standard in Salesforce, this extension speeds up both admin and developer work. Boostr allows you to search when adding items to changesets, display the API name next to field names when editing a fieldset, and check or uncheck all items in a column, along with many other time-saving features.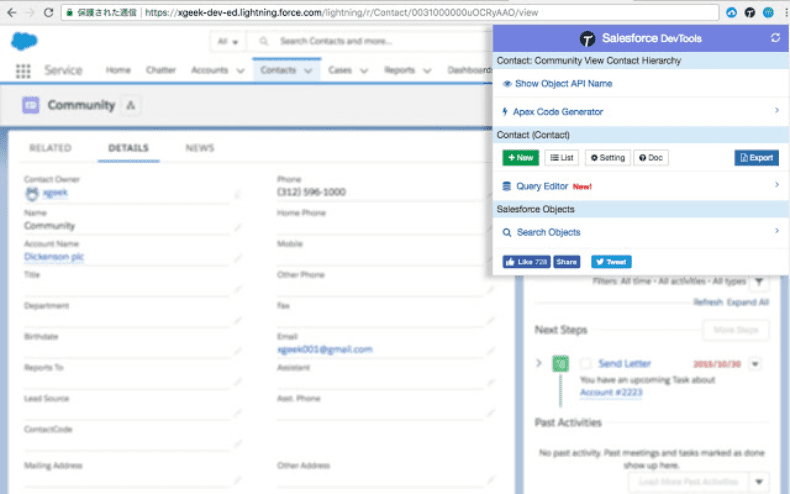 This is a suite of developer tools that comes with a Query Editor, controls for Fields definitions, an ERD generator, page layout control, and more. The extension enables Salesforce developers to display API names on Salesforce object detail pages, generate Apex code, export metadata to Excel, and (on Classic, but not Lightning yet) make mass changes.
Navigation and searching are generally difficult in sophisticated CRM's like Salesforce. But with the right tools, even the most complex of tasks can be simplified.
Navigating in and around Salesforce is not too easy. Salesforce Navigator is one such extension that makes it seem like a breeze. Just type in what you need to do and the extension shows you how to get to it.
Digital Adoption helps enterprises achieve Salesforce objectives
To learn more about Maximizing the value of Salesforce for your enterprise, download our e-book now.
If you are still inspecting each element to find its metadata, then these Chrome extensions will relieve you of it, once and for all.
This neat extension helps you look at your metadata without inspecting data on the Salesforce UI. It's a huge time saver for developers who constantly need to lookup field requirements, field type, API names, etc.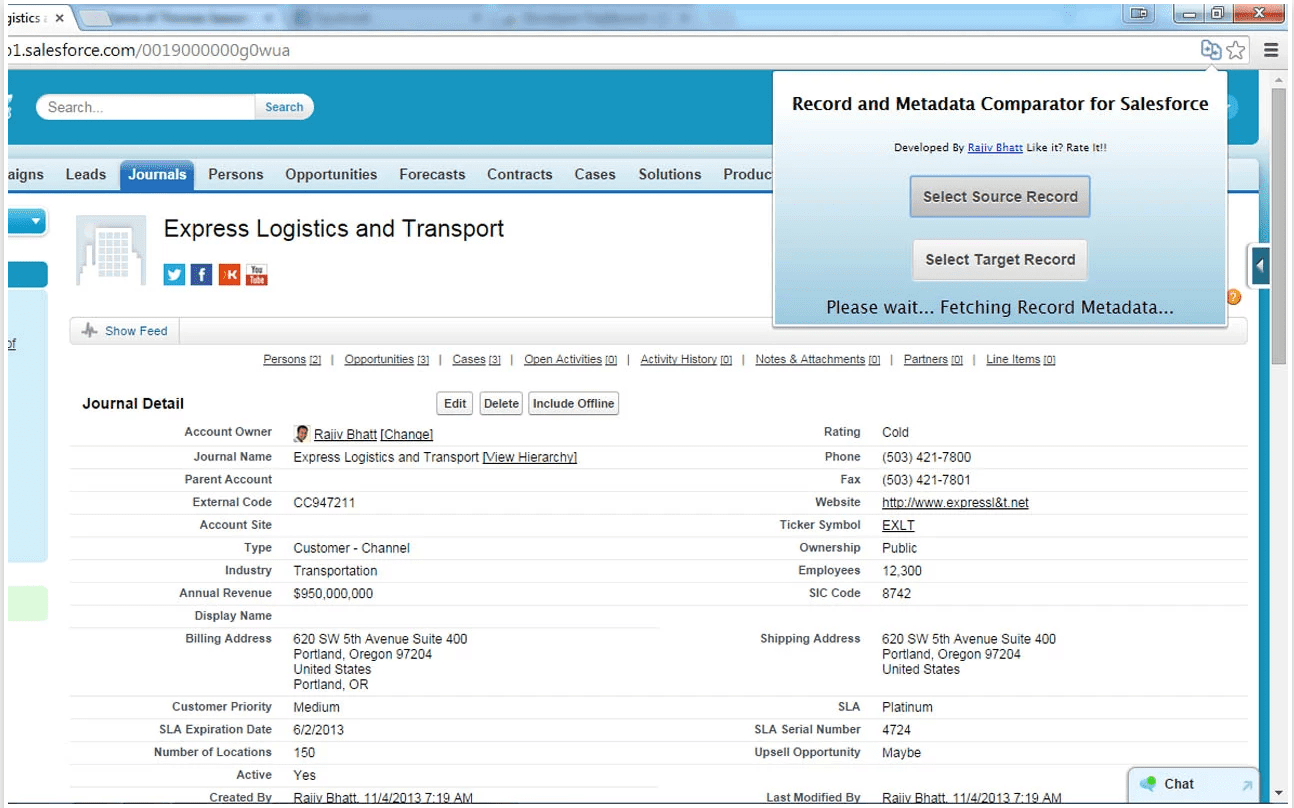 As the next step to Salesforce Inspector, this extension allows you to compare any two object or its records and highlights all their differences. It helps in identifying miss fields, change in formula, data type, value mismatch, etc.
Access your code with fewer clicks with the Salesforce Enhanced Code Searcher extension. The enhanced version makes it possible to search custom fields and tooltips, as well.
See the last modified data for individual components of a changeset, including dates, users, and API names. This extension can save you time when putting together large changesets by surfacing the most recent modifications and enabling sorting, searching, validating, and comparing across Salesforce orgs. As of 2020, this extension is compatible with Lightning.
Say no more to lengthy Debugging rituals. Here are some of the best Chrome extensions that will make you love debugging all over again.
Put an end to lengthy debugging processes. These Chrome extensions will accelerate and simplify things like reviewing bug logs and addressing errors.
This Salesforce Chrome extension streamlines Apex debugging. Press Shift + w anywhere in Salesforce and this extension will bring up your logs. From there, you can quickly search the latest logs, filter logs to minimize debugging noise, and delete logs.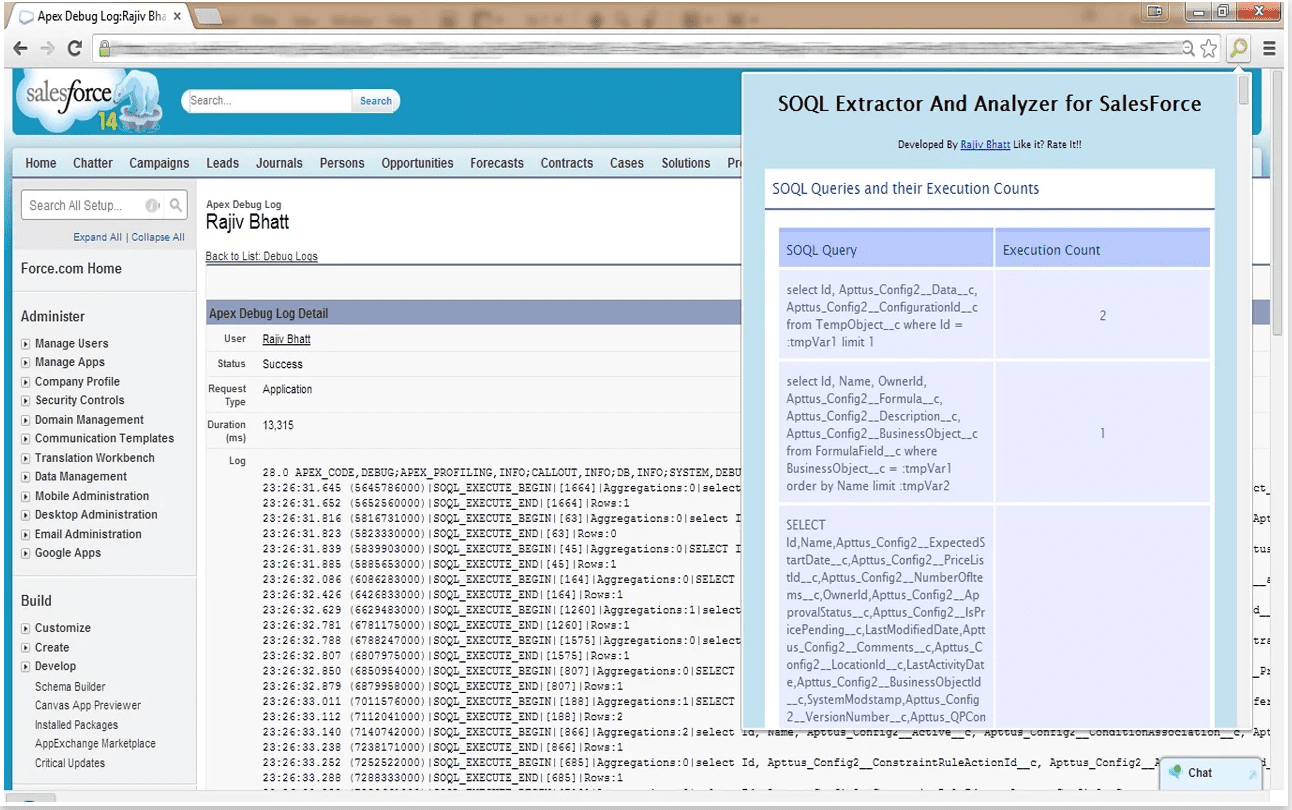 You can now easily analyze 'Too Many SOQLs' error with this nifty Salesforce extension. SOQL Extractor and Analyzer for SalesForce extracts the SOQL queries with their execution counts from the Salesforce Debug logs on a single click. It will provide you with information on the count, objects on which the queries are executed, statistics and also helps in optimizing your application's performance. This extension currently supports only Salesforce Classic.
Analyzing the Salesforce debug log is effortless with this handy extension that highlights key sections and provides tips for avoiding errors. An update to the extension made the Code Unit and Method Entry/Exit clickable, so you can go directly to the component with a single click. Plus, the Color Index has a checkbox that can be used to filter the log to see only specific content, such as errors or user debug.
These Chrome extensions are comparatively tiny and have specific use cases. But the fact is, sometimes it's the little things that make a huge difference.
Salesforce Admin Check All is a simple extension that will potentially save you a lot of time and irritation. It will allow you to 'Check All' checkboxes on setup pages, instead of clicking on each of the checkboxes individually. It may seem like a small solution, but this extension could save you from quite a bit of tedious clicking. This extension currently supports only Salesforce Classic.
Grey Tab is an open source Salesforce extension that will help you view the data of a field on the currently viewed record. It works much like a lookup tool that will give you the details that you need about the fields. It also can be used to get the Salesforce session information from your browser cookies. This extension currently supports only Salesforce Classic.
Salesforce only allows you to refresh Dashboards daily, weekly, or monthly. With Enhance Salesforce Dashboard extension, you can have real-time updating of your dashboards. The extension allows you to set auto refresh frequency/duration. It also allows you to increase the dashboard columns to 7 from the default 3 columns.
Although I have already mentioned many helpful Salesforce Chrome extensions for Salesforce developers, these here are the ones that will make your production smoother, faster and more efficient.
Built specifically for Salesforce/Vlocity developers, this extension makes a variety of data available with fewer clicks to speed up time working on modules. The extension comes with an advanced search feature, so you can easily find recently updated metadata like debug logs, classes, triggers, static resources, email templates, and more.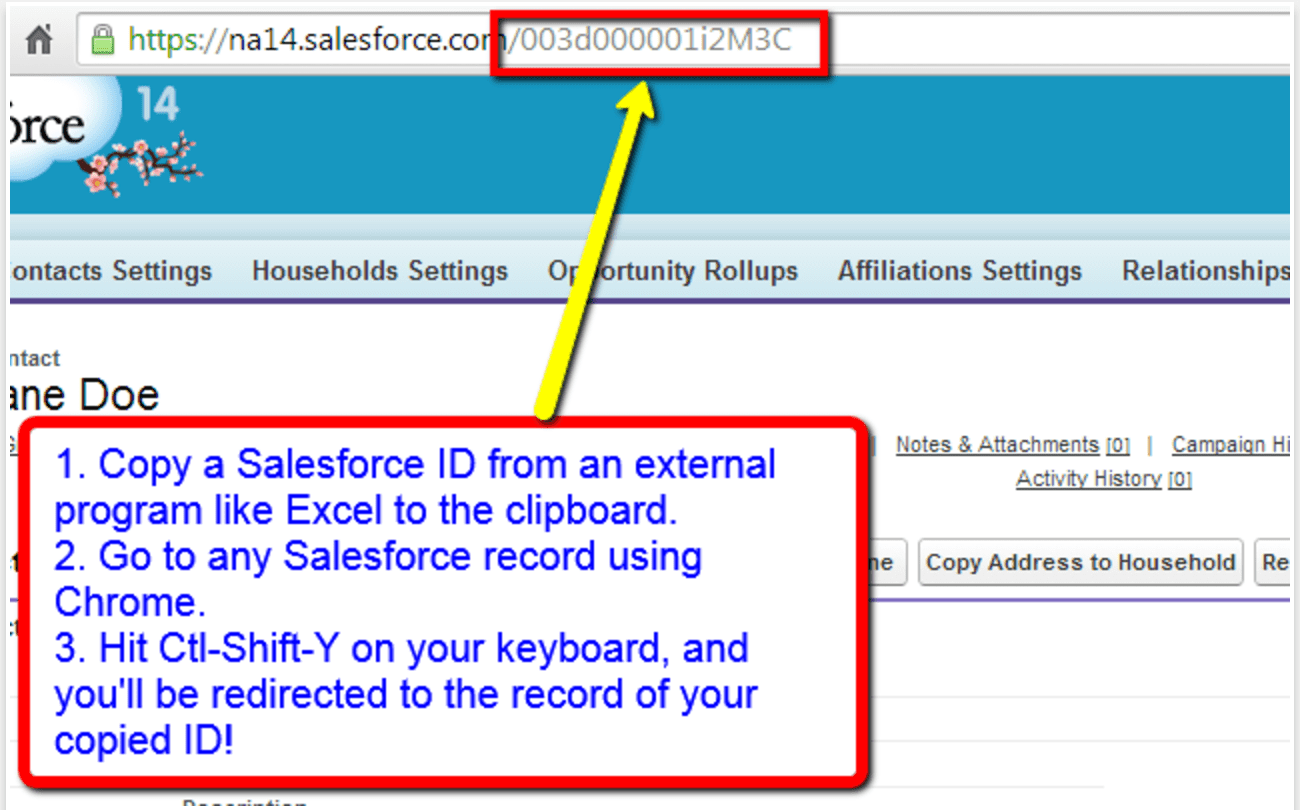 Salesforce Id Paster is a tiny extension that will save you buttloads of time in data entry. It redirects your current Salesforce page to the one whose SFID is in your clipboard with a keystroke (default is Ctrl+Shift+Y). It is especially useful to those users who constantly export and import data in and out of the Salesforce database. Bonus—this extension has been updated and is now Lightning-enabled!
This simple extension allows you to export a Dependent Picklist Matrix in a CSV file so you can analyze it and report on it. This is not a native feature in Salesforce, so it could save you time that you'd otherwise spend manually extracting data. The extension is compatible with both Classic and Lightning.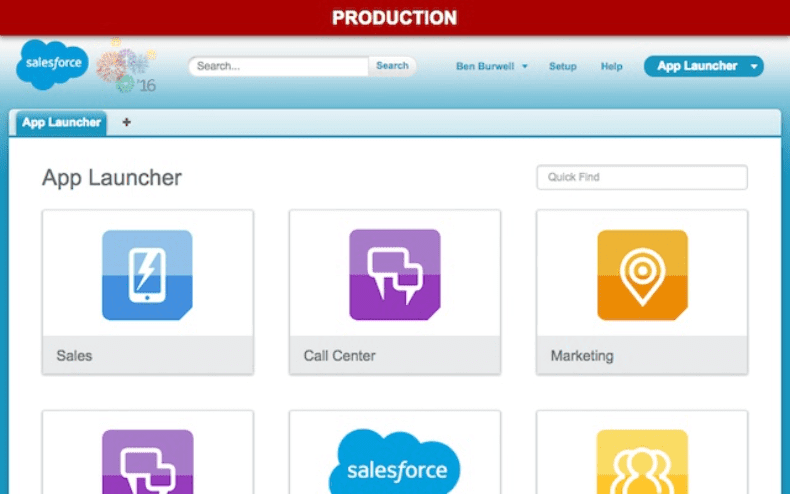 If you're always working in multiple sandboxes, this extension could prevent a lot of confusion. It creates a unique header for each sandbox, so you can quickly identify the one you're looking for. This extension supports Lightning environments.
Do you work across both Production and Sandbox environments in the same browser? Then this extension will help you differentiate between both. The Sandbox Favicon Extension adds an "S" to the standard Salesforce.com cloud favicon for all sandbox tabs in a Google Chrome window. Making it easier to keep a track of the environment you are working on.
The original extension doesn't currently support Lightning. But if you download the source code from GitHub, you can manually enable LEX support.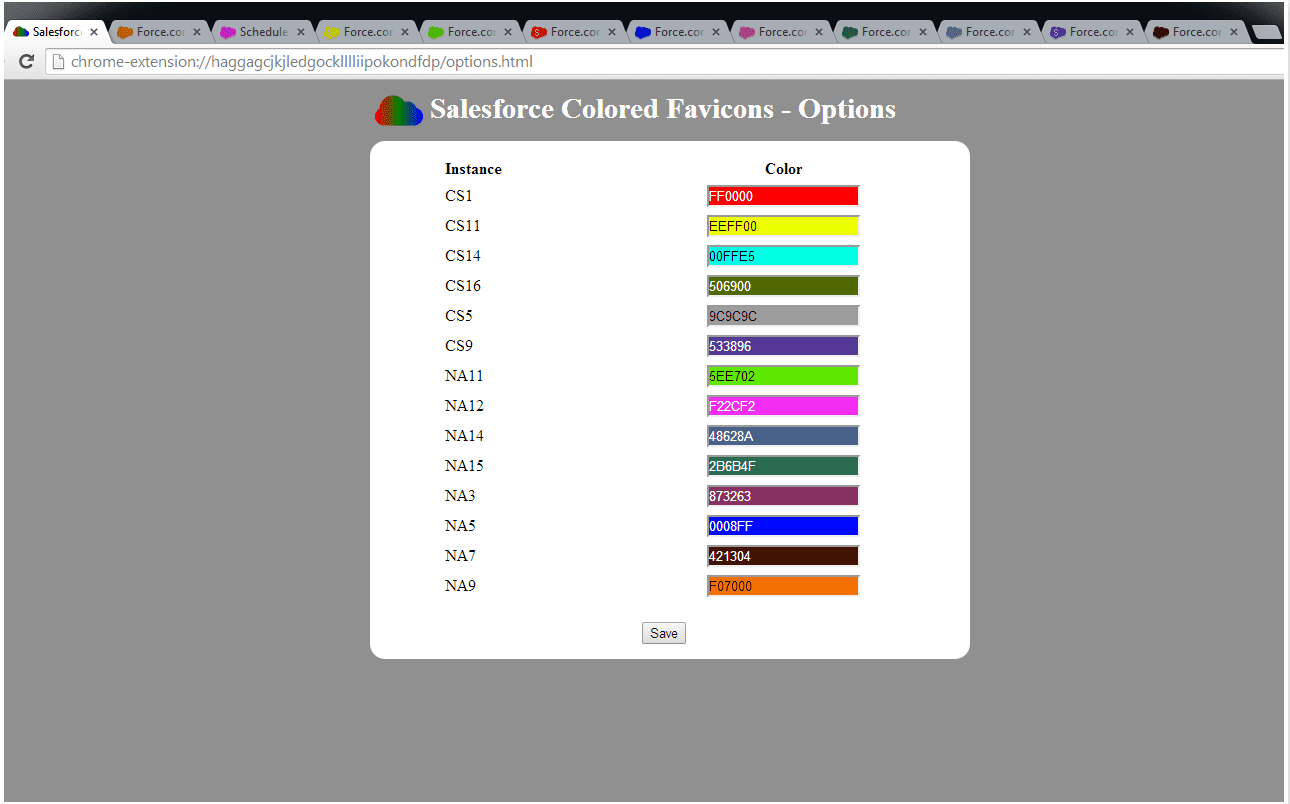 Much like the previous Salesforce Extension, this one will allow you to override the standard Salesforce favicon with one colored based on the org. It automatically updates the icon for Salesforce based on the instance. It also adds a separate icon with an "S" for Sandbox instances. If you use more than two orgs and sandboxes, then this is going to be a must have browser extension for you.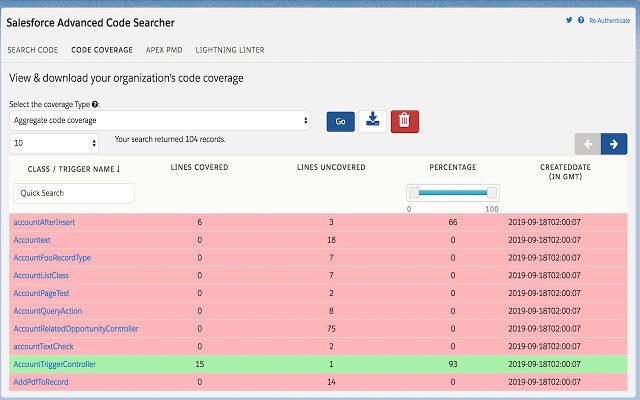 This useful extension makes searching for Salesforce components quick and easy. With it, you can find and jump to Apex classes, Visualforce pages, Apex triggers, Lightning Component, and Visualforce Components, and get the required code within a few clicks. It also has a autocomplete suggestions that will help you find the particular code that you need to find. This extension was updated in October 2020 to support Lightning.
This extension enhances the formula editor to include syntax highlighting, tabbing, find and replace, parenthesis matching, and no-code wrapping. It is a great add-on to the native formula editor and helps a lot while creating complex formulas. The extension was updated in 2020 for Lightning support.
Adding and tracking contacts can eat up a lot of time, as can communicating with prospects and leads. These Chrome extensions help cut down on time spent searching for data, chatting with customers, and tracking activity within Salesforce.
Step up your email game by automatically pulling Salesforce data into Gmail. With this extension, you can see Salesforce intelligence alongside every email, create and update leads, manage contacts, create opportunities, track cases, and more—all without leaving your Gmail inbox.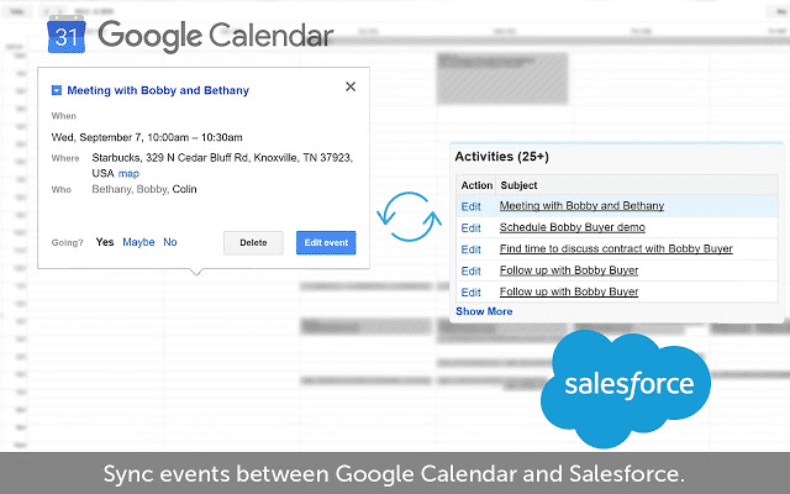 Like Cirrus Insight, this is another extension that integrates Salesforce data with your Gmail and your Google Calendar. It includes features such as send later in Gmail, email tracking, a meeting scheduler, and support for custom objects so you can take advantage of all your Salesforce data from within Google apps.
Access Salesforce data no matter what website you're on. This extension keeps you from wasting time switching between tabs while you're prospecting, updating the CRM based on website data, or communicating with contacts via email. It also includes features like an email finder and sales campaign tracker.
Similar to other Chrome extensions in this category, this extension brings Salesforce data together with your Google apps. But it focuses specifically on syncing your Salesforce and Google contacts, which gives you easier access to customer records on mobile devices. This extension could be valuable if you're a mobile power user.
According to Clearbit, this extension can save you up to two hours of manual research and data entry every day. With only a few clicks, you can turn an email address or domain name into a prospect or company profile in Salesforce. Adding additional data to existing contacts, segmenting leads, and researching new prospects are faster and less complicated with Clearbit for Salesforce Lite.
Link your WhatsApp and Salesforce contacts with Whatslly so that all of your customer relationship conversations happen in the same place. This extension allows you to review contacts' data, create leads, and even record chats through the WhatsApp web app and sync that activity with Salesforce.
Integrate your Salesforce data with LinkedIn, Sales Navigator, and LinkedIn Recruiter to create new customer records from LinkedIn without having to swap to your CRM. The extension also makes CRM data readily available within LinkedIn, so you can see all the contact information you need without wasting time switching between windows.
Everything you can do in Chatter—view your newsfeed, leave comments, post status updates, unfollow and follow users, etc.—can be done through Google Chrome, thanks to Chatter Monitor. This extension is a great alternative to the Chatter desktop app because it works across all systems without the need for additional software. You can even manage multiple Chatter accounts at once right within your browser.
The DocSend Salesforce integration allows you to sync all DocSend data right back to Salesforce. With a Salesforce-enabled link, you can view completed activities logged by the corresponding lead, opportunity, or contact.
Save yourself some headaches with these Chrome extensions that make viewing data in Salesforce a little easier on your eyes.
This extension lets you switch the bright default background of Service Cloud Lightning to dark mode. It makes long sessions working in Service Cloud Lightning easier in low-light environments without forcing Salesforce users to work with a Salesforce Admin to update settings. The extension also includes a feature that reduces exposure to blue light.
Analyze Lightning-based communities and apps to debug issues and spot opportunities to optimize user experiences. The extension generates data that shows you how to improve both the design and the performance of individual Lightning applications.
Did Your Favorite Salesforce Chrome Extension Make the List?
Did you find this roundup useful? Then help us spread the word by sharing the article. Be sure to leave us a comment below if we missed any of your favorites.

You can also schedule a demo with us if you'd like to learn more about boosting Salesforce adoption.