Salesforce's new Lightning Experience was launched a few days back . And ever since its launch, Salesforce user's have been going gaga over its newly polished Lightning User Interface.
The new Lightning UI, is designed to make it easier for all Salesforce users to carry out vital CRM tasks in their organization. It customizability ensures that the required data can be accessed, viewed and modified in a way that suits the user's preference.  So in turn, it focusses on making the Salesforce experience simpler and all the while making the user more productive.
Haven't seen the Salesforce Lightning UI? Check out all that's new in it, here. 
If you haven't had the chance to try it out as yet, then you definitely should. It's time you convinced your Salesforce Admin to enable Salesforce Lightning and speed up the change from your Salesforce Classic. And if you already have the admin rights, then we have a useful resource in store for you.
The following Whatfix flow when viewed live will give you a real-time interactive tour on your Salesforce. All you have to do is, take a few seconds and download the Whatfix extension for Chrome and Firefox. Then, click on the See Live button on the Whatfix flow. And voila! You have a live walkthrough that'll guide you to the completion of the task. Here's how it's done.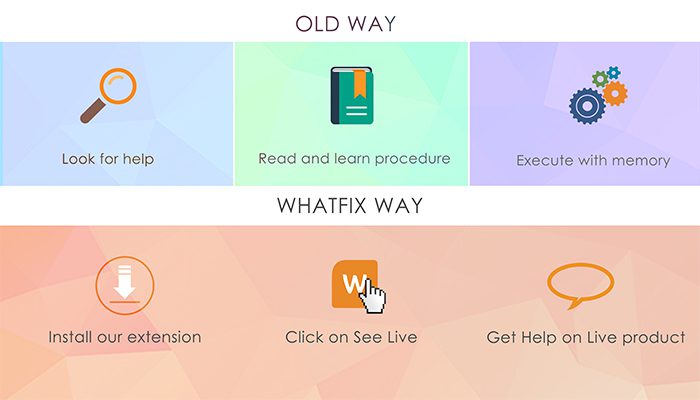 Excited? Then, let's do it!

So, that's how you enable Salesforce Lighting Experience. Like it? Well, if you are still skeptical about it, then you can use the permission sets. With the permission sets in place, you can try out piloting Salesforce Lightning Experience with a smaller group, and then once you are completely satisfied with Lightning, you can do a mass rollout.
Do Read: How To Build Kickass Salesforce Apps With Lightning App Builder
In our next blog post, we'll show you how to set the permission sets, to grant your users, the functional access to Salesforce Lightning UI. So stay tuned!
Want more news and updates about Salesforce Lightning? Subscribe to our weekly newsletter!